Cheesy Asparagus Casserole will be the tastiest thing at your Christmas dinner. This creamy recipe makes for a delicious holiday side dish!
If you're in need of a tasty holiday vegetable casserole, look no further. This Creamy Asparagus Casserole Recipe uses a delicious parmesan cheese sauce and a crisp bread crumb topping- delish!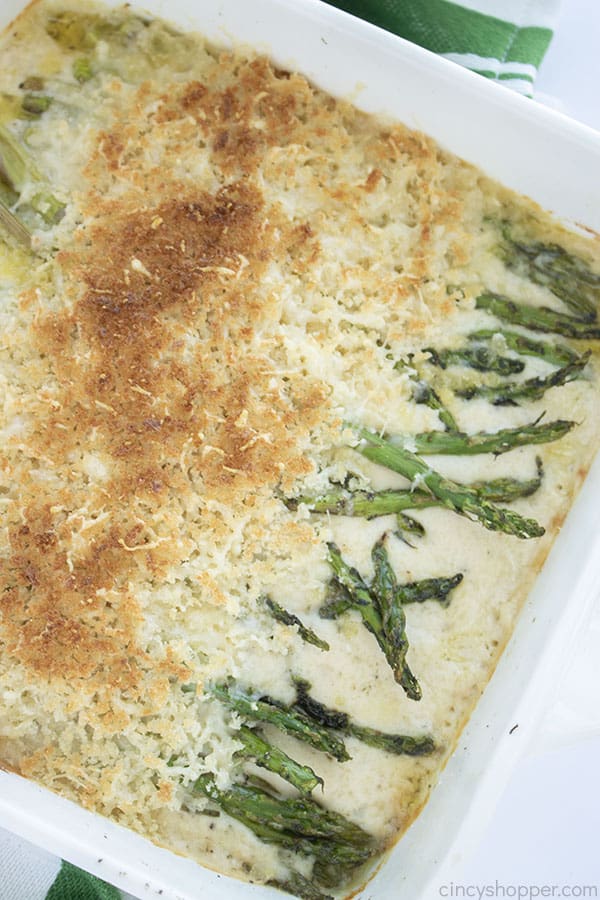 Cheesy Asparagus Casserole
It can be a bit of a chore to eat your greens… but not when they taste this good! In my hunt for delicious holiday side dishes to serve up for Christmas this year, I came upon this recipe for Cheesy Asparagus Casserole. I was surprised at just how tasty this dish was and even more shocked by how simple it was to make!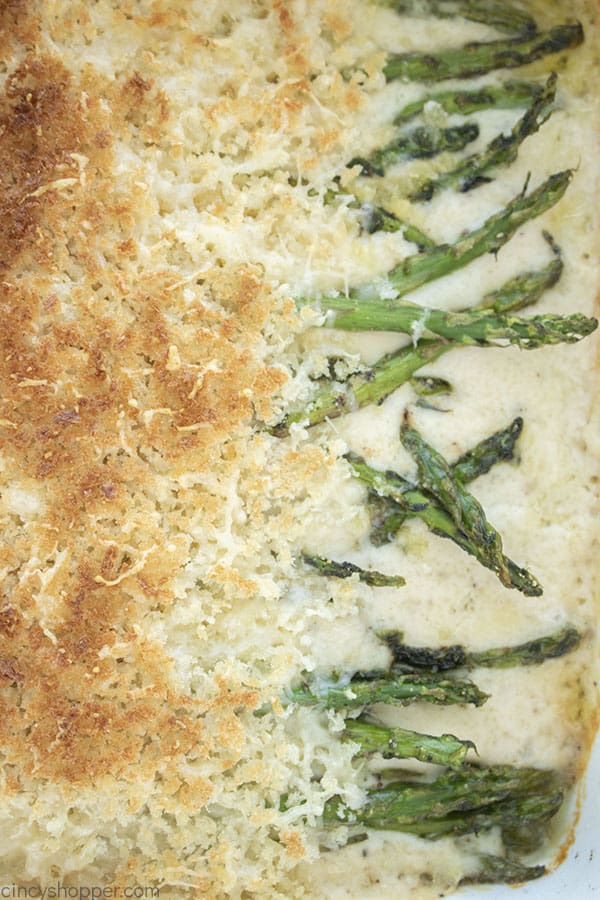 Asparagus with parmesan cheese is already a winning combo. But, if you want to put that parm to better use than just sprinkling it over some spears, get that stovetop warming up. Add some good parmesan to a bechamel and you can make a delicious asparagus with cheese sauce dish. But why stop there?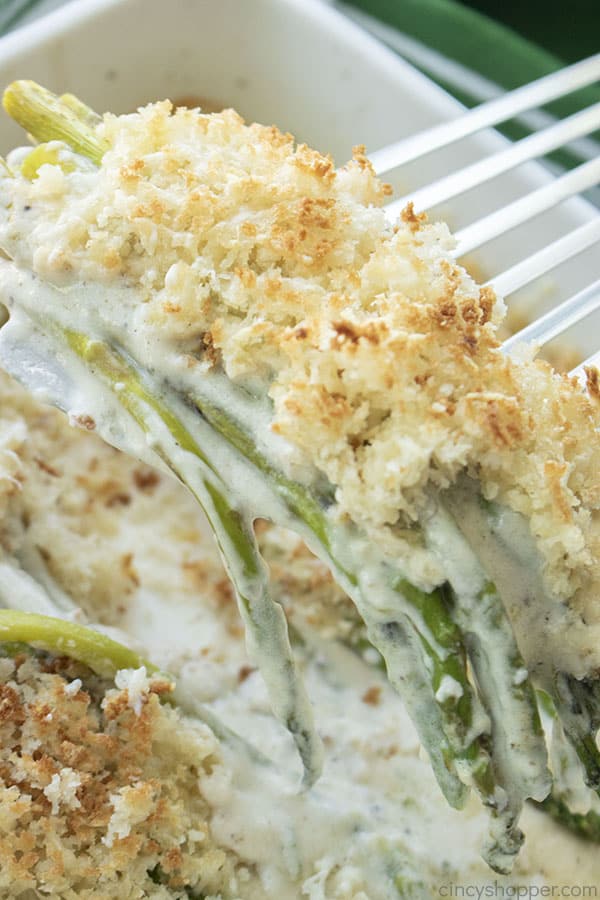 As a bit of a chef's kiss, we topped this casserole off with a parmesan and bread crumb topping. Let that crisp up under the broiler and the taste is just heavenly! This dish is going to be something special to put on the dinner table when Christmas comes around. Hope you love it!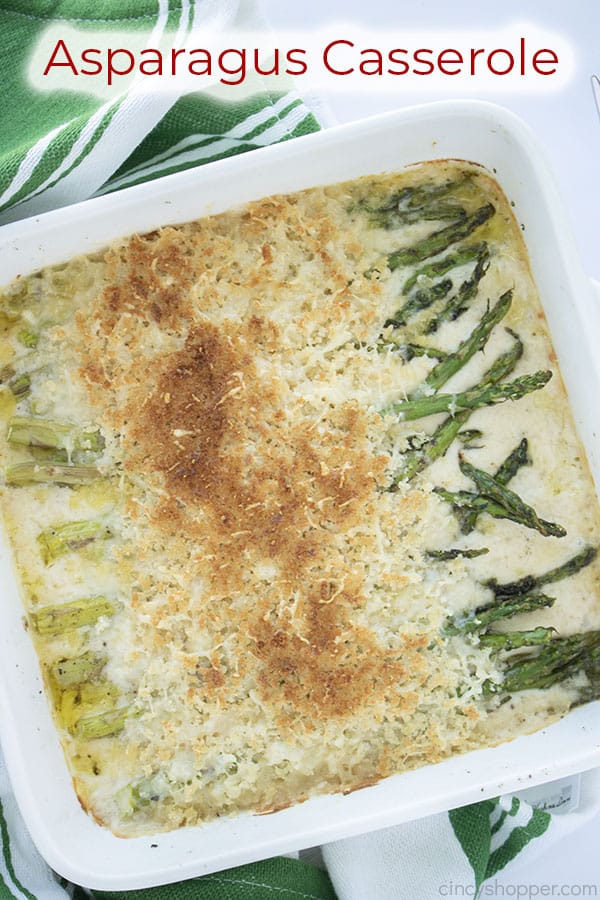 Loved our casserole? Try these other vegetable side dishes next!
If you're looking for more greens, try some of these

Bacon Wrapped Green Bean Bundles

. We oven-roasted these green beans with some butter and bacon fat and wrapped them in crispy bacon.

If that doesn't sound delicious enough already, we even hit them with a quick brown sugar glaze- savory and sweet

!

Bourbon Glazed Carrots

, meanwhile, is

simply

the perfect sweet side dish! Using a mix of honey, sugar, and whiskey, we made a delicious glaze to go over these roasted carrots.

Incredibly

simple to make and oh-so tasty!

If you're looking for a potato side that's certain to impress, whip up some

Au Gratin Potatoes

.

Mixing a rich, creamy, and cheesy sauce with some

simply

scalloped potatoes yields a side dish that's as delicious as it is beautiful

! If you need, you can even make these ahead of time or freeze them for later.
All of
these side dishes will be perfect for a delicious holiday dinner.
For the main course, we can't recommend our
Filet Mignon
enough- pan-searing and oven-finishing yields a perfect steak
!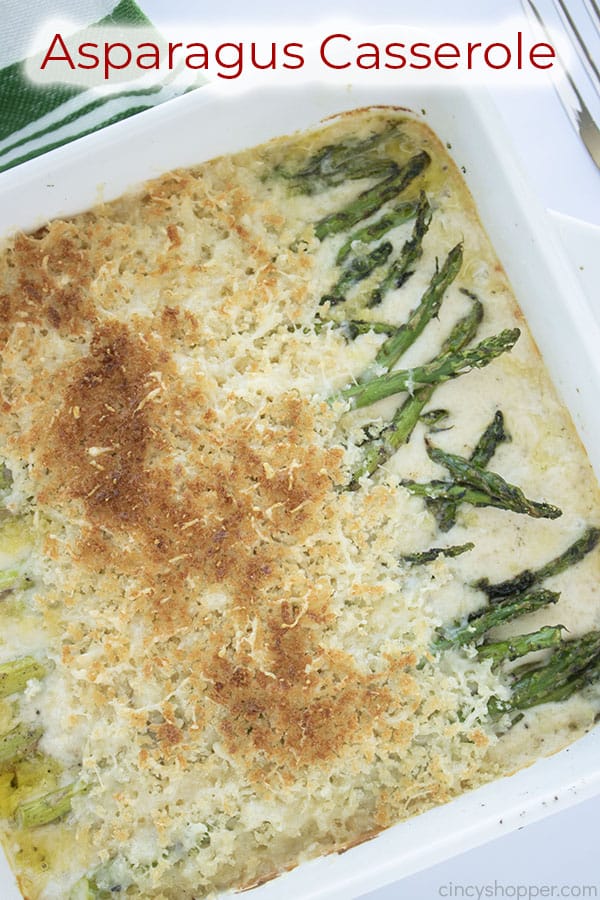 Asparagus Casserole Ingredients
Olive Oil

Half-and-Half – In a pinch, you can substitute a 50/50 mix of milk and heavy cream.

Parmesan – Actual parmesan cheese and

not

the stuff from the can! If you're low on actual parmesan, you could use canned parmesan, but only for the bread-crumb topping.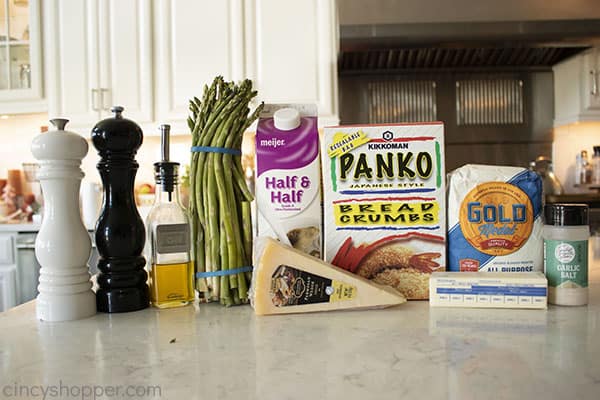 How to prepare our Creamy Asparagus Dish
Before starting this recipe, there's a little bit of prep work. First, you'll want to trim your asparagus- both to get rid of the woody ends and to help it fit into a 9×13 casserole dish. Once trimmed, place your asparagus spears into a greased 9×13 casserole dish. Drizzle your olive oil over your asparagus and allow to bake in a 400 degree oven.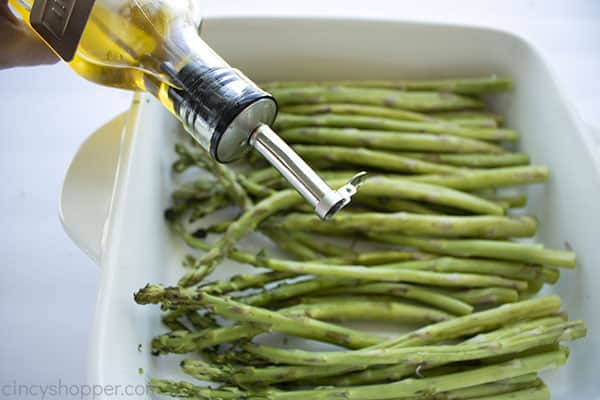 It's going to take around 10 minutes for those spears to cook. So, in the meantime, let's get our creamy cheese sauce made up! To start on that, you'll first make a roux by melting some butter- over medium heat- and then mixing with some flour. Once that comes together, allow to cook until it starts smelling nutty before adding your half-and-half. This will turn our roux into something more like a bechamel sauce.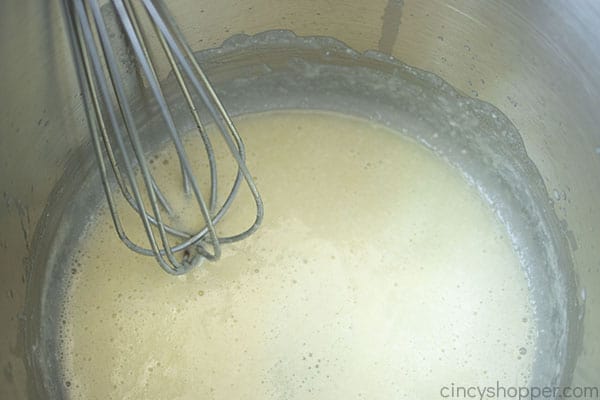 This bechamel will serve at the base for our cheese sauce. To make it cheesy, first add in our garlic salt and pepper. Whisk those seasonings in over medium-heat and continue letting the sauce cook until it thickens.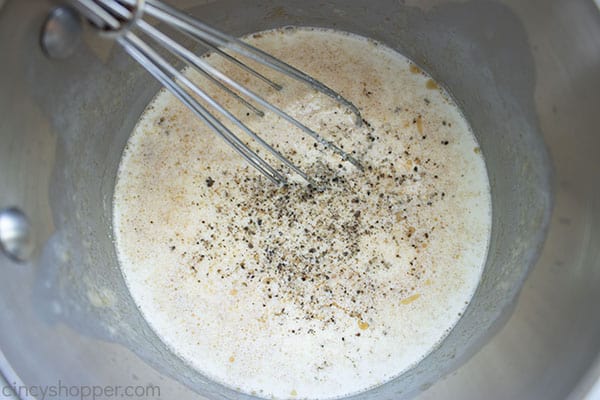 Once it's thickened up, we can remove our sauce from the heat. The residual heat alone should be able to melt the parmesan we're going to add in. After adding your cheese, whisk it in until it's melted and the sauce has smoothened out once again.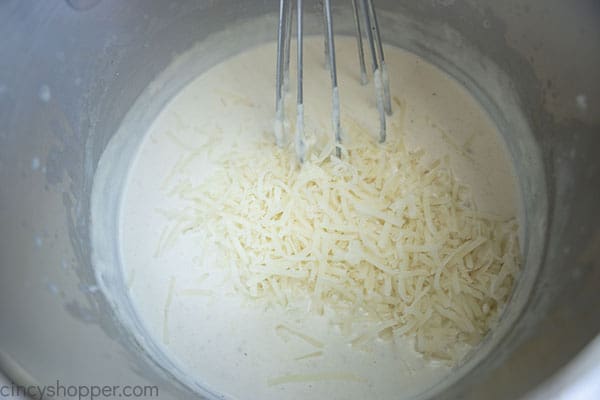 Now we can pour this almost Alfredo sauce-like cheese mix over our asparagus after pulling it from the oven. Once we've poured the sauce evenly our spears, we can return them to the oven to bake for another 10-15 minutes.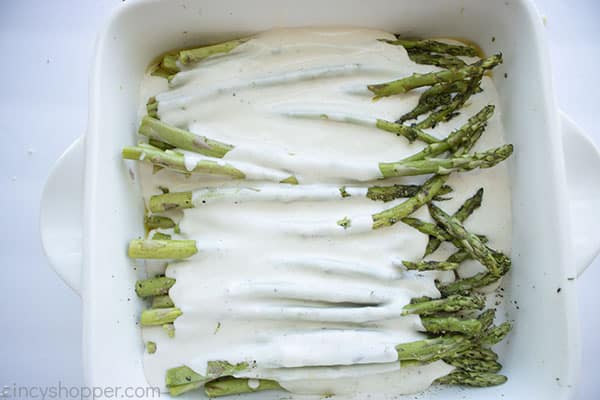 Now, while this asparagus would taste delicious as-is, we're going to add a delicious topping to it. In a bowl, we're going to mix together our bread crumbs and our remaining parmesan. Quick note: if you're ever making a baked macaroni, this kind of topping is amazing on it!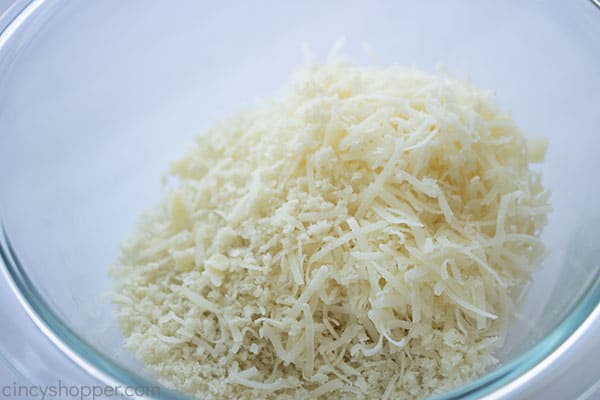 Once our asparagus has baked to our desired tenderness, we're going to pull it from the oven. Give your asparagus casserole a generous sprinkling of our parmesan-crumb topping. Once you've got your topping on there, all that's left is to throw the casserole under the broiler for around 5 minutes.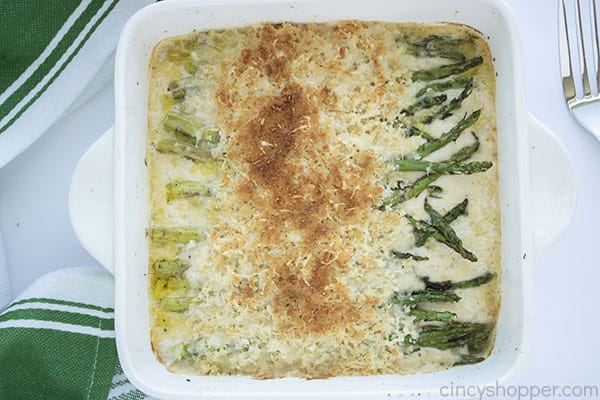 Once those bread crumbs have crisped to a lovely golden brown, your casserole is done! Pull from the oven and allow to cool for a minute or two before scooping up a serving. Plate up and enjoy!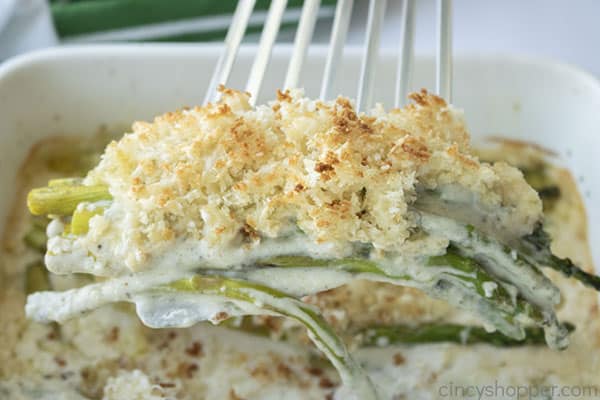 Asparagus Casserole
Asparagus Casserole will be the tastiest thing at your Christmas dinner. This cheesy and creamy recipe makes for a delicious holiday side dish!
Ingredients
1

lb

Asparagus

2

tbsp

Olive Oil

3

tbsp

Butter

1 3/4

tbsp

Flour

1 1/2

cup

Half and Half

1 1/2

tsp

Garlic Salt

1/4

tsp

Black Pepper

1

cup

Parmesan Cheese

shredded and divided

1/2

cup

Panko Bread Crumbs
Instructions
Preheat oven to 400.

Trim asparagus to remove woody ends and to fit across the short dimensions of the casserole dish.

Grease a 9x13" casserole dish.

Place asparagus in prepared dish.

Drizzle with olive oil and bake for 10 minutes.

Melt butter in a saucepan over medium heat.

Add flour and whisk constantly to make a roux.

Continue cooking for 2 minutes while whisking.

Add half and half, garlic salt and black pepper.

Continue to whisk until sauce starts to thicken then remove from heat.

Add 1/2 cup shredded parmesan cheese and whisk until melted and smooth.

Pour sauce evenly over the asparagus.

Bake for 10-15 minutes until asparagus reaches desired tenderness.

In a bowl combine bread crumbs and remaining parmesan cheese.

Sprinkle the bread crumb topping over the casserole.

Broil dish for 3-5 minutes until bread crumbs are golden brown.
Notes
Fresh grated Parmesan is best, skip the canned stuff.
Nutrition
Calories:
419
kcal
|
Carbohydrates:
17
g
|
Protein:
16
g
|
Fat:
33
g
|
Saturated Fat:
17
g
|
Cholesterol:
73
mg
|
Sodium:
1443
mg
|
Potassium:
385
mg
|
Fiber:
3
g
|
Sugar:
3
g
|
Vitamin A:
1640
IU
|
Vitamin C:
7
mg
|
Calcium:
435
mg
|
Iron:
3
mg