Bacon Wrapped Green Beans are a delicious vegetable side dish cooked with butter and brown sugar. Try them today- they're so easy to make!
If you're planning a special dinner, you're going to want some good looking- and good tasting- sides. These Bacon Wrapped Green Bean Bundles are sweet, savory, and look amazing on a plate!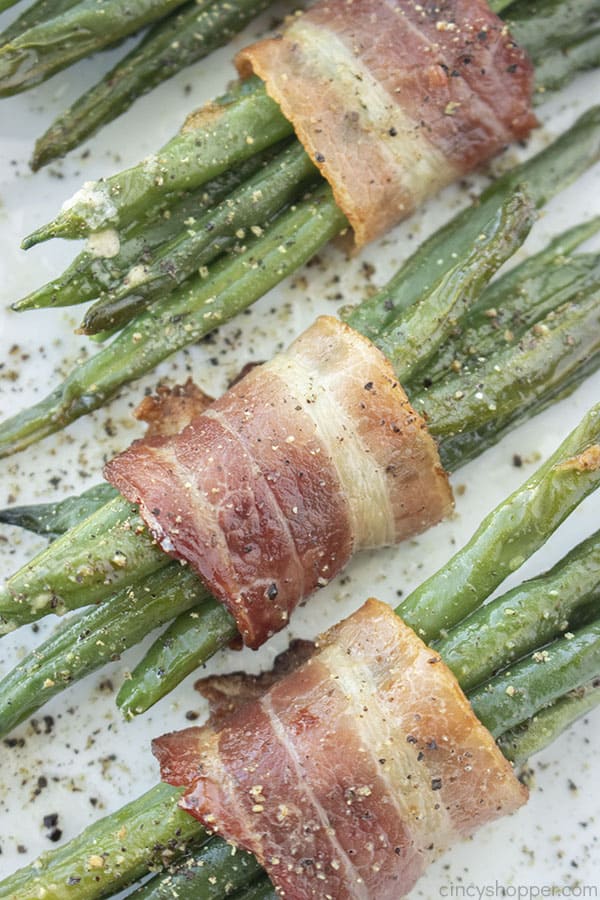 Bacon Wrapped Green Beans
A nice vegetable side goes great with any number of dinners. Whether it's beef, pork, or chicken dishes, I'm always trying to slip some tasty greens in there. Sometimes, I've got a beautiful looking main course on my plate- a delicious Filet Mignon, maybe– and I feel like plain veggies ain't going to cut it. Thankfully, I've got these beautiful looking Bacon Wrapped Green Beans ready to plate up with dinner!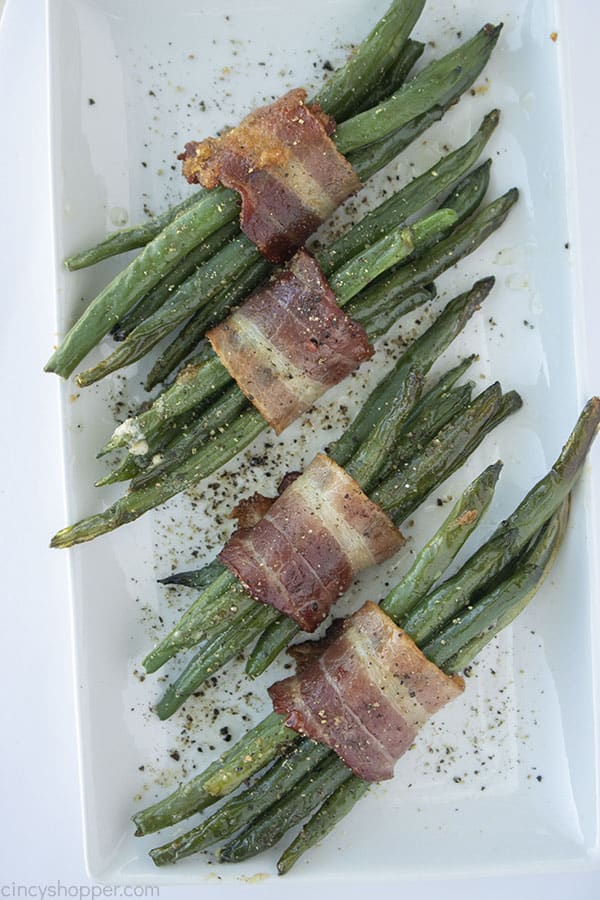 First of all, almost anything is better with bacon, and veggies are no exception! Nice, crispy bacon tastes great wrapped around some roasted green beans. However, we went above and beyond: we mixed up a delicious baste of bacon drippings and butter to pour over our beans. For a little extra sweetness, we also hit these bundles with a quick brown sugar glaze. In all you've got a beautiful-looking and delicious vegetable side that's going to taste great and impress any dinner guests. Hope you enjoy!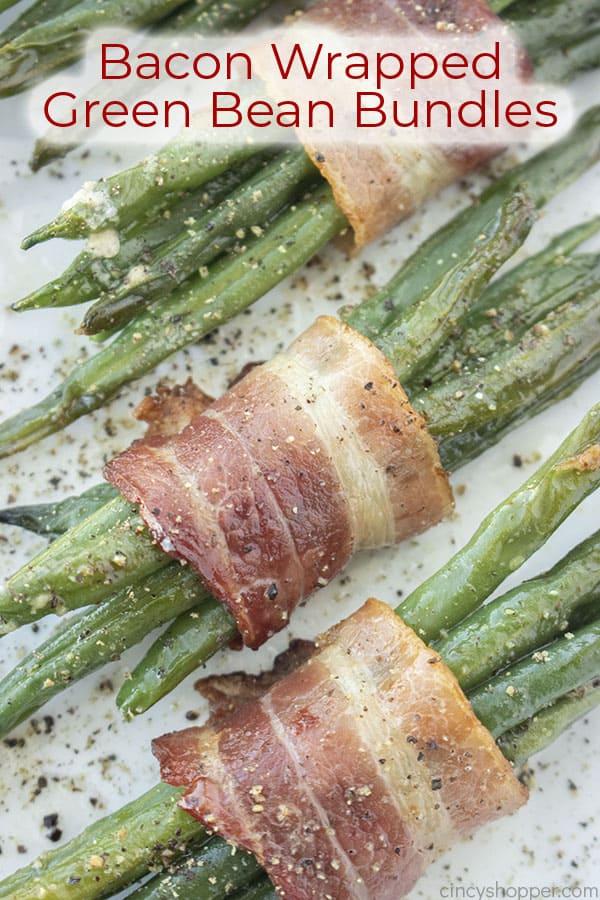 Loved our Bacon Wrapped Green Beans? Try these other green bean recipes next!
These

Southern Green Beans with Bacon

capture a lot of similar flavors you find in our bundles here.

The difference is these green beans are slow-cooked on the stovetop to a perfect tenderness

. Plenty of bacon, onion, and garlic gives this green bean dish plenty of flavor!

If you're looking for an easy, "no fail" vegetable side, our

Garlic Roasted Green Beans

are perfect for you! These green beans roast up

perfectly

in a sheet pan.

A touch of olive oil, some garlic, and a bit of pepper flake give these crispy green beans tons of flavor and

just

a bit of spicy heat

!

Green Bean Casserole is great, but try mixing things up with some

Cheesy Green Bean Casserole

!

By using cheese soup instead of the traditional cream-of-mushroom, you get a delicious, creamy, and oh-so cheesy casserole

. Great for folks who aren't a fan of the classic!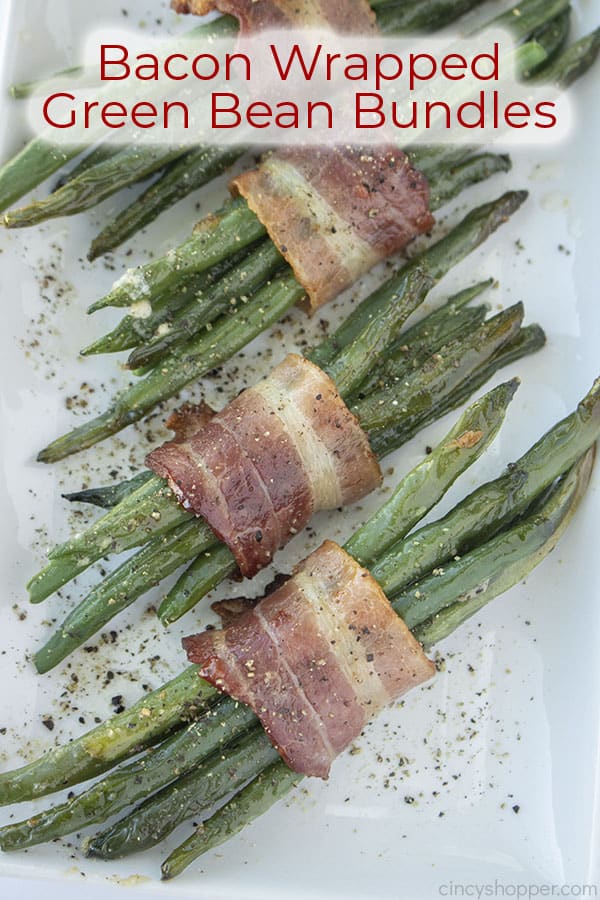 Ingredients for our Green Bean Bundles
Green Beans – This recipe works best with fresh green beans.

Bacon – Use some good bacon here. Don't reach for the stuff you can pop in the microwave for 20 seconds!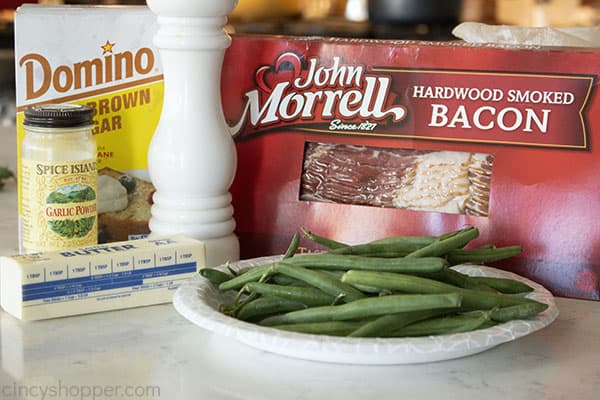 How to make our Bacon Wrapped Green Beans Recipe
We're first going to get our bacon prepped by cutting our strips in half and then placing them in a sheet pan. We'll give those a short stint in a 375 degree oven- just 5 minutes, as we don't want these bacon strips to get real crispy. Once cooked, reserve any bacon drippings in a separate bowl or container.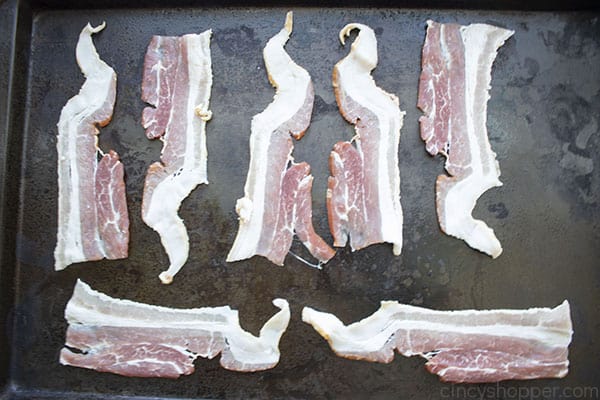 Now we can move on to our green beans. First, trim and wash your green beans if you haven't already. Then bring a large pot of water to a boil. Carefully pitch your green beans in and let cook for about 3 minutes.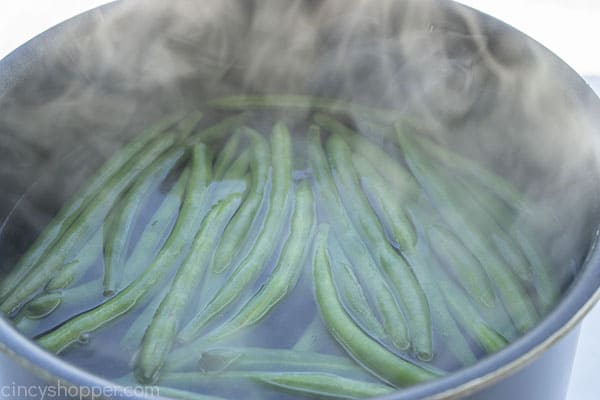 Once those beans have had a chance to cook, transfer them to a bowl of ice water to shock and stop them from cooking any further. Before we move any further, we're going to add a few mix-ins to our drippings from earlier to create an extra-flavorful baste for our beans.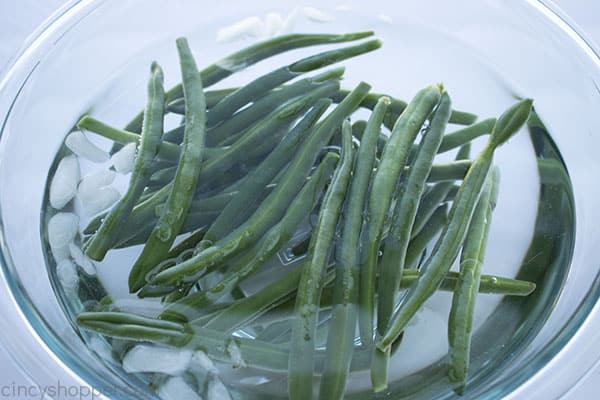 To the drippings, first, add about 2 tablespoons of butter. Microwave this mixture for about 20 seconds, giving a quick stir to combine, before adding in our garlic powder and some salt & pepper. Give that another quick stirring, tasting, and seasoning to your preference.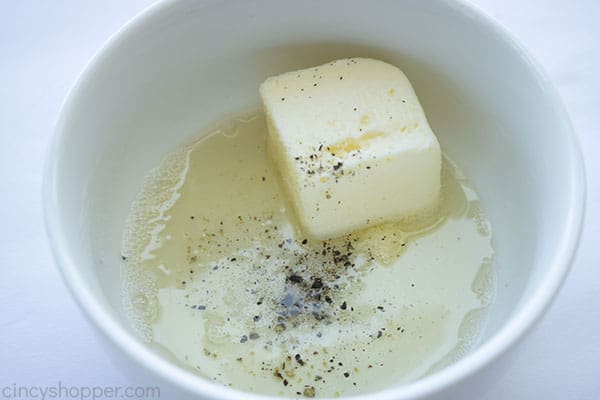 Now let's get back to our green beans. First, dab your green beans dry with some paper towels.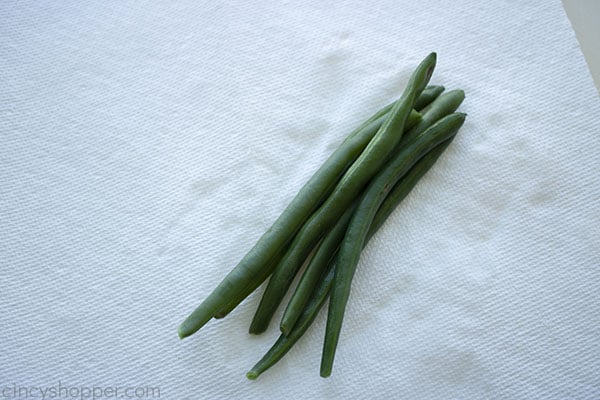 Next, take about 6-8 green beans and form them into a bundle. Wrap them with one of your half-strips of bacon- securing with one or two toothpicks.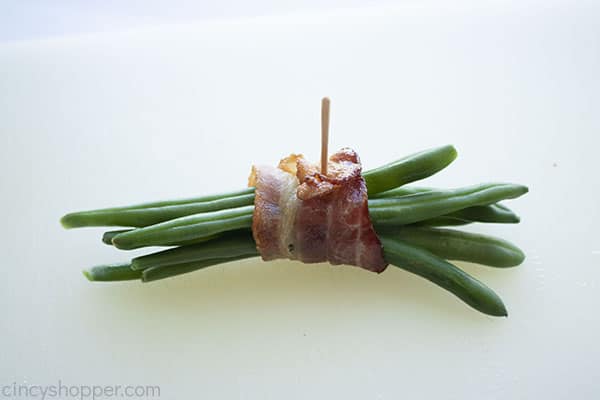 Keep wrapping your bundles and transfer them to your sheet pan from earlier- hey, less dishes to wash!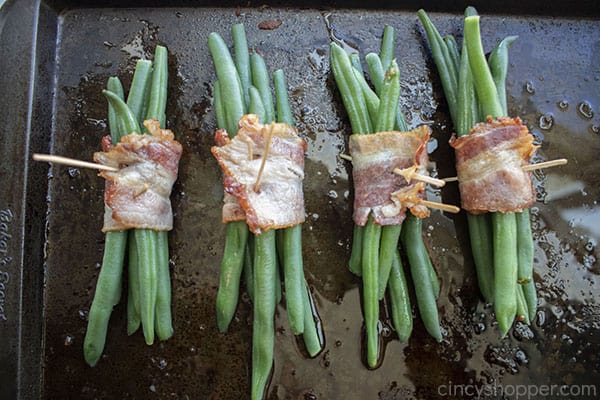 Take our butter and bacon drippings and drizzle them over our green bean bundles.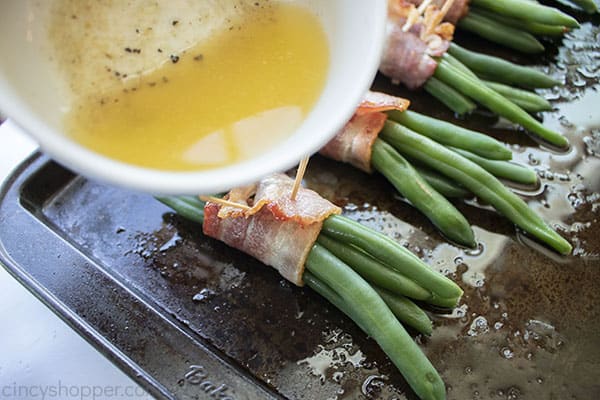 Add about a tsp of brown sugar over your bacon wrapped green beans. Send your beans back into a 375 degree oven and let roast.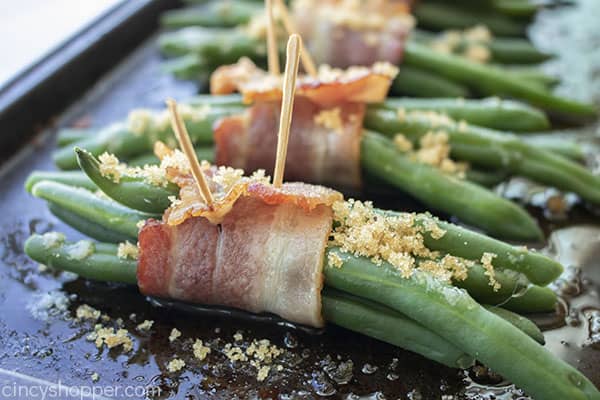 In about 20 minutes, your bacon should be nice and crisped up and your beans should have picked up some nice, roasty flavors. Pull your bundles from the oven, plate up, and enjoy!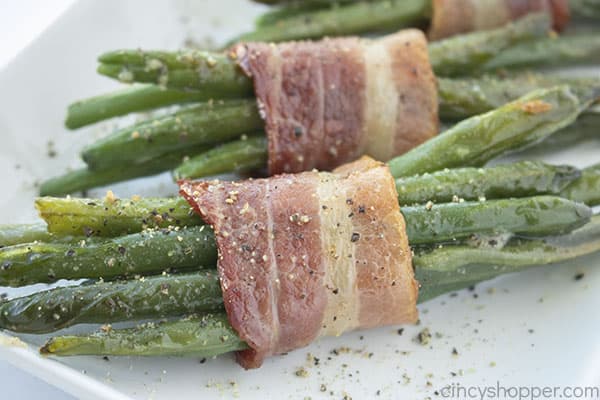 Bacon Wrapped Green Bean Bundles
Bacon Wrapped Green Beans are a delicious vegetable side dish cooked with butter and brown sugar. Try them today- they're so easy to make!
Ingredients
1 1/2

lb

Green Beans

3

slice

Bacon

2

tbsp

Butter

1/4

tsp

Garlic Powder

Salt and Pepper to taste

1

tbsp

Brown Sugar
Instructions
Preheat oven to 375.

Cut bacon strips in half and place on rimmed baking sheet.

Cook bacon in oven about 7 minutes until slightly cooked.

Transfer drippings to a microwave safe bowl.

Trim and wash green beans.

Fill a large pot with water and bring to a boil.

Place green beans in pot and cook 3 minutes.

Remove from heat, drain water and place beans in a bowl of ice water.

Add butter to bacon drippings and microwave for 20 seconds to melt.

Add garlic powder, salt and pepper. Stir to combine.

Use papaer towels to dry beans.

Gather into bundles or 6-7, wrap with bacon pieces and secure with a toothpick.

Place on baking sheet from earlier.

Drizzle bundles with bacon grease mixture.

Sprinkle the brown sugar over each bundle.

Cook in oven 20 minutes or until bacon is crisp.
Nutrition
Calories:
61
kcal
|
Carbohydrates:
5
g
|
Protein:
2
g
|
Fat:
4
g
|
Saturated Fat:
2
g
|
Cholesterol:
9
mg
|
Sodium:
57
mg
|
Potassium:
131
mg
|
Fiber:
2
g
|
Sugar:
3
g
|
Vitamin A:
450
IU
|
Vitamin C:
7
mg
|
Calcium:
21
mg
|
Iron:
1
mg