Brown Sugar Bourbon Glazed Carrots are the perfect sweet side! This simple, roasted recipe will pair well with all sorts of main courses.
If you're looking for something that'll pair perfectly with all sorts of steak, chicken, and turkey dinners, look no further! Bourbon Glazed Carrots are an amazing vegetable side dish perfectly sweetened with a mixture of honey, sugar, and whiskey.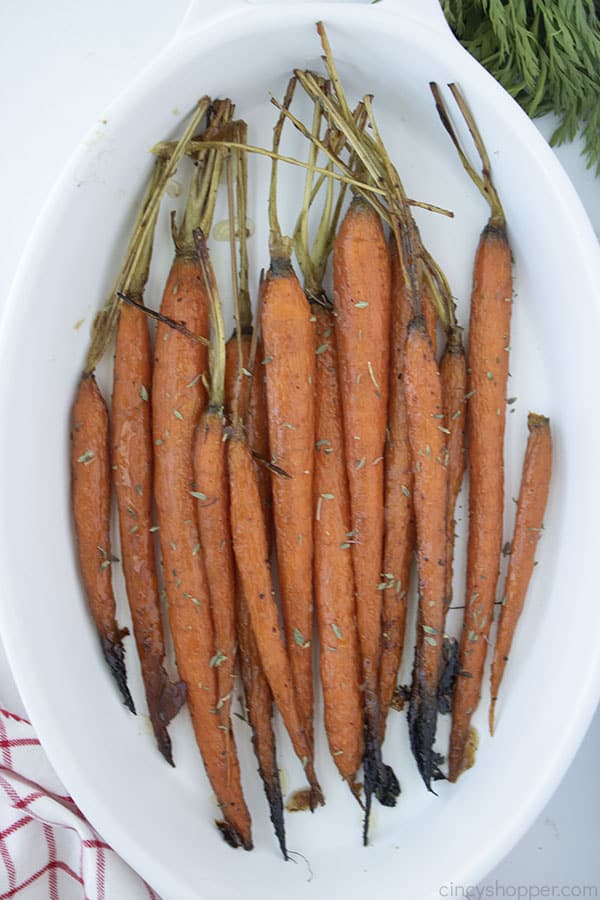 Brown Sugar Bourbon Glazed Carrots
You've got the perfect main dish lined-up for dinner tonight. Maybe it's some Parmesan Crusted Chicken or a delicious Slow Cooker Ham– it's a delicious main course. Unfortunately, this does not make a dinner: you need to pick out some delicious sides- maybe against the clock! Thankfully, we've got plenty of easy and tasty side dishes here on the site. Today, we've got a special one for you- a sweet veggie recipe that pairs with darn near everything!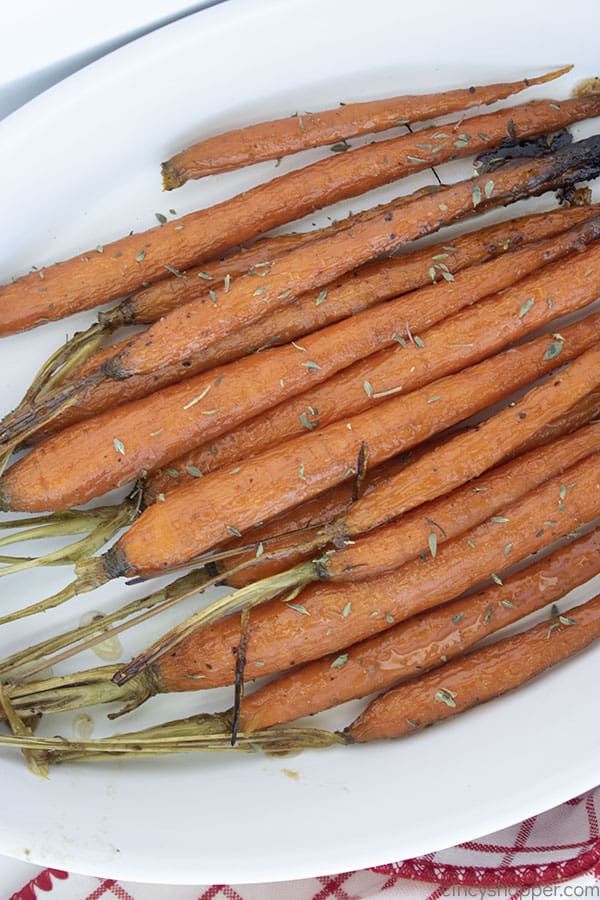 These Brown Sugar Glazed Carrots have a special ingredient in them that really amps up the flavor- bourbon! If you've never cooked with alcohol before, you should know that using some booze in your kitchen can add all sorts of flavors to dishes. Adding some bourbon in with your glazed carrots adds depth and dimension to the classic sweet side.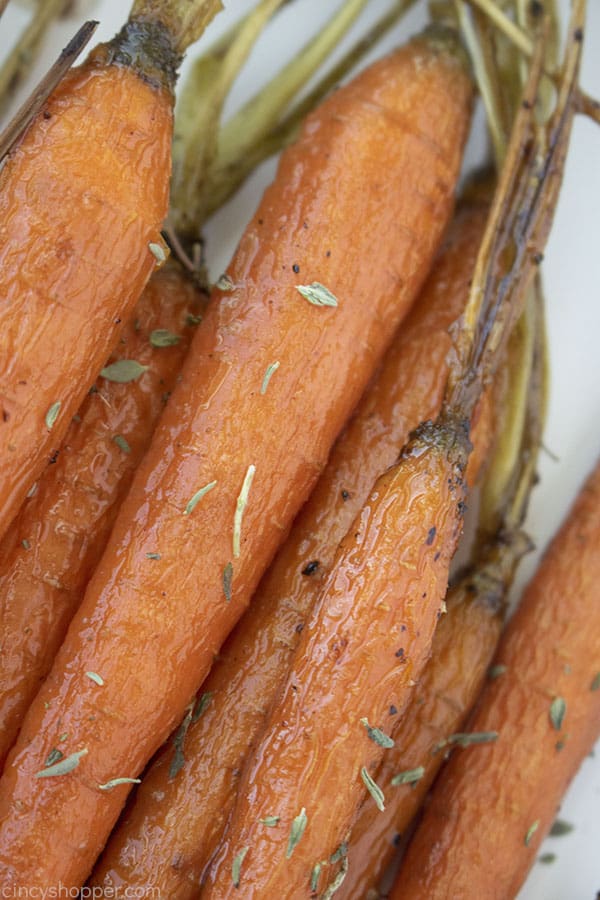 We can even keep things especially easy and simple by roasting our carrots in the oven. This'll reduce the chances of any flare-ups that happen when you experiment with hooch on the stovetop. It also ensures your carrots get deep, roasty flavors and that they're cooked and tender all the way through. We know you and any dinner guests will love this delicious side- expect them to ask for seconds!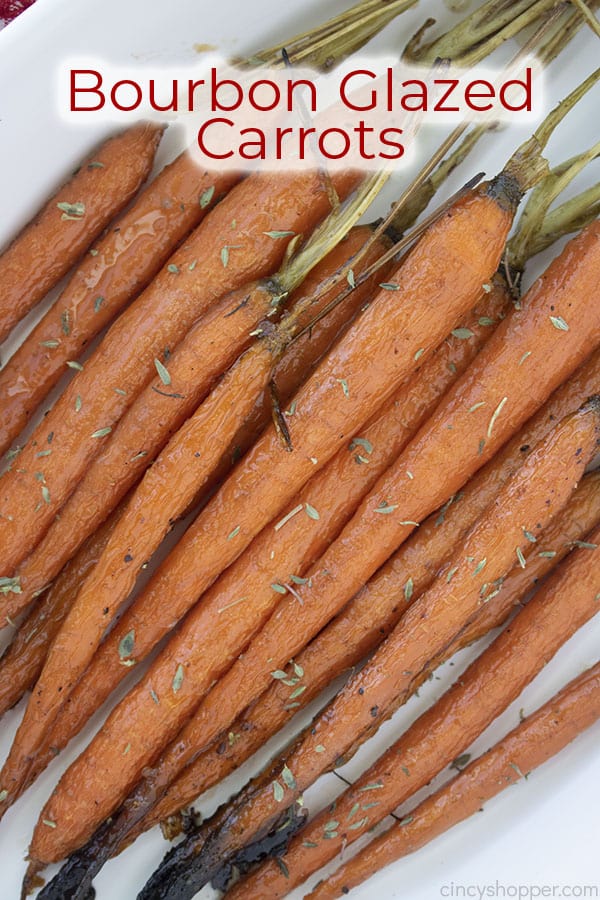 Other Carrot Sides to Check Out
If there's something about cooking with bourbon you don't like, we also have some regular

Brown Sugar Glazed Carrots

. We made these glazed and sliced carrots on the stovetop real easy. You can

easily

sub in frozen, baby, or canned carrots as well!

Pumpkin Spice Glazed Carrots

are a great seasonal side that's perfect for fall! A bit of pie spice and maple syrup

really

add plenty of autumn flavors to the classic side dish. A sweet side dish that'll get your family to eat their veggies!

A simple honey garlic butter sauce are all you need to make some delicious

Honey Garlic Roasted Carrots

.

This roasted vegetable side dish can

be whipped

up in less than an hour and is a simple and easy way to have a flavorful side with dinner

. Delish!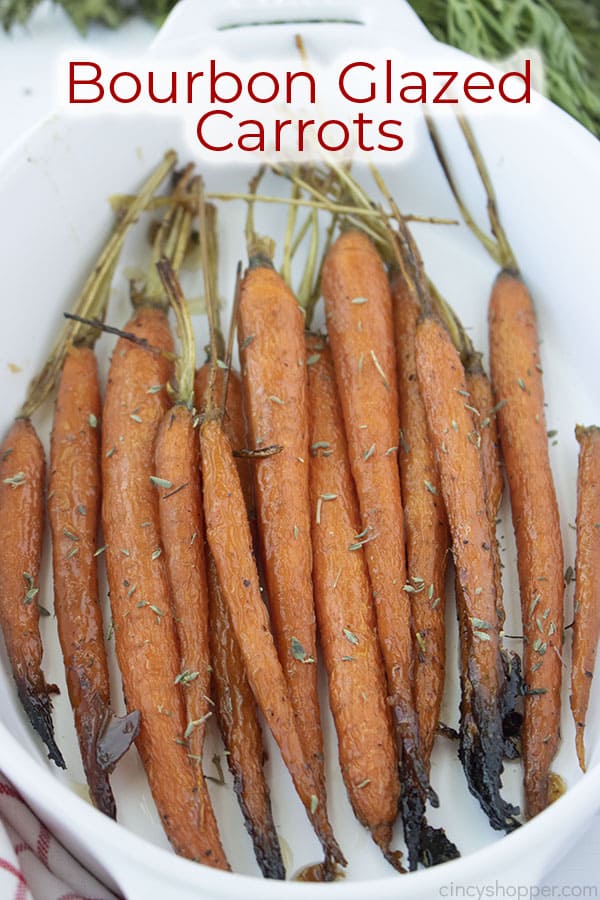 Ingredients for Bourbon Carrots
Carrots, washed and trimmed – We kept some of the greens on top of ours-

mostly

for presentation. They are edible though!

Olive Oil

Bourbon – Don't worry, the alcohol will cook off. It also goes without saying that you shouldn't use any fancy, sipping whiskey here.

Don't reach for anything super bottom-shelf either- if you'd be alright mixing it into a drink, it's

probably

perfect for this recipe

!

Thyme – Works

perfectly

with carrots.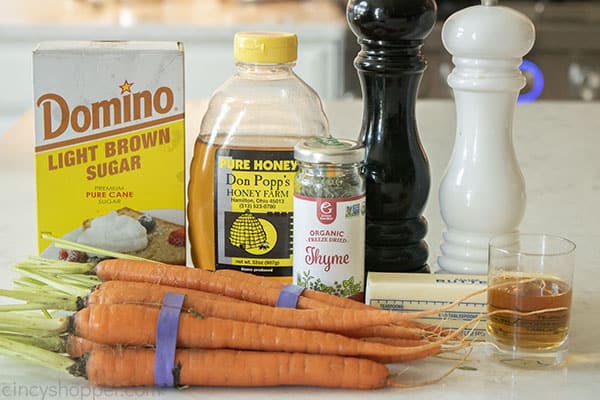 How to make Roasted Glazed Carrots
After letting our oven preheat to 450 degrees, we're going to give our carrots a quick coating of olive oil to help with browning and add some flavor. No need to go crazy here: just a quick drizzling over the carrots after setting them in a rimmed baking sheet.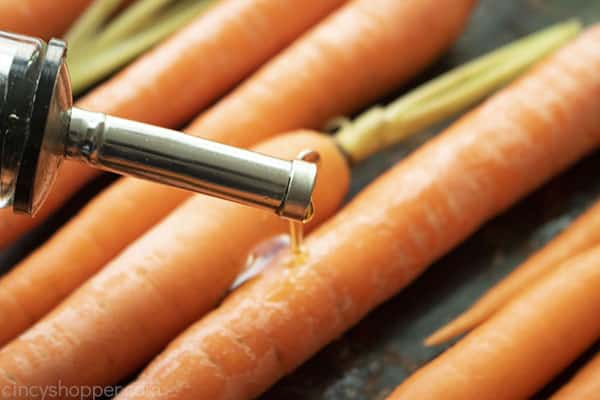 We're also going to melt some of our butter and pour that over our carrots as well. Just melt a couple tablespoons in the microwave pour evenly over the carrots. Once you've got both of those poured over, pop the carrots into the oven to bake for 20 minutes.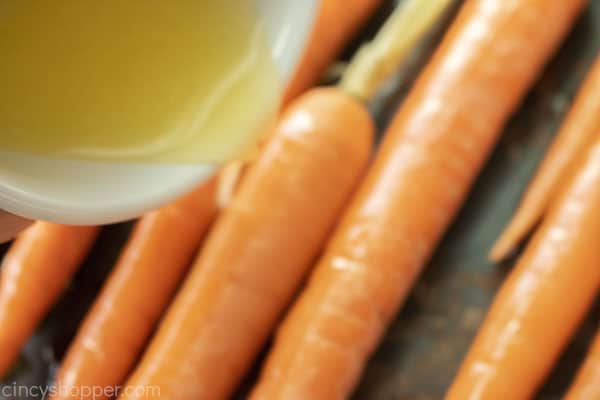 Now let's put the "glazed" in glazed carrots! For our glaze, we're going to combine all of our remaining ingredients- minus the bourbon and thyme- in the bottom of a small pot. Allow those ingredients to melt over low heat, whisking regularly, before carefully adding bourbon. If you have a small fire, either slap a lid onto the pot to starve the flame of oxygen or cut the heat and let the alcohol burn off. After adding the bourbon, bring the mix to a light boil before cutting the heat.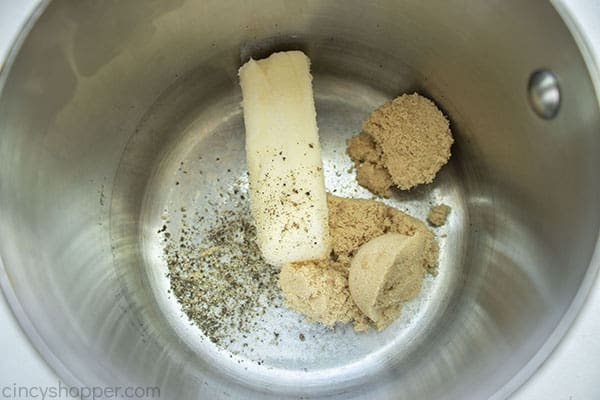 With our carrots out of the oven, we're going to evenly pour our glaze over carrots. If you feel your carrots aren't coated well enough, you could also turn the carrots over, lightly tossing them in the glaze.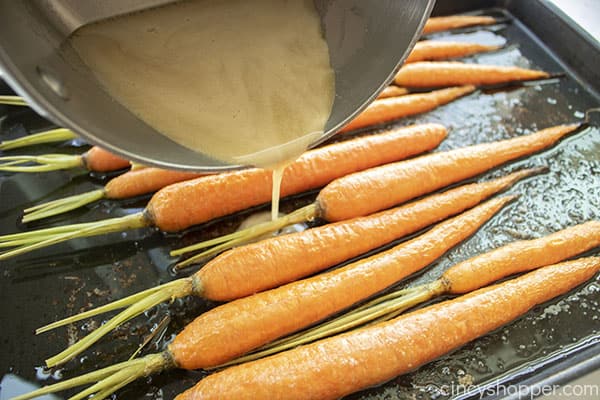 All that's left is to send our glazed carrots back into the oven! It shouldn't take terribly long for our carrots to finish cooking. For us, it took about 10 minutes for our carrots to become tender.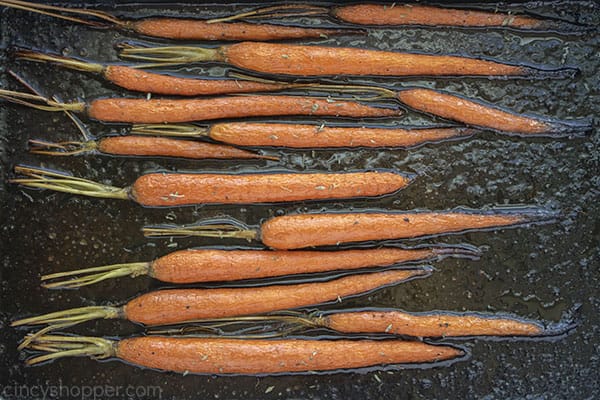 After pulling from the oven, all you need to do is hit your carrots with a quick sprinkling of thyme. After that, plate up with your main fare and enjoy!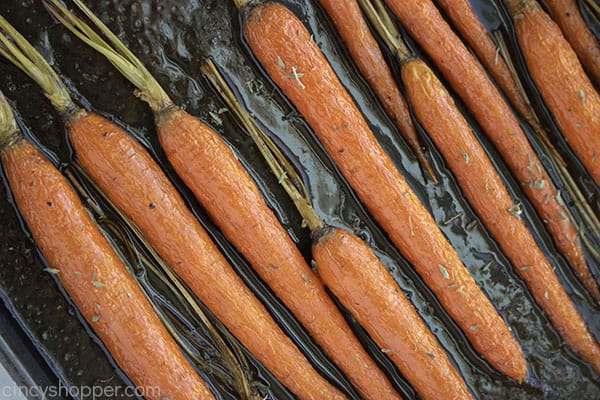 Bourbon Glazed Carrots
Brown Sugar Bourbon Glazed Carrots are the perfect sweet side! This simple, roasted recipe will pair well with all sorts of main courses.
Ingredients
1

lb

Carrots

1

tbsp

Olive Oil

1

tbsp

Honey

2

tbsp

Brown Sugar

6

tbsp

Butter divided

3

tbsp

Bourbon

1/4

tsp

Salt

1/8

tsp

Pepper

1/4

tsp

Thyme
Instructions
Preheat oven to 450.

Wash and trim carrots leaving tops in place.

Place carrots on a baking sheet.

Melt 2 tablespoons of butter in the microwave.

Drizzle with olive oil and melted butter.

Bake for 20 minutes.

In a small saucepan combine 4 tablespoons of butter, brown sugar, honey, salt, pepper.

Whisk over low heat.

Add the bourbon and bring it to a slight boil.

Pour mixture over carrots.

Bake for an additional 10 minutes or until tender.

Sprinkle finished carrots with thyme.
Notes
Feel free to use an inexpensive bourbon or omit it completely, your glazed carrots will still be delicious!
Nutrition
Calories:
293.04
kcal
|
Carbohydrates:
21.15
g
|
Protein:
1.27
g
|
Fat:
20.81
g
|
Saturated Fat:
11.31
g
|
Cholesterol:
45.15
mg
|
Sodium:
375.63
mg
|
Potassium:
362.87
mg
|
Fiber:
3.17
g
|
Sugar:
15.52
g
|
Vitamin A:
19469.06
IU
|
Vitamin C:
6.69
mg
|
Calcium:
47.44
mg
|
Iron:
0.34
mg