Au Gratin Potatoes are a cheesy, creamy, delicious homemade side dish you need to try. Great for Thanksgiving, Christmas, Easter, or any day!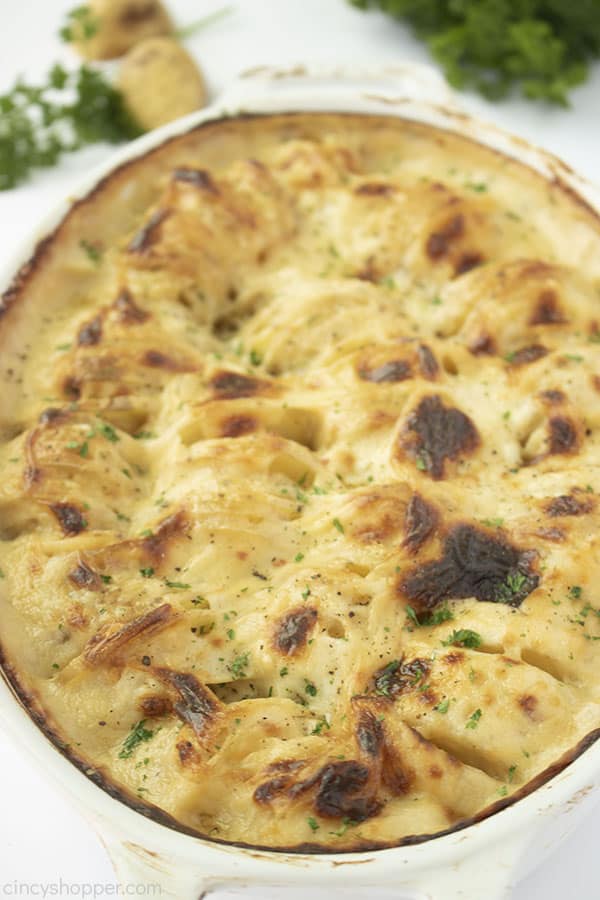 Au Gratin Potatoes
Potatoes are the backbones of many kitchens around the world. Think of a dish that you can't find some potatoe-based side to pair with. Can you have a burger without french fries? What's a good roast chicken- or turkey, if it's Thanksgiving- without a heaping pile of mashed or smashed potatoes? Is game night even possible without potato skins?! Jokes aside, you can't discount the humble potato- and you definitely won't be able to ever again after making some Au Gratin Potatoes.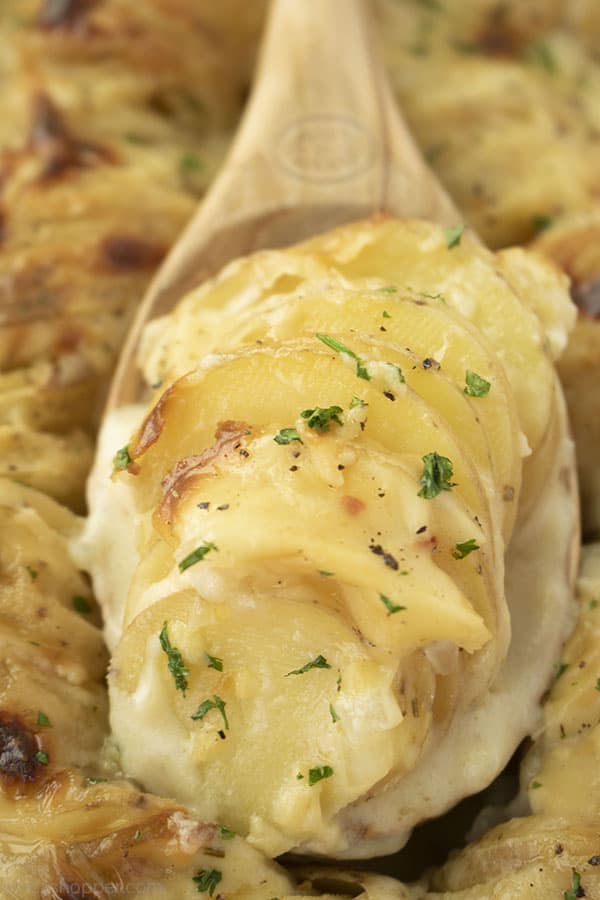 In France, a gratin dish is a dish which gets topped with either breadcrumbs or cheese and then gets browned underneath a broiler. Today's dish, Au Gratin Potatoes, is once such dish- and is likely the first dish you think of when you hear the term au gratin. It's such a simple change from something like scalloped potatoes that totally reinvents the dish!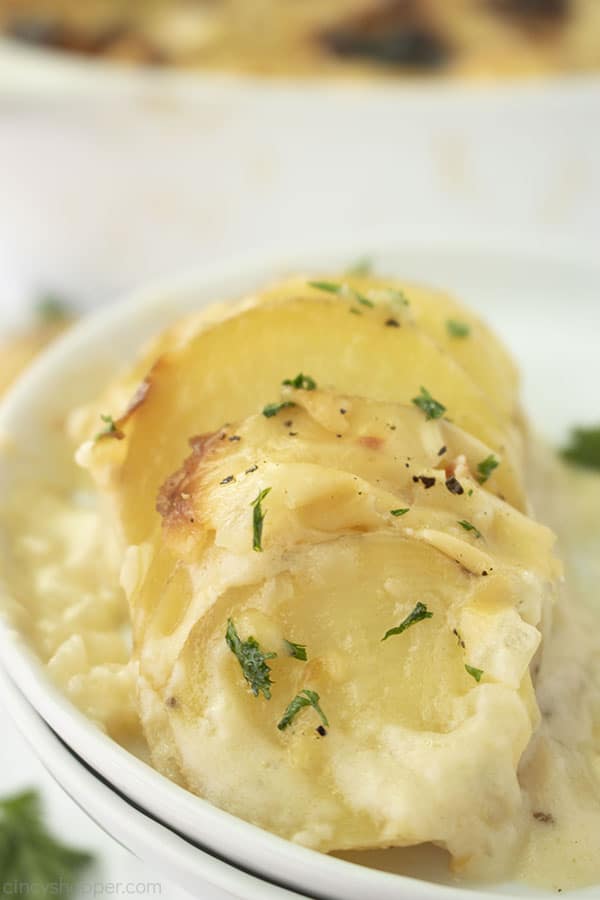 With a rich, creamy cheese sauce you'll find that these potatoes could steal the show at your next big dinner! If you're willing to grab a mandoline, you'll even find that this recipe is shockingly easy to make once everything's prepped. Make a quick roux, use that to make a simple sauce, get your cheeses melted in, pour the sauce over your potatoes- it's surprising how quick you can make this! Not to mention how delicious it ends up looking…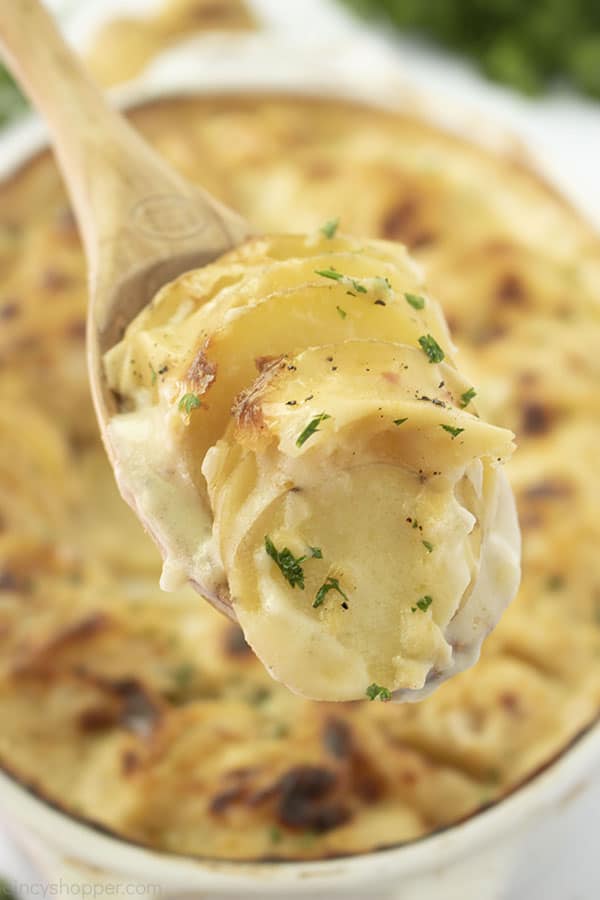 We've got plenty of other potato sides here on the site you might want to take a look at.
If Au Gratin Potatoes seem a little too intense for you, there's always its more-laidback cousin,

Scalloped Potatoes and Ham

.

You'll find a lot of similar creamy, cheesy flavors you'll get with Au Gratin Potatoes- with the added bonus of some delicious ham

!

For breakfast or dinner potatoes, few recipes are as delicious as our

Copycat Cracker Barrel Hashbrown Casserole

.

Real easy to make with some frozen hash brown potatoes and packed with plenty of creamy and cheesy flavor

!

Wanting even more cheese with your potatoes?

Slow Cooker Cheesy Potatoes

are simple to make with pantry ingredients! Warm, gooey and cheesy comfort food you're certain to love!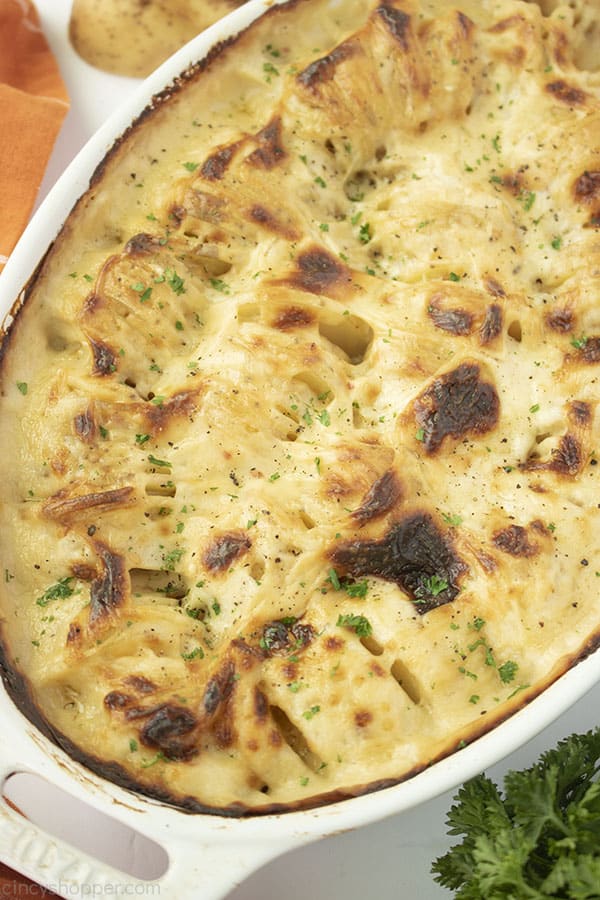 One last little note about safety before we turn you loose to get started on this delicious Au Gratin Potatoes recipe. The mandoline- next to the chef's knife- is one of the scariest tools in the kitchen and you can hurt yourself real easy on it if you're not careful. If your mandoline came with one, please use the included safety holder/hand guard- we had a few close calls before we decided to look for ours. It was worth it though: we finished the recipe without any ER visits and everyone was able to enjoy these potatoes fresh from the oven!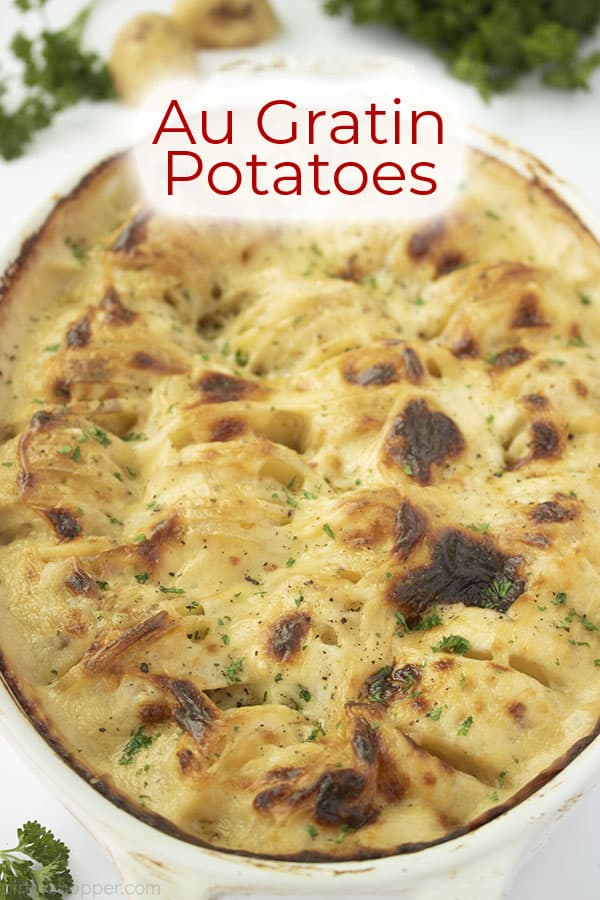 Ingredients for Au Gratin
Potatoes – We used some golds in our au gratin, but reds will

probably

work as well. Whatever variety you choose, make sure you get them sliced

thinly

!

Cheeses – Considering the French origins, we figured the best cheese for au grain potatoes would be a

fondue

-like cheese mix

. About equal parts sharp cheddar, parmesan, and gruyere.

Experiment some- try some Emmentaler to make a proper

fondue

mix or pecorino romano in place of the parmesan

. The sky's the limit!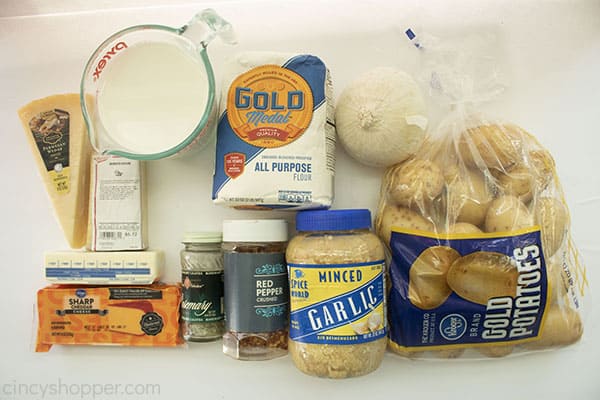 How to prepare our Potatoes
Like scalloped potatoes, you'll start this recipe by getting your potatoes sliced real thin on your mandoline. After slicing them, start layering them in a heavily-greased casserole dish- an 8×8 or 9×9 ideally.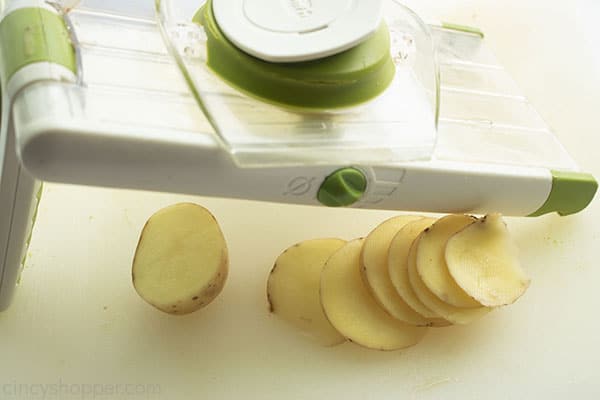 Leave your potatoes be for a bit while you get started on the sauce. Like we said, we'll start this sauce by making a roux. For that, melt some butter in the bottom of a stockpot over medium heat.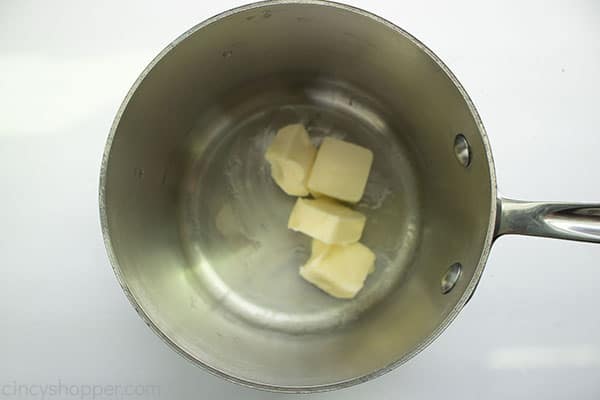 Once melted, add in an equal amount of flour and allow to cook for a few minutes. You'll know it's ready for the next step when it starts smelling a bit nutty.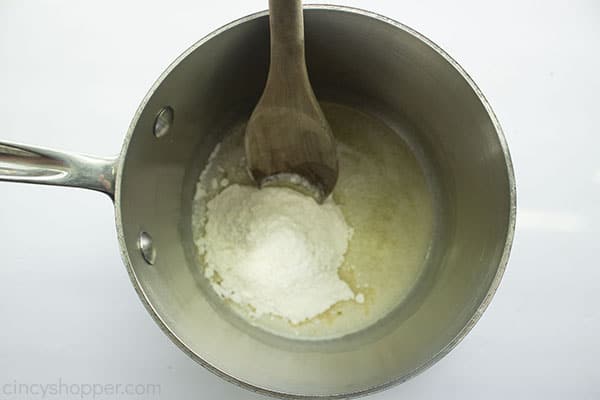 While that's cooking- or before, while you were slicing your potatoes- you'll want to get your onion finely diced. The finer the better!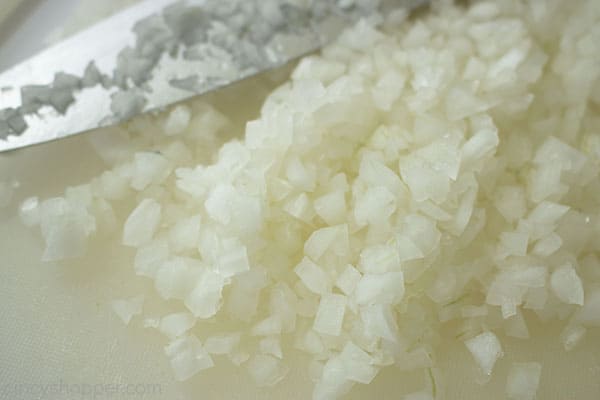 Once the roux has cooked for long enough, you can add in your onion, garlic, and seasonings. Let that cook for a few seconds until it starts getting fragrant.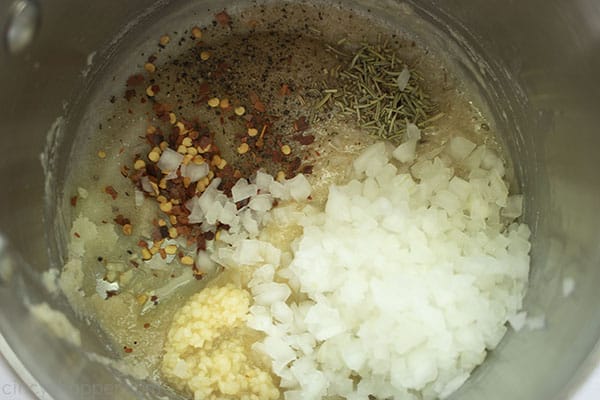 Once it starts smelling good and garlicky, you can start streaming in your milk. Add the milk and whisk the mixture while cooking over medium heat until it starts getting think and bubbly.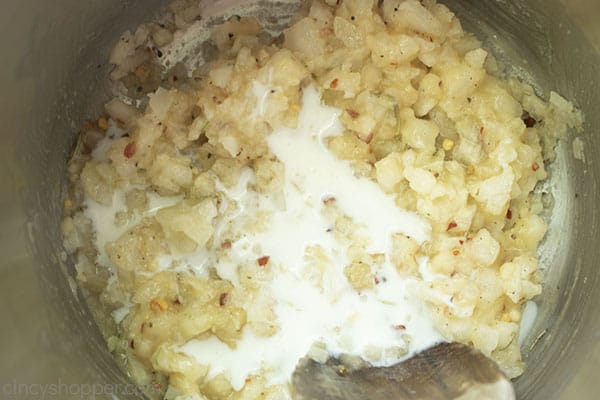 Once the sauce has thickened up, you'll want to pull it from the heat before adding your cheeses. For best results, shred your cheeses so that they melt into the sauce easier.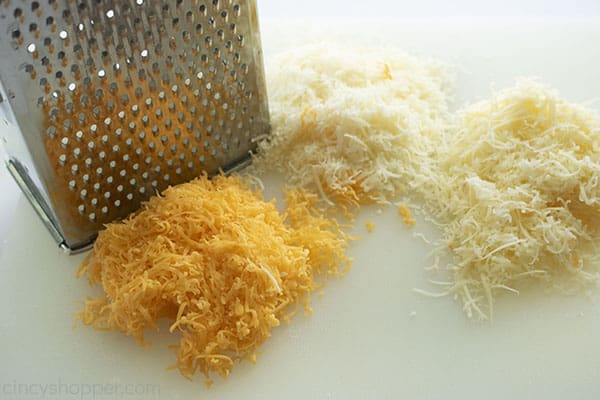 That's your cheese sauce all ready to go! Resist the urge to "taste" it all right then and there- it's good stuff- and pour it evenly over your layered potatoes from earlier. Try to separate potato slices here and there and get sauce in between.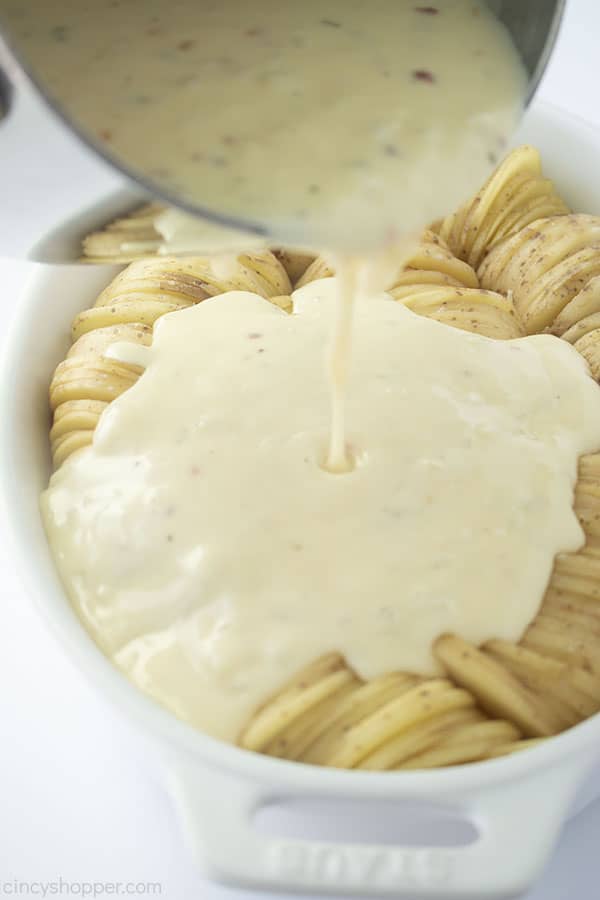 From here, all that's left is to bake. You'll, first, want to bake it covered with foil at 400 degrees for an hour.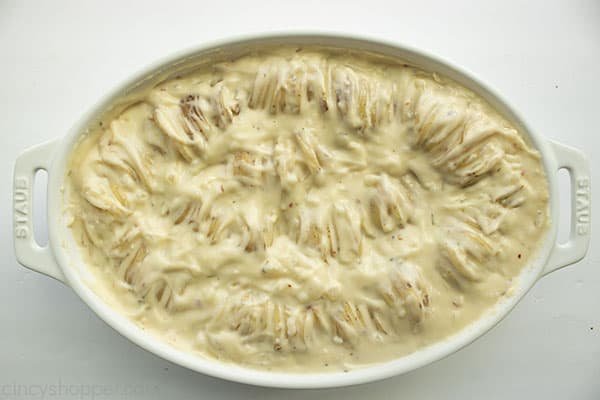 After that stint in the oven, you'll want to bake them uncovered for around another half hour. Keep an eye on them and watch for when the potatoes and the top layer start browning. Once you see that, your Gratin Potatoes are ready to pull from the oven. Let them cool for a few minutes before enjoying!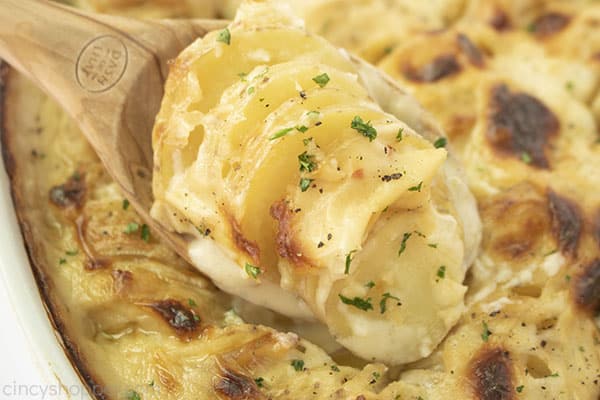 Make Ahead & Freezing
If you're wanting to make these potatoes ahead for a party, you could store them covered in the fridge overnight

. After the initial bake at 400 for an hour, allow to cool before recovering and putting in the fridge. To warm up,

just

continue the recipe from where you left off.

These potatoes can freeze once you've finished cooking them.

Allow to cool completely before covering

tightly

in foil or plastic wrap and storing in the freezer

. This way, they'll likely keep for 1-2 weeks.
Au Gratin Potatoes
Au Gratin Potatoes are a cheesy, creamy, delicious homemade side dish you need to try. Great for Thanksgiving, Christmas, Easter, or any day!
Ingredients
3

lb

Potatoes

peeled and thinly sliced

1

medium Onion

finely diced

4

tbsp

Butter

4

tbsp

Flour

1/2

tsp

Crushed Red Pepper

1/4

tsp

Rosemary

1/2

tbsp

minced Garlic

2 1/4

cup

Milk

1/2

cup

Sharp Cheddar Cheese

shredded

1/2

cup

Parmesan Cheese

shredded

1/2

cup

Gruyere Cheese

shredded
Instructions
Preheat oven to 400.

Heavily grease an 8x8" or 9x9" baking dish.

Layer potatoes in prepared baking dish/casserole, position upright to fit as many as possible.

In a medium saucepan, melt butter.

Add flour and combine to create a roux and cook about 3 minutes.

Add onions, red pepper, Rosemary and garlic. Stir until blended.

Gradually add milk and whisk over medium heat until thick and bubbling.

Remove from heat add in the cheeses until melted.

Pour cheese sauce over potatoes, wiggling and slightly moving potatoes, to get sauce between the slices.

Cover with foil and bake 60 minutes.

Remove the foil and bake for 20-30 minutes longer until potatoes are soft and browned.
Nutrition
Calories:
332
kcal
|
Carbohydrates:
38
g
|
Protein:
13
g
|
Fat:
15
g
|
Saturated Fat:
9
g
|
Cholesterol:
43
mg
|
Sodium:
265
mg
|
Potassium:
846
mg
|
Fiber:
4
g
|
Sugar:
6
g
|
Vitamin A:
523
IU
|
Vitamin C:
35
mg
|
Calcium:
313
mg
|
Iron:
2
mg