Homemade cocktail sauce is a recipe everyone needs for entertaining. This recipe has so much more flavor than what you can buy pre-made.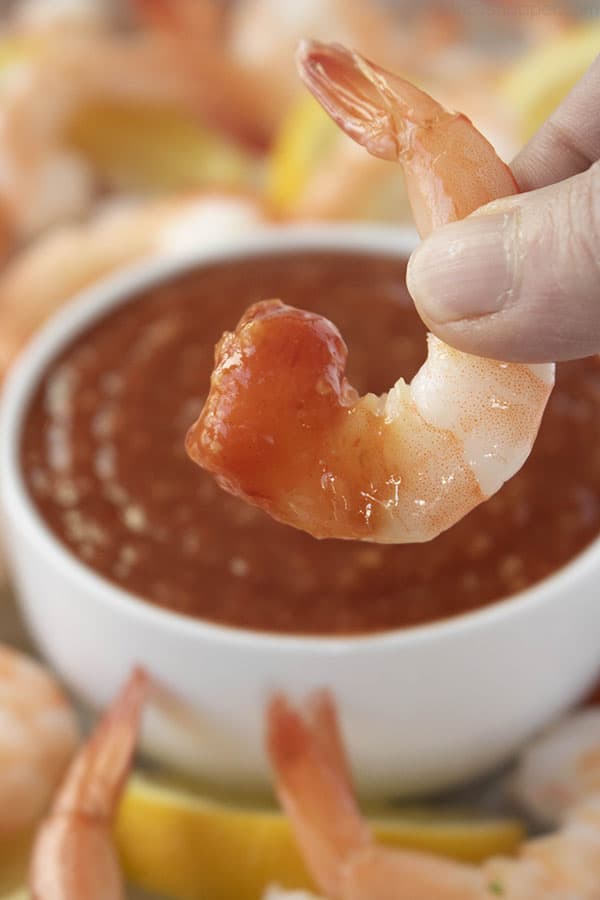 In just a few minutes, you can make your own homemade cocktail sauce recipe. Not only does it have amazing flavor, but you can adjust the recipe to accommodate your tastes. Use more of less of the zesty ingredients depending on how spicy you like your sauce to be.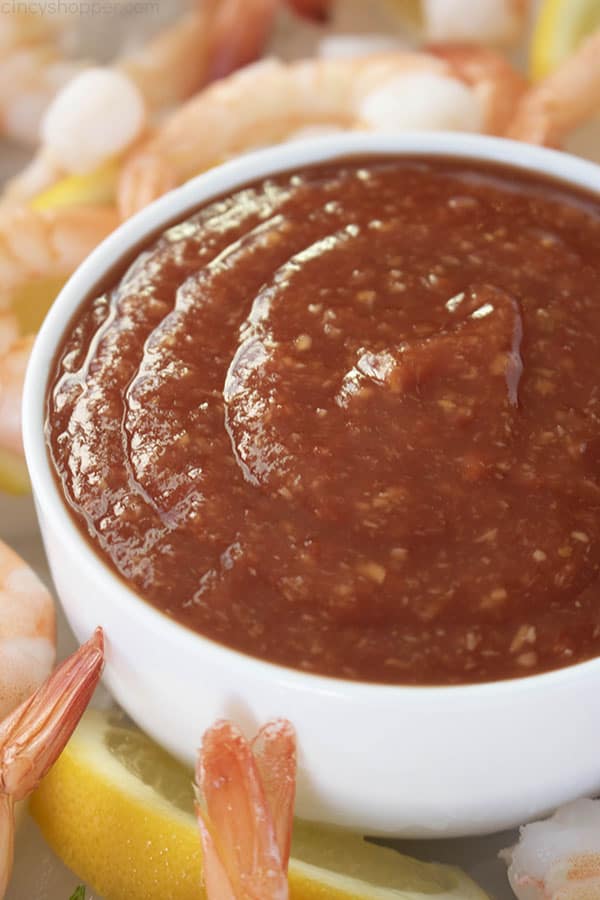 What is homemade cocktail sauce made of?
Homemade cocktail sauce is quick and easy to make. You probably have all the ingredients you need in your pantry!
Chili sauce- you can find different levels of intensity for chili sauce. Use one as spicy or as mild as you prefer.
Ketchup
Horseradish- You want pure horseradish, not horseradish sauce. This is ground horseradish root with vinegar and salt. Horseradish is just one ingredient in horseradish sauce. The bite of the horseradish is tempered with sour cream or mayonnaise in horseradish sauce to make it mild and creamy.
Worchestire sauce
Lemon juice
Pepper sauce- This is a hot sauce made from chili peppers. The most common is Tabasco, but you can find other varieties.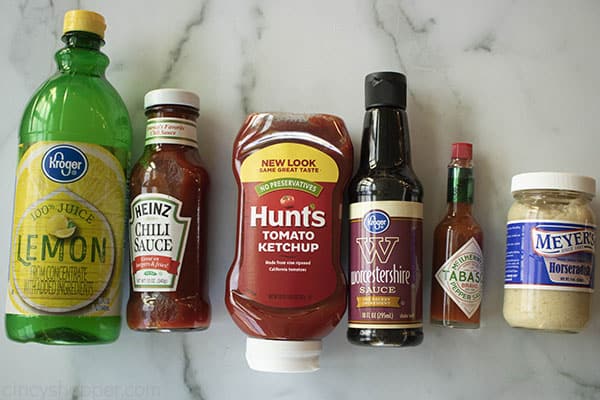 How to make homemade cocktail sauce
It will only take you about ten minutes to make this homemade cocktail sauce.
Measure out and mix all the ingredients into a bowl.
Taste and adjust to your preference. If you want more spice, add horseradish. If you want to mellow it out a bit, add ketchup.
Refrigerate for at least two hours before serving. This gives the flavors lots of time to combine.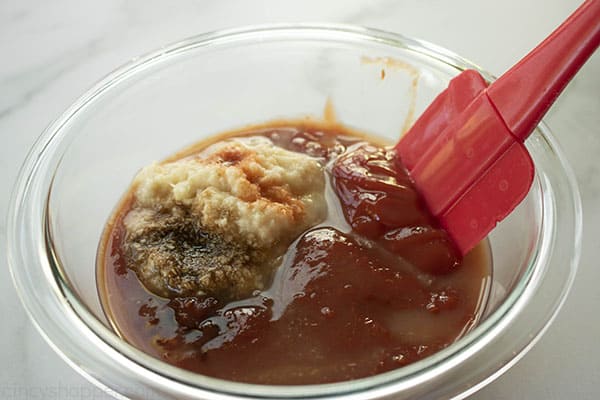 Ingredient substitutions
This is a basic recipe for cocktail sauce. But feel free to embellish it to change or enhance the flavor. You can add ingredients to make it more unique or swap out the spicy sauces for something more mild.
Try adding any of these to your cocktail sauce recipe:
Cilantro, tomatillos and green hot sauce will give your a green cocktail sauce
If you really want to spice it up, replace the ketchup with more chili sauce
Make a mild sauce by using mayo
Replace the pepper sauce with sriracha sauce for a unique flavor.
Use red wine vinegar instead of pepper sauce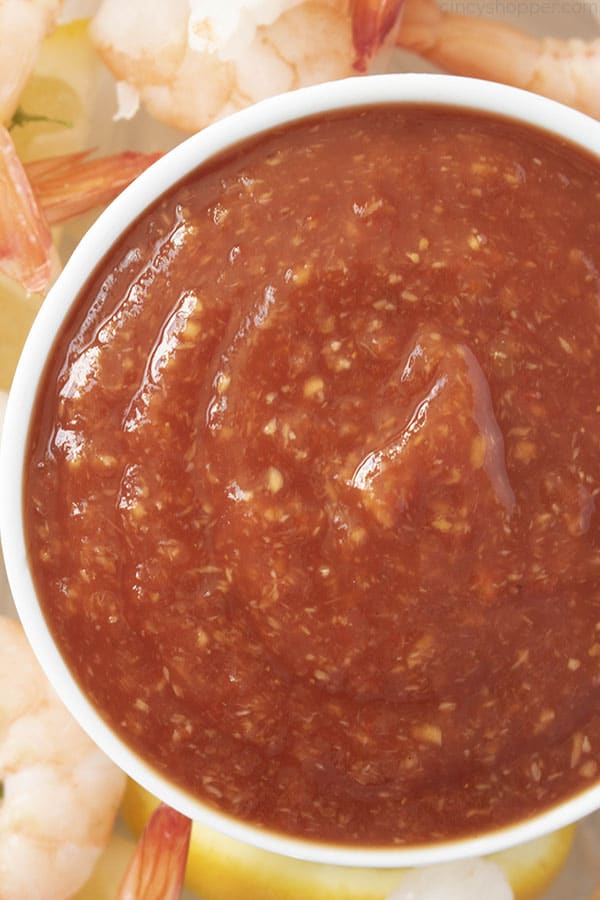 How do you serve shrimp cocktail?
As an appetizer, shrimp cocktail sauce is served with cooked cold shrimp to dip. You can purchase a platter of shrimp from the store this way, but it's simple and more affordable to make your own.
If you are starting with frozen shrimp, you need to thaw them. Put the whole bag in the refrigerator overnight.
Fill a large pot with water.
Add bay leaves, lemon juice and black peppercorns to the water and allow it to come to a boil.
Add the shrimp and cook for three to four minutes. They should just be turning pink. Be careful not to overcook the shrimp or they become rubbery.
Run the shrimp under cold water and serve cold with the shrimp sauce.
I leave the tails on the shrimp so they are easier to hold and dip.
If you are serving this as an appetizer at a party, presentation is important. Cover a tray with crushed ice to keep the shrimp cold. Arrange the shrimp on the tray and accent with lemon slices and small bowls of homemade cocktail sauce. You may want to leave a few empty bowls out for people to throw their shrimp tails in.
Another great dipping sauce for seafood is my Copycat Red Lobster tartar sauce.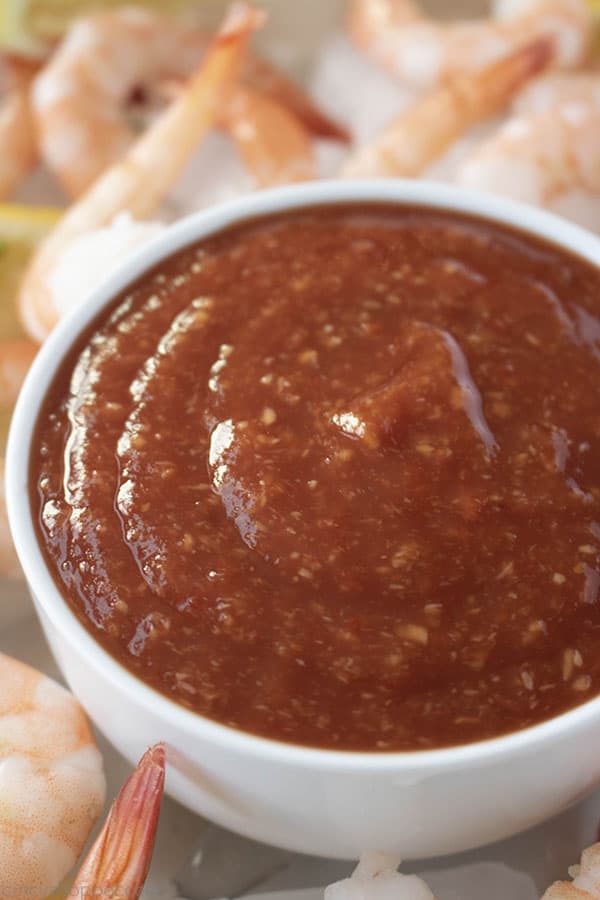 What do you put cocktail sauce on?
Of course, shrimp cocktail sauce comes with the platter of cold shrimp. But you can use this homemade recipe for more than the occasional shrimp cocktail at a party. Think of it as a spicy version of ketchup and use it any dish that needs more flavor.
Replace the ketchup in meatball sauce with cocktail sauce
Put it on top of meatloaf
Serve it with crab cakes or fish dishes
Include it in a relish tray
Salad dressing
How long will it last in the fridge?
Homemade cocktail sauce will last for at least two weeks if stored in the refrigerator.
That means you can make this condiment ahead of time. It's great for parties and doesn't need to be warmed.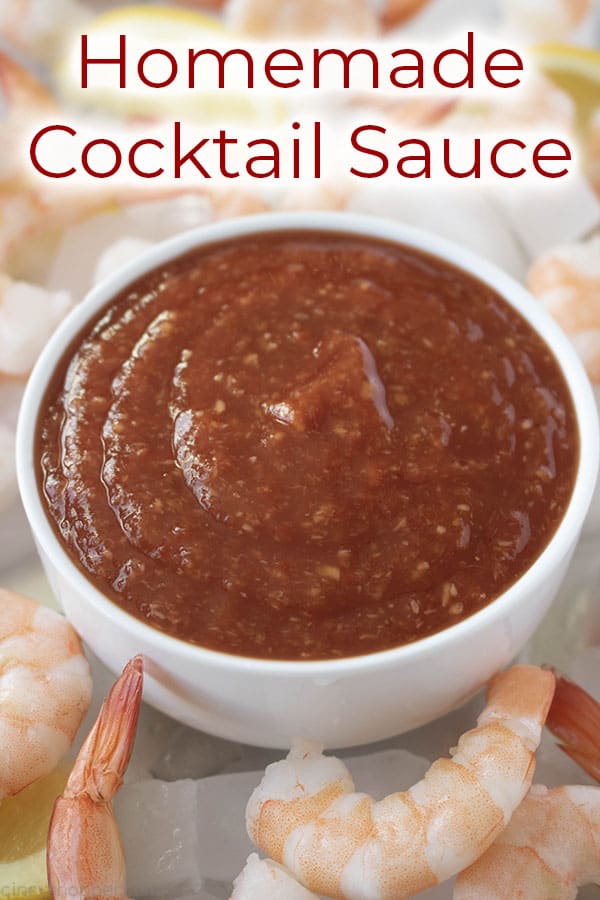 Can you freeze homemade cocktail sauce?
You can freeze homemade cocktail sauce. Store it in an airtight container and it will last in the freezer for up to six months.
Thaw it in the refrigerator for a few hours before serving. It does tend to thin out when it thaws. If it is not as thick as you like, make sure you stir it well. You can add some more seasoning to bring it back to full strength too.
Cocktail Sauce
Homemade cocktail sauce is a recipe everyone needs for entertaining. This version has so much more flavor than what you can buy pre-made.


Ingredients
3/4

cup

Chili Sauce

3/4

cup

Ketchup

1/4

cup

Horseradish

1 1/2

tsp

Worchestershire Sauce

2

tbsp

Lemon Juice

3/4

tsp

Pepper Sauce

like Tabasco
Instructions
Combine all ingredients in a bowl.

Mix well.

Refrigerate for at least 2 hours.
Nutrition
Calories:
57
kcal
|
Carbohydrates:
12
g
|
Protein:
1
g
|
Fat:
1
g
|
Saturated Fat:
1
g
|
Sodium:
599
mg
|
Potassium:
193
mg
|
Fiber:
2
g
|
Sugar:
8
g
|
Vitamin A:
289
IU
|
Vitamin C:
9
mg
|
Calcium:
13
mg
|
Iron:
1
mg