Creamy Cilantro Dressing is a delicious & zesty salad topping. Our homemade dressing tastes way better than any store bought salad dressing!
This tasty salad dressing recipe is great for topping salads, proteins like fish or chicken, and so much more. Use some of it on some Taco Salad or over some Slow Cooker Chicken Tacos.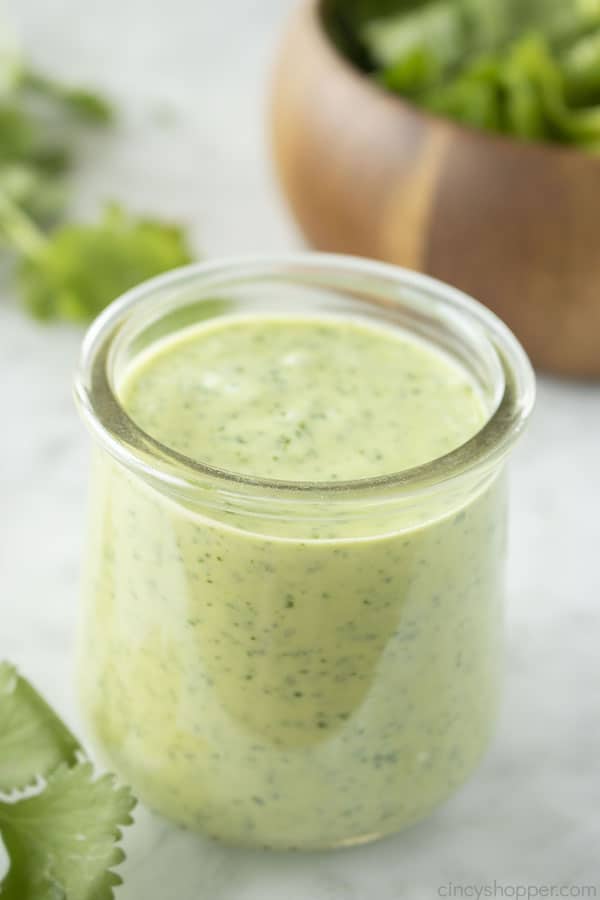 Creamy Cilantro Dressing
When it comes to appetizers or sides, I usually feel safe going with a salad of some kind. Whether I'm at home or out at a restaurant, I've usually got some sort of salad to go with my meal. Having a salad means having some good salad dressing to go with it! I've got a few go-tos and favorites- I love some creamy Italian dressing, for one- but I wanted to mix things up recently and decided to try this Creamy Cilantro Dressing.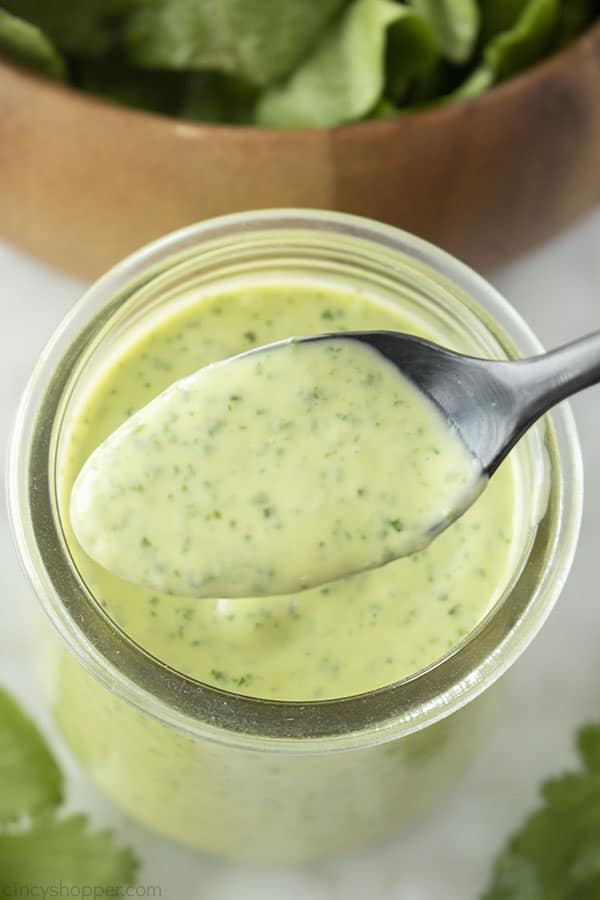 This Cilantro Lime Dressing is definitely a winner: that flavor combo of cilantro and lime with a bit of tangy yogurt and sweet honey backing it up is just perfect! Obviously, I think this Cilantro Salad Dressing is going to work great on plenty of salads but I think it also has potential as a sort of Cilantro Lime Sauce on all sorts of proteins or tacos. Thankfully, this stuff lasts a week in the fridge so I've got plenty of time to try it on all sorts of things! This stuff is so easy to whip up so I encourage all of you to follow the recipe below and make some for yourself. You won't regret it!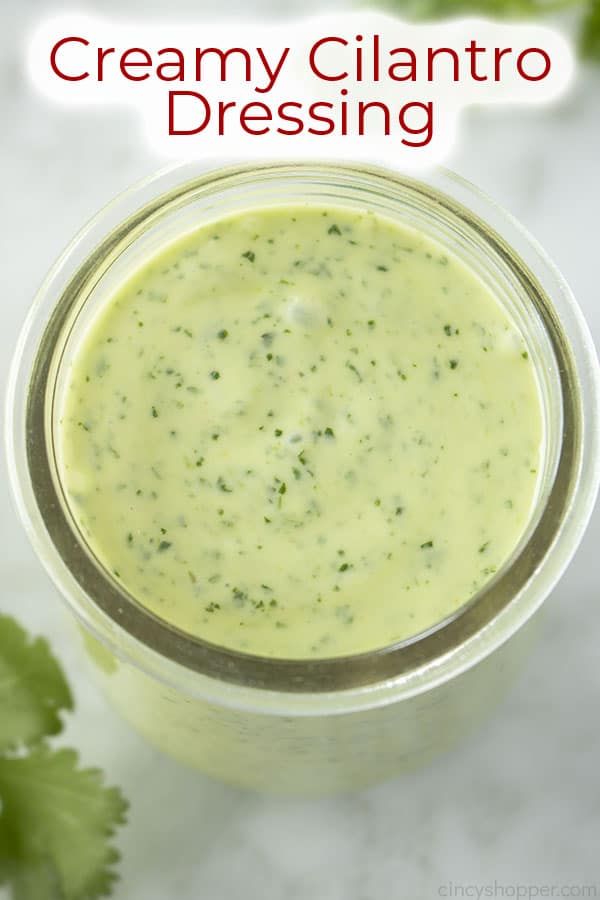 Enjoyed our recipe? Try some other salad dressing recipes next!
If you're looking for a more classic salad dressing recipe, take a look at our

Homemade Thousand Island Dressing

.

This combo of ketchup, mayo, pickles, onions, and hot sauce yields a creamy salad dressing with plenty of tang and zest

! Goes great on salads, burgers, and reuben sandwiches.

For something more like a creamy Italian dressing, give

Homemade Caesar Salad Dressing

a try

.

Our recipe for this popular salad dressing drops the traditional anchovies while keeping things easy to make and better than store-bought

. Works

perfectly

over a caesar salad or a chicken caesar, but also goes great on wraps!

Want something a bit more fruity and fresh? Go with our

Raspberry Vinaigrette

.

This is a delicious fruit vinaigrette recipe that you can make with either fresh or frozen raspberries any time of the year

!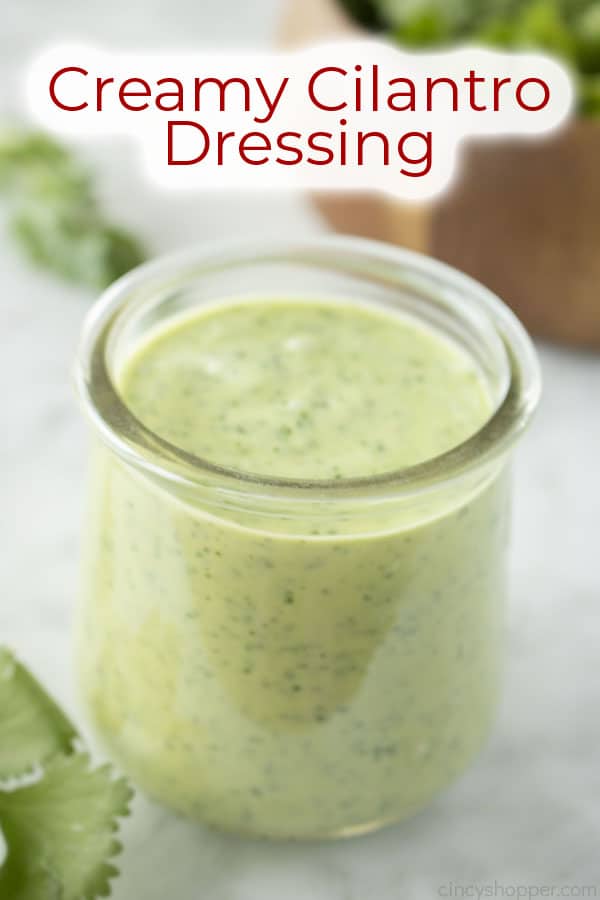 Cilantro Dressing Ingredients
Cilantro

– Fresh cilantro from the store will work the best for this dressing recipe. If you're one of those folks where cilantro tastes like soap but you still want this dressing, I

really

can't help. You can try using a cilantro substitute like parsley or dill, but this is a

cilantro

dressing.

Ground Coriander

Garlic

– Minced garlic will work fine in this recipe.

Salt

Lime

–

Freshly

squeezed lime juice for this recipe if you can- it

really

makes a difference!

Honey

Yogurt

– You've got a few options here. You can go with normal plain yogurt or- for a bit more tang- use plain greek yogurt. If you're worried about calories, you can use a fat-free or low fat yogurt.

Olive Oil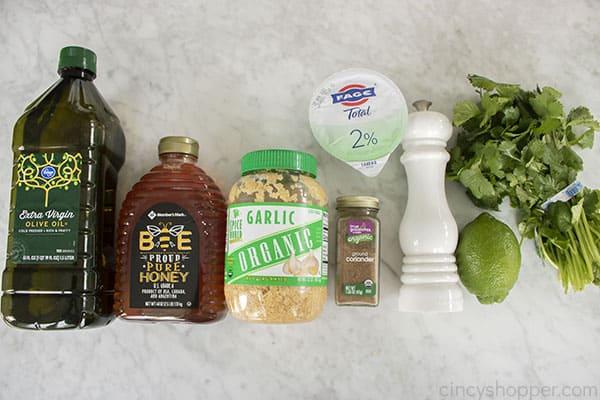 How to make Creamy Cilantro Dressing
This Creamy Cilantro Dressing is so easy to make- all you're going to need is a food processor. Here's what to do:
Prep your dressing ingredients by

juicing your lime

and

pulling the stems off the cilantro

.

Add all the ingredients to a food processor

and

run until a smooth creamy salad dressing forms

.

Pour dressing over salad

or

transfer to air-tight container

. Keep for up to 7 days in the fridge.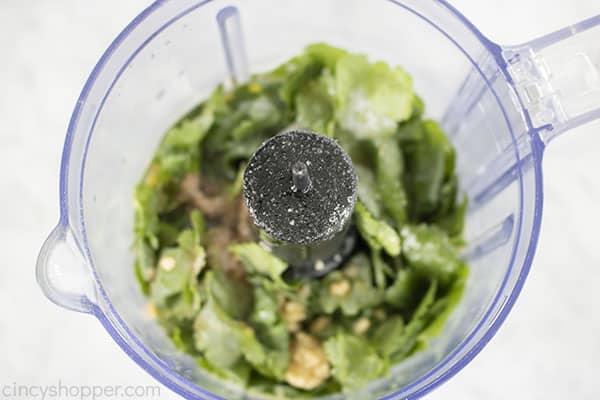 Really, once all the ingredients are prepped, this recipe is as simple as tossing all the salad dressing ingredients into a food processor. We do recommend pulling the leaves from your cilantro and discarding the stems- they're a little too tough to keep in.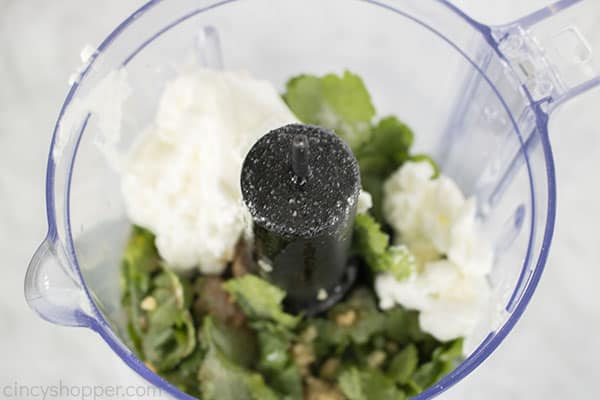 After adding everything to the food processor, run it until everything comes together into a creamy salad dressing. Pulse it or just let the processor run on it's own- it'll turn out alright.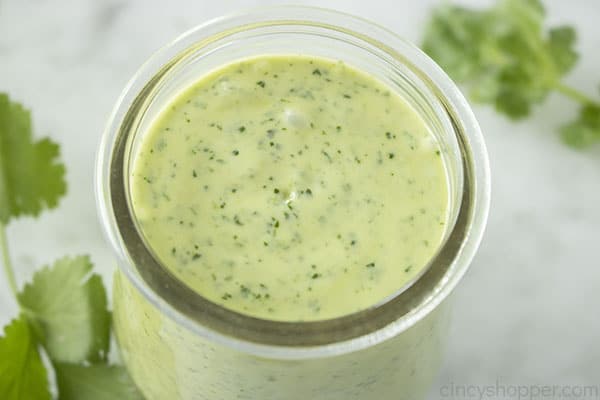 Just like that, your Cilantro Lime Dressing is done! Add it to a salad right away or transfer it to a container with a tight-fitting lid. Your creamy salad dressing will last around 7 days in the fridge if you keep it stored properly. Enjoy!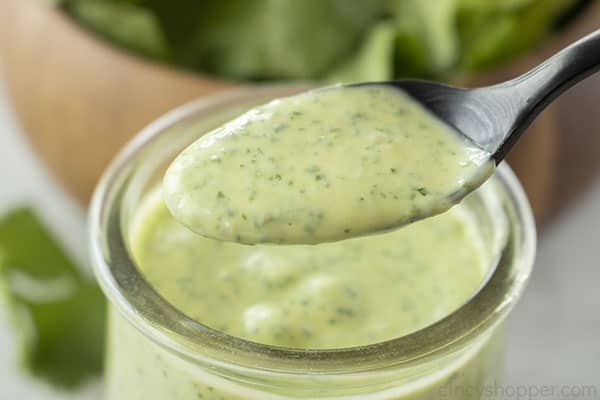 Creamy Cilantro Dressing
Creamy Cilantro Dressing is a delicious & zesty salad topping. Our homemade dressing tastes way better than any store bought salad dressing!
Ingredients
2

cup

Cilantro

fresh

1/4

cup

Lime Juice

1/2

tsp

Minced Garlic

2

tsp

Honey

1/2

cup

Plain Greek Yogurt

1/2

tsp

Ground Coriander

1/2

tsp

Coarse Salt

1/2

cup

Extra Virgin Olive Oil
Instructions
Remove most of the stems from the cilantro.

Place the cilantro, lime juice, garlic, honey, yogurt, coriander and salt in a food processor.

Pulse until blended.

Pour in the olive oil and process until smooth.

Sore in air tight container in refrigerator until ready to use.
Nutrition
Calories:
362
kcal
|
Carbohydrates:
8
g
|
Protein:
4
g
|
Fat:
36
g
|
Saturated Fat:
5
g
|
Polyunsaturated Fat:
4
g
|
Monounsaturated Fat:
26
g
|
Trans Fat:
1
g
|
Cholesterol:
2
mg
|
Sodium:
406
mg
|
Potassium:
137
mg
|
Fiber:
1
g
|
Sugar:
5
g
|
Vitamin A:
731
IU
|
Vitamin C:
9
mg
|
Calcium:
52
mg
|
Iron:
1
mg