Sauteed mushrooms are quick and easy to make. They are delicious as a side dish on their own, or as a topping on steak, burgers, or pork. This sauteed mushroom recipe requires just 5 simple ingredients to make.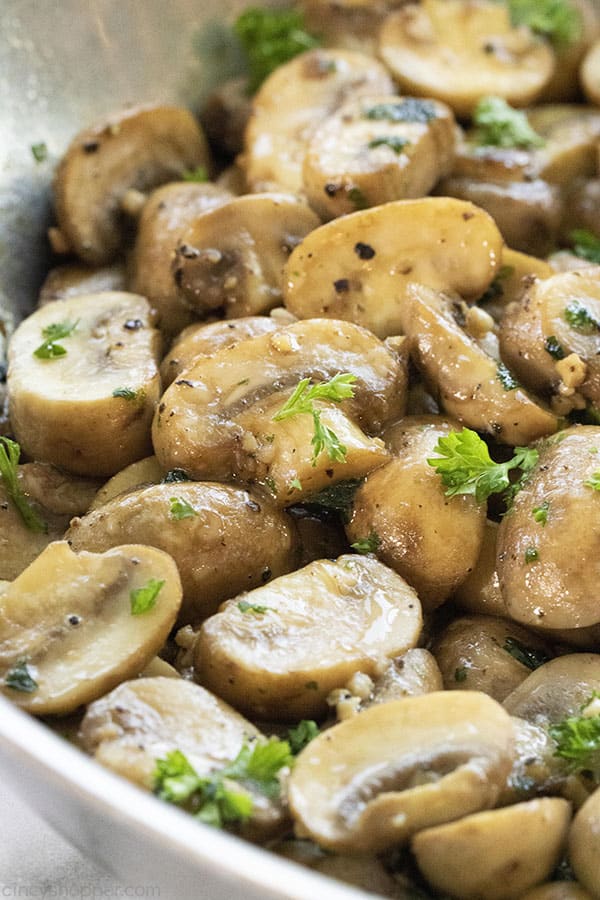 Sauteed Mushrooms with Garlic
I can't recall a time when a topping of buttery sauteed vegetables didn't improve the taste of a piece of meat. Not to mention, the veggies bring some extra nutrition to the dish.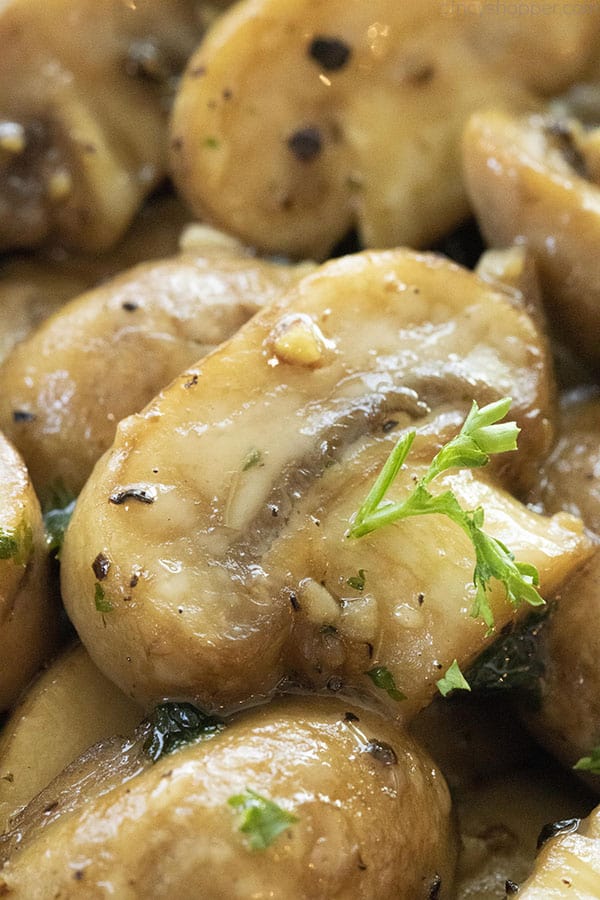 Uses for cooked mushrooms
Sauteed mushrooms with garlic are delicious on SO many things! Here are just a few ideas of ways to use them:
Use as a topping on steak, chicken, fish, or pork tenderloin.
Toss with melted butter and a bit of Parmesan cheese, then serve over a plate of spaghetti or your favorite pasta.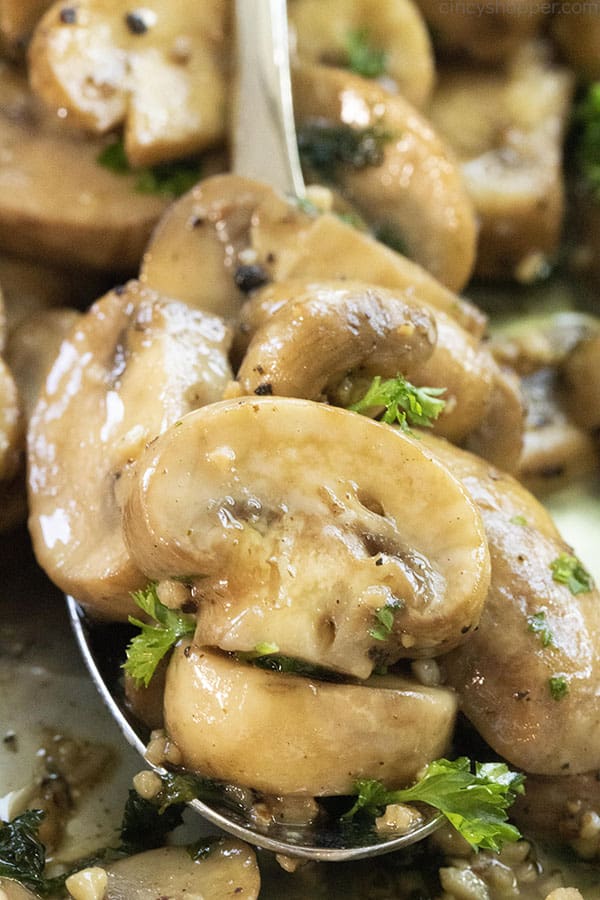 Stir into cooked brown rice, risotto or quinoa for a fancy yet simple side dish.
Add some sauteed mushrooms with garlic to your favorite pasta sauce.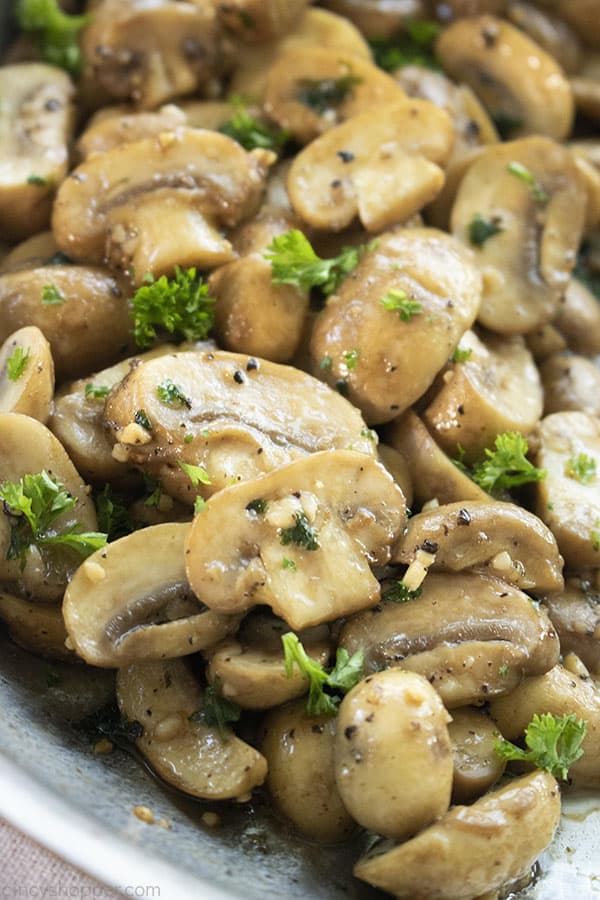 Amp up the flavor and texture of meatloaf by mixing chopped sauteed mushrooms to the mixture.
Stir into your favorite casserole or a pot of creamy mac and cheese!

Fold into an egg omelet, quiche, or baked egg casserole.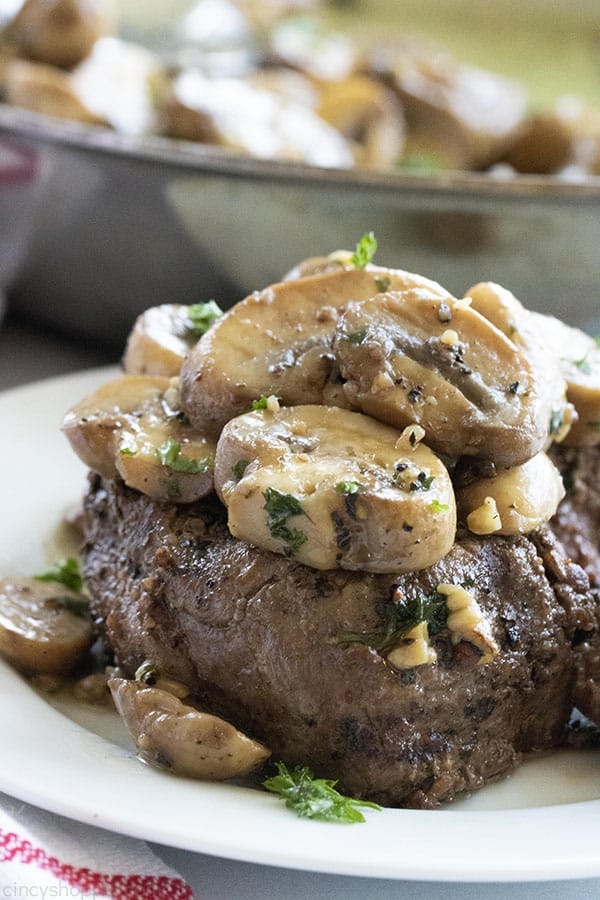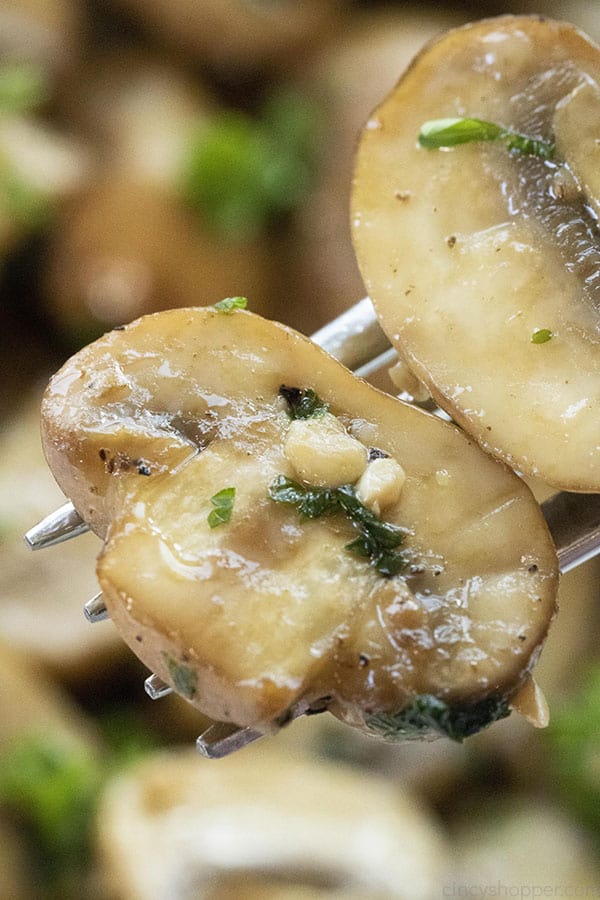 What you'll need to make the sauteed mushroom recipe:
You will need just a few basic ingredients to make this recipe. I'll give you some ideas for substitutions as well.
Button mushrooms
Butter – Salted or unsalted butter will both work fine in this recipe. However, if you use unsalted butter, it isn't a bad idea to season the mushrooms with a small pinch of salt.
Extra virgin olive oil
Fresh parsley
Minced garlic
Salt
Black pepper
Ingredient Substitutions
Mushrooms – If you don't have any button mushrooms on hand, you don't need to worry; that is not a problem at all. You can easily substitute any variety of edible mushrooms you enjoy, or use what you have in your fridge. Feel free to make sauteed portobello mushrooms or even oyster mushrooms!
Garlic – In addition to using different mushrooms, you can also easily substitute other ingredients for minced garlic. Sauteed mushrooms and onions or shallots are just as delicious. Just be sure not to chop the onions too finely. Otherwise, they are likely to burn before the mushrooms are finished cooking.
Olive Oil – When you make the sauteed mushroom recipe, it is important to use a neutral flavor of oil. Just as sponges easily absorb liquids, mushrooms easily absorb flavors. To allow the fresh mushroom taste to shine, I suggest using extra virgin olive oil.
If you need or want to use a different variety, sunflower oil, vegetable oil, or even avocado oil are good options. In addition to their neutral flavor, each of the oils is also categorized as a high smoke point oil. This means that they are best for cooking food at high temperatures.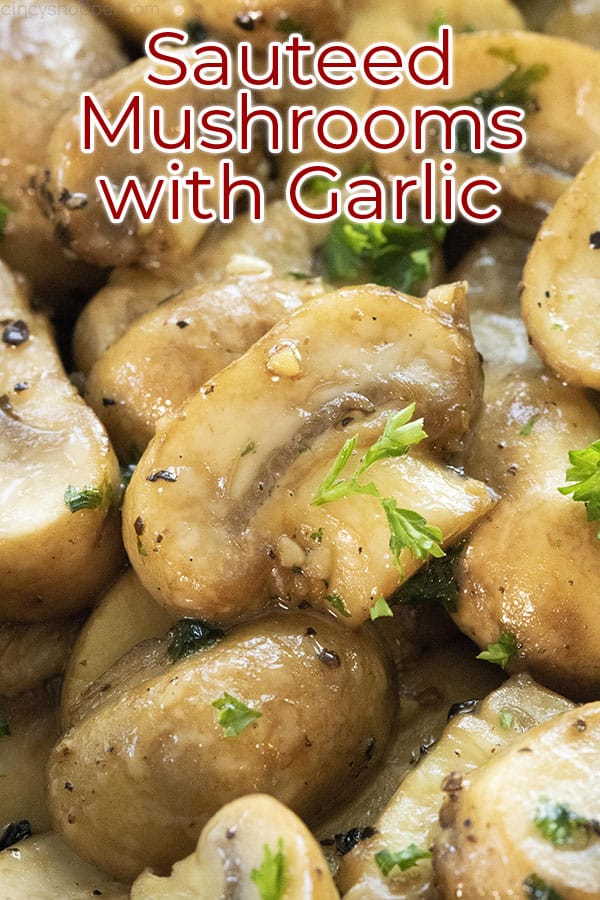 How to make sauteed mushrooms with garlic
Making this sauteed mushroom recipe truly couldn't be any easier. It is simply a matter of cooking mushrooms in butter and olive oil until they are golden brown. Of course, you will also need to saute the garlic. But, before you can start cooking anything, you will first need to clean and slice the mushrooms.
How to clean mushrooms
Cleaning mushrooms isn't difficult to do, but it does take a couple of minutes. Unlike firm vegetables such as cucumbers and carrots which you typically wash under running water, mushrooms are like sponges. They absorb liquids very quickly. As a result, if you try to wash them under running water, they are likely to become water-logged. This will make them very soggy and nearly impossible to saute.
To wash them, lightly rub them all over with a damp paper towel. Next, place them onto a cutting board and use a chef's knife to trim off the woody ends. Then, cut the tops into slices, about 1/8 to 1/4 inch thick.
After the mushrooms are clean and cut into slices, place them into a bowl and set them aside. Next, using the chef's knife again, finely chop up the fresh parsley.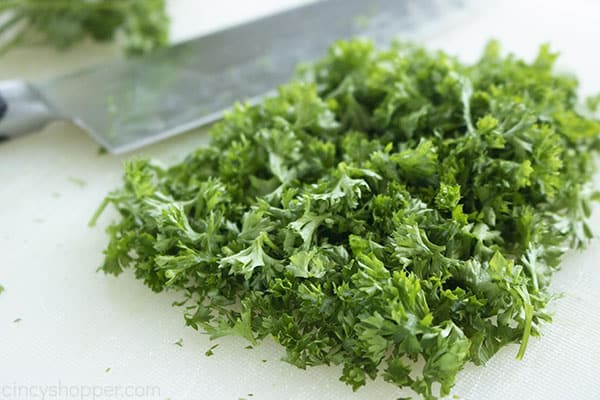 Melt a couple of tablespoons of butter in a skillet over medium heat. You can use salted or unsalted butter. If you use salted butter, just keep in mind that you will want to reduce the amount of salt you add to the dish. Over salted veggies are not a pleasant experience. ;)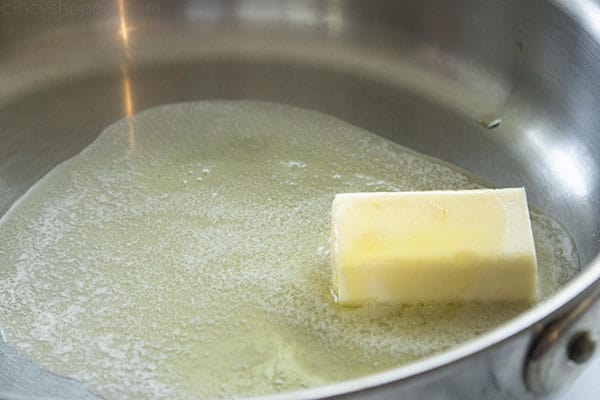 Place the seasoned mushrooms into the pan with the butter. Add salt, black pepper,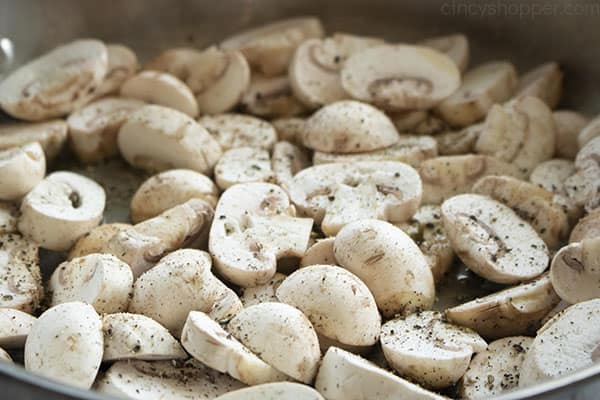 Cook for several minutes, occasionally tossing the mushrooms as they cook, then add the garlic and parsley and continue cooking for another minute.
NOTE: Garlic burns very easily, so wait until the mushrooms are almost completely cooked before adding the garlic and parsley.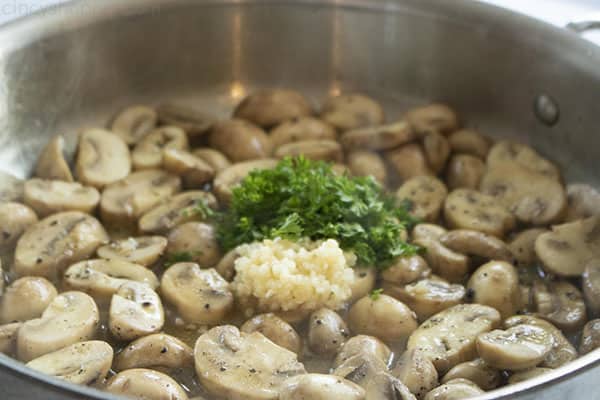 When the aroma of garlic hits your nose, the dish is ready to serve! Remove the pan from the heat, turn off the stove and transfer the mushrooms to a serving dish.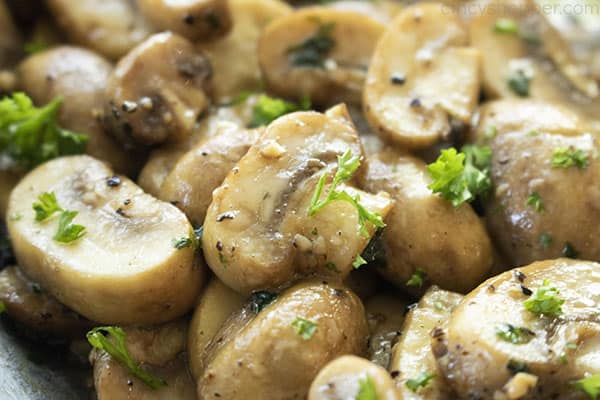 And there you have it! Feel free to let me know if you have any questions about how to make sauteed mushrooms with garlic. If you have any other ideas on how to use them, feel free to share them with me in the comments, too!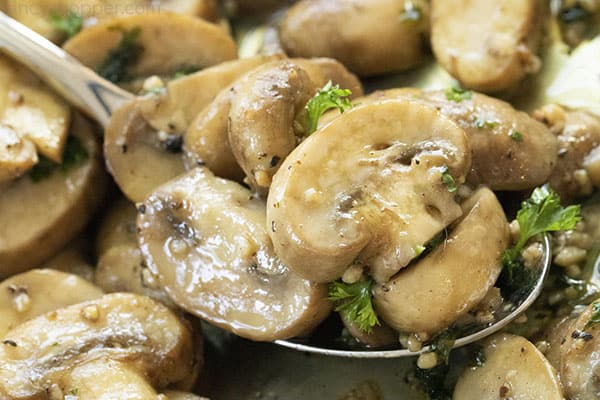 Sauteed Mushrooms with Garlic
Sauteed mushrooms are quick and easy to make. They are delicious as a side dish on their own, or as a topping on steak, burgers, or pork. This sauteed mushroom recipe requires just 5 simple ingredients to make.
Ingredients
1

lb

Button Mushrooms

2

tbsp

Fresh Parsley

divided

4

tbsp

Butter

1

tbsp

Olive Oil

1

tbsp

Minced Garlic
Instructions
Gently wash and dry mushrooms.

Slice into about 1/2" thick slices. Set aside.

Remove large stems and finely chop parsley. Set aside.

Melt butter in a large skillet over medium heat.

Add olive oil.

Add mushrooms to pan. season with salt and pepper.

Cook stirring occasionally until mushrooms are tender and developing nice color (abouqt 8 minutes).

Add garlic and half of the parsley.

Cook stirring continuously for 2-3 minutes.

Remove from heat.

Garnish with remaining parsley.
Nutrition
Calories:
164
kcal
|
Carbohydrates:
5
g
|
Protein:
4
g
|
Fat:
15
g
|
Saturated Fat:
8
g
|
Cholesterol:
31
mg
|
Sodium:
109
mg
|
Potassium:
387
mg
|
Fiber:
1
g
|
Sugar:
2
g
|
Vitamin A:
523
IU
|
Vitamin C:
6
mg
|
Calcium:
16
mg
|
Iron:
1
mg