Roasted cauliflower is a super simple way to prepare the healthy vegetable to transform it into a delicious side dish with a nutty taste. This recipe will soon become a family favorite!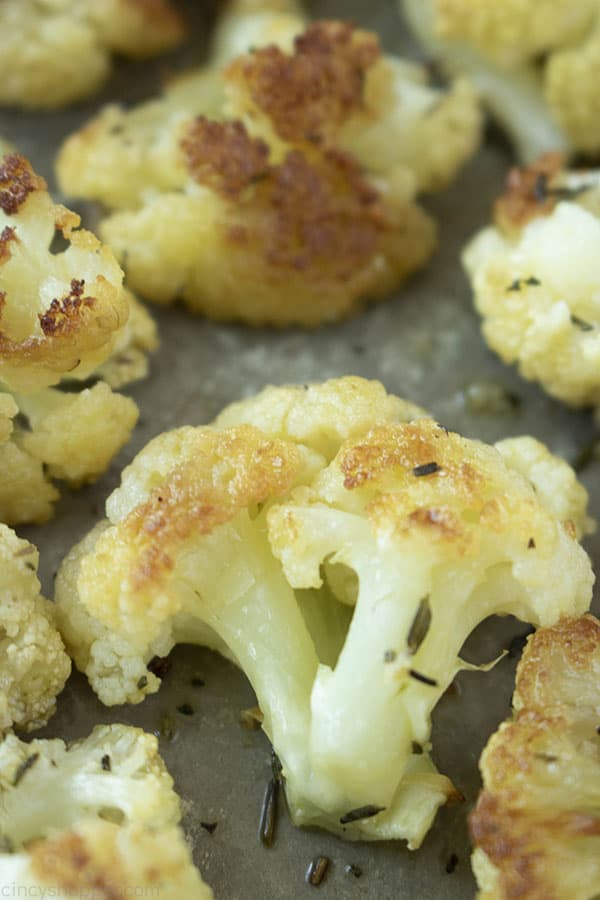 Is roasted cauliflower a healthy side dish?
Most people underestimate the nutritional value of the simple cauliflower. Because of its light color and almost non-existent flavor, it's often overlooked as a side dish. But cauliflower is naturally high in fiber and B-vitamins so it's a healthy choice as a side dish.
Besides its nutritional benefits, cauliflower is a really popular choice with restaurants and home cooks alike. One of the main reasons is because of its naturally bland flavor. The unique texture of the cauliflower allows it to absorb flavors better than many other vegetables, which makes it easy to incorporate into recipes.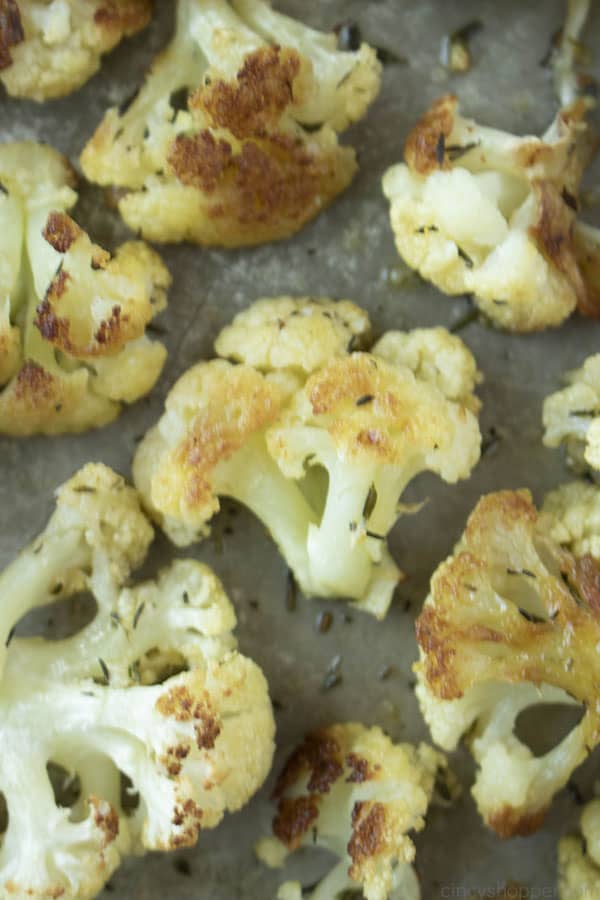 You may have noticed that the vegetable has appeared in forms such as 'cauliflower rice' and 'cauliflower pizza crust'. Talk about versatile!
Plus, trust me – roasting cauliflower is one of the best and most delicious ways to enjoy it.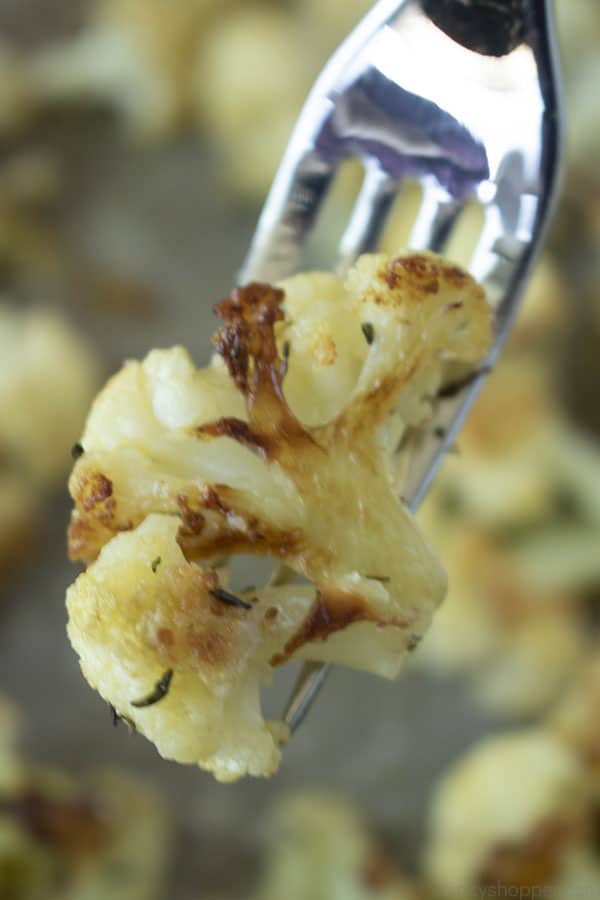 How to wash cauliflower
Like all fruits and vegetables, cauliflower needs a good washing before you prepare to eat it.
Before washing, cut the head into florets, (see instructions for that below).
Cut cauliflower into florets.
Fill a sink or large tub with cold water.
Place the cauliflower florets into the water and let them soak for several minutes.
After soaking, place the florets into a colander and rinse again under a stream of cold water,
Shake off any excess water and pat the florets dry before roasting.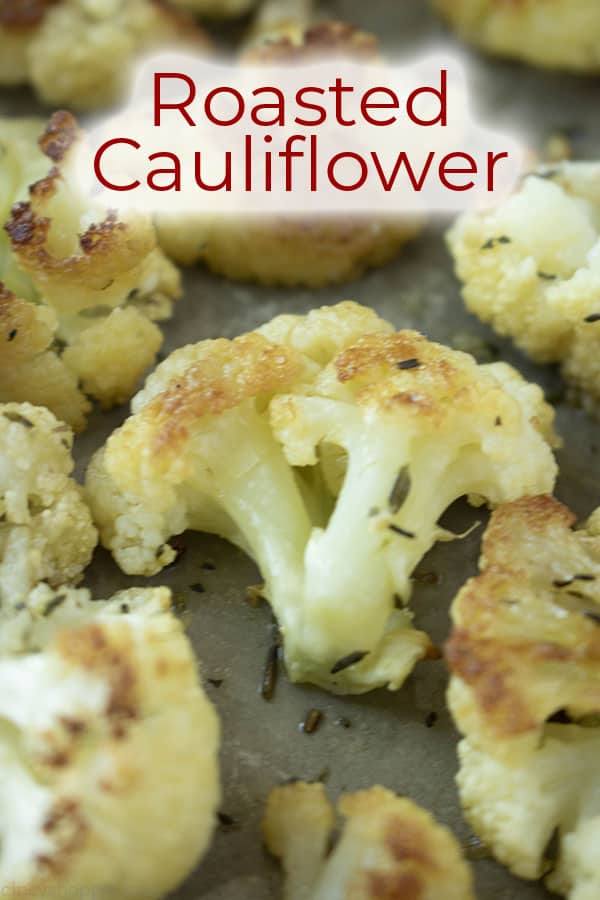 How to make cauliflower florets
Before you roast the cauliflower, you need to cut them into smaller pieces. The easiest way to do this is to cut off the natural florets. To do this:
Remove all of the leaves from the base of the cauliflower and cut off any excess stem that is sticking out from the bottom.
Cut the head of the cauliflower in half from top to bottom.
Take each half of the cauliflower and cut that in half. You should now have four quarters of the cauliflower.
Now you need to remove the core of each quarter piece. Do this by running your knife between the florets and the core. Once you have cut off the core, the florets should naturally fall apart.
If some of the florets are still too large, you can cut them into more bite-size pieces with your knife or snap them apart with your fingers.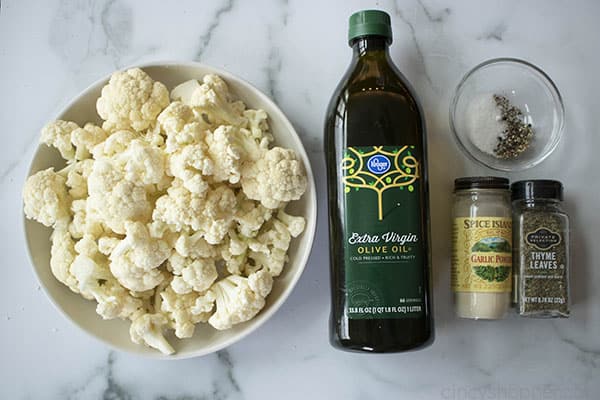 What ingredients do I need to make roasted cauliflower?
Not only is this recipe easy to make, but the ingredients list is very short and you should have everything you need in your pantry already! All you need to start roasting your cauliflower is:
cauliflower
olive oil
garlic powder
kosher salt
black pepper
thyme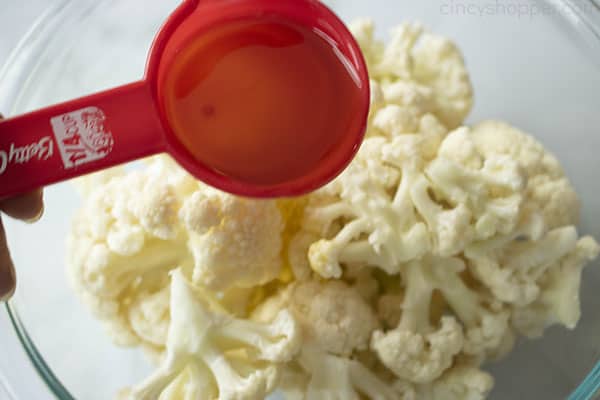 How to roast cauliflower
Making this vegetable side dish is super simple. It's the perfect side dish for a busy week night when you don't have a lot of time or energy to make something more complicated.
1. Drizzle olive oil over the cauliflower florets.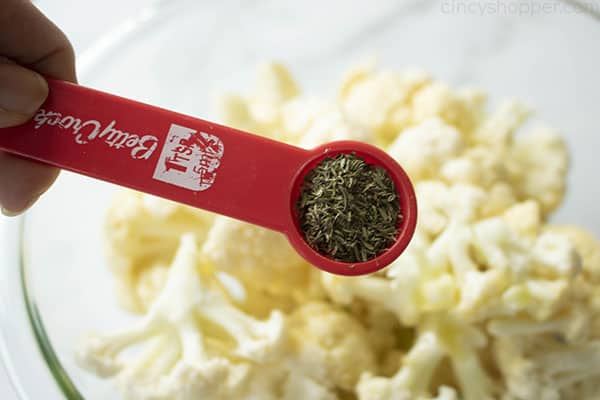 2. Season the florets with thyme.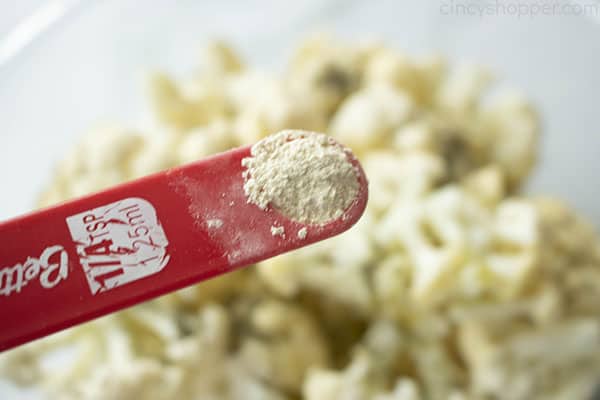 3. Add the garlic powder to the cauliflower.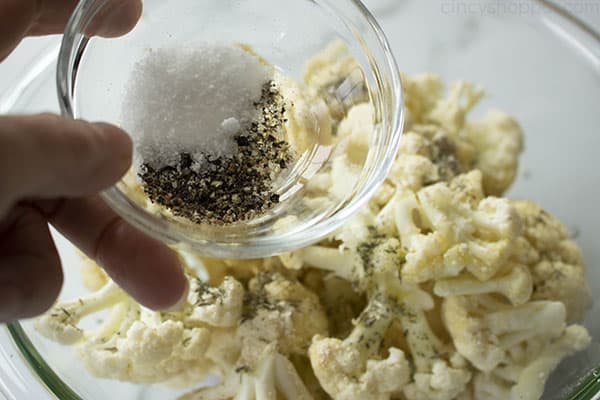 4. Add the salt and pepper to the florets and toss everything together until well mixed.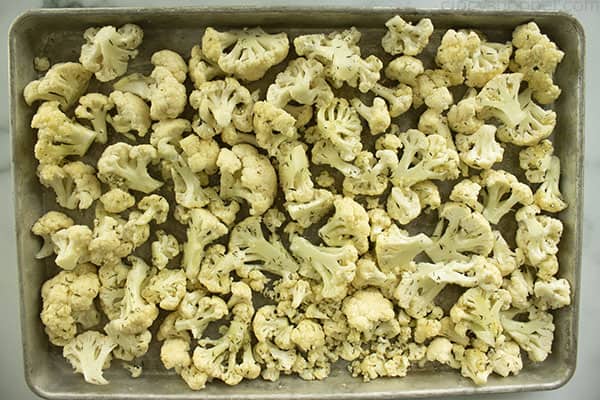 5. Transfer the cauliflower to a baking sheet and spread them out in a single layer.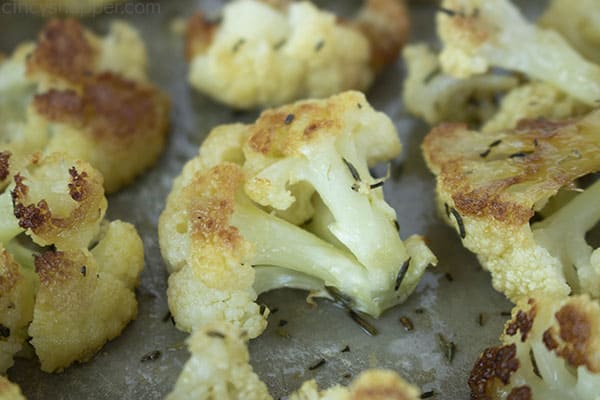 6. Bake until the florets are brown and tender.
Ready to roast some more vegetables?
Don't you think that roasted vegetables make the best side dishes? They are healthy, full of flavor and add a pop of color to your dinner. If you loved this Roasted Cauliflower recipe, then you definitely need to try my Garlic Roasted Green Beans and by Honey Garlic Roasted Carrots!
Roasted Cauliflower
Roasted cauliflower is a super simple and fast recipe that turns this healthy vegetable into a side dish that is packed with flavor. This tasty recipe will soon become a family favorite!
Ingredients
1 1/2

lb

Cauliflower florets

1/4

cup

Olive Oil

1/4

tsp

Garlic Powder

1

tsp

Kosher Salt

1/2

tsp

Black Pepper

1

tsp

Thyme
Instructions
Preheat the oven to 450.

Place cauliflower in bowl and drizzle with olive oil.

Season with thyme, garlic powder, salt and pepper.

Toss to coat.

Transfer to a baking sheet.

Bake about 20 minutes, until browned and tender.
Nutrition
Calories:
163
kcal
|
Carbohydrates:
9
g
|
Protein:
3
g
|
Fat:
14
g
|
Saturated Fat:
2
g
|
Sodium:
633
mg
|
Potassium:
509
mg
|
Fiber:
3
g
|
Sugar:
3
g
|
Vitamin C:
82
mg
|
Calcium:
37
mg
|
Iron:
1
mg