S'mores Dip is a tasty dessert dip loaded up with melty chocolate and marshmallows. So easy to make and so warm, gooey, and delicious!
This tasty Smore Dip is the perfect dessert for fall or summer- and so easy to make with a microwave and oven. For more delicious s'more desserts, check out our Smores Cups Recipe or try our No Bake S'mores Cheesecake!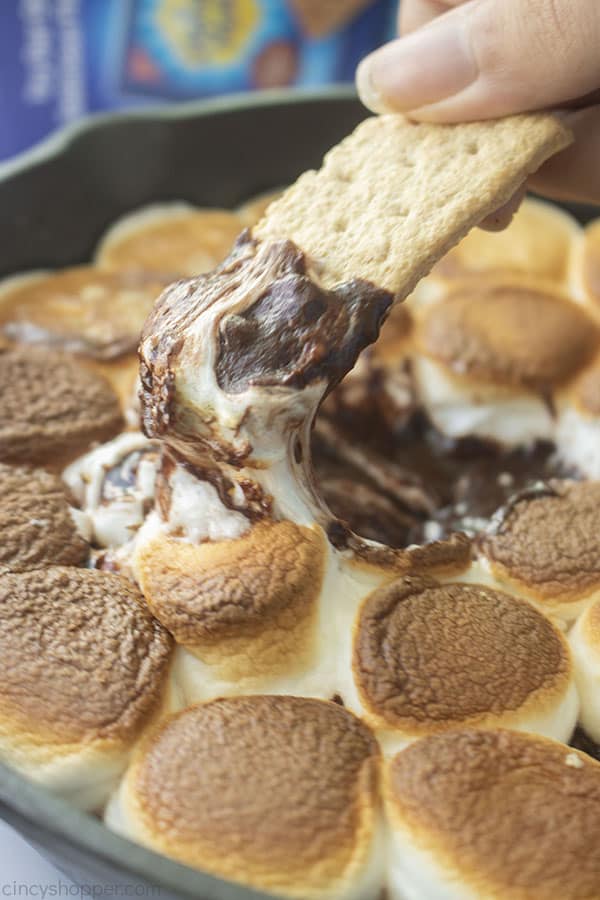 S'mores Dip
If you've looked through our desserts here on the site, you'll notice we love anything s'mores. The kids have always been big fans and I can tell why: chocolate and toasted marshmallows are already pretty tasty- add-in graham crackers and things can only get better! We're always looking for fun and interesting ways to capture those flavors in other desserts and, today, we found another winner. For your next party or get-together, try serving up some of our S'mores Dip!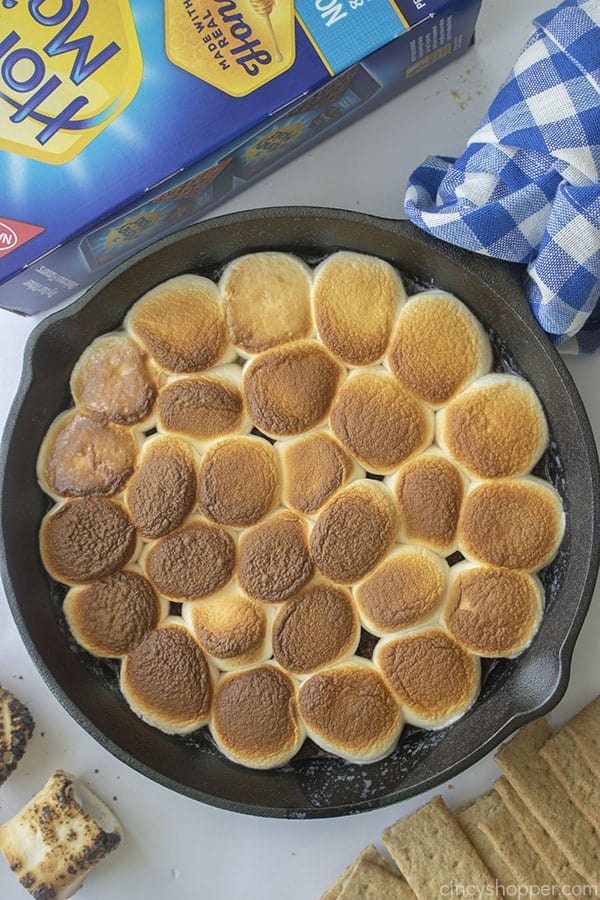 Dessert dips are always a fun way to keep desserts interesting- sometimes, cake or cookies can get kind of played out. This S'more Dip is something special though: it's got this melty, almost-ganache-like chocolate filling topped with toasted marshmallows. It's the perfect dip for some graham crackers- or maybe some vanilla wafers? Dip something in there- it's good!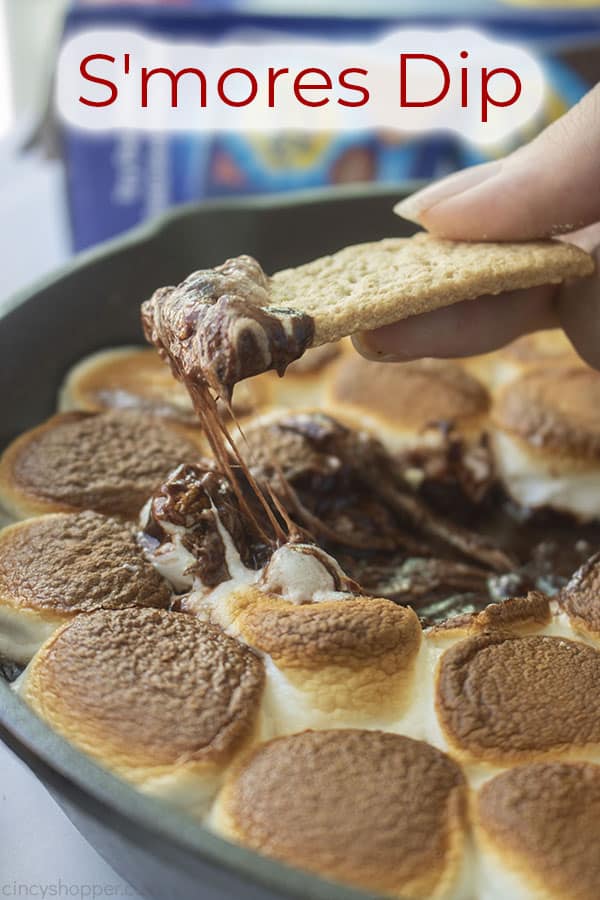 What's best about this recipe is that there's no open flame or campfires needed. That's right: this tasty smores dessert dip just needs an oven and a microwave- but a broiler will help out if you've got one! It's all super easy to make too and, if everything's preheated, I think you could easily get this Smore Dip done in 10 minutes or less. Follow along with the recipe below: we're certain you're gonna love it!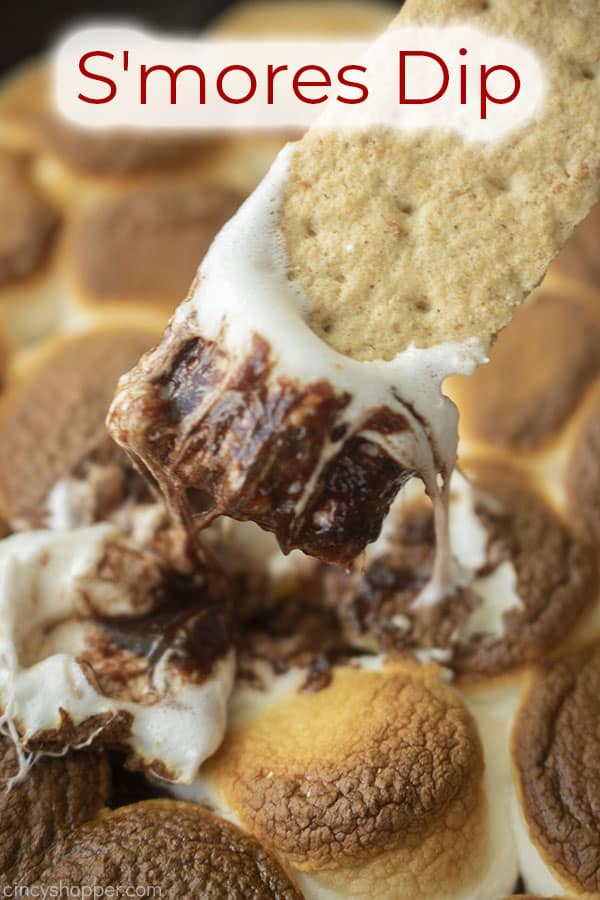 Loved this dessert dip? Try these other dessert recipes next!
These

S'mores Krispie Treats

are definitely one of our favorite summer BBQ desserts. These yummy little treats are so easy to make up in the oven- no campfire needed for this s'more dessert!

The ingredients are simple, takes no time at all to cook- it's no wonder why this dessert has always been a hit with our kiddos

.

S'mores Cookies

are some of the best cookies you could ever make! Soft and chewy with a delicious gooey center and they taste

just

like the classic campfire treat. A tasty way to get your s'mores fix in-

really

, these are a must-make!

Our

S'mores Cupcakes

are perfect for serving up at your next summer party or get-together.

They feature all your favorite s'mores ingredients and flavors: a marshmallow buttercream frosting, chocolate cake, and plenty of graham crackers

!

Just

another fun and delicious spin on a classic summertime treat.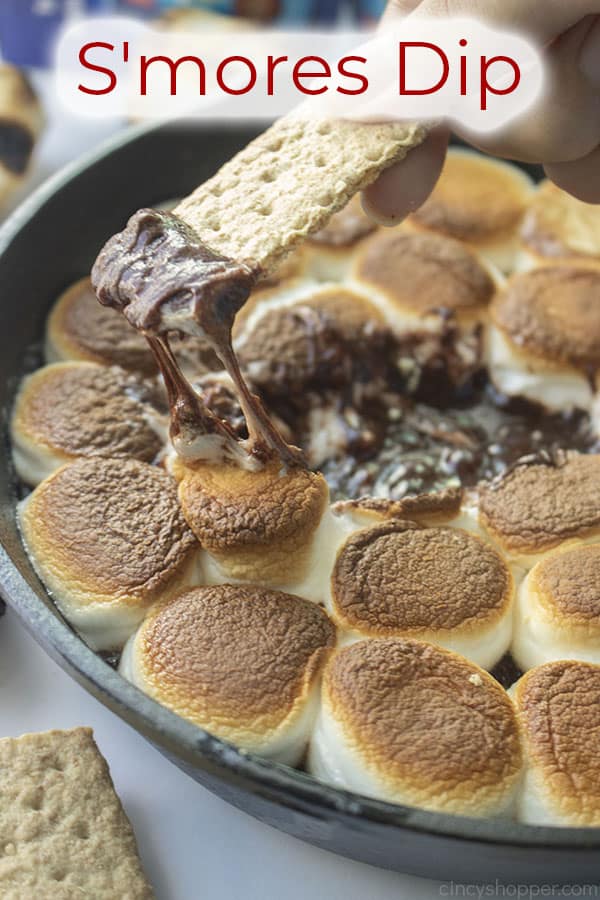 Ingredients for S'more Dip
Butter

Chocolate Chips

– We prefer to go with semi-sweet chocolate chips here.

Feel free to experiment- try with bittersweet chips or even some chopped-up milk chocolate to make your Smore Dip extra sweet

!

Our favorites are these Ghirardelli Chocolate Chips but you could

easily

use Tollhouse or any other brand

.

Milk

Marshmallows – We used regular-sized marshmallows. If you'd like, try using jumbo marshmallows or mini marshmallows and tell us how it works out!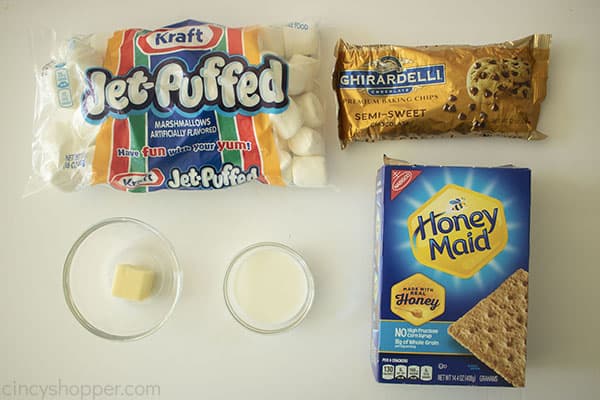 How to make Smores Dip
Making this Smores Dessert Dip is very simple. Here's what you'll need to do:
Prep your dish/pan by

adding butter

and

melting in the oven

.

Swirl the melted butter to coat

the pan.

Combine the milk and chocolate

in a microwave-safe bowl.

Microwave in 30 second intervals, stirring well

to combine

until chocolate is

just

melted

.

Add the chocolate to the pan

and

top with marshmallow halves

.

Flash pan under the broiler

until browned and

serve warm or hot

.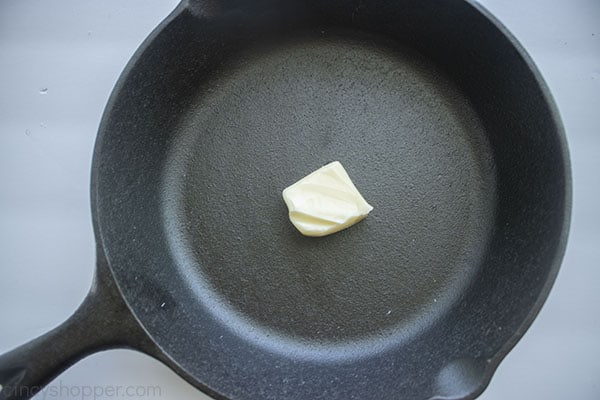 First things first, let's get some prep done and out of the way. Drop your butter in your pan and set it in a low oven to let the butter melt. While that melts, get your marshmallows cut in half this will keep them from blowing out when we broil them later.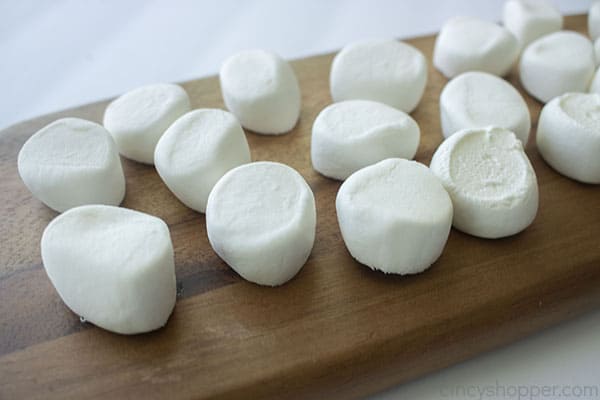 Once the butter's melted, swirl it around the pan to coat it. Now let's move on to our chocolate: combine the milk and chocolate chips in a microwave-safe bowl.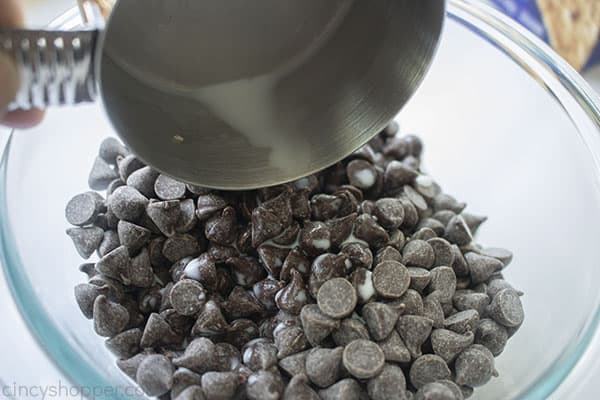 Microwave in 30-second intervals, stirring well in-between. Repeat this until the chocolate is just melted- DON'T OVERCOOK THE CHOCOLATE!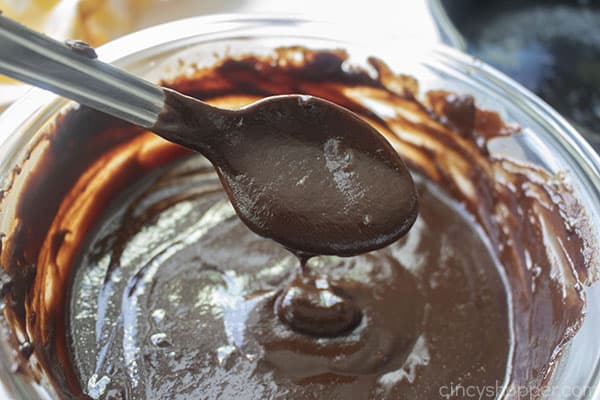 With our chocolate filling all melted, we can add it to our buttered pan.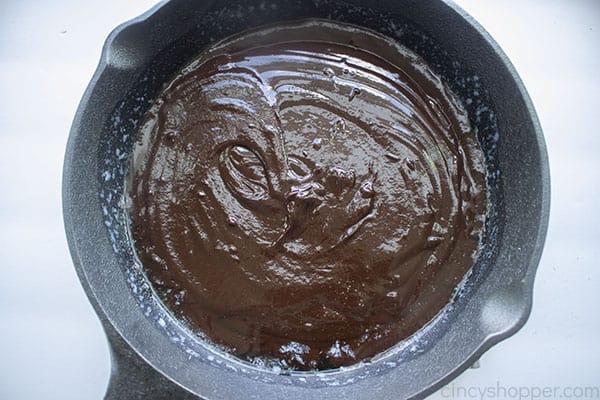 Take your marshmallow halves from earlier and lay them in a layer over the chocolate.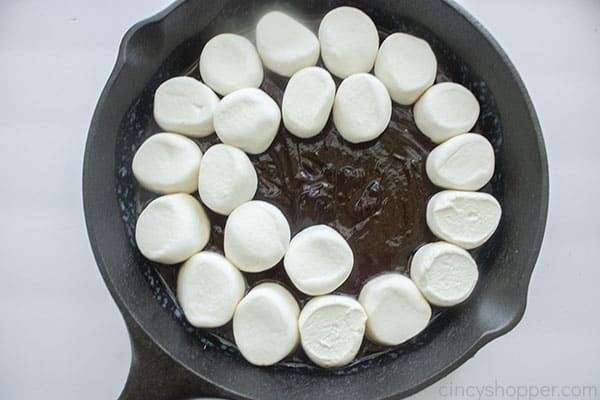 All that's left for our S'more Dip is to give it a quick flash under the broiler. If you don't have a broiler, either use a chef's blowtorch or crank the oven up to its highest setting, set your pan on a sheet, and set it on the highest rack. Whichever method you use, keep an eye on your dip and pull it once the marshmallows have browned to your liking.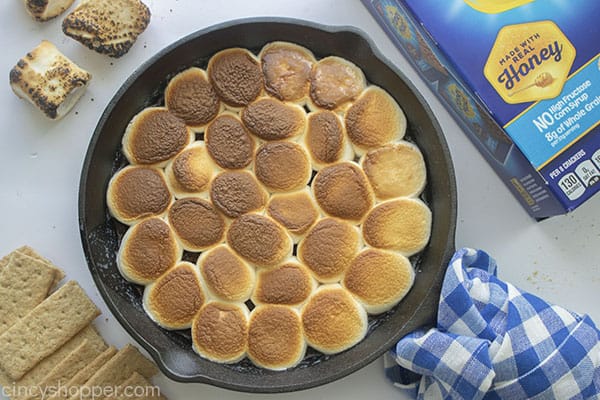 Serve up with graham crackers and enjoy! To reheat, set in a low oven until warm.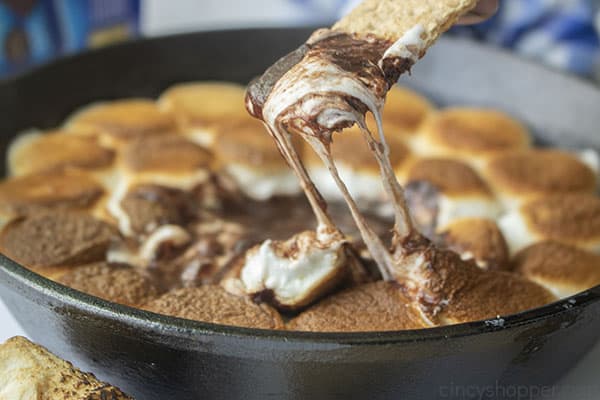 S'mores Dip
S'mores Dip is a tasty dessert dip loaded up with melty chocolate and marshmallows. So easy to make and so warm, gooey, and delicious!
Ingredients
1

tbs

Butter

2

cup

Semisweet Chocolate Chips

4

tbs

Milk

20

Marshmallows

halved

Graham Crackers

for dipping
Instructions
Add butter to oven-safe pan/dish place in oven to melt. Swirl melted butter around the bottom and the sides.

Place the chips and the milk in a microwave safe bowl.

Microwave for 30 seconds and then stir. Repeat until melted and smooth.

Add chocolate to the buttered pan.

Top with marshmallow halves.

Place under broiler just until marshmallows are browned. THIS WILL HAPPEN QUICKLY, so keep a close watch.

Serve with graham crackers for dipping.
Notes
Serve with graham cracker sticks. The dip is best when served immediately after warming.
Nutrition
Calories:
444
kcal
|
Carbohydrates:
51
g
|
Protein:
4
g
|
Fat:
25
g
|
Saturated Fat:
15
g
|
Polyunsaturated Fat:
1
g
|
Monounsaturated Fat:
8
g
|
Trans Fat:
1
g
|
Cholesterol:
10
mg
|
Sodium:
46
mg
|
Potassium:
355
mg
|
Fiber:
5
g
|
Sugar:
36
g
|
Vitamin A:
105
IU
|
Calcium:
50
mg
|
Iron:
4
mg