The Best Rice Krispie Treats can be made easily with just a few simple ingredients. We find them to be an easy no-bake treat that is great for parties, potlucks, and lunchboxes. With this recipe, you'll get perfect Rice Krispie treats every time!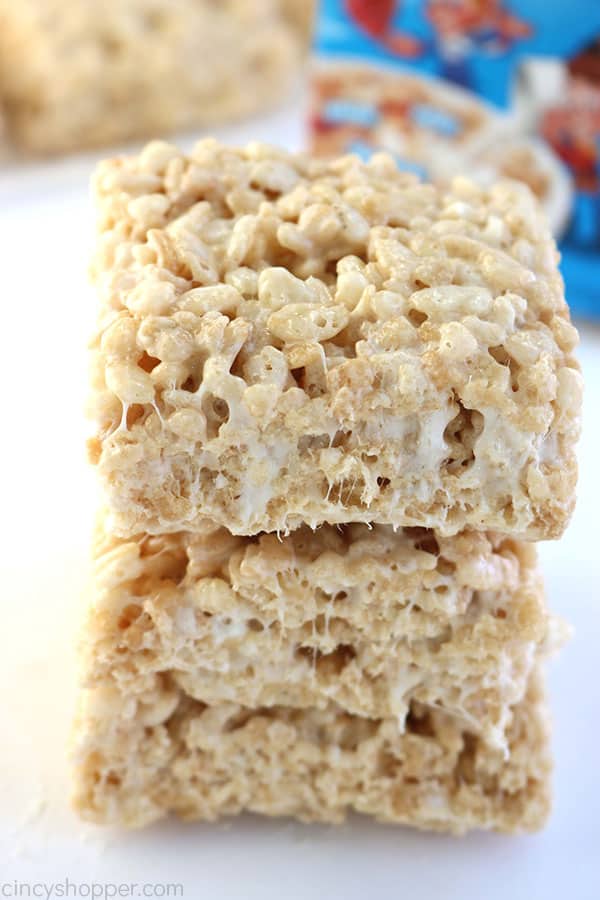 The Best Rice Krispie Treats
If you were to think back to your childhood, Rice Krispie treats were probably an important part of it. I remember being anxious to make the recipe found on the cereal box. After my kids were old enough to help in the kitchen, they too loved making our own homemade thick and chewy version. Each and every single year we make Pumpkin Rice Krispie Treats for Halloween. For Christmas, we make my Krispie Treats Christmas Trees or this Easter Bunny Treats for Easter. Yes, there is a version for every occasion at our house! Sure, you can purchase store bought versions but, they are never fresh and gooey like the ones we make at home.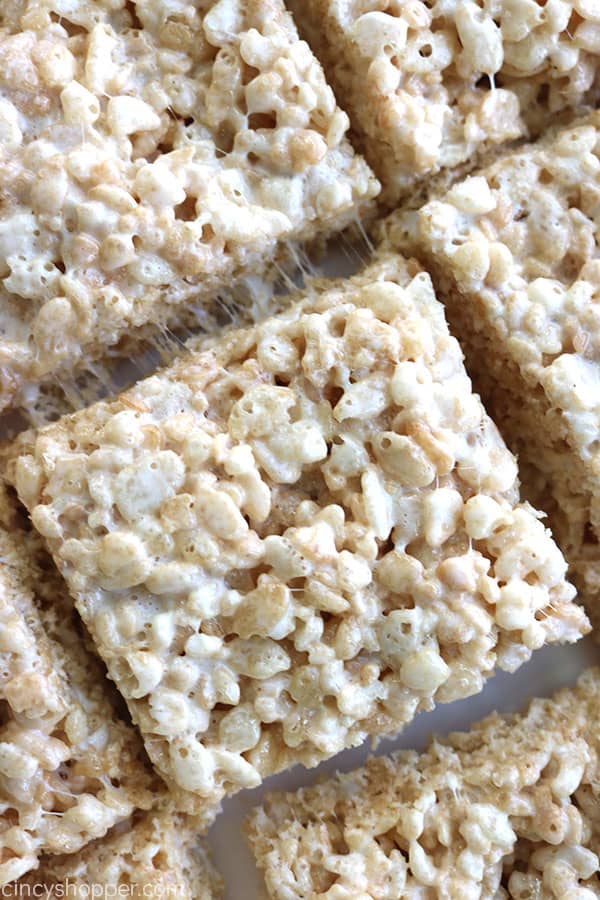 Rice Krispie treats are popular with the kids because they're ooey and gooey. Adults, especially my husband can never get enough. This specific recipe is different than most. The addition of extra marshmallows makes them so gooey and so much better than the traditional recipe.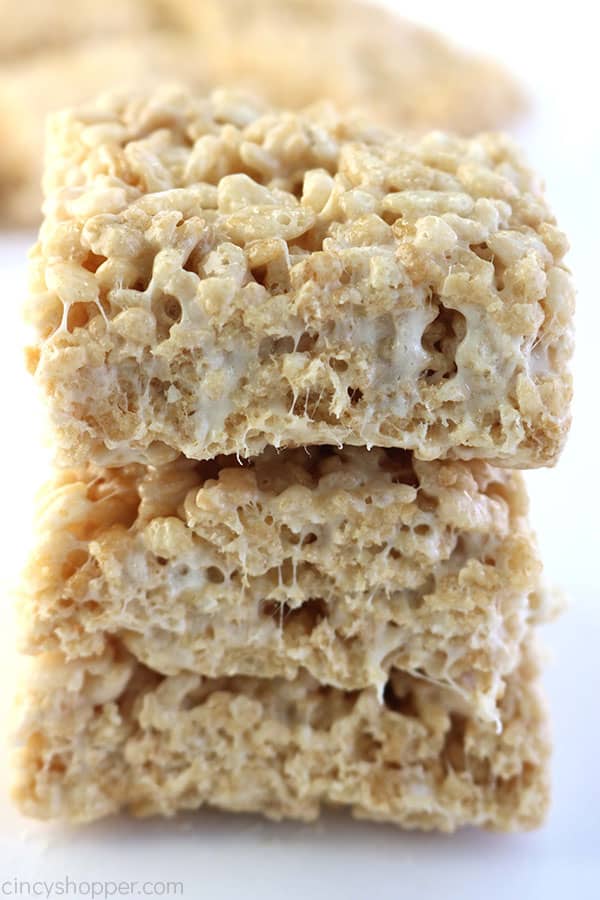 I have another secret to getting the best rice krispie treats out there. You want to use fresh marshmallows! It's true! The fresher the marshmallows, the better. So use the freshest marshmallows you can.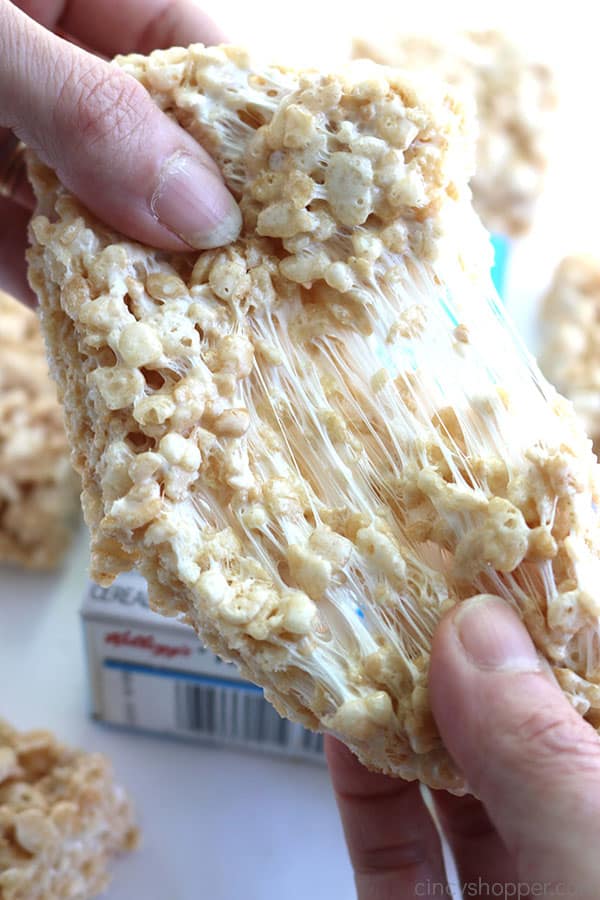 What's the Secret to Keep Rice Krispie Treats from Getting Hard?
After you have made these delicious no-bake treats, you want to keep them from going bad. Make sure you eat them quick enough, they aren't meant to sit out for days. Also, make sure they're covered with an airtight container.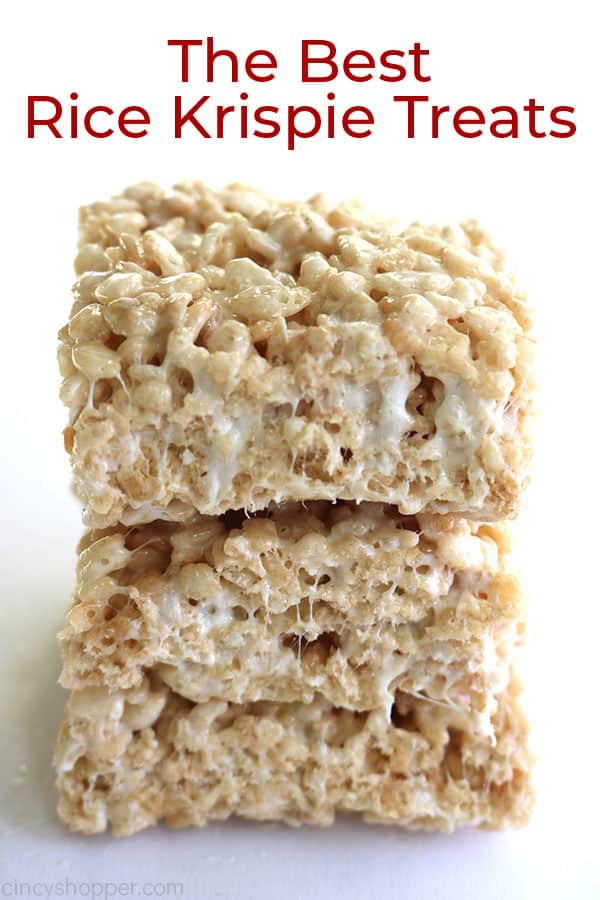 Ingredients to Make Rice Krispie Treats
The recipe starts with some very basic ingredients.
Rice Krispies
Marshmallows
Butter
Vanilla.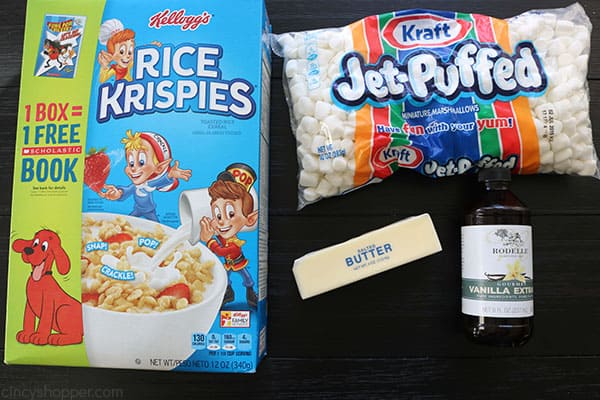 How to Make the Best Rice Krispie Treats
I have made several version of rice krispie treats over the years, but this one if my favorite. It's even a great base for the other types of treats you can make. If you wanted to add chocolate or peanut butter, you could! You could also top them with cheesecake and fruit, I did that in my Cherry Cheesecake Rice Krispie Treats. I prefer this simple version because it is the easiest dessert.
Don't forget to prep a pan in advance. Add a sheet of parchment paper to keep the treats from sticking.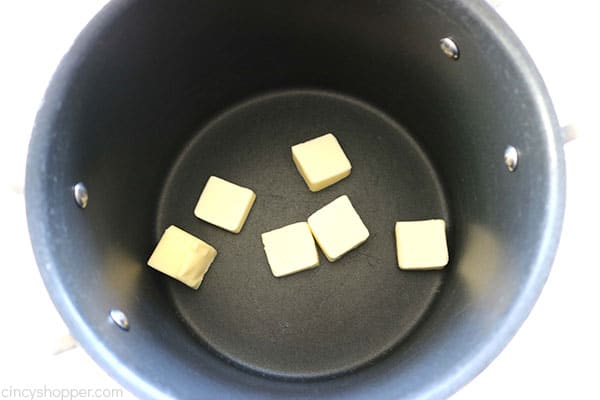 Turn the stove onto medium heat and start melting the butter. This is always such a satisfying part for me. Watching butter melt over low heat or medium heat satisfies my soul!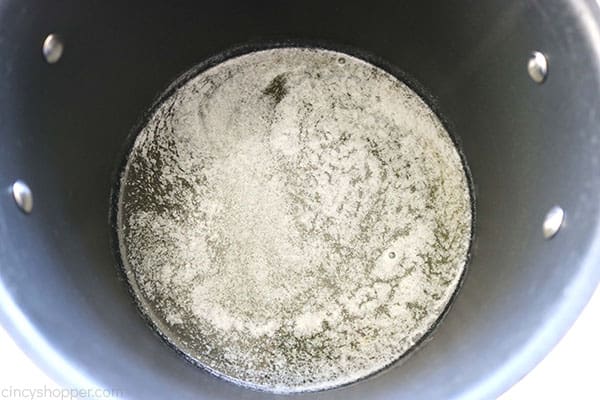 Just look at that butter melting. In a few minutes, this mixture is going to become something that we all enjoy.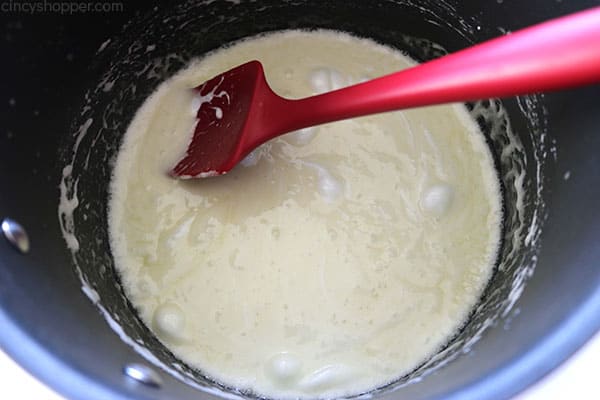 At this point, you will add marshmallows and stir. The marshmallows will melt into a delicious creamy mixture. Stir until completely melted. Although, you can still see some marshmallows popping up. Also, make sure you're stirring constantly.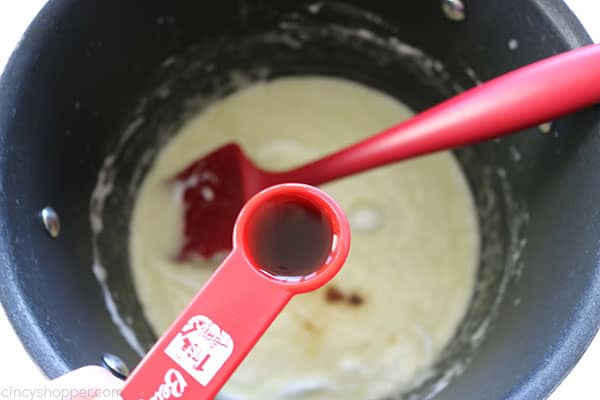 Now, you can add the vanilla to the recipe. It's amazing how a simple teaspoon of vanilla can make a recipe taste so delicious! I use real vanilla, if you only have imitation on hand, it will work too!
With this next step, you'll want to add the Krispies to the mixture. My kids LOVE helping me with this part. I mean, what's not fun about mixing cereal and marshmallows together? Let your kids go to town and help! This is a great recipe to get the kids involved with.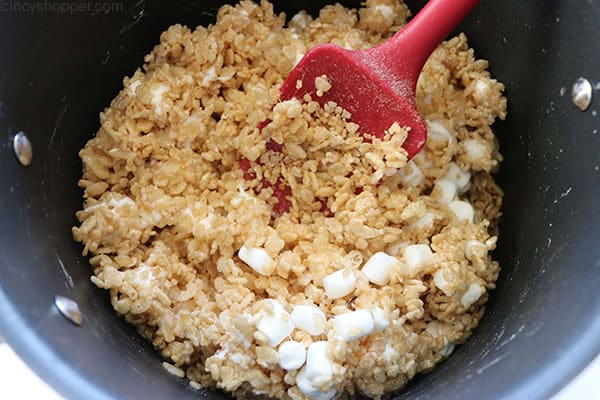 Our final step is adding in the additional marshmallows. Most recipes only require 16 oz of mini marshmallows. To achieve the BEST Rice Krispie Treats, I add in an additional 8 oz of marshmallows. The added marshmallows give the treats the additional gooey texture that makes these treats so good.
When adding the mixture to the prepared pan, be careful not to press them too much. Crushing the treats will make them less tasty and dense. Plus, you will want the treats to come out of the pan nice and easy.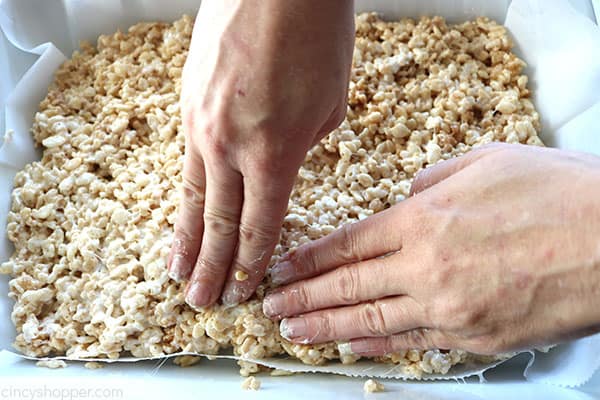 How to Keep Rice Krispie Treats From Sticking to Your Hand
If you have ever made Rice Krispy treats before, then you know that when it starts sticking to your hands, it can be a nightmare. A simple fix to keeping the ingredients from sticking to your hands is to rub butter on your hands. You can also spray your hands with cooking spray, to keep the ingredients from sticking to you.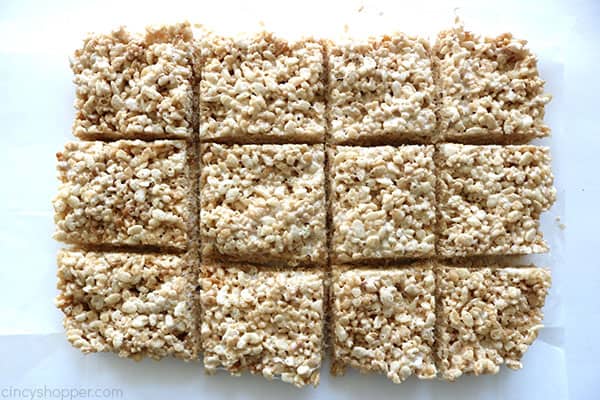 Will Rice Krispy Treats Stick to Wax Paper?
Instead of using wax paper, use parchment paper. Wax paper will only cause the food to stick to it. Some would also say to just butter the pan and skip the wax paper or parchment paper. However, I have found that parchment paper actually works best!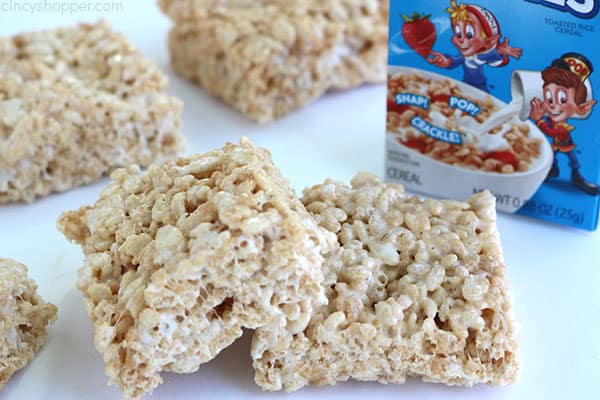 Now that you know how to make these simple, but amazing treats, when do you plan on making them? You may already have the ingredients on hand. Go ahead and whip up a batch!
Looking for some other easy to make treat ideas? Consider making some of these:
The Best Rice Krispie Treats
The Best Rice Krispie Treats can be made easily with just a few simple ingredients. We find them to be an easy no-bake treat that is great for parties, potlucks, and lunchboxes. With this recipe, you'll get perfect Rice Krispie treats every time!
Ingredients
6

tbsp

Butter

24

oz

Mini Marshmallows

divided

1

tsp

Vanilla Extract

6

cup

Rice Krispies
Instructions
Line a 9" square baking pan with parchment paper. Set aside.

Melt butter over medium heat in a large pan.

Add 16 oz of marshmallows.

Reduce heat to low and stir until melted.

Add vanilla, cereal and remaining marshmallows.

Remove from heat and str to combine.

Pour into the prepared pan and lightly press into place.

Allow to set (about 15 minutes) before cutting.
Nutrition
Calories:
381
kcal
|
Carbohydrates:
77
g
|
Protein:
3
g
|
Fat:
8
g
|
Saturated Fat:
5
g
|
Cholesterol:
20
mg
|
Sodium:
226
mg
|
Potassium:
23
mg
|
Fiber:
1
g
|
Sugar:
45
g
|
Vitamin A:
1478
IU
|
Vitamin C:
12
mg
|
Calcium:
5
mg
|
Iron:
6
mg