Orange Chicken is a delicious Chinese dish with a tasty orange sauce. This homemade recipe is better than the stuff you can get from Panda Express.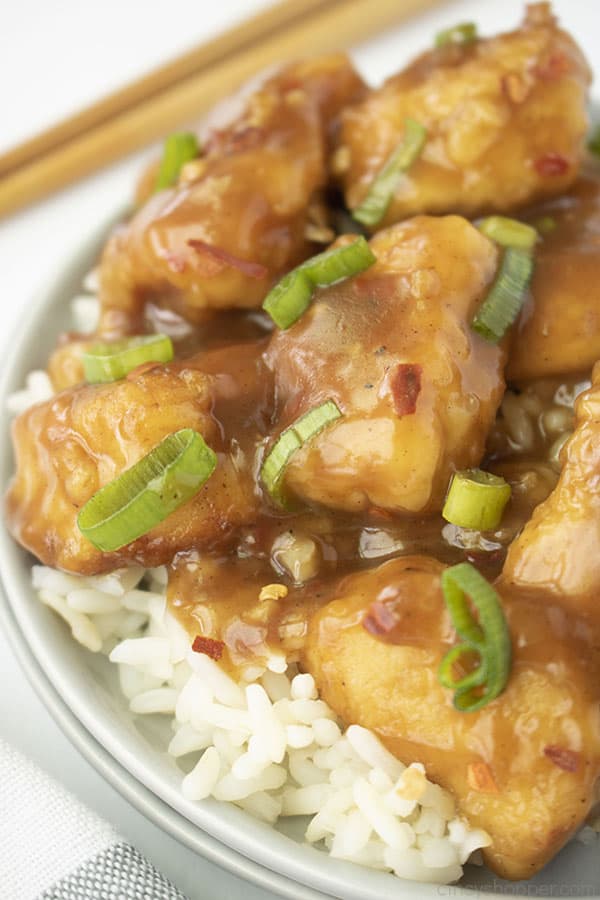 Orange Chicken
While Orange Chicken probably brings Panda Express to mind, we're more familiar with Orange Chicken in it's frozen form. Like we mentioned in our Simple Mongolian Beef, frozen P.F. Chang's meals have saved dinner night plenty of times in our house. We've tried Panda Express on a few occasions as well and tried our fair share of the orange chicken. It was good, but I wondered why we couldn't just make it at home!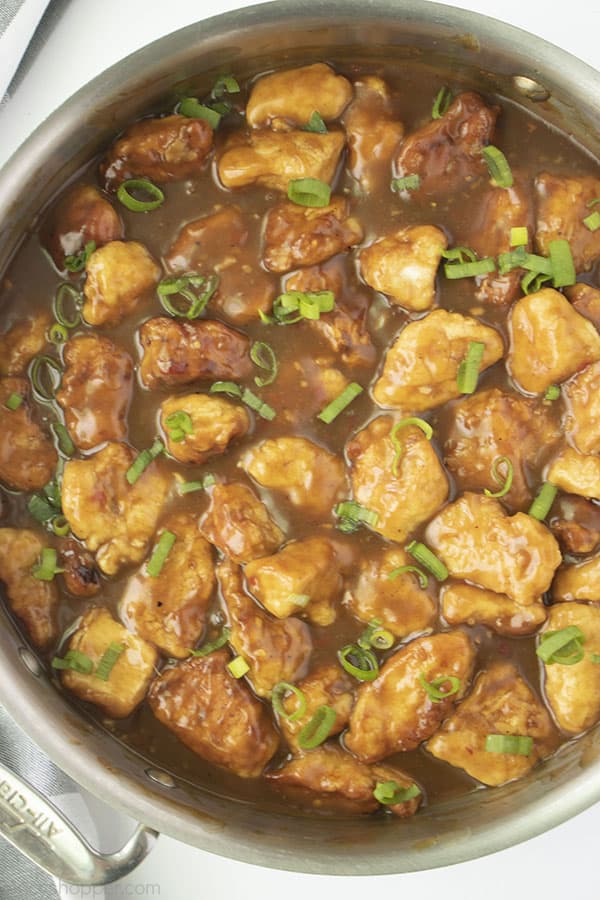 Turns out that Orange Chicken is incredibly easy to make at home- probably even more so than the Mongolian Beef! Most of the work involved comes from getting your orange chicken sauce made just right.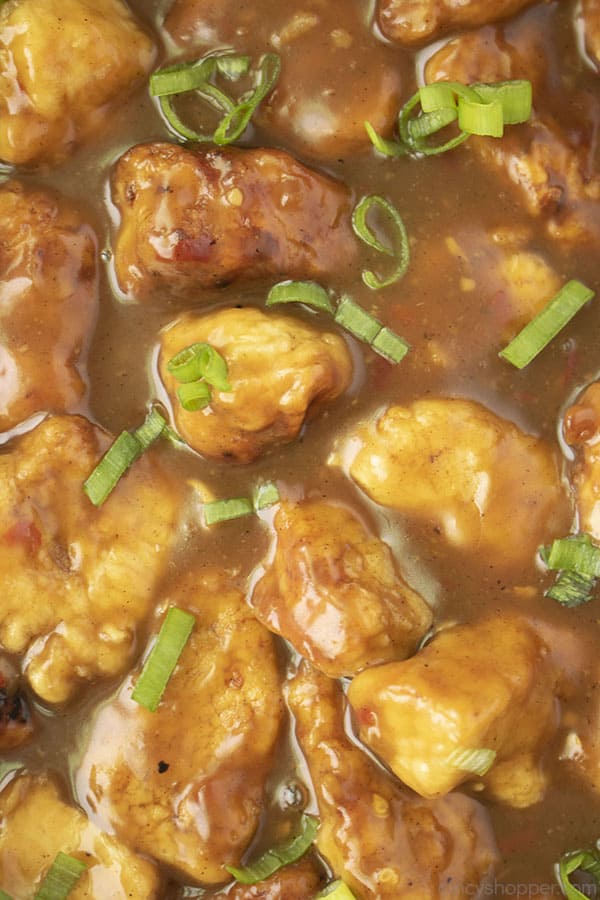 Outside of that, things couldn't be much simpler: breading and frying the chicken is easy, and there's tons of ways to serve once you're done! This Chinese Orange Chicken recipe might be one of the best "bang-for-your-buck" dishes I've ever come across.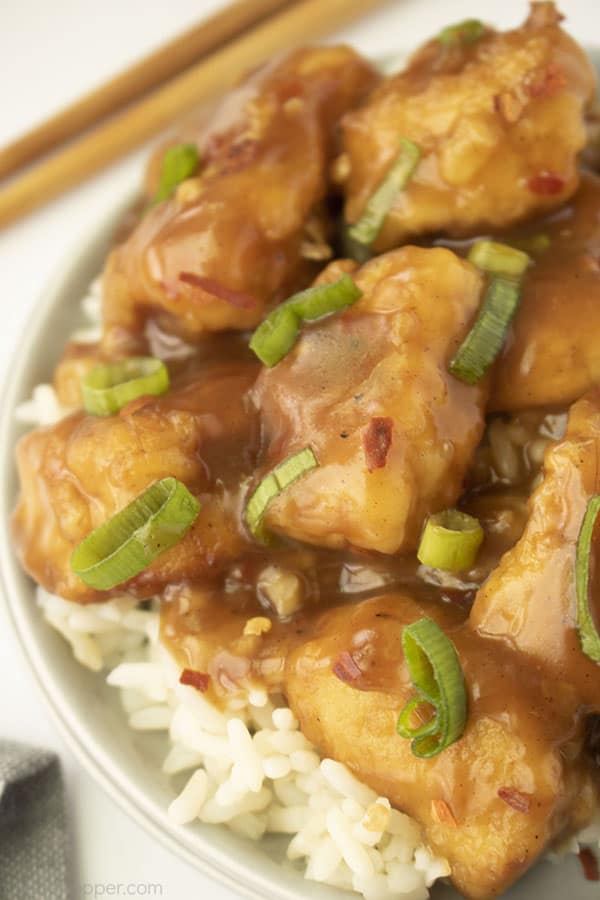 Let's start with all the flavors we're working with here: the chicken is juicy with that nice, crispy breading you'd expect. Then there's that sauce: while you might tweak things to your liking, the sauce is going to be perfect! Plenty of sweetness complemented with a decent bite from the citrus, vinegar, garlic, and ginger. If you reach for some orange zest, you'll find that there's tons of flavor that you can pack into the sauce- you just gotta find the right balance.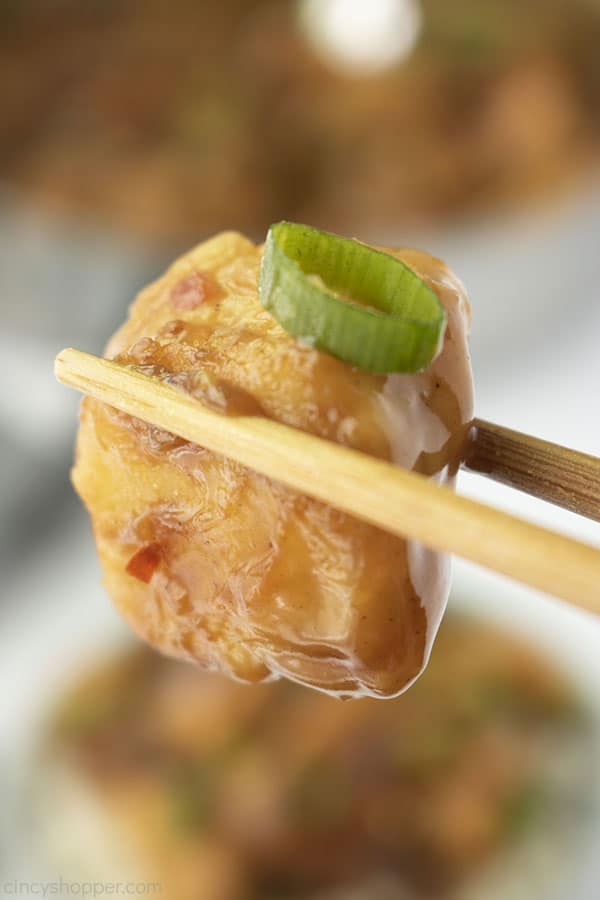 We have plenty of other takeout-style recipes you'll want to take a look at here on the site. In the mood for more chicken? Try out our spin on a takeout classic with some Easy General Tso's Chicken– it's got the perfect amount of spice to it! Need some beef? Check out the Mongolian Beef recipe we linked to above. If you're looking for some takeout sides, we've also got some Easy Fried Rice you'll want to give a try. All of these recipes are perfect for enjoying that takeout flavor from the comfort of your kitchen!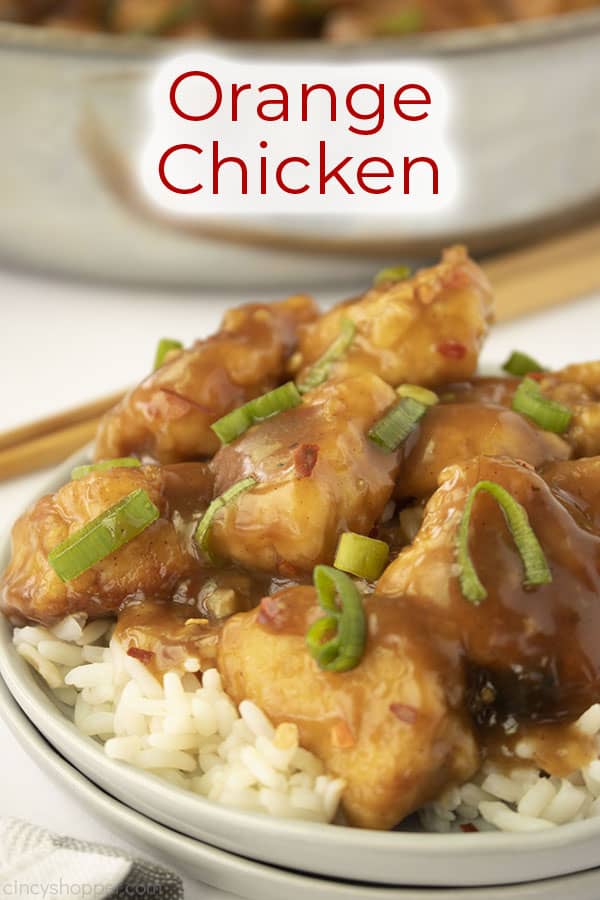 Ingredients for Chinese Chicken
Chicken Breasts, chopped down to bite-sized pieces
For the sauce, you'll need the following…
Rice Vinegar – Also sold as Rice Wine Vinegar. Apple cider vinegar or white vinegar can work in a pinch!

Ginger – Once again, we went with the convenient option and grabbed a tube of ginger paste.

Cornstarch – For thickening.

(Optional)

Orange Zest – Adding some orange zest to the sauce after it's cooked adds a bit more orange flavor. Adding some zest can especially help if you feel your sauce came out a bit too "orange-y" sweet.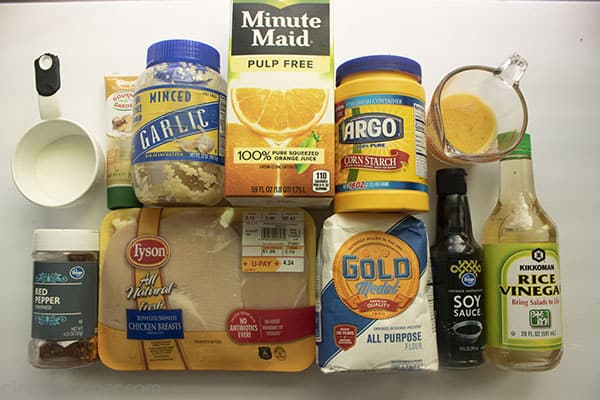 How to prepare our Homemade Orange Chicken
Before we cook our chicken, we're going to make our orange sauce.
Toss most of your sauce ingredients together in pot- everything but your cornstarch and optional orange zest
. Now get that warming up over on the stovetop.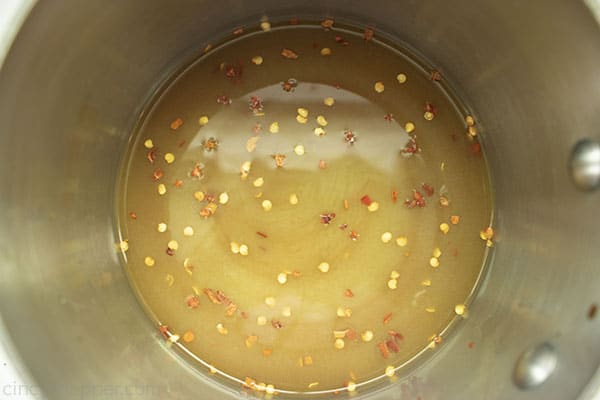 While that's warming up, grab your cornstarch. Mix about one part cornstarch to two parts water until you get something like a paste. With that prepared, give your sauce another minute or two to get warmed up before pitching your cornstarch into the mix. Get that whisked in and continue to cook your sauce for about another 5 minutes- you're cooking until the sauce starts thickening up. Once you get to that thick consistency, pull your sauce from the heat, add your optional orange zest, and set it all aside while you start on your chicken.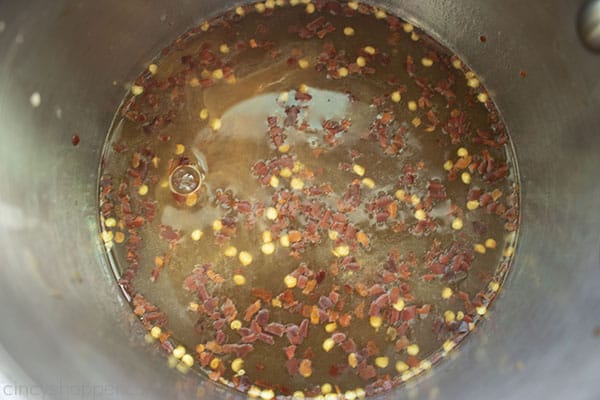 Get a simple breading station set up: get some cornstarch and flour mixed together in one bowl and a basic egg wash going in the other. If you've made any sort of breaded/fried chicken in the past, you know the drill here!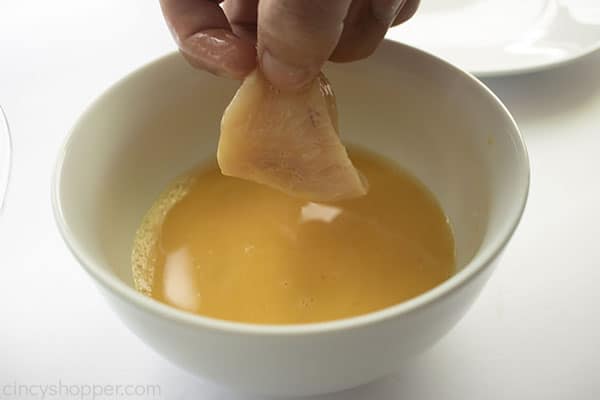 Dunk your chicken pieces in the egg wash and coat them thoroughly.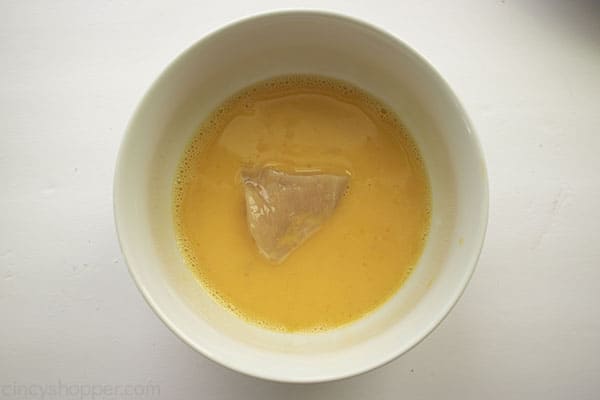 After dunking in the egg, toss your chicken into your dry mix. Get a solid coating of your flour/cornstarch mix on each piece.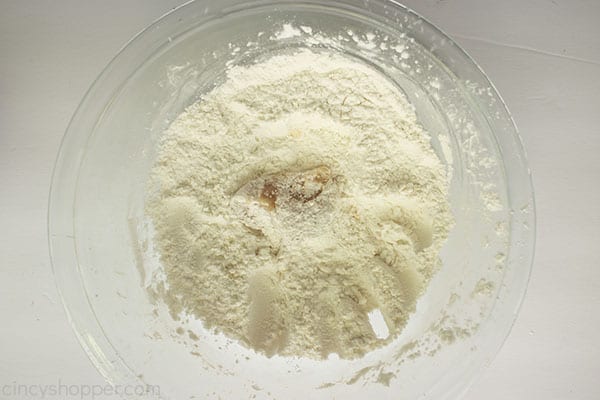 Now comes the tasty-smelling part: frying. Making sure you're not crowding the pan, start frying your batches of chicken pieces in the oil. It should only take around 5 minutes per batch- make sure you're turning often! That's how you get that even, crispy finish.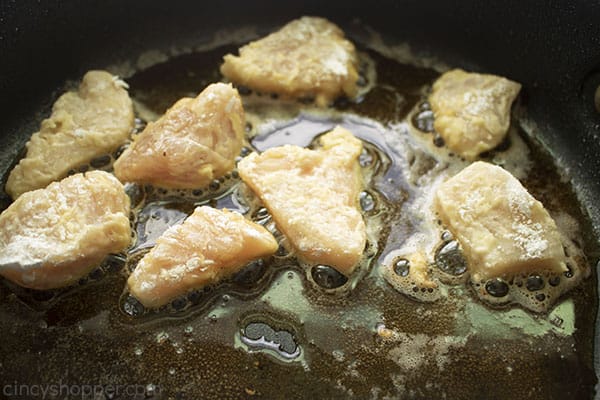 Once all your chickens fried up, toss it in with your orange chicken sauce from earlier- ideally while it's still hot. Mix it all together real well- few things in life are as sad as under-sauced chicken. From there, your chicken is ready to serve and enjoy!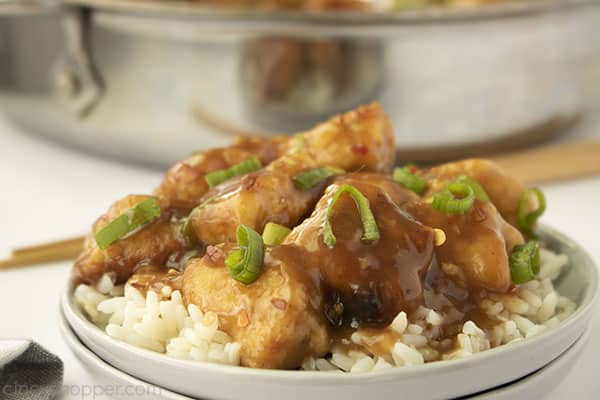 Serving Ideas
Over Rice – This is the classic way to serve orange chicken and most takeout foods. Garnish with some green onions, sesame seeds, and/or

additional

red pepper flakes.

Over Noodles – I've seen some creative folks out there serve their orange chicken over some noodle dishes

. It seems like lo mein is the go-to option…

Burrito – Panda Express made a big splash a while back by offering their orange chicken in a burrito!

Generously

fill a big tortilla with either noodles or rice, a bit of broccoli, and a good serving of your orange chicken

. Wrap and enjoy it!
Orange Chicken
Orange Chicken is a delicious Chinese dish with a tasty orange sauce. This homemade recipe is better than the stuff you can get from Panda Express.
Ingredients
1 1/2

cup

Orange Juice

3/4

cup

Sugar

3

tbsp

Rice Vinegar

3

tbsp

Soy Sauce

1

tbsp

minced Garlic

3/4

tsp

Red Chili Flakes

1/2

tsp

minced Ginger

9

tbsp

Cornstarch

divided

1/3

cup

Flour

2

Eggs whisked

3

Boneless Skinless Chicken Breasts

cut into small pieces

Oil for frying

2

Green Onions

sliced (optional)
Instructions
Combine orange juice, sugar, rice vinegar, soy sauce, garlic, chili flakes and ginger in a medium pan.

Cook over medium high heat for 3 minutes.

In a bowl combine 3 tablespoons cornstarch and 3 tablespoons water and mix together to make a slurry.

Add to the sauce and whisk to incorporate.

Cook until sauce thickens, about 5 minutes.

Remove from heat and set aside.

Combine remaining cornstarch and flour in a shallow dish and stir. Set aside.

Whisk eggs in small bowl.

Dip chicken pieces in egg wash and shake off excess liquid.

Dip in flour/cornstarch mixture and gently shake off excess.

Place on plate.

Heat several inches of oil in skillet over medium high heat to about 350.

Cook several pieces of chicken, turning frequently until golden brown (about 3 minutes).

Place chicken on a plate lined with paper towels. Repeat.

Add chicken back to pan over low heat.

Add orange sauce and toss chicken to coat. Heat for 8 minutes until warmed through.

Serve over rice and garnish with green onion, if desired.
Nutrition
Calories:
441
kcal
|
Carbohydrates:
74
g
|
Protein:
24
g
|
Fat:
5
g
|
Saturated Fat:
1
g
|
Cholesterol:
136
mg
|
Sodium:
895
mg
|
Potassium:
601
mg
|
Fiber:
1
g
|
Sugar:
46
g
|
Vitamin A:
501
IU
|
Vitamin C:
50
mg
|
Calcium:
41
mg
|
Iron:
2
mg