Simple Mongolian Beef is better than PF Chang's when made fresh. This takeout-inspired Chinese recipe features a sweet-and-spicy sauce.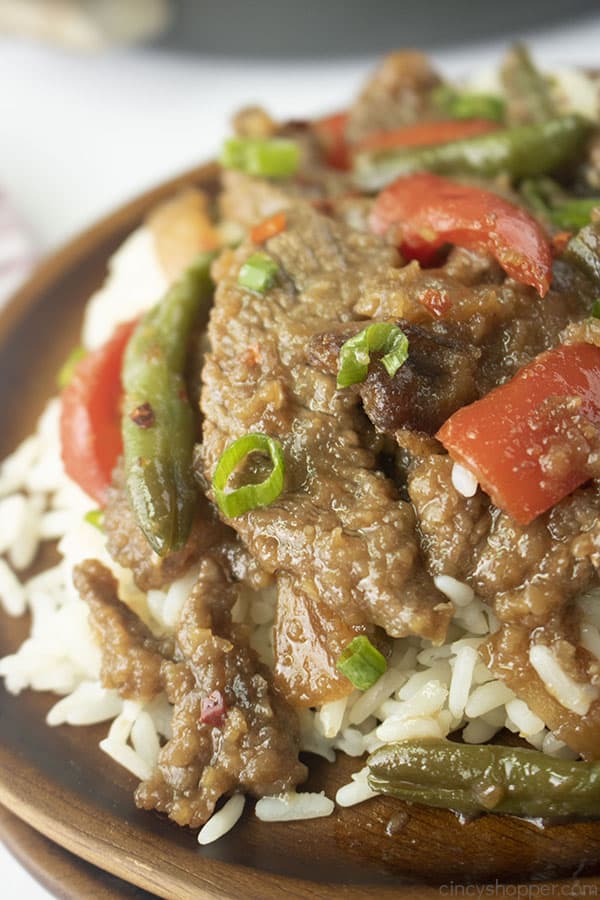 Simple Mongolian Beef
Often times, it's hard to come up with delicious meals made quick every night of the week. Our family has had its fair share of easy frozen dinners- a stand-out brand among those freezer meals is PF Chang's.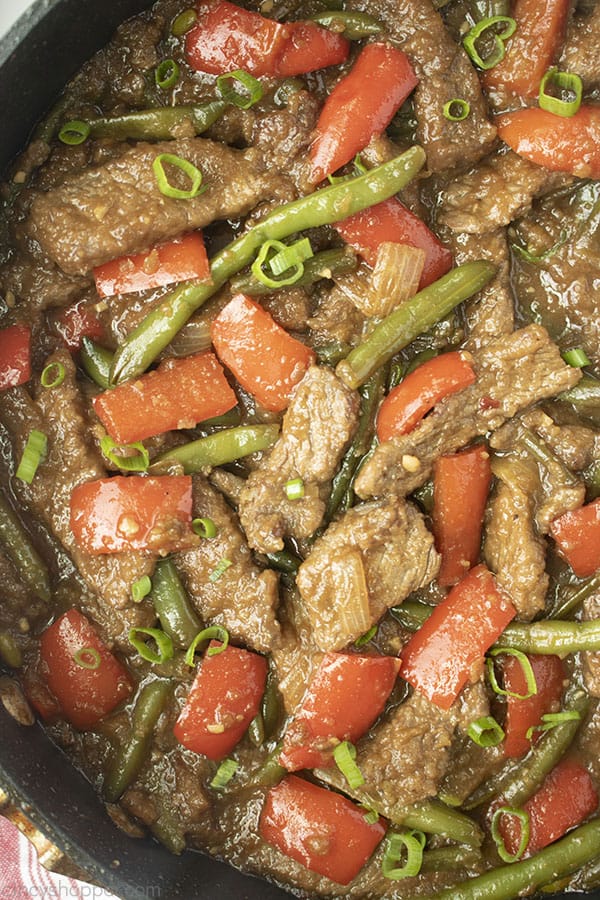 We each have our favorites: there's the orange chicken, the honey chicken, or the chicken fried rice. A big favorite here in this house is the Mongolian Beef- there's something about that sauce and we all love our steak! The problem with the Mongolian Beef- and all the PF Chang's frozen meals, really- is there's that "processed" edge to them. Don't get me wrong- I love them- but they always leave me wanting a real plate of homemade Chinese beef.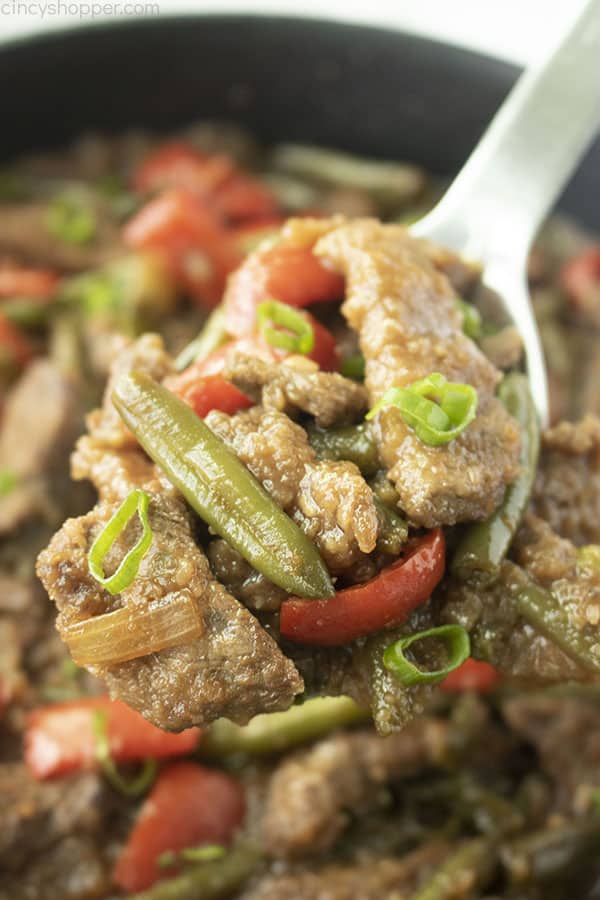 So? Why not fix up a real plate of beef? Going through all the steps, you'll realize it's not that hard to make something that tastes better than the frozen stuff! All with no real exotic ingredients either. We came up with a recipe that improves on everything: our beef is fresh and fried perfectly, our sauce is rich and complex, and the veggies are perfect!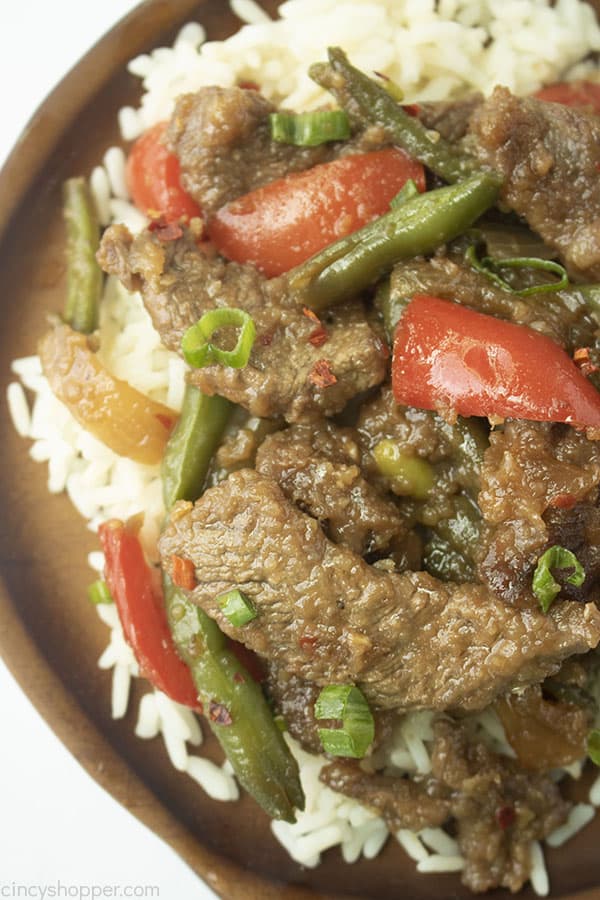 The sauce, I feel, is the real stand-out part of the meal here! Often times, these Mongolian beef sauces can end up being a little too sweet for some folks. With our recipe, I feel we've taken just enough of the sweetness out and put in just the right amount of heat to make this sauce sing!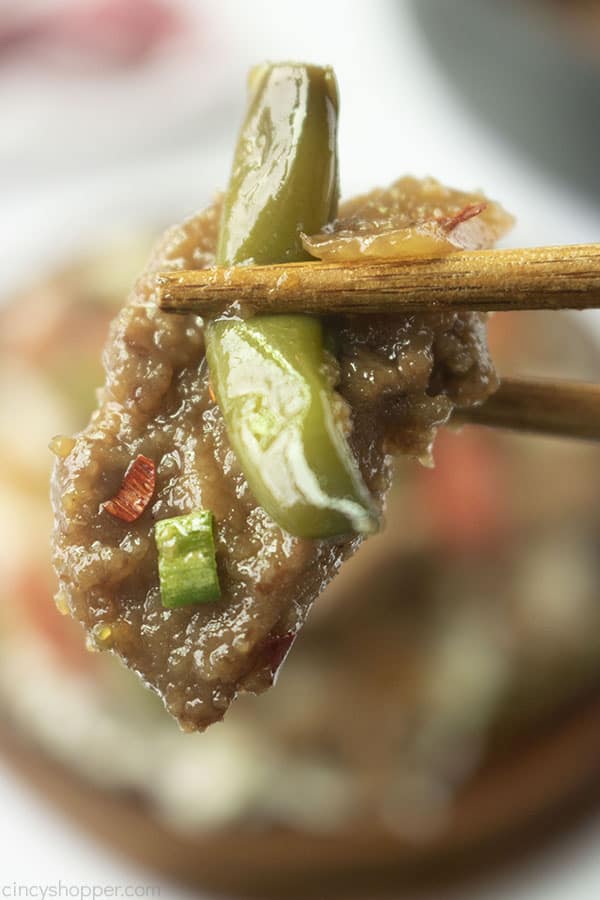 If you enjoyed the Mongolian Beef recipe here, we have a few other PF Chang's/takeout-inspired recipes you can look at. If you're looking for something as big and filling as this, our Easy General Tso's Chicken might be perfect for you. For something more in the realm of sides, try out our Easy Fried Rice. Pick out your favorite recipes and enjoy your own, "homemade takeout" night!
Ingredients for Mongolian Beef
Beef – There are

tons

of options that'll work for this recipe. The usual, go-to pick is flank steak, but some folks will use skirt steak, sirloin, and even tenderloin! I'd

just

recommend using sirloin or flank here for the most tender.

Cornstarch – While you can use flour for coating your beef, you ought to use cornstarch here. Using cornstarch will

ultimately

get your sauce thicker.

Red Peppers – To make it a bit spicy!

Frozen Green Beans – You could opt for fresh…

Green Onions – For a garnish.
For the sauce, you'll need…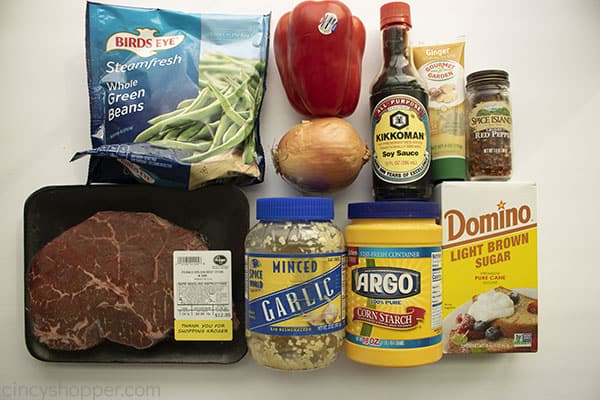 How to make Easy Mongolian Beef
Before you get into making your beef, you have to prep your veggies. Give your onions and red peppers a rough chop: you want bigger pieces like the ones they use in the frozen stuff.
Set those off to the side and chop your beef into small strips. You can toss your meat into the freezer to firm up a little bit- no longer than half an hour- to make slicing a bit easier and cleaner. Remember to slice your beef against the grain if using something like flank steak- this results in less-tough beef pieces. Make sure you're also keeping your beef strips nice and bite-sized!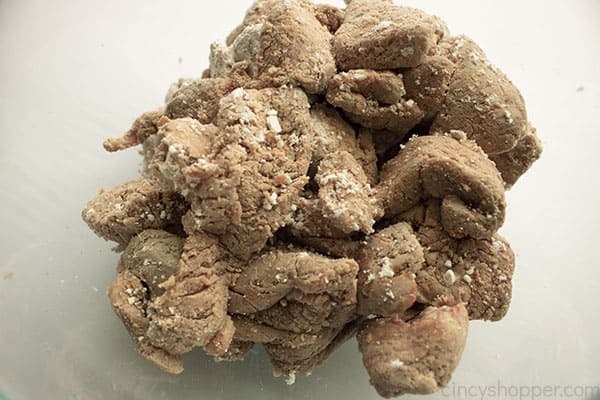 With your beef cut, you want to get your powder coating going. First, pat your beef dry with a paper towel and then put it in a bowl. Add your cornstarch in on top of the meat. Now toss your steak strips to get them coated.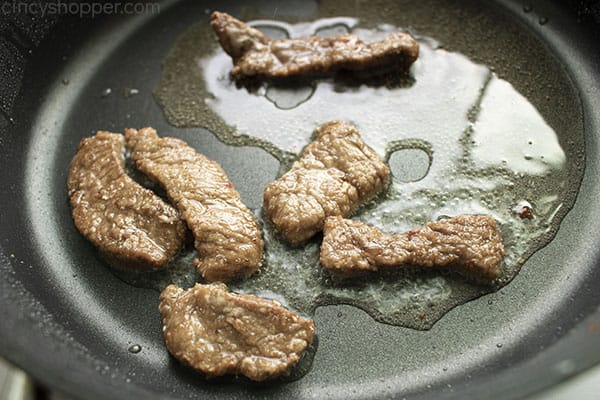 Now comes the tasty-smelling part: get your oil warming up in the bottom of a large skillet over medium heat. Once it's warmed up- it should be shimmering- you can start frying. After shaking off any excess cornstarch, start adding your coated beef pieces in batches to the skillet. Don't overcrowd your pan, as this could result in an improper sear on your beef! Give each side of your pieces about a minute of frying before pulling from the skillet and placing in a bowl.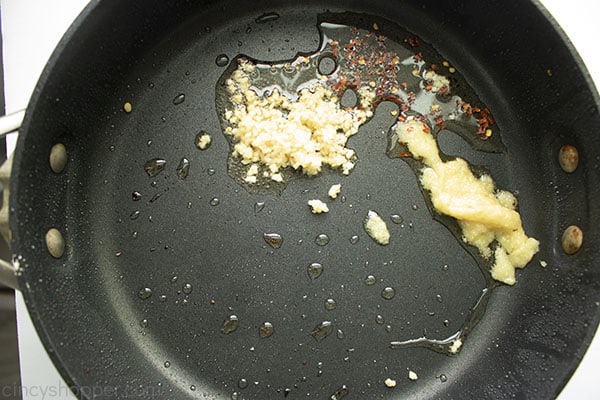 Now that your beef's fried, it's time to focus on our sauce and veggies. Take your chopped onions and peppers from earlier and pop them into a microwave to cook for a few minutes. If you're using frozen green beans, you'll want to microwave them right after for about 6 minutes. While the green beans are in the microwave, start on the sauce: toss your garlic, ginger, and red pepper flakes into the skillet and cook for about a minute.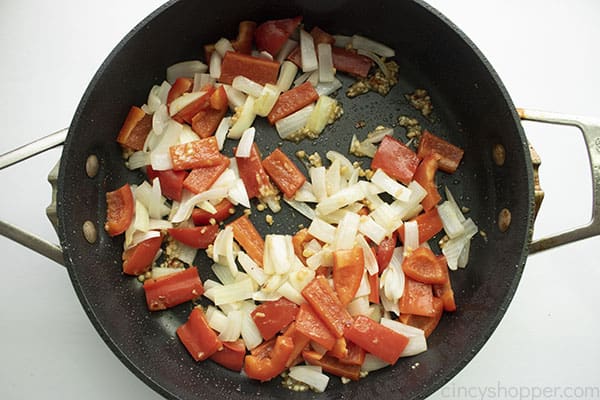 After those cook, add your onions and red peppers over top and give everything a quick stir.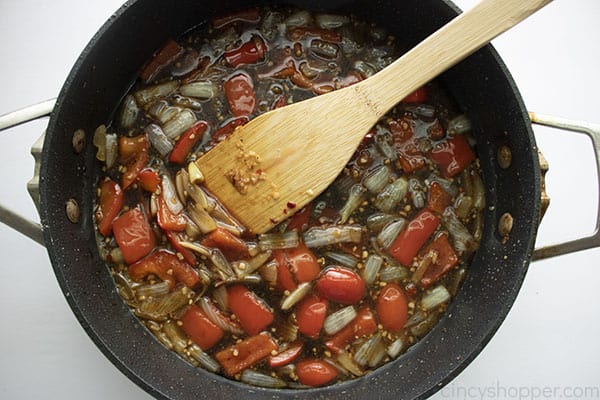 Sauce time! Add your soy sauce, brown sugar, and some water to the skillet. Get all that mixed let it come up to a boil.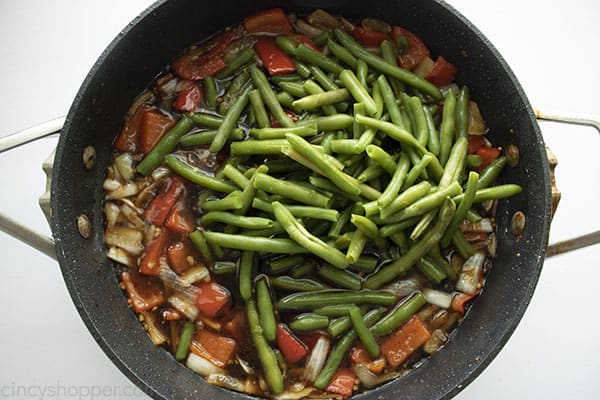 At this point, those green beans should finish cooking. Pull them from the microwave and add them to your skillet. They should only need a few minutes to finish cooking.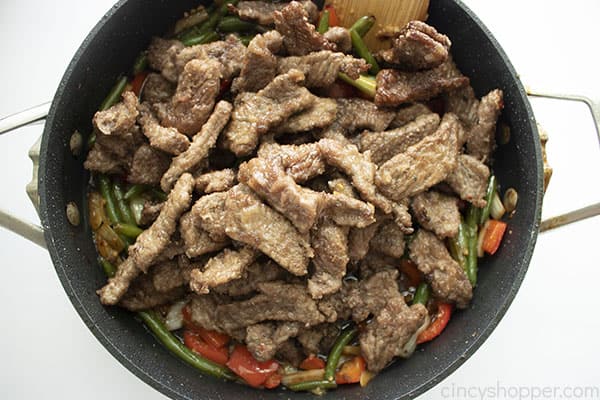 We're getting close to the end now! We're adding our beef back to the skillet now and we'll continue letting this cook for a bit.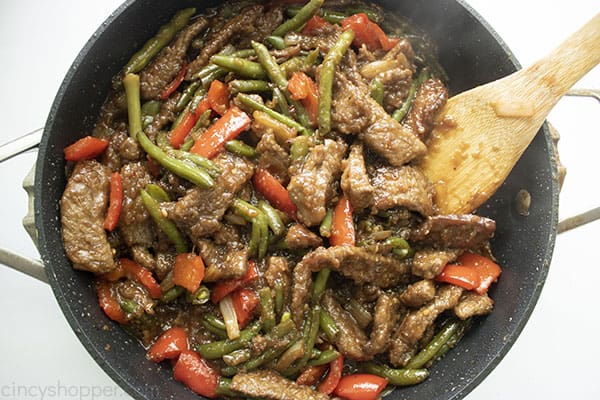 You're finished cooking when your sauce has thickened up and your meat finishes heating through.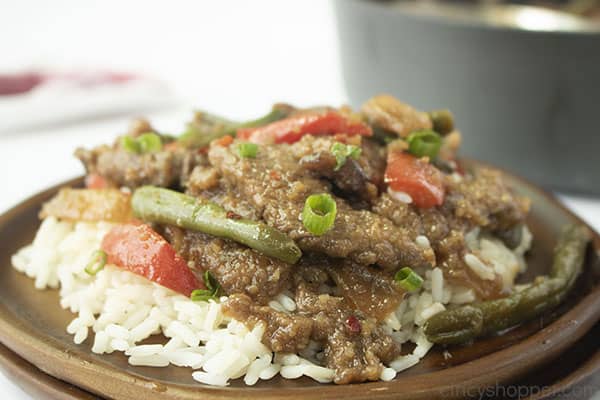 All that's left at this point is serving. Naturally, you want to serve this over some rice. Once you've fixed your plate, optionally garnish your beef with some thin slices of green onion. With that, your dish is complete- enjoy and never settle on the frozen stuff again!
Mongolian Beef
Simple Mongolian Beef is better than PF Chang's when made fresh. This takeout-inspired Chinese recipe features a sweet-and-spicy sauce.
Ingredients
1 1/2

lb

Beef Steak

I used Sirloin

1/3

cup

Cornstarch

1/4

cup

Vegetable Oil

1/2

medium Onion

diced

1

Red Bell Pepper

seeded and diced

10.8

oz

frozen microwavable Green Beans

3

tsp

minced Ginger

1 1/2

tbsp

minced Garlic

1/4

tsp

Crushed Red Pepper Flakes

2/3

cup

Brown Sugar

3/4

cup

Soy Sauce

2/3

cup

Water

2

Green Onions

sliced (optional for garnish)
Instructions
Thin slice the steak, pat very dry and place in a bowl.

Add cornstarch to bowl and toss until all meat is evenly coated.

Add oil to a large skillet and heat over medium.

Shake off excess cornstarch and cook in batches. Cook 1 minute per side.

Remove cooked meat to bowl while making sauce.

Place onions and red bell pepper in a microwave safe dish and microwave for 3 minutes.

Place frozen green beans in microwave and cook for 6 minutes.

Add ginger, garlic and red pepper flakes to pan and cook for 1 minute.

Add bell pepper and onions and stir.

Add brown sugar, soy sauce and water. Mix and bring to a boil.

Add green beans and cook for 3 minutes.

Return meat to skillet and continue cooking until sauce thickens and meat is heated through.

Garnish with green onions and serve over rice.
Nutrition
Calories:
486
kcal
|
Carbohydrates:
39
g
|
Protein:
27
g
|
Fat:
25
g
|
Saturated Fat:
15
g
|
Cholesterol:
69
mg
|
Sodium:
1695
mg
|
Potassium:
587
mg
|
Fiber:
2
g
|
Sugar:
27
g
|
Vitamin A:
1055
IU
|
Vitamin C:
34
mg
|
Calcium:
65
mg
|
Iron:
4
mg