Watermelon Salsa made with fresh fruits and veggies with the perfect amount of heat! This fresh summer appetizer is great for tacos or chips.
Fruity salsas are an interesting and tasty way to spice things up at dinnertime. Great for Mexican food or taco nights but it's also perfect as a BBQ side!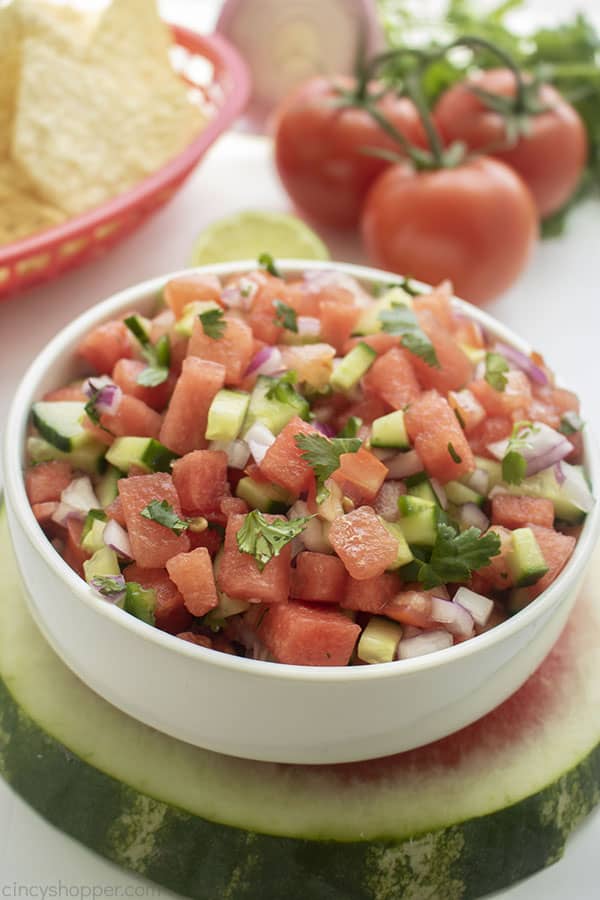 Watermelon Salsa
Having a great salsa recipe on hand can make taco nights amazing and something to look forward to every week! Not only can you use salsa as a topping for tacos but it also makes for a wonderful chip dip- especially if you have a nice, chunky salsa. Once you start making salsa homemade, you'll never really want to go back to the stuff from the store. There are plenty of salsa recipes you can try, but why not try this Easy Watermelon Salsa?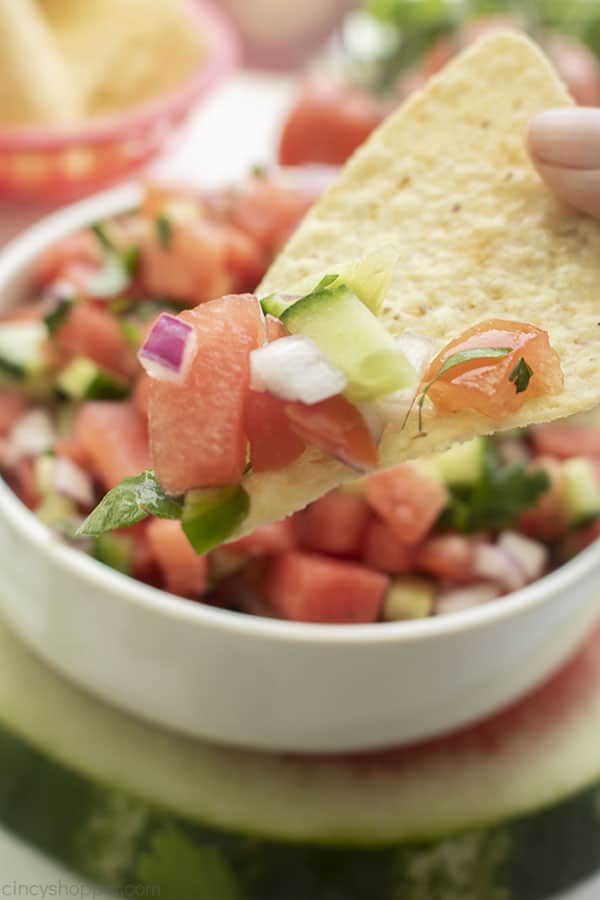 Watermelon Salsa is made more so in the style of a pico de gallo than most jarred salsas you'll find at the grocery. Thankfully, that keeps things easy when it comes to making it: no high-power blenders or food processors required! All the chopping and dicing for this recipe can be done by hand- and it'll be worth it in the end. This Homemade Watermelon Salsa has this lovely balance of fruity flavors and peppery heat!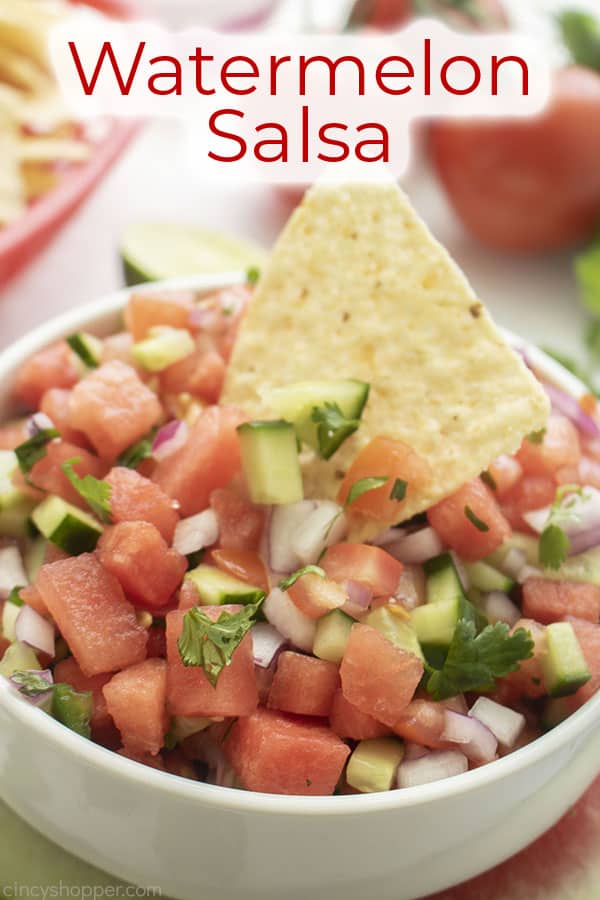 Use this stuff as chunky salsa for dipping chips or add it to any sort of tacos you're cooking up- I hear it works great with fish tacos! This condiment is really going to liven up your taco nights- it just might become your new go-to salsa recipe.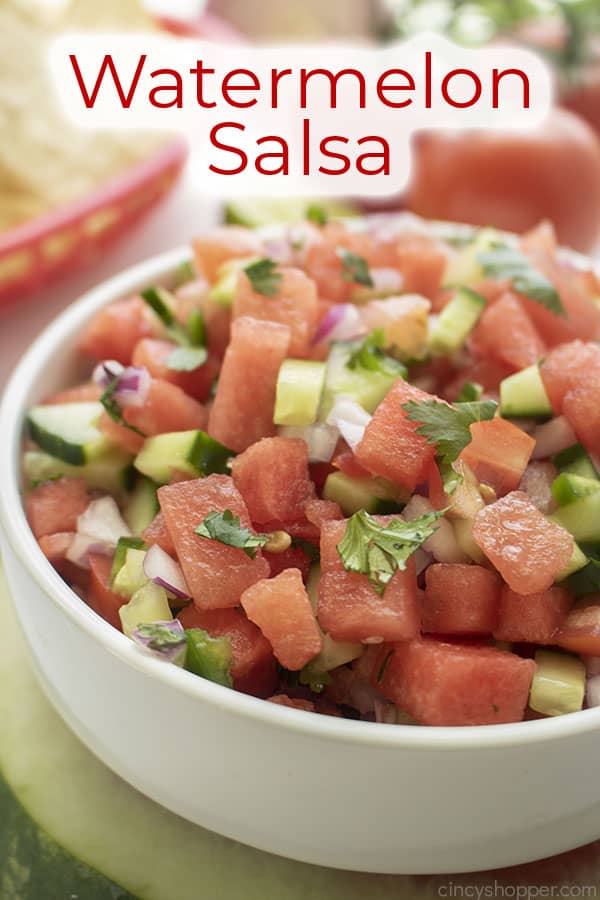 Liked this recipe? Try these other salsa recipes next!
For another delicious fruit salsa, try our

Strawberry Salsa

. This stuff is fresh, fruity, and so easy to make! One of our favorite salsas for dipping chips, but it's also perfect for tacos or even some rice pilafs.

For an classic topping that's a must-make for taco night, check out our

Easy Pico de Gallo

. So simple to make and all you need are 6 supermarket ingredients. So much better than anything bought at the store and tastes

just

like the stuff from the restaurant!

If you want a tasty, Mexican restaurant style dip, look no further than our

Homemade Salsa

recipe.

The secret to getting a perfect salsa for dipping chips is to use good tomatoes and a food processor or blender for a smooth salsa dip

!

With all these fresh ingredients, herbs, and citrus, the jarred salsa from the store can't compete

!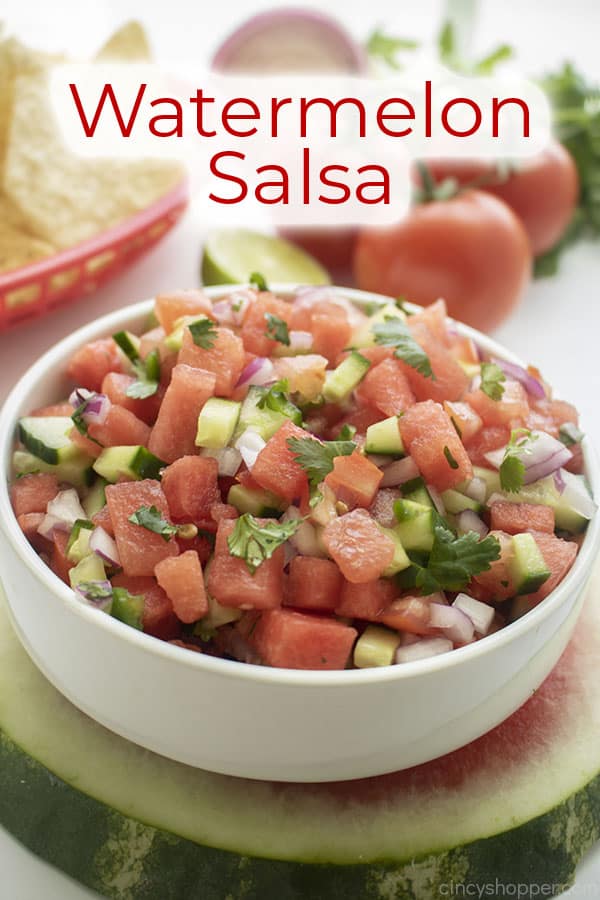 Ingredients for Watermelon Salsa
Red Onion

Cucumber

Tomatoes

Cilantro

– If you're one of those folks who can't eat cilantro, you can sub in parsley and add a bit more citrus.

Jalapeno

– T

o cut down on the heat, remove the seeds and veins from your pepper before dicing. If you want to increase the heat, consider upgrading to a habanero pepper!

Lime Juice

Salt & Pepper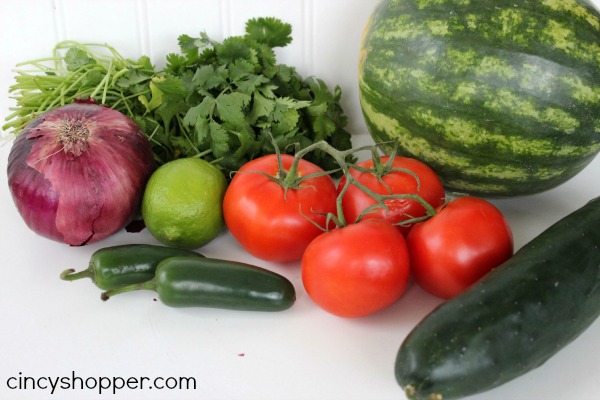 How to prepare our Watermelon Salsa Recipe
Making this tasty fruit salsa is pretty easy! Here's all you have to do:
Dice and chop your salsa ingredients

to your desired consistency.

Combine the salsa ingredients

in a mixing bowl,

top with lime juice

, and

season to taste with salt & pepper

.

Let the salsa sit in the fridge

for at least an hour

to let the flavors come together

before serving.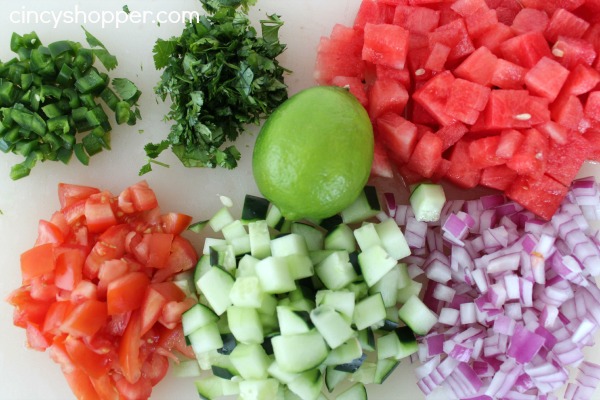 Start this recipe by first chopping all the ingredients to your preferred size and consistency. If you want a smoother salsa, keep your cuts on the finer side- likewise, for chunky salsa, aim for rougher cuts. If you're feeling lazy, you could also just use a food processor and pulse each of your ingredients to your liking! Once chopped, add everything to a mixing bowl.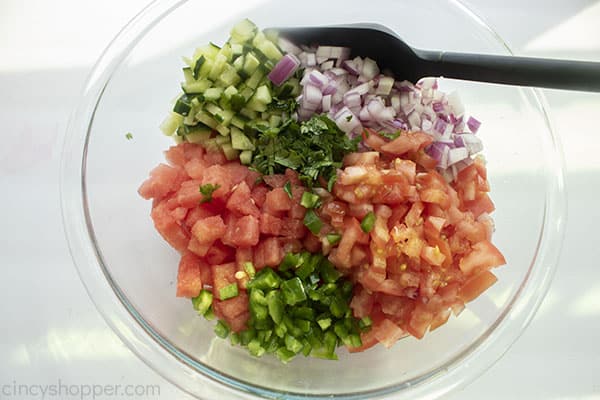 Here, you'll add your lime juice- fresh squeezed is preferred here! Give everything a quick stir or toss to coat and combine.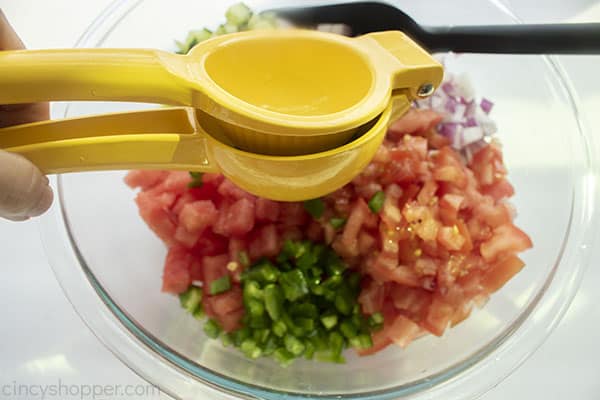 All that's left is the salt and pepper. Add each to taste- a reminder to taste your salsa as you make it so you can get the seasoning just right! Once you've got the flavor just right, cover your salsa and transfer it to the fridge where it'll sit for at least an hour so those flavors can come together. Whenever your ready, pull it from the fridge, serve, and enjoy!
How long does homemade salsa last?
Seeing as this is a homemade salsa and cut watermelon that doesn't last too long, we'd recommend enjoying this salsa within 3-5 days if kept covered in the fridge. While it may not last as long as some recipes, it's a great way to use up leftover watermelon, and prepping it is simple enough!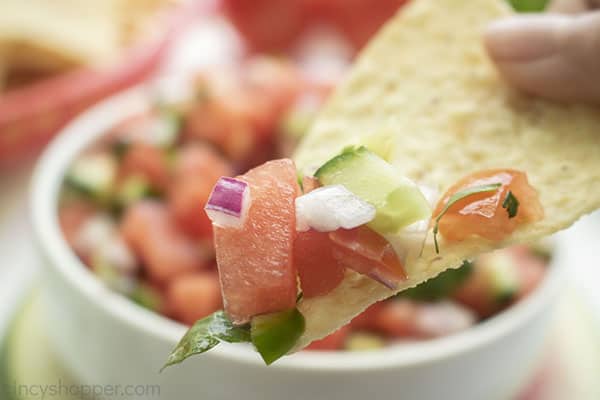 Fresh Watermelon Salsa Recipe
Watermelon Salsa made with fresh fruits and veggies with the perfect amount of heat! This fresh summer appetizer is great for tacos or chips.
Ingredients
2

cup

diced Watermelon

1

cup

diced Red Onion

1

cup

diced Cucumber

1

cup

diced Tomatoes

1/3

cup

chopped Cilantro

1/4

cup

minced Jalapeno

2

tbsp

Lime Juice

Kosher Salt

to taste

Fresh Ground Pepper

to taste
Instructions
Place ingredients in a bowl and mix well.

Allow to set in refrigerator at least 1 hour for flavors to come together.
Notes
For best flavor use freshly squeezed lime juice.
Nutrition
Calories:
28
kcal
|
Carbohydrates:
7
g
|
Protein:
1
g
|
Fat:
1
g
|
Saturated Fat:
1
g
|
Sodium:
45
mg
|
Potassium:
162
mg
|
Fiber:
1
g
|
Sugar:
4
g
|
Vitamin A:
343
IU
|
Vitamin C:
12
mg
|
Calcium:
20
mg
|
Iron:
1
mg