Strawberry Salsa is a fresh, fruity take on the classic Mexican condiment and topping. You can crank the heat up or down on this simple homemade recipe!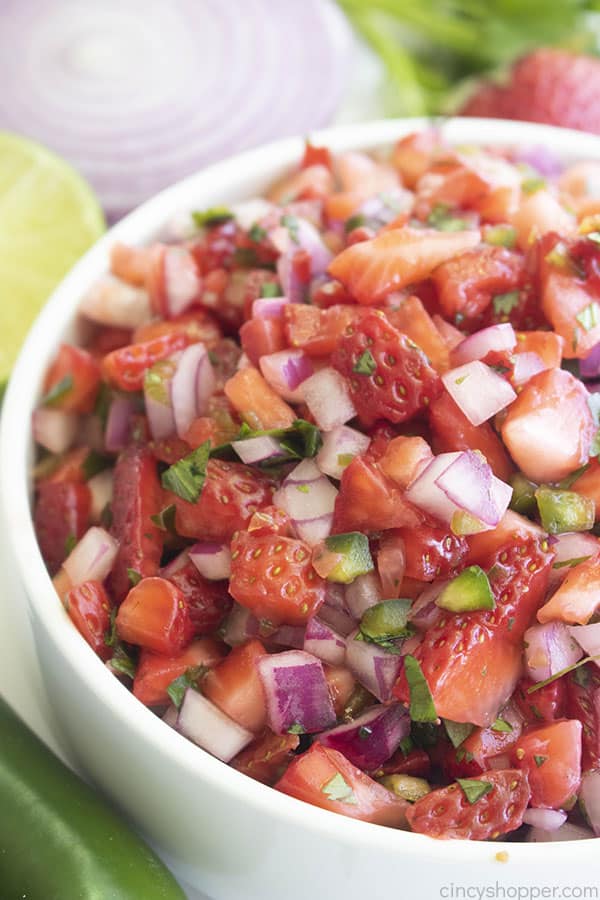 Strawberry Salsa
Alright, you've been waiting long enough- we promised you a fruity salsa in our last post about Homemade Cinnamon Tortilla Chips. We said those chips pair with all sorts of dips and salsas and we found one that pairs up perfectly with that cinnamon-y goodness!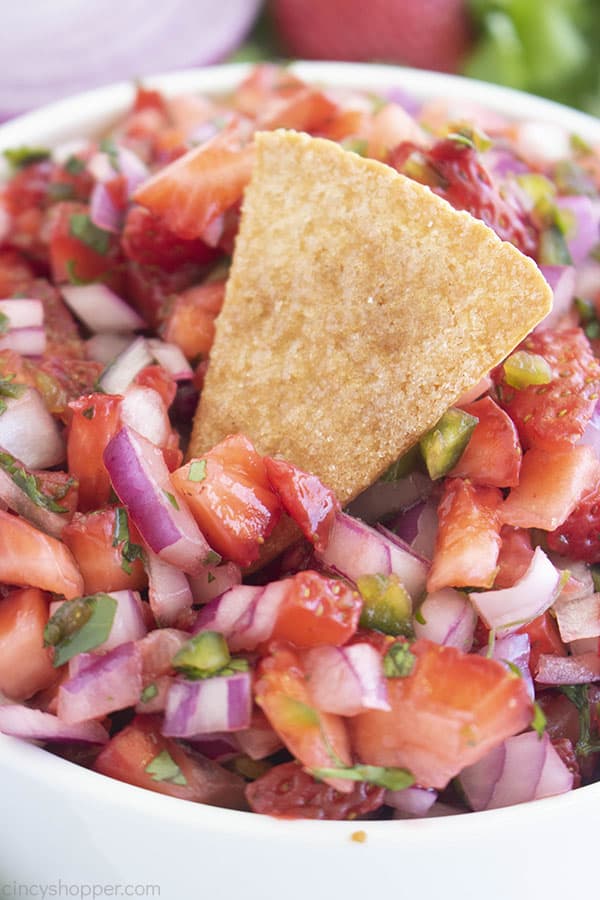 This easy-to-make chunky salsa brings in strawberries in place of the traditional tomato. What this gives you is a new and unique salsa flavor that I'm certain will be an amazing appetizer at your next watch-party or cookout!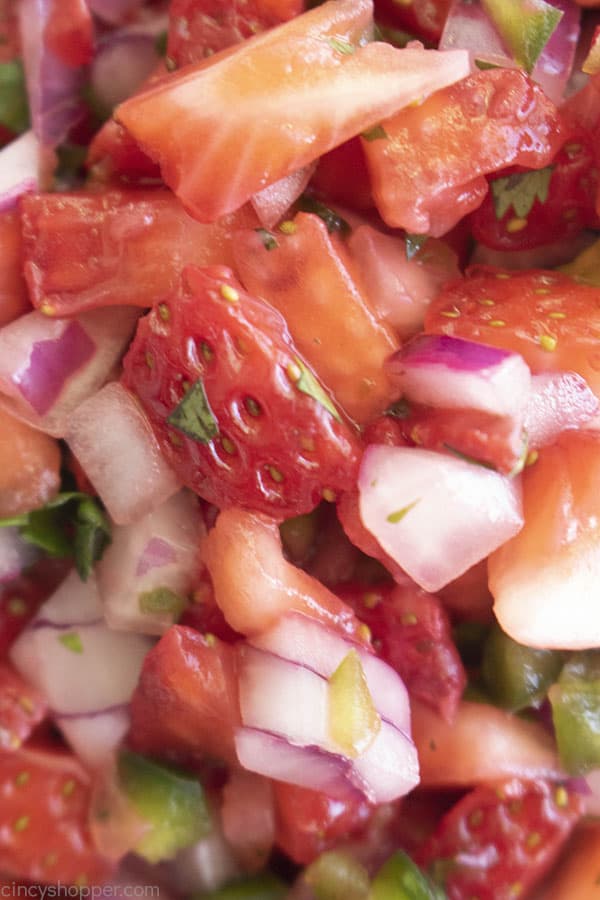 The humble bowl of salsa turns into a dish bursting with welcome heat and plenty of fruity sweetness. It's definitely worth trying out at least once! You might even start skipping out on that processed canned stuff at the grocery…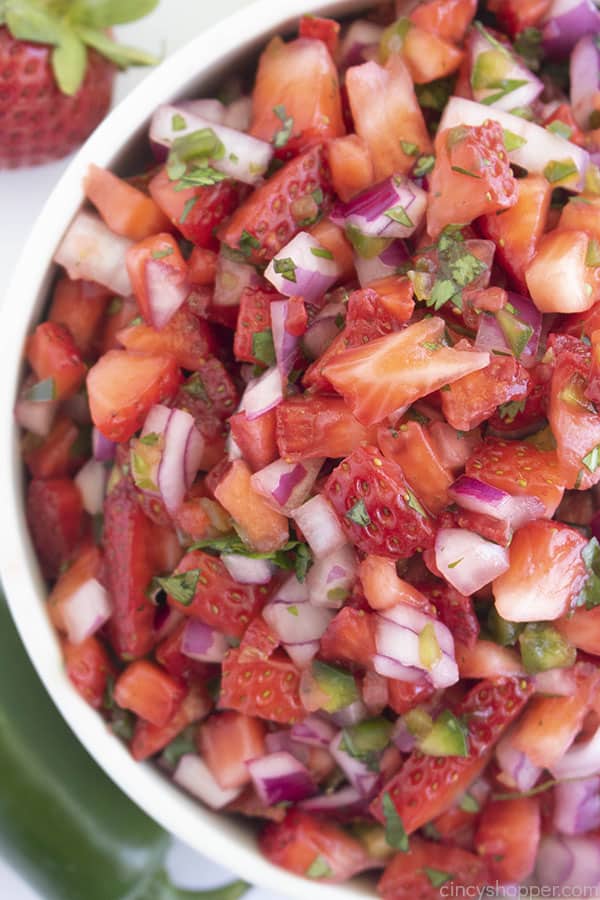 The real appeal of this recipe is how simple and free-form it is! You can sub out ingredients, add in more, turn the heat up for a real spicy salsa, or make it real mellow and approachable. Let us know what substitutions/additions you made- we're curious to see what folks have come up with.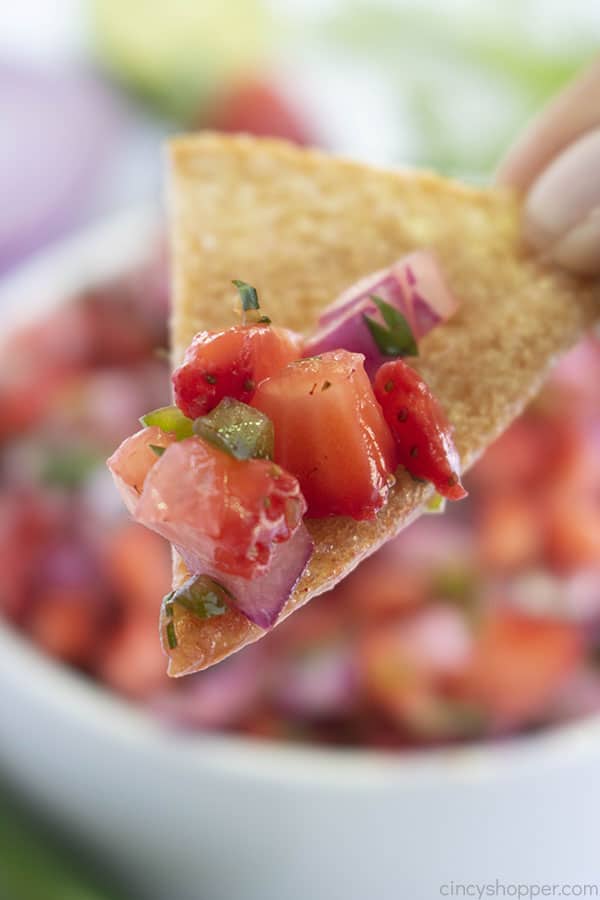 Whatever changes you make, you'll find that you can use this juicy salsa in any number of recipes. Try making a pilaf with this salsa and our Easy Spanish Rice. No cinnamon for our Cinnamon Tortilla Chips? Regular tortilla chips will work fine- our Homemade Salsa and Chips recipe has a guide for making corn tortilla chips! If you want to go all in on the "strawberry" theme, you could even whip up some of our Frosted Strawberry Lemonade to help manage that pepper heat.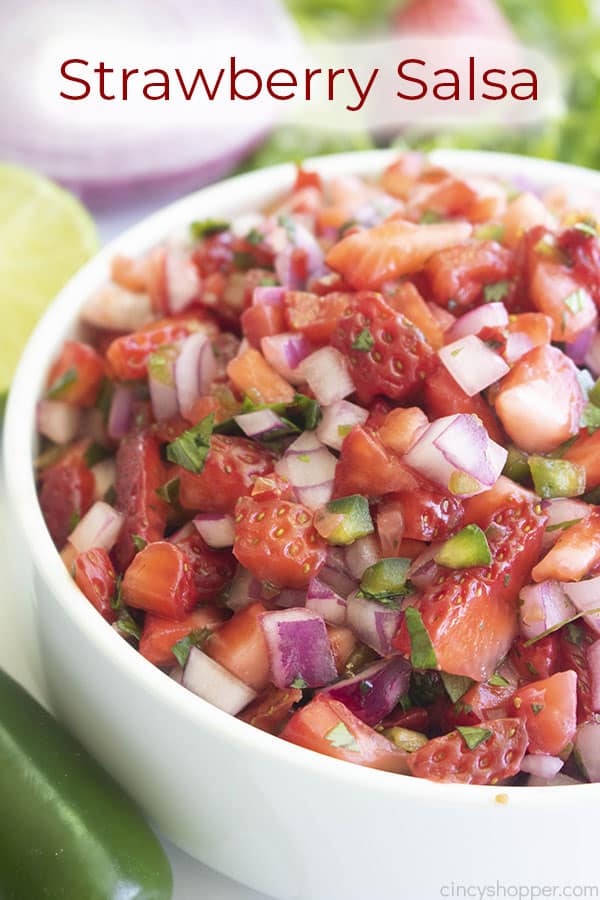 Ingredients to Make Some Strawberry Salsa
Strawberries – Strawberries are the only fruits we're using here today. Tons of recipes are online that have brought in other fruits that pair with strawberries. A few years back, we put out this

Fresh Strawberry Mango Salsa Recipe

that you might want to try out next!

Peppers – Here's where you can branch out and make this recipe your own. We use jalapenos, but for the "Hot Ones" out there, reach for some habaneros or funkier scotch bonnets! Remember you can knock plenty of heat out by de-seeding your peppers.

Seasonings/Spices – You can bring plenty of different spices and herbs into this recipe. We decided to go with cilantro and some simple salt and pepper. A little touch of honey can also go a long way here!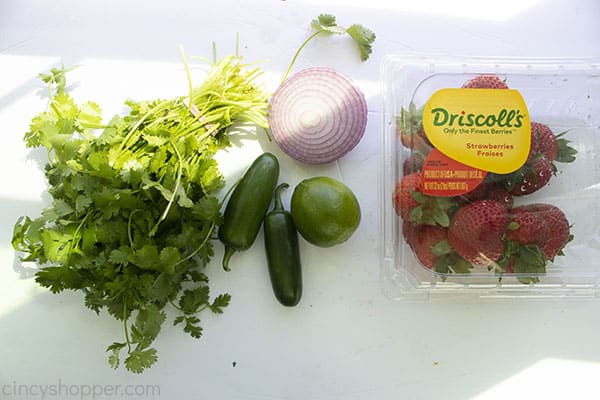 Putting the Strawberry Salsa Together
Putting this salsa together couldn't be much simpler! First, you gotta prep your ingredients. Hull your strawberries and remove the stems and seeds from your peppers. After that, dice/chop your ingredients real fine before tossing them into a large mixing bowl. Don't forget to squeeze your lime juice over top.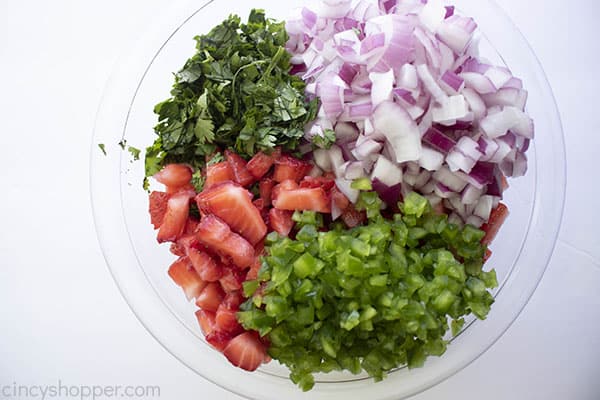 From here, all you have to do is mix until your ingredients are well-combined! After that, your salsa is ready for scooping. If you find your end product is a little too chunky, you could toss it into a food processor and blitz it a little finer. For long-term storage, you might be able to find a way to can it- you'll never have to buy the supermarket stuff again!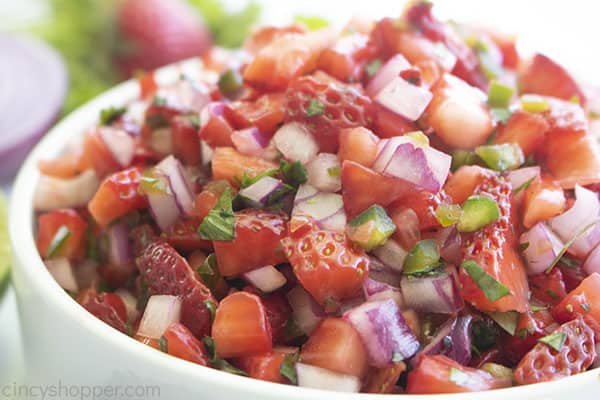 Strawberry Salsa
Strawberry Salsa is a fresh, fruity take on the classic Mexican condiment and topping. You can crank the heat up or down on this simple homemade recipe!
Ingredients
1

pint

Strawberries

hulled and finely diced

1 1/2

Jalapeno peppers

finely diced (stem and seeds removed)

1/2

Red Onion

finely diced

1/2

cup

fresh Cilantro finely chopped

3

tbsp

Lime Juice

Salt and Pepper to taste
Instructions
Combine all ingredients in a medium bowl and toss.

Refrigerate until ready to serve.
Nutrition
Calories:
32
kcal
|
Carbohydrates:
8
g
|
Protein:
1
g
|
Fat:
1
g
|
Saturated Fat:
1
g
|
Sodium:
2
mg
|
Potassium:
158
mg
|
Fiber:
2
g
|
Sugar:
5
g
|
Vitamin A:
137
IU
|
Vitamin C:
54
mg
|
Calcium:
15
mg
|
Iron:
1
mg