Homemade Salsa is a classic sauce that's a must-have for Taco Night! Use a food processor and fresh tomatoes for a tasty restaurant style dip.
Whether you're using fresh or canned tomatoes, you're going to love our recipe for DIY Salsa! Serve with chips and make it a meal with some Slow Cooker Carnitas or Sour Cream Chicken Enchiladas.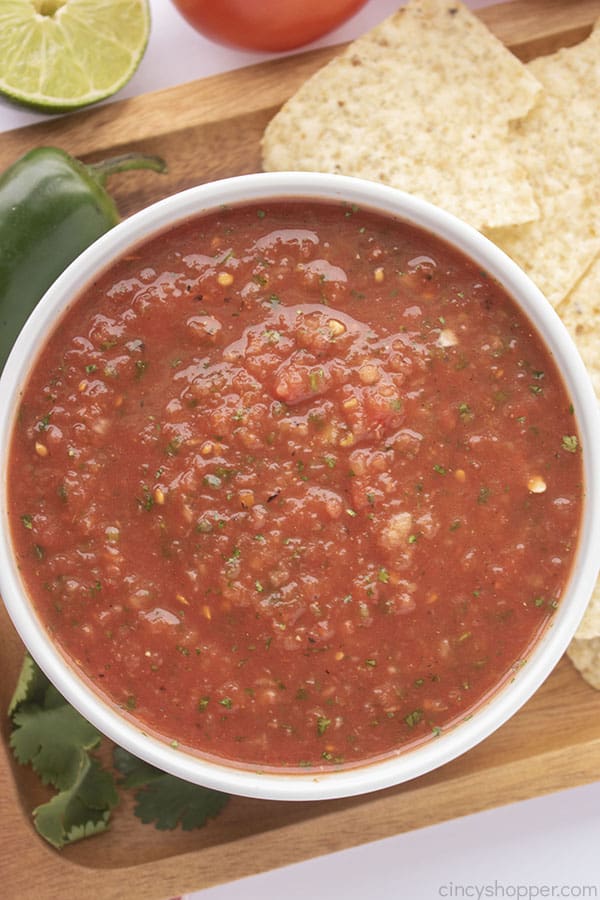 Homemade Salsa
One of the best parts of sitting down in a Mexican restaurant is the delicious chips and salsa they set at the table. Chips and salsa are literally the bread and butter of the Mexican dining experience- a nice, light appetizer to get you ready for a delicious meal! Every time I try to make up my own Mexican-style food, I usually reach for a jar of salsa and it's… okay, I guess? It just doesn't compare to restaurant salsa. To get salsa that good, you have to go homemade!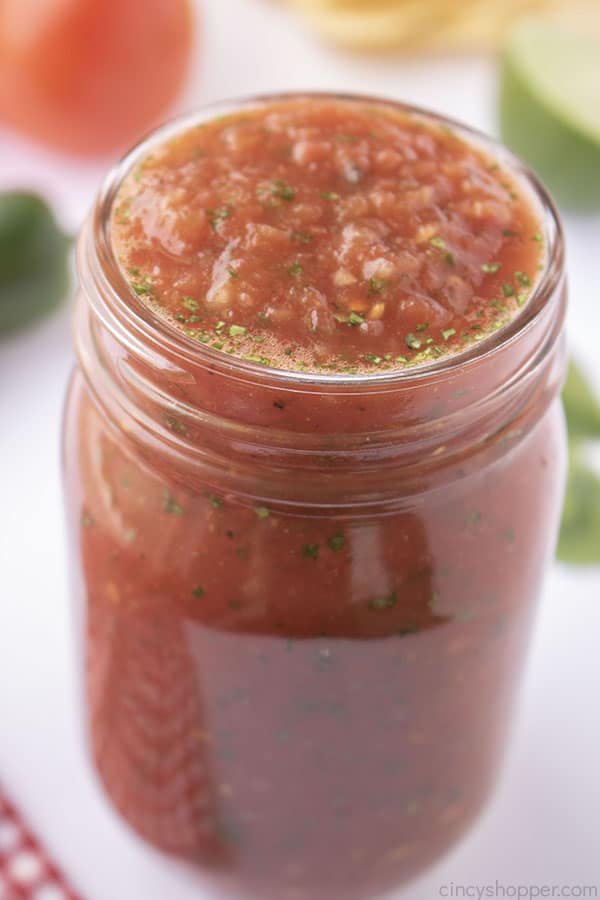 Fresh Homemade Salsa is the key to making taco nights fun and your Mexican dinners sing with flavor! Freshly chopped ingredients, no dried herbs, the zest of citrus- it something a canned or jarred product can't imitate. If you want the perfect dip for your chips or an amazing sauce for all sorts of Mexican dishes, you have to start making salsa from scratch.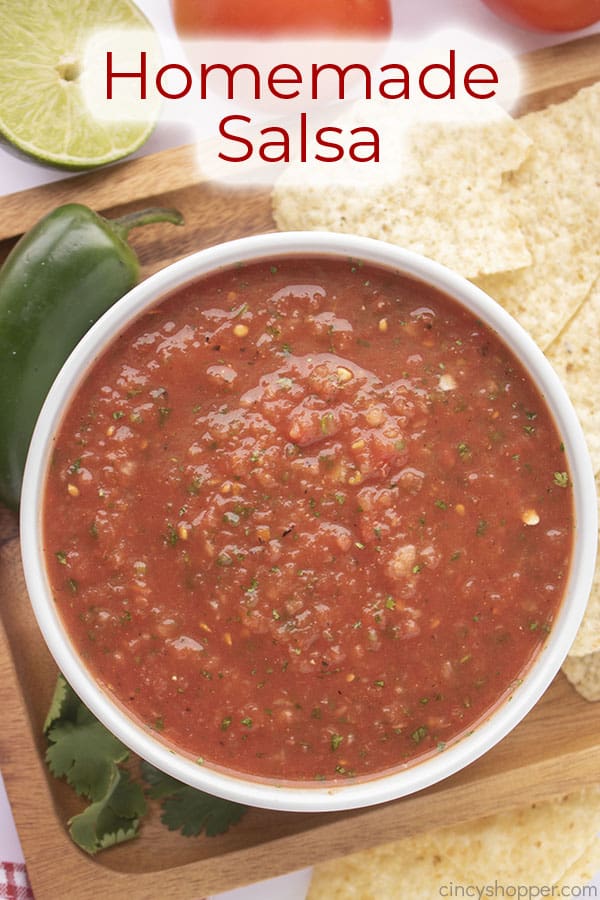 We've tried to design this recipe to cater to all sorts of folks. Got a bunch of fresh garden tomatoes on hand? You'll love this recipe! Can you not get a fresh tomato anywhere near you- all you have is canned? You can make this recipe work- don't worry! Whether or not you're making this salsa with fresh tomatoes, we're certain it's going to be delicious.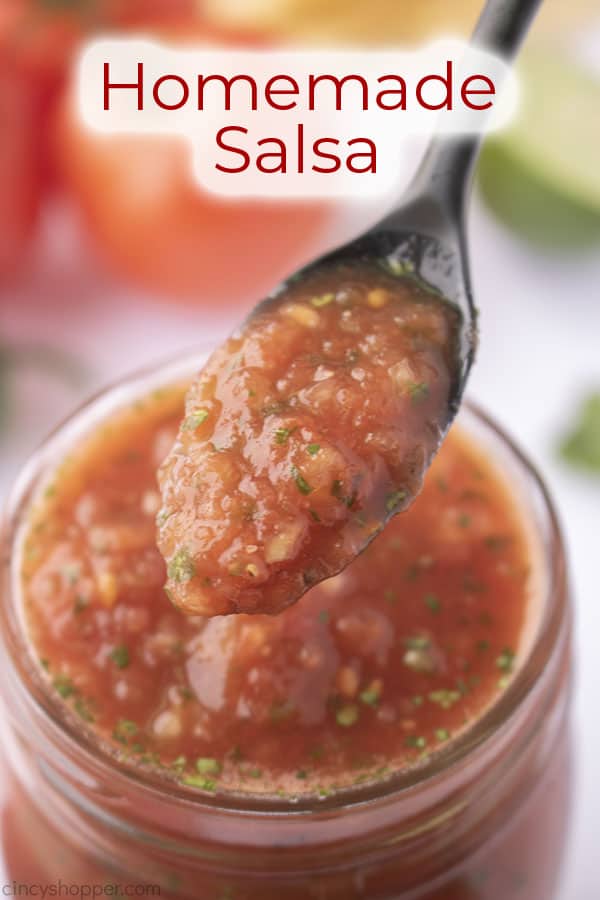 Liked our Homemade Salsa? Try these classic Mexican side dishes next!
Another delicious dip you'll often see at Mexican restaurants is something like our

White Queso Dip

.

A delicious, melty mix of white American cheese, jalapeno and bell peppers, and a few Mexican spices

! If you're not serving your chips with salsa, you have to serve it with this!

Whether your making tacos, carnitas, or barbacoa, you'll want a bowl of

Easy Spanish Rice

nearby. Spanish rice is a great side to go with any sort of meat or chili dish. Use it to fill a burrito or serve your fare upon a bed of this delicious rice!

If you've tried our Spanish Rice and want something new, give some

Lime Rice

a try!

Similar to

the kind of rice you'd find at Chipotle, we seasoned ours with lime- of course- and some cilantro and bay leaf

. Again, a great burrito filling or perfect for a bowl.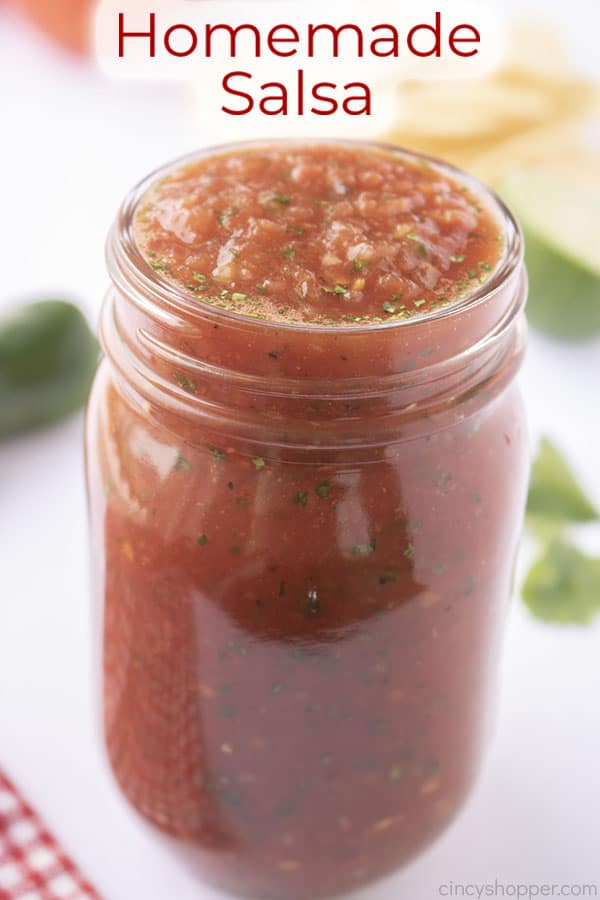 Homemade Salsa Ingredients
Tomatoes

– This recipe is perfect for fresh garden tomatoes or, in a pinch, some canned tomatoes.

Canned Rotel Tomatoes

– Adding a can of the "Fire Roasted" Rotel Tomatoes will give your salsa bit of extra flavor and depth

.

Jalapeno

– For less heat, go with something like an Anaheim pepper. More heat? Start with a serrano.

Onion

Cilantro

– If you're one of those folks who can't handle the taste of cilantro, sub in some fresh parsley and add a touch more citrus

.

Seasonings

– Salt & Pepper,

obviously

, but also some lime juice and some cumin.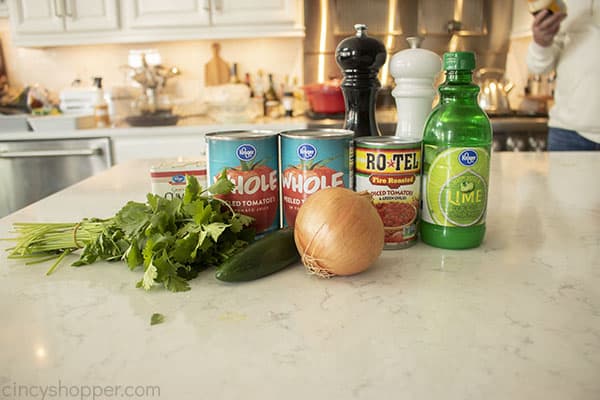 How to make Salsa
With the help of a food processor, making our homemade salsa is going to be very easy! Here's what you'll have to do…
Prep and dice all your salsa ingredients.

Add your salsa ingredients to a food processor or blender.

Blitz your salsa to your desired consistency.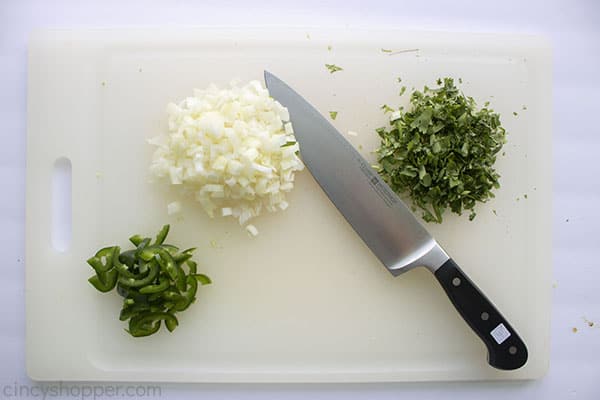 First, cut and dice all the necessary ingredients- for us, this was just our jalapeno, onion, and cilantro. If using fresh tomatoes for salsa, you may want to peel and give them a quick dice as well. With our ingredients prepped, we can start adding everything to the food processor. Start with our tomato ingredients…
…Then follow up with diced veggies and herbs. If you can't close the food processor, give the tomatoes a light pulse or two just to break them down and make room for the other ingredients.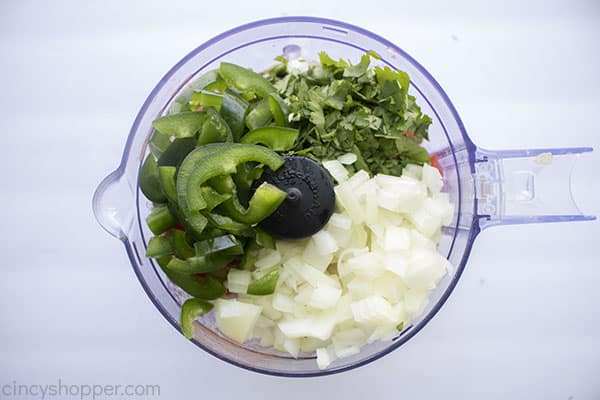 From here, all that's left is to blitz your salsa ingredients to your desired consistency. Process it as smooth or as chunky as you'd like! Make sure you season to taste with your salt, pepper, cumin, and lime juice along the way to get that flavor perfect! Once prepped, grab a chip, take a dip, and enjoy.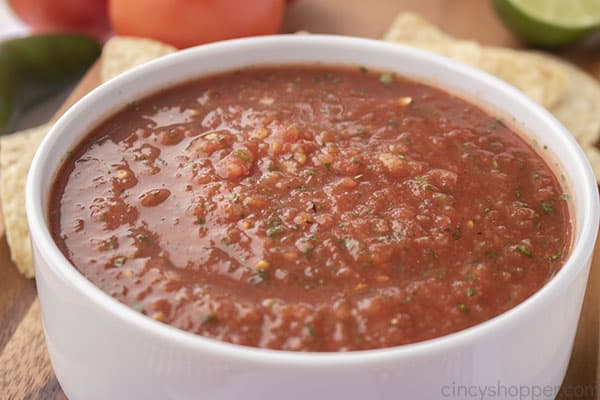 Best Tomatoes for Salsa
Roma Tomatoes

– Roma Tomatoes have a variety of uses in the kitchen and salsa-making seems to be one of them!

Canned Tomatoes

– These are a great option if you can't source fresh tomatoes for whatever reason. Canned whole tomatoes will work best.

Fresh Garden Tomatoes

– If you don't happen to be growing Roma tomatoes in your backyard, don't worry. Any delicious, ripe tomato will make great salsa!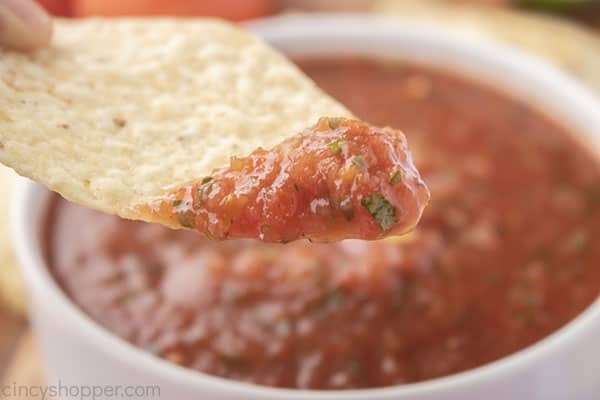 Tips for the Best Homemade Salsa
De-Seed Your Tomatoes

– If you're willing to put in a bit of extra work, removing the seeds might improve your salsa! Something about the seeds can make your salsa extra-watery- which we don't want.

Your salsa will be fine with seeds in it but consider removing the seeds for a restaurant-quality salsa

.

Remember the chips!

– For the perfect "chips and dip," make sure you don't forget the chips! Pick out some nice, quality tortillas chips from the market or- if you'd like- make some yourself.

Serving Time

– Even though your salsa will last about a week covered in the fridge, you'll want to choose the best time to serve it

.

Try to prep your salsa an hour in advance- one hour lets the salsa weep the perfect amount of moisture to give you a lightly-soupy dip

.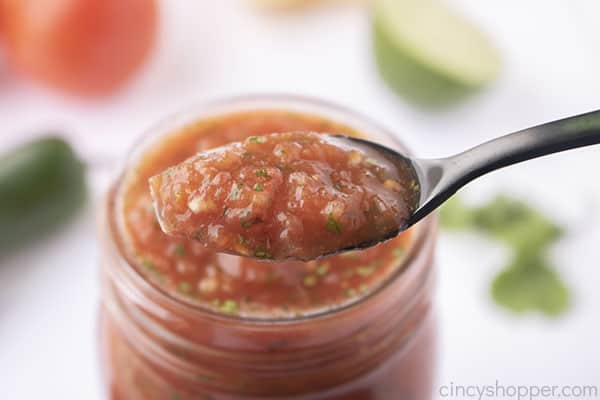 Homemade Salsa
Homemade Salsa is a classic sauce that's a must-have for Taco Night! Use a food processor and fresh tomatoes for a tasty restaurant style dip.
Ingredients
28

oz

Whole Tomatoes

10

oz

Rotel Diced Tomatoes And Green Chilies

1/4

cup

Chopped Onion

1

tsp

Minced Garlic

2

Jalapeno

diced

1/4

tsp

Sugar

1

tsp

Salt

1/4

tsp

Cumin

1/2

cup

Cilantro

chopped

2

tbsp

Lime Juice
Instructions
Unless you have a large food processor, you should prepare this in 2 batches.

Chop ingredients to more easily fit in foood processor.

Combine all salsa ingredients in a blender or food processor.

Run until you get the consistency salsa you like.

Refrigerate salsa for at least 1 hour before using.
Notes
Homemade salsa is best if allowed to chill for at least one hour before serving.
Nutrition
Calories:
30
kcal
|
Carbohydrates:
7
g
|
Protein:
1
g
|
Fat:
1
g
|
Saturated Fat:
1
g
|
Sodium:
300
mg
|
Potassium:
331
mg
|
Fiber:
2
g
|
Sugar:
4
g
|
Vitamin A:
976
IU
|
Vitamin C:
23
mg
|
Calcium:
26
mg
|
Iron:
1
mg