These Easter Pretzel Chick Treats are such an easy treat to whip up for Easter. My kiddos have a three day weekend this week. We took some time to make some treats to enjoy. Since the older four are teenagers, they can really polish off some serious food, ha ha. They all love pretzels and chocolate so these Easter Chick Pretzels were perfect to have for snacking. I placed some in snack bags for next weeks lunches when they were not looking, lol. Hopefully the hubby and kids do not find my stash before they head back to school on Tuesday.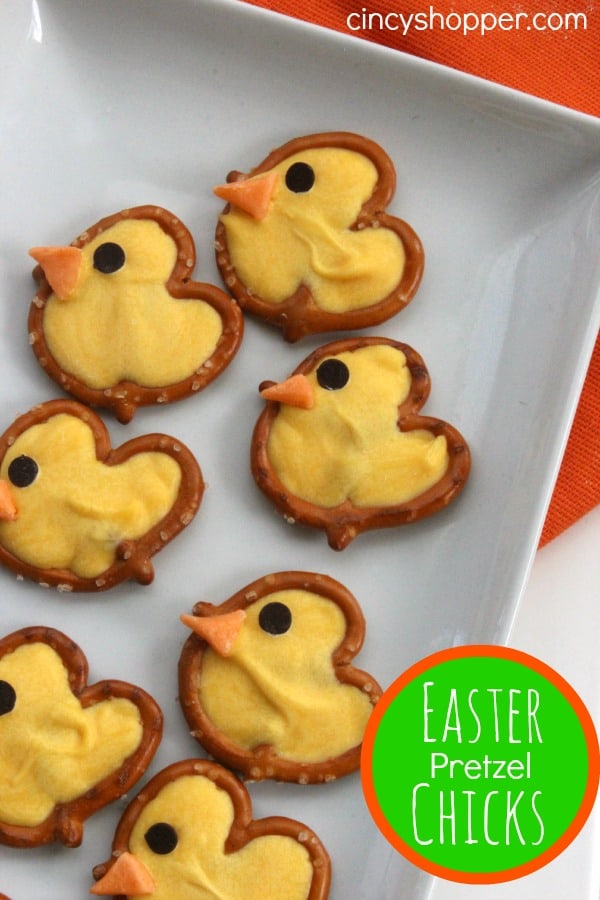 Easter Pretzel Chick Treats
I always pick up numerous bags of pretzels while shopping at Aldi. They are a cheap and somewhat healthy snack for all of us to munch on. I just added in some yellow chocolate and some orange Starbursts for the chick beaks. So simple yet so cute.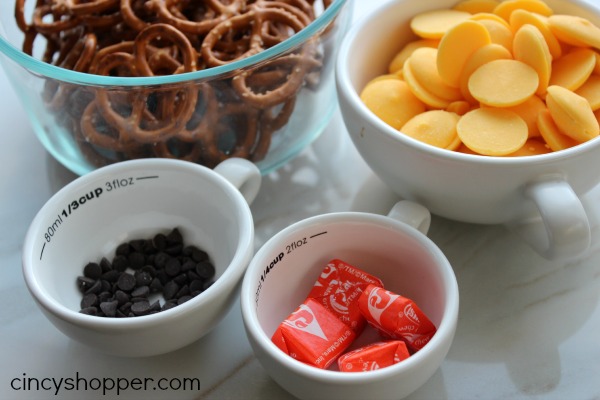 INGREDIENTS
24 Mini Pretzels
1 cup Yellow Candy Melting Chips
24 Mini Chocolate Chips
2 Orange Starbursts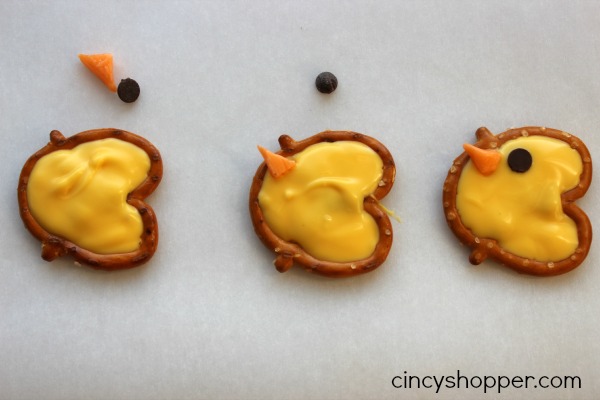 DIRECTIONS
Cut Starburst into 3 rectangular strips (1/4″ x 3/4″)
Cut each of those in half, creating 6 – 1/4″ x 3/8″ rectangles.
Now cut each of those diagonally creating 12 triangles for beaks.
Repeat with other Starburst, giving 24 beaks.
Lay pretzels out on wax paper lined cookie sheet.
Heat Yellow Candy Chips by microwaving for 30 seconds stirring and repeating until melted. Allow to cool for 2-3 minutes.
Transfer chocolate to corner of zippered bag and clip tiny piece off of corner to pipe.
Pipe candy over inside of pretzel to form shape of chick. Smooth with finger if necessary.
Place mini chocolate chips for eyes and Starburst triangles for beaks.
Place cookie sheet in refrigerator for 20 minutes to allow candy to set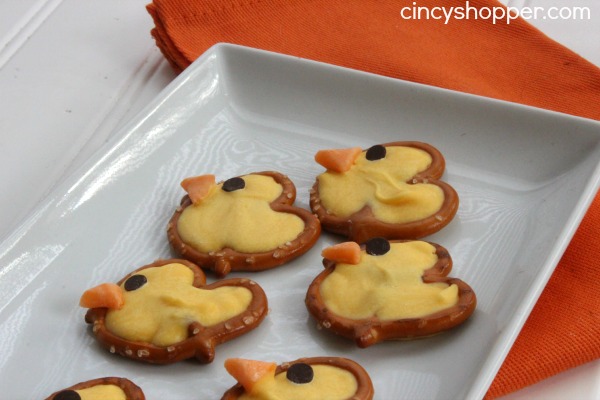 These Easter Pretzel Chick treats would be great to toss into a dish for your Easter Table dessert table too! They are so adorable and so tasty. If you are looking for other great Easter Ideas be sure to check out the Easter/Spring Cake Cookies, PEEPS Cupcakes, Sheep Cupcakes, Homemade Butterfinger Eggs, PEEPS S'Mores, Easter Chick Deviled Eggs, Nutter Butter Chicks, Reese's Peanut Butter Eggs Coconut Cream Eggs, Easter Egg Cake Bites and the Chocolate Covered Peeps that I have shared this past week. I will be sharing some great recipes and DIY Crafts for all of your Easter Holiday needs in the next few weeks.
Easter Pretzel Chick Treats
Ingredients
24

Mini Pretzels

1

cup

Yellow Candy Melting Chips

24

Mini Chocolate Chips

2

Orange Starbursts
Instructions
Cut Starburst into 3 rectangular strips (1/4" x 3/4")

Cut each of those in half, creating 6 - 1/4" x 3/8" rectangles.

Now cut each of those diagonally creating 12 triangles for beaks.

Repeat with other Starburst, giving 24 beaks.

Lay pretzels out on wax paper lined cookie sheet.

Heat Yellow Candy Chips by microwaving for 30 seconds stirring and repeating until melted. Allow to cool for 2-3 minutes.

Transfer chocolate to corner of zippered bag and clip tiny piece off of corner to pipe.

Pipe candy over inside of pretzel to form shape of chick. Smooth with finger if necessary.

Place mini chocolate chips for eyes and Starburst triangles for beaks.

Place cookie sheet in refrigerator for 20 minutes to allow candy to set