Pretzel Hershey Kiss M&M Bites are so chocolatey, delicious, and simple. This sweet & salty treat is just perfect for the holiday season! So easy to make too with just 3 ingredients.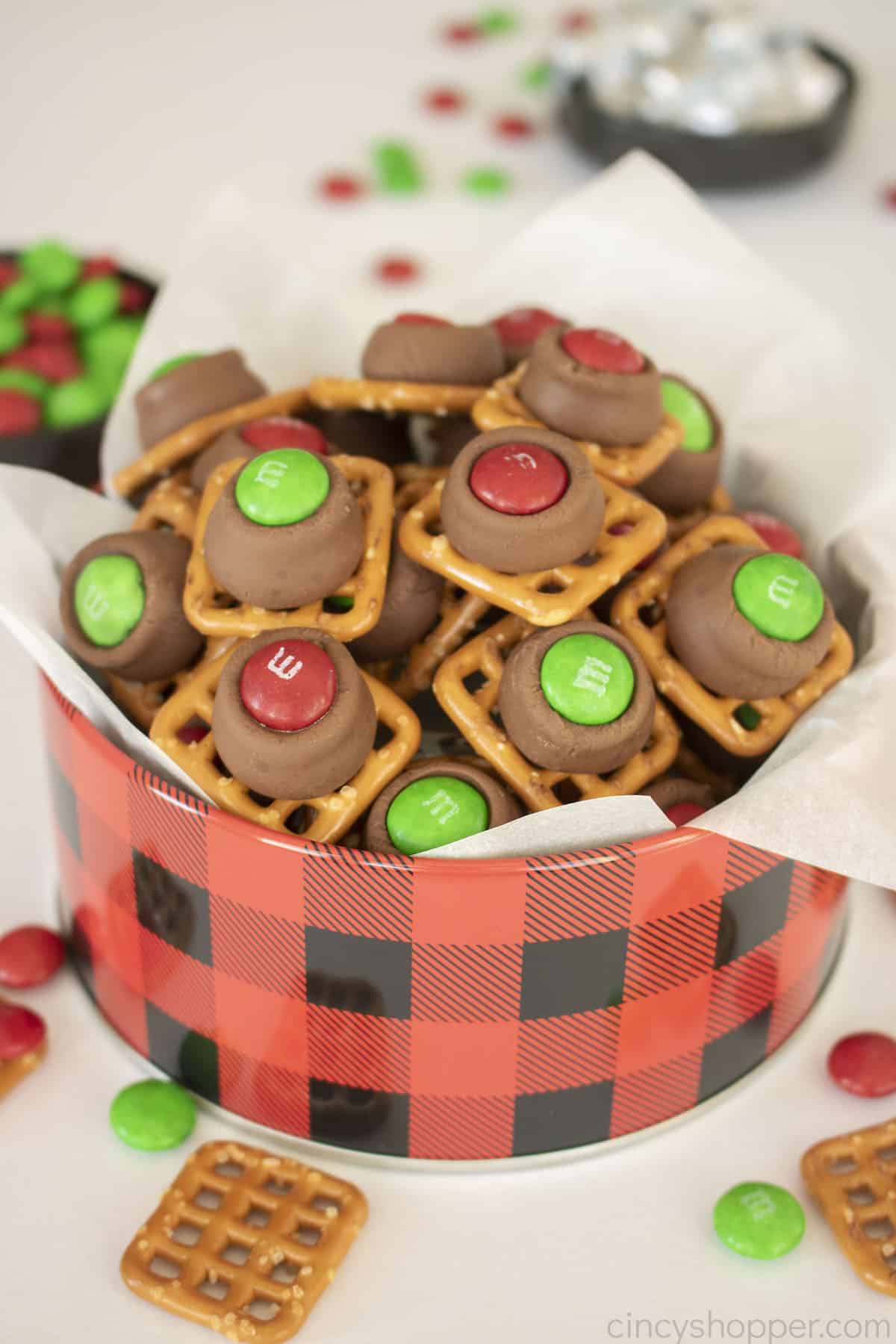 The holidays are the perfect time of year for all sorts of sweet treats. Whether it's a tasty dessert dish like a No Bake Peppermint Cheesecake after a nice Christmas dinner or just a quick candy snack, something about the season just gets the sweet tooth going!
Sure, you could just grab some chocolates off the shelf at the store or you could pick up a couple extra ingredients and make some tasty bite sized chocolate treats. One sweet and salty candy recipe we love to bring out around Christmas are these Pretzel Hershey Kiss M&M Bites.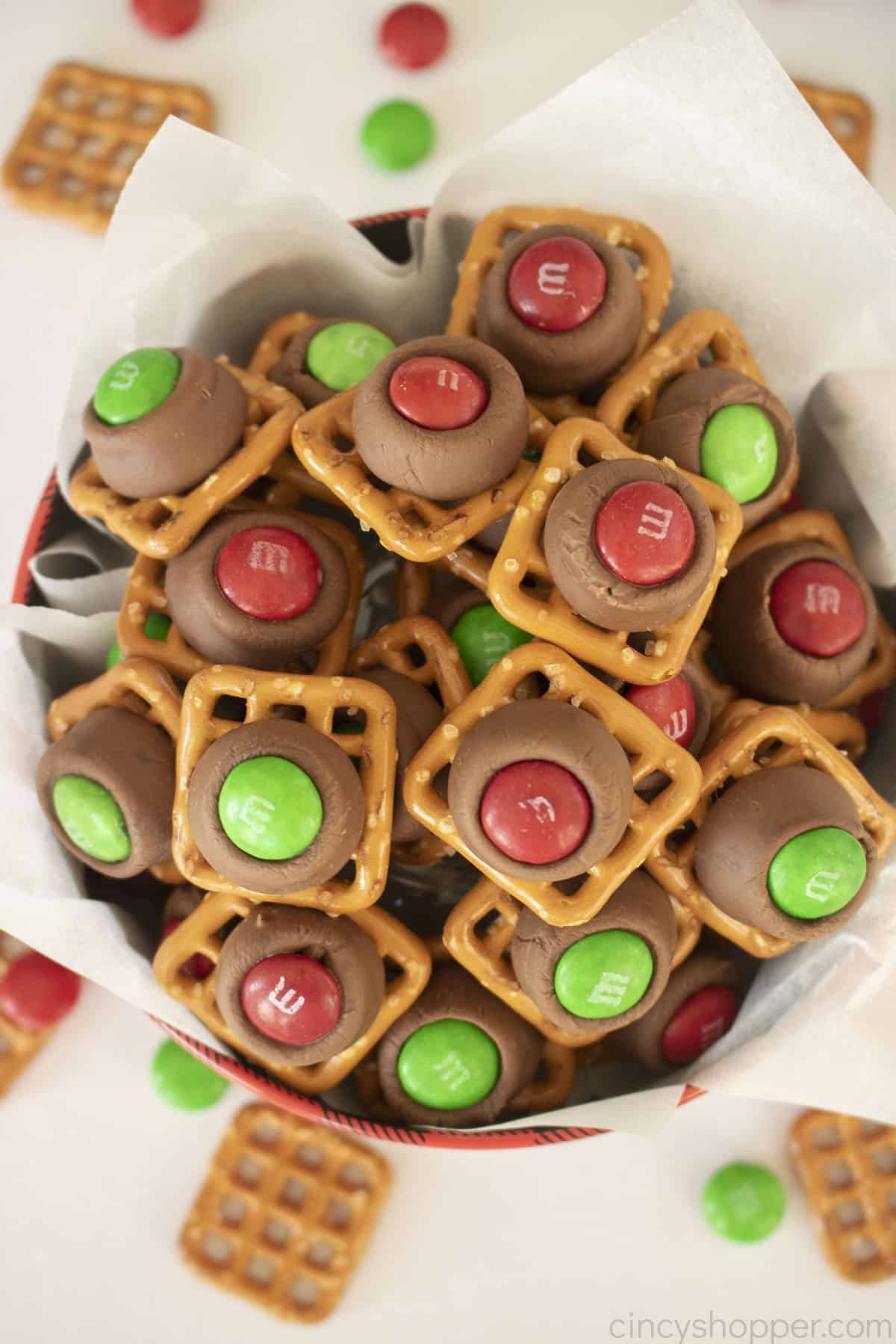 This recipe is the perfect combo of sweet chocolate and some crisp salty pretzel bites. Stack some Hershey Kisses on pretzel squares, warm them up a little, and pop an M&M into the middle for an extra crunchy chocolate treat to top it all off.
These Pretzel Kiss Candies just like our Oreo Truffles make for a great candy gift during the holidays. Consider placing them in an inexpensive holiday tin or cellophane bag for gifting to neighbors, teachers, co-works, etc.
You could also toss them onto a charcuterie board for your next Christmas party. Whatever plans you have for these Pretzel Kiss M&M Treats, you're going to love them!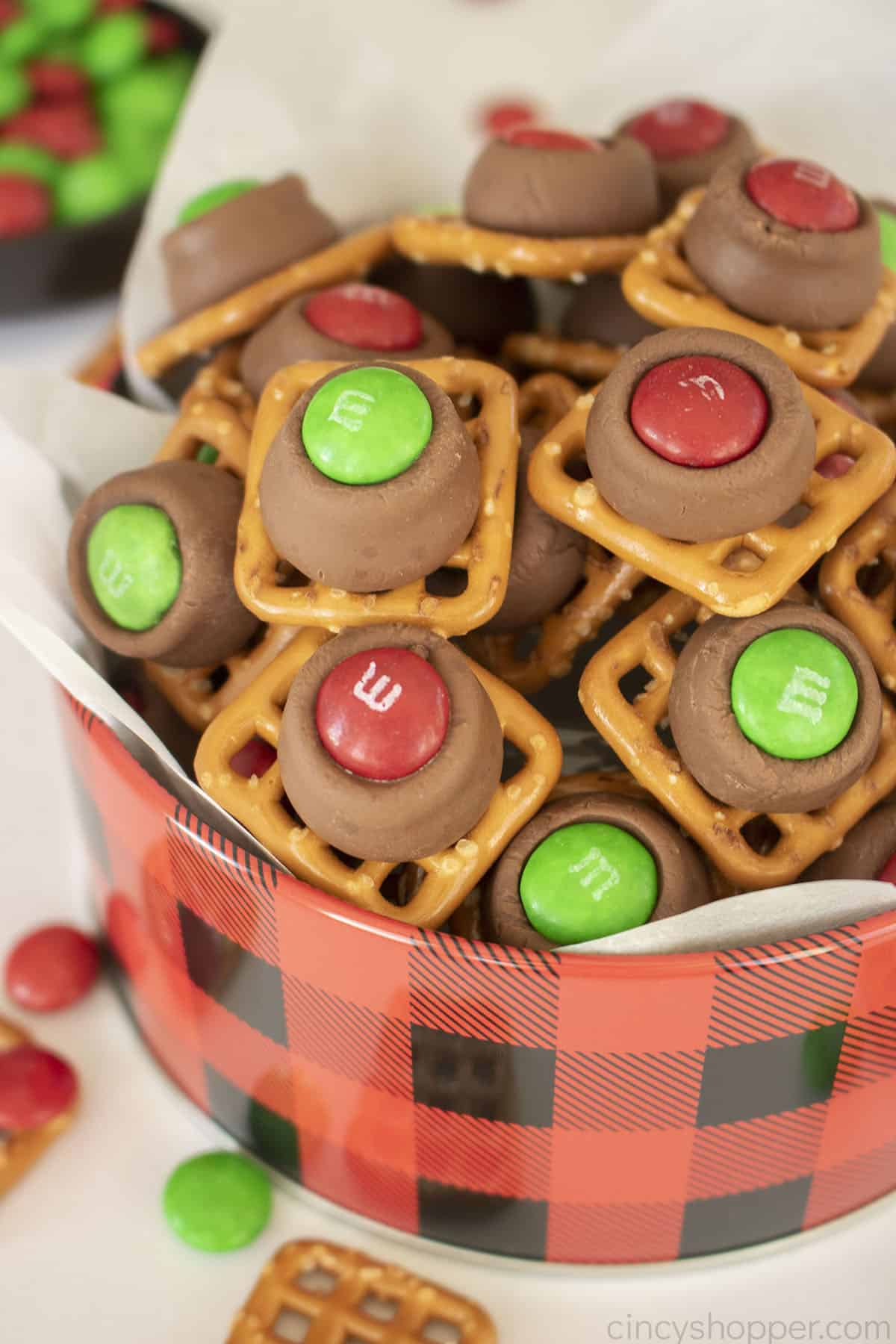 Jump to:
Why you'll love this Hershey Kiss Pretzel M&M recipe
For how sweet and tasty these turned out, they're so quick and easy to make. 3 ingredient recipes tend to be easy whether they're for meals or desserts, but these M&M Pretzel Treats were so simple!
Even though our Chocolate Pretzel Treats are so simple, the flavor combo is perfect. Salty pretzels and sweet milk chocolate feel like they're meant for each other and pairing them up like this lets you get both in one bite.
Since the recipe is so simple, there's a bit of room to experiment. We'll outline some specifics later in the post, but you can sub in different M&M or Hershey Kiss flavors to get some dark chocolate notes in there or go all in on those holiday peppermint flavors!
Pretzel Hershey Kiss M&M Ingredients
What you're going to love about this recipe is that the ingredients list is pretty much right there in the name! To make our pretzel with Hershey Kiss and M&M Bites, here's all you're going to need: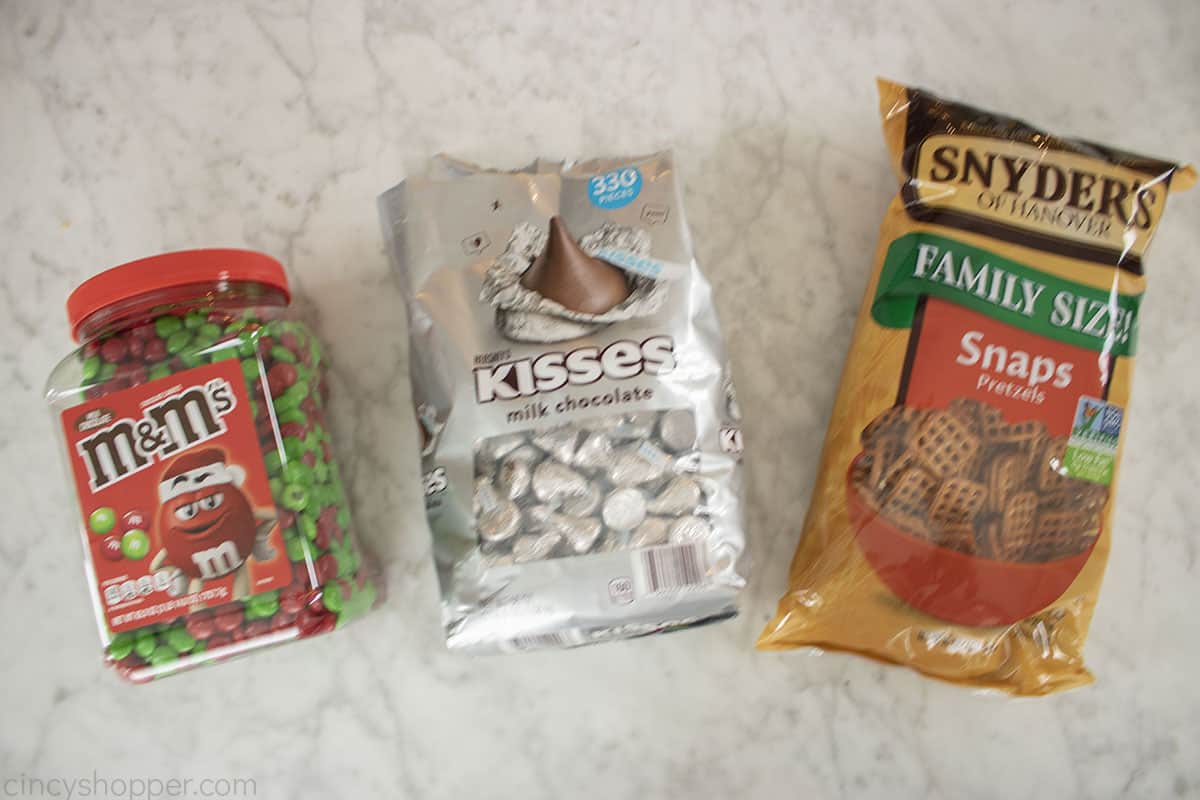 Square Pretzels – For these tasty little chocolate pretzel bites, you're going to want to use these square pretzels. They're usually sold in stores as "snaps," "snap pretzels" or "pretzel snaps." These mini pretzels are going to give our chocolate treats a good base to sit on.
Hershey Kisses – These sweet little chocolate candies are so tasty! Shouldn't be too hard to find these near you.
M&M's – Since this is sort of a holiday recipe, we felt that using these red and green M&Ms was appropriate.
See recipe card for quantities.
How to make Pretzel Hershey Kiss M&M Bites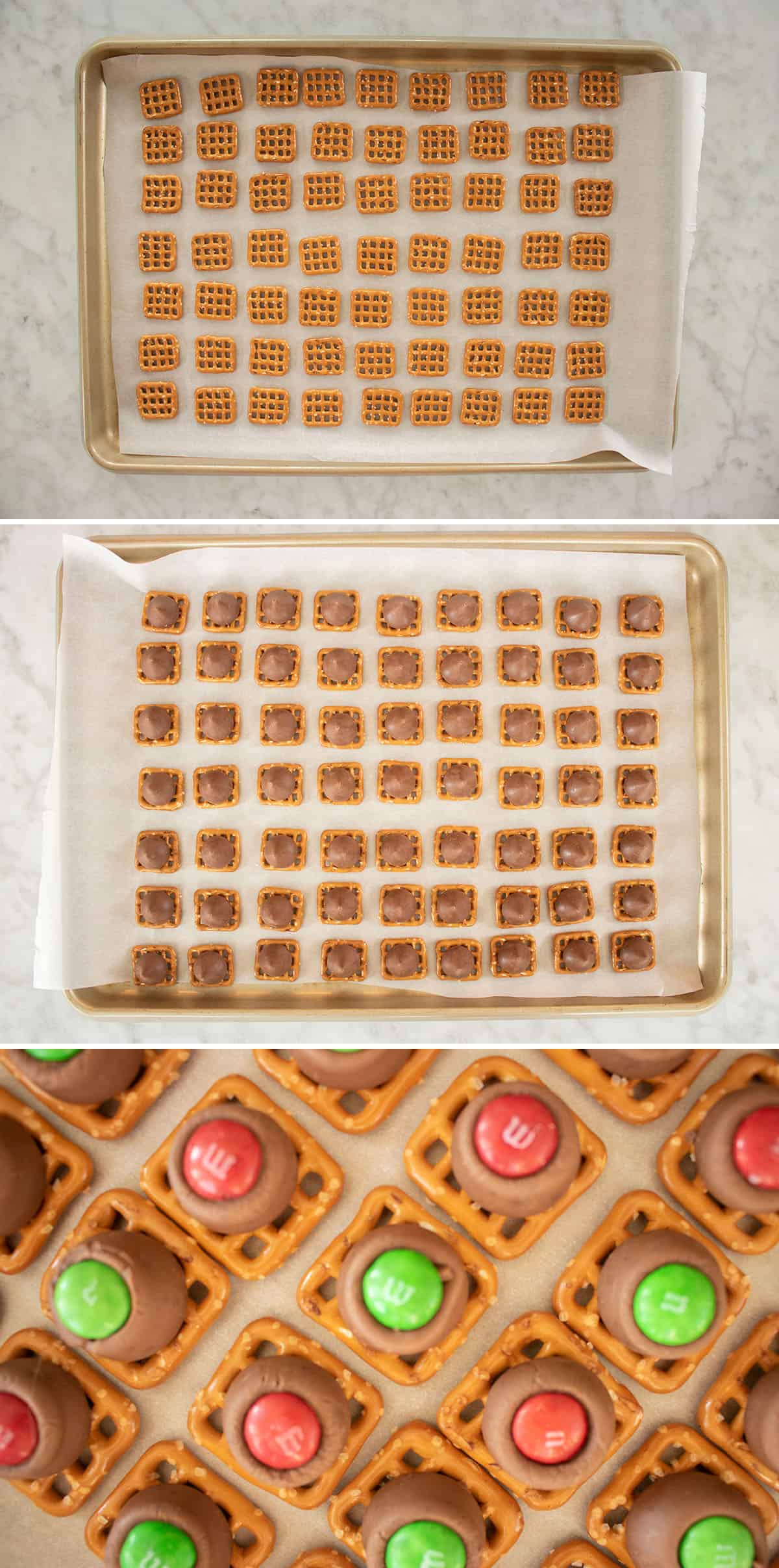 These little Pretzel M&M Hershey KissTreats are so easy to make- don't worry! If you want to make some yourself, here's all you need to do:
Arrange pretzels in a single layer on parchment paper lined baking sheet. Top each one with a Hershey Kiss.
Carefully move baking sheet with pretzels and Kisses into a 325 degree oven and bake for 3 minutes. Remove from oven ASAP.
Press an M&M down into the middle of each Kiss while they're still soft. Set in the fridge to firm up for 5 minutes before enjoying.
Substitutions
It's a little hard trying to pick substitutes for a recipe with as few ingredients as this one. We were able to pick out a few, so if you need to sub anything in our Hershey Kiss Pretzel M&M out, here's some ideas:
Pretzels – These snap pretzels are going to work the best just because of how they're shaped. The grid that the pretzel makes gives the Hershey Kisses something to "grab" onto when they slightly melt. You can use normal mini pretzel twists for this recipe but the Kisses might not "stick" as well to them as they do the pretzel snaps.
Hershey Kisses – While it's hard to pick a Hershey Kiss substitute, it's not impossible. For other milk chocolates, try something like some Dove chocolates. You can also sub in some other popular chocolate treats like mini Reese Cups or Rolos candies.
M&Ms – Again, it's hard to suggest substitutes here that are going to work as well as M&Ms but it's not impossible. Sticking with candies, generic or store-brand M&Ms will obviously work if your store has any. You can also try Sno-Caps. For non-candy substitutes, there's all sorts of dried fruits: give raisins or dates a try.
Variations
Need some ways to spice up or add a bit of extra flavor to our Pretzel Hershey Kiss M&M Bites? Here's a couple of ideas you can try:
Peppermint Hershey Kisses – If you want to double down on the holiday flavors and looks, you can try using some Peppermint Kisses instead. These are usually sold as Hershey's Candy Cane Kisses and have some added peppermint flavor as well as little candy cane pieces inside.
Hugs Hershey Chocolate Kisses– Consider using Hershey Kiss Hugs with white and milk chocolate.
Peppermint M&Ms – For a more subtle peppermint bite, try using some Peppermint or "Holiday Mint M&Ms". Both of these M&M flavors have a touch of added mint flavor to them- the Peppermint flavor uses a white chocolate while "Holiday Mint" uses the classic milk chocolate. "Holiday Mint" also has the added bonus of coming in white, red, and green so you can keep the Christmas colors going!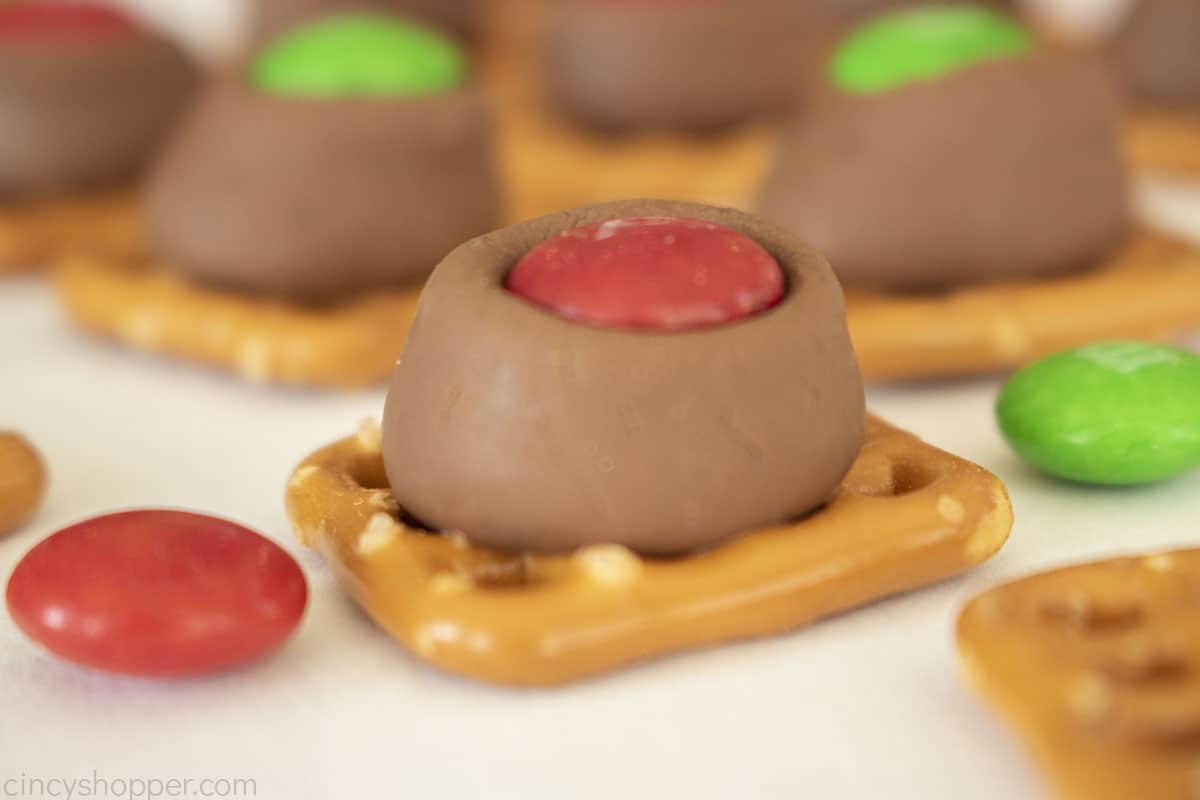 Storage / Freezing
Storage: Considering the ingredients we are working with here, these Pretzel Hershey Kiss M&M Treats will last a while! Once they've set, transfer them to an airtight container or ziploc bag and keep them in a cool, dark place. Stored like this, they'll last a while: the mini pretzels will last the shortest amount of time, but that's still a good 2-3 months.
Freezing: With how long these Hershey Kiss and pretzel M&M Bites last if stored properly, we don't see any reason to try and freeze them. Freezing Hershey Kisses can mess with the chocolate's structure and it's ability to not melt at room temperature. Just follow our storage tips and you'll be able to enjoy these chocolate pretzel treats for a long while!
Top tip
Add the M&M candies immediately after removing the Pretzels topped with Hershey Kisses from the oven.
Other Candy Recipes
Looking for other candy recipes? Try these:
More Candy Recipes
Here are some additional candy recipes: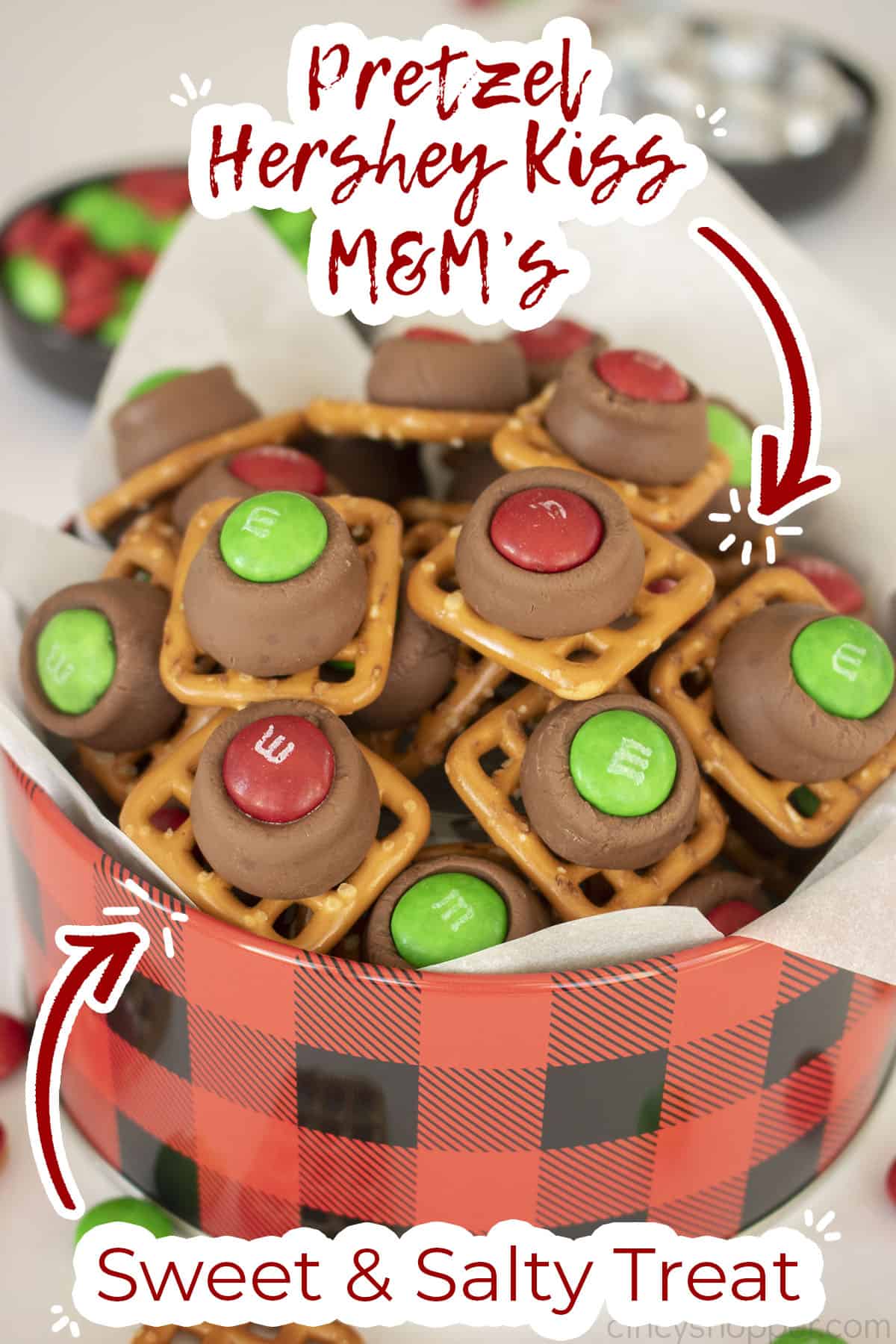 Pretzel Hershey Kiss M&M
Pretzel Hershey Kiss M&M Bites are so chocolatey, delicious, and simple. This sweet & salty treat is just perfect for the holiday season! So easy to make too with just 3 ingredients.
Ingredients
63

Square Pretzels

63

Hershey Kisses

63

M&Ms
Instructions
Preheat oven to 325

Arrange pretzels on parchment paper on baking sheet.

Place a Hershey Kiss on top of each pretzel.

Bake for 3 minutes. Remove from oven.- Keep a very close eye as you do not want these to get to0 soft. The chocolate will continue to get softer after removed from oven.

Press an M&M in the center of each kiss.

Refrigerate 5 Minutes to firm.
Notes
Add the M&M candies immediately after removing the Pretzels topped with Hershey Kisses from the oven.
Nutrition
Calories:
31
kcal
|
Carbohydrates:
4
g
|
Protein:
0.5
g
|
Fat:
2
g
|
Saturated Fat:
1
g
|
Polyunsaturated Fat:
0.01
g
|
Monounsaturated Fat:
0.01
g
|
Trans Fat:
0.002
g
|
Cholesterol:
1
mg
|
Sodium:
17
mg
|
Potassium:
2
mg
|
Fiber:
0.2
g
|
Sugar:
3
g
|
Vitamin A:
2
IU
|
Vitamin C:
0.03
mg
|
Calcium:
11
mg
|
Iron:
0.1
mg