Homemade Cheese Bread makes for a great appetizer or side to pair with Italian foods. You'll love this delicious quick bread recipe!
We kept things simple with this Cheesy Bread recipe. No yeast and no kneading required for this no rise bread!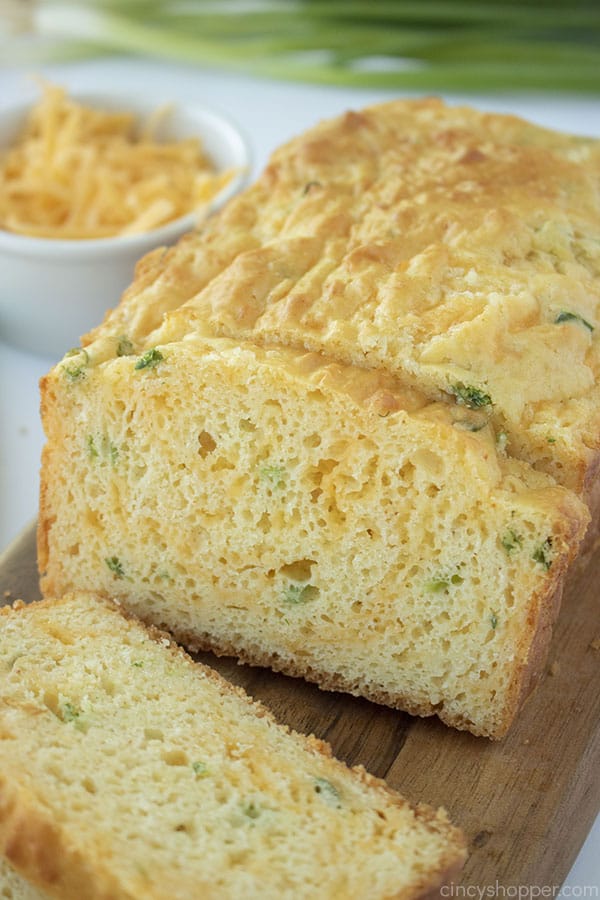 Homemade Cheese Bread
We're always looking for delicious sides and appetizers and, today, I think we've found another winner! This Homemade Cheesy Bread recipe might just be your new go-to side for all sorts of Italian dishes and dinners- and it's so easy to make!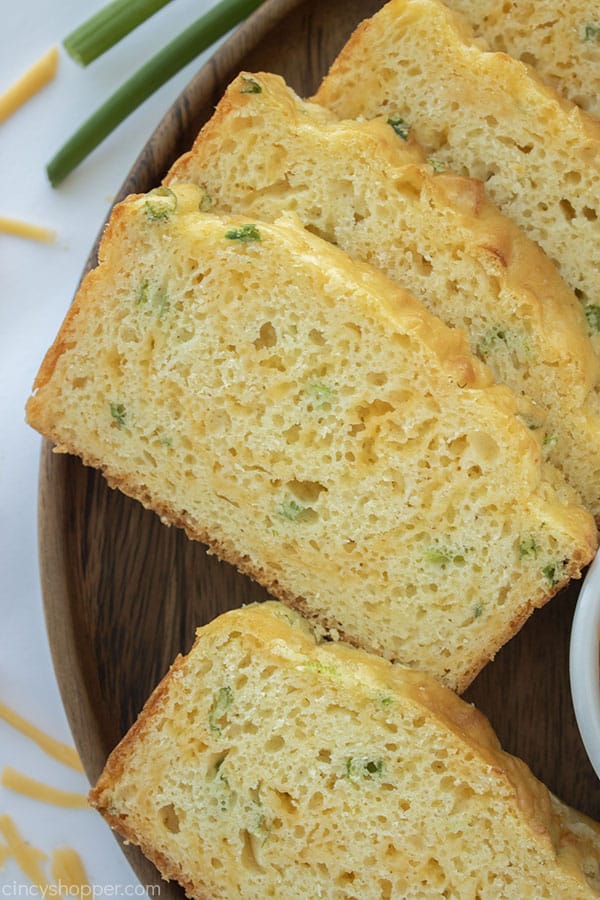 We don't use any yeast in this recipe to keep things easy and, since we make a sort of "bread batter," we also don't have to knead anything for this recipe. All you have to do is prep your wet and dry ingredients separately before combining in a loaf pan and baking in the oven. Hands-on time is short and your loaf of cheese bread bakes in an hour- it's the perfect low-stress recipe!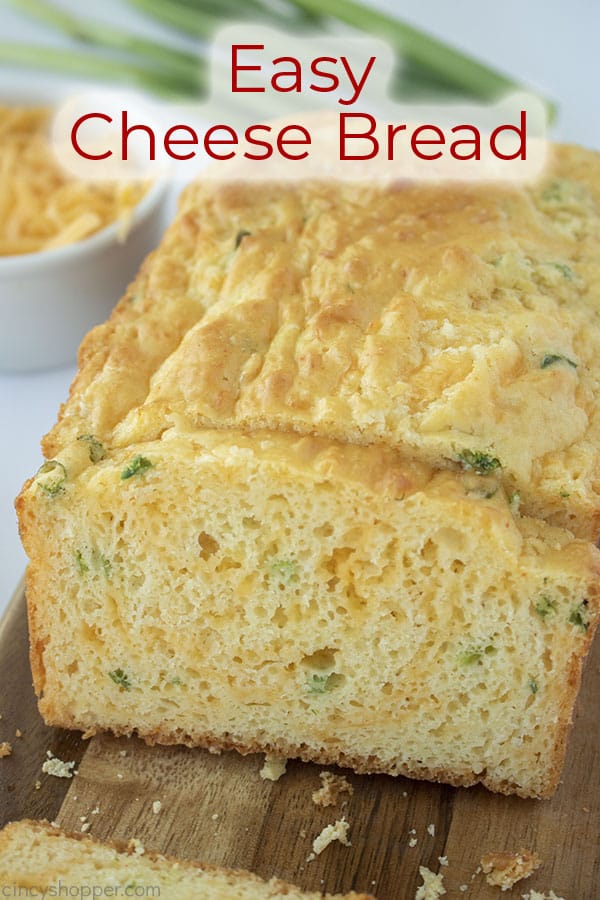 When you've finished making your bread, there are all sorts of stuff you can do with it. Plate it up alongside some simple pasta and meat sauce, serve with a bowl of marinara for dipping, or maybe toast it up for some garlic bread! There's plenty of ways to enjoy this homemade bread recipe.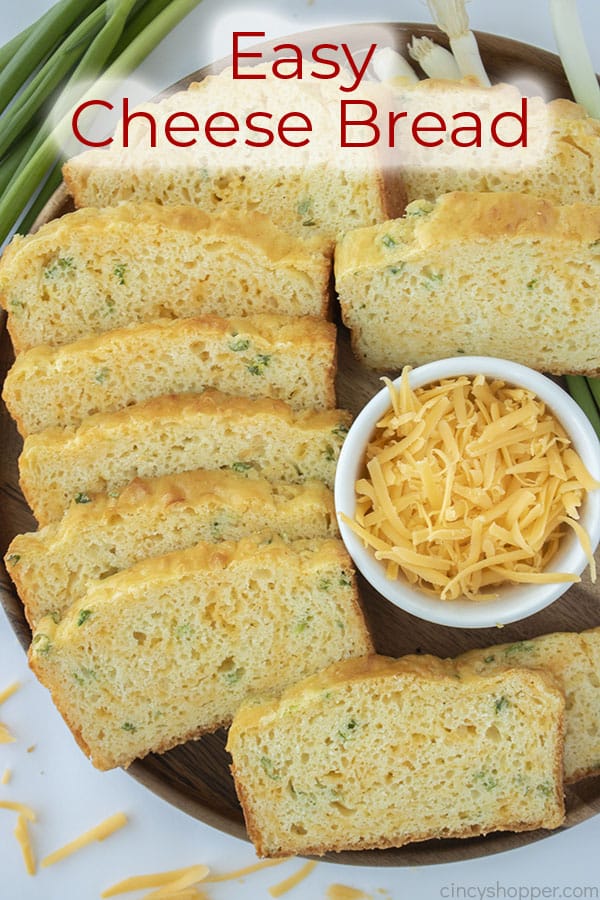 Here are some more Easy Bread Recipes!
If you've got a couple of hours to spare, you can make your own delicious loaf of

Homemade Bread

!

A little bit of honey added to our dough gives a touch of sweetness to this bread recipe that makes it way better than any store-bought loaf

. Making bread at home can be intimidating but trust us: it's easy!

A perfect bread recipe for beginners has to be our

No Knead Dutch Oven Bread

.

This homemade yeast bread uses a shorter ingredients list than our from-scratch loaf with no kneading required

!

Just

a few minutes of hands-on time will yield a simple, easy-to-make loaf that's fluffy and dense with a flaky crust you'll love

.

Our

Homemade Cheddar Biscuits

might seem familiar if you're a fan of Red Lobster. This copycat recipe is easy to make and way more delicious than the boxed stuff at the stores! Taste perfect with our dressing of melted garlic butter.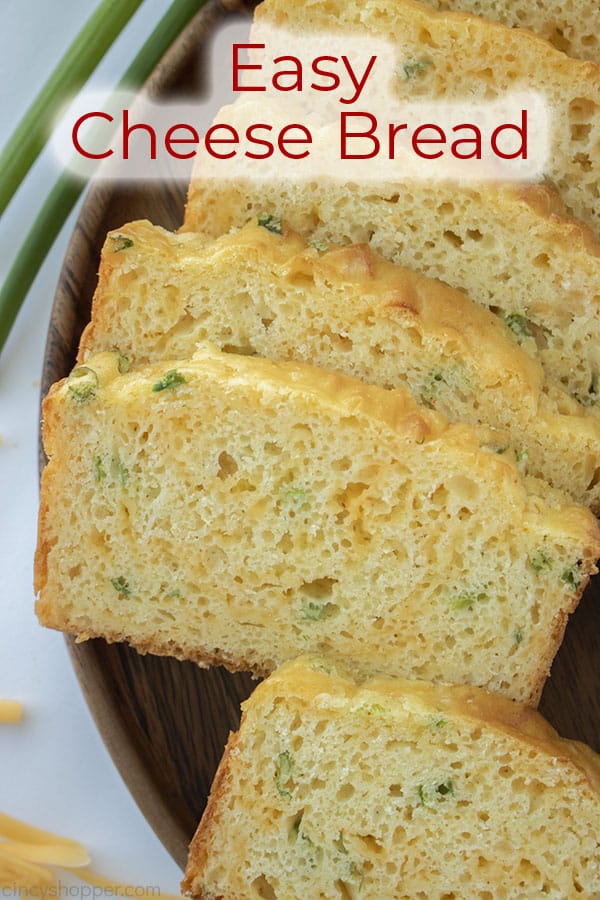 Easy Cheesy Bread Ingredients
Butter – Make sure it's cold!

Cheese – We used some sharp cheddar but feel free to experiment! Try this recipe with some of your favorites and find the best cheese for your bread.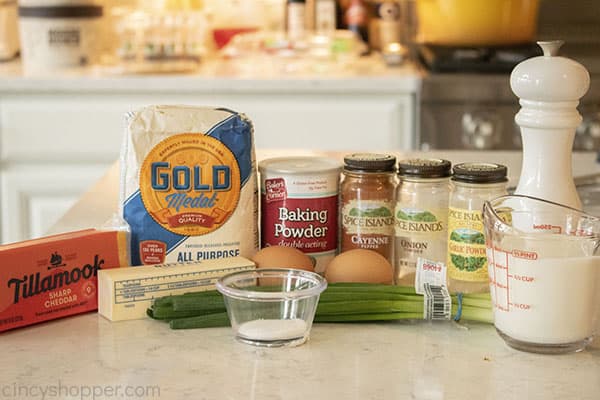 How to make Cheese Bread
Start things off by mixing together all of your dry ingredients in a large-enough mixing bowl. Remember, sugar is not usually considered a dry ingredient, so don't add it yet!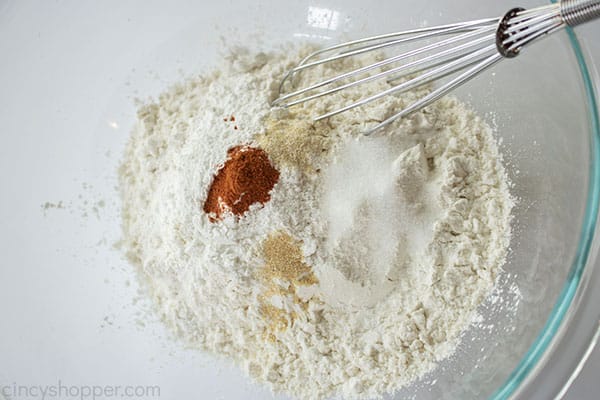 Whisk those together thoroughly before moving on to your other ingredients. Next, you'll want to get your cheese shredded and your green onions chopped- no need to go super fine here.
In a separate mixing bowl, crack in your eggs and add your milk and sugar. Beat those all together until well-combined.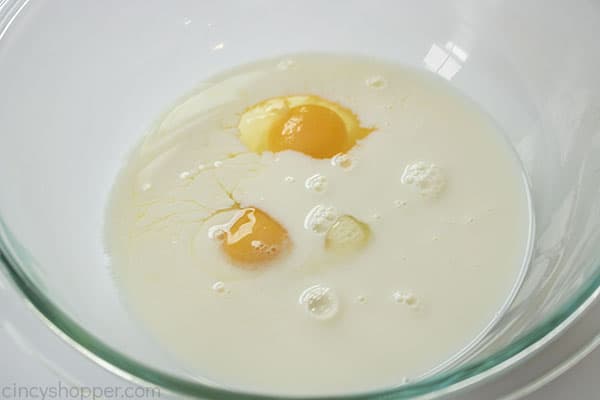 Before we introduce all of these ingredients to each other, we first have to deal with our butter. Drop cold pats of your butter into the bowl with your dry ingredients. Grab something like a fork or a pastry cutter to cut and work that butter into the dry ingredients until it forms into a nice, crumbly mixture.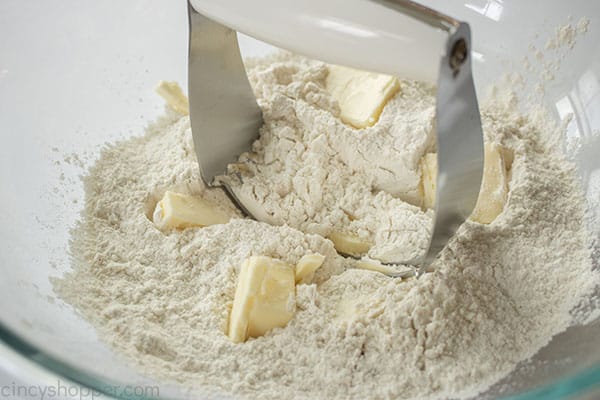 Drop in your preferred cheese and chopped green onions and fold them in with a spatula or spoon.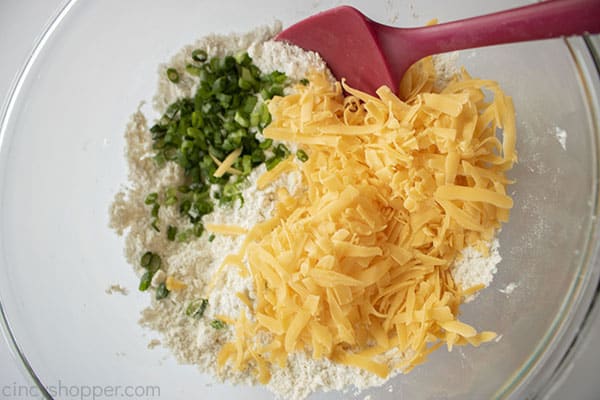 Now add in your milk-egg mixture from earlier and mix until just combined. We want this to form into a workable batter.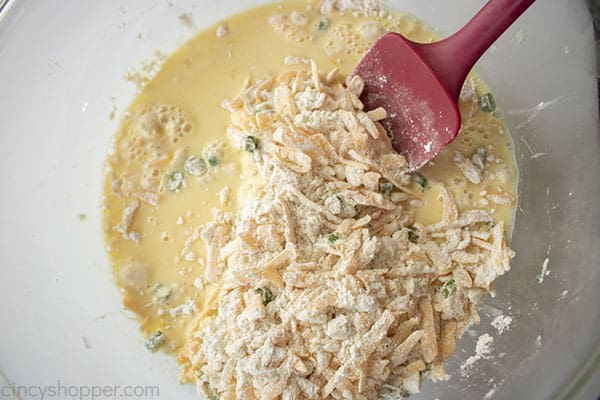 Prep your favorite 9×5 loaf pan by either heavily greasing it or lining it with parchment paper. Pour your batter into this pan and then place in a 350 degree oven to bake.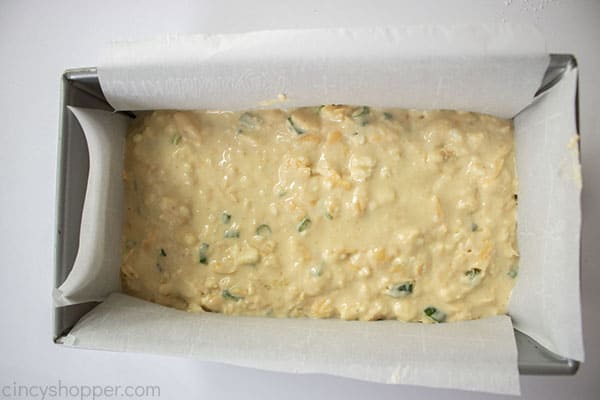 It'll probably take around an hour for your bread to bake through. You'll know it's ready when a toothpick, poked into the center, pulls clean.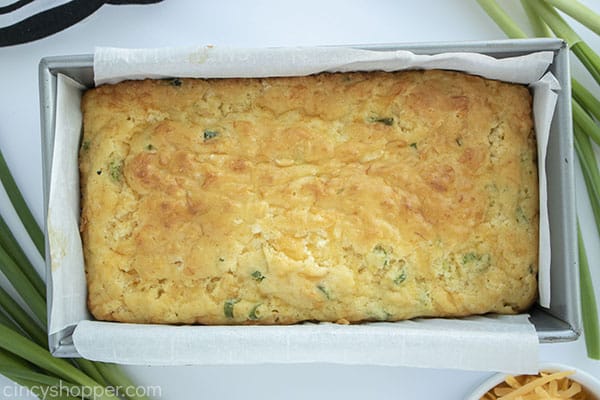 When it's done, pull it from the oven. Ideally let this loaf cool a little bit before slicing, serving, and enjoying!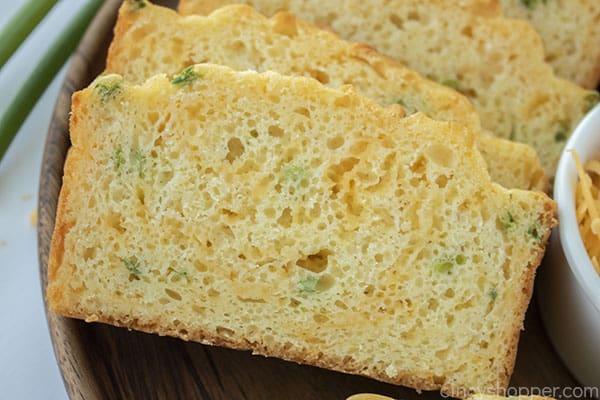 Cheese Bread
Homemade Cheese Bread makes for a great appetizer or side to pair with Italian foods. You'll love this delicious quick bread recipe!
Ingredients
2

cup

Flour

4

tsp

Baking Powder

3/4

tsp

Salt

1/8

tsp

Onion Powder

1/8

tsp

Garlic Powder

1/8

tsp

Cayenne Pepper

1/4

cup

cold Butter

6

oz

Sharp Cheddar

shredded

2

Green Onion

chopped

2

Eggs

1

cup

Milk

1

tbsp

Sugar
Instructions
Preheat oven to 350.

Heavily grease or line with parchment paper an 9x5" loaf pan. Set aside.

In a medium/large bowl, add flour, baking powder, salt, onion powder, garlic powder and cayenne pepper.

Whisk until blended.

Add cold butter and cut in with a fork or pastry cutter.

Add green onion and cheese and stir to combine.

In another bowl, beat eggs and add milk and sugar.

Add egg mixture to the dry ingredients and stir until just combined.

Pour batter into prepared pan and bake 50-60 minutes or until a toothpick inserted in center comes out clean.
Nutrition
Calories:
195
kcal
|
Carbohydrates:
19
g
|
Protein:
7
g
|
Fat:
10
g
|
Saturated Fat:
6
g
|
Cholesterol:
54
mg
|
Sodium:
428
mg
|
Potassium:
79
mg
|
Fiber:
1
g
|
Sugar:
2
g
|
Vitamin A:
361
IU
|
Vitamin C:
1
mg
|
Calcium:
213
mg
|
Iron:
1
mg