Peanut Butter Bread is simple to make and tastes delicious! This is an easy quick bread recipe that's perfect for breakfast or snacking.
This simple recipe yields a moist, sweet loaf of bread that everyone's going to love! For more easy bread recipes, check out The Best Zucchini Bread and Easy Banana Bread.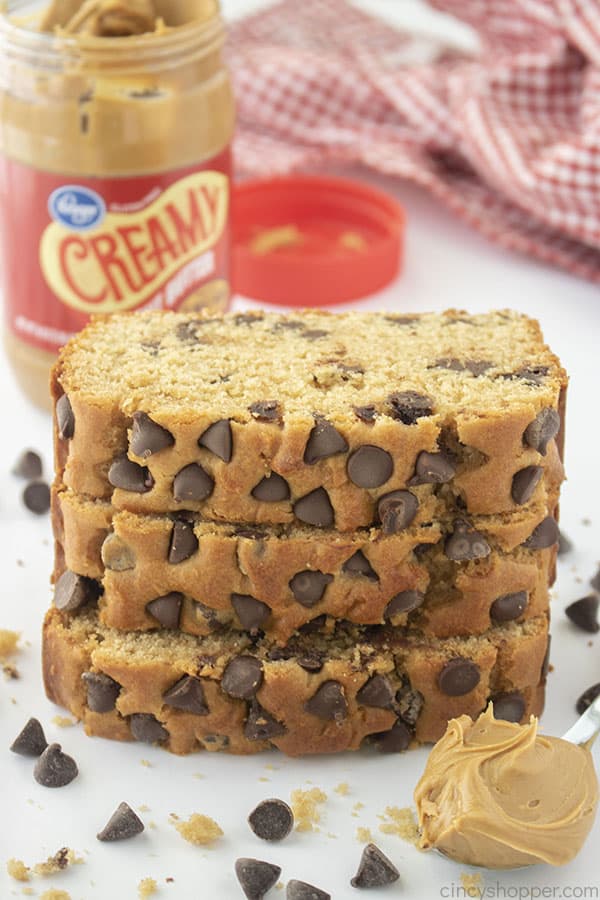 Peanut Butter Bread
Breadmaking is one of those things where you wonder why you don't do it more often. A nice, freshly-baked loaf of bread always seems to taste much better than the store-bought stuff. There's also that sense of satisfaction when the bread finally comes out of the oven and you take that first bite. Maybe you make bread all the time or you're making your first loaf of bread- in either case, I've got a new, easy quick bread recipe for you all to try out today!
This recipe for peanut butter bread is a great recipe for beginners and experts alike. For one, I doubt most folks have made bread with peanut butter before- the resulting loaf tastes so good! Peanut butter brings plenty of stuff into the mix: sugars, oils, and- of course- nutty flavors. Our recipe also uses a few tricks that beginners can start using in later bread recipes- sifting the flour, not overworking the dough/batter, etc.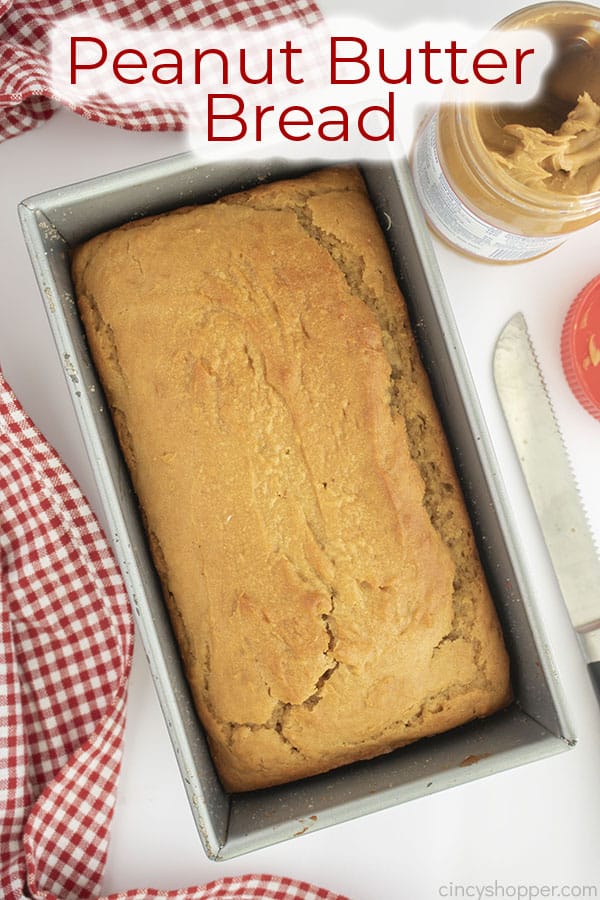 This recipe for peanut butter bread is, without a doubt, one of my favorite peanut butter recipes. The peanut butter loaf that it makes is such a moist, and sweet loaf of bread that I love either at breakfast or just as a snack during the day. I even love to fold in some chocolate chips and other goodies into the bread before I bake it- check out a few suggestions for those near the end of this post. Hope you enjoy it!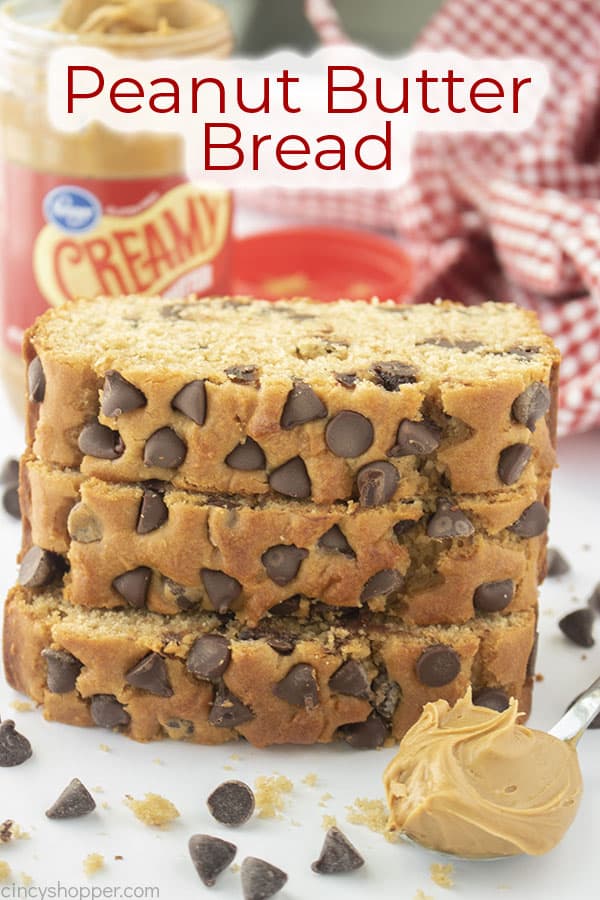 Liked our recipe? Give these desserts a try!
Our

Peanut Butter Cake

is an old-school recipe that yields a moist cake packed with peanut butter flavor.

Not only is there plenty of nutty flavor in the cake, but we topped the whole thing off with plenty of peanut butter frosting as well

! Easy to make and certain to be your new favorite cake recipe.

For a delicious no-bake recipe, try our

No Bake Reese's Peanut Butter Cheesecake

.

Using that classic combo of chocolate and peanut butter, this simple cheesecake tastes like something you'd get from a nice restaurant

. A "must make" dessert that's great for feeding a crowd!

Of course, we can't forget

3 Ingredient Peanut Butter Cookies

! This timeless, old-fashioned cookie recipe is one that's certain to please every time. Soft, chewy, delicious, and- with such a short ingredients list- so easy to make!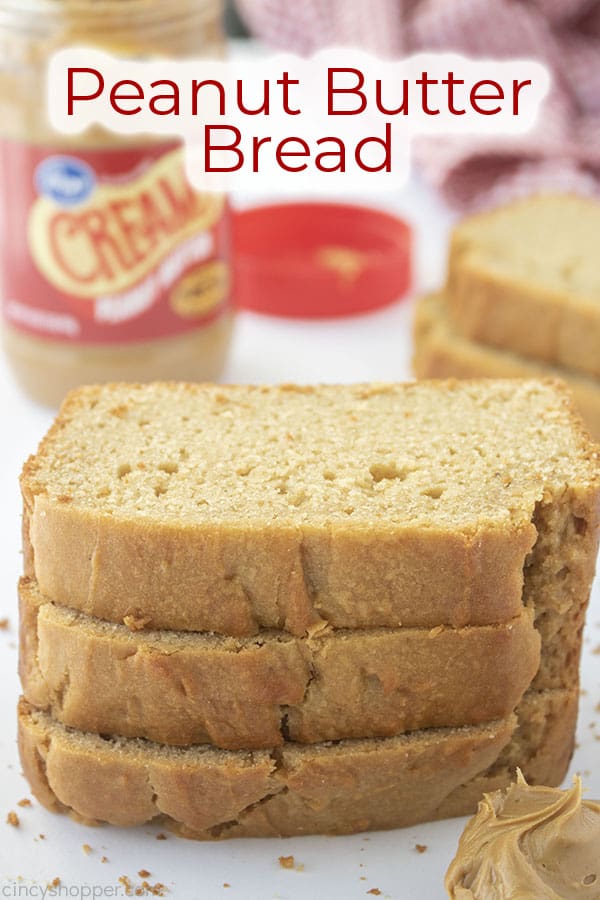 Ingredients for our Peanut Butter Bread Recipe
Peanut Butter

– This recipe will work out best with creamy peanut butter.

Milk

Sugar

Eggs

Vanilla Extract

Flour

Baking Powder

Salt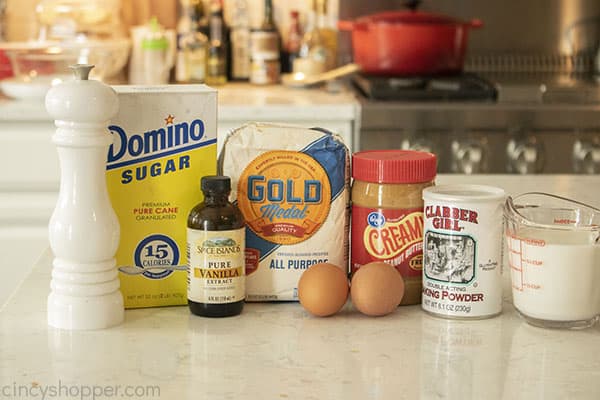 How to make Peanut Butter Bread
This is an
incredibly
easy bread recipe. To make this peanut butter loaf here's all you'll need to do…
Sift together your dry ingredients

and

blend together with your wet ingredients.

Gently

fold together the wet and dry ingredients

until a batter forms and

fold in any mix-ins.

Transfer the batter to a greased loaf pan

and

bake for 45-50 minutes

until cooked through.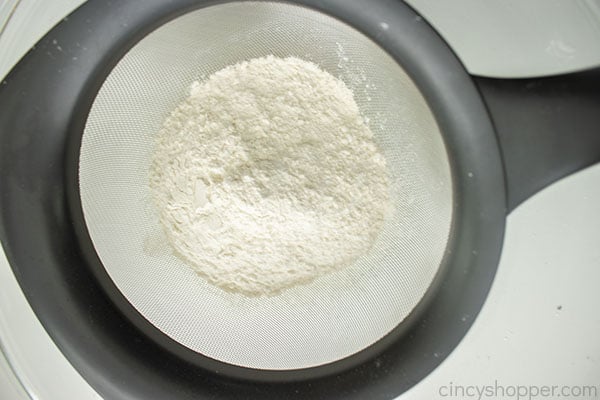 We're going to prep our wet and dry ingredients separately. In one mixing bowl, sift together all the dry ingredients- the flour, baking powder, and salt. To another bowl, add all the remaining wet ingredients.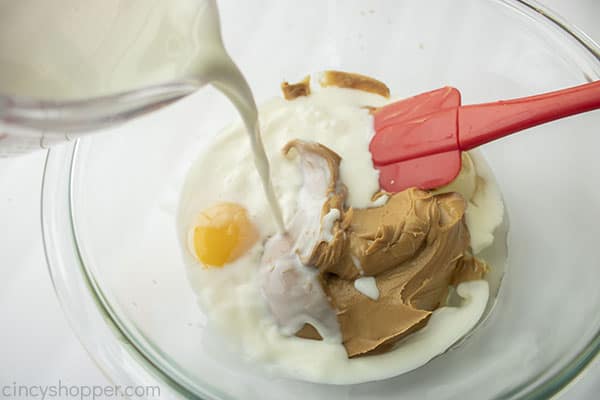 Now we've got to mix the wet ingredients together. If you've got a strong arm, you can do this by hand. Elsewise, just reach for your favorite hand mixer and beat until smooth and no chunks remain.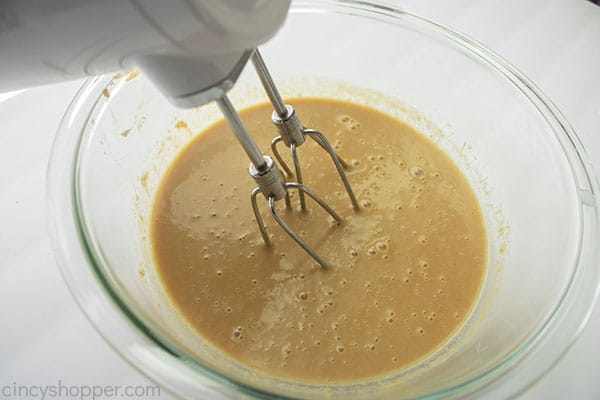 With the wet and dry ingredients, all prepped, we can mix them together. We want to be gentle here and NOT OVERMIX our batter.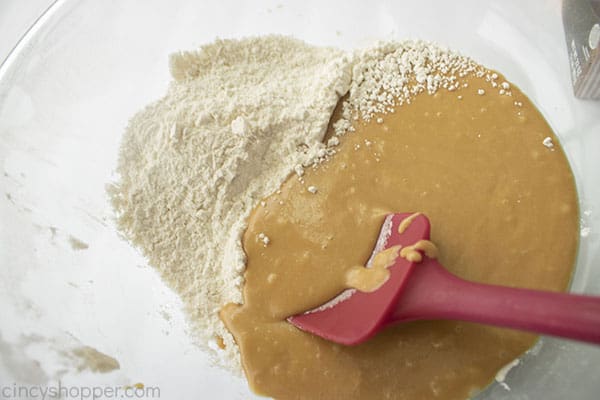 Just try to gently fold the wet and dry ingredients together until a cohesive batter starts to form. If you're adding any mix-ins, add them here and fold them into the batter- we'll have some ideas at the end of the post!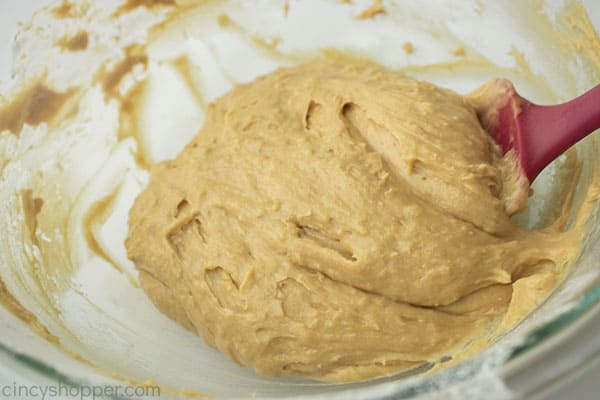 Once your batter comes together, we can transfer it over to a greased loaf pan. Our 9-inch pan seemed to be the right size for this recipe. Put your pan into a 350 degree oven and let the bread bake. It should take about 45-50 minutes for the bread to bake through- a toothpick, poked into the loaf, should pull out clean when it's done. When the bread's finished baking, feel free to slice and enjoy! I personally love to top my slices with jelly or jam.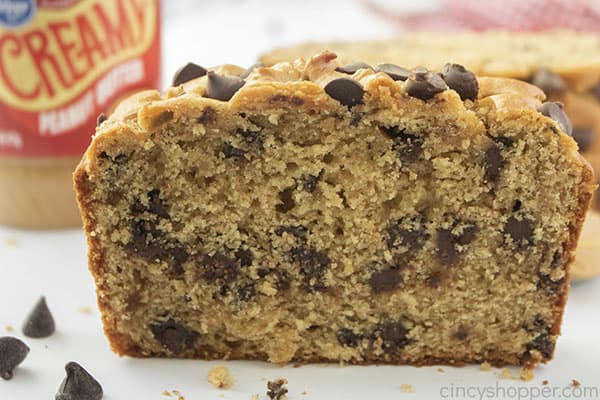 How long is Peanut Butter Bread good for?
On the Counter – Store your loaf in an air-tight container like a Ziploc or Tupperware. Kept at room temperature, it'll last

around 3-4 days

.

In the Fridge – Kept in an air-tight container, your peanut butter bread will last

about a week

in the fridge.

In the Freezer – For long-term storage, keep your bread in the freezer. If keeping in the freezer, try to use it

within 3 months

for the best flavor and texture.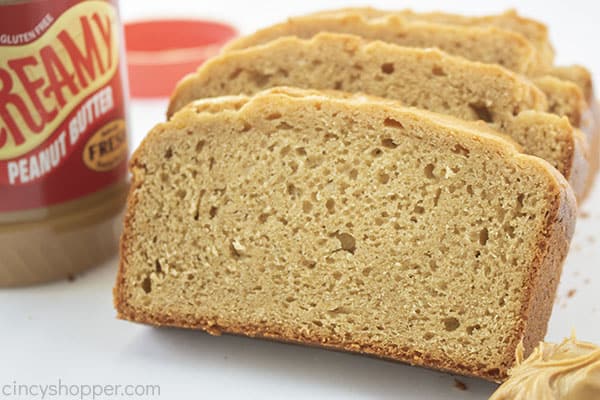 BONUS: Chocolate Chips & Other Mix-Ins
There's plenty of things you can fold into the bread batter before baking it. Here's a couple of ideas:
Chocolate Chips

– This is our go-to addition!

Chocolate and peanut butter is an amazing flavor combo and it works

perfectly

with our bread recipe

.

Raisins

– These are another popular pairing with peanut butter.

Add a bit of cinnamon to the dry ingredients for the delicious combo of peanut butter, cinnamon, and raisins

!

Nuts

– Double down on the nutty flavors by folding in some nuts. The obvious choice is peanuts, but feel free to try some other nuts.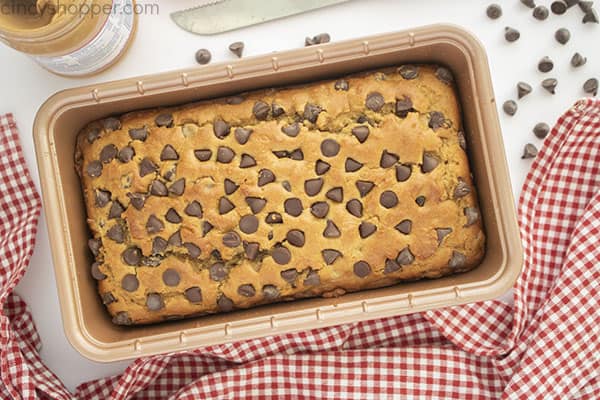 Peanut Butter Bread
Peanut Butter Bread is simple to make and tastes delicious! This is an easy quick bread recipe that's perfect for breakfast or snacking.
Ingredients
1 3/4

cup

Flour

1

tbsp

Baking Powder

1

tsp

Salt

1

cup

Peanut Butter

3/4

cup

Sugar

2

Eggs

1

cup

Milk

1

tsp

Vanilla
Instructions
Preheat oven to 350.

Grease a 9x5" loaf pan and set aside.

In a large bowl, sift together flour, baking powder, and salt. Set aside.

In a medium bowl, combine peanut butter, sugar, eggs, milk, and vanilla.

Beat until smooth and no chunks.

Add the peanut butter mixture to dry ingredients and fold until blended. Do not overmix.

Optionally add 1 1/2 cups chocolate chips

Transfer to prepared pan.

Bake for 45-50 minutes or until the toothpick comes out clean.
Nutrition
Calories:
398
kcal
|
Carbohydrates:
48
g
|
Protein:
13
g
|
Fat:
19
g
|
Saturated Fat:
4
g
|
Trans Fat:
1
g
|
Cholesterol:
44
mg
|
Sodium:
627
mg
|
Potassium:
295
mg
|
Fiber:
3
g
|
Sugar:
23
g
|
Vitamin A:
109
IU
|
Calcium:
147
mg
|
Iron:
2
mg