3 Ingredient BBQ Sauce is so sweet, tangy, and delicious! With just a few ingredients, this sauce recipe is so easy to make. Why purchase store-bought barbecue sauce when you can make BBQ sauce from scratch?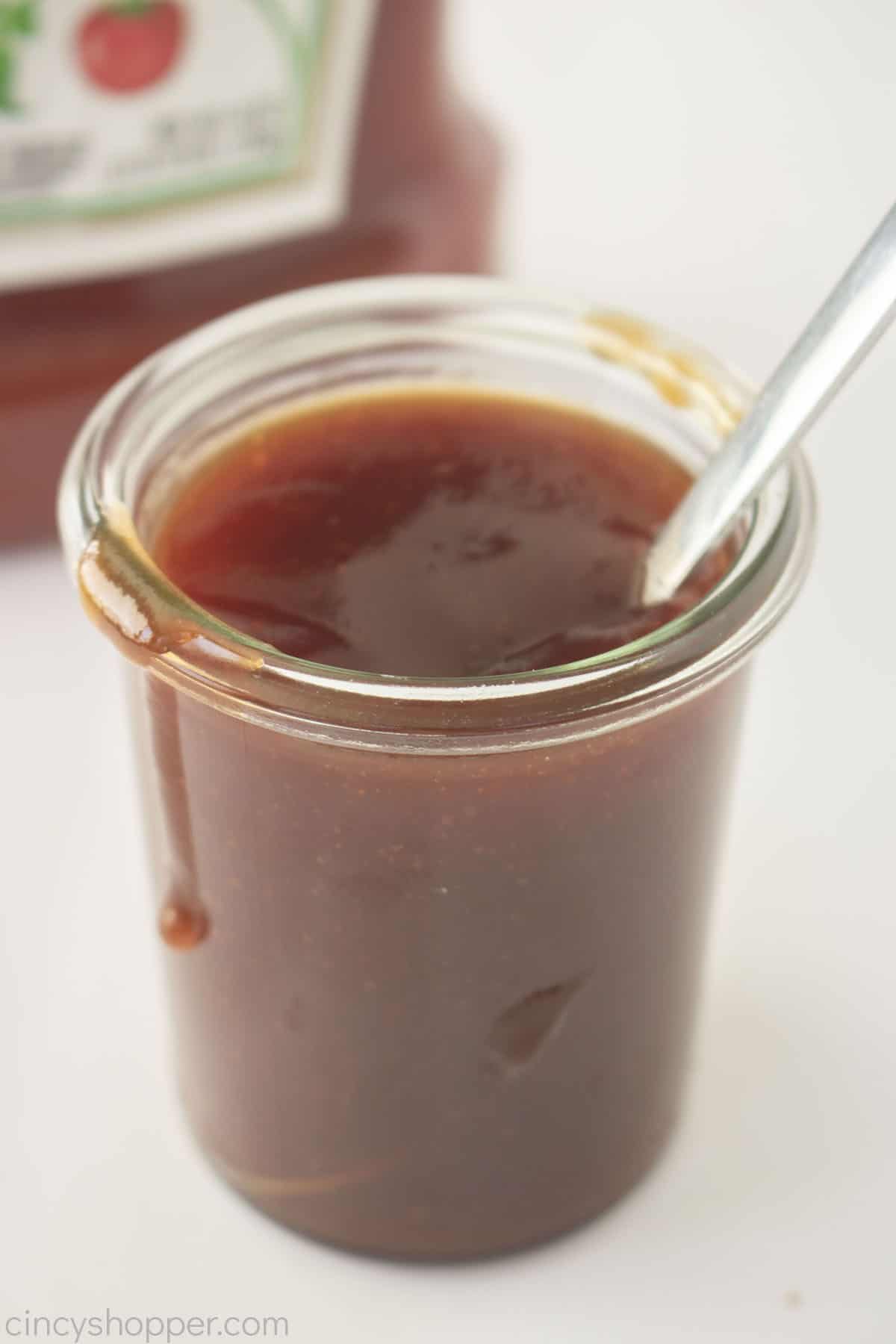 A tasty BBQ sauce is a must-have ingredient for the summer months: between glazing BBQ ribs or prepping barbecue pulled pork sandwiches, there's plenty of uses. Homemade barbecue sauce is going to save you lots of time and money and you'll end up loving it more than any BBQ sauce brand you've bought before! We've even got a few extra ingredients you might want to try adding to your next batch to make it even tastier.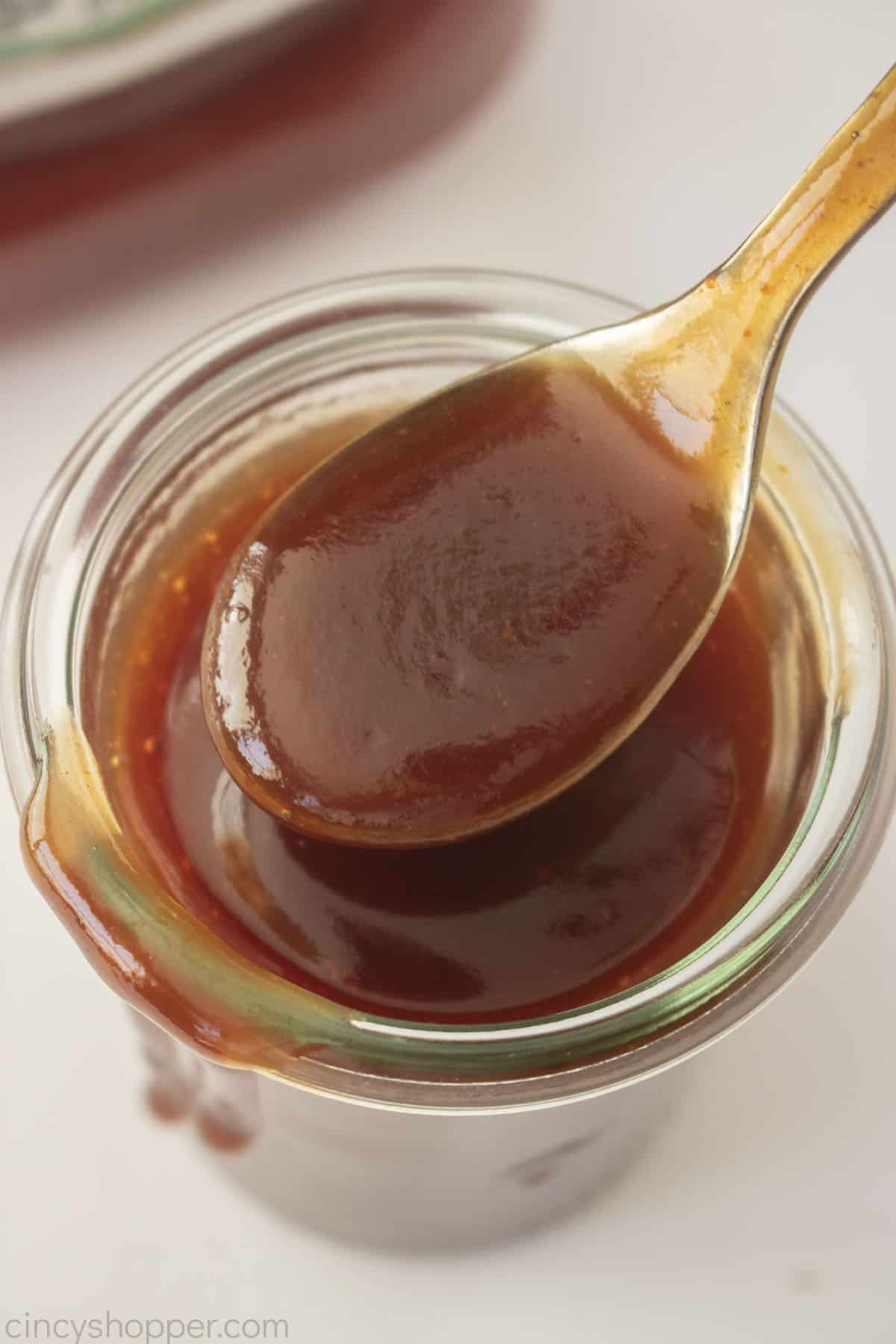 Jump to:
Why you'll love this BBQ Sauce Recipe
It's right there in the name: "3 Ingredient BBQ Sauce." Chances are, you already have everything you need!
This combo of ingredients is going to make a simple but tasty barbecue sauce that you're going to love. Plenty sweet with a little tang too.
There's plenty of room to experiment and add in your own flavors! Experiment and find your own BBQ sauce secret ingredient to make this recipe even more special.
Ingredients
The best part about making BBQ sauce from scratch is that you only really need 3 ingredients! There's a bunch of extra ingredients and spices you can add but all you really need is the following: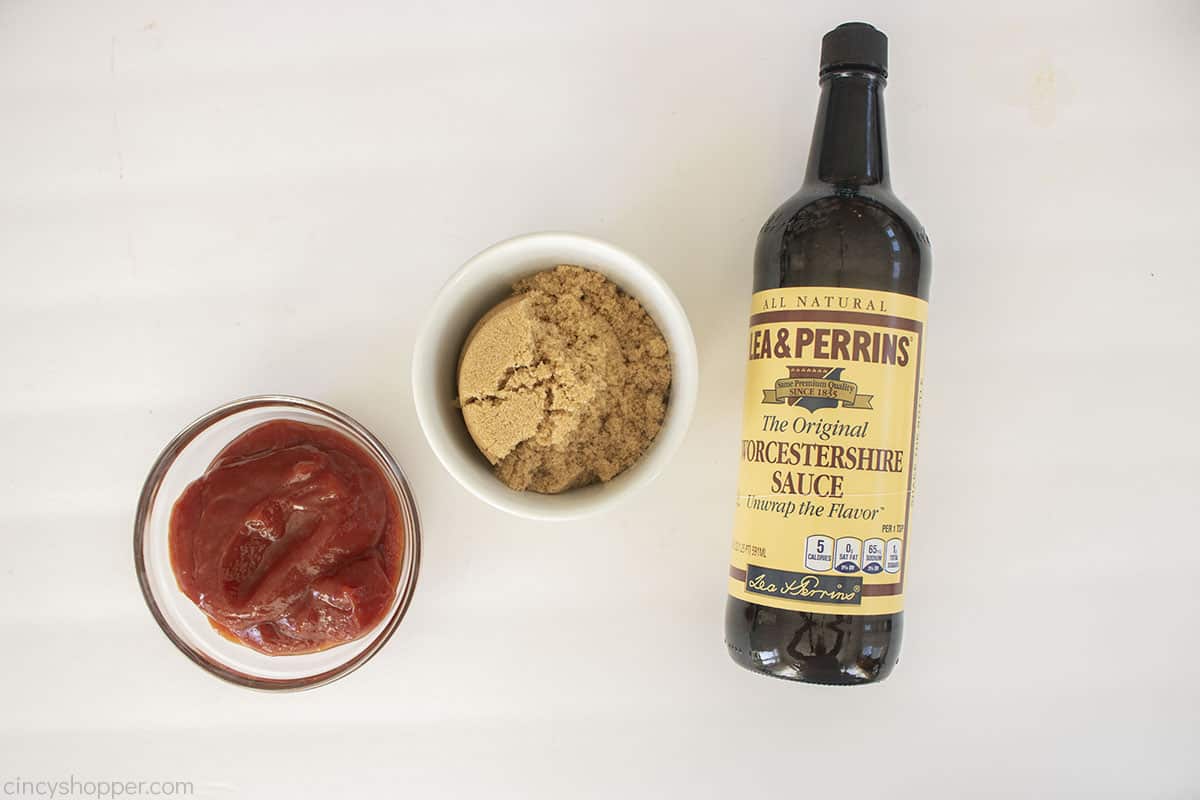 Ketchup – This is going to serve as the base for our barbecue sauce.
Brown Sugar – Dark brown or light brown sugar will both work here.
Worcestershire Sauce – To add a little savory tang and a bit of spice and heat.
See recipe card for quantities.
How to make 3 Ingredient BBQ Sauce
Making barbecue sauce from scratch might sound difficult or time-consuming. In reality, it couldn't be much easier. Follow along with our steps below and you'll learn how to make barbecue sauce easy!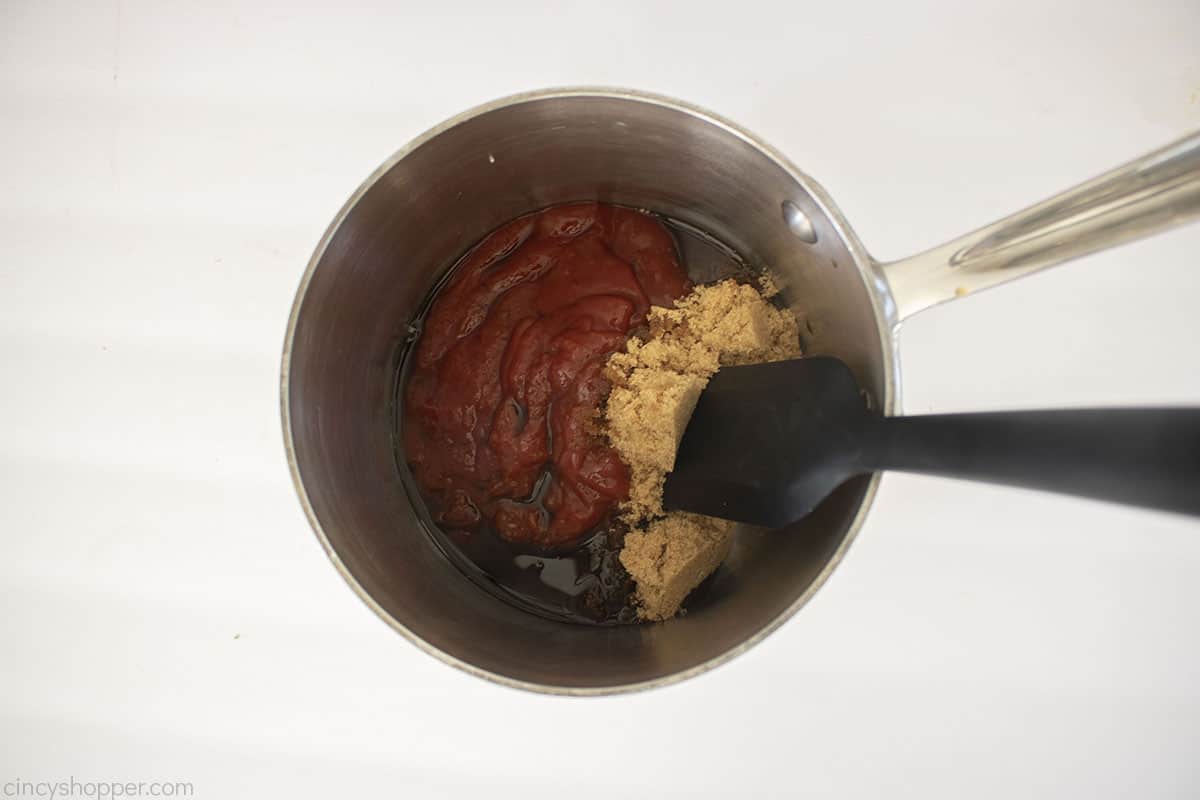 Add all BBQ Sauce ingredients into a small saucepan.
Set over medium-low heat and stir until everything dissolves and starts to boil.
Cut heat and either use immediately or allow to cool before sealing and keeping in fridge.
Substitutions
Are you out of an ingredient? Here are a few substitutions that you can use to make this recipe.
Sugar – If you're out of it, you can easily make BBQ sauce without brown sugar in it. Really, any sort of sugar will work out well enough- brown sugar is going to give you that classic BBQ flavor though!
Ketchup – In case you don't have any ketchup on hand, you could easily make some BBQ sauce with tomato puree or tomato paste. Note that these tomato products will be less sweet, so you may have to add more sugar to make up for that.
Worcestershire Sauce – You can make up a quick worcerstershire sauce substitute with some soy sauce, ketchup, vinegar, and/or hot sauce. Mess around with the amounts and find a subtitute you like the taste of the best!
Variations
Do you want to mix things up and make your homemade BBQ sauce something unique or special? Here's a few ideas to help spice things up.
Mustard – Yellow mustard has always been a favorite ingredient- especially in Carolina BBQ Sauce. Feel free to add a couple of tablespoons to your own recipe or go heavy and try to make something more like a Yellow BBQ Sauce.
Liquid Smoke – A lot of people love adding liquid smoke to BBQ sauce to give it that grilled or smoked flavor. Start off small when adding this stuff- it's potent!
Spicy – Some folks like the taste of a very spicy BBQ sauce and there's a few ways you can add a little heat to your own. Consider adding in some spices like cayenne or maybe adding a glug of hot sauce in with the other BBQ sauce ingredients.
Honey- adding honey to this BBQ sauce recipe will add sweetness and also a bit of a thick barbecue sauce.
Storage / Freezing
Storage: Transfer your 3 Ingredient BBQ Sauce to a resealable container for easy storage. Kept in the fridge between uses, your barbecue sauce should last a good 1-2 weeks.
Freezing: If you'd like to freeze homemade barbecue sauce, allow to cool completely before transfering to a freezer-safe container or freezer bag. Allow to freeze and it should last up to 3 months- thaw out in a saucepan on the stovetop when you want to reheat it.
Top tip
Feel free to double this recipe, if you plan to do a lot of grilling for the week. This is a great recipe for meal prep.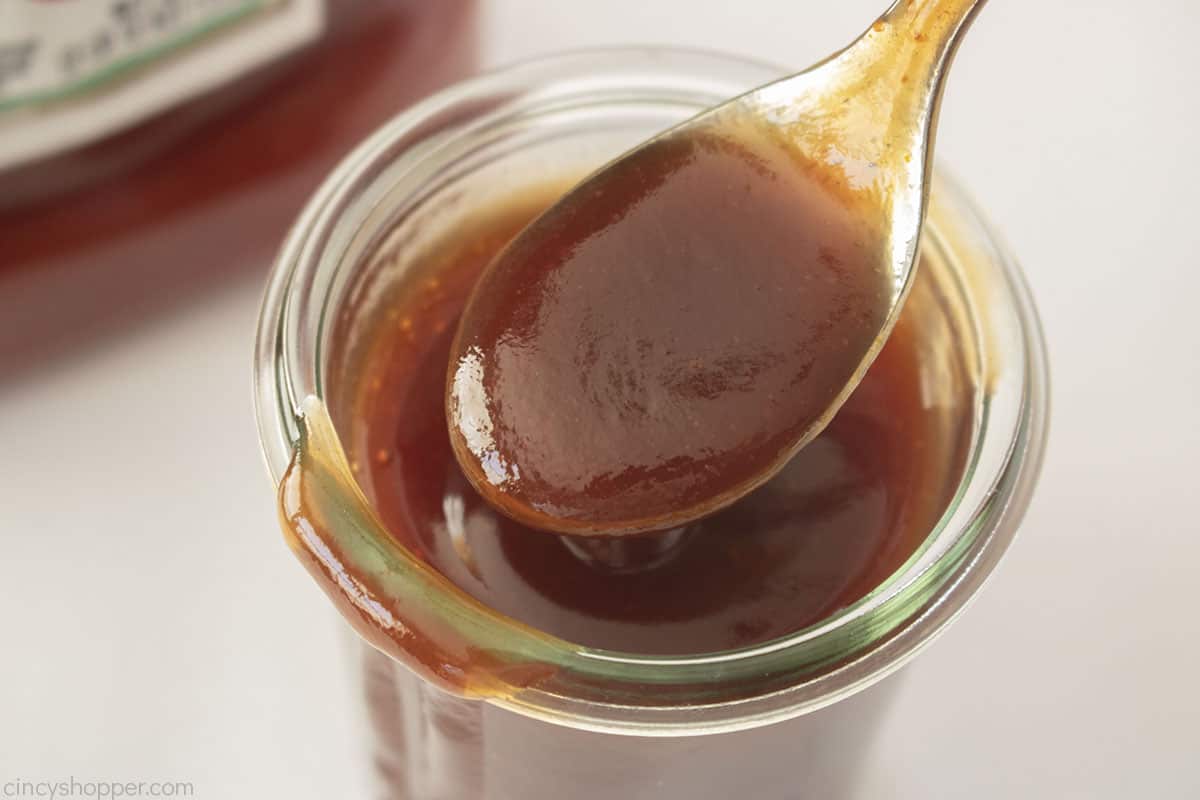 FAQ
Do you have questions about this recipe? Here are the answers to the most commonly asked questions for this recipe.
What is BBQ sauce?
BBQ sauce is a flavorful condiment commonly used in barbecuing and grilling. It is typically a combination of ingredients like tomato sauce, vinegar, sugar, spices, and other flavorings. The sauce can vary widely in terms of flavor, consistency, and regional styles.
Can BBQ sauce be used for anything other than grilling?
YES! While BBQ sauce is commonly used as a marinade, basting sauce, or condiment for grilled meats, it can also be used in or on top of other dishes. It can be used as a dipping sauce for chicken tenders or fries, as a glaze for oven roasted vegetables, or for an added flavoring in casseroles and stews.
Can BBQ sauce be spicy?
For sure, BBQ sauce can have many different levels of spiciness. Other recipes may call for chili powder, cayenne pepper, or hot sauce to add heat. Not every barbecue sauce is spicy, and you can find mild or non-spicy options as well.
Serve this sauce with
Looking for recipes to serve this sauce with? Try these:
Other Homemade Sauce Recipes
Here are some other homemade sauces I have shared. I hope you try them too: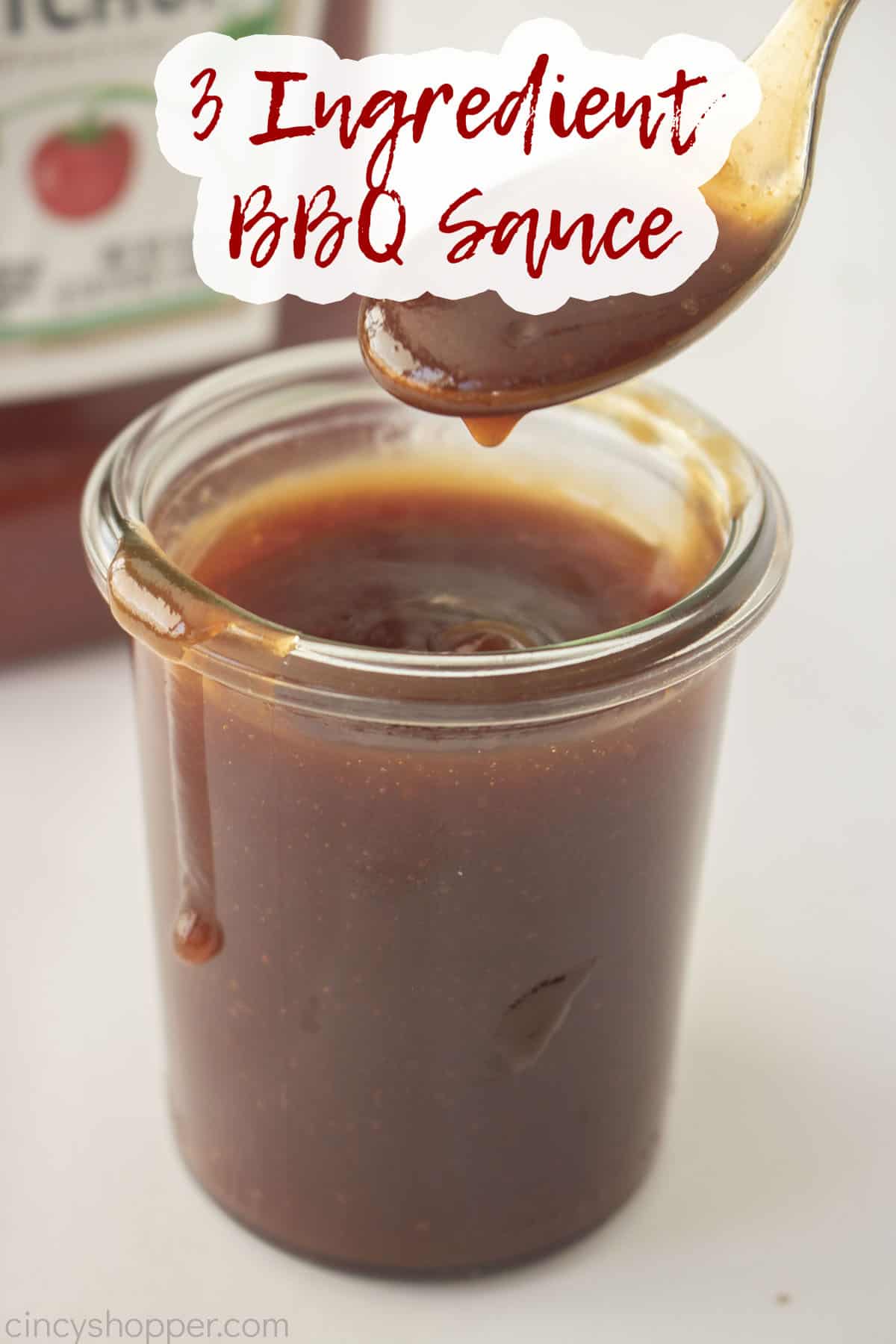 3 Ingredient BBQ Sauce
3 Ingredient BBQ Sauce is so sweet, tangy, and delicious! With just a few ingredients, this sauce recipe is so easy to make. Why purchase store-bought barbecue sauce when you can make BBQ sauce from scratch?
Ingredients
2/3

cup

Brown Sugar

packed

1

cup

Ketchup

3

tbsp

Worcestershire Sauce
Instructions
Place all ingredients in a small sauce pan over medium low heat.

Stir until dissolved and mixture comes to a boil.

Turn off heat and use immediately or allow to cool and store in sealed jar in refrigerator.
Nutrition
Calories:
559
kcal
|
Carbohydrates:
146
g
|
Protein:
2
g
|
Fat:
0.2
g
|
Saturated Fat:
0.02
g
|
Polyunsaturated Fat:
0.1
g
|
Monounsaturated Fat:
0.03
g
|
Sodium:
1921
mg
|
Potassium:
852
mg
|
Fiber:
0.5
g
|
Sugar:
132
g
|
Vitamin A:
848
IU
|
Vitamin C:
11
mg
|
Calcium:
142
mg
|
Iron:
3
mg