Baked Chicken Tenders are a crispy, homemade appetizer or entree. Fix up a batch with some dipping sauce or pair with all sorts of sides.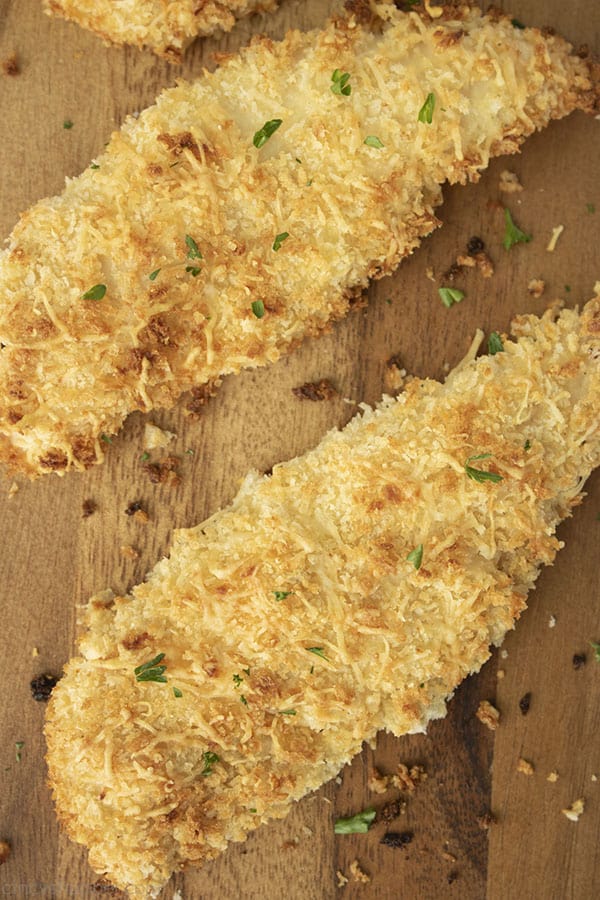 Baked Chicken Tenders
Simple baked chicken is always a reliable and easy option when it comes to lunch or dinner. Chicken is usually fairly cheap, and it doesn't take much work to make it taste amazing. However, plain chicken breast can be… kind of boring. You can pack plenty of taste into the chicken, but the exterior is where things stop getting exciting. Thankfully, you can keep chicken fresh and exciting by just getting some breading on there!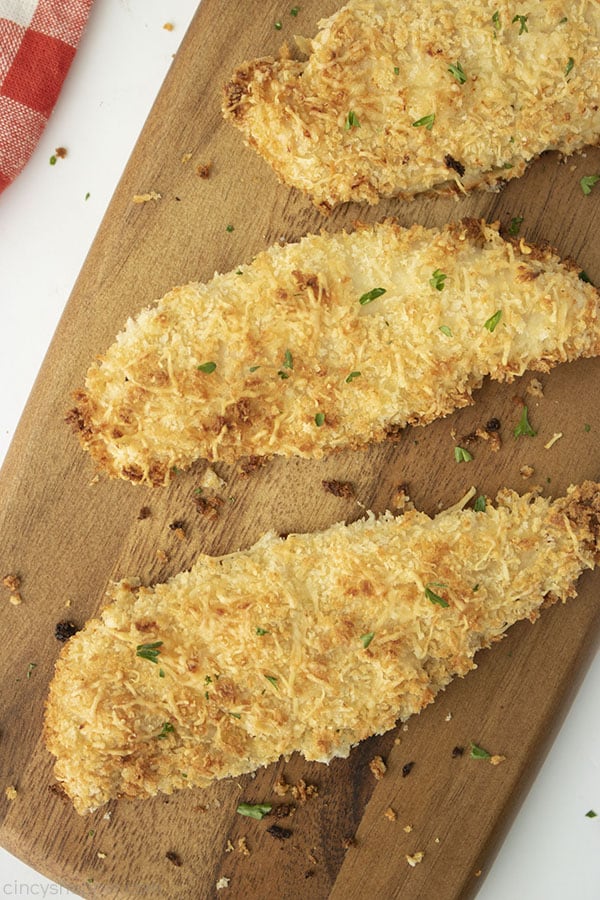 Breading really adds that texture and chew to your chicken that you're always missing. It brings to mind the experience of biting into a crispy, deep-fried piece of chicken, just without the unhealthy amounts of oil. Not to mention we reached for our secret ingredient- parmesan. Parm not only gets an extra-crispy shell on our chicken tenders but an extra-flavorful one as well!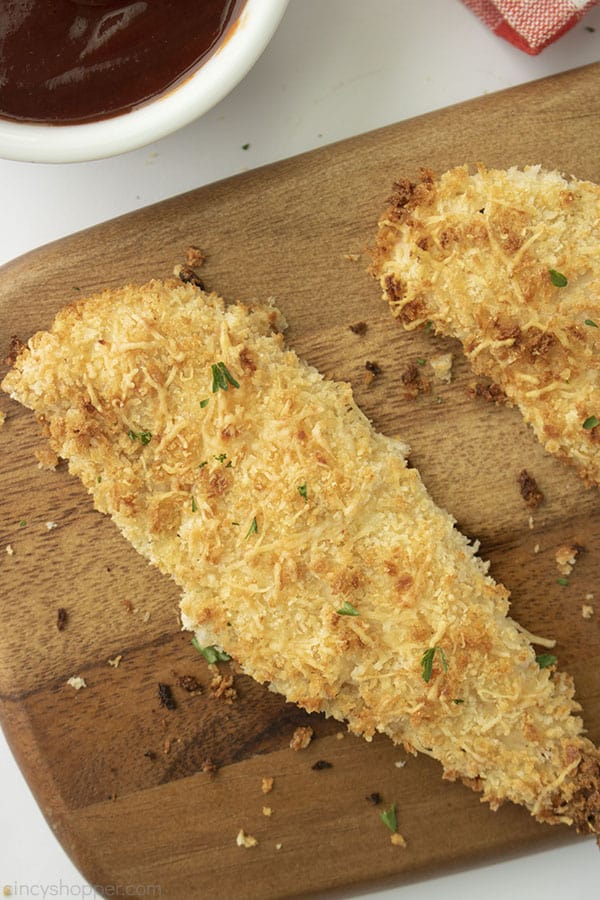 These crispy, breaded chicken tenders will pair with all sorts of fare. A classic side to serve these with are some french fries- our Air Fryer French Fries will work perfectly with these! For something better for a family dinner night, whip up a batch of The Best Mashed Potatoes for a rich and creamy side. You don't even have to serve these with anything else outside of a good dipping sauce- BBQ goes great with these homemade chicken fingers!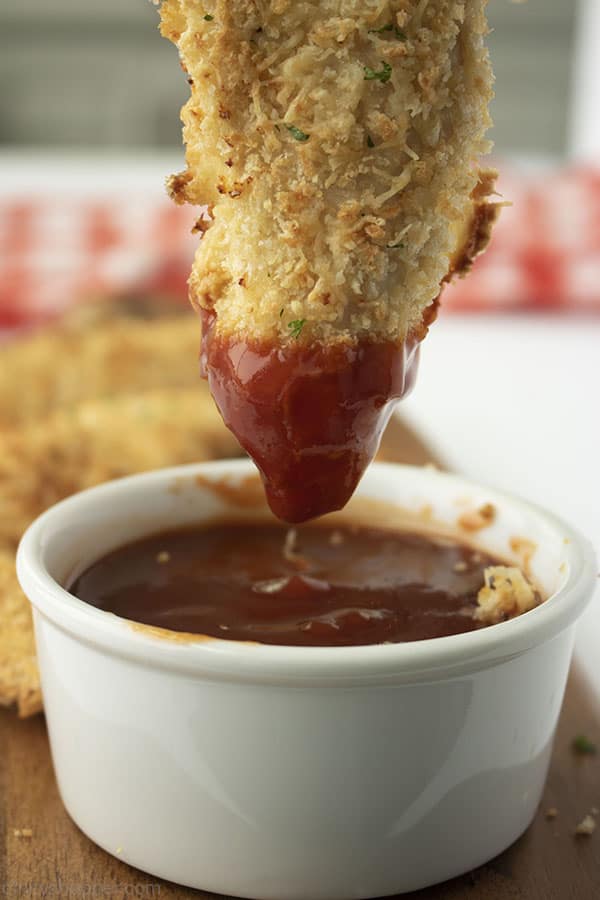 We've got plenty of tasty chicken recipes for you all to try here on the site. For another crispy, breaded chicken recipe, fry up some of our Parmesan Crusted Chicken. We went much heavier on the parmesan there then we went with here- it's delish! For a simpler recipe, you can use in other dishes, try Baked Chicken Breast. It's the perfect recipe for shredding, dicing, or cubing. In fact, a perfect recipe for the baked chicken is our Chicken Bacon Ranch Casserole– it's a simple recipe that's packed with great flavor!
Ingredients for Baked Tenders
Chicken – Tenderloins are the go-to. You could also take some chicken breasts and cut them down into more strip or finger-like shapes.

Panko Bread Crumbs – We discuss some other breading add-ins at the bottom of the post. Take a peek and experiment!

Parmesan – Most people don't think to add parmesan in with their breading.

I've seen great results and had some tasty tenders when I added some of this secret ingredient to our breading

!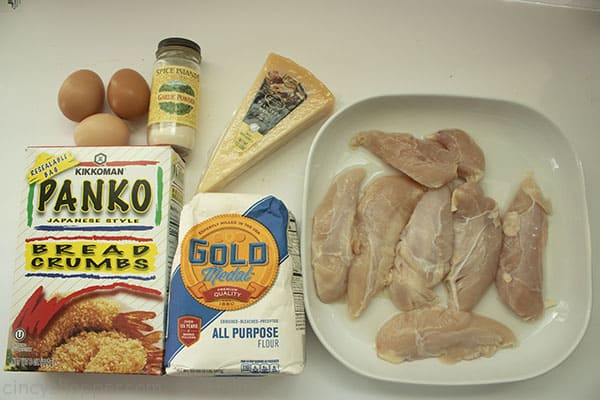 How to prepare our Homemade Chicken Tenders
Get this recipe going by getting everything set up and prepped. Your oven should be preheated to 425 degrees and- before doing anything else to your chicken- you should make sure the chicken is pat dry. With all of that done, you can get your flour mixed together with some garlic powder, salt, and pepper.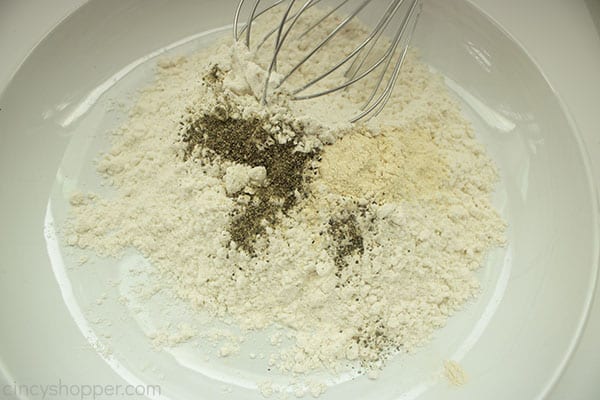 We're going to run four separate breading stations for our chicken tenders. The first is going to be our seasoned flour mixture: just drop your tenders into your flour and ensure it's evenly coated.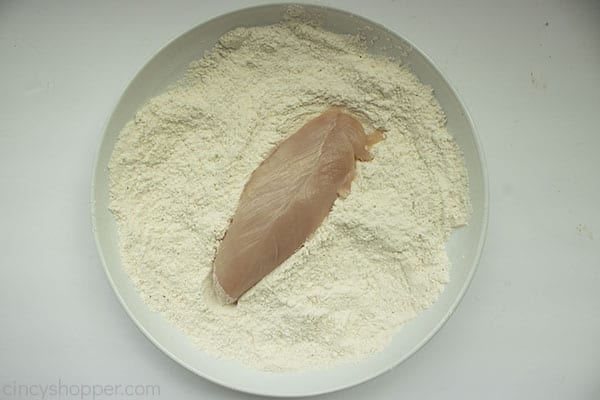 Next is the egg wash. Drop your flour-coated coated into the egg wash and ensure it's evenly coated. Using a wet-hand/dry-hand technique will help minimize any mess here.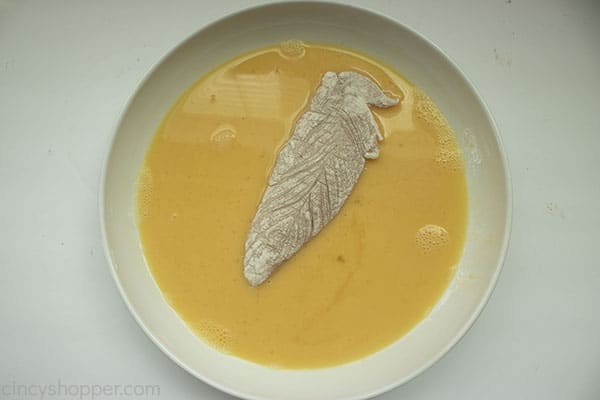 The next station is our crispy breading. Again, we used panko but feel free to try some of the other breading options we mention at the bottom of this post. Just drop your chicken in and make sure you get a nice, even coating.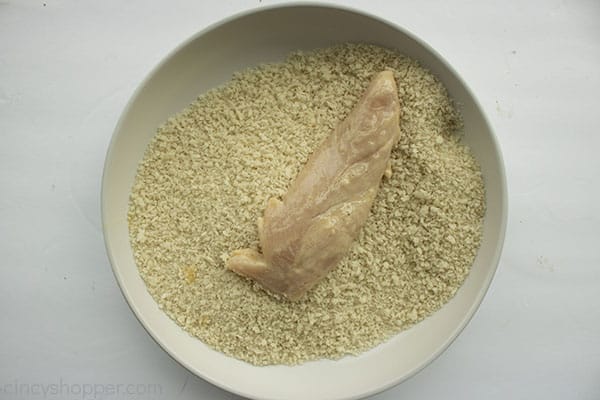 Now it's time for the final station: get your chicken tossed into the parmesan. Give your tenders a little press into the parmesan if you're having trouble getting it to stick.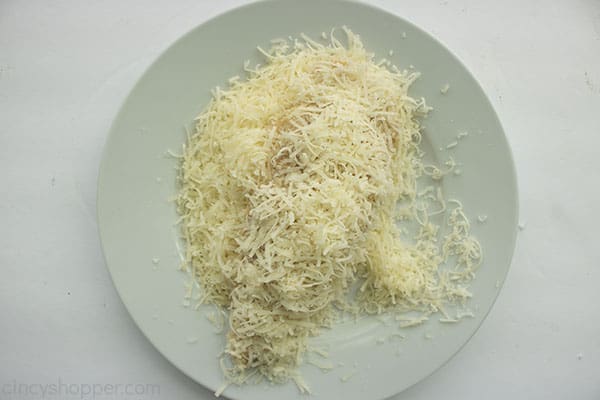 Time to bake! Get your breaded tenders onto a baking sheet and toss them into your pre-heated oven.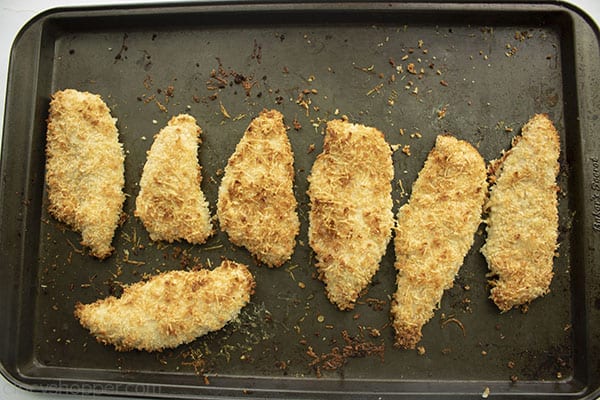 At 425 degrees, it'll take around 10-15 minutes to get your chicken up to a safe internal temp of 165 degrees. If you want it a little crispier, consider giving your chicken a quick minute or two under the broiler as they get close to done. Give a minute or two to cool before serving and enjoying!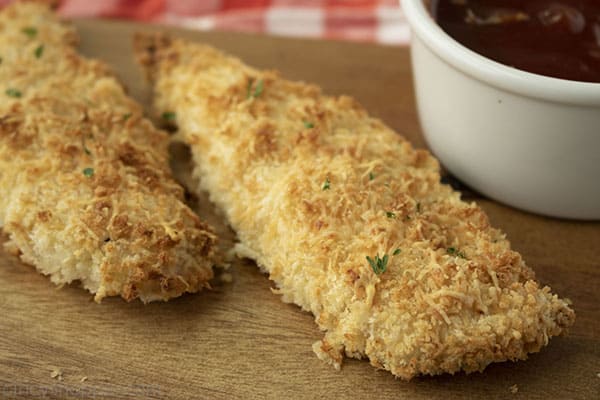 Breading Options
If you want to make this taste a little more Mediterranean, you could use some Italian breadcrumbs instead

.

Just

sub it in place of the panko.

Corn flakes are another classic breading option for chicken.

They'll provide an amazing crunch to the tenders but know that they might soften up a bit in the fridge if you keep any leftovers

.

All sorts of different potato chips will work as breadings for this chicken. For something a simpler and plainer, reach for some plain/wavy chips. Want some extra flavor? Sub in any sort of flavored chip you like- sour cream & onion, BBQ, and anything

in between

.
Baked Chicken Tenders
Baked Chicken Tenders are a crispy, homemade appetizer or entree. Fix up a batch with some dipping sauce or pair with all sorts of sides.
Ingredients
2

lb

boneless skinless Chicken Breast Tenders

1

cup

Flour

2

cup

Panko Bread Crumbs

1

cup

grated Parmesan Cheese

1

tsp

Garlic Powder

1/2

tsp

Salt

1/4

tsp

Black Pepper

3

Eggs

3

tbsp

Water
Instructions
Preheat oven to 425.

Pat chicken dry. Set aside.

In a shallow dish, whisk together flour, garlic powder, salt and pepper.

In another shallow dish, beat eggs and water until blended.

In a third shallow dish place bread crumbs.

And finally, in a fourth dish, place parmesan cheese.

First place tender in flour and turn to coat.

Then into the egg wash and turn to coat.

Then into the bread crumbs and again turn to coat.

Finally into the parmesan, pressing gently to get more cheese to stick.

Place on baking sheet and cook for 10-15 minutes until browned (internal temperature 165).
Nutrition
Calories:
649
kcal
|
Carbohydrates:
47
g
|
Protein:
69
g
|
Fat:
18
g
|
Saturated Fat:
7
g
|
Cholesterol:
290
mg
|
Sodium:
1204
mg
|
Potassium:
1017
mg
|
Fiber:
2
g
|
Sugar:
2
g
|
Vitamin A:
462
IU
|
Vitamin C:
3
mg
|
Calcium:
367
mg
|
Iron:
5
mg