Slow Cooker Coca Cola Ribs are easy to make using your favorite soda! Use your favorite Crock Pot to make this BBQ favorite in your kitchen.
No need to heat up the kitchen to make some classic barbecue food! Pair these ribs up with some Instant Pot Corn on the Cob and a side of Creamy Broccoli Salad.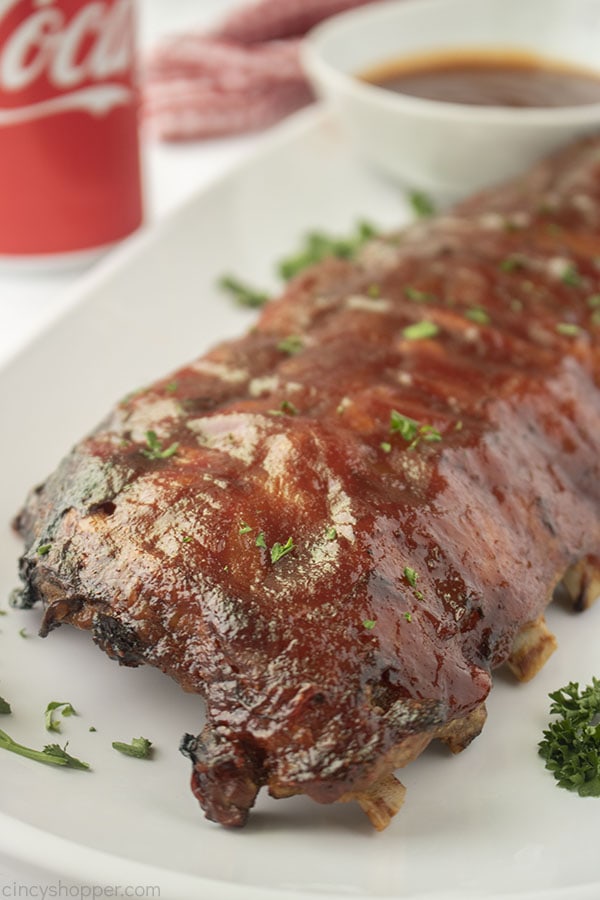 Slow Cooker Coca Cola Ribs
If there's one thing I'm looking forward to every summer, it's good barbecue food! Whether it's burgers fresh off the grill or a good hot-dog with a bit of char on it, the food is definitely one of the best parts of the season. One of the definite kings of barbeque food is sticky glazed ribs- fairly easy to make, but seemingly-difficult to get perfect. Thankfully, the key to a perfect rack of ribs might be as simple as taking them inside and using your Crock Pot or slow cooker!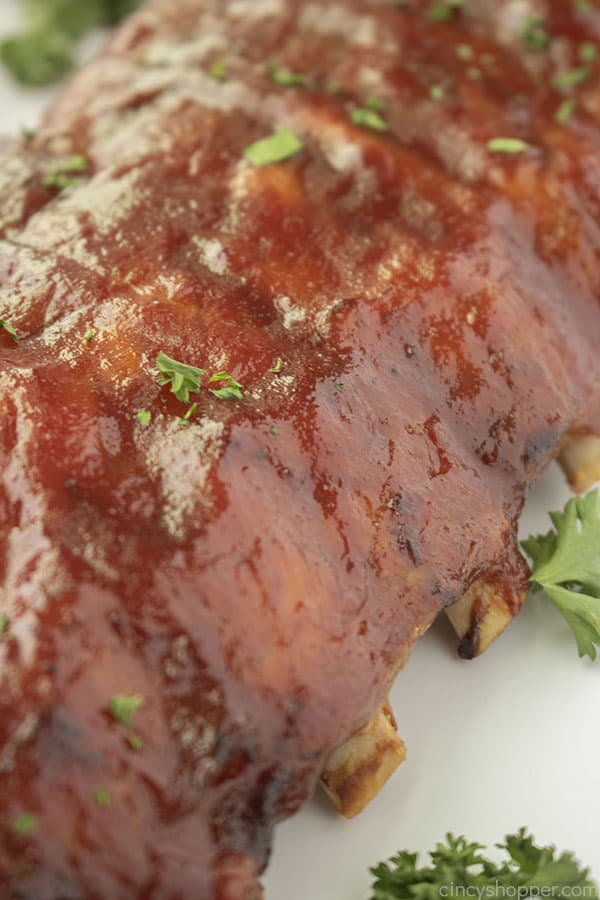 These Coca Cola Ribs use a secret ingredient to get them sweet, delicious, and fall-off-the-bone tender. What's that ingredient? Well, it's right there in the name: Coca Cola! A can of Coca Cola- or any number of your favorite sugary soft drinks- provides the perfect amount of flavor and tenderizing power to your ribs. You really only need one can to make ribs that the whole grill-out will be jealous over.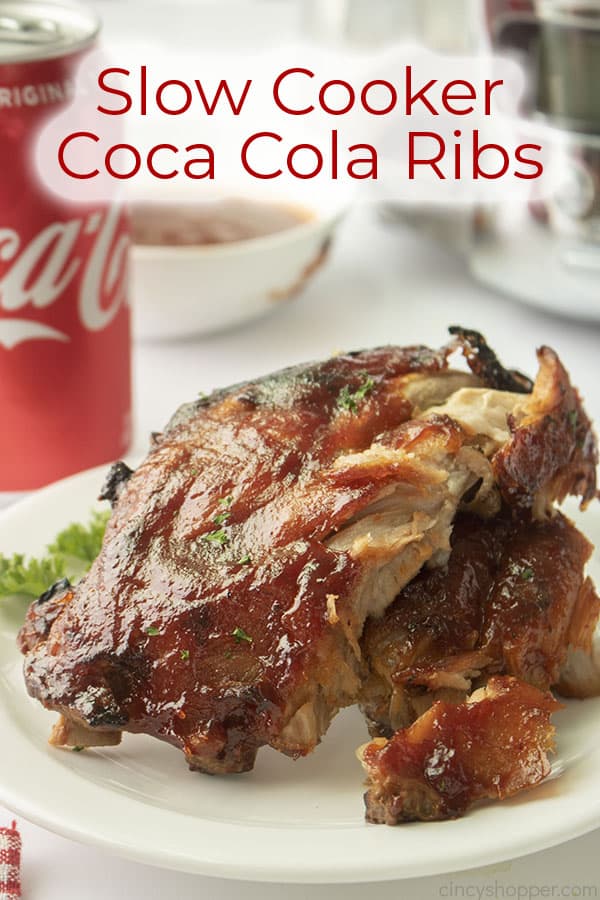 Of course, a nice slathering of barbecue sauce is there to help seal the deal. You can use a broiler to finish and caramelize your ribs and keep the whole process in your kitchen! Everyone's going to love the Best Slow Cooker Ribs you've ever made- no grill and no smoker required. We know you're going to enjoy this recipe!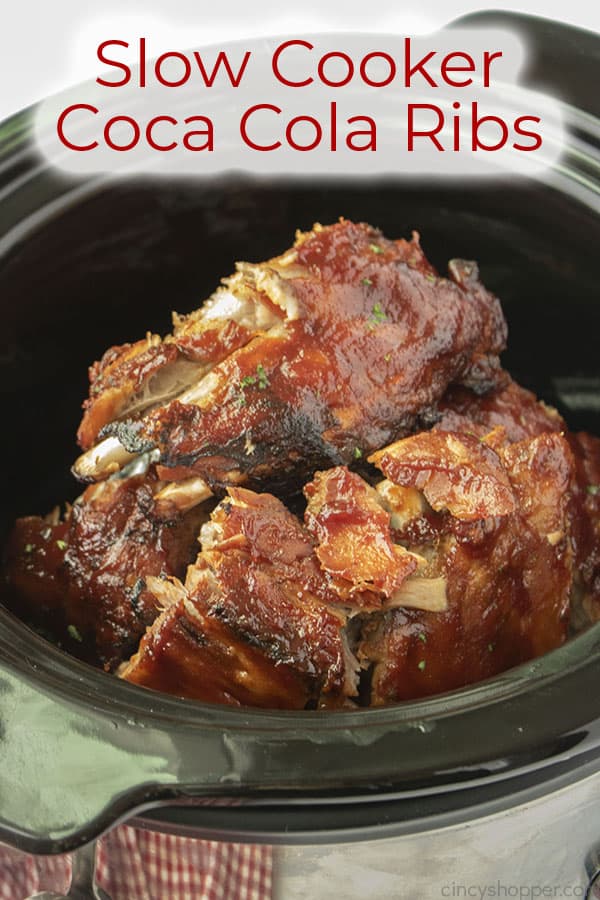 Liked our Coca Cola Ribs? Give these other slow cooker recipes a try!
For some more food fit for the barbecue, try our

Dr. Pepper Slow Cooker Pulled Pork

!

This is another BBQ favorite that's easy to make in a Crock Pot or slow cooker- flavored with one of our favorite sodas

. Perfect served as a sandwich but also great added to nachos or french fries!

The slow cooker can also make up some great dinner dishes, like our

Slow Cooker Mississippi Pot Roast

. Pot roasts are some of my favorite recipes to make and this recipe is one of the easiest and tastiest! Flavored

perfectly

with pepperoncinis, ranch, and gravy.

Store-bought rotisserie chicken is great but did you know you can make

Slow Cooker Rotisserie Chicken

at home

?

Not only does this stuff taste better than the stuff from the store, but you can use it in

all of

your favorite leftover chicken recipes as well

!

Of course, this stuff also tastes great on it's own- serve up with some mashed potatoes and some veggies for an easy dinner

.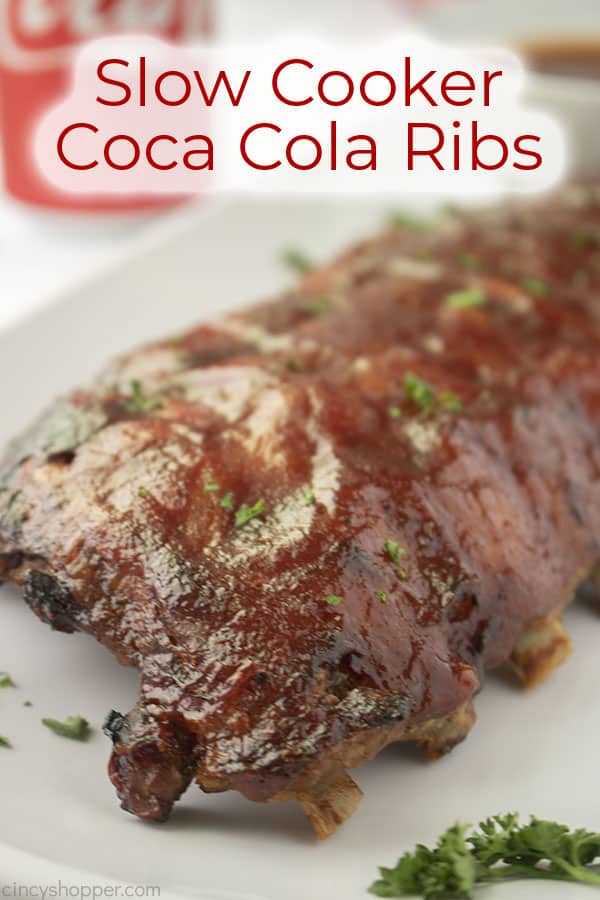 Ingredients for Slow Cooker Coke Ribs
Pork Ribs

Coca Cola

– Feel free to experiment with your favorite sodas! You could try making these crock pot ribs with Pepsi, if that's your preferred cola. Our favorite variation is Dr. Pepper Slow Cooker Ribs!

Barbecue Sauce

–

Just

go with your favorite, sugary brand.

If you're around the Cincinnati area, we can't recommend this Montgomery Inn sauce enough

!

Salt & Pepper
Outside of these ingredients, you could also try adding a dash or two of
liquid smoke
to give your ribs that smoky flavor
. That's what we used over in our recipe for Instant Pot Ribs!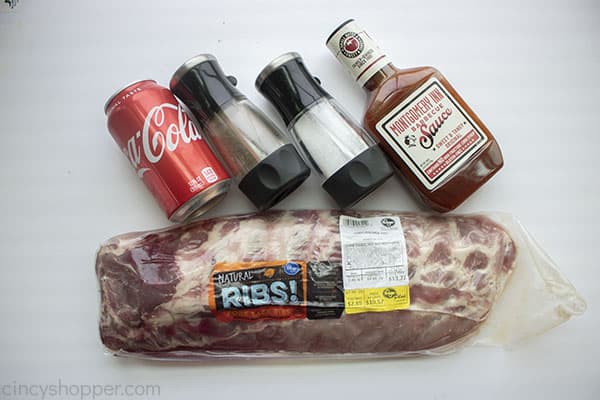 How to make Slow Cooker Ribs with Coca Cola
With such a short ingredients list, these Coca Cola Ribs are going to be easy to make! Here's all you'll have to do…
Prep your ribs by

removing the membrane

and

seasoning with salt & pepper

.

Cook your ribs in a slow cooker

with your cola

on low for 8-10 hours

.

Transfer ribs to a foil-lined baking sheet

and

coat with barbecue sauce

before

broiling until caramelized

.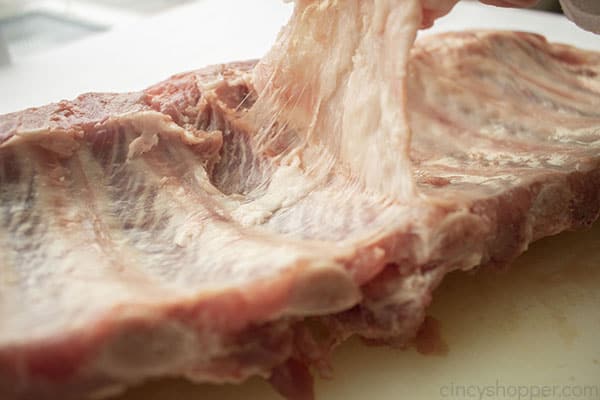 Before we cook our ribs, we have to get them prepped for the slow cooker. The first order of business is removing the membrane along the inside of the ribs- use a knife to get started. Once you've got enough of the membrane off of the ribs, you should be able to grab it and pull the rest off- use a paper towel for grip. Once the membrane's off, season with salt and pepper.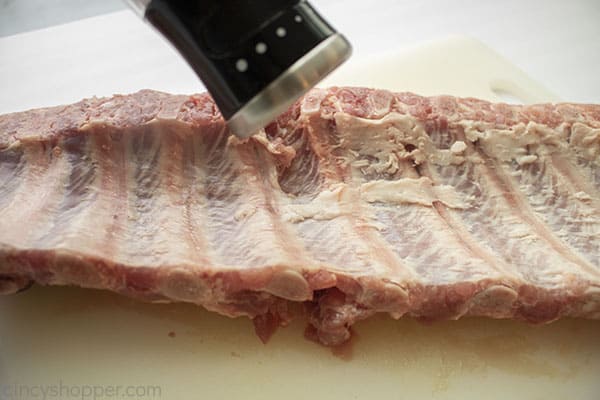 With the ribs seasoned, we can transfer them to the slow cooker. After you've got them set in there, pour in your can of coke- we'll cover what exactly the cola is doing to the ribs near the end.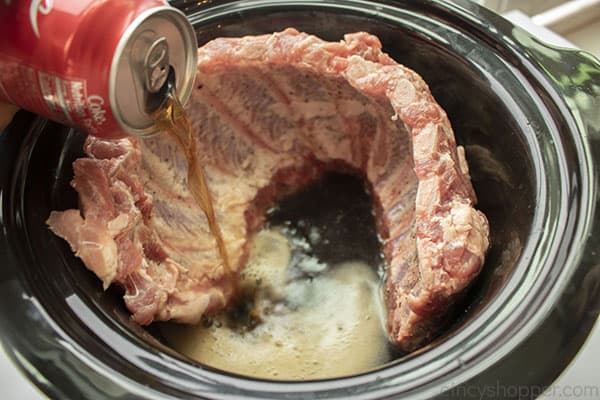 That's going to cook on low for about 8-10 hours. By that point, the meat's going to be super tender and delicious!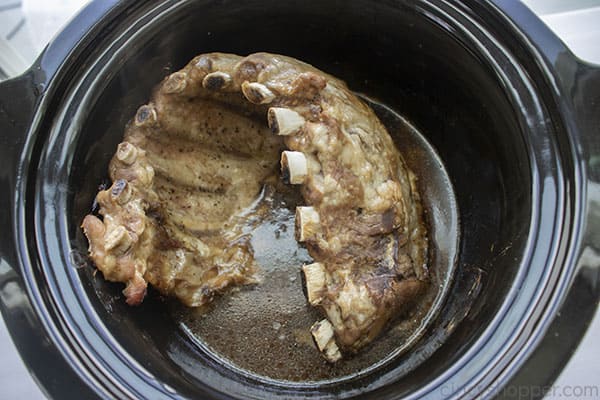 All that's left is a sticky, BBQ glaze. For that, first carefully transfer the ribs to a foil-lined baking sheet. Brush the meaty side of the ribs with a generous layer of your barbecue sauce.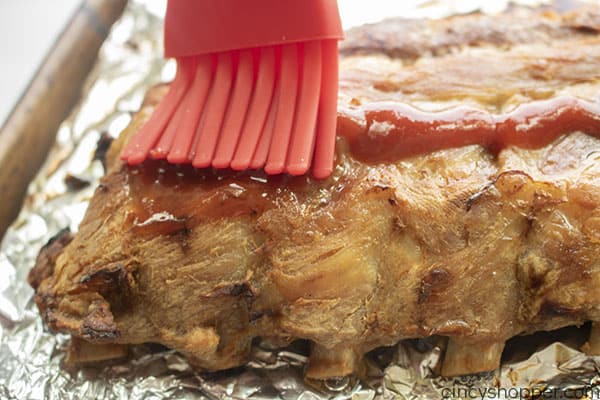 To get that sauce caramelized and sticky, chuck it under a pre-heated broiler until that sauce starts sizzling. Give a few more seconds for that sauce to fully caramelize before pulling from the oven, chopping into smaller racks, and enjoying!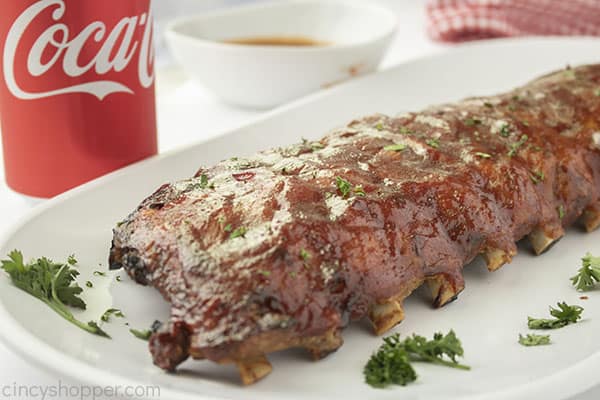 What does coke do to ribs?
There's a lot of science behind this question but I'll try to keep things simple: Coca Cola is a lot more acidic than you think
.
The pH level of cola falls somewhere between 2 and 3- which puts its acidity somewhere between lemon juice and apple juice
.
That acid
really
helps to break down and tenderize the meat in the ribs, resulting in tender, fall-off-the-bone pork
. Coke is also very sugary- which helps flavor the ribs. It's the perfect combo for making delicious slow cooker ribs!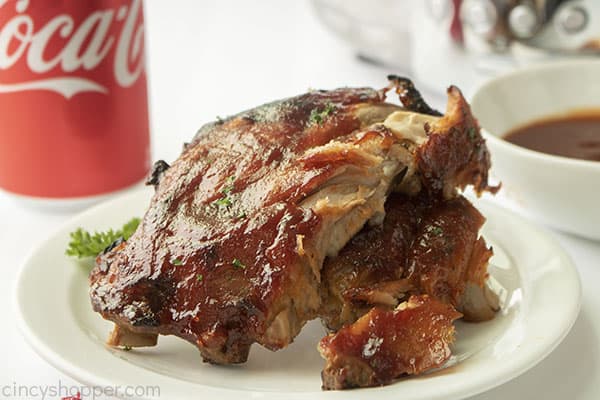 Slow Cooker Coke Ribs
Slow Cooker Coca Cola Ribs are easy to make using your favorite soda! Use your favorite Crock Pot to make this BBQ favorite in your kitchen.
Ingredients
1

rack

Pork Baby Back Ribs

Salt and Pepper

1

can

Coca-Cola

1

tsp

Liquid Smoke

1/2

bottle

Barbecue Sauce
Instructions
Remove membrane from the bone side of ribs (optional).

Salt and pepper ribs on both sides.

Position ribs around outside of slow cooker.

Add Coke and Liquid Smoke to the slow cooker.

Cover and cook on low for 8-10 hours or put on high for 4-5 hours.

Cover an oven-safe pan with aluminum foil.

Carefully transfer the ribs to the foil-lined pan (meaty side up).

Cover ribs with barbecue sauce and place under broiler until the sauce starts to sizzle and caramelize.

Remove from oven and serve.
Notes
If you are looking for a little more hearty flavor, add one tablespoon of Worcestershire sauce.
Nutrition
Calories:
599
kcal
|
Carbohydrates:
43
g
|
Protein:
37
g
|
Fat:
31
g
|
Saturated Fat:
11
g
|
Trans Fat:
1
g
|
Cholesterol:
130
mg
|
Sodium:
948
mg
|
Potassium:
644
mg
|
Fiber:
1
g
|
Sugar:
36
g
|
Vitamin A:
211
IU
|
Vitamin C:
1
mg
|
Calcium:
86
mg
|
Iron:
2
mg