Fried Cabbage with Bacon is a delicious side dish that even cabbage haters love. This is the best recipe for simple Southern comfort food!
Fried Cabbage with bacon, onion, and garlic is an example of great Southern comfort food! Goes great with some Copycat Chicken Planks or some Parmesan Crusted Chicken!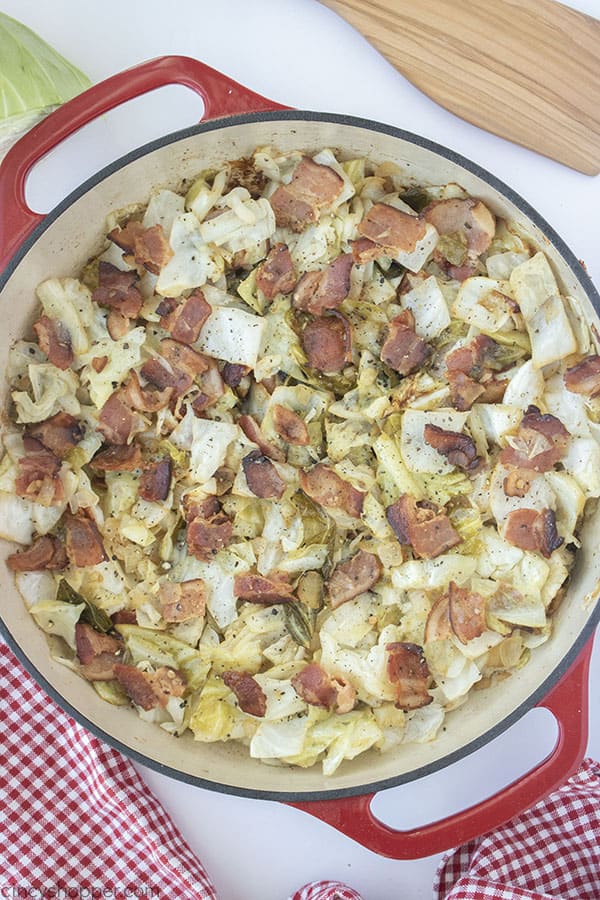 Fried Cabbage with Bacon
Southern food is so simple but delicious: it relies on solid, dependable flavors and ingredients. One of the chief ingredients I always seem to run across is bacon: whether it's strips, crumbles, or fat, it seems to be everywhere! It's used well too: fried up, bacon becomes nice and crispy and that fat can go a long way in making anything taste good. Case in point: today's Southern Fried Cabbage recipe.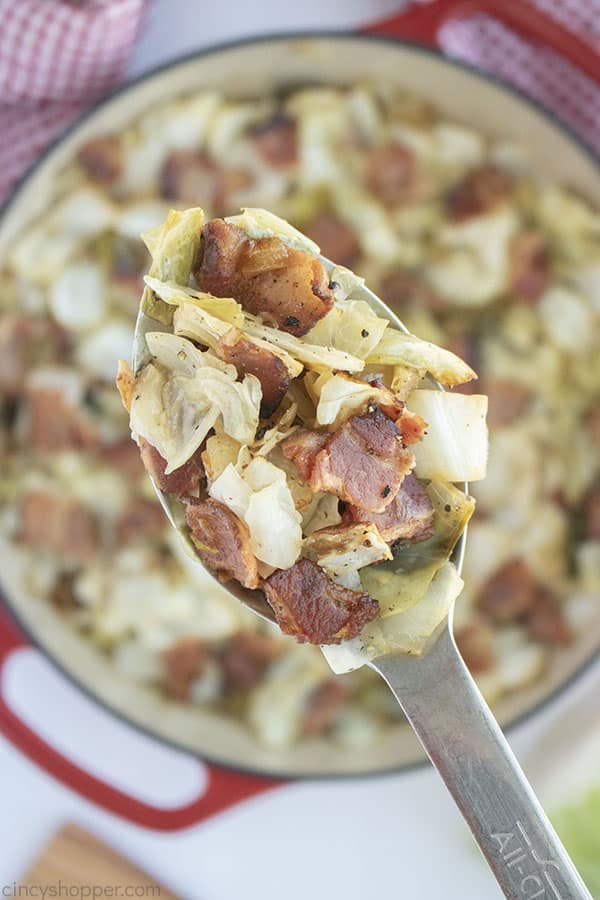 Southern Fried Cabbage is effectively a Fried Cabbage with Bacon. As the saying goes: "Everything is better with bacon!" That's definitely the case here: frying cabbage and bacon together with a bit of onion and garlic creates a side dish that even cabbage haters are going to love. It certainly helps that it's easy to make with a short ingredients list- we'll even give you a few modifications if you're interested! However you fix it up, we know you're going to love this classic Southern comfort dish.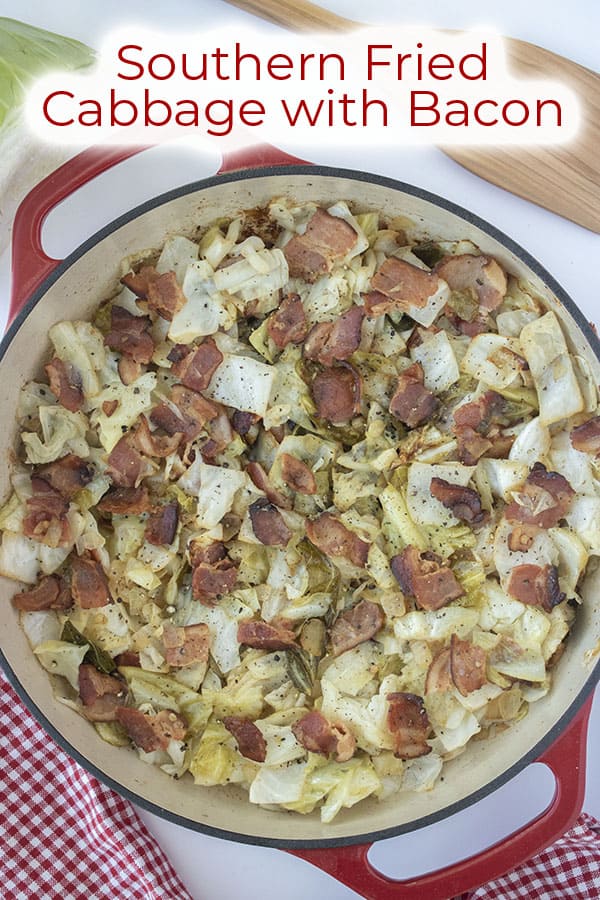 More Southern Side Dish Recipes to Try
If you're wanting some more cabbage, try whipping up some

Traditional Creamy Coleslaw

.

Crisp cabbage and carrots

are tossed

together with a creamy homemade dressing that's certain to be one of your new favorite side dishes

! Great at potlucks or BBQs.

For some more delicious greens fried up with some bacon, make up some

Southern Green Beans with Bacon

. This delicious, simple, and comforting side is a standby recipe for us. Everything's better with bacon!

On the sweeter side of things, you could always make some of our

Fried Apples

. This is one of our favorite Cracker Barrel copycat recipes. Sweet apple slices cooked up in a nice sugar and cider glaze- yum!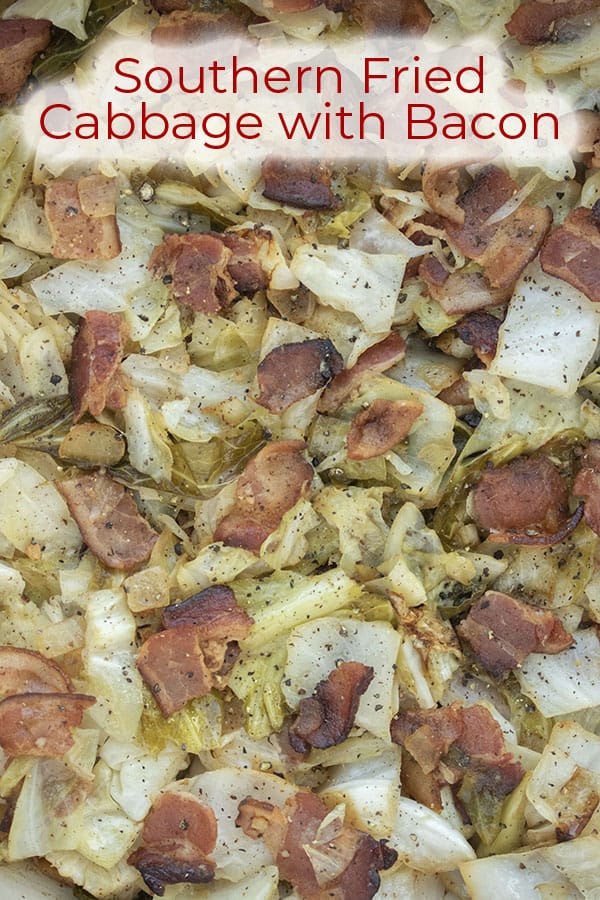 Ingredients for Southern Fried Cabbage
Cabbage

Bacon

– Some good, thick cut stuff that'll leave you with plenty of fat in the pan.

Onion

Minced Garlic

Red Wine Vinegar

– A little splash of this stuff will help brighten the dish up and cut through some of the rich flavors of the bacon and fried onions

.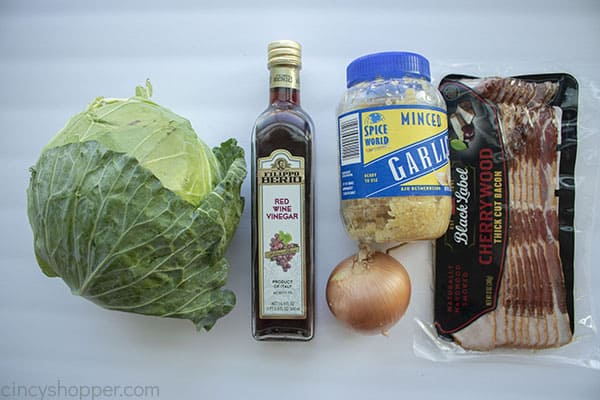 How to make Fried Cabbage
This Southern Fried Cabbage is so easy to make! Here's all you need to do:
Fry up some chopped bacon.

Cook up your veggies

in the leftover bacon fat.

Mix in some red wine vinegar

before serving and enjoying!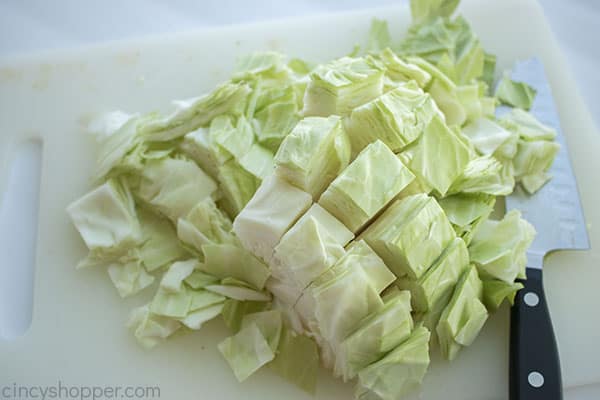 Before we get started, we want to get everything chopped up. Chop your bacon into some big bits, give your onion a quick dice, and cut your cabbage into some nice, hearty pieces. Remember to core your cabbage as well- the core cooks much differently from the rest of the vegetable.
With everything cut and prepped, we can start frying up some bacon! For best results, let your pan get nice and hot over medium-high heat before dropping your bacon in. Cook that up until nice and crisp.
Once that bacon is crisped up, we can start working on our veggies. First up are our onions: drop them into the pan with our bacon and fat and let them cook for a few minutes, until soft and golden-brown.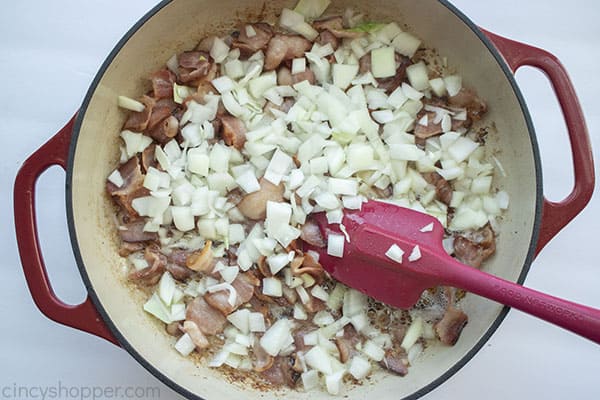 Next up: garlic. Drop a couple of teaspoons of minced garlic into the pan and let cook for about a minute, until nice and fragrant.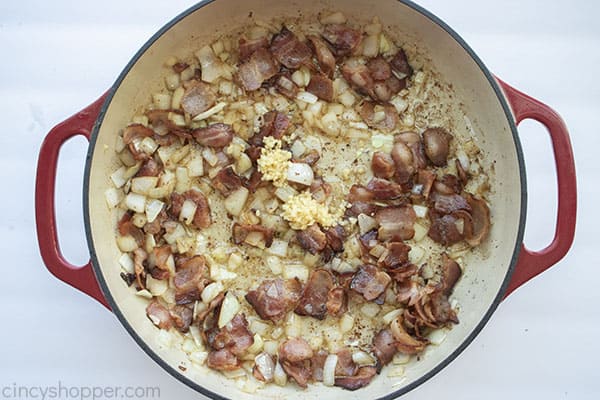 Now for the star of the show: some cabbage! Drop it on in and let it cook for a good 4-5 minutes.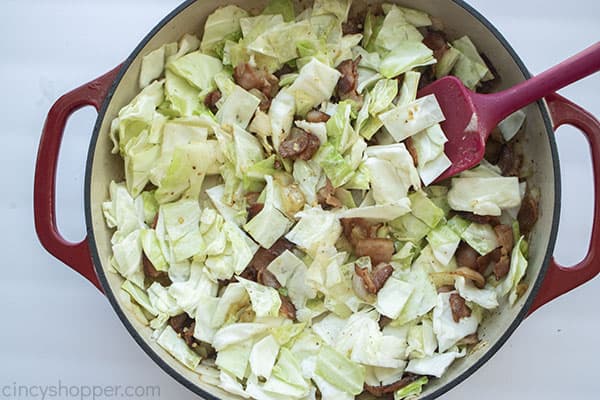 At this point, you want to add in your vinegar. About 1/4 cup worth should be good! Just pour it in and give everything a quick mixing.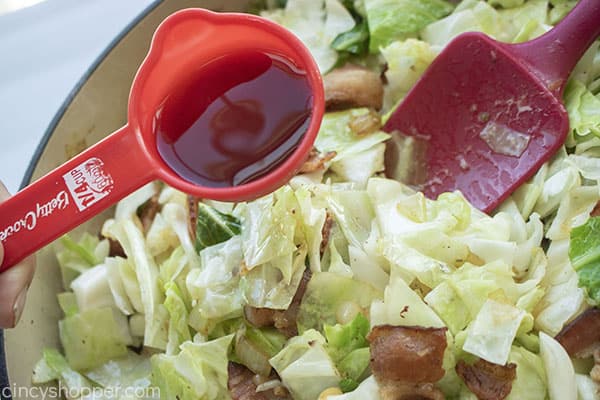 Drop the heat down to low/medium-low until your mixture starts holding a good simmer. Cover the pan and let that sit on the heat for about a half-hour. Give it an occasional stir to prevent things from scorching. Once it's done cooking, feel free to serve immediately and enjoy!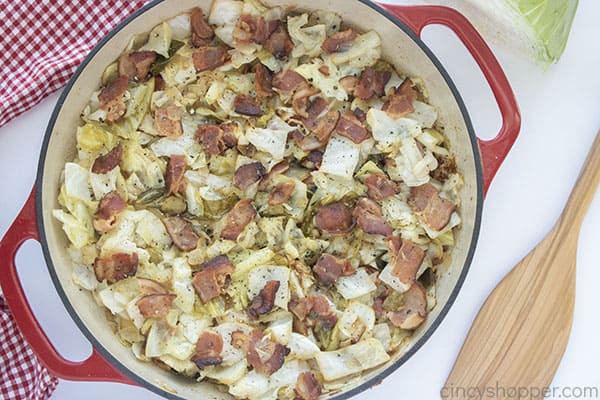 Modifications & Variations
From Side Dish to Main Dish

– Our Fried Cabbage

is meant

to be more of a side dish.

However

, you can

easily

beef it up into the main course or a one-pan meal by adding some more meat- like more bacon or some sliced/ground sausage

. You could also add some pasta-

maybe

some simple egg noodles or some farfalle?

Cabbage Mashed Potatoes/Colcannon – You can also mix your finished cabbage with some mashed potatoes

.

This gives you something close to a classic Irish dish called

colcannon

– a cabbage mashed potato dish

.
There are all other sorts of mix-ins you could add to the pot: experiment with
diced potatoes
,
apple cider vinegar
, some
brown sugar
, or
diced tomatoes
.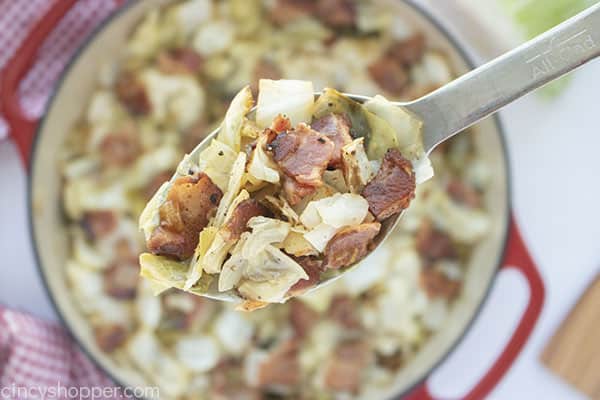 Southern Fried Cabbage with Bacon
Fried Cabbage with Bacon is a delicious side dish that even cabbage haters love. This is the best recipe for simple Southern comfort food!
Ingredients
1

head Cabbage

cored and chopped

6

slices

Bacon

chopped

1

Onion

chopped

2

tsp

minced Garlic

1/4

cup

Red Wine Vinegar
Instructions
Cook the chopped bacon in a large skillet over medium high heat until crisp (about 6 minutes).

Add the onion and cook until it is soft and browned (about 4 minutes).

Add the minced garlic and cook for another minute.

Add in the chopped cabbage and cook stirring frequently for 4-5 minutes.

Add vinegar and stir.

Reduce heat to low, cover and simmer for 30 minutes (stir occasionally).
Notes
It's best to not drain the bacon grease, it gives the fried cabbage a ton more flavor.
Nutrition
Calories:
106
kcal
|
Carbohydrates:
9
g
|
Protein:
4
g
|
Fat:
7
g
|
Saturated Fat:
2
g
|
Trans Fat:
1
g
|
Cholesterol:
11
mg
|
Sodium:
131
mg
|
Potassium:
254
mg
|
Fiber:
3
g
|
Sugar:
4
g
|
Vitamin A:
118
IU
|
Vitamin C:
43
mg
|
Calcium:
52
mg
|
Iron:
1
mg