Roasted Sweet Potatoes are an easy, sheet pan side that is crispy & delicious! Pair with all sorts of chicken and pork entrées to make an amazing dinner.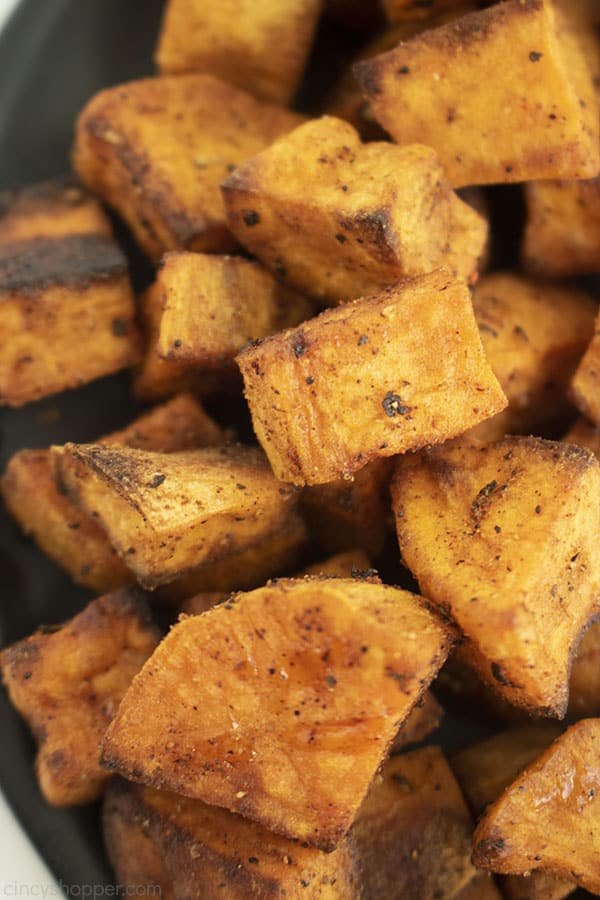 Roasted Sweet Potatoes
We're real big fans of sweet potatoes here on the site. We usually reserve those recipes for the holiday season- who isn't a fan of The Best Sweet Potato Casserole with Thanksgiving dinner? But we don't have to keep great sweet potato dishes stuck inside the holiday season!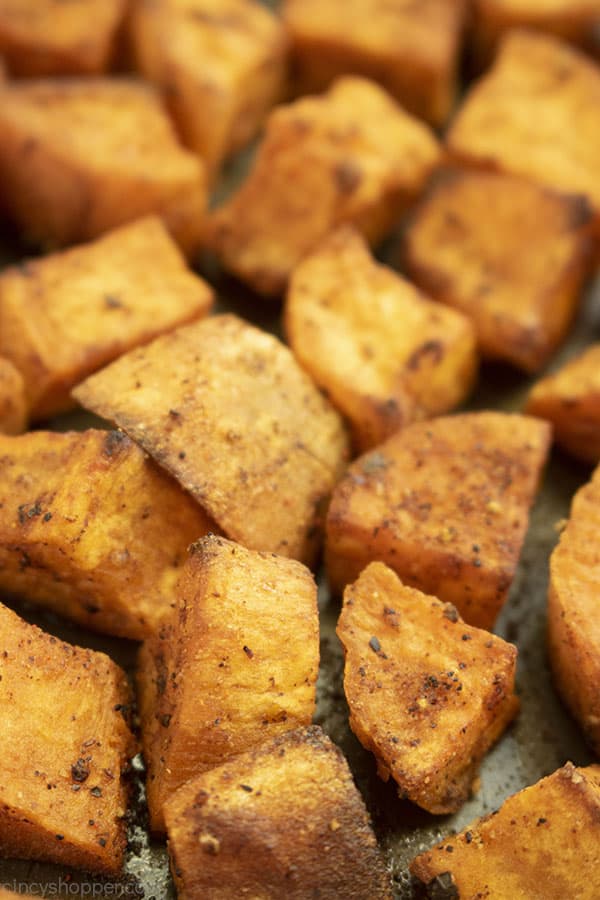 Sweet potatoes can make for great and easy side dishes that are delicious at any time of the year. You can always serve up a burger with a side of Sweet Potato Fries. When it comes to dinner nights, I find that some simple roasted sweet potatoes are perfect!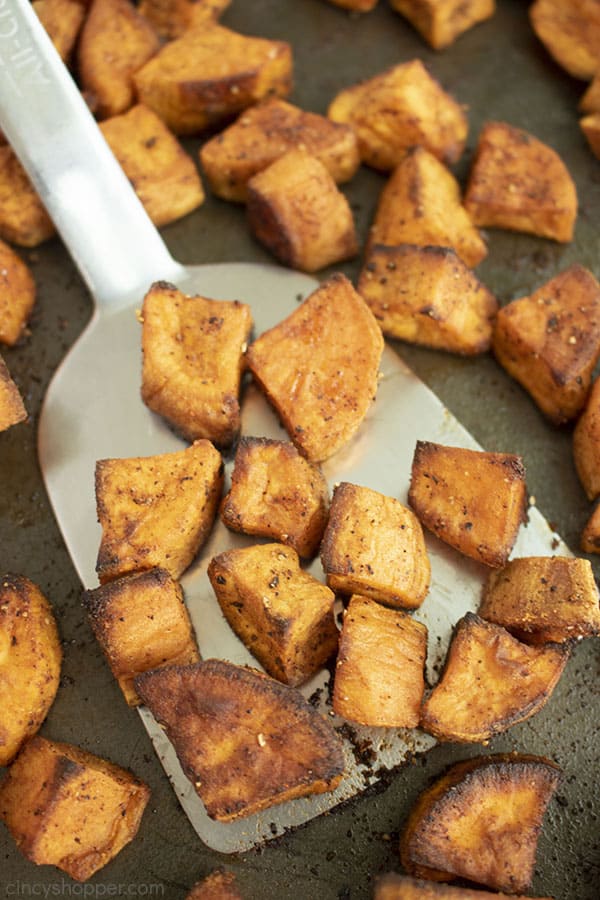 This recipe here is real easy once you get past the struggle of cutting the potatoes(we'll cover that here in a bit…). Just coat some sweet potato cubes with a bit of oil and a simple spice blend before baking and you'll have a great standby side dish!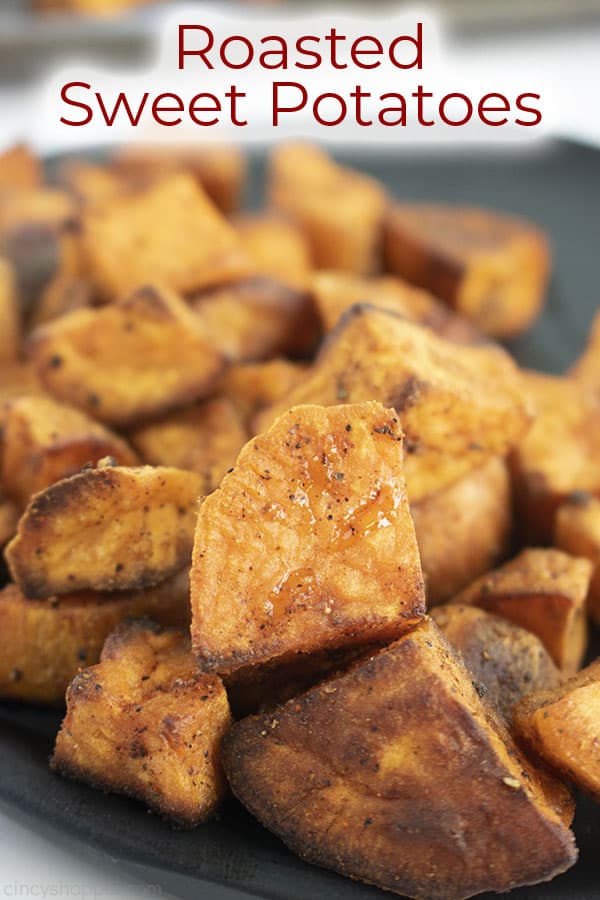 Once you've finished baking them, you'll find that these crispy little wedges pair with all sorts of entrées. The obvious pairing is chicken: in that case, reach for our Parmesan Crusted Chicken. Sweet potatoes also pair real well with pork and ham dishes: try our yummy Slow Cooker Apple BBQ Ribs or our Copycat Honey Baked Ham.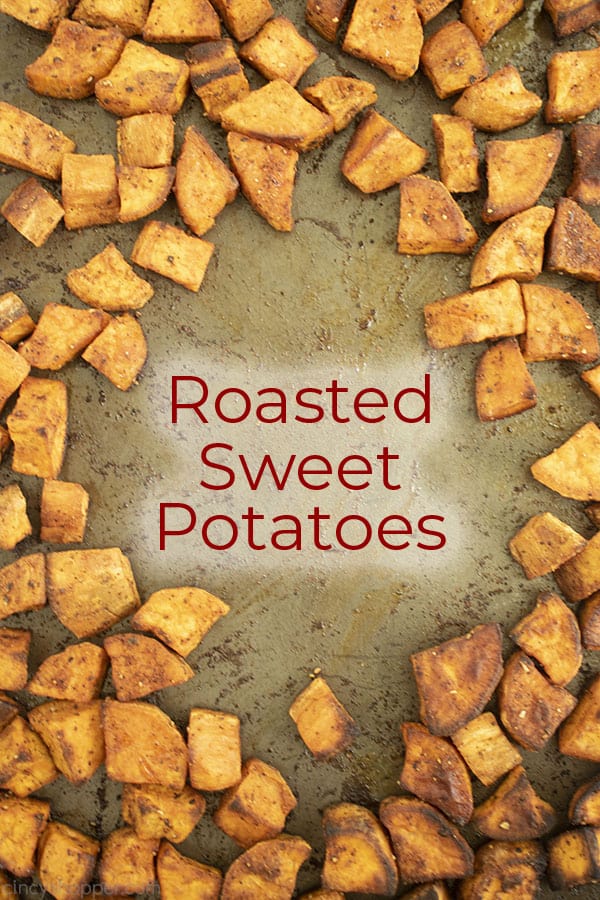 Ingredients for Roasted Potatoes
Spices – We settled on this mix of garlic powder, onion powder, paprika, chili powder, and ground cumin seed. Feel free to experiment!

Olive Oil – Nothing fancy-

just

reach for the plain Jane, supermarket stuff.

Coarse Salt and Freshly-Cracked Black Pepper – To taste!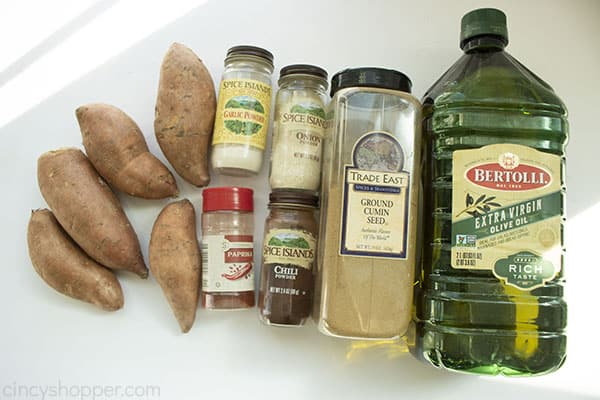 How to make our Sweet Potatoes
Before you get started, get that oven preheating- it's gotta get up to 425 degrees. In the time it takes for that to warm up, you can get started on prepping- wash, peel, and cube your sweet potatoes.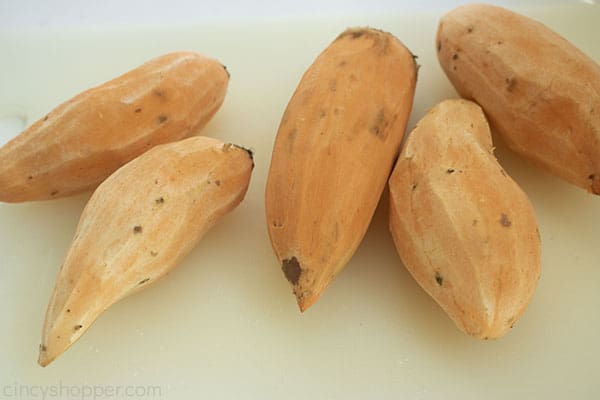 Sweet potatoes are notoriously hard to cut. There are guides online that show how to make the process a little easier- I found this one that shows how to dice, cut wedges, or cut rounds. I'll also give a quick "crash course" here on this post.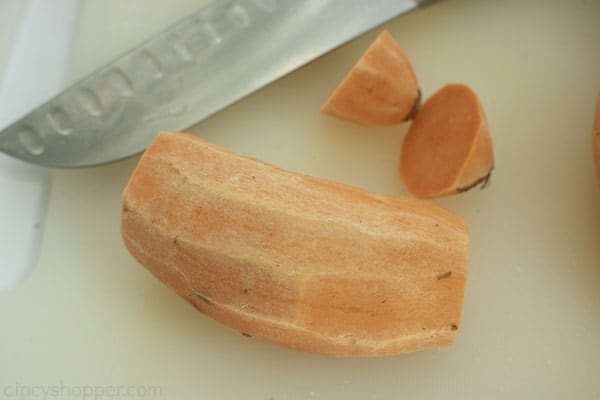 Start by cutting the ends off of your potato.
Next, cut one of the sides off the potato. Doesn't matter which one- you're trying to make a stable, flat face to keep the potato from rolling around. This makes the cutting process much easier!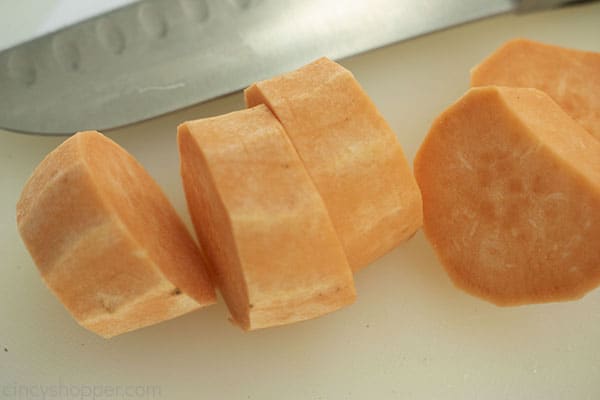 From here, it's a matter of getting your potatoes down to the right size. To get the size we're looking for, cut the potato into some thick rounds.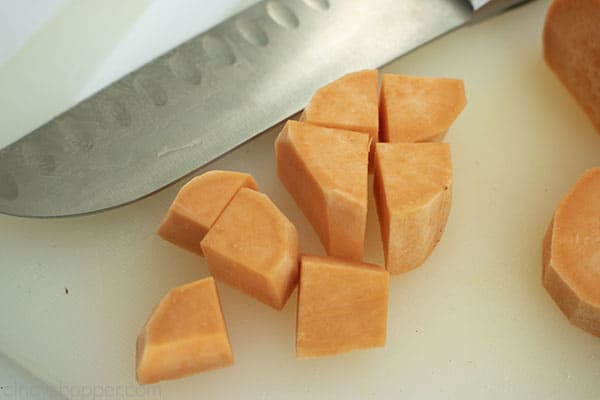 Lastly, you cut those rounds into quarters. That's how we ended up with our wedges here- depending on the size of your potatoes, you may have to cut your rounds into thirds.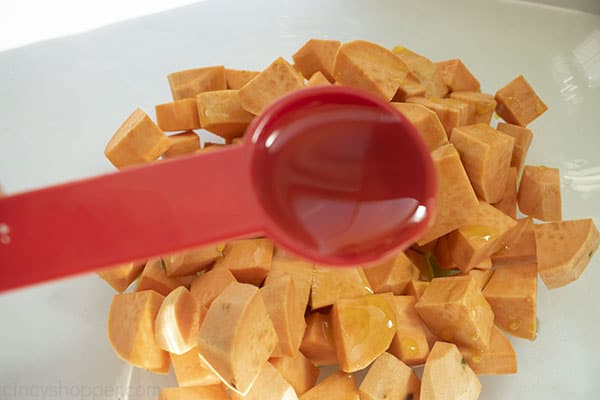 Once you've gone through and cut all your potatoes, you'll want to transfer them to a large mixing bowl. Grab your olive oil and pour a few tablespoons of it over your potatoes. Swirl and/or stir to evenly coat.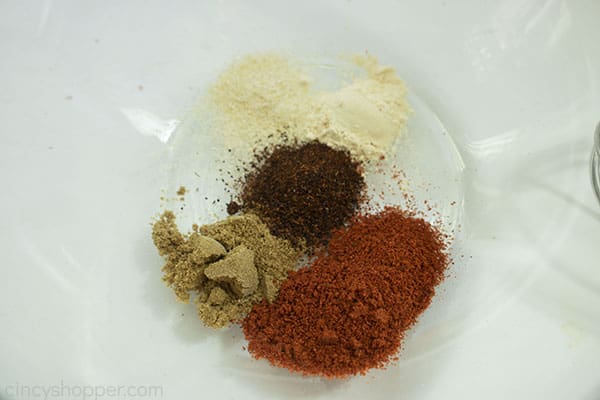 It's time to get your spices ready! Put all your spices together in a small bowl and whisk them to combine. Coat your sweet potatoes with your blended spices- tossing as necessary to get even coverage. Thankfully, that olive oil is going to help your spices stick.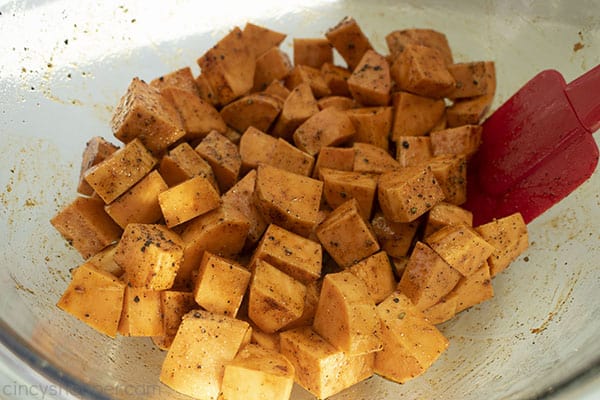 Just like that, we've finished all the prep work! All that's left to do is baking: evenly spread and space your potatoes on a large sheet pan.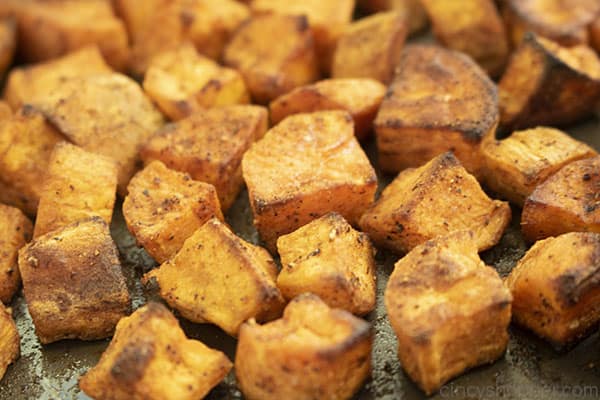 Bake them for 15 minutes before flipping and baking for another 15-25 minutes- until crispy and tender. After that, you're ready to serve and enjoy!
Roasted Sweet Potatoes
Roasted Sweet Potatoes are an easy, sheet pan side that is crispy & delicious! Pair with all sorts of chicken and pork entrées to make an amazing dinner.
Ingredients
4-5

medium Sweet Potatoes

3

tbsp

Olive Oil

1

tsp

coarse Salt

1/2

tsp

Pepper

1/4

tsp

Chili Powder

3/4

tsp

Paprika

1/2

tsp

Cumin

1/4

tsp

Garlic Powder

1/8

tsp

Onion Powder
Instructions
Preheat oven to 425.

Wash, peel and cube sweet potatoes.

Place in a large bowl.

Drizzle with olive oil and toss to coat.

In a small bowl, combine salt, pepper, chili powder, paprika, cumin, onion powder and garlic powder.

Whisk to combine.

Sprinkle seasoning over potatoes and toss to coat.

Spread potatoes evenly in a single layer on a sheet pan.

Bake for 15 minutes.

Flip potatoes and bake another 15-25 minutes, until tender.
Nutrition
Calories:
194
kcal
|
Carbohydrates:
31
g
|
Protein:
2
g
|
Fat:
7
g
|
Saturated Fat:
1
g
|
Sodium:
473
mg
|
Potassium:
508
mg
|
Fiber:
5
g
|
Sugar:
6
g
|
Vitamin A:
21428
IU
|
Vitamin C:
4
mg
|
Calcium:
45
mg
|
Iron:
1
mg