Honey Baked Ham is incredibly delicious, and it can be made right at home for a fraction of the cost. With a store-bought spiral cut ham and a few ingredients, you can makes this juicy, sweet glazed ham. It's an excellent choice for Christmas dinner!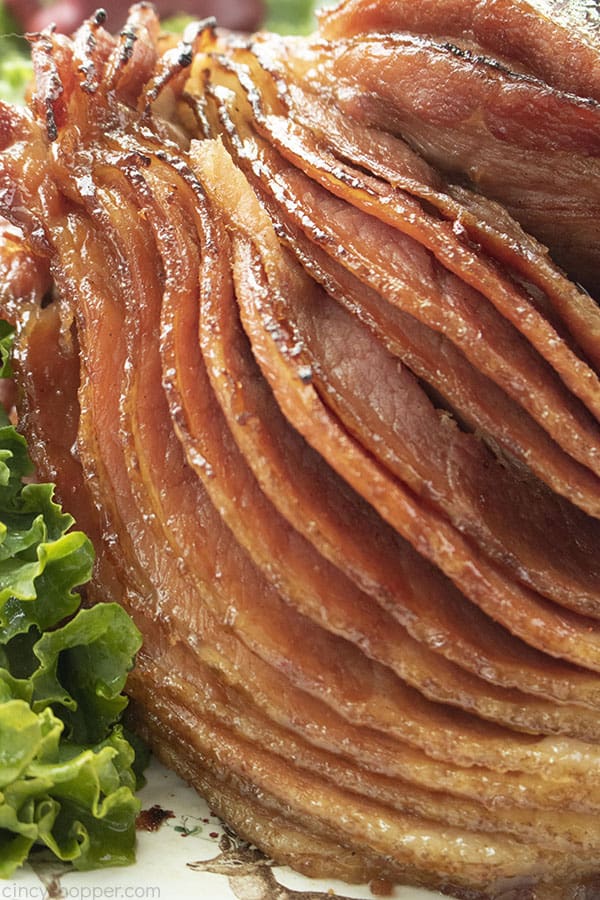 Honey Baked Ham
My family always insists we have a Honey Baked Ham for Christmas dinner. I usually purchase one for the holidays like Easter, Thanksgiving, and Christmas, it's a tradition. This year, I am making my own, and you can too!
What to serve with ham? Consider making Mashed Potatoes, Waldorf Salad or Hashbrown Casserole.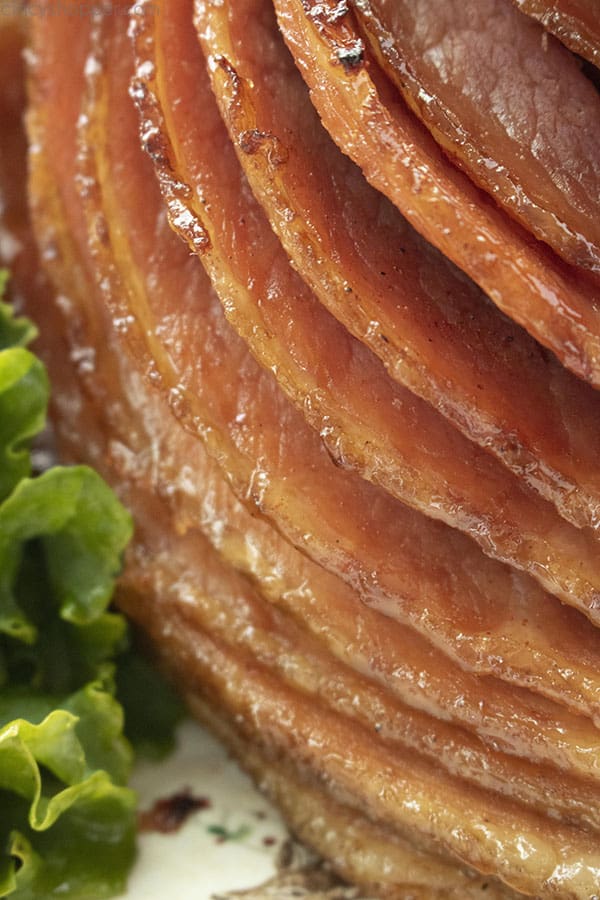 There is something special about a Honey Baked Ham. If you ask most, they would claim it's because of the sweet, crunchy crust. I will agree. I often nibble on the pieces of sweetness when I find them at the bottom of the package.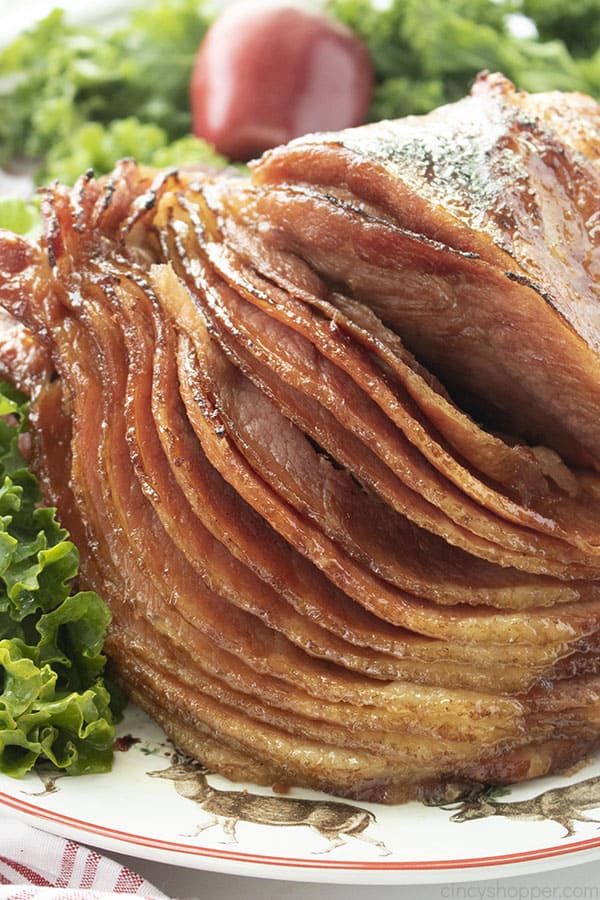 My Honey Baked Ham recipe is so simple. You will be amazed at how easy! Grab yourself just a few pantry ingredients and a store-purchased spiral ham to save yourself some dollars.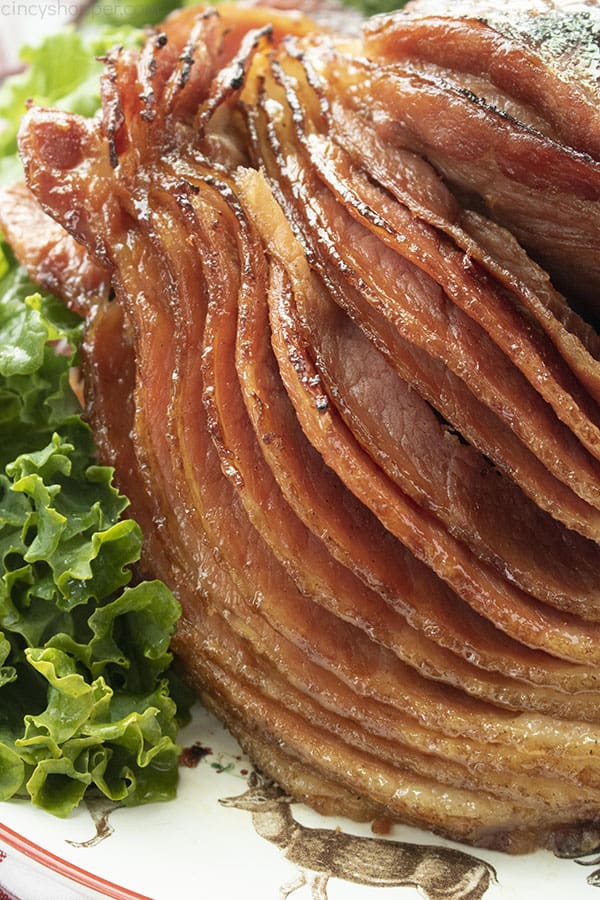 Do you have to cook a ham? Most hams found in the grocery store are ready to eat. They can be enjoyed cold or warm.
It's best to check the packaging for "fully cooked" or "pre-cooked." For this recipe, I used a bone-in pre-sliced and pre-cooked. Since it is pre-cut, the sticky glaze fills each nook and cranny!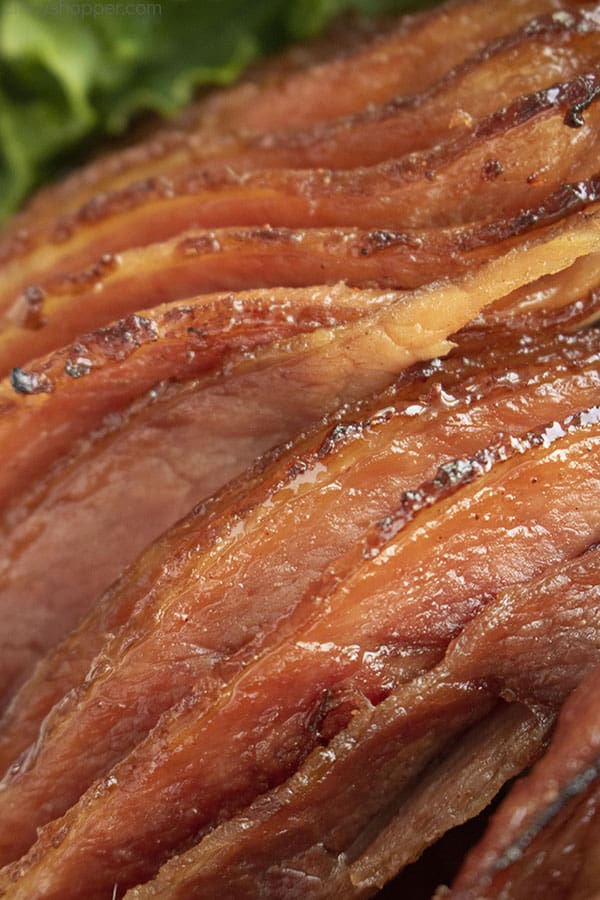 Toss the glaze or seasoning packet that may be included. We will make our own. For the first glaze, we use honey and maple syrup. Both will add flavor and keep the ham juicy.
After it has baked, an additional coating is added and broiled. This coating is quick and adds the crunchy outside you find on the expensive prepared version. It's the best part so, do not omit it.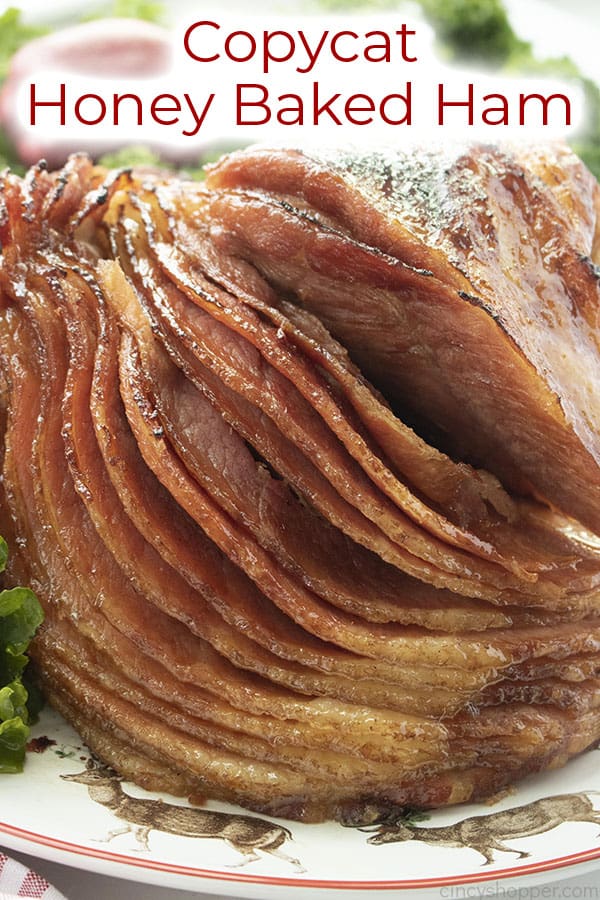 Ingredients for Honey Baked Ham
Fully Cooked Spiral Sliced Ham
Honey
Maple Syrup
Brown Sugar
White Sugar
Cloves
Nutmeg
Ground Mustard
Onion Powder
Cinnamon
Ground Ginger
Paprika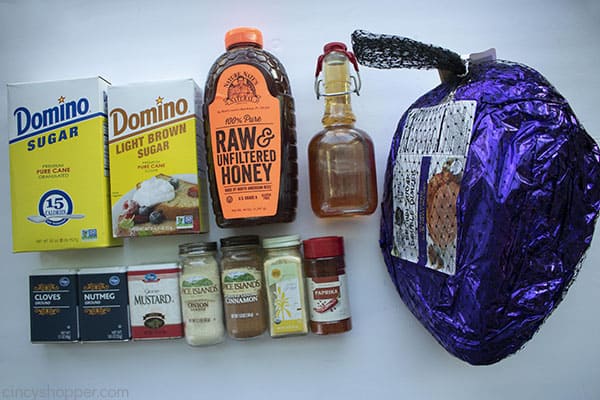 How to make Honey Baked Ham
First, preheat the oven to 350 degrees. Then, line a large pan with aluminum foil. I used my roasting pan. Next, pat the outsides dry with a paper towel to remove any juices. A dry surface will allow the toppings to stick much better.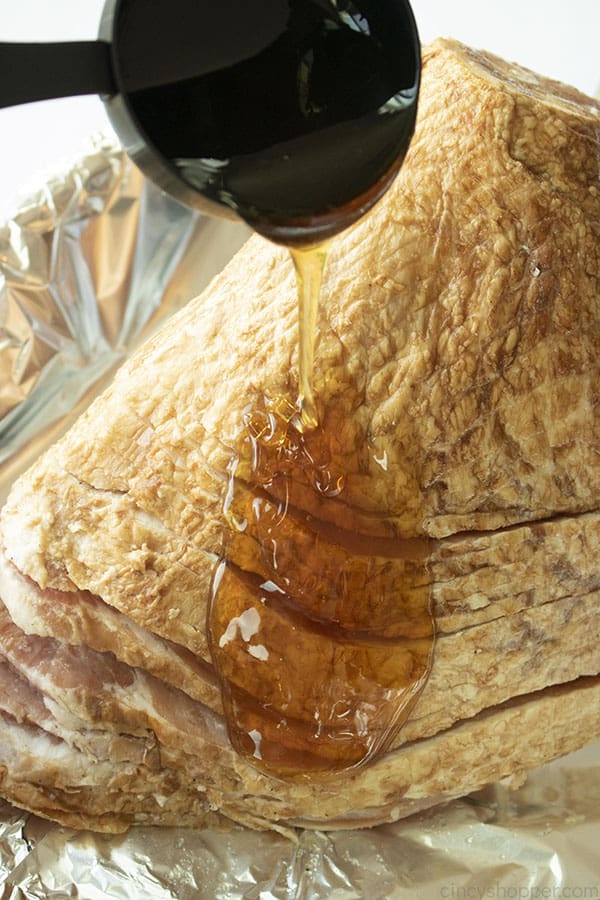 Now, place the fully cooked ham cut side down in the center of the prepared pan. Then, lather with honey. Using a basting brush works best. Coat well.
Tip: Use raw honey if possible. Not all honey is the same! In fact, most varieties found at your grocery store are not even real honey. Many contain mostly water. Skip the stuff that is not 100%!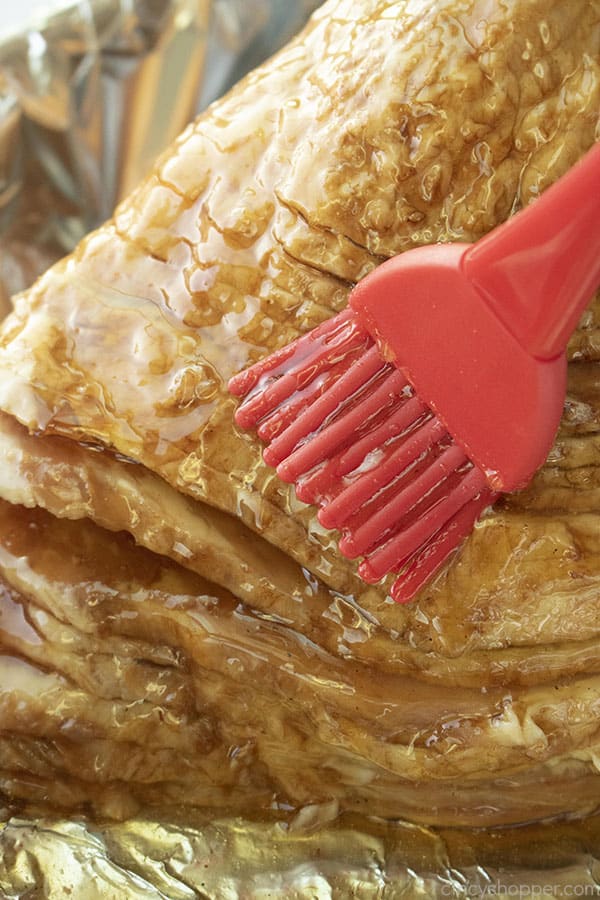 Next, coat thoroughly with maple syrup. This step, it's also best to use a basting brush.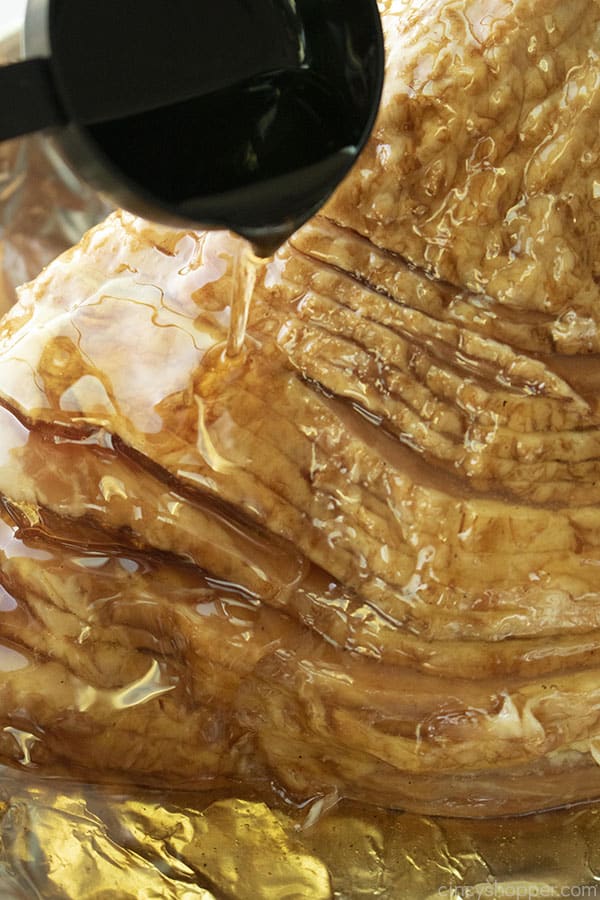 Tip: I like to use pure maple syrup. It's thicker and has more flavor. If you do not have any on hand, you could substitute with whichever variety you have.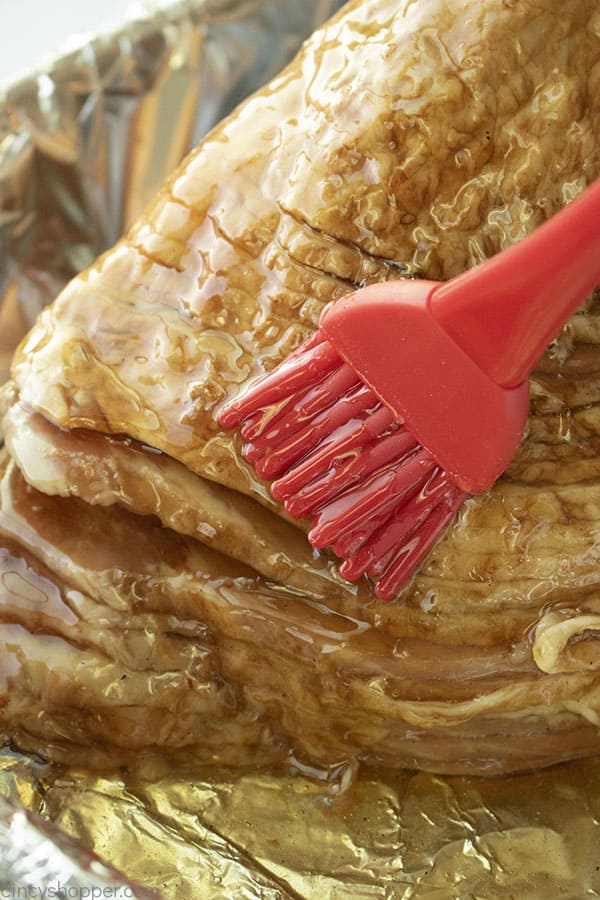 How do you cook a ham in the oven?
Cooking a ham in the oven is so easy but, the next step is crucial. Tent with aluminum foil. You will need multiple large pieces of foil to create a tent. This process keeps it from becoming too dry when baking in the oven.
Next, it's time to bake. Baking time will depend on the size of your ham. The internal temperature should reach 140 degrees before moving on to the next step.
Mine was about 9 pounds and was ready to remove from the oven after 2.5 hours.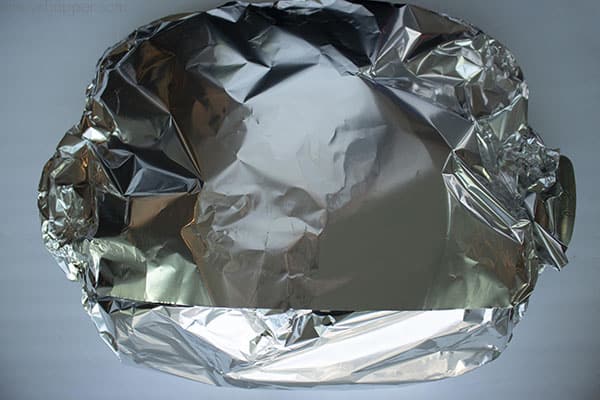 In a medium saucepan, combine the sugar, brown sugar, cinnamon, nutmeg, dry mustard, paprika, cloves, and remaining maple syrup. Give it a quick whisk! Then add either water or pan drippings and bring to a boil. Continue to boil for 30 seconds.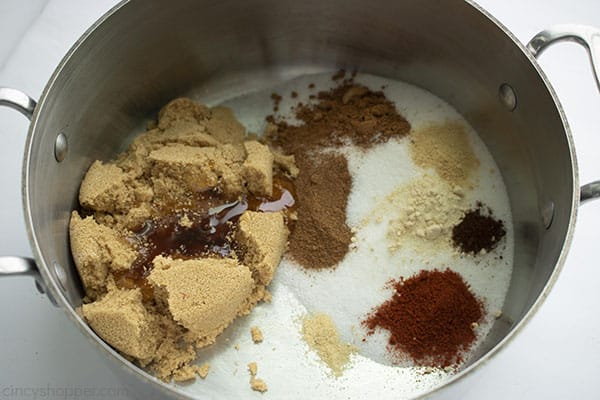 Now, after you have removed the ham from the oven, toss the aluminum foil as it is no longer needed. Coat the cooked ham with the sugar glaze mixture. A basting brush works best for this too!
For the last step, kick the oven on to broil option. If a broil feature is not available, turn it up to the highest temperature, which is usually 500 degrees.
Place under the broiler until coating starts to slightly brown. You MUST watch very closely, being extremely cautious not to burn.
Tip: Feel free to use a blow torch. I prefer the broiler.
Finally, let the HoneyBaked ham rest for about 10 minutes before serving. You can serve warm or at room temperature.
What to make with leftover ham? Consider some of these options found on Taste of Home!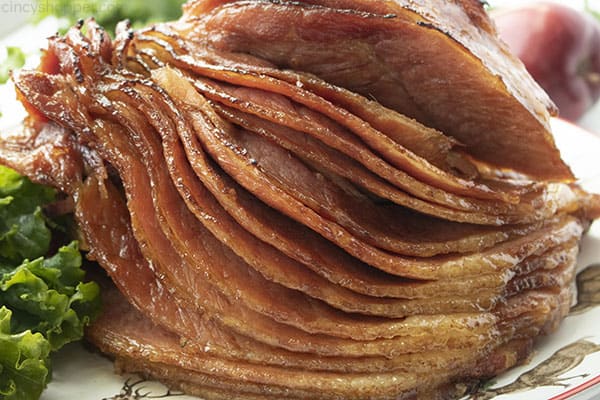 Honey Baked Ham
Honey Baked Ham is incredibly delicious, and it can be made right at home for a fraction of the cost. Get a ham and give it a try.
Ingredients
9

lb

approximate Spiral Sliced Ham

1/2

cup

Honey

6

tbsp

Maple Syrup

divided

1

cup

Brown Sugar

1

cup

Sugar

1/8

tsp

Ground Cloves

1/2

tsp

Nutmeg

1/8

tsp

Ground Mustard

1/2

tsp

Onion Powder

1

tsp

Cinnamon

1/4

tsp

Ground Ginger

1/2

tsp

Paprika

1/2

cup

Water or Drippings
Instructions
Preheat the oven to 350 degrees.

Line a large pan with aluminum foil.

Pat down and dry the outside of the ham with paper towels.

Place the ham cut side down in the pan.

Drizzle honey over the ham, using basting brush to get in the nooks and crannies.

Repeat this process with 1/4 cup of the maple syrup.

Tent the ham with aluminum foil and bake until internal temperature reaches 140 (about 2 1/2 hours).

In a medium saucepan, combine the sugar, brown sugar, cinnamon, nutmeg, ground mustard, paprika, cloves, remaining maple syrup and water (or drippings).

Cook over medium heat, whisking to combine.

Bring to a boil for 30 seconds then remove from heat. Set aside.

Remove ham from oven and dispose of foil.

Change oven to broil.

Drizzle glaze from saucepan over ham and spread with basting brush.

Place under broiler watching carefully and remove when coating begins to brown.
Nutrition
Calories:
1239
kcal
|
Carbohydrates:
64
g
|
Protein:
88
g
|
Fat:
69
g
|
Saturated Fat:
24
g
|
Cholesterol:
253
mg
|
Sodium:
4855
mg
|
Potassium:
1233
mg
|
Fiber:
1
g
|
Sugar:
62
g
|
Vitamin A:
8
IU
|
Vitamin C:
1
mg
|
Calcium:
64
mg
|
Iron:
4
mg