Red White and Blue Popsicles are flavored with blueberries & strawberries. These ice pops are great for Memorial Day or the 4th of July!
Fruity popsicles are delicious during the summer months- so colorful too! For more patriotic desserts, try our 4th of July Firecracker Jell-O Cups or our American Flag Cake.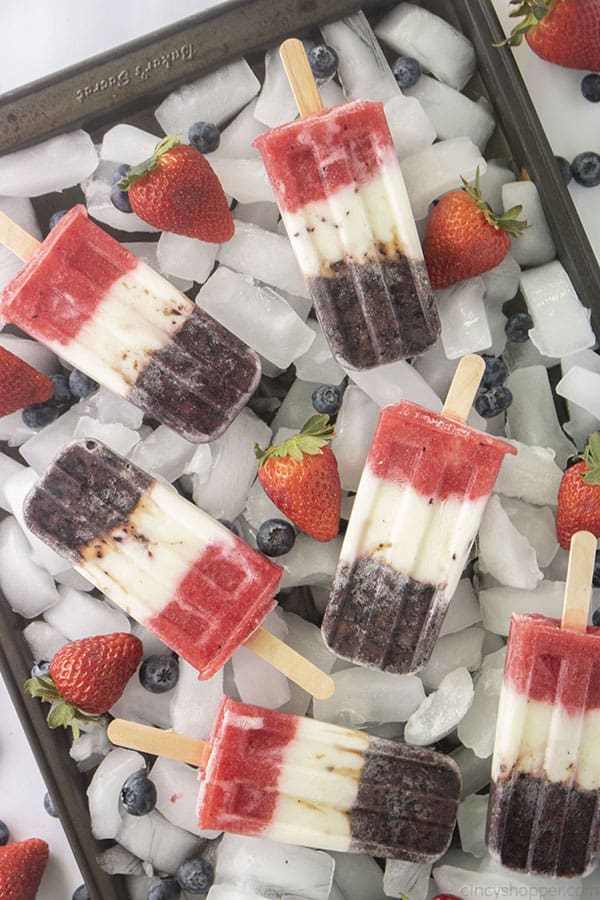 Red White & Blue Popsicles
With the summer season coming up, I'm always eager to try out all sorts of delicious cold and frozen recipes. While no-bake cheesecakes and homemade ice creams are always tasty and fun, sometimes I just need a fruity popsicle. If you need a frozen treat that's perfect for the kids this 4th of July or Memorial Day, try these homemade Red White and Blue Popsicles!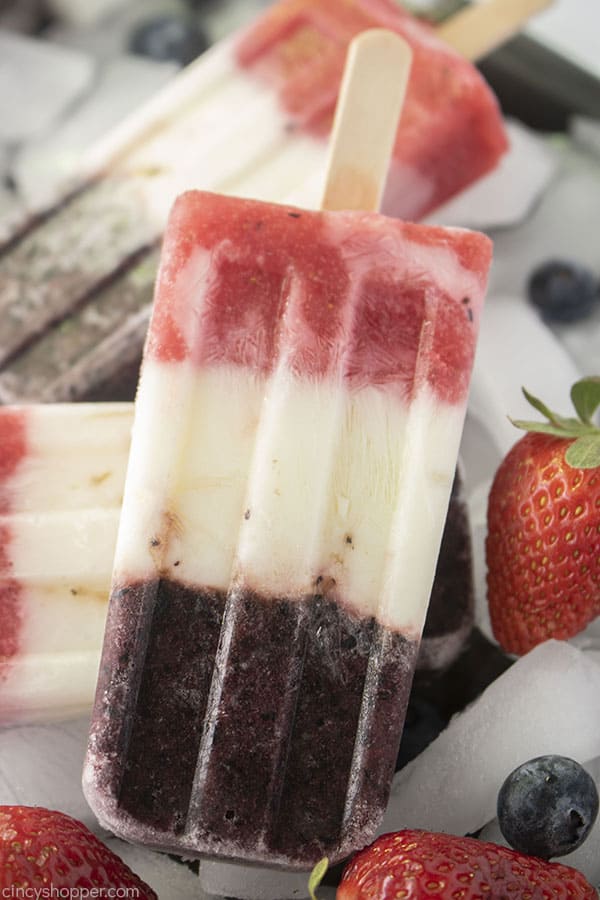 These things look something like a classic Firecracker Popsicle or a Boom Pop Popsicle. The big difference is that our popsicles are made with fresh fruit purees- no weird artificial syrups or anything! Though these things taste so good you wouldn't think they're so good for you. Using these fresh fruit purees not only brings genuine fruity flavor to our pops but also brings all the health benefits that come from the berries we use.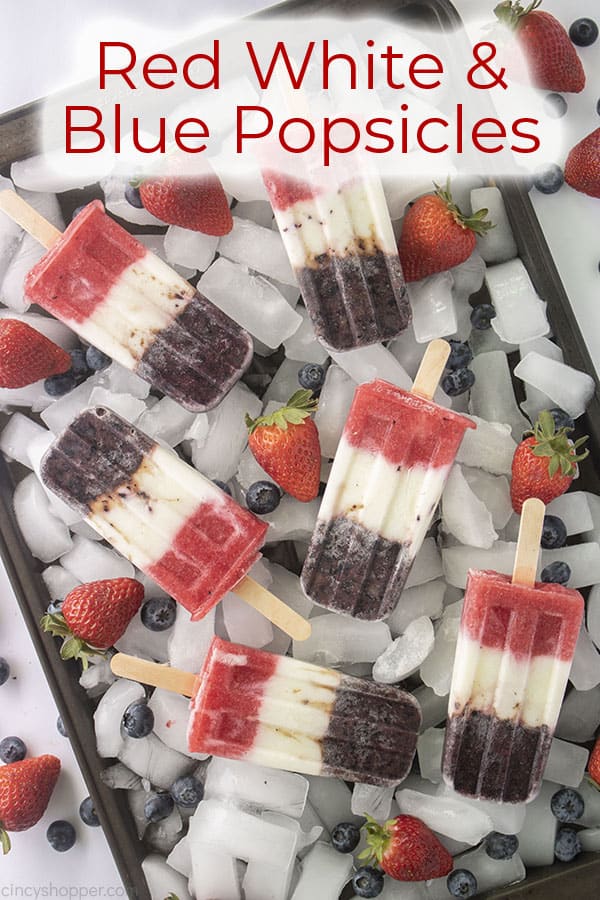 Whether you're making these for the kids or for yourself, we know you're gonna love these Red White, and Blue Popsicles! Homemade popsicles are so easy to make and- when the end product is as delicious as this- they're well worth the wait. Hope you enjoy it!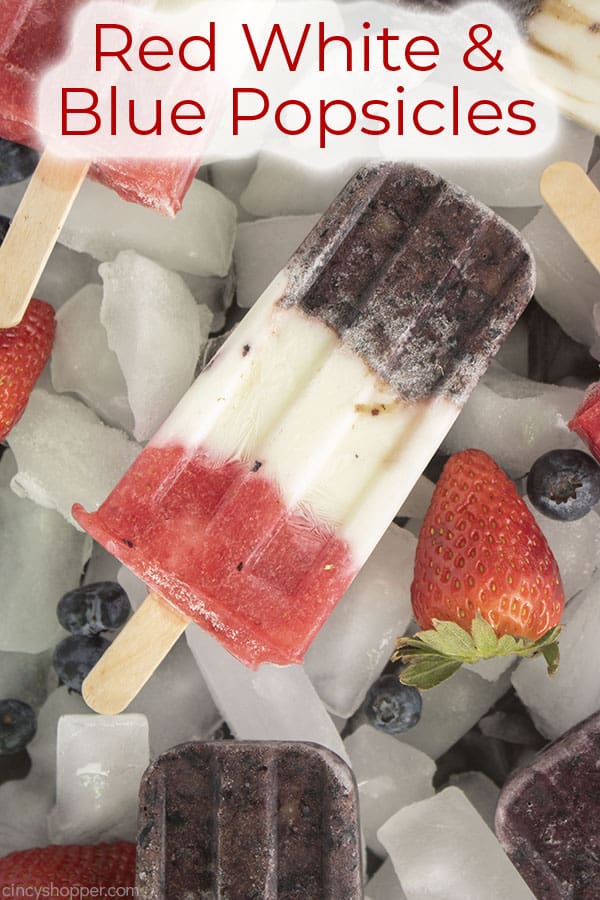 Enjoyed our recipe? Try these popsicle recipes next!
If you're looking to keep things fruity, try our

Pineapple Orange Pops

next. All you need is some canned pineapple and some orange juice for this easy popsicle recipe! The perfect flavor combo that's great for a pool party or

just

any hot summer's day.

Want something a bit more chocolatey? Give our

Homemade Fudgesicles

a taste!

Making these is as simple as prepping your filling on the stovetop, filling your molds, and letting freeze

. A nice, cool way to

satisfy

those chocolate cravings during the summer months.

Speaking of chocolate, cookies, and creme anyone? Our

Easy Oreo Pudding Pops Recipe

is an absolute treat that you

just

have to try! Simple to make with some Oreo cookies and some white chocolate pudding mix- freeze up quick and are a joy to eat.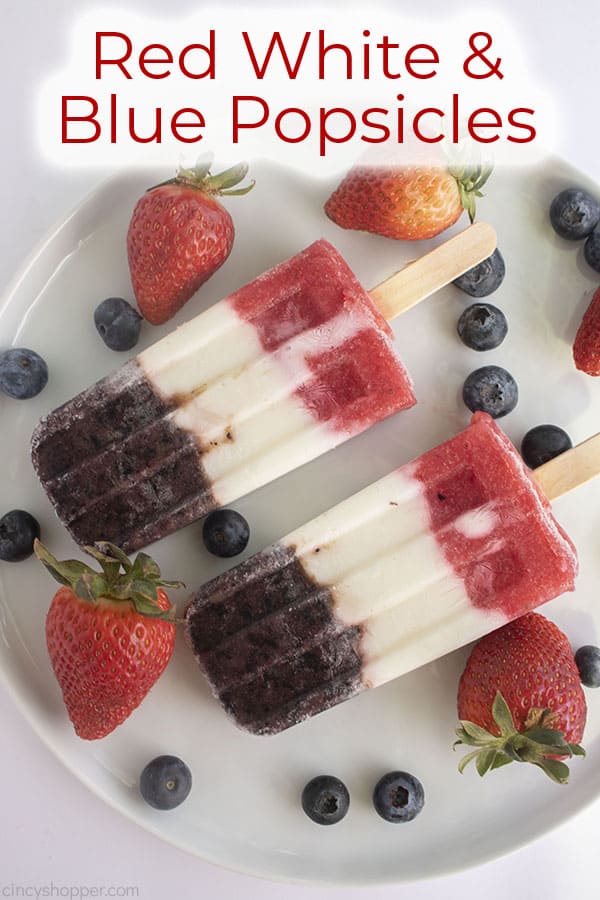 Ingredients for our Red White and Blue Popsicle Recipe
Blueberries

Yogurt

– Plain yogurt will work best here.

Honey

– You can,

optionally

, omit the honey and replace the yogurt with a flavored one.

Strawberries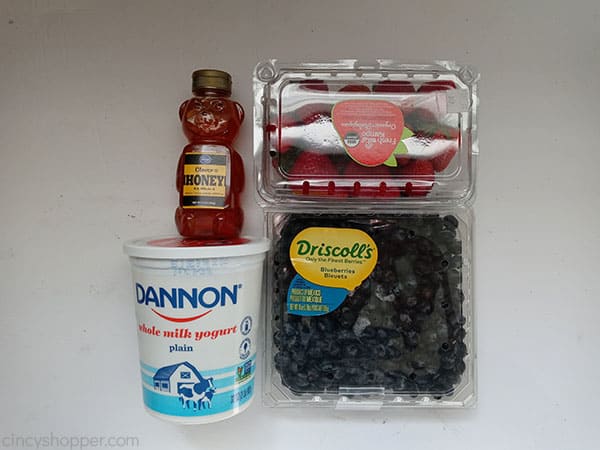 How to make Popsicles
Making homemade popsicles is real easy- not hard at all! Here's what you'll need to do:
Blend your blueberries into a puree

using a blender or food processor.

Add to your popsicle molds

.

Mix your yogurt and honey

well until

fully

combined.

Add to your popsicle molds

.

Blend your strawberries into a puree

before

adding to your popsicle molds

.

Add popsicle sticks

and

allow to freeze for 30 minutes

.
These layered popsicles are easy to put together. Start with the blueberry layer at the bottom. Add your blueberries to a blender or food processor and pulse them into a smooth puree. Add about 2-3 tbsp of this puree to each of your popsicle molds.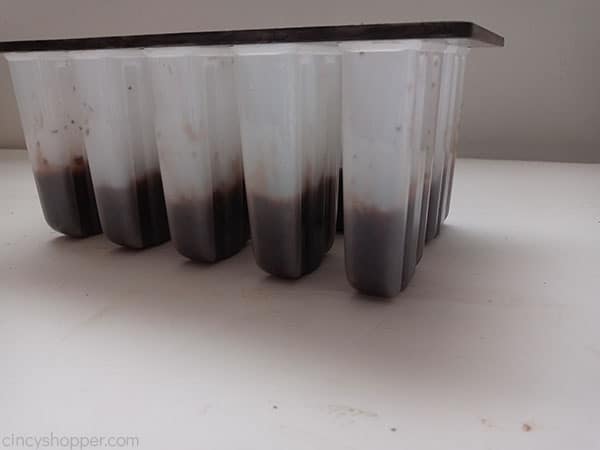 Next up is the white layer- for this, we'll just do a honey yogurt. In a mixing bowl, combine your yogurt and honey and mix well to combine.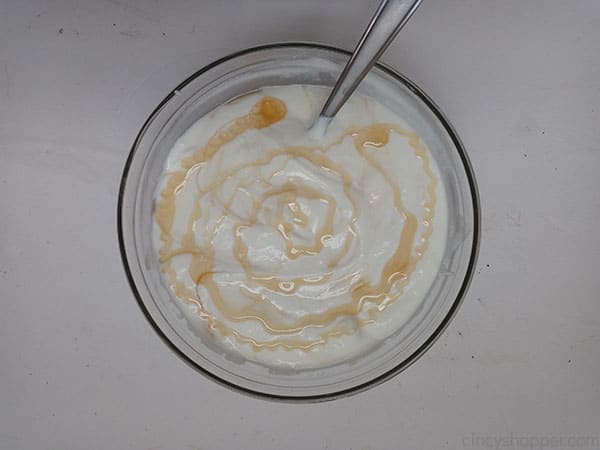 Again, add 2-3 tbsp of your yogurt to each popsicle mold before moving on to the strawberries. For those, puree them just like the blueberries. Once smooth, add 2-3 tbsp to each popsicle mold.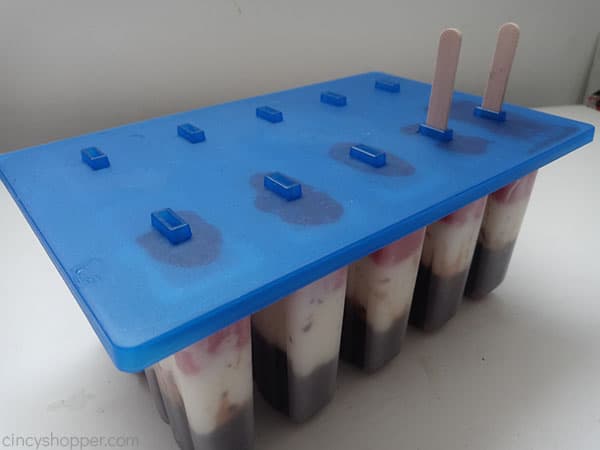 All that's left is to add the lid to your mold- if it has one- and insert your popsicle sticks. Pop those into the freezer, wait until they're frozen solid, and enjoy!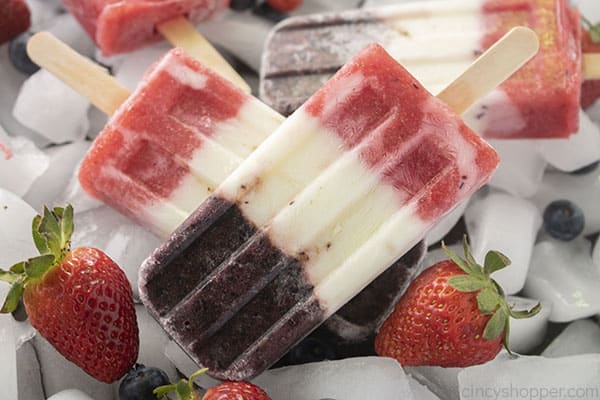 How long do popsicles take to freeze?
It mostly depends on how cold your freezer is. It could take as short as 4 hours or as long as overnight. Expect your popsicles to take about 6-8 hours in the freezer. Once frozen, your popsicles should last about 6-8 months in the freezer.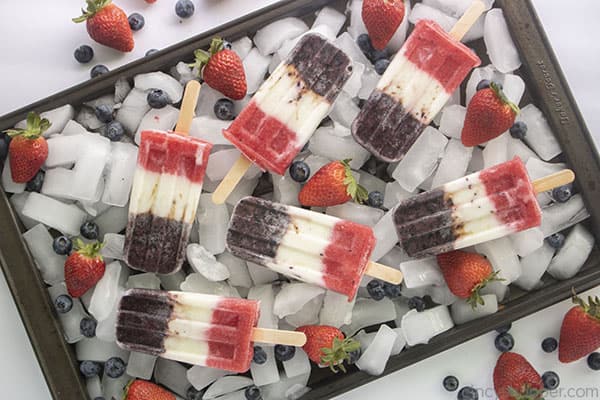 Flavors for Red White and Blue Popsicles
You could use all sorts of different fruits and flavors for your Red White and Blue Popsicles. Here are
just
a few suggestions:
Red

– Plenty of delicious red fruits out there! Cherries are an easy place to start, but you can also try using raspberries or cranberries. For some more interesting picks, consider watermelon, pomegranate, or

maybe

some red grapes!

White

– If you stick to using our yogurt base, you could experiment with all sorts of flavors here! Of course, you could start using other off-the-shelf yogurt flavors. You can also try mixing flavors into plain yogurt yourself.

Blue

– While blueberries will give you the best blue color, you can try a few other fruits and use a bit of blue coloring to coax them in the right direction

. Try blackberries, elderberries, or some currants.

Firecracker Popsicle

– The classic Firecracker Popsicle uses a flavor combo of cherry, white lemon, and blue raspberry

.

While you can sub in cherries for the strawberries and use some lemon yogurt, the blue raspberry is going to be tough

.

Either stick with blueberries or try using raspberries and plenty of blue food coloring

. For a Boom Pop Popsicle CopyCat, use lime instead of lemon.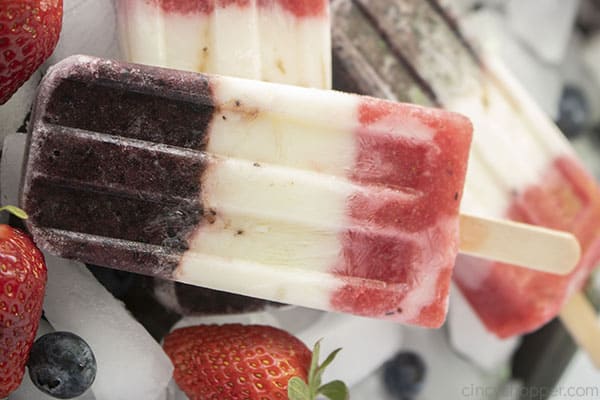 Red White and Blue Popsicles
Red White and Blue Popsicles are flavored with blueberries & strawberries. These ice pops are great for Memorial Day or the 4th of July!
Ingredients
1

cup

Blueberries

2

cup

Plain Yogurt

3

tbsp

Honey

2

cup

Strawberries
Instructions
Pulse blueberries in a food processor until pureed.

If the mixture is too thick add a bit of water and pulse to blend.

Fill each mold 1/3 full with blueberry puree.

Place in the freezer for 20 minutes until just firm.

In a bowl, combine yogurt and honey and mix until blended,

Fill next 1/3 of the mold with yogurt mixture.

Place in the freezer for 20 minutes until just firm.

Hull and slice strawberries.

Pulse strawberries in the food processor until pureed.

Fill final 1/3 of the mold with strawberry puree.

Insert popsicle sticks into the center of each mold and freeze for 2 hours or until solid.
Notes
You can substitute vanilla yogurt and omit the honey.
Honey should not be given to infants under 1 year of age.
Nutrition
Calories:
67
kcal
|
Carbohydrates:
12
g
|
Protein:
2
g
|
Fat:
2
g
|
Saturated Fat:
1
g
|
Cholesterol:
6
mg
|
Sodium:
23
mg
|
Potassium:
135
mg
|
Fiber:
1
g
|
Sugar:
10
g
|
Vitamin A:
60
IU
|
Vitamin C:
19
mg
|
Calcium:
65
mg
|
Iron:
1
mg