This Red, White, and Blue American Flag Cake is going to be perfect for 4th of July dessert. We start with a strawberry poke cake and then add Cool-Whip, fresh blueberries and strawberries. It's simple to make. Great for all summer picnics, Memorial Day and Labor Day too!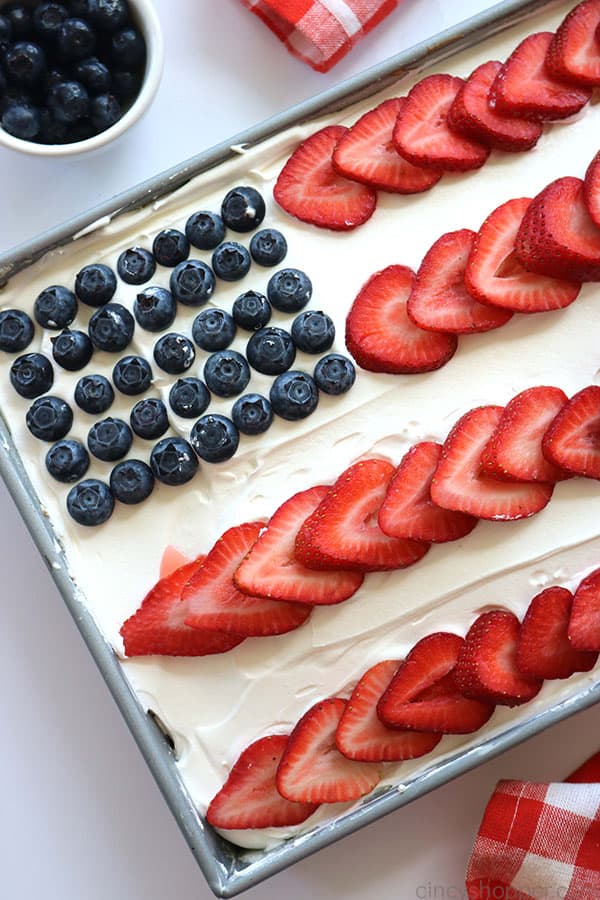 American Flag Cake
Poke cakes have been quite popular for years. My family really enjoys my Boston Cream Poke Cake, Caramel Apple Poke Cake, and also in the fall a delicious Pumpkin Caramel Poke Cake. Several American holidays are quickly approaching and this American Flag Cake is the perfect addition to any party. Such a fun holiday dessert. The recipe is easy and has red, white and blue colors. The fresh fruit and Cool-Whip topping keep the cake light which is great for hot summer days. I have something to say about mixing fruit in with the cake, it's delicious. All berries are in season right now too! Strawberries, blueberries, and even raspberries can help make a colorful cake for a Fourth of July dessert.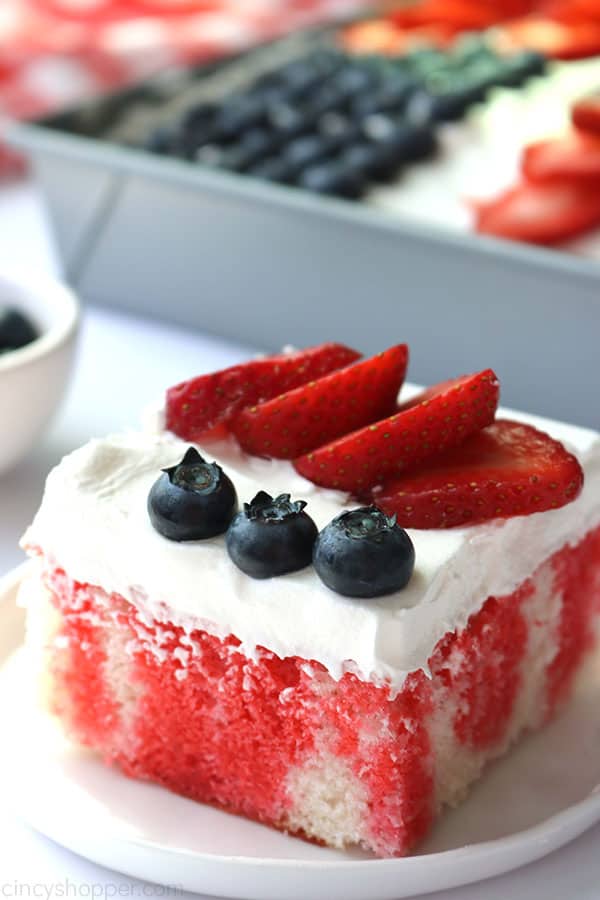 Do you see how the cake with the strawberry Jello mixes together? That is the power behind a poke cake. If you don't know much about poke cakes, they're actually quite easy.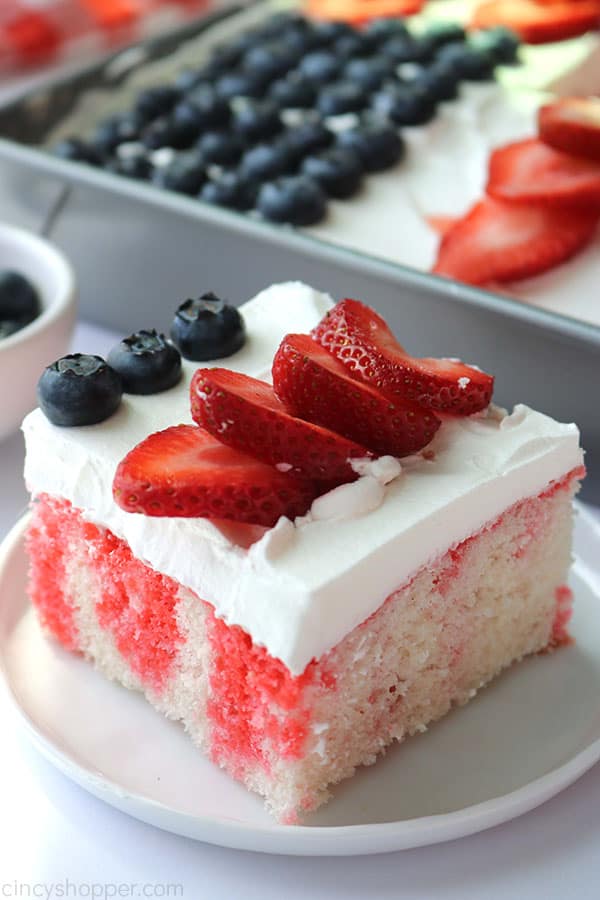 What are Poke Cakes?
A poke cake is simply a baked cake that you poke holes in. After you poke the holes in the cake, the cake is then filled with a liquid of some sort. In this case, we use Strawberry Jello for our American Flag Cake. Of course, other yummy things can be put in the holes too. Think puddings, strawberry filling, chocolate, and even pureed fruit.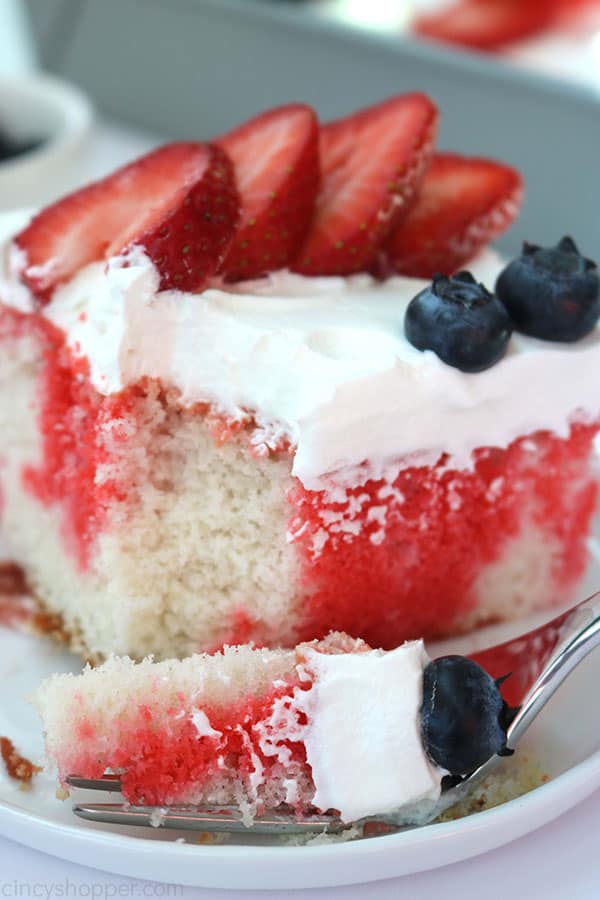 Many poke cakes are topped with whipped topping, like this American Flag Cake. Many other poke cake recipes call for a traditional buttercream frosting. You could consider making a simple cheesecake frosting or even purchasing store-bought to keep this cake simple. The whiter the topping, the better. White makes the color from the berries pop.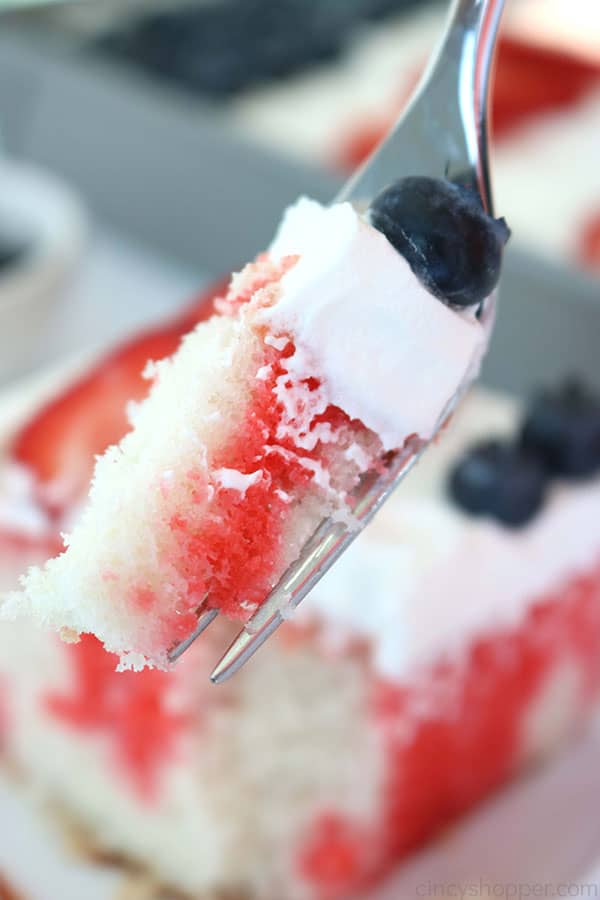 As you can see, the finished product is a beautiful one. The whipped topping, fruit, and cake all taste delicious. If you were to show up at a party with this cake, I think you'd be considered a hero for the day. Yes, it's an eye-catcher and is quite tasty.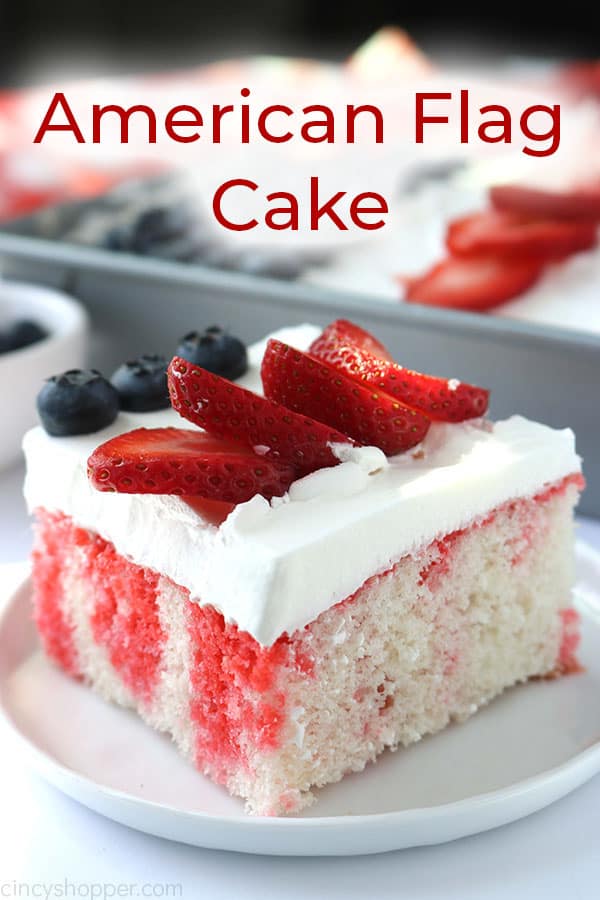 If you're looking for recipes that will rock your holidays, check out these other red, white and blue desserts I have shared: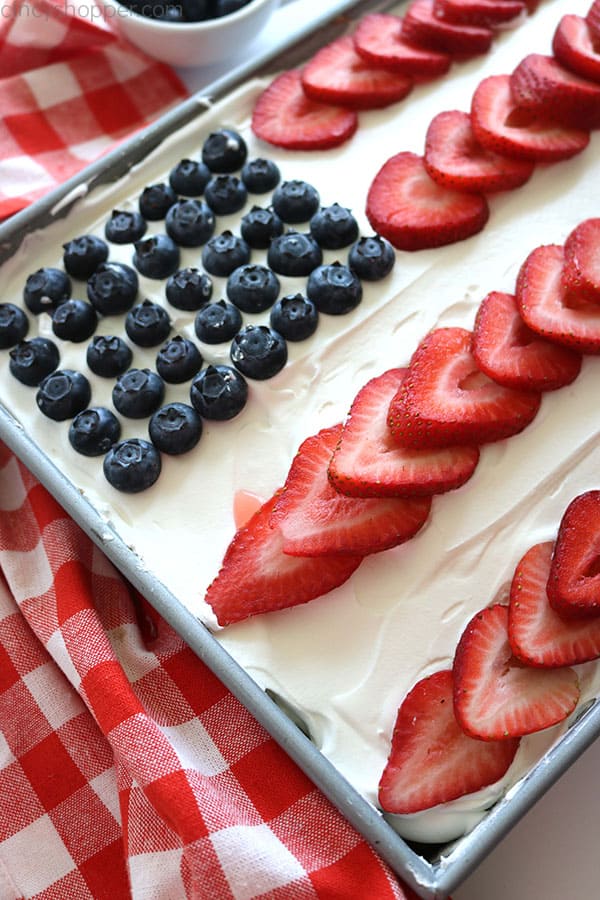 How to Make American Flag Cake
The start of this recipe requires that you prepare a boxed cake mix. I suppose you could make a homemade white cake too. But, I like to keep these cakes simple and less time-consuming. Be sure to follow the directions on the box. If your mix calls for whole eggs, only use the whites. The yolk from the egg will give your cake a yellow tint and we want the cake to be as white as possible.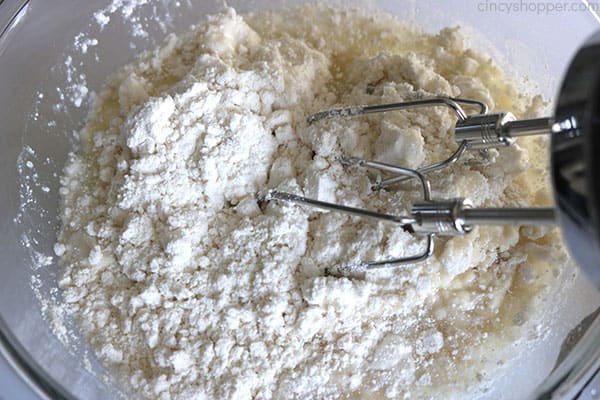 Next, you'll pour the batter in a greased and floured 9X13 cake pan. While you could make it in a circle pan, it may not have the same visual appeal as a rectangular pan would.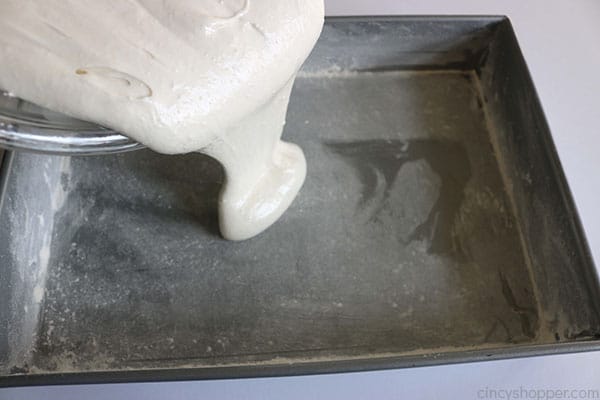 While the cake is baking, I slice the strawberries lengthwise. Yes, you will also find me filling my mouth with all these wonderful berries.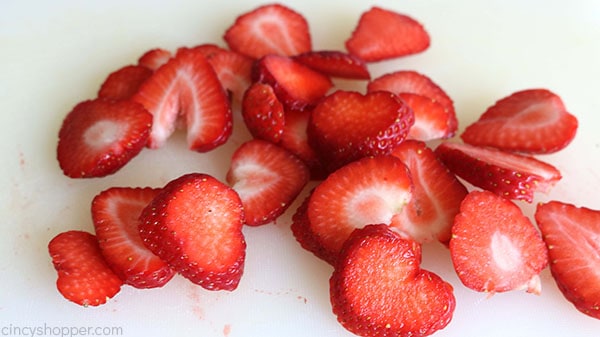 After the cake is pulled from the oven to cool, this is where you prepare the Jello. We use 1 cup of boiling water and whisk until dissolved. Then add 1/2 cup of cold water, whisk a bit more.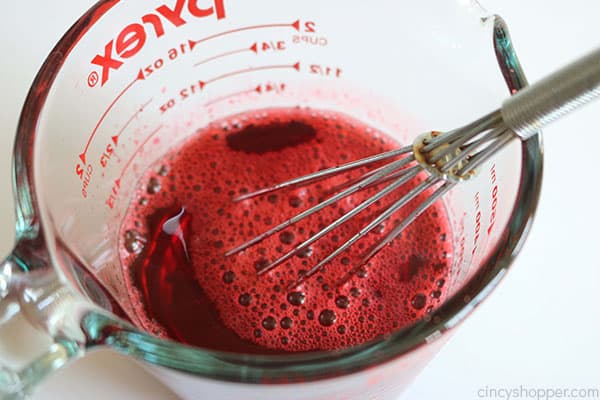 You can let your kids help you with this part of the poke cake. Using a fork, holes are poked in the cake. This is simple, and fun. I add quite a few holes. Poking more allows the red Jello to be more visible.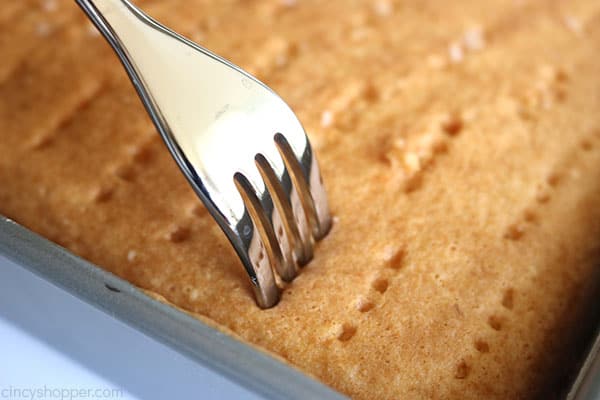 Ah! Now pouring the Jello into the holes, this is fun! Watch as the liquid disappears into the holes. Of course, the final product is even cooler.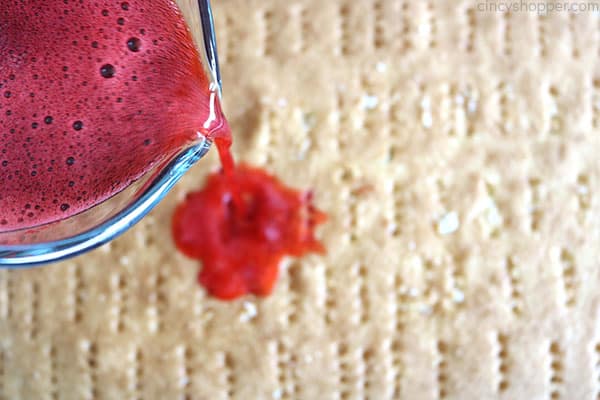 After adding the Jello, I like to chill the cake. Chilling allows the Jello to set into the holes and set.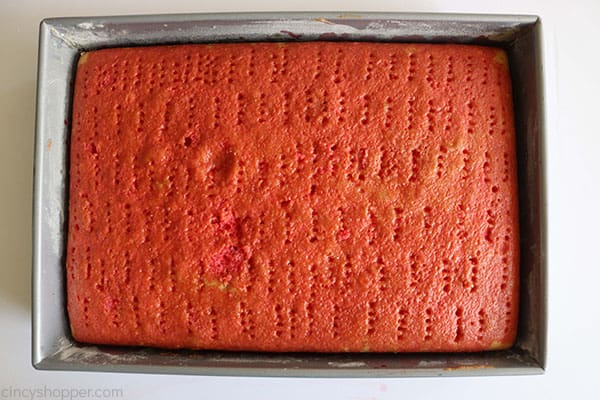 I use Cool-Whip for this poke cake. Homemade whipped topping could be used as well. I prefer stabilized Cool-Whip for summer parties as it stays stabilized with the hot weather for much longer than traditional whipping cream.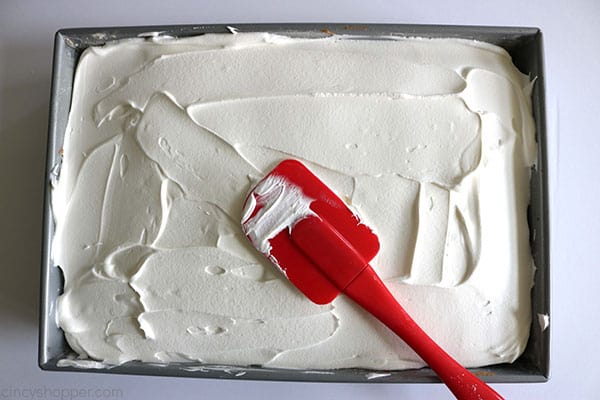 Now the blueberries are going on. You get to channel your inner kiddo and place berries on the cake. Not only do the berries look yummy, but they are also going to help the cake taste delicious too.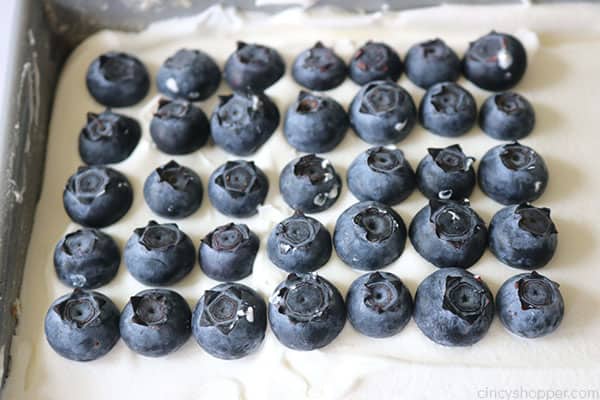 Those strawberries that you cut up earlier are going to be put to work here. This is truly where this Fourth of July cake becomes a work of art. So patriotic!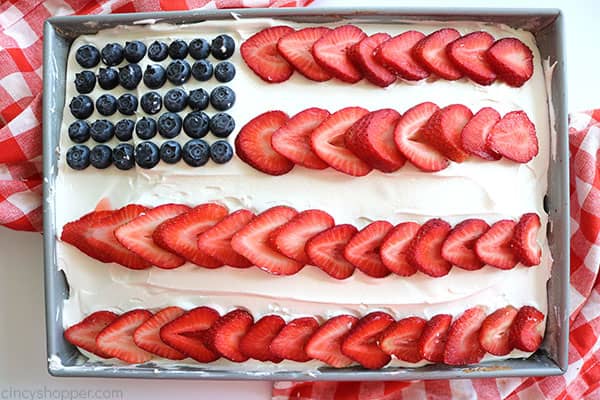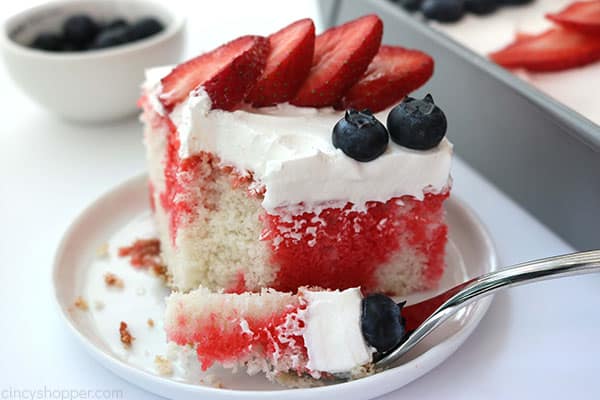 American Flag Cake
This Red, White, and Blue American Flag Cake is going to be perfect for 4th of July dessert. We start with a strawberry poke cake and then add Cool-Whip, fresh blueberries and strawberries. It's simple to make. Great for all summer picnics, Memorial Day and Labor Day too!
Ingredients
1

box

White Cake Mix

plus box ingredients

1

cup

Water

boiling

1

box

3 oz Strawberry Jello Mix

1/2

cup

cold Water

8

oz

Frozen Whipped Topping

thawed

1

pint

Blueberries

1

quart

Strawberries
Instructions
Prepare cake mix (using directions for egg whites only) in a 13x9" cake pan.

Allow to cool for 20 minutes.

Mix Jello mix with boiling water in a large cup.

Add cold water and mix well.

Poke top of your cake all over with a fork.

Gradually pour Jello mixture over the whole cake.

Place in refrigerator for 30 minutes to finish cooling.

Spread whipped topping evenly over top of cake.

Place about 5 rows of 7 blueberries each in the top left corner of the cake.

Hull and slice your strawberries lengthwise.

Add rows of overlapping strawberries to create the red stripes for the cake.

Refrigerate cake for another hour before serving.
Nutrition
Calories:
276
kcal
|
Carbohydrates:
51
g
|
Protein:
3
g
|
Fat:
7
g
|
Saturated Fat:
2
g
|
Monounsaturated Fat:
3
g
|
Trans Fat:
2
g
|
Cholesterol:
3
mg
|
Sodium:
307
mg
|
Potassium:
171
mg
|
Fiber:
3
g
|
Sugar:
30
g
|
Vitamin A:
64
IU
|
Vitamin C:
50
mg
|
Calcium:
95
mg
|
Iron:
2
mg
Adapted from: Betty Crocker!