Pineapple Casserole might sound odd but it is delicious! This is a classic Southern dish that's great as a side or dessert paired with ham.
This Southern side is perfect for all of your favorite holidays- Thanksgiving, Christmas, or Easter! Serve up with some Slow Cooker Ham and any of your favorite holiday side dishes.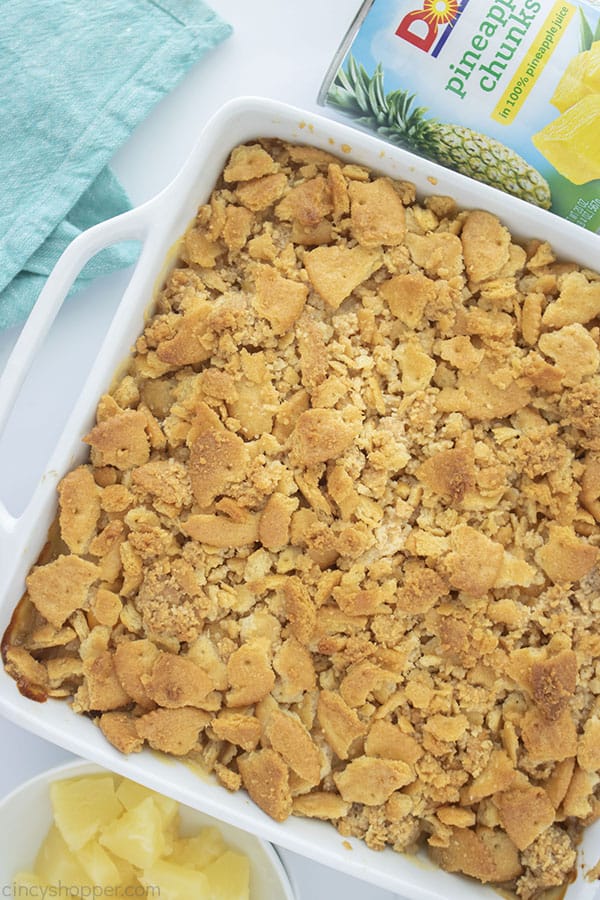 Pineapple Casserole
This may seem like one of those weird recipes that just shouldn't work. Cheese, pineapples, and crackers- shouldn't those be seperate on something like a cheese board? It looks and sounds weird… but you have to trust me on this one: the flavors in this baked pineapple dish are amazing! Whether you need a side dish to go with your ham this Easter or you're looking for a new southern recipe to try, this recipe for Pineapple Casserole is worth a look.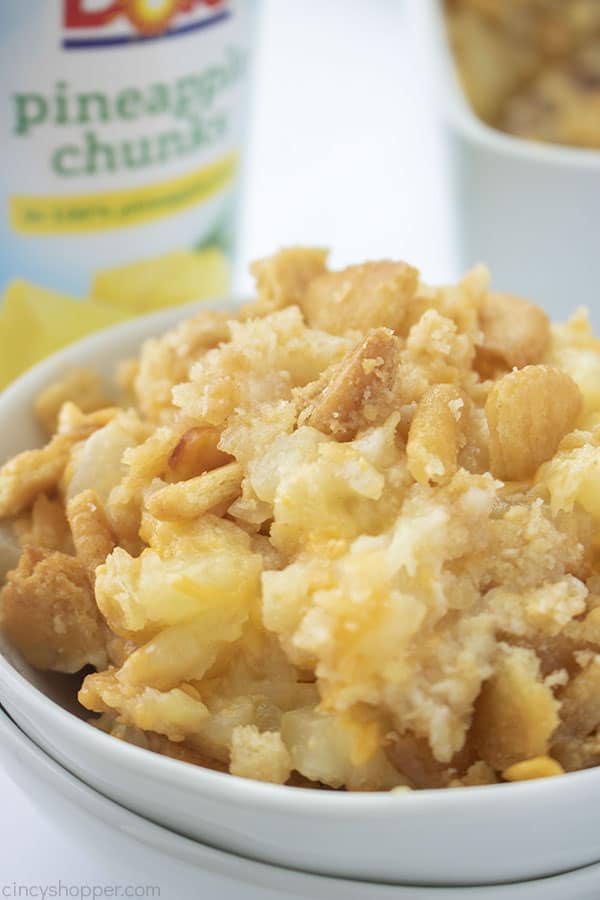 Let's get some of the easy stuff out of the way: this is a very simple recipe to make. The ingredients list is nice and short and the prep is way easy- it's a casserole, after all. You just gotta throw your filling together, add your topping, and let everything bake. I love that- easy prep for a delicious dish! I wish I could fully describe the taste to you- but it's something you really have to try to understand. It's sweet, with a bit of saltiness, and a little bit of a creamy texture to it.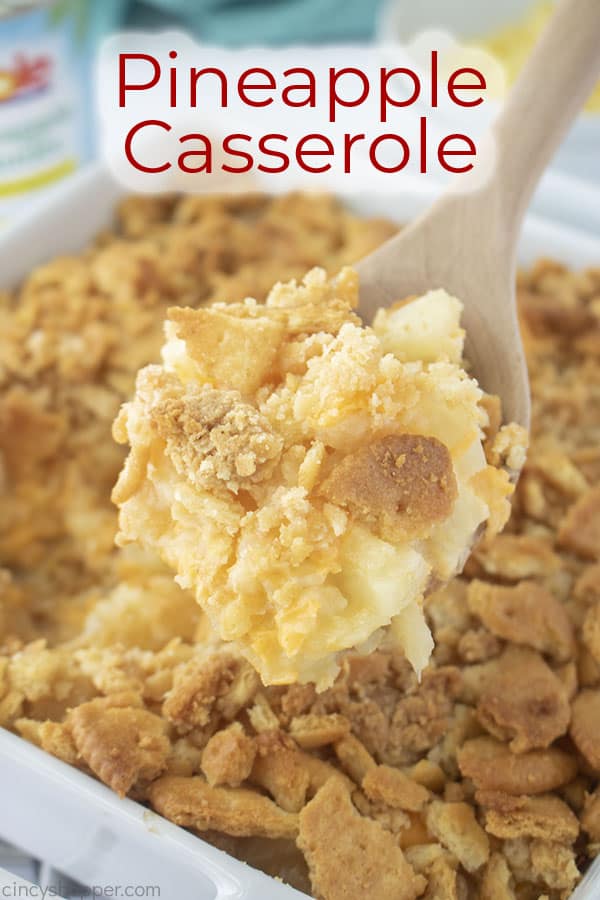 Like we said, this would make for an excellent Easter side dish or maybe even a dessert. Pineapple dishes pair really well with ham and this recipe is no exception. It looks weird but, seriously, this is a special recipe that you just have to try! We know you're going to love it!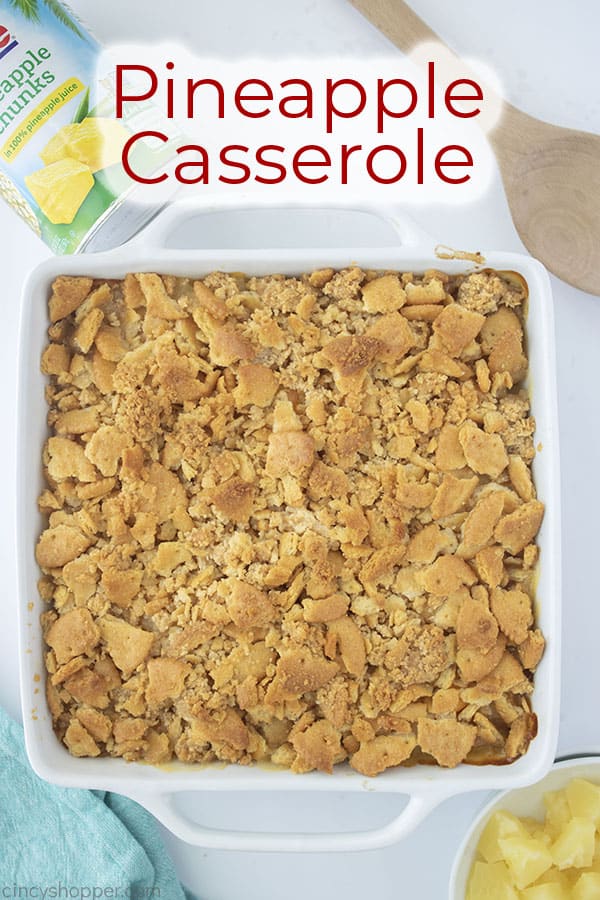 Loved this recipe? Try these cheesy casserole recipes next!
Our

Cracker Barrel Hashbrown Casserole

is perfect for breakfasts or as a dinner side!

Loaded up with cheese and all sorts of creamy ingredients, it's great if you're needing some delicious comfort food

. A must-make dish for potlucks or serving large crowds.

Funeral Potatoes

are another delicious cheesy potato dish you're going to love.

It's got a similar delicious filling to our hash brown casserole- with a few added spices- with a crispy cornflake topping

! Despite the grim name, this tasty recipe might be your new favorite.

Even veggie haters are going to love this recipe for

Asparagus Casserole

. Eating your greens can be a bit of a chore… but not when you serve them up in a delicious cheese sauce!

We could've stopped the recipe right there but we decided to top it all off with a crispy parmesan and bread crumb topping

. Let that all crisp up under a broiler- delish!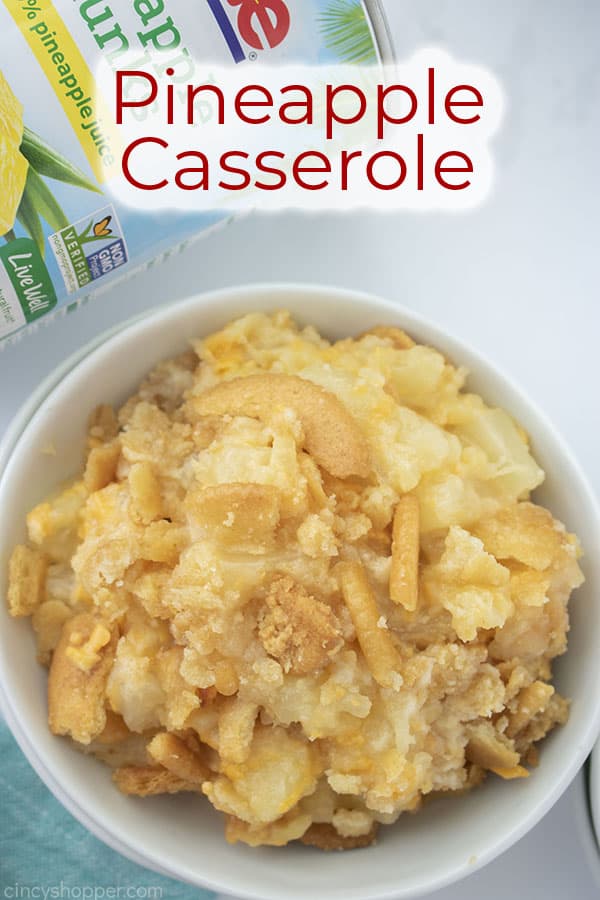 Ingredients for our Pineapple Bake
Pineapple Tidbits

– Make sure to save about 1/3 cup of the juice before draining off the rest.

Crushed Pineapple

Granulated Sugar

Flour

Sharp Cheddar Cheese

–

Ideally

, you'd want to use freshly-grated cheese for this recipe.

Ritz Crackers

– Or your favorite brand of butter crackers.

Butter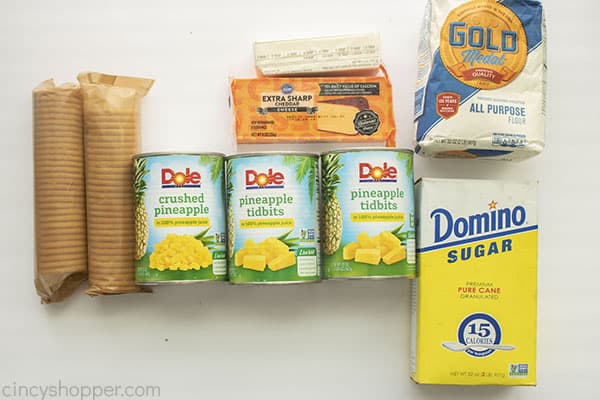 How to make Pineapple Casserole with Cheese
This is a nice and easy casserole recipe. Prep is very easy- here's what you need to do:
Combine your pineapple and sugar in a large bowl before adding the flour

then

folding in the cheese.

Top your casserole with a crushed butter cracker topping

before

putting in a preheated oven.

Allow to bake for about 40 minutes,

optionally

topping with aluminum foil if the crackers brown too

quickly

.
We'll start this recipe off by first getting our filling mixed up. In a large mixing bowl, combine your crushed pineapple and tidbits, your sugar, and some reserved pineapple juice. Give those a quick mix until the sugar has dissolved before adding in the flour and mixing until no dry clumps remain.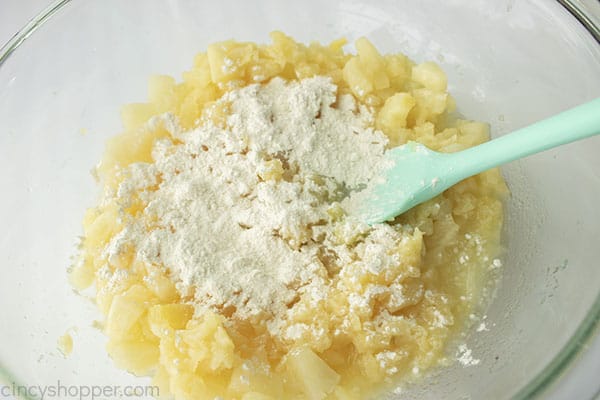 After that, we're going to add in our shredded cheese. No need to do a super-fine shred here. Once that's added to the bowl, fold to combine.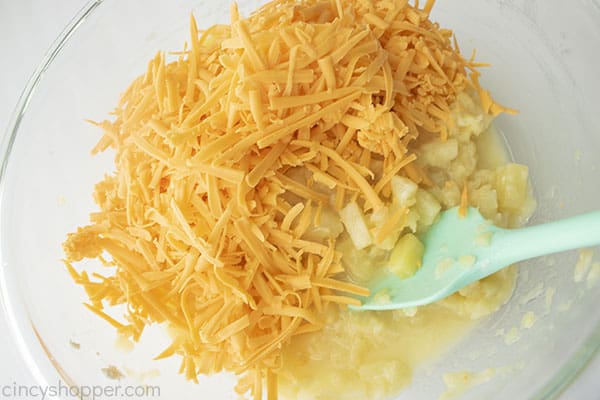 That's our filling all dealt with! Now, we can transfer it over to a heavily-greased baking dish or pie plate.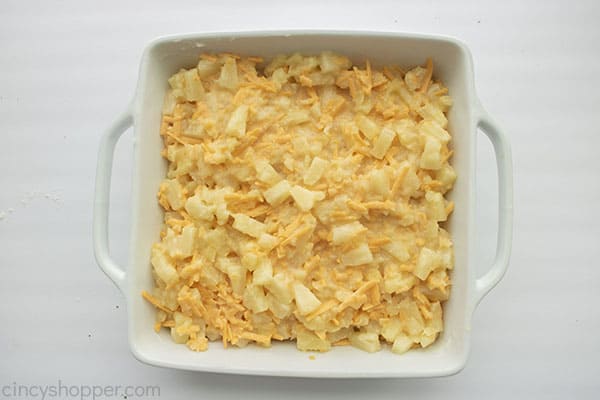 The next thing we have to deal with is our cracker topping. To a mixing bowl, add your Ritz crackers. Give them a quick crushing until you have a consistency you prefer- try not to go too fine or your cracker topping may burn real quick. Melt your butter and pour it over your crackers before giving a quick mix to ensure even coverage.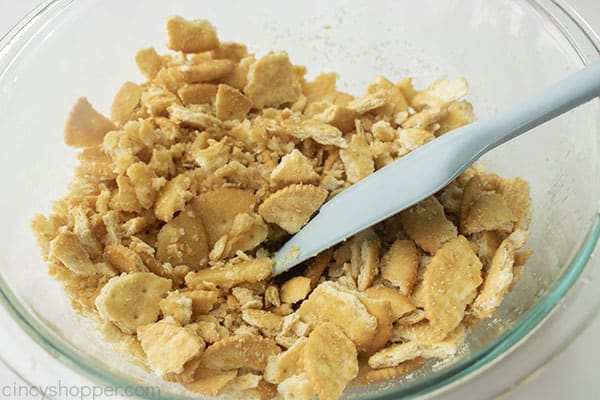 Top your casserole with the crushed crackers, trying to get that coating as even as possible.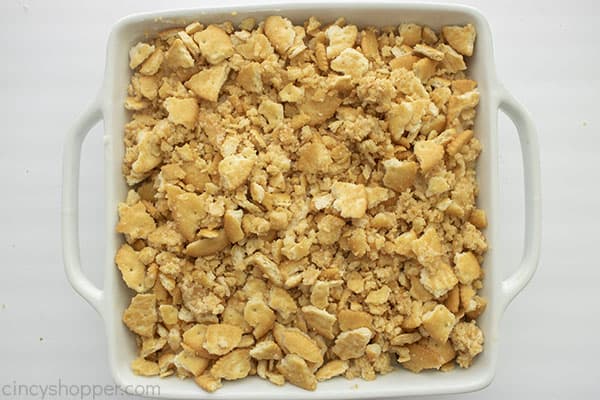 All that's left now is to bake! Transfer your casserole to an awaiting 350 degree oven and allow to bake for about 35-40 minutes. Keep an eye on it- if you find the cracker topping is browning too quickly, pull the casserole from the oven and cover it with some aluminum foil. Put it back in and let it finish baking- the foil should keep the crackers from burning or browning too much.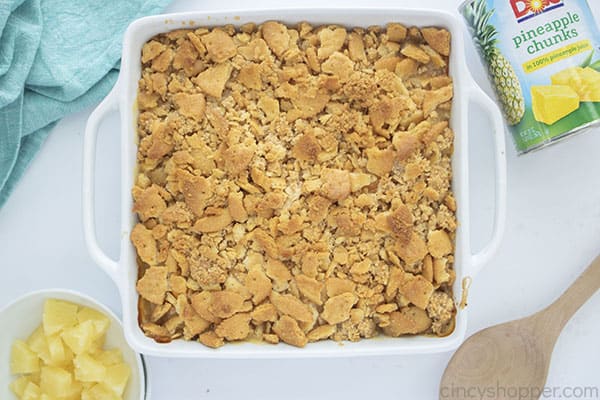 Once your casserole is heated through and the top has browned to your liking, pull it from the oven. Scoop out a generous portion, plate it up, and enjoy!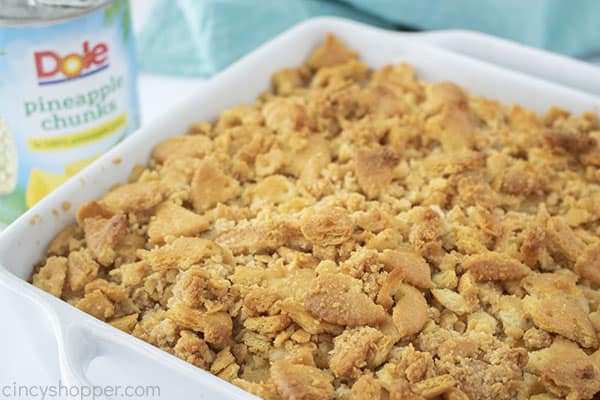 How to store leftover casserole
You can keep your leftovers in the fridge or in the freezer.
Kept in an airtight container or covered with plastic wrap in the fridge, this dish should be good for about 3-4 days
. You can also cover and keep in the freezer for 2-3 months. To reheat,
just
toss in the oven and let bake until heated back through.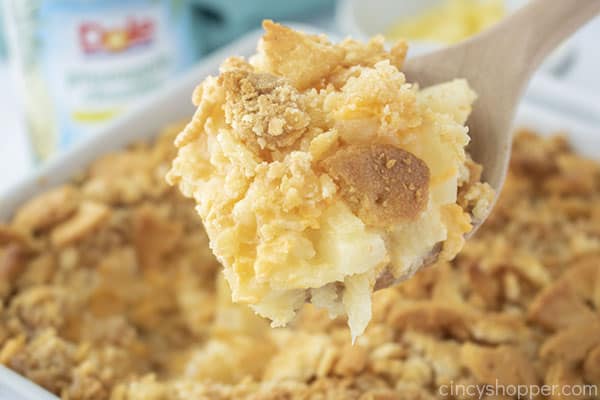 Can you make Pineapple Casserole ahead of time?
If you'd like to make this casserole ahead of time, we'd recommend prepping the filling in your casserole dish and placing in the fridge
. Covered with plastic wrap, it should be able to sit in the fridge for a day or two before you decide to bake it.
When it comes time to bake your casserole,
simply
prep the cracker topping, sprinkle it over your dish, and then let bake
. You may want to add an
additional
5 minutes to the cook time
just
to make sure everything gets heated through.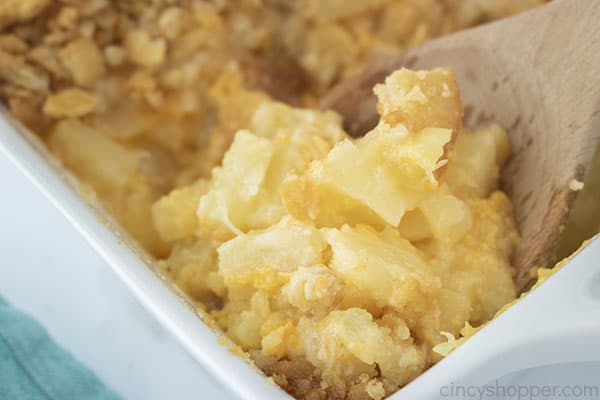 Pineapple Casserole
Pineapple Casserole might sound odd but it is delicious! This is a classic Southern dish that's great as a side or dessert paired with ham.
Ingredients
40

oz

Pineapple Tidbits

(2 cans)

20

oz

Crushed Pineapple

1/3

Cup

Reserved Pineapple Juice

1/2

Cup

Flour

1/2

Cup

Sugar

8

oz

Sharp or Extra Sharp Cheddar Cheese

shredded

2

sleeves

Ritz Crackers

(approx. 60 Crackers)

3/4

cup

Butter

melted
Instructions
Preheat oven to 350.

Heavily grease an 8x8" casserole dish or deep-dish pie plate.

Drain pineapple and crushed pineapple, reserving 1/3 cup of the juice.

In a large bowl, combine the pineapple, crushed pineapple, juice, and sugar.

Add flour and stir to combine

Fold in shredded cheese.

Add crushed crackers to a medium-sized bowl.

Pour melted butter over crackers and stir to coat.

Add cracker mixture to the top of the pineapple mixture.

Bake for 35-40 minutes.
Notes
If the cracker topping gets dark too early in the baking process, top it with aluminum foil to avoid a burning.
Nutrition
Calories:
478
kcal
|
Carbohydrates:
53
g
|
Protein:
9
g
|
Fat:
27
g
|
Saturated Fat:
17
g
|
Trans Fat:
1
g
|
Cholesterol:
76
mg
|
Sodium:
333
mg
|
Potassium:
318
mg
|
Fiber:
3
g
|
Sugar:
44
g
|
Vitamin A:
923
IU
|
Vitamin C:
21
mg
|
Calcium:
246
mg
|
Iron:
1
mg