Homemade bread is delicious and easy to make. Make this recipe in two hours for fluffy white bread that's perfect for sandwiches or toast!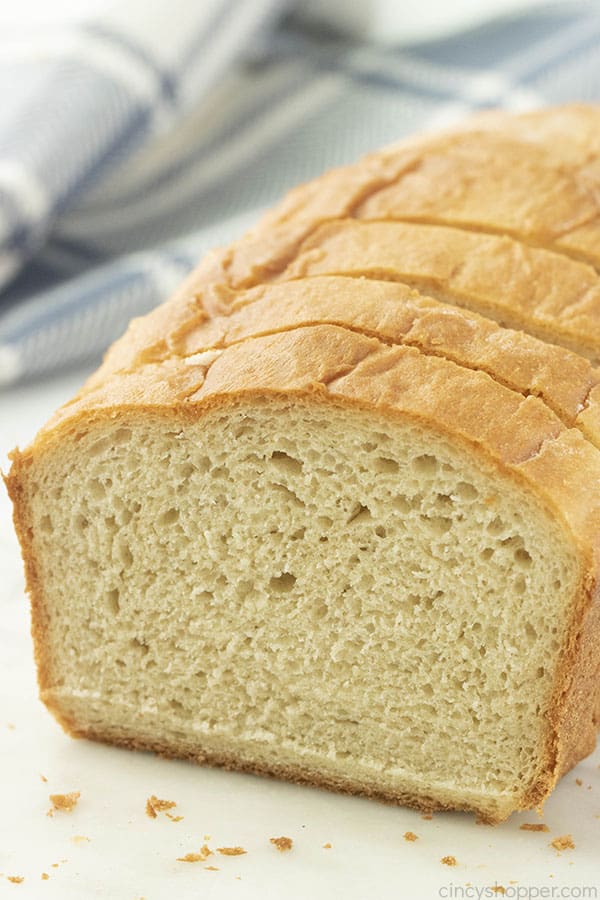 This simple bread recipe makes two loaves of plain white bread with just a hint of sweetness. We use honey instead of sugar to keep it lower in refined sugar.
Making bread yourself can seem intimidating, but once you try it, you'll never want to use store-bought again.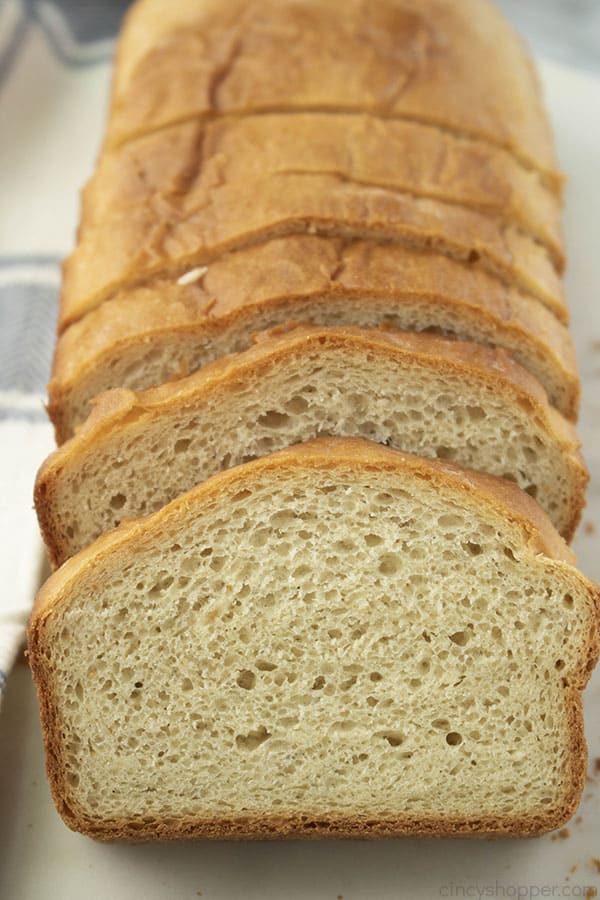 Benefits of making bread at home
Here are just a few reasons why you should make your own bread at home:
Only 7 ingredients and nothing artificial!
Soft and fluffy texture
Preservative-free
Quick – You can have warm bread ready to eat in under 2 hours.
Save money – It's less expensive to make it yourself.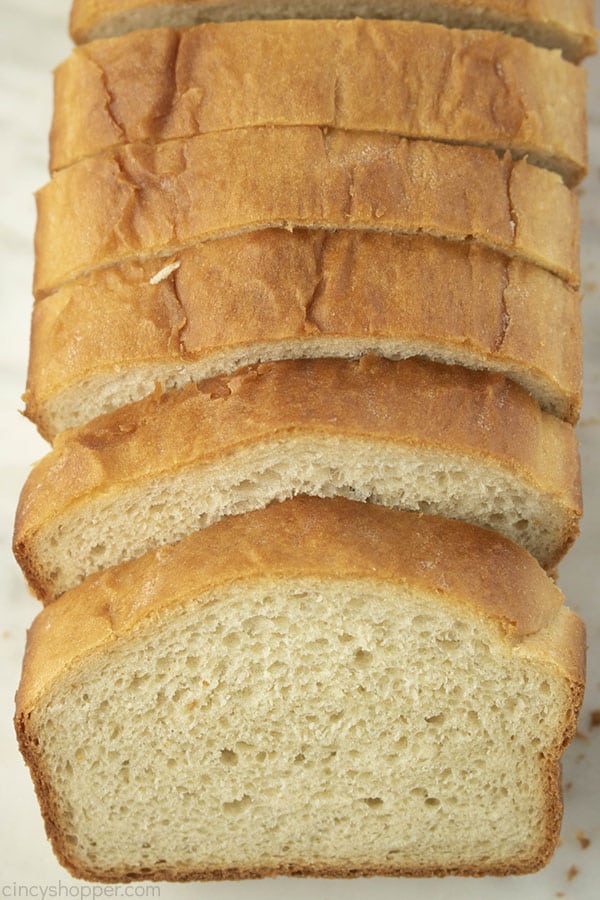 Follow the steps below to learn how to make bread from scratch without using a bread machine. All you need are a few simple ingredients that you probably already have in your pantry.
When you're done, you'll have the most amazing homemade bread that's ready to use for anything you can imagine. Grilled cheese, egg salad sandwiches, toast, and so much more!
You'll just have to resist eating it all when it's warm out of the oven first!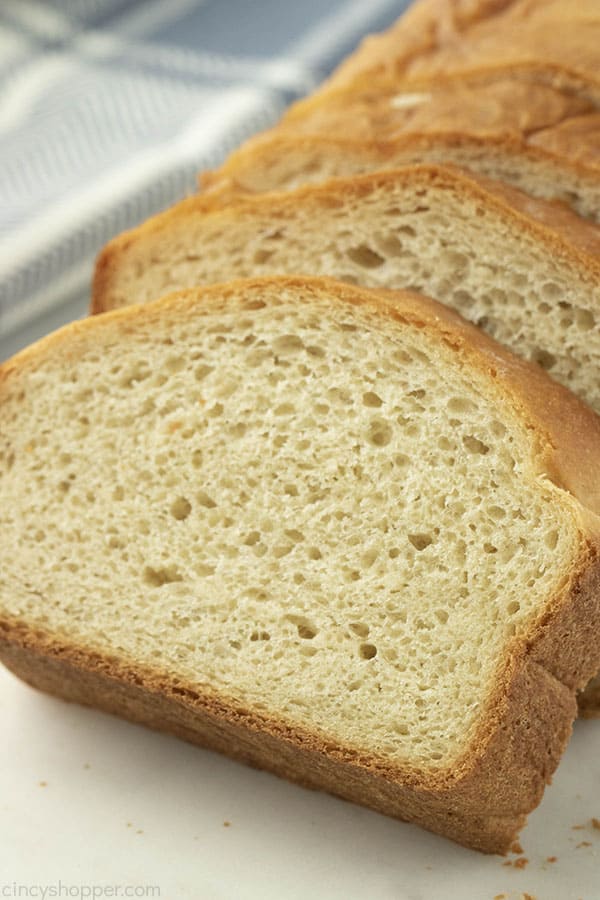 See these other homemade staple recipes that I have shared: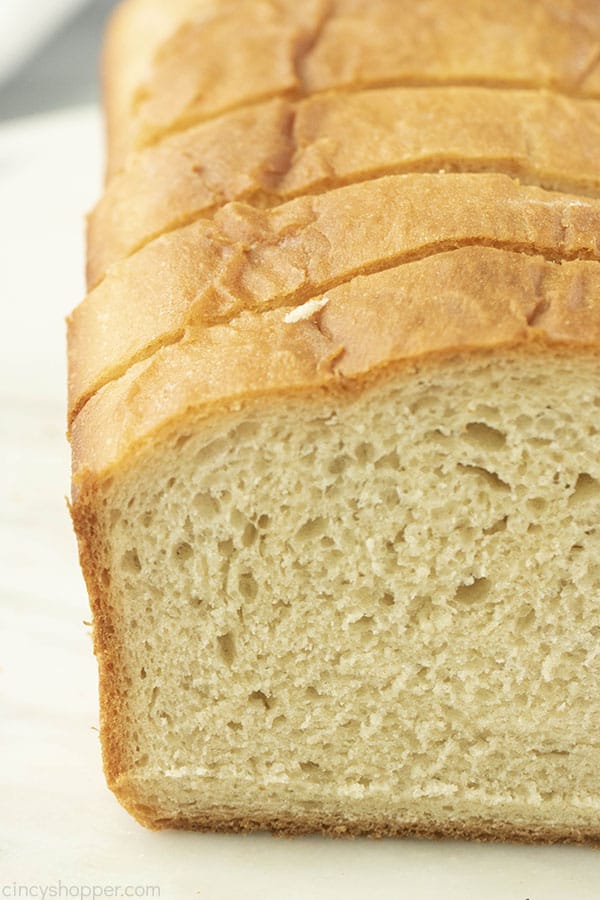 Recipe notes

Can I substitute whole wheat flour for the all-purpose flour?
No, unfortunately, you cannot. This bread recipe is only good for making white bread.
Whole wheat flour absorbs significantly more liquid than white flour. It also requires a special rising and kneading process.
As a result, using it in place of white flour will result in a very dry, dense loaf.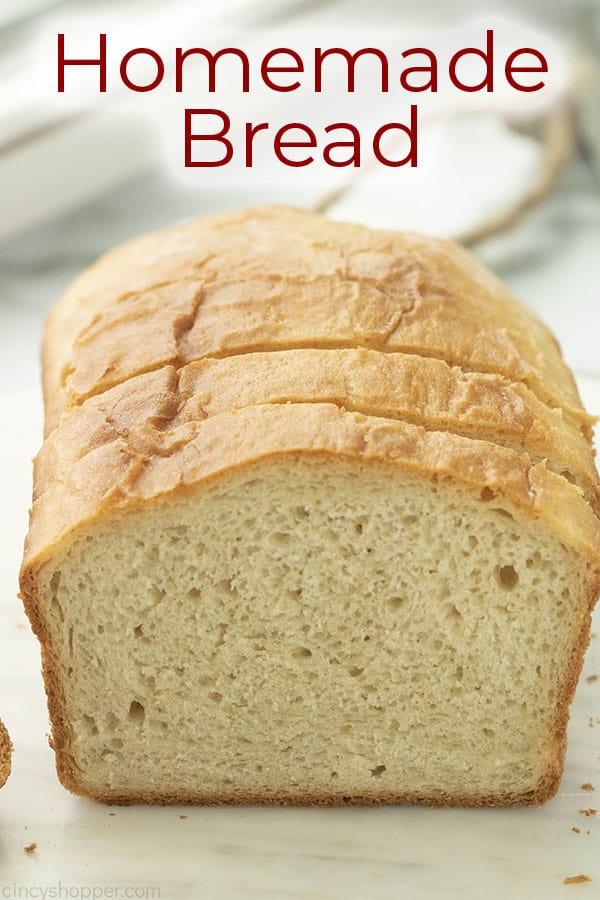 How do I store homemade bread?
Homemade bread has no preservatives, which is great for your health but bad for shelf life. If not stored properly, it will go stale very quickly.
Make sure to cool the bread completely before storing with one of the following methods.
Storing fresh: If you'll be using the whole loaf within a few days, you can wrap it tightly in plastic and store in a cool, dry place. If you have the counter space, a bread box is perfect for this.You can also find airtight plastic containers made specifically for storing loaves of bread.Avoid storing the loaf anywhere with heat or humidity. Otherwise, it can cause the bread to become moldy.
Freeze: Fresh bread will keep in the freezer for up to 3 months. Cut the loaf into individual slices, wrap them in plastic, and freeze. For convenience, wrap two slices together. Then, place all of them in a zip top freezer bag. When you're ready to use some, remove just what you need. Thaw it on the counter or pop it into the microwave for about 20 seconds. If you're making toast, you can put the slices straight into the toaster without thawing.

NEVER refrigerate: The cold air in the refrigerator will dry the bread out and cause it to go stale very quickly.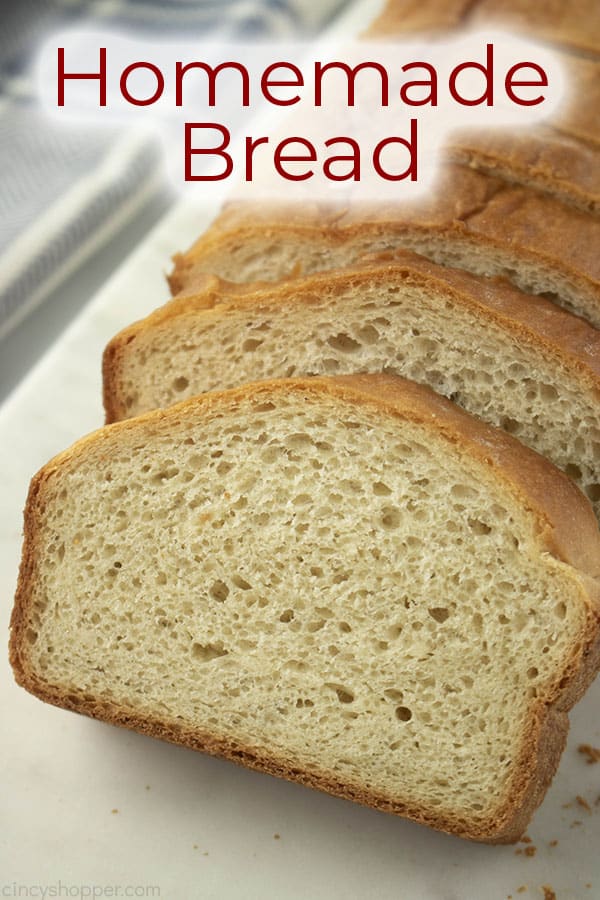 How to make homemade bread
Gather all of your ingredients. You don't need special bread flour for this recipe. All-purpose flour will work just fine.
You'll need:
All purpose flour
Sugar
Salt
Active dry yeast
Raw honey
Butter
Water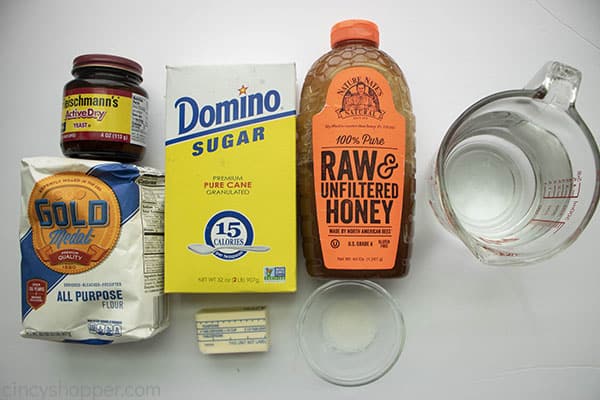 Start by proofing the yeast. This rehydrates it and is the easiest way to make sure the yeast is alive.
Mix with the water and honey and let sit for about 10 minutes.
As a result, if it foams up, it's good to use. If the yeast doesn't foam up, it's not active. Discard and try again with a new package of yeast.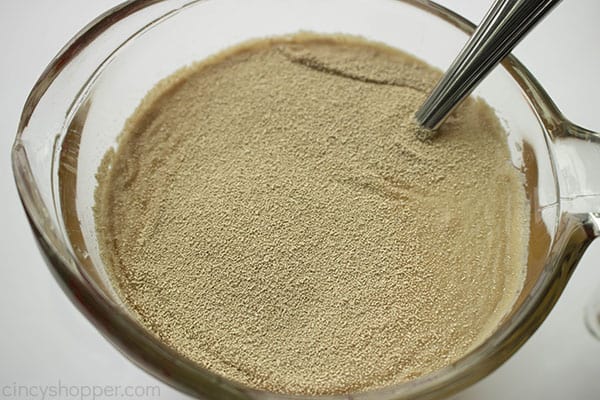 Next, whisk together the dry ingredients, leaving some of the flour for later.
Add the melted butter and stir until just combined.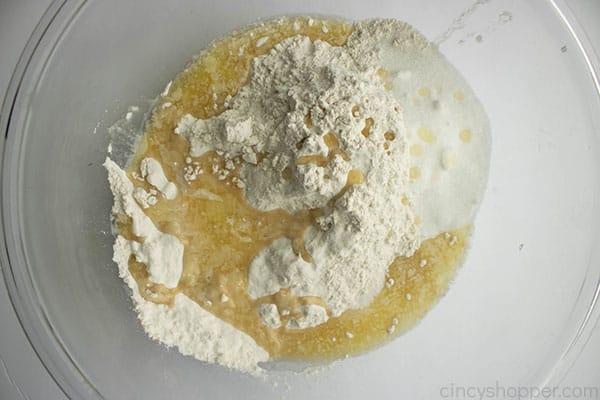 Add the yeast mixture to the bowl after it is finished proofing. Stir until the dough starts to form.
Mix in the remaining flour a little at a time until there are no more streaks.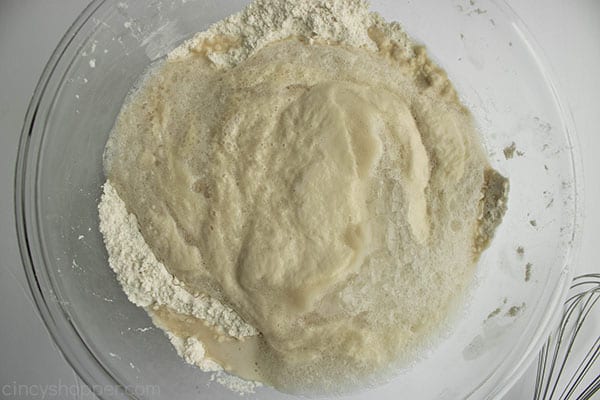 Flour your counter or work surface well. Transfer the dough from the bowl onto the surface.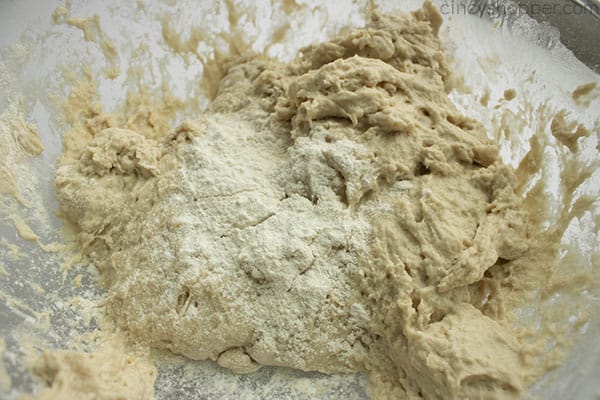 Knead the homemade bread dough. To do this, fold the dough in half and press forward with the palms of your hands to flatten.
Turn the dough slightly and repeat. Add more flour as you go.
Continue this process until the dough is tacky. It's ready when you can lightly press it with your finger and it springs back immediately.
If you are unfamiliar with kneading dough, you can see the How to with Tips on America's Test Kitchen.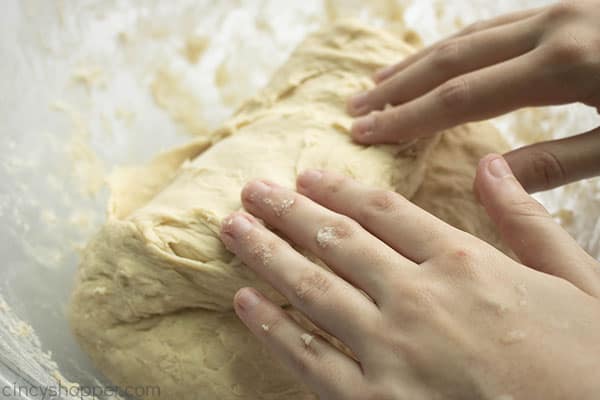 Grab a large bowl and coat the inside of a large bowl with oil. Roll the dough around to coat it in the oil, then cover and set someplace warm.
Make sure there is plenty of empty space in the bowl after adding the dough. As it rises, the dough will double in size and you don't want it spilling over the edges.
This proofing step allows the yeast and gluten to develop and affects the flavor of the bread.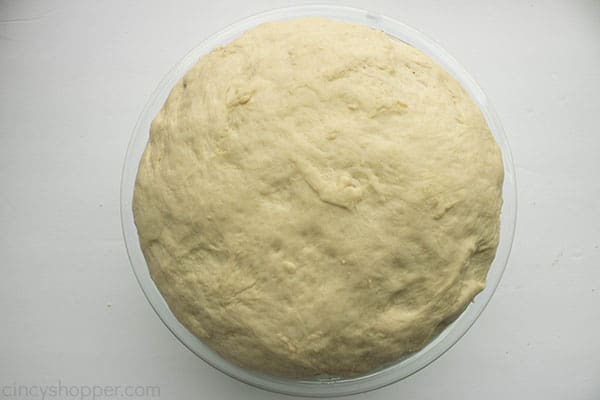 Once the dough rises, remove it from the bowl and split into two equal pieces.
Form each half into a loaf shape, then place each into a greased loaf pan.
Cover the pans and let the dough rise another 45 minutes. This is important to get a well-risen loaf with that light and airy texture.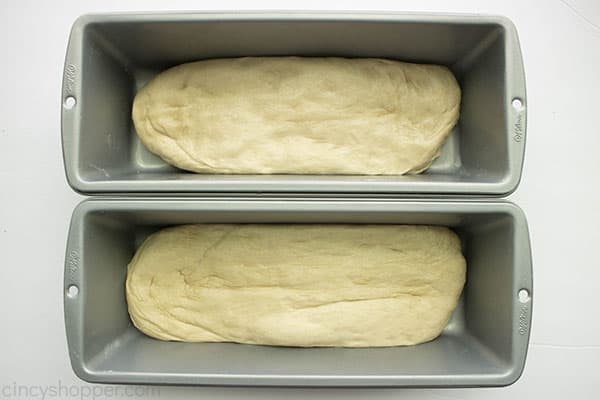 Bake the loaves for 35-40 minutes, or until the tops are golden brown.
After removing from the oven, you can rub a stick of butter over the warm tops for added flavor.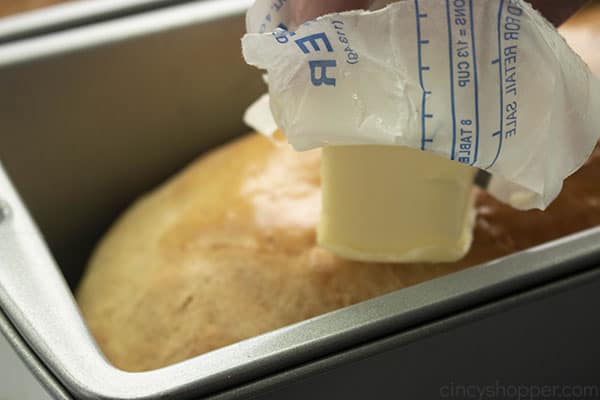 Cool the loaves in the pan for a bit, then finish cooling on a wire rack.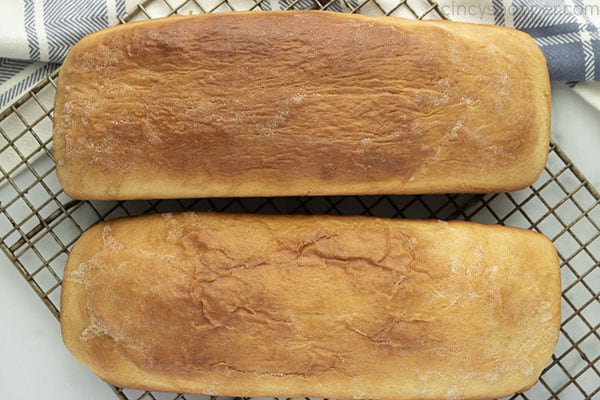 When the bread is cool, you can slice it and serve!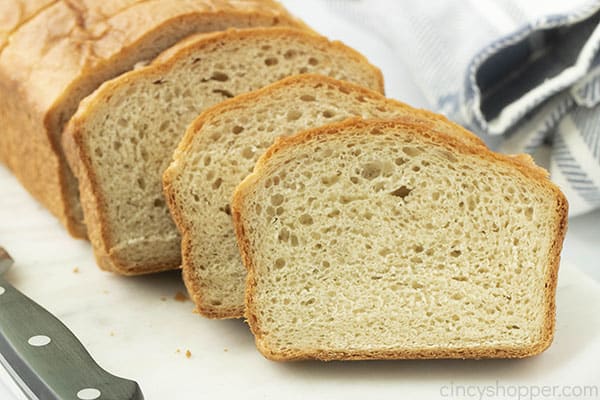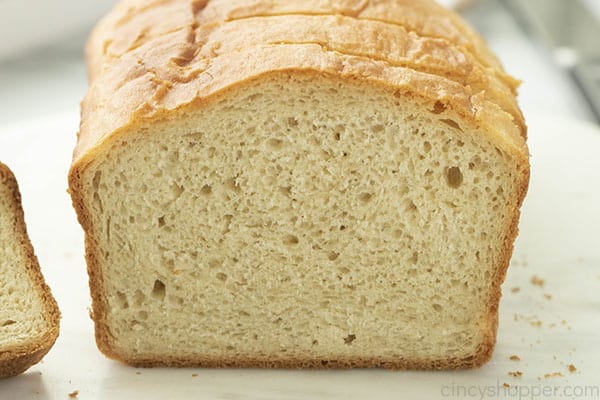 Homemade Bread
Homemade bread is delicious and easy to make. Make this recipe in two hours for fluffy white bread that's perfect for sandwiches or toast!
Ingredients
2

cup

warm Water

4 1/2

tsp

Active Dry Yeast

1/4

cup

Honey

6-7

cup

Flour

1/4

cup

Sugar

2

tsp

Salt

4

tbsp

Butter

melted
Instructions
Combine water, yeast and honey in a small bowl or measuring cup.

Stir and set aside proof for 10 minutes.

Whisk together 4 cups flour, sugar and salt in a large bowl

Add melted butter and stir to incorporate.

Make an indentation in the middle and add the yeast water.

Stir mixture until dough forms.

Add flour a little at a time.

Turn out dough onto floured surface and knead with hands.

Continue adding flour until dough is just tacky (about 7 minutes).

Rub oil around inside of large bowl,

Place dough into bowl and roll around to coat. Cover with a clean dish towel and move into warm place.

Allow to rise until doubled in size, about an hour.

Grease two loaf pans and set aside.

Remove from bowl and divide in half.

Form into loaf shape and place in prepared pans.

Cover with a towel and allow to rise for 45 minutes.

Preheat oven to 350.

Bake until top is golden brown, about 35-40 minutes.

You can optionally rub the tops of the loaves with a little butter to add flavor.

Allow to cool in the loaf pans for 15 minutes before remove from pans.

Allow to finish cooling on wite rack before cutting.
Nutrition
Calories:
188
kcal
|
Carbohydrates:
36
g
|
Protein:
5
g
|
Fat:
3
g
|
Saturated Fat:
2
g
|
Cholesterol:
6
mg
|
Sodium:
256
mg
|
Potassium:
68
mg
|
Fiber:
2
g
|
Sugar:
6
g
|
Vitamin A:
71
IU
|
Calcium:
8
mg
|
Iron:
2
mg