Dutch oven bread is a simple way to enjoy homemade yeast bread with no kneading required. You can make this basic bread recipe with just 4 ingredients!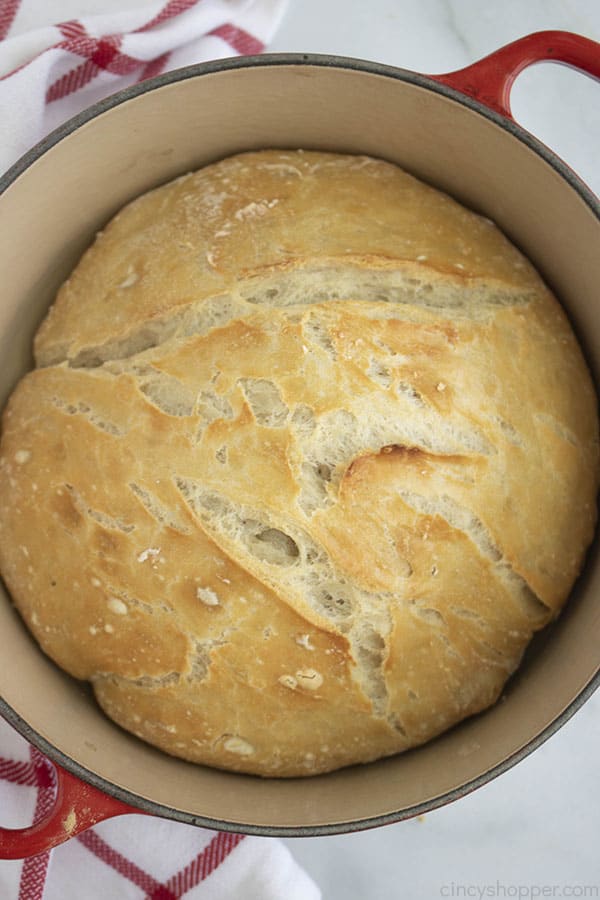 This is a very basic bread recipe that is perfect for beginners because of how easy it is to make.
You only need about 5 minutes of total hands-on prep – the rest of the time, it's either proofing or baking. Allow it to rise overnight, then bake and enjoy it for breakfast in the morning!
The flavor is similar to sourdough, but a little less sour. It's both fluffy and dense on the inside with a gorgeous golden-brown crust.
When you're done making this bread, you'll have a gorgeous loaf that looks like it came from a fancy bakery.
Looking for a basic Sandwich Bread recipe? If so, see my recipe for Homemade Bread.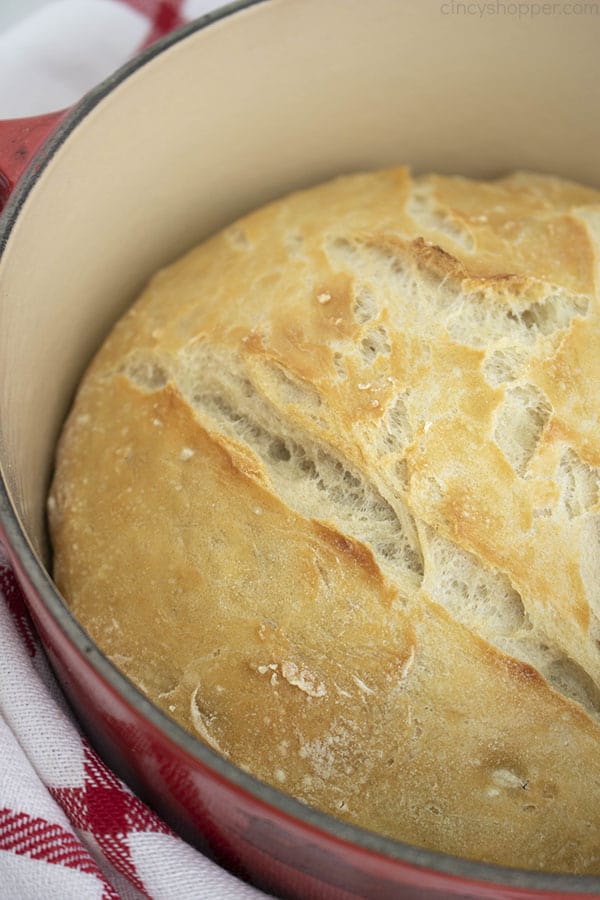 What is Dutch oven bread?
It's just like what it sounds like – bread made in a Dutch oven!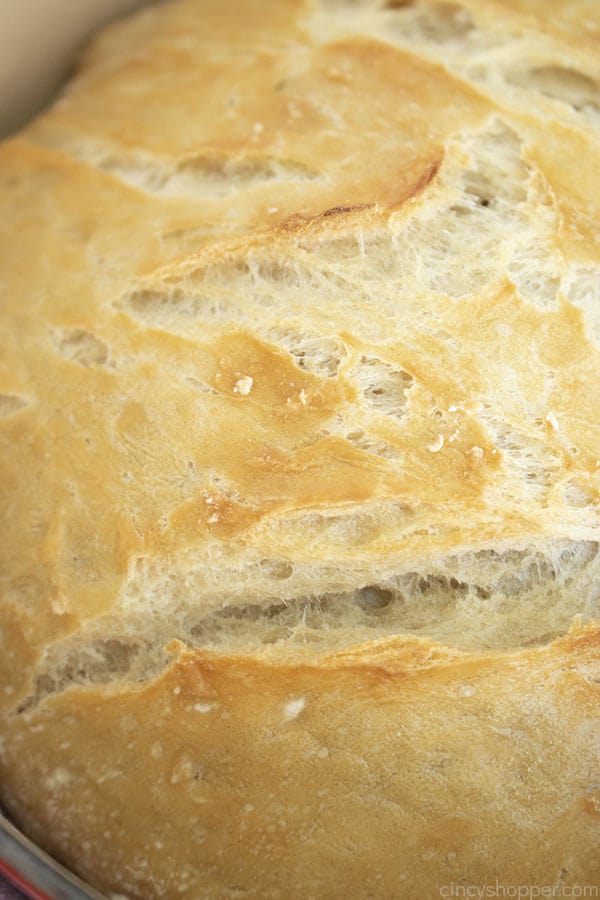 Using a Dutch oven to make homemade bread has several benefits:
It creates steam inside the pot, which is what gives the bread a nice, crispy crust while keeping the inside of the loaf fluffy and moist.
The slow rise during cooking gives the bread its delicious flavor.
Great for new bakers who are intimidated by homemade bread recipes. Just drop the bread dough in the pot when it's ready and bake.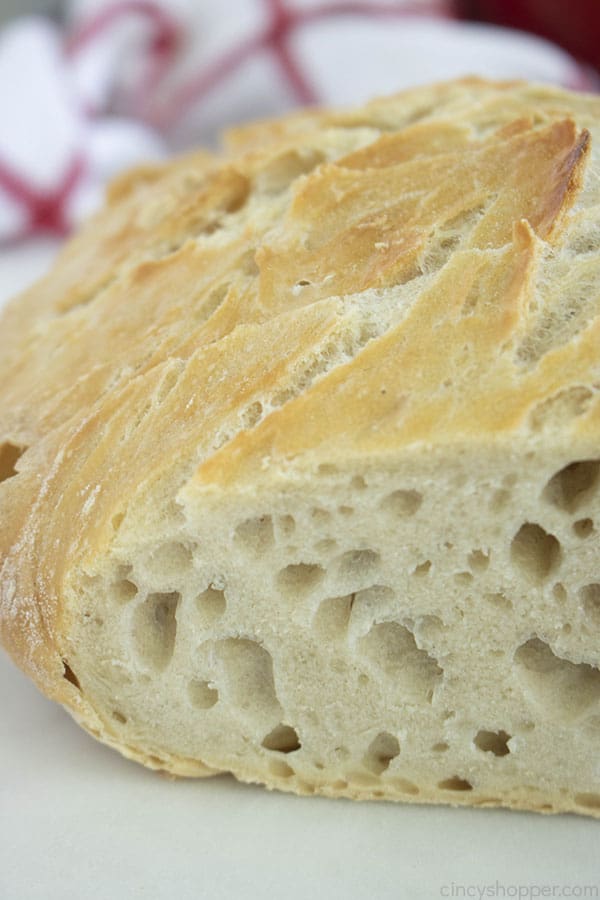 Don't you have to knead homemade bread?
Science lesson time!
The purpose of kneading bread is to form gluten, which is what gives bread its structure. Gluten is created when water combines with specific proteins in wheat flours.
Kneading your dough allows the water to get to the proteins and for the different proteins to connect with each other.
But there's another way to form gluten. If you have a very wet dough, and no-knead doughs are very wet, then the proteins will float around and connect on their own during the time that the dough rests.
Another benefit of making a no-knead bread, like Dutch oven bread, is that the flavor tends to be better. More flavor can develop by letting the wheat sit in wet dough overnight.
Kneading also introduces a lot of air to the dough, which adds oxygen. Oxygen changes the molecular bonds in the dough, which can affect the flavor.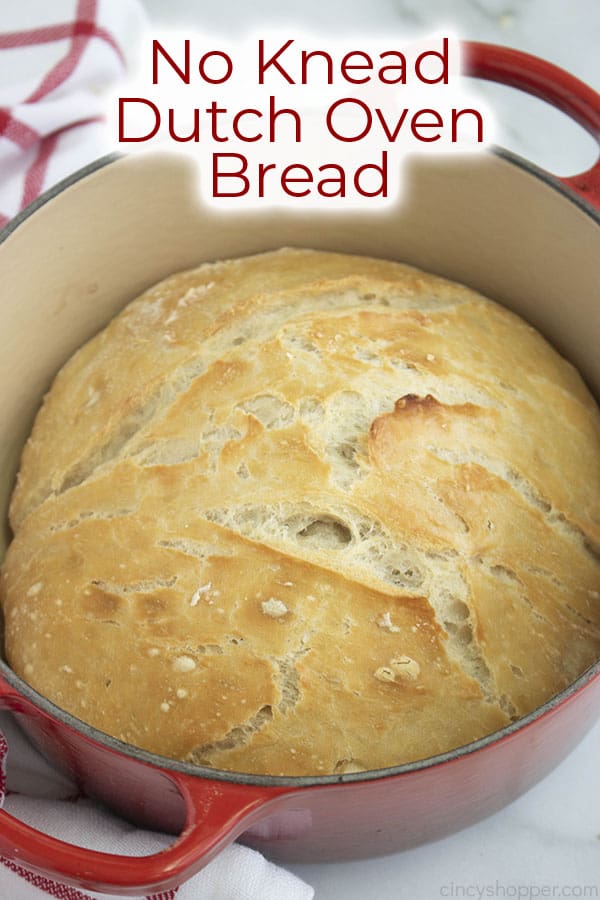 One way isn't necessarily better than the other – it just depends on the type of bread you are making. But kneading the dough isn't a necessary step, especially in a basic bread recipe like this one.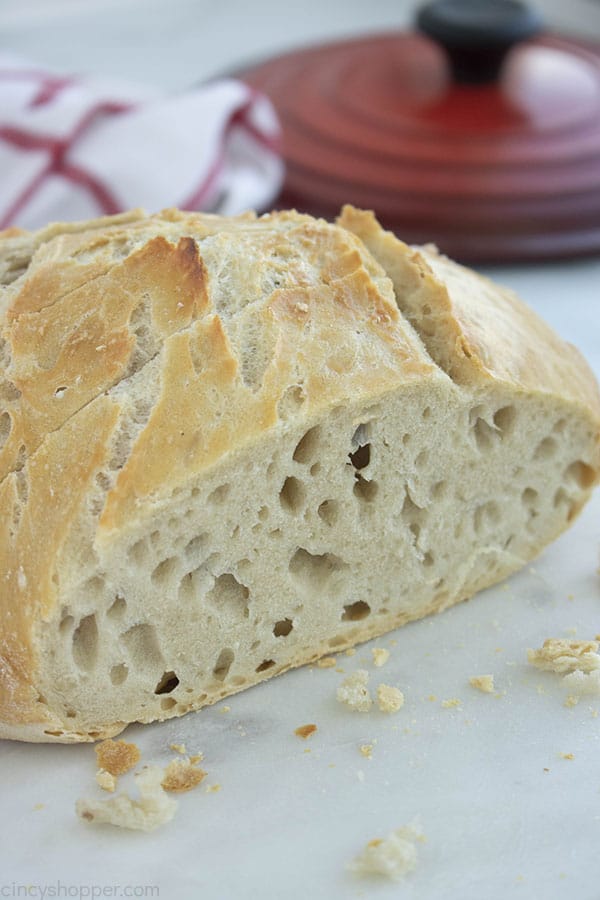 Now let's get started!
How to make Dutch oven bread
Ingredients
Flour – all-purpose is all you need for this basic bread recipe
Salt – helps with the structure of the loaf
Yeast – use active dry yeast instead of instant because you want a long and slow rise for more flavor
Water – make sure it's at room temperature and not hot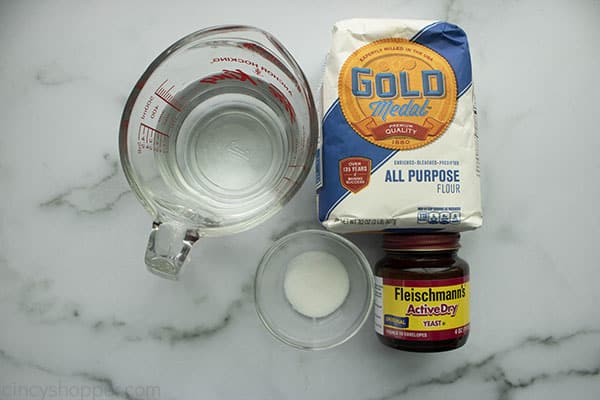 Step-by-step process
First, combine the dry ingredients in a large bowl. Mix together until well blended.
Add the water to the dry ingredients and mix everything together with a wooden spoon or spatula. The dough will be very sticky and there should be no more flour streaks.
NOTE: It's VERY important that you use room temperature water. If the water is too hot, it will kill the yeast and your bread won't rise properly.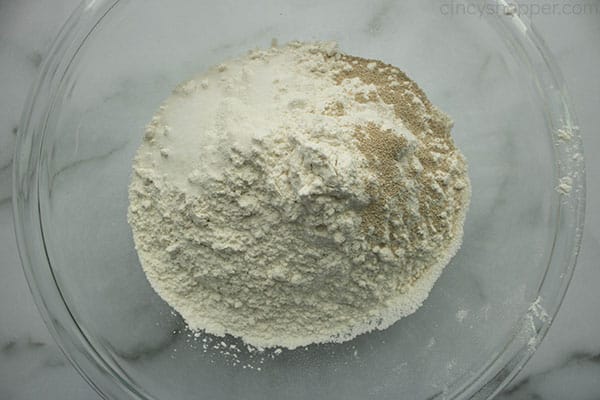 Now it's time to leave the dough alone to rise and proof. Cover the bowl tightly with plastic wrap so no air can get into the dough. Let it sit on the counter overnight for at least 12 hours.
When you're ready to bake, put the Dutch oven inside your oven and preheat to 450 degrees F. The Dutch oven needs to be warm when you place the dough inside, and this is the easiest way to do that.
Once the oven is done heating, carefully remove the pot from the oven and take off the lid. Use oven mitts or a thick towel with the pot and lid so you don't burn your hands.
Lightly coat the bottom of the Dutch oven with flour. Then, uncover the dough and add flour to your hands.
Sprinkle flour over the dough and gently lift it from the bowl. Carefully form a ball with the dough and then gently drop it in the center of the pot.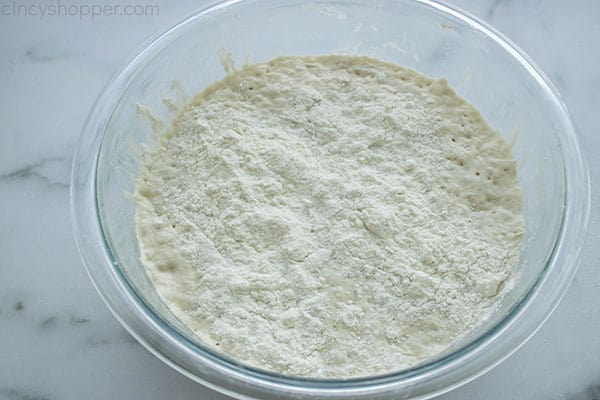 Wash the flour off of your hand and put your oven mitts back on. Place the lid on the Dutch oven and set it back inside the preheated oven.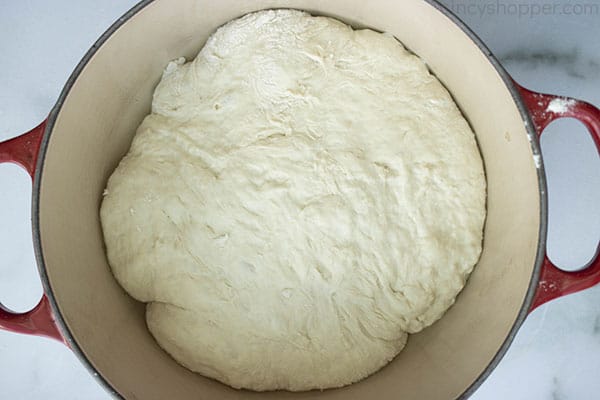 Bake for 45-50 minutes total, removing the lid for the last 15-20 minutes.
When it's done baking, carefully remove the bread from the Dutch oven and let it cool.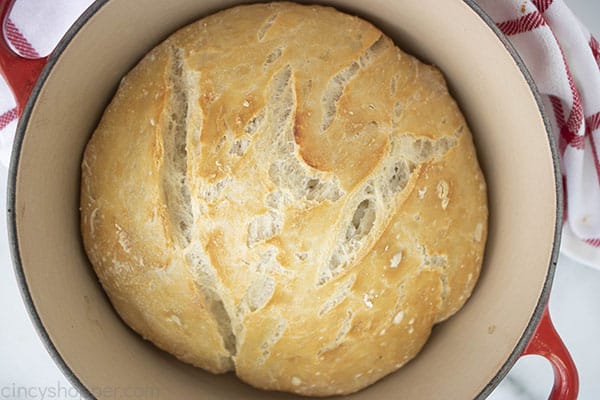 Recipe notes
What if I don't have a Dutch oven?
Using a Dutch oven is the easiest way to make this basic bread recipe because it already comes with a lid and is oven safe.
If you don't have one, you can use any oven-safe pot and make a lid with a metal sheet pan. The most important thing is that the pot is completely sealed so that steam will be created inside.
It's best to use a 5 or 6-quart pot or saucepan so there's room for the bread to rise.
If your pot is stainless steel, skip the step where you preheat your pot. Stainless steel heats up faster than a Dutch oven and doesn't distribute heat as evenly. This means that if you preheat it, the bottom of your loaf will burn.
When you're ready to bake, drop the dough into the cold pot, put it in the oven, and immediately cover with an upside-down sheet pan (the edges should go over the sides of the pot).
Then continue the recipe as normal and remove the sheet pan when it says to remove the lid.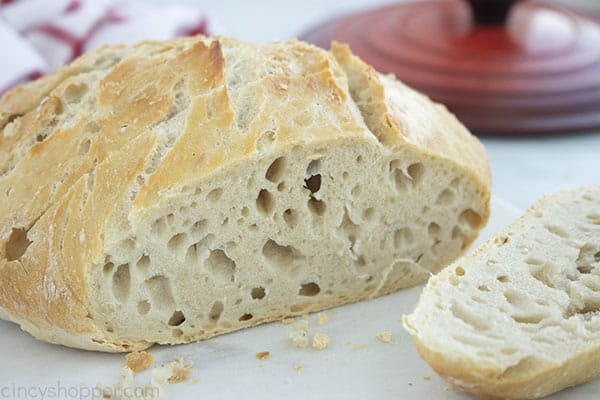 Dutch Oven Bread
Dutch oven bread is a simple and easy way to enjoy the taste of homemade bread, with no kneading required!
Ingredients
3

cup

Flour

1 1/4

tsp

Salt

1/2

tsp

Active Dry Yeast

1 1/2

cup

Water

room temperature
Instructions
In a large bowl combine flour, salt and yeast.

Mix until blended.

Add water to bowl and mix it until incorporated (use spatula or wooden spoon).

Cover the bowl with plastic wrap and allow to sit on counter for 12-18 hours.

Preheat oven to 450.

Place dutch oven in oven and allow to preheat as well.

Carefully remove pot from oven using oven mitts.

Using mitts, remove lid.

Sprinkle a little flour into bottom of dutch oven.

Remove wrap from top of dough.

Dust/sprinkle dough with flour and flour your hands.

Lift dough, roughly forming into ball and drop in center of dutch oven.

Using mitts, place lid back on dutch oven and return to oven.

Bake for 30 minutes.

Remove lid and bake 15-20 minutes until golden brown.

Remove bread from the pot.

Let cool completely before slicing.
Nutrition
Calories:
1372
kcal
|
Carbohydrates:
287
g
|
Protein:
40
g
|
Fat:
4
g
|
Saturated Fat:
1
g
|
Sodium:
2933
mg
|
Potassium:
401
mg
|
Fiber:
11
g
|
Sugar:
1
g
|
Calcium:
67
mg
|
Iron:
17
mg