Easter Snack Mix is a sweet, chocolatey, and crunchy snack like trail mix. This Bunny Bait makes for a great dessert gift around Easter time!
If you're needing some tasty easter snack ideas, this Bunny Bait Trail Mix will work great! For some cute Easter treats, try our Easter Pretzel Chick Treats or Easter Chocolate Covered Strawberries.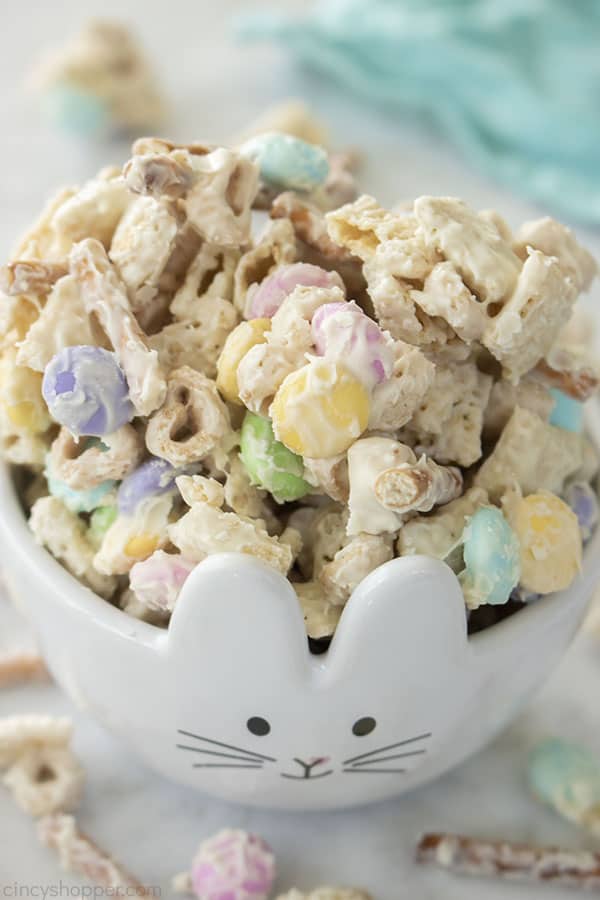 Easter Snack Mix
Our kitchen has been getting busier and busier as the weather's been warming up. I've mentioned before how much my family and I love our Easter desserts and treats! Each year, we're always making up all sorts of dessert recipes- old favorites of ours, and a few new ones too. Recently, we made up a fun and sweet spin on trail mix with this Easter Snack Mix.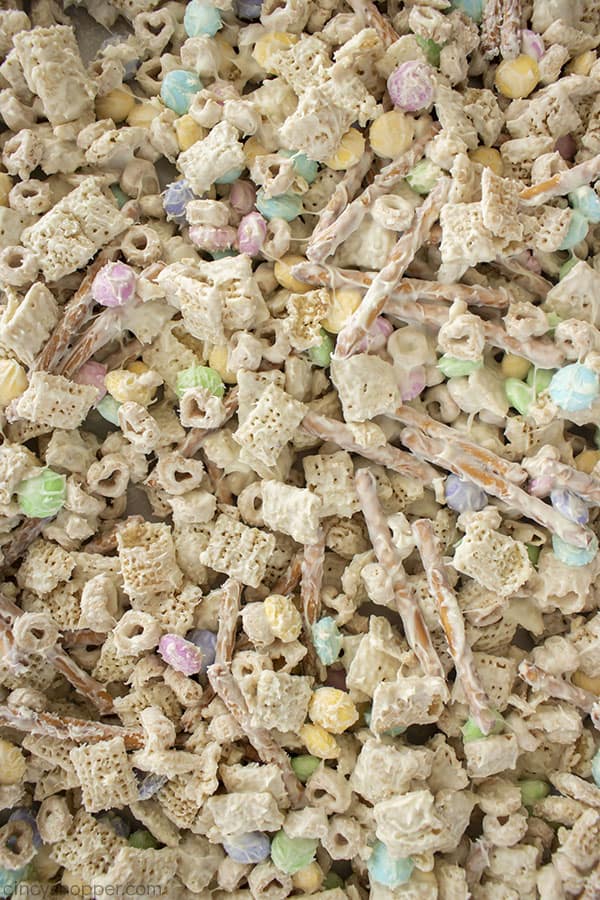 Some folks call this stuff Bunny Bait or Bunny Trail Mix- whatever you call it, we think it's delicious! What you got is a collection of some of the tastier ingredients you'll find in trail mixes: Chex, pretzels, some Cheerios, and M&M's. To help mix all these yummy ingredients together, we make a simple white chocolate coating that sets up real quick! Mixed in with all those ingredients and left to set, you get a sweet and crunchy snack that's real close to a trail mix- more like a dessert trail mix, really.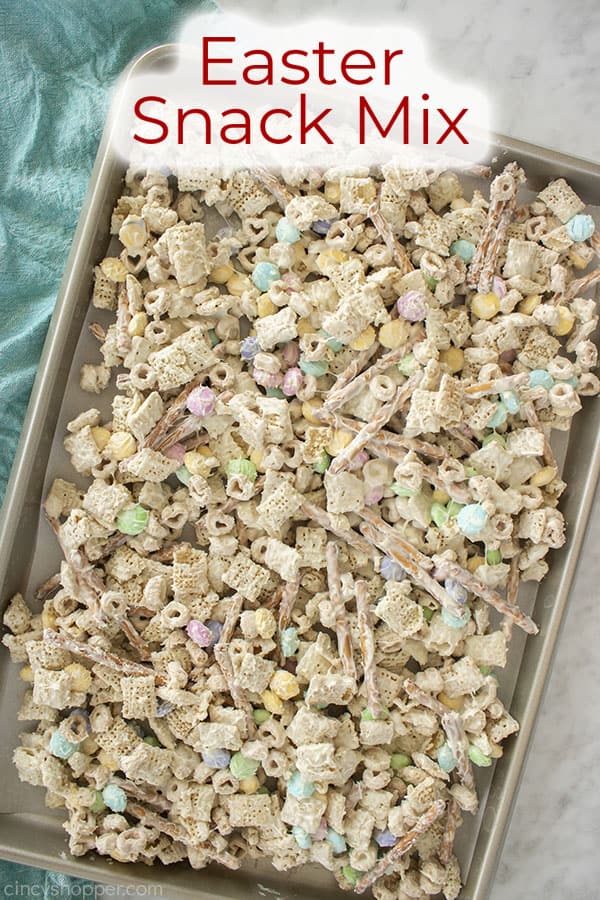 We really think you all would enjoy making up a batch of this stuff for yourselves. It's so easy to do and it makes for a great snack or dessert gift to hand out to the neighbors or give to the kids for their lunches this spring. That is if you even have any left- this stuff is so tasty and addictive! Feel free to add in some of your favorite trail mix ingredients or any other little sweet treats as well- it'll only make this trail mix dessert even better.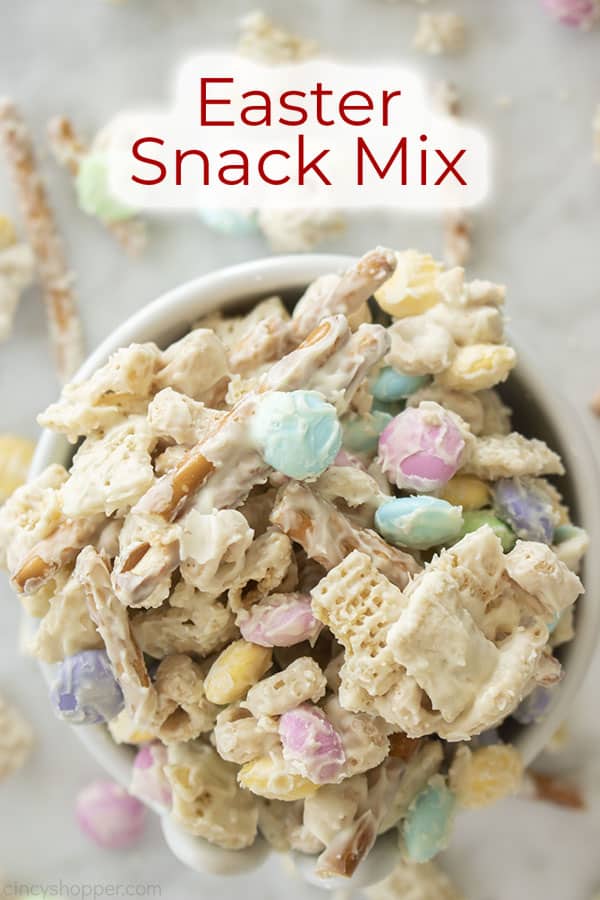 Liked this recipe? Try these Easter dessert recipes next!
For a fun and tasty dessert recipe that might get a few laughs, go with our

Bunny Butt Cupcakes

.

These delicious cupcakes are easy to make with boxed cake mix and a homemade buttercream frosting

. For an added bonus, each cupcake has a little marshmallow bunny stuck in the frosting- how cute!

PEEPS are a classic Easter treat, so we used them to garnish these fun

PEEPS Cupcakes

.

Again, using cake mix keeps the cupcake making process simple and easy and we divide up our frosting so we can top our cakes with all sorts of fun PEEPS colors

!

So bright and colorful: these would make for a wonderful Easter dessert or

just

a fun way to celebrate the springtime

.

We love some Cadbury Creme Eggs, so we decided to make a delicious dessert dip inspired by them: check out our

Cadbury Egg Dip

.

Instead of using the creme eggs like most folks, we made our own creamy dessert dip base and mixed it up with some crushed Cadbury Mini Eggs

. The result is a smooth and sweet dip with little bites of chocolate and sugar shell laced throughout- yum!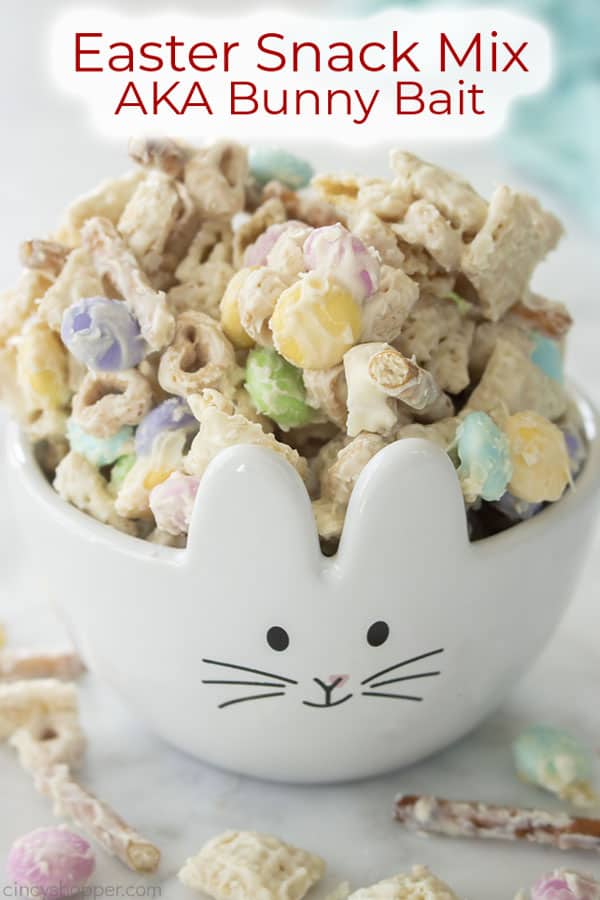 Easter Snack Mix Ingredients
Rice Chex

Cheerios

Pretzel Sticks

M&Ms

– Try to get these Easter pastel M&Ms if you can find them.
Really
, there's plenty of other things you could add to your Bunny Bait.
Maybe
toss in some
nuts
,
chocolate chips
,
marshmallows
, or some
sprinkles
. You'll also need the following to help our Easter Snack Mix stick together:
White Chocolate Chips

Shortening

– Or coconut oil, if you want.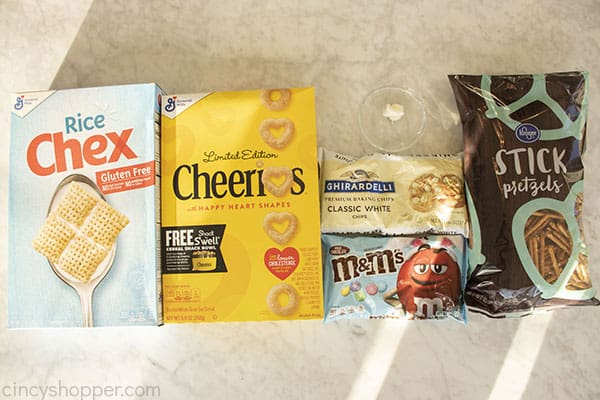 How to make Bunny Bait
To make this Easter Snack Mix, you don't have to do a lot. Here's what we did:
Assemble snack mix ingredients in a bowl

– minus the white chocolate chips and shortening

.

To a separate bowl,

add the white chips and the shortening

.

Microwave and stir in 30-second bursts

until melted and runny.

Pour melted chocolate mixture over snack mix

ingredients.

Stir to coat and combine

before letting set.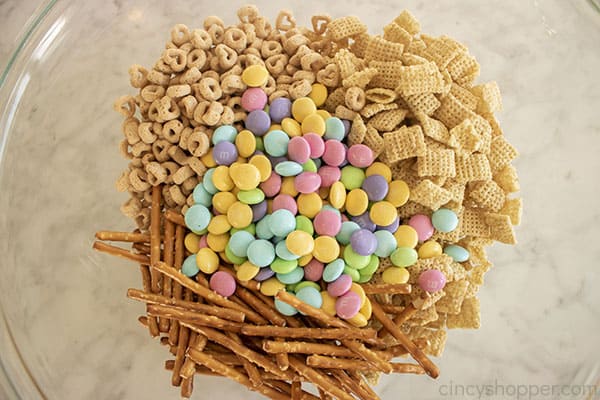 After assembling your Bunny Bait mix-ins in a large mixing bowl, we're going to grab another bowl. Add to it your white chocolate chips and shortening.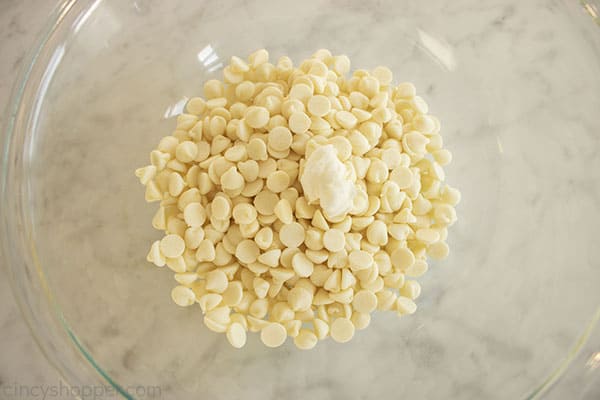 Toss that into the microwave and run it for 30 seconds. Once the 30 seconds are up, pull it from the microwave and give it a quick stir. Toss it back into the microwave and repeat until the chocolate and shortening are combined, melted, and runny. Pour the mix over your snack mix ingredients.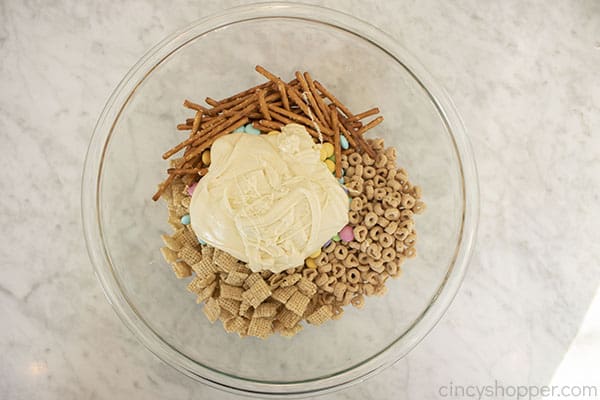 From here, all you have to do is stir and mix. This is going to mix up your snack mix ingredients while also getting them nice and coated with the white chocolate coating. Once mixed up and coated to your liking, set aside to let the chocolate set. For best results, let set in a single even layer on a baking sheet for about 20 minutes.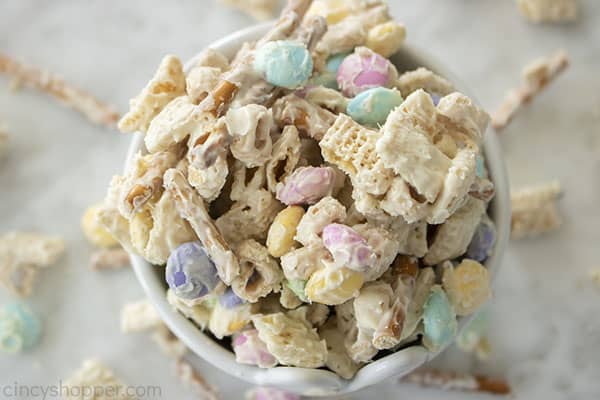 After the chocolate's all set, break the snack mix into smaller pieces and enjoy!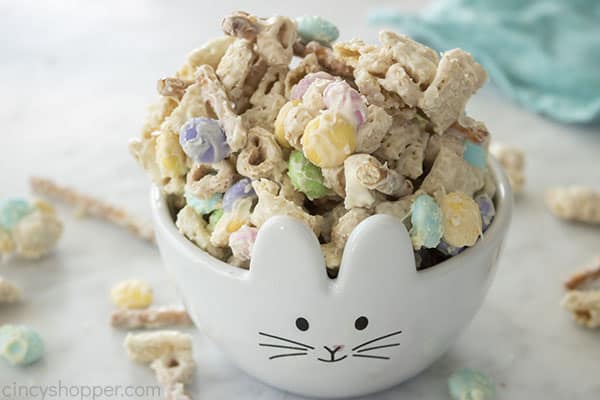 Easter Snack Mix
Easter Snack Mix is a sweet, chocolatey, and crunchy snack like trail mix. This Bunny Bait makes for a great dessert gift around Easter time!
Ingredients
3

cup

Rice Chex

1

cup

Pretzel Sticks

1

cup

Cheerios

1

cup

Easter M&Ms

1

cup

White Chocolate Chips

1

tsp

Shortening
Instructions
Line a baking sheet with parchment paper and set aside.

In a large bowl, combine Chex, Cheerios, pretzels and M&Ms.

In a microwave-safe bowl, combine white chocolate chips and shortening.

Microwave 30 seconds and stir. Repeat until melted and smooth.

Pour the melted chocolate over the rest of the ingredients in the large bowl.

Using a spatula to scrape melted cgocolate off the sides and mix to cover everything.

Transfer to prepared sheet and spread into a layer.

Allow to firm, then break into pieces.
Nutrition
Calories:
332
kcal
|
Carbohydrates:
47
g
|
Protein:
4
g
|
Fat:
14
g
|
Saturated Fat:
8
g
|
Polyunsaturated Fat:
1
g
|
Monounsaturated Fat:
2
g
|
Trans Fat:
1
g
|
Cholesterol:
9
mg
|
Sodium:
220
mg
|
Potassium:
116
mg
|
Fiber:
1
g
|
Sugar:
31
g
|
Vitamin A:
339
IU
|
Vitamin C:
3
mg
|
Calcium:
124
mg
|
Iron:
5
mg