Cut Out Christmas Sugar Cookies are a sweet and easy baked dessert perfect for winter. Don't worry- these holiday treats hold their shape!
Cut Out Cookies don't have to be made from gingerbread! Using a sweet but simple sugar cookie dough, we made these tasty holiday cookies. Icing these cookies was so much fun!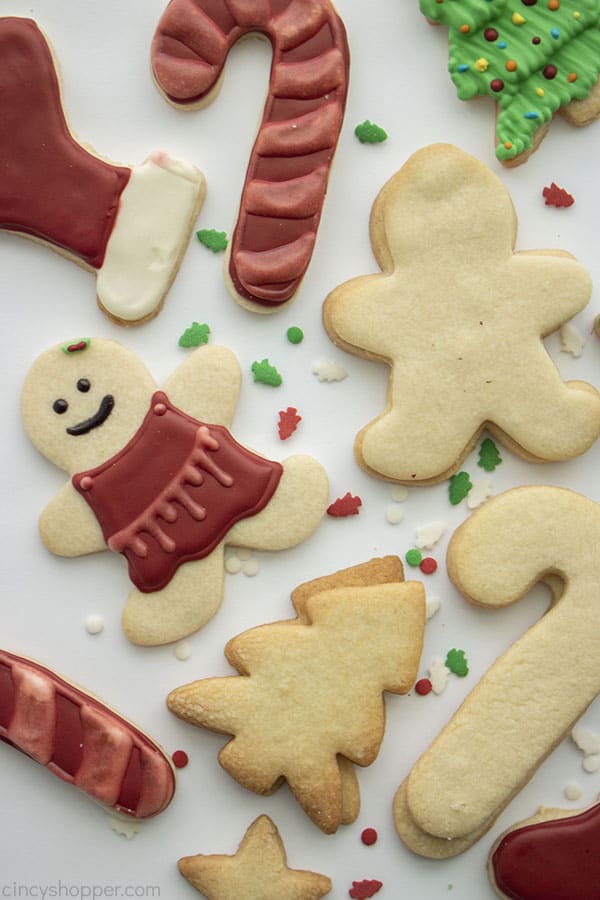 Cut Out Christmas Sugar Cookies
Icing holiday cookies is a bit of a tradition in our household- it's a fun, family activity we look forward to every year. Usually, it's usually gingerbread cookies that we're decorating, but I decided to mix things up a bit! That's how I ended up making a batch of these Christmas Cutout Cookies.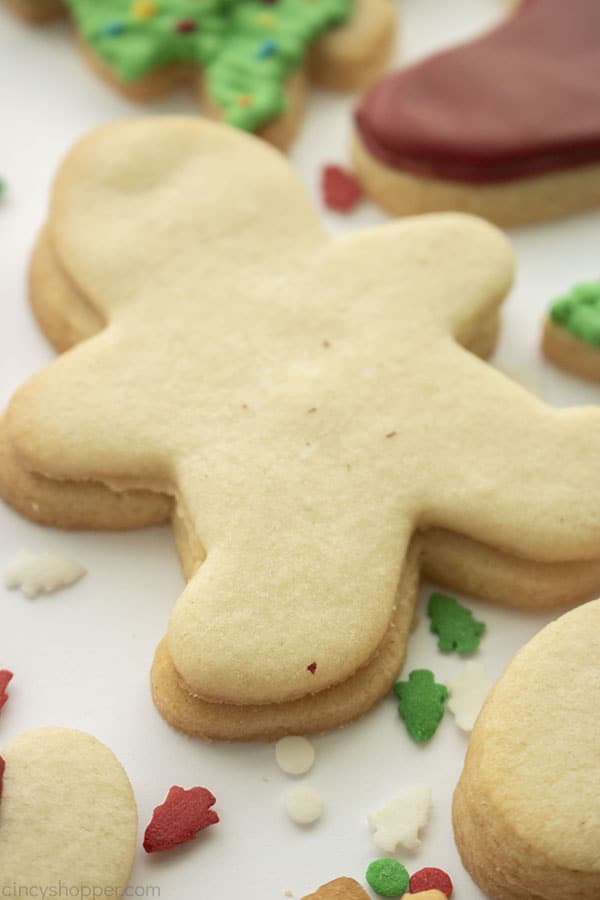 Christmas Sugar Cookies are simple but delicious iced cookies that are perfect for the holiday season! The dough is mostly a classic sugar cookie dough with some almond extract added for a bit of extra richness. The real trick, though, is the chilling: letting our dough chill helps the cookies hold their shape after they bake. Using all these little tricks, you get Christmas cookies that are perfect for icing and make for excellent gifts! We hope you love them!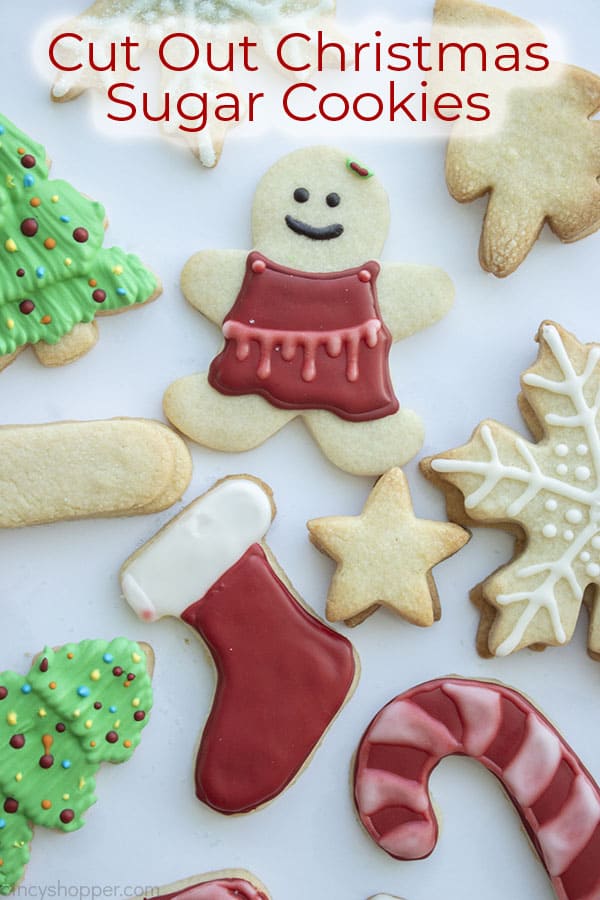 Loved our Cookies? Give these holiday cookie recipes a try!
Our

Gingerbread Cookies

are another cutout cookie that's easy to make and easy to bake. These treats are

subtly

spiced and sweetened

perfectly

! Bake them as soft or as crisp as you like and ice them as you please.

Butter Cookies

are so simple to make and taste delicious! These bite-sized sweets are

just

perfect with silky, buttery flavors. It's easy to see why these old-fashioned cookies are such an all-time favorite!

For some sugar cookies that you don't need to cut out, try our

Copycat Lofthouse Cookies

.

Just

like the ones from the store but better!

Our cookie dough bakes to a soft, cake-like consistency and that buttercream frosting

just

melts in your mouth

. Delish!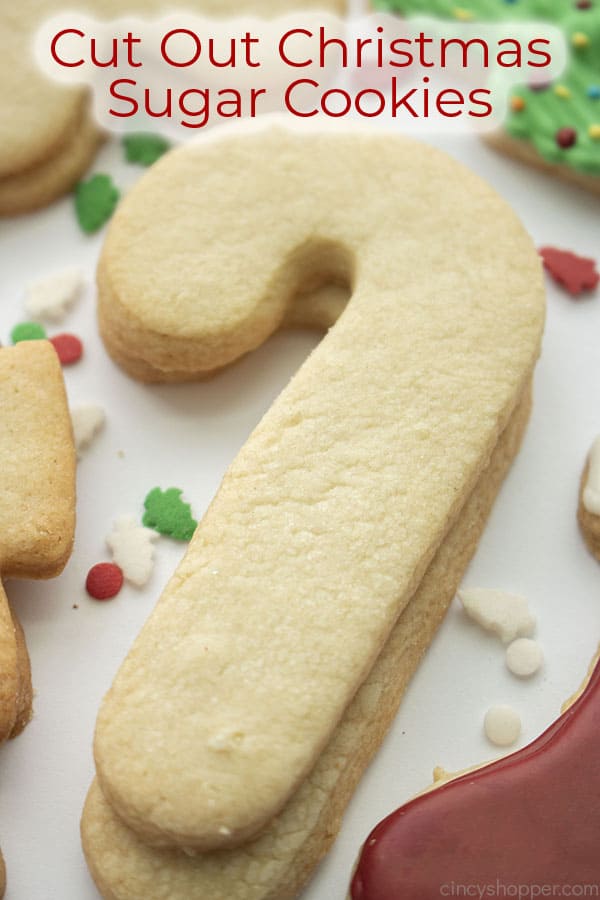 Ingredients for Christmas Sugar Cookies
Salt – We used salted butter, so we

really

didn't need much!
If you're looking for a recipe for royal icing for sugar cookies, we usually use the one from the folks over at
The Spruce Eats
.
How to make Christmas Cut Out Cookies that hold their shape
Get your mixer- hand or stand- or ready, because we're going to start this recipe by beating our butter until it's nice, creamy, and smooth. Like most cookie recipes, this one involves prepping our wet and dry ingredients separately before mixing.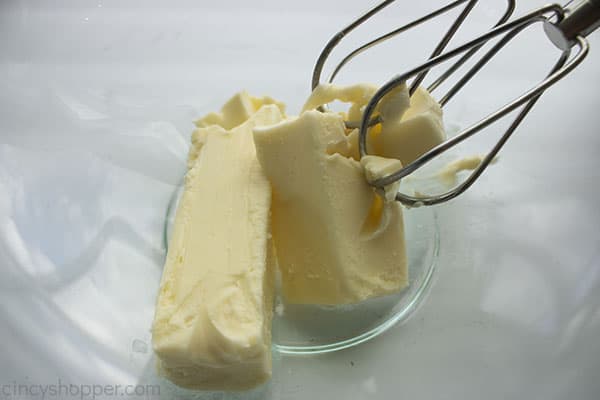 With our butter beaten nice and smooth, we can now add in our granulated sugar. Turn your mixer speed up to high, add in our sugar, and then beat it in until the mixture get's fluffy. Use a rubber spatula to scrape the sides of the bowl as needed!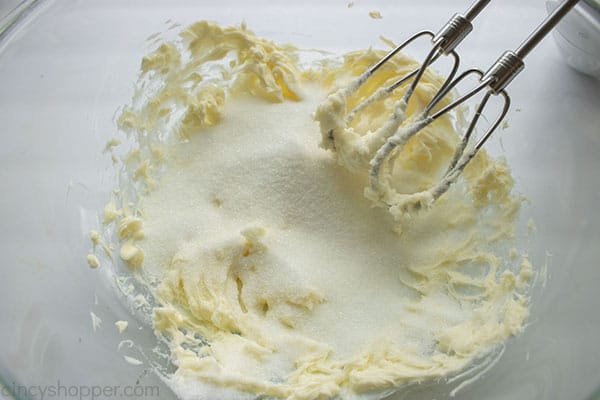 Let's get the rest of our wet ingredients mixed in. Crack your egg and pour your extracts into the bowl with our butter-sugar mixture. Keep the mixer speed on high and mix those all together until consistent.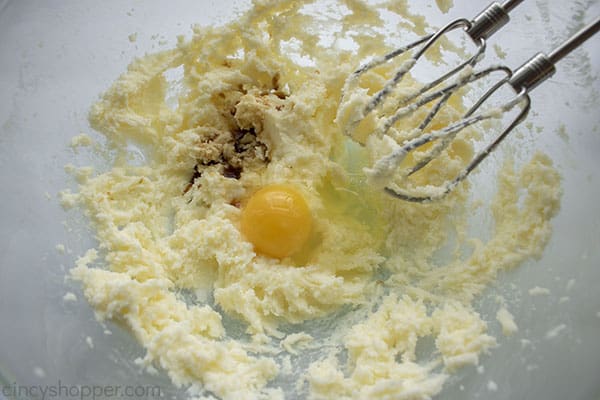 With the wet stuff dealt with, we can move onto the dry ingredients! To a separate mixing bowl, add your flour, baking powder, and salt- if you're using it. Give those a brief whisking to mix those powders together.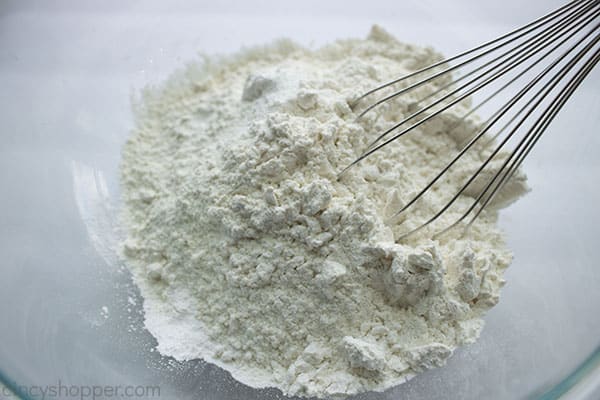 Now it's time to get everything mixed together. Turn your mixer down to a lower speed and start gradually adding your dry ingredients to your wet ones. Do this a hefty dash or two at a time, taking time to beat the dry mix in before adding more.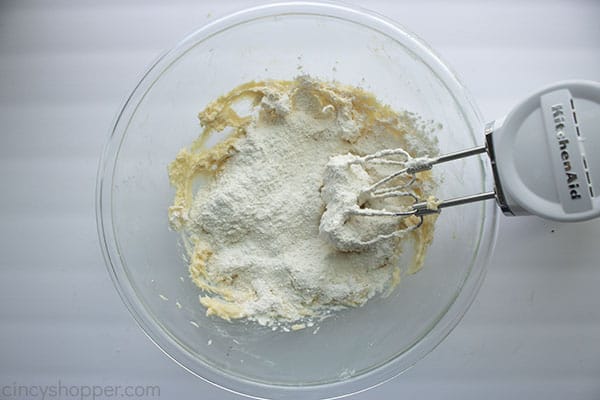 With our dough all mixed up, you'll now want to stick it between two pieces of parchment paper. Roll your dough out into a sheet that's about 1/4-inch thick. If you have lots of dough, you may want to divide it in half or into thirds/fourths and roll those out into sheets. Once rolled out, drop your dough onto a baking sheet. Move this to the fridge to chill for at least a couple of hours- you can let it sit for a day or two if you'd like. If chilling many sheets of dough, feel free to stack them on the baking sheet with sheets of parchment between them.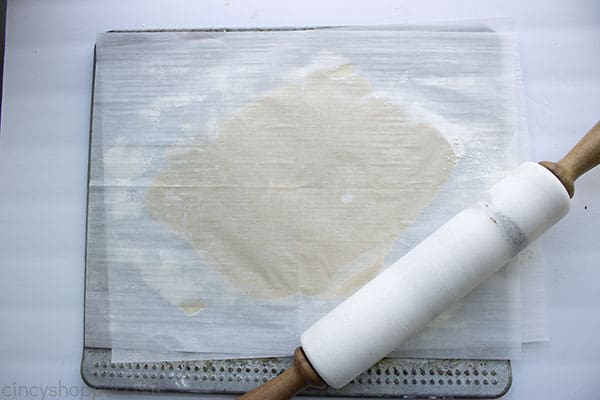 Once you've given the dough a chance to chill, pull it from the fridge. Prep a fresh baking sheet with parchment and move your dough to a floured work surface. Grab your favorite cookie cutters and start cutting your dough! Move your cut dough shapes over to the prepped baking sheet and re-roll any leftover dough so you can cut out more cookies. You've got plenty of dough here- don't let it go to waste!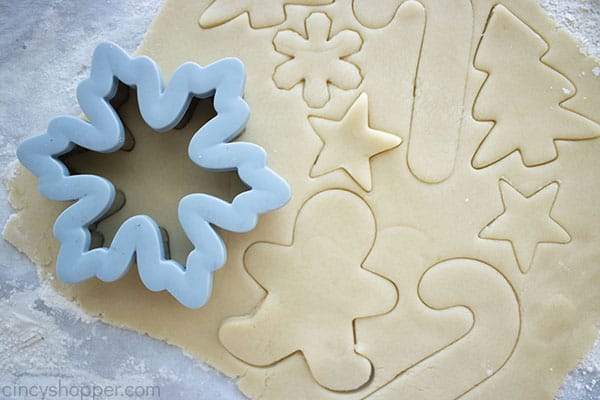 With a sheet of cookies cut, transfer to an awaiting 350-degree oven and allow to bake for 11-12 minutes- turning the baking sheet halfway through. When your cookies have picked up a light, golden-brown color, they're finished baking! Allow cooling completely before icing your cookies. Once your icing has set, feel free to grab a cookie and enjoy!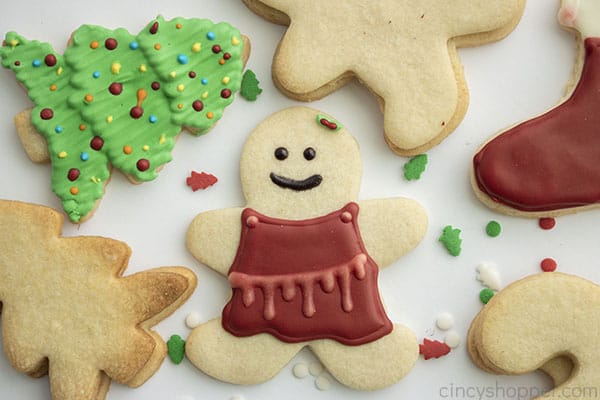 Christmas Cutout Cookies
Cut Out Christmas Sugar Cookies are a sweet and easy baked dessert perfect for winter. Don't worry- these holiday treats hold their shape!
Ingredients
3/4

cup

Butter

at room temperature

3/4

cup

Sugar

1

Egg

2

tsp

Vanilla Extract

1/2

tsp

Almond Extract

optional, but makes the flavor outstanding

2 1/4

cup

Flour

1/2

tsp

Baking Powder

1/4

tsp

Salt
Instructions
Beat the butter until creamed and fluffy.

Add the sugar and beat until incorporated.

Add the egg, vanilla, and almond extract and beat until blended, scraping sides as needed.

In another bowl, whisk together the flour, baking powder, and salt.

Gradually add dry ingredients to wet ongredients, beating until just combined.

Divide the dough into 2 equal parts.

Place each on a piece of parchment paper.

Cover with another piece of parchment paper and roll out to about 1/4" thick.

Refrigerate for at least 2 hours.

Preheat oven to 350.

Line baking sheets with parchment paper and set aside.

Use cookie cutters, cut shapes and transfer to prepared baking sheet.

Bake for 10-12 minutes, until lightly browned, rotating sheet at 6 minutes.

Allow to cool on baking sheet for 5 minutes before you transfer to wire rack.

Continue using remaining dough and rolling unused dough pieces until all used.

Ice cookies as desired.
Nutrition
Calories:
122
kcal
|
Carbohydrates:
15
g
|
Protein:
2
g
|
Fat:
6
g
|
Saturated Fat:
4
g
|
Cholesterol:
22
mg
|
Sodium:
88
mg
|
Potassium:
17
mg
|
Fiber:
1
g
|
Sugar:
6
g
|
Vitamin A:
187
IU
|
Calcium:
10
mg
|
Iron:
1
mg