Soft Butter Cookies are a classic holiday treat that are so easy to make! We hope you enjoy this delicious, buttery, old fashioned recipe.
With all the big holidays coming up, we're eager to make some tasty batches of cookies! This Butter Cookie recipe is a classic, all-time favorite that your family or guests will love and eat up.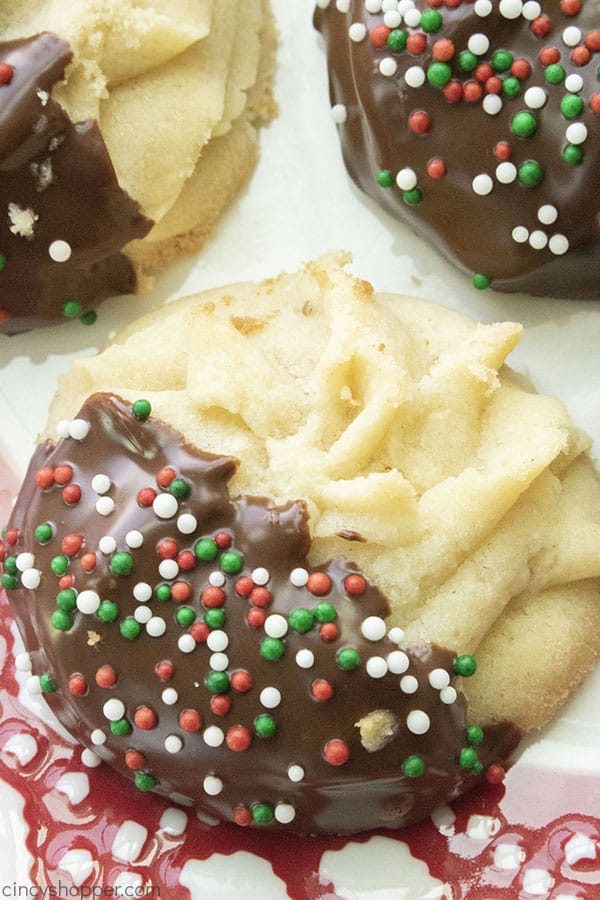 Soft Butter Cookies
Even though I'm a big fan of rich, sweet chocolate chip cookies, there's a special, soft spot in my heart for simpler, more humble cookies. Whether it's the classic sugar cookie or a quick-and-easy peanut butter one, there's a distinct charm to simple cookie recipes. One of my favorites in this cookie category is the Butter Cookie.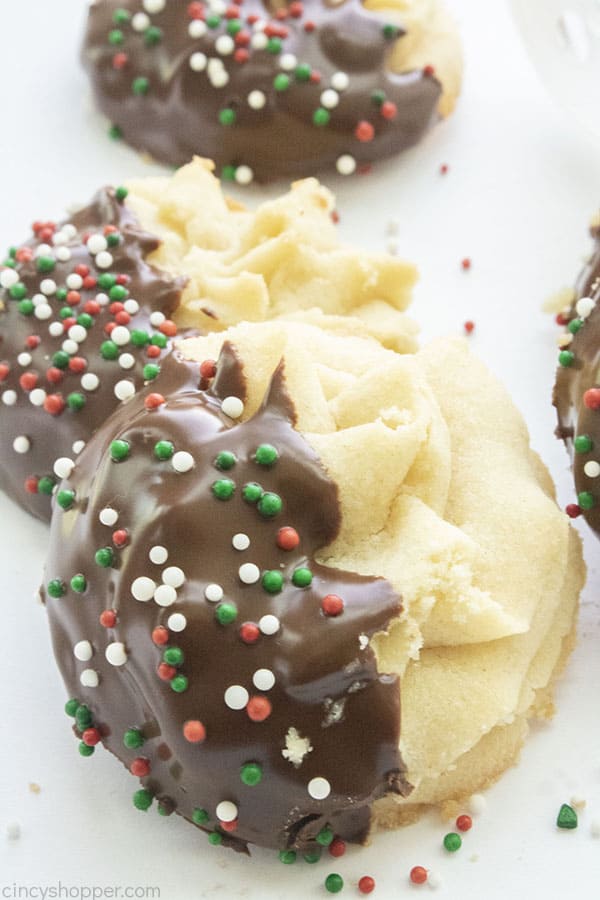 Some people might get things mixed up, so let's straighten something out real quick. There are many differences between sugar cookies and butter cookies. Sugar cookies, obviously, lean heavily on their sugar: it's where that simple, sweet flavor comes from. Butter cookies, meanwhile, really let the butter come through: there's a lot of- surprise- buttery flavors going on. Butter cookies also usually come in this recognizable, hand-piped shape as well. Both styles of cookie are great, but I think I'm definitely a bigger fan of the butter cookie!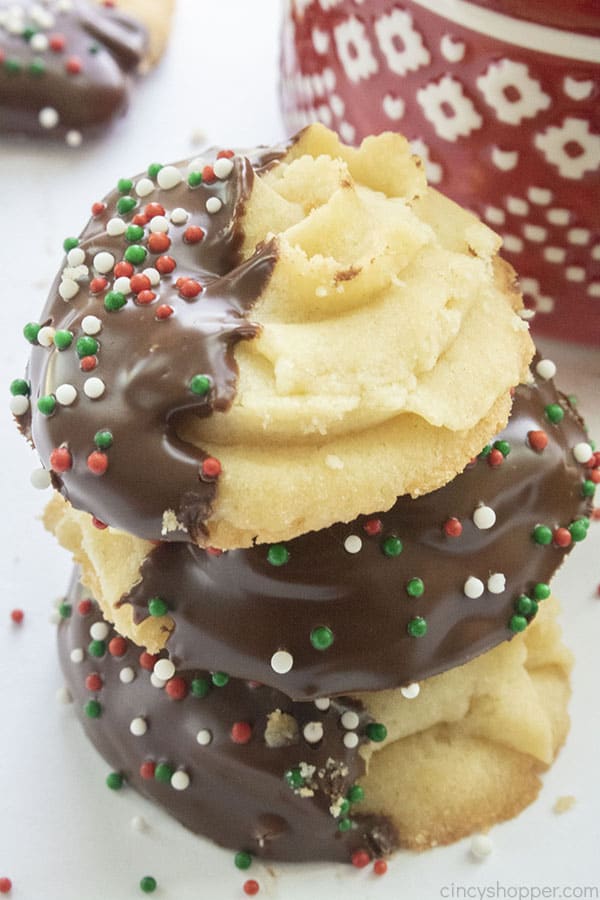 With those silky, buttery flavors, it's hard to go wrong with Butter Cookies. With the holiday season coming up, you better believe that we're going to fix up more than a few batches of these sweet little treats! I hope you do as well- this delicious and easy cookie recipe is one that's certain to please. Warm-up that oven and make a batch along with us!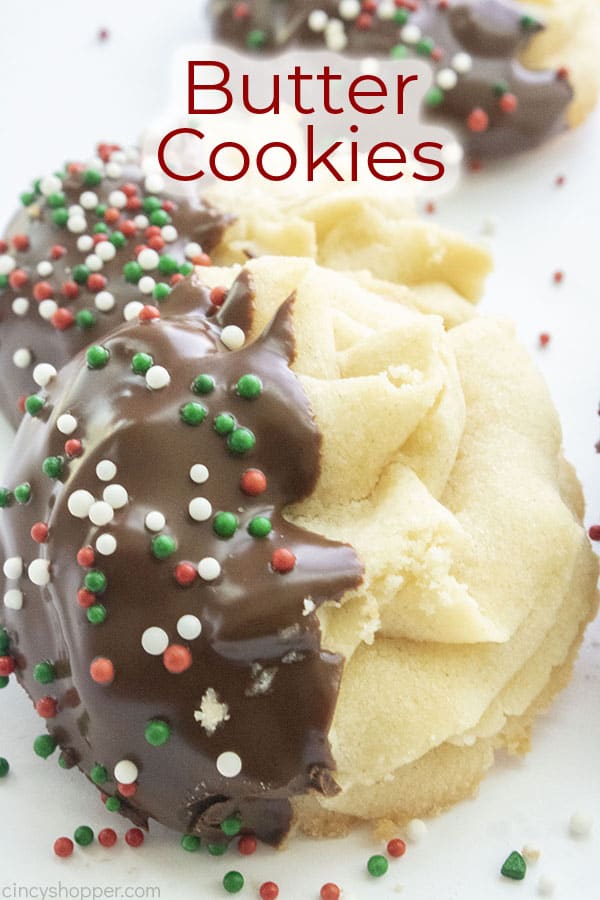 More delicious Cookie Recipes
For another delicious and simple little cookie recipe, you need to look at our

Snowball Cookies

.

Whether you call them snowballs or tea cakes, these tasty morsels are lightly-sweetened with a delicious, nutty flavor

. Melts right in your mouth!

On the fruitier side of things, we also have a

Cherry Thumbprint Cookies Recipe

to try!

Made easy with simple cookie dough and canned cherry pie filling, you'll want to enjoy these treats sometime this holiday season

. Cute little cookies that are perfect for Thanksgiving dessert!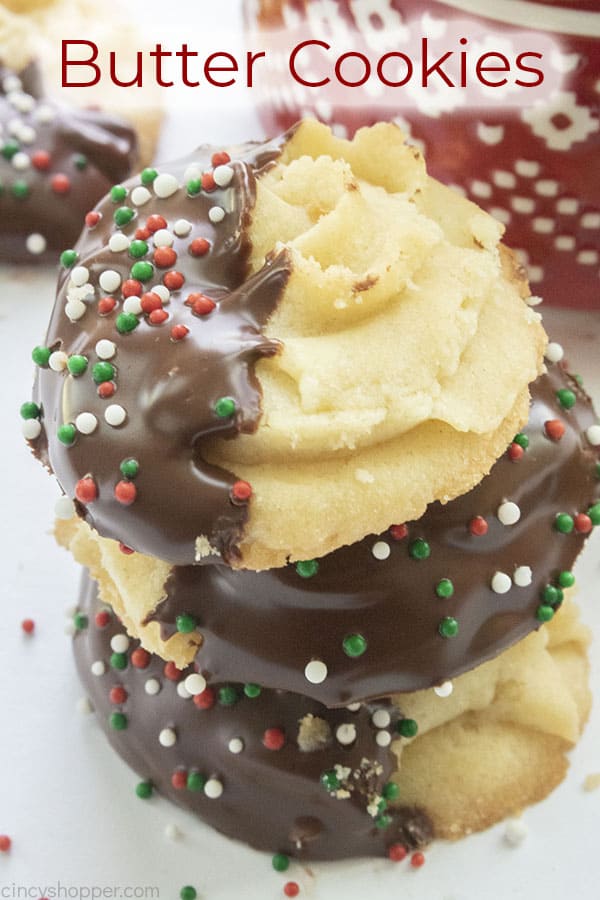 Ingredients for our Butter Cookie Recipe
Eggs – We're only going to need the yolks for this recipe.

Vanilla Extract – You can,

optionally

, try this recipe with an almond extract as well!

Chocolate – We used chocolate chips here but it doesn't matter too much. We're going to be melting it.

Vegetable Shortening – Like Crisco

Sprinkles – The nonpareils are the classic pick here!
How to make Butter Cookies
Like any cookie recipe, the first order of business is the cookie dough. For our butter cookies, that means creaming together some butter and sugar. Do this- easily, with a hand or stand mixer- until they're beaten to a fluffy consistency.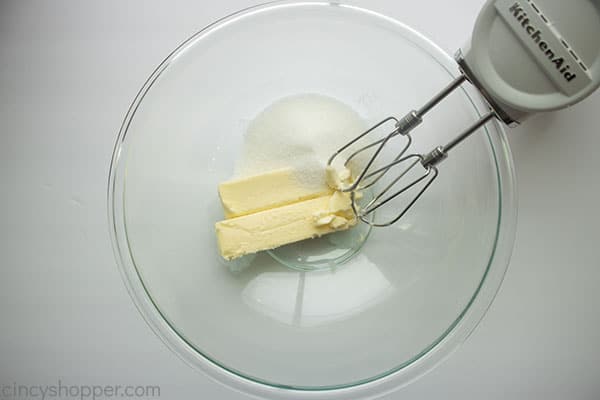 To that fluffed mixture, we're going to add our egg yolks and our extract of choice. Beat until our new ingredients are fully incorporated before moving on to the next step.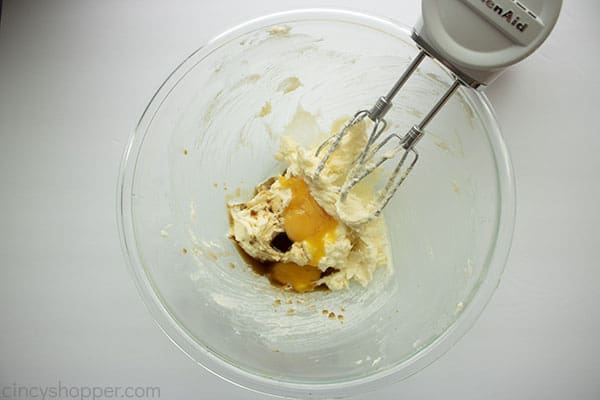 With those wetter ingredients dealt with, it's time to add the dry stuff. Quickly mix together the flour and salt before gradually adding it to our wet ingredients. Slowly add the dry ingredients until they're fully blended and a consistent mixture has formed.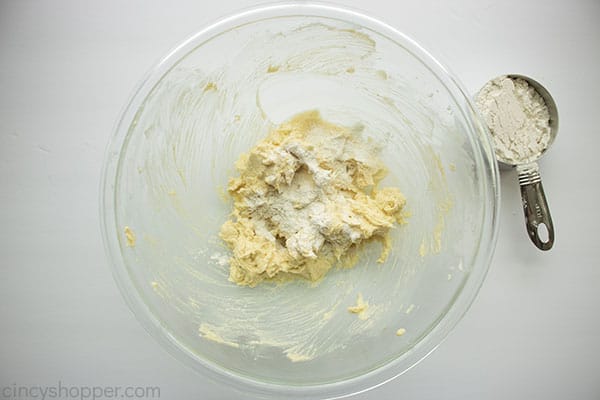 This is our cookie dough! You could technically use this dough in whatever fashion you wanted- maybe use a cookie press or something similar. We wanted to go with some hand-piped cookies, so we transferred our dough over to a piping bag with a star tip.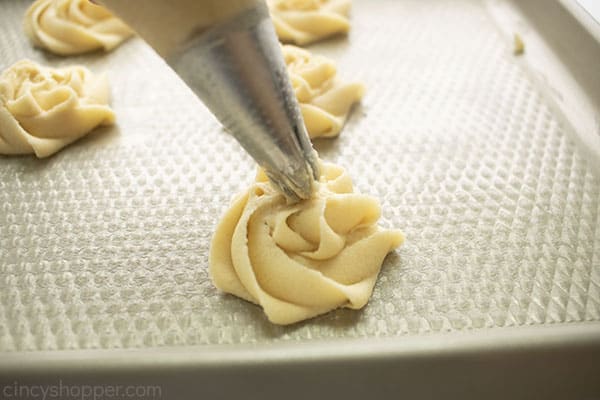 However you use the cookie dough, when it comes time to bake it, you'll want to do so on a well-buttered cookie sheet. Prior to piping out the cookie dough, butter some cookie sheets and let sit in the fridge for 15 minutes. Once those have had a chance to chill, then you can start piping out your cookies, making sure to leave an inch of space between each cookie. Let them bake in a 350 degree oven for about 12 minutes or until the edges just start to brown. Let these cool on a wire while you prep a quick chocolate coating.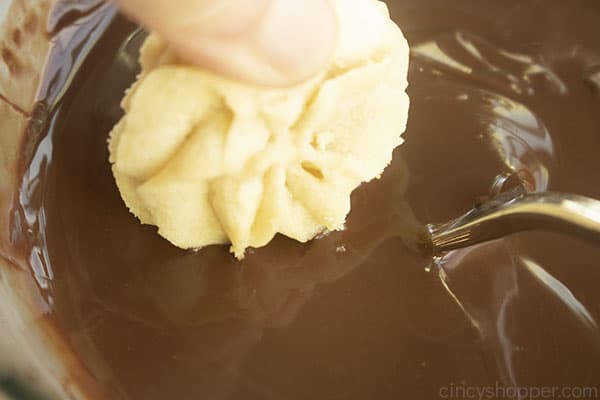 Making our chocolate coating couldn't be simpler: first, combine your chocolate and Crisco in a microwave-safe bowl. Microwave the mixture in 30-second bursts, mixing each time, until it's melted and smooth. Give your cookies a quick half-dip before setting on a baking sheet and sprinkling with our nonpareils. Let the chocolate set- or don't if you don't mind a bit of chocolate on your fingers- before enjoying!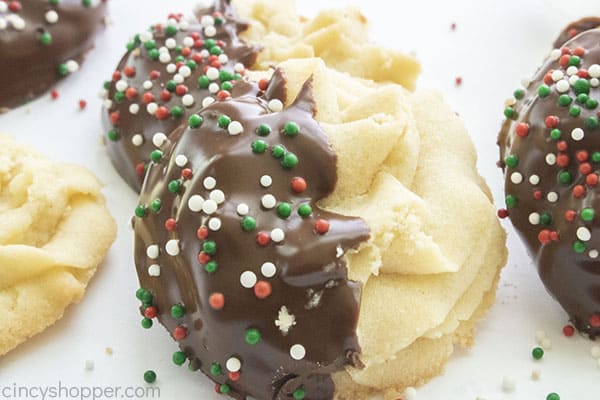 Storing and Freezing Cookies
These cookies will last a while- even outside the fridge! I'd hesitate to recommend freezing these things: if kept in an airtight container, your cookies will last for 2-3 weeks at room temperature. They're so good, I doubt they'll even last that long! If you do decide to freeze them, I'd guess they'd stay good for around 3 months.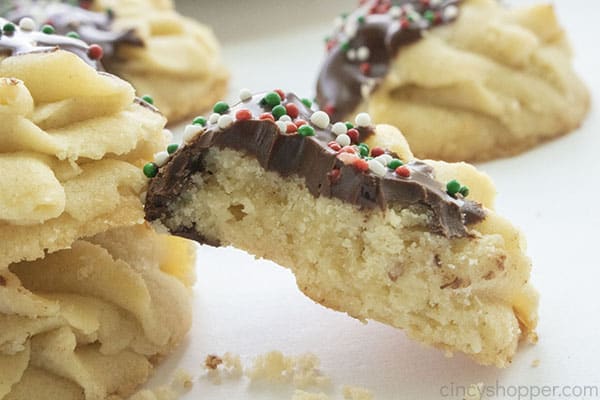 Butter Cookies
Soft Butter Cookies are a classic holiday treat that are so easy to make! We hope you enjoy this delicious, buttery, old fashioned recipe.
Ingredients
1

cup

Butter softened

1/2

cup

Sugar

2

large Egg Yolks

1 1/2

tsp

Vanilla

2

cup

Flour

1/8

tsp

Salt

1

cup

Chocolate Chips

1

tsp

Vegetable Shortening

Crisco

1

tbsp

Christmas colored Nonpareils
Instructions
Preheat oven to 350.

Butter 2 cookie sheets and refrigerate for 15 minutes.

Cream butter and sugar until fluffy.

Beat in egg yolks and vanilla until incorporated.

Gradually add flour and salt and mix until blended.

Transfer to a pastry bag with a star tip.

Pipe onto prepared sheet. Leave at least 1" between cookies.

Bake for 11-13 minutes or until the edges are just barely brown.

Transfer to a wire rack to cool.

In a small bowl combine chocolate chips and Crisco.

Melt by microwaving for 30 seconds and stirring, until melted and smooth.

Dip cookie half way in chocolate and set on sheet.

Sprinkle with nonpareils.
Nutrition
Calories:
131
kcal
|
Carbohydrates:
13
g
|
Protein:
1
g
|
Fat:
8
g
|
Saturated Fat:
5
g
|
Cholesterol:
37
mg
|
Sodium:
81
mg
|
Potassium:
15
mg
|
Fiber:
1
g
|
Sugar:
5
g
|
Vitamin A:
258
IU
|
Calcium:
6
mg
|
Iron:
1
mg