Gingerbread Cookies are a delicious spiced treat you can cutout into any shape you want. Everyone loves this classic Christmas cookie recipe!
There are few other treats that are perfect for the holiday season like gingerbread cookies. Follow along with our easy recipe for a holiday cookie you can bake soft or crispy and ice however you like!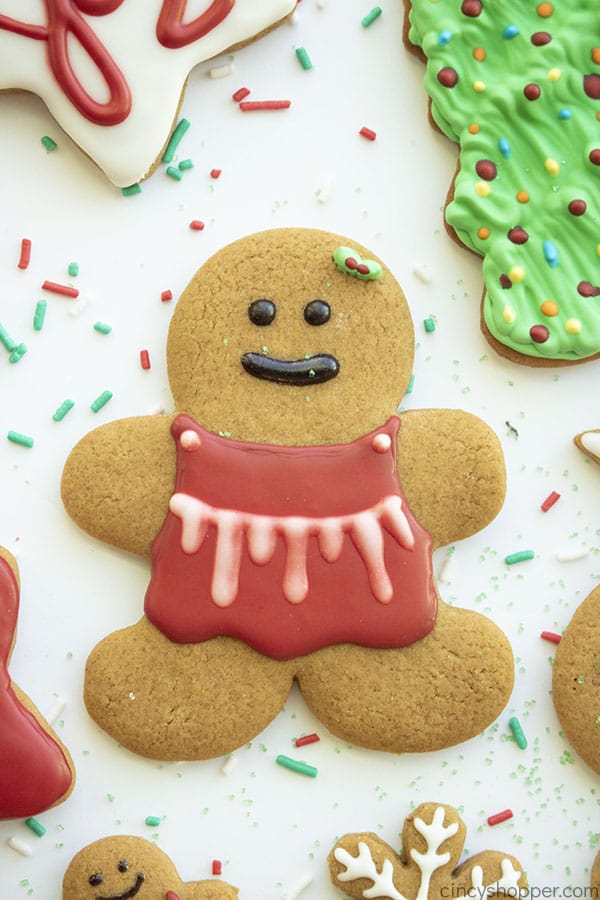 Gingerbread Cookies
Making delicious gingerbread cookies is a tradition that many families keep through the holidays. It's a fun, family activity that anyone can get in on! The house fills with all these smells of cookies and baking spices- and it's an absolute joy when everyone gets to decorate their own cookie! The icing part is always fun, but first, you gotta know how to make gingerbread dough and how to bake some tasty gingerbread cookies.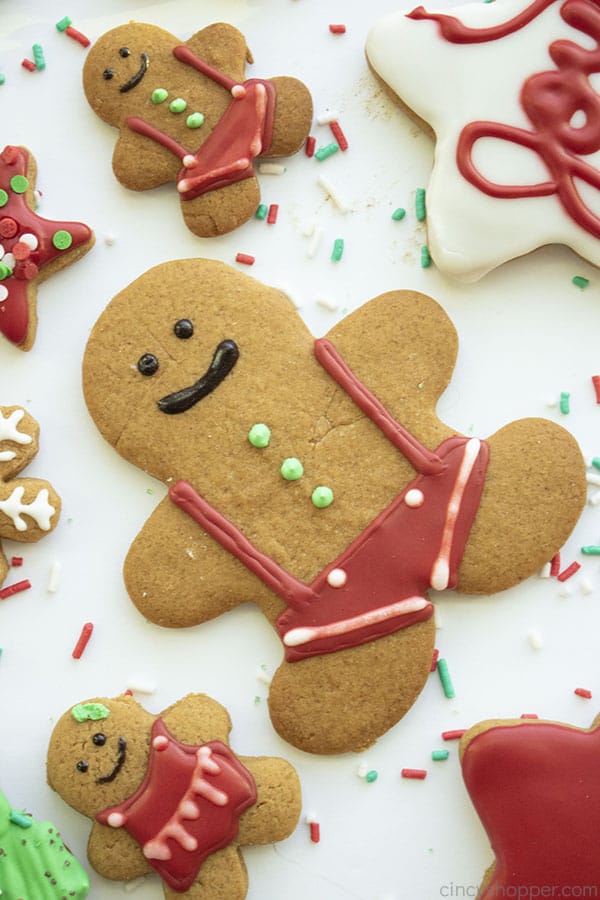 There's plenty of gingerbread cookie recipes on the web, but we try to keep things very simple. We believe that the best gingerbread cookies are easy gingerbread cookies! With that in mind, we keep our recipe very simple: dry ingredients, wet ingredients, mix, cut, and bake! A nice, basic gingerbread recipe that leaves plenty of time and energy for icing and decorating.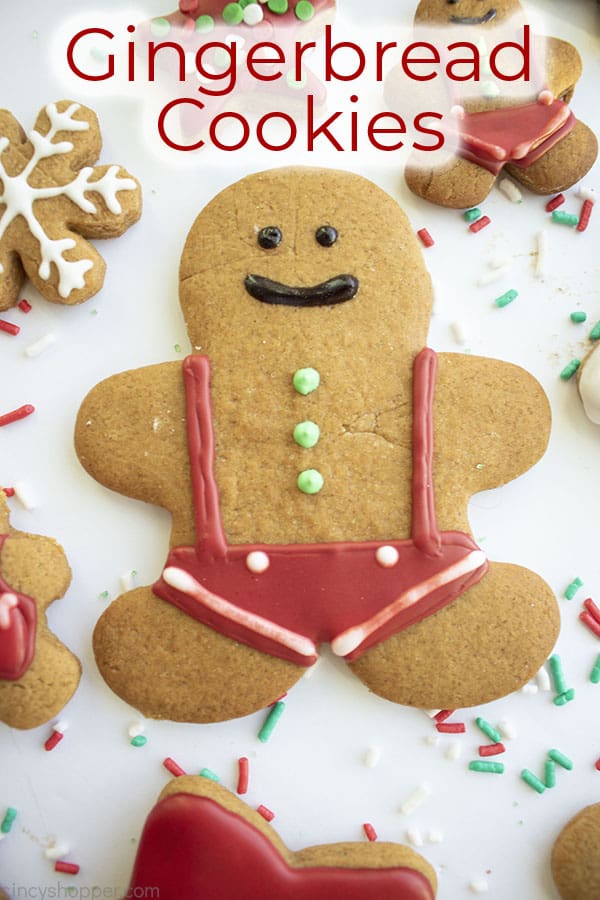 For as easy as this cookie recipe is, you still get a delicious cookie in the end! Plenty of rich, sweet flavors from the combo of brown sugar and molasses and you can't forget all those delicious baking spices. Cinnamon, ginger, nutmeg- it's not hard to see why these cookies are a long-time favorite! We loved our batch and we're certain you will too!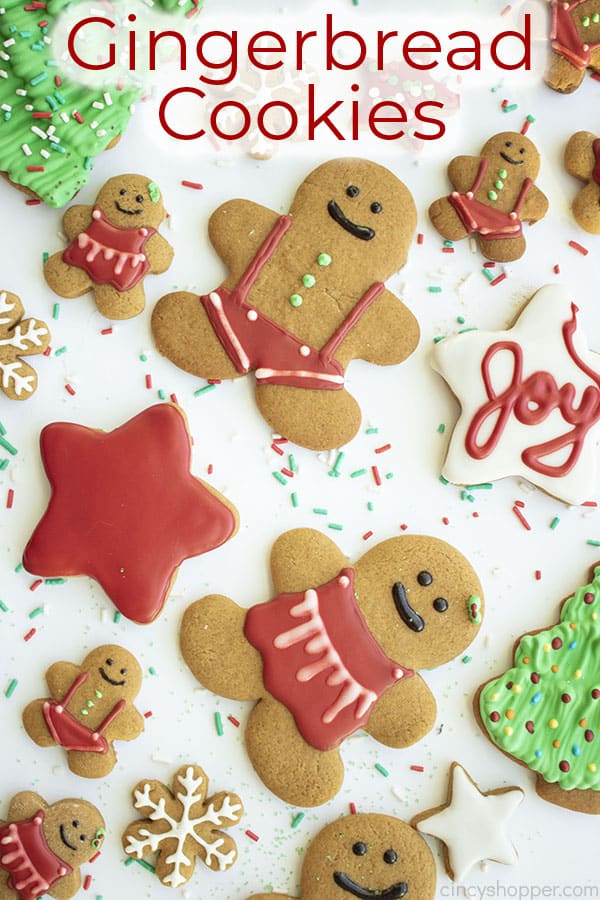 More Classic Christmas Cookie Recipes to try out!
These

Soft and Chewy Molasses Cookies

are another delicious treat that's perfect for the holiday season

!

Again, we see these baking spices and molasses come together for a delicious Christmas cookie

. Molasses has an interesting flavor- but don't be afraid to give it a try with these cookies!

Call them

Peanut Butter Blossom Cookies

or Peanut Butter Kiss Cookies- these are another Christmas Classic

! You can't go wrong with the classic combo of peanut butter and chocolate. You don't even need to chill the dough, so you can make these cookies up quick!

The holiday season is the perfect time for some

Soft Snickerdoodle Cookies

.

We made these snickerdoodles softer, chewier, and a bit thicker than your average snickerdoodle

.

Just

the right amount of sweetness in these treats- perfect with a tall glass of milk!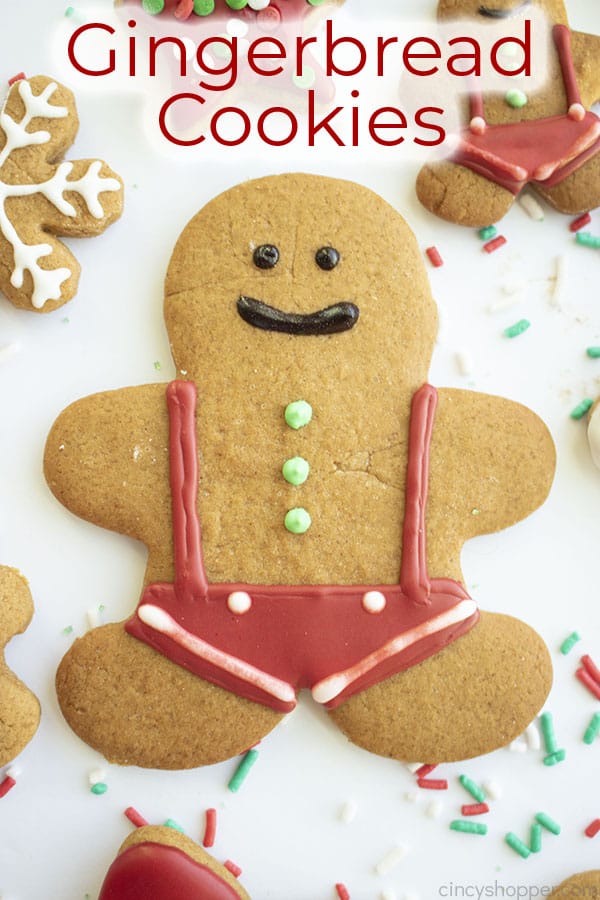 Gingerbread Dough Ingredients
This cookie recipe, like many others, uses a technique of prepping your wet and dry ingredients
separately
before mixing
. Our dry mix uses…
Spices – Cinnamon, ginger, and cloves are the go-to picks here. We went ahead and added a little nutmeg as well. A little pinch of salt wouldn't hurt either!
The wet ingredients, meanwhile, include…
You will also need some sort of icing recipe for decorating your cookies. We used
this recipe for royal icing
from The Spruce Eats- if you have your own recipe, feel free to use it here!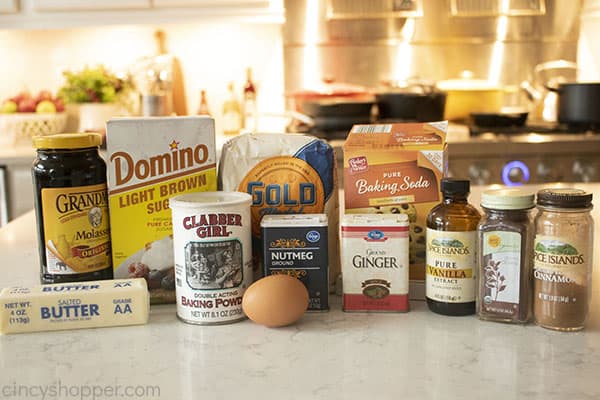 How to make Gingerbread Cookies
To make these cookies we, again, will have to prep our wet and dry stuff separately. First, we'll focus on the dry ingredients. In a mixing bowl, whisk together your flour, baking soda and powder, and any spices you're adding to your cookies.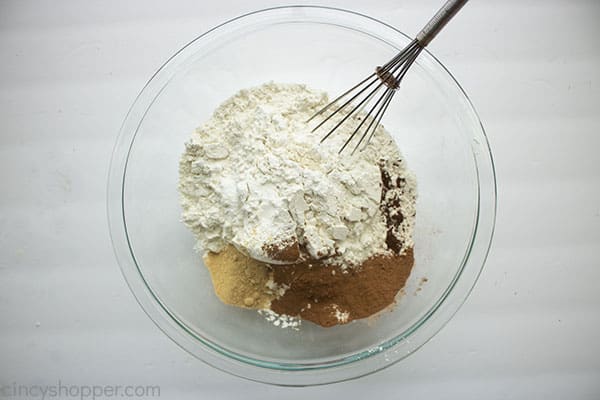 Now, in a separate bowl, beat together your butter, brown sugar, and egg. A stand mixer will do this job easy but a hand mixer will work just fine!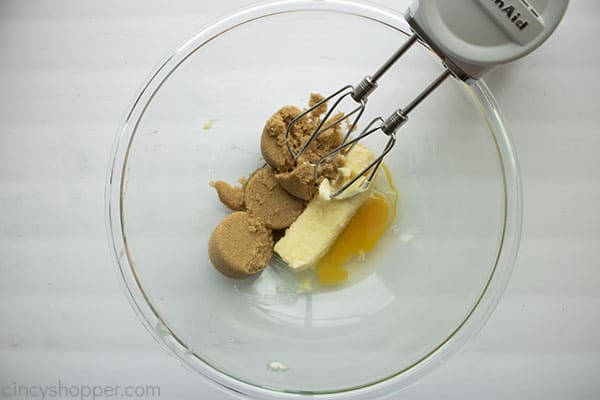 Once that's all been beaten together to a nice, creamy consistency, we're going to add in our remaining wet ingredients. That means adding in your molasses and your vanilla extract. Mix those in until well-blended.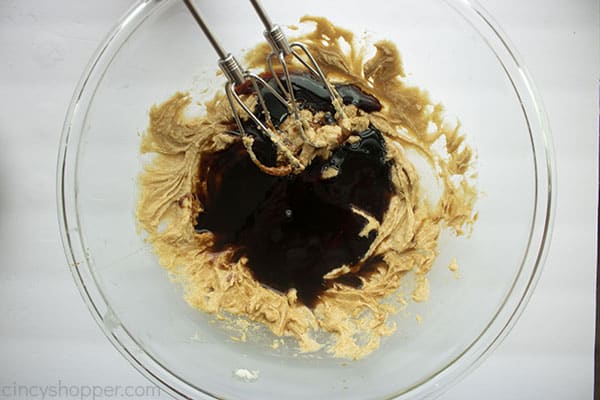 You should now have this delicious-looking brown batter- don't eat this stuff, there's raw egg in there! Instead of sneaking a taste, we're going to start mixing our dry ingredients in. Gradually add in the dry stuff, a healthy dash at a time, mixing in fully before adding the next dash.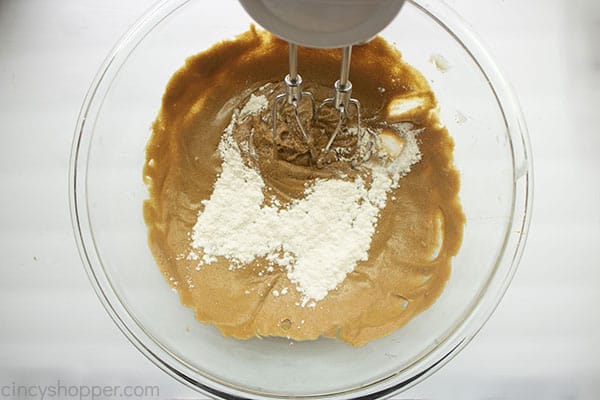 Eventually, this is going to form into a smooth, cohesive dough. Once that dough has come together, split it into two halves, and allow to sit covered in plastic wrap for a few hours. You can, optionally, keep this dough in the fridge for a few days until ready to use. Whenever you're ready to put the dough to use, roll it out to a 1/4-inch thickness, and use your favorite cookie cutters to cutout various cookies.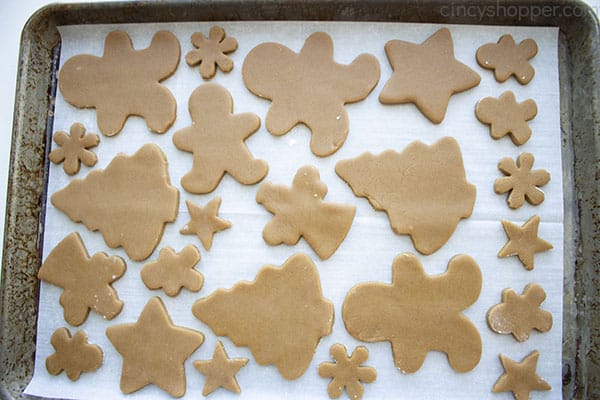 Place your cookies on a parchment-lined baking sheet, spaced about an inch or two apart. You'll likely have to bake multiple batches of cookies- that won't be a problem: you just get to enjoy those baking smells a bit longer! Bake in a 375 degree oven for around 8-10 minutes.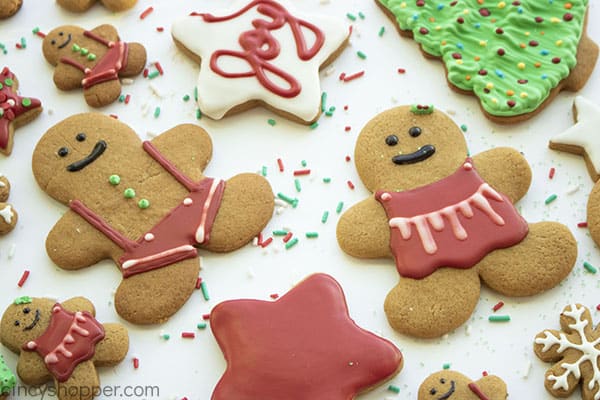 Bake your cookies a little longer for crispy gingerbread cookies or shorter for soft gingerbread cookies. However you like them, pull them from the oven when they're done and allow them to cool completely before icing them. Feel free to get your kids or your spouse in on the icing- it's a fun time! Once your cookies are cooled and iced, feel free to enjoy them!
Gingerbread Cookies
Gingerbread Cookies are a delicious spiced treat you can cutout into any shape you want. Everyone loves this classic Christmas cookie recipe!
Ingredients
3

cup

All-Purpose Flour

3/4

tsp

Baking Soda

1 1/2

tsp

Baking Powder

1/4

tsp

Salt

1

tbsp

Ground Ginger

1 3/4

tsp

Ground Cinnamon

1/4

tsp

Ground Cloves

1/4

tsp

Ground Nutmeg

8

tbsp

Butter

3/4

cup

Brown Sugar

1

Egg

1/2

cup

Molasses

2

tsp

Vanilla Extract
Instructions
In a medium bowl, whisk together flour, baking powder, baking soda, salt, ginger, cinnamon, nutmeg and cloves until combined. Set aside.

In a large bowl, beat together butter, brown sugar and egg until blended.

Beat in molasses and vanilla until incorporated.

Gradually add the dry ingredients beating until well blended.

Divide dough in half and wrap each in plastic.

Allow to sit for at least 2 hours.

You can also store in refrigerator for several days (allow to come to room temperature before using).

Preheat oven to 375.

Line baking sheets with parchment paper.

Lightly flour your work surface

Dust flour over dough and rolling pin.

Roll out dough to a 1/4" thick.

Use cookie cutters to cut out cookies and place on prepared sheet about 1" apart.

Bake for 8-10 minutes. Shorter for softer. Longer for crisper.

Leave on cookie sheet until firm enough to move to wire rack.

Decorate as desired.
Nutrition
Calories:
171
kcal
|
Carbohydrates:
29
g
|
Protein:
2
g
|
Fat:
5
g
|
Saturated Fat:
3
g
|
Cholesterol:
20
mg
|
Sodium:
163
mg
|
Potassium:
161
mg
|
Fiber:
1
g
|
Sugar:
14
g
|
Vitamin A:
154
IU
|
Calcium:
52
mg
|
Iron:
1
mg