Caprese Bites are delicious little pastry bites with all the flavors of a caprese salad. These are an easy appetizer packed with flavor!
Caprese salad is a humble but delicious salad, comprised simply of tomatoes, mozzarella, and some basil. Load up some mini salads into some quick pastry shells for this eaasy appetizer recipe!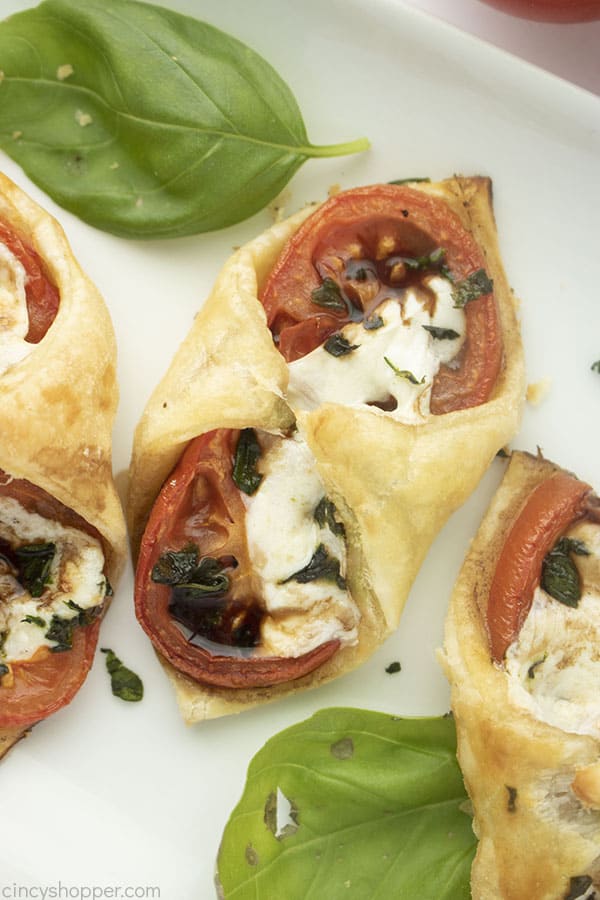 Caprese Bites
Most recipes online for Caprese Bites are usually some sort of caprese skewers. It didn't seem like there were many that tried to make these into caprese salad bites. By using puff pastry as a sort of boat, I was able to make little mini salads that picked up some light, roasty flavors while they baked in the oven.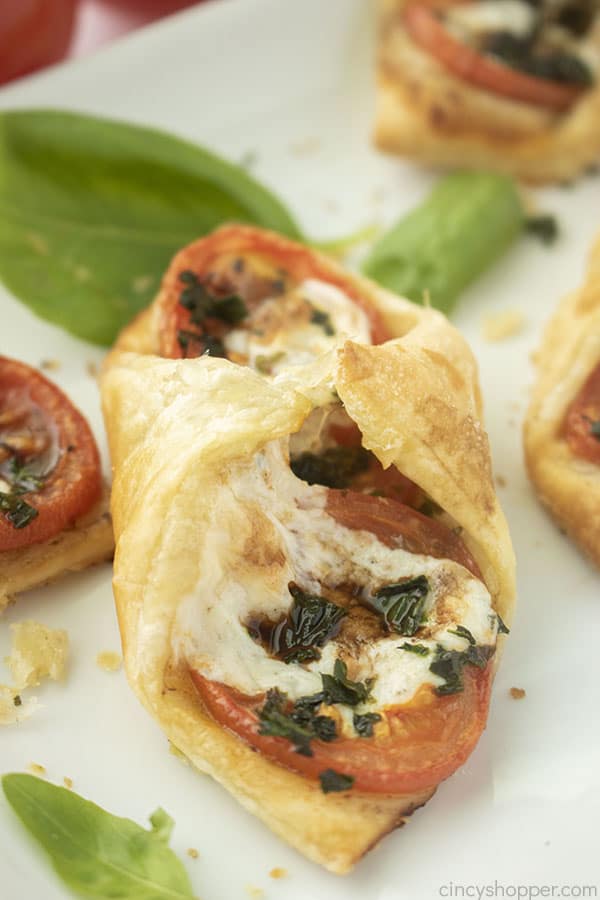 The tomatoes pick up a little bit of a sun-dried taste, that mozzarella gets nice and melty, and- of course- I had to add some balsamic. All these flavors come together to make a delicious, by-the-batch appetizer that's going to get eaten up fast! Your guests will love them and so will you- enjoy!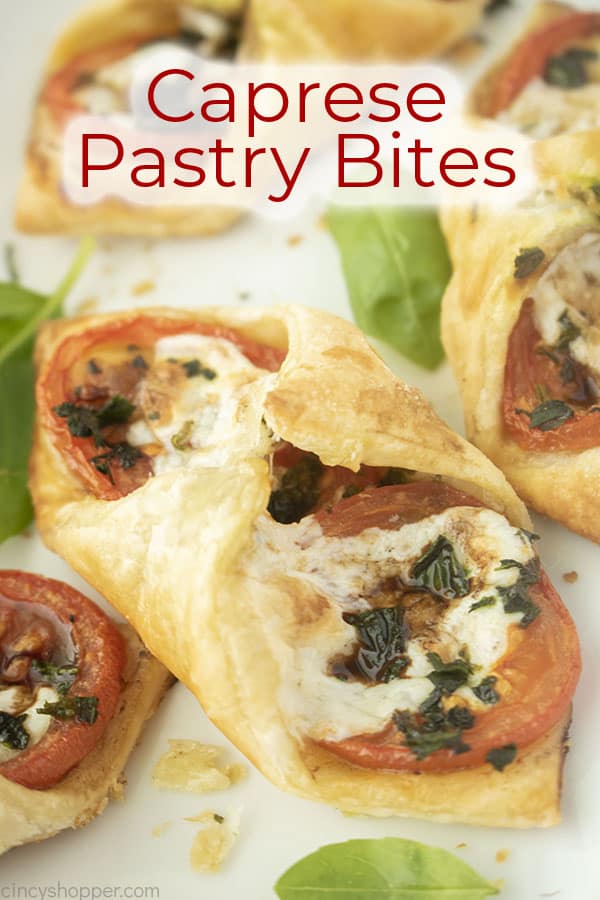 Enjoyed making these fancy appetizers? Here's more delicious appetizer recipes!
For another delicious caprese salad recipe, we have some

Caprese Garlic Bread

.

This appetizer has those addictive flavors of garlic bread with a melty caprese salad served on top

! The flavors play

perfectly

with each other- we know you'll love it.

Put the rest of that puff pastry to good use by making some tasty

Cranberry Brie Bites

.

The rich, creamy taste of the brie works

amazingly

with the sweetness and slight tartiness from the cranberry sauce

. A little pinch of rosemary gives these bites a bit of herbiness that's certain to please!

Looking for an extra creamy, cheesy, and delicious dip for your next party? Then you've gotta make some Hot Spinach Dip.

Your guests will love this: it's loaded with cream cheese, parmesan and mozzarella which all melt down into this extra creamy dip

!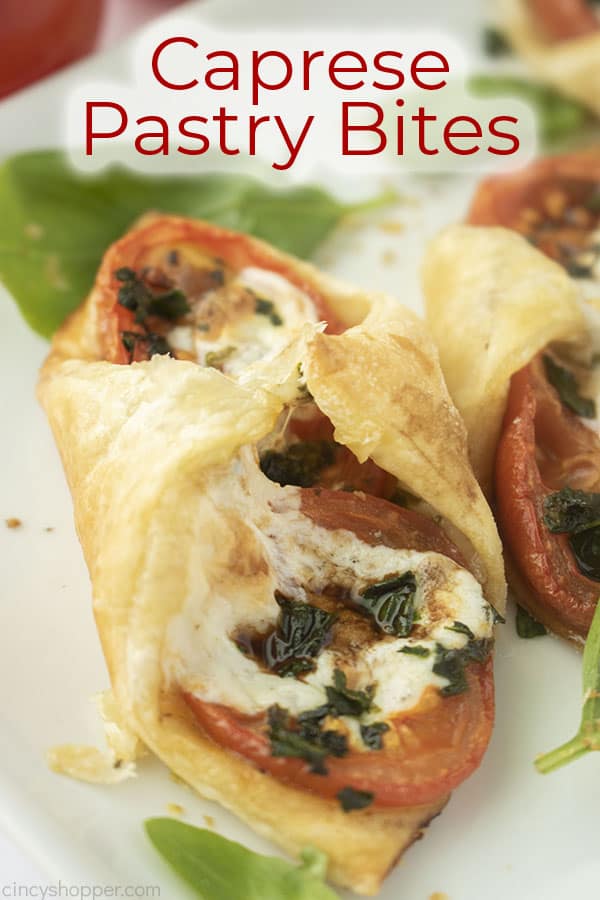 Ingredients for Caprese Pastry Bites
Tomatoes – Go for some smaller ones. You want the slices to fit on your pastry squares.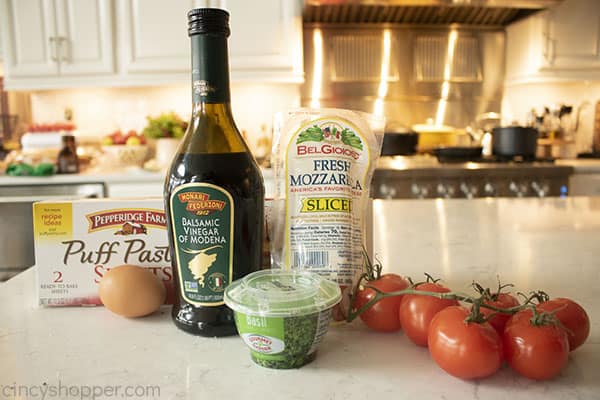 How to make Caprese Bites
While your oven is warming up to 400 degrees, we can get a few things prepped. First, on a well-floured work surface or cutting board, roll out your puff pastry into a large square. Once rolled out, cut out some small squares. Not counting the leftover scraps, we were able to get 20 squares from a sheet of puff pastry but, I only made 12 because that was what I needed for my family.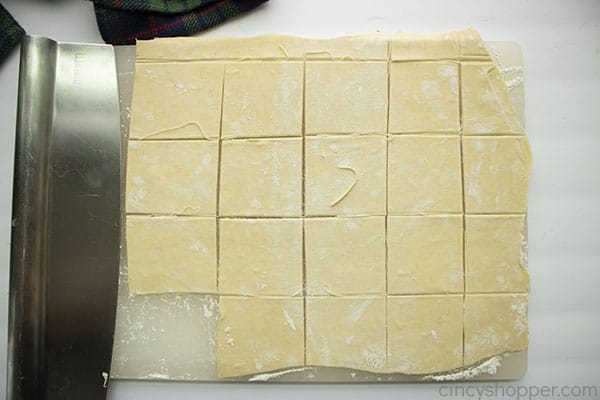 From here, we're basically building mini Caprese salads in each of these squares. First, we'll add our tomato. Take your tomatoes and slice them- you don't need them too thin here. Once sliced, transfer one or two slices to your pastries.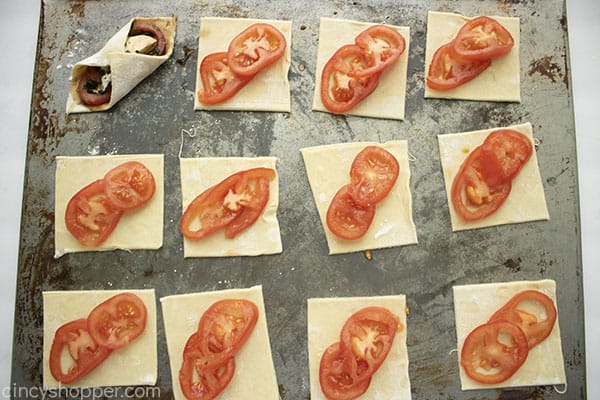 Next up is our mozzarella. You can either shred a bit of mozzarella over each pastry or cut thick slices as we did.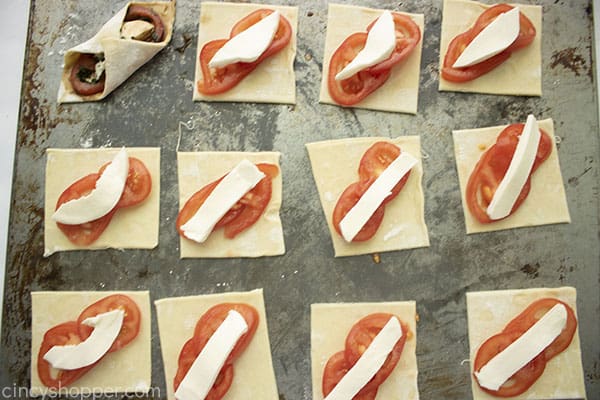 The last ingredient for our salad is a bit of basil. Give each of your salad bites a good sprinkling of basil leaves.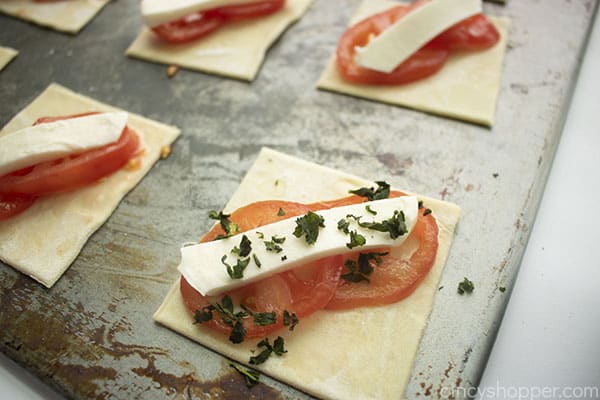 Plain salad is pretty boring so let's add a nice vinegar to our Caprese bites as well! The classic pick here is some balsamic vinegar: give each of your mini salads a quick drizzling of balsamic.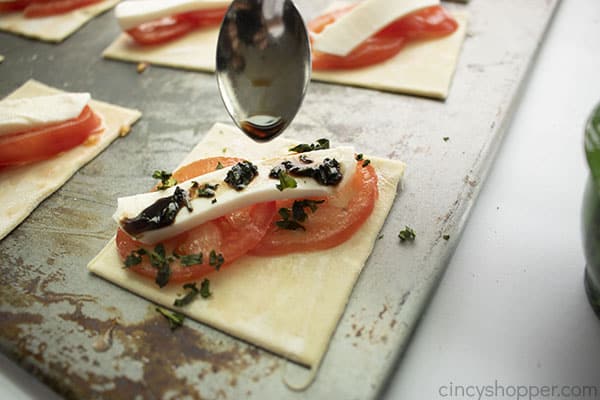 That's the filling for our salad bites all done! The next thing to do is close our pastries up. To do that, first, pinch two opposite corners of the pastry together and fold down. To ensure our pastries stay shut- and to add a little more flavor- we're going to give them a quick egg wash. Mix one beaten egg with just a teaspoon of water and brush your pastries down with this egg wash.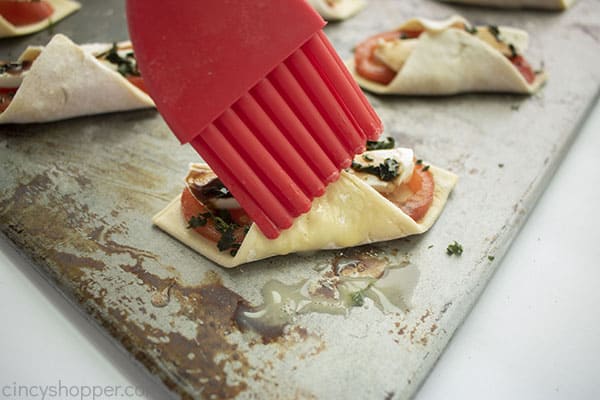 Our caprese bites are all prepped for the oven. If you haven't already, transfer them to a baking sheet before sending them into the oven to cook.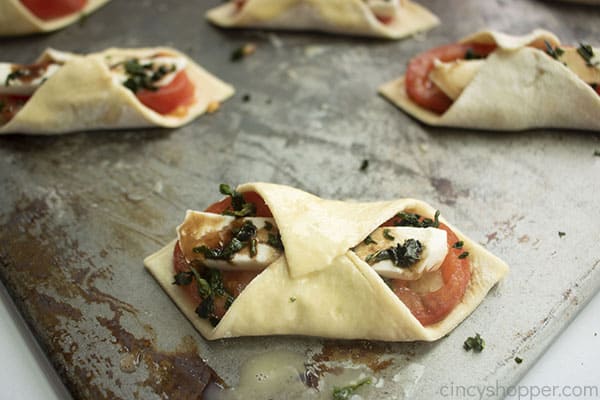 It should take around 15 minutes for your pastry bites to bake. You'll know they're done when the pastry has turned a delicious-looking golden-brown and the cheese has melted.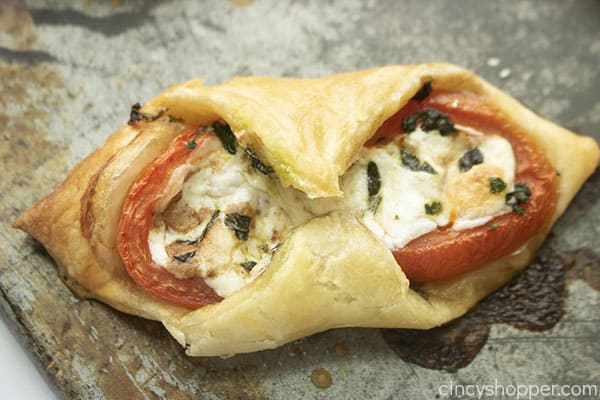 Once they've finished baking, pull your caprese bites from the oven. Transfer them to a nice serving plate for presentation.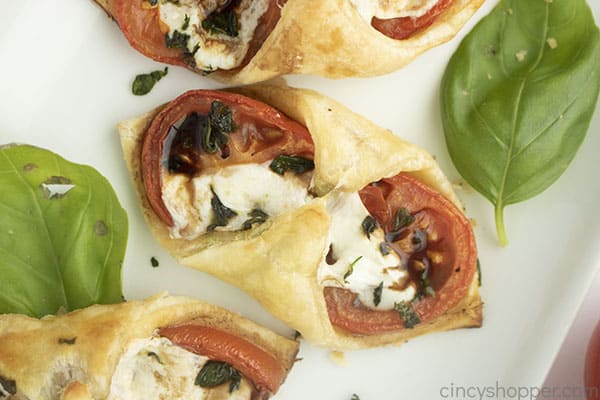 You'll want to serve and eat these while they're still nice and warm. I'd recommend letting cool for just a minute or two before serving and enjoying!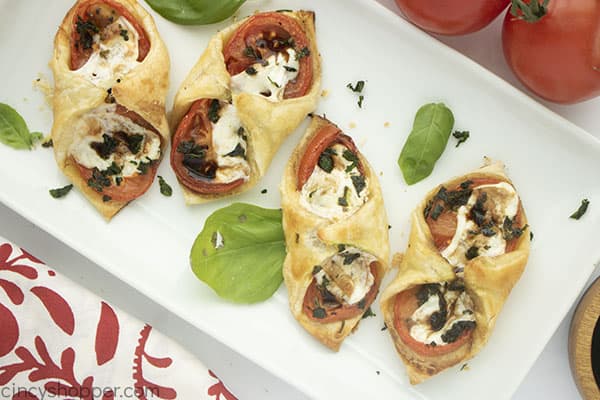 Caprese Bites are great for serving during the upcoming holidays. They will taste great even at room temperature. The red and green colors make them an excellent choice for a Christmas spread. But, they are an appetizer that also works year-round.
Caprese Pastry Bites
Caprese Bites are delicious little pastry bites with all the flavors of a caprese salad. These are an easy appetizer packed with flavor!
Ingredients
1

sheet Puff Pastry

thawed

2-3

Plum Tomatoes

sliced

4

oz

Mozzarella

2

tbsp

Balsamic Vinegar

1

bunch Basil

chopped

1

Egg
Instructions
Preheat your oven to 400.

Lightly flour your work area and roll out puff pastry sheet.

You can probably get 20 squares out of the sheet, but we only mage up 12 bites.

Transfer quares to a baking sheet.

Place 2 slices of tomato diagonally on square.

Top tomatoes with sliced or shredded mozzarella.

Top cheese and tomato with a sprinkle of basil.

Drizzle each with about 1/2 teaspoon Balsamic Vinegar.

Pinch two opposite corners of the pastry together and fold down.

In a small bowl whisk the egg with a teaspoon of water and lightly brush each pastry bite.

Bake for 15 minutes until the puff pastry is golden brown and cheese is melted.
Nutrition
Calories:
150
kcal
|
Carbohydrates:
10
g
|
Protein:
4
g
|
Fat:
10
g
|
Saturated Fat:
3
g
|
Cholesterol:
21
mg
|
Sodium:
116
mg
|
Potassium:
52
mg
|
Fiber:
1
g
|
Sugar:
1
g
|
Vitamin A:
170
IU
|
Vitamin C:
1
mg
|
Calcium:
53
mg
|
Iron:
1
mg