Spicy chicken in creamy Buffalo hot wing sauce is stuffed into celery sticks in this spicy snack recipe. All the taste of Buffalo wings without the mess!


This spicy chicken appetizer has all the hot and spicy flavors of Buffalo wings in an easy to prepare, spicy snack. The combination of the cool, crisp celery compliments the heat of the Buffalo chicken nicely.
Also, this recipe is a great use for leftover chicken or a rotisserie chicken.
If you are making it for a party, it's simple to double or even triple the recipe. I like to serve them for Game Day or a New Year's Eve appetizer.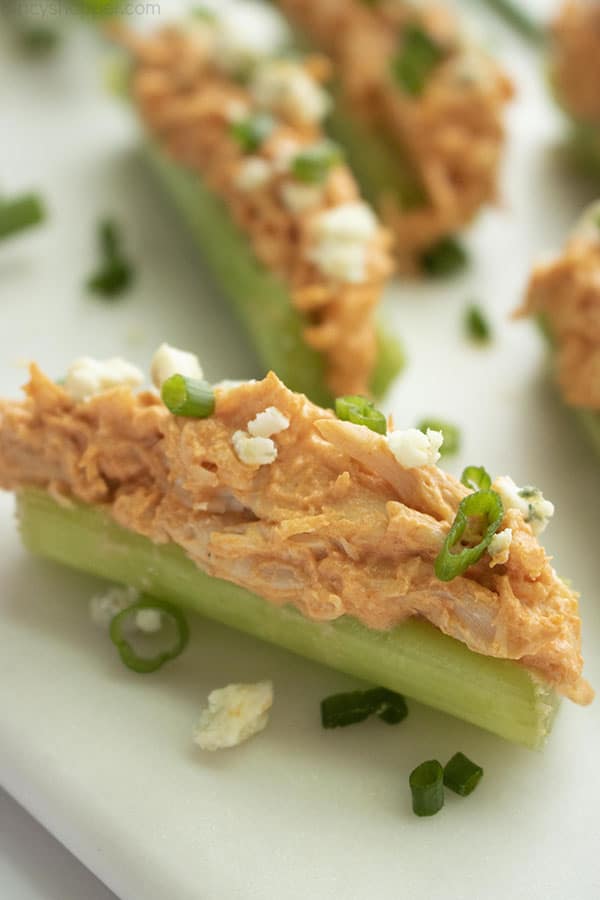 How to make this celery sticks snack
This stuffed celery sticks recipe is super easy to make, especially when you start with cooked chicken. You can use a rotisserie chicken or leftovers from another meal.
Boil Buffalo sauce with garlic powder and onion powder.
When it is boiling, add the cream cheese and stir until combined.
Remove from the heat and stir in the chicken until completely covered.
Refrigerate for about an hour.
While it is cooling, prepare your celery sticks. Wash and dry the celery. Cut off both ends and cut each stalk in half.
Add the spicy chicken to the celery
Garnish with scallions and blue cheese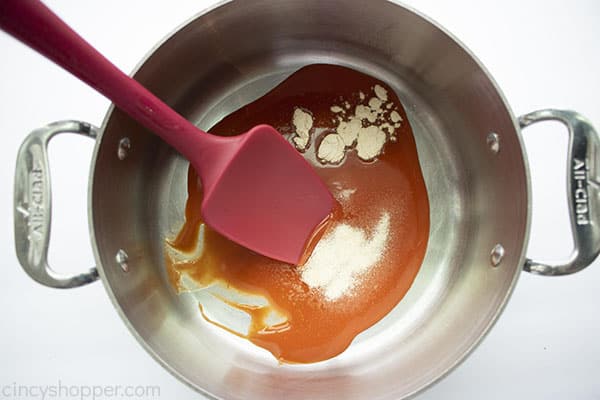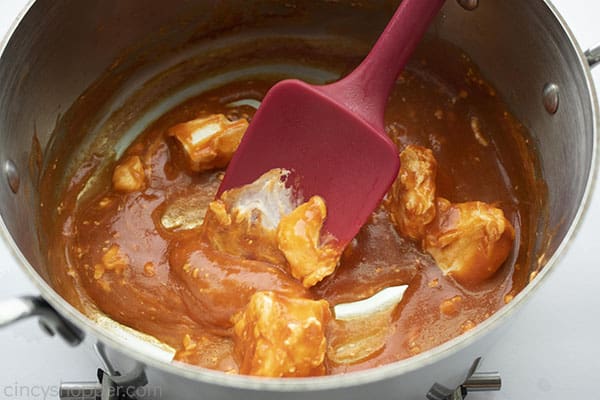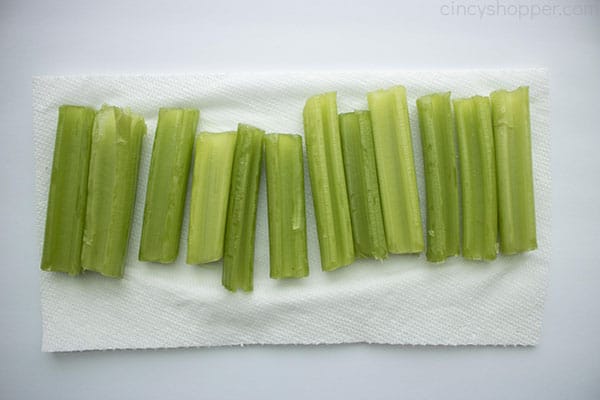 What can you put in celery sticks?
Celery is a blank canvas to create delicious snacks with. The celery itself is mild and mostly water. It's a great balance to bold flavors like hot and spicy chicken.
Peanut butter or cream cheese are typical pairings with celery sticks. The Country Cook has a fantastic recipe for traditional cream cheese stuffed celery sticks.
My version of Buffalo chicken stuffed celery tastes like Buffalo wings. Try some of these other ideas for creative stuffed celery sticks:
Hummus
Cheese sauce
Yogurt and olives
Cream cheese and bacon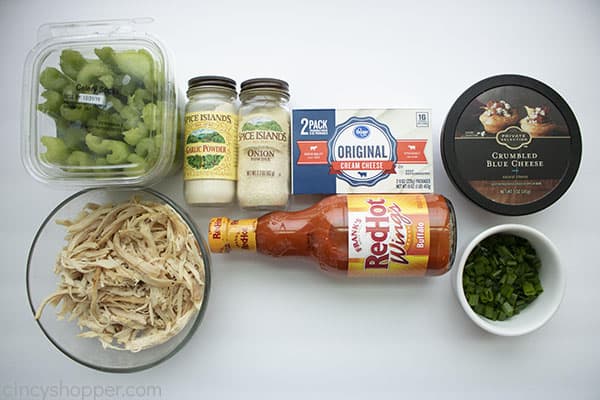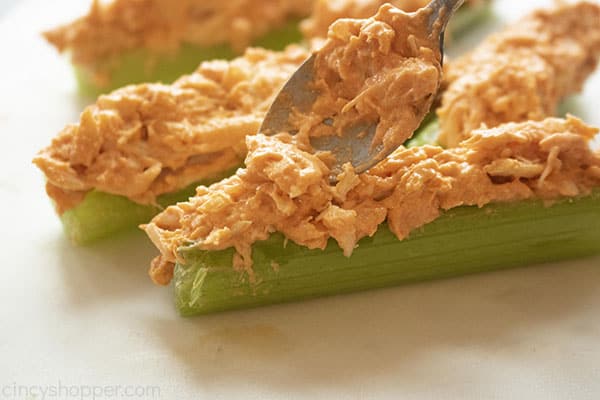 Seasonings and Spices
For this celery stuffed with spicy chicken, I use the following seasonings:
Buffalo wing sauce
Onion powder
Garlic powder
Cream cheese
It's a simple spicy snack that packs lots of flavor. If you use pre-made Buffalo wing sauce, there isn't any work; you just combine it with some cooked chicken.
However, Buffalo wing sauce is simply a mixture of hot sauce, vinegar, Worcestershire sauce, butter and seasonings. It is very easy to make at home! The traditional recipe for Buffalo sauce uses Frank's Red Hot sauce. These days, you can find many different varieties available now, but if you want to add more heat to this spicy chicken, add more hot sauce to the mixture.
The blue cheese and celery will help to balance out the heat, which is why they are served as sides with Buffalo wings.
And for everyone who is addicted to the spicy chicken flavor burst of hot wing sauce, try my other recipes that feature this great taste: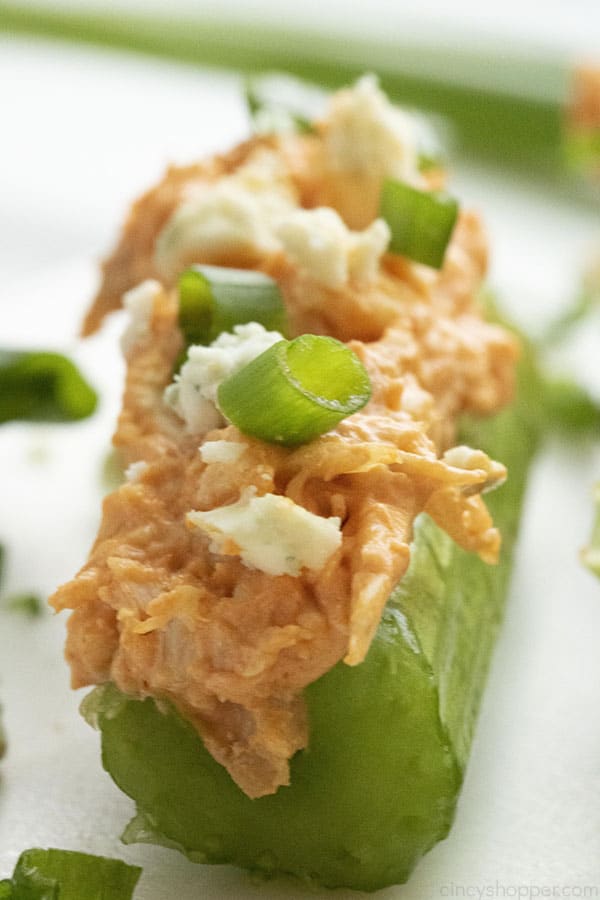 Do you season the spicy chicken before or after cooking?
It all depends on what you plan to do with your chicken.
If you are planning to serve the pieces of chicken as a main dish, season them before cooking. This will allow the seasonings to permeate the chicken.
In this dish, we want to start with unseasoned cooked chicken. After it is cooked, we'll toss it in the sauce to give it all of its flavor. You don't want seasoning on the chicken competing with the sauce.

How do you make hot wing sauce thicker?
There are a lot of hot wing sauce varieties on the market. Depending on the ingredients, some will be thicker than others. You want to end up with a pretty thick sauce so all of the chicken stays on the celery stick.
If your sauce is runny, you can make it thicker. Try some of these methods:
The cream cheese helps to thicken the sauce. You can add a bit more if you like the taste.
Add flour. As long as you are not serving anyone who avoids gluten, you can use flour to thicken any sauce.
Boil it a bit longer. Sauce thickens as it boils.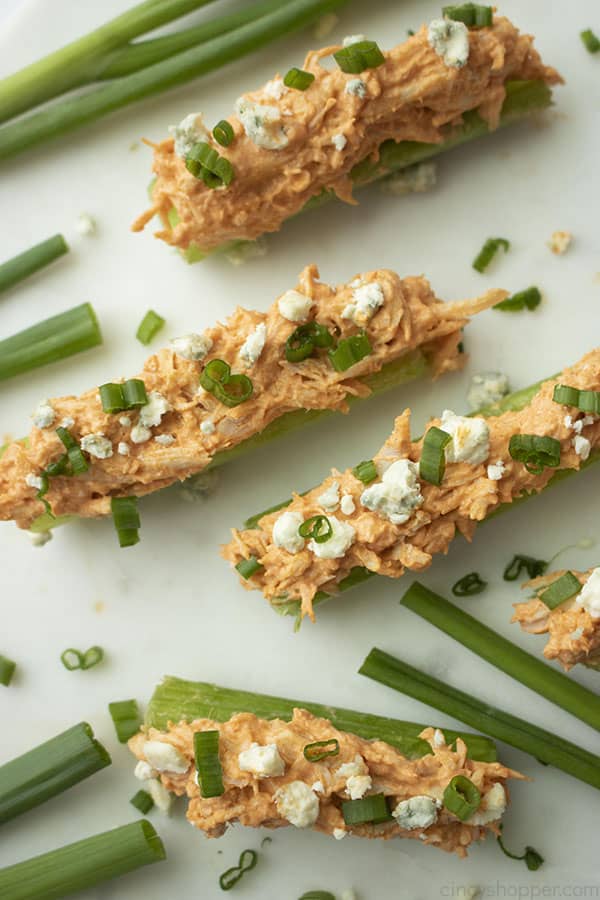 Uses for rotisserie chicken
Rotisserie chicken is a great short cut for lots of meals and appetizers. It's already completely cooked and cooled and you can put it to use immediately in your recipe.
Besides using rotisserie chicken for this stuffed celery recipe, you can use it for any of these quick meal prep ideas as uses for rotisserie chicken:
Salad
Soup
Baked potatoes
Pasta
Pot pie
Nachos
Tacos
Pizza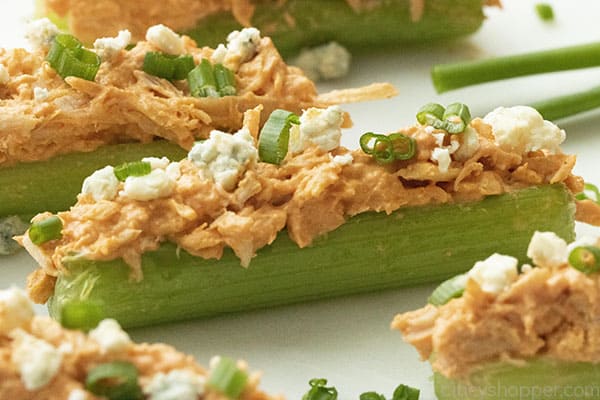 Because there are just so many uses for cooked chicken, it's a great idea to keep some on hand at all times. This will make all your meals and party appetizers so much easier. It's a super trick for getting healthy meals on the table quickly.
Meal Prep Idea
But you don't have to splurge for cooked rotisserie chicken at the grocery store or deli. You can cook the chicken yourself and store it until you are ready to cook with it. There are several methods you can try to cook the chicken. Just find the one that works best for your kitchen routine. That way you can cook as much chicken as you want at one time and always have some ready.
Pan fry
Boil
Bake
Slow cook
Instant Pot
Once your chicken is cooked and cooled, shred it and divide it into portions. You can easily shred cooked chicken with two forks or with a knife and fork. You can create larger portions for meals for the whole family and smaller portions for individual lunches.
Cooked chicken will last in the refrigerator for three to four days. You can batch cook chicken just twice a week and eat every day.
Cooked chicken also freezes well. Pack it in airtight containers and freeze for three months. Just set your chicken in the refrigerator overnight to thaw and it will be ready to add to the stuffed celery sticks or anything else the next day.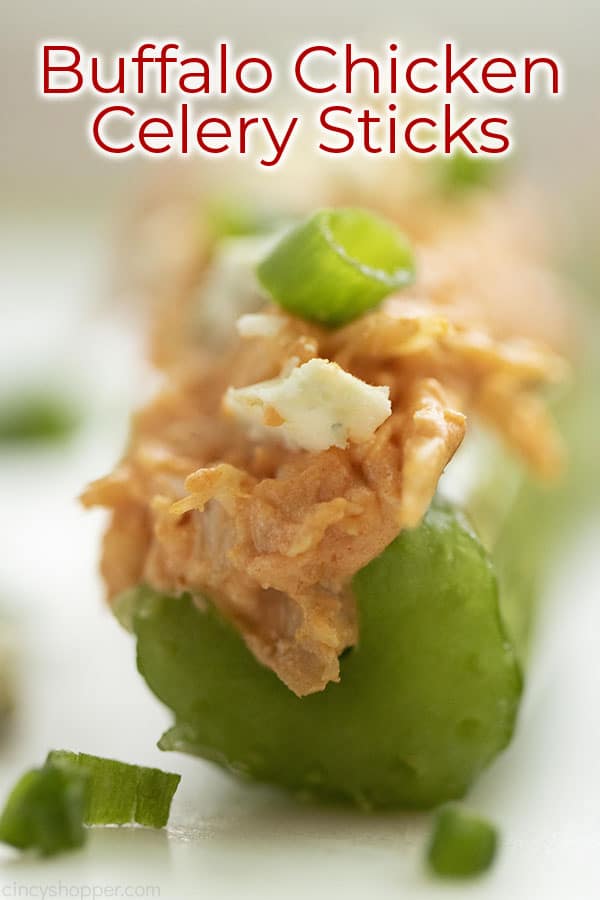 Buffalo Chicken Celery Sticks Recipe
Spicy Chicken Celery Sticks
Spicy chicken in creamy Buffalo hot wing sauce is stuffed into celery sticks in this spicy snack recipe. All the taste of Buffalo wings without the mess!
Ingredients
1/2

cup

Buffalo Wing Sauce

1/2

tsp

Garlic Powder

1/4

tsp

Onion Powder

2

oz

Cream Cheese

softened

2

cup

shredded Chicken

12

Celery sticks

1/4

cup

Blue Cheese crumbles

3-4

Green Onions

diced
Instructions
In a saucepan, combine buffalo sauce, onion powder and garlic powder.

Heat over medium heat until bubbling

Add in cream cheese and stir until melted and creamy.

Remove from heat and stir in chicken until coated.

Refrigerate for 1 hour.

Spread chicken mixture over celery.

Garnish with blue cheese and green onions.
Nutrition
Calories:
67
kcal
|
Carbohydrates:
1
g
|
Protein:
7
g
|
Fat:
4
g
|
Saturated Fat:
2
g
|
Cholesterol:
25
mg
|
Sodium:
382
mg
|
Potassium:
86
mg
|
Fiber:
1
g
|
Sugar:
1
g
|
Vitamin A:
142
IU
|
Vitamin C:
1
mg
|
Calcium:
26
mg
|
Iron:
1
mg