BBQ Green Beans are an easy barbecue side dish where green beans are tossed with a tasty BBQ sauce. Perfect for your next potluck or picnic!
Liven up your next grill-out with this delicious green bean side dish. Serve alongside some of our Grilled Ranch Chicken or the Best Grilled Hamburgers!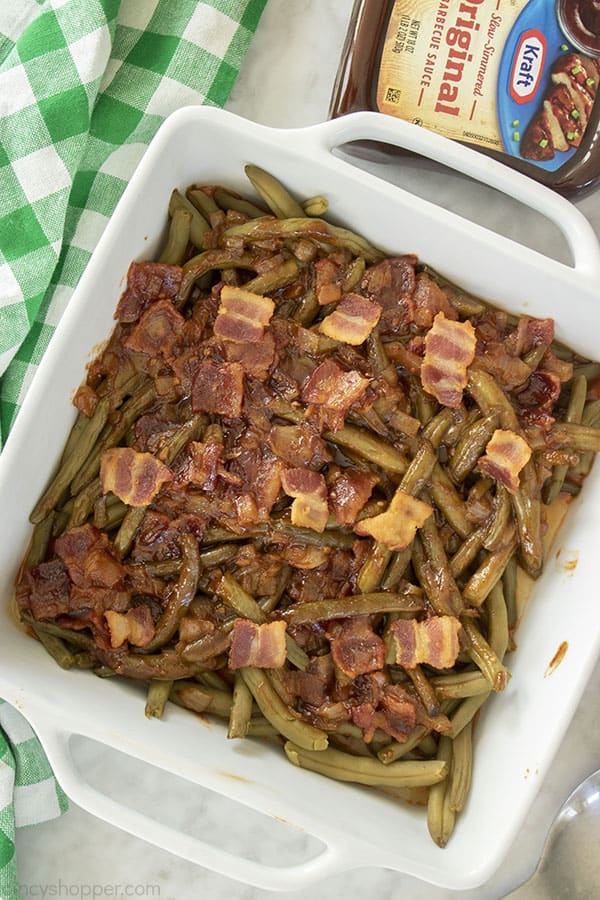 BBQ Green Beans
I'm eager for summer to get here and for all the barbecues and picnics to start back up. We've been cooped up all summer and can't tell you all how excited we are that things seem to be warming back up! Pretty soon, we'll be able to get the grill warming up and have folks over for all sorts of fun parties and get-togethers. We've already been trying a few recipes out: the first chance we get, we're hoping to bring these BBQ Green Beans with bacon to our next potluck.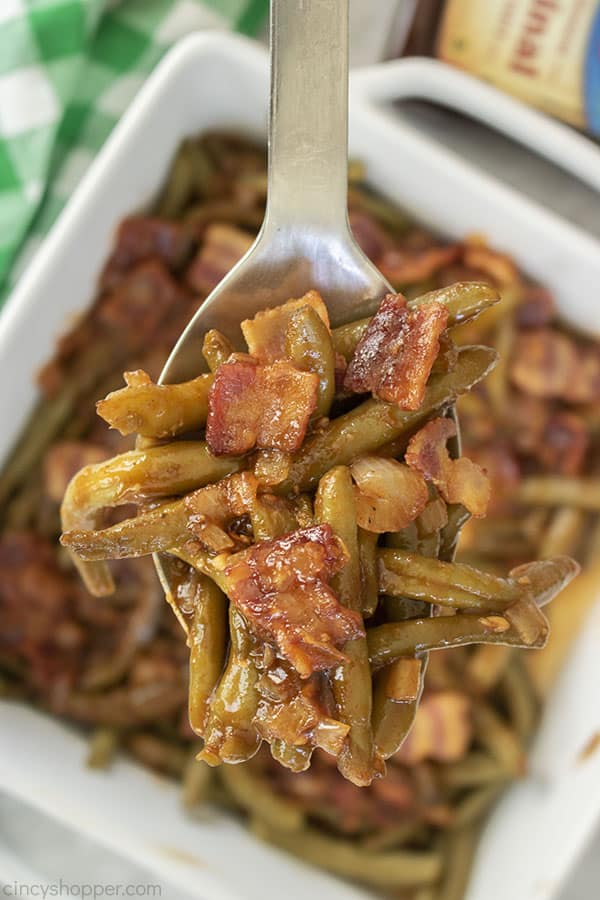 A good spread of BBQ side dishes can really help make a grill-out or potluck taste special. We've been loving these Barbeque Green Beans because they really capture those BBQ and grill-out flavors. They're basically green beans smothered and tossed with a mix of barbecue sauce and ketchup- plus some onion and extra spices! Bake them up in an oven or cook them low-and-slow in a crockpot to thicken the sauce up a little bit and warm things through and you've got an amazing side.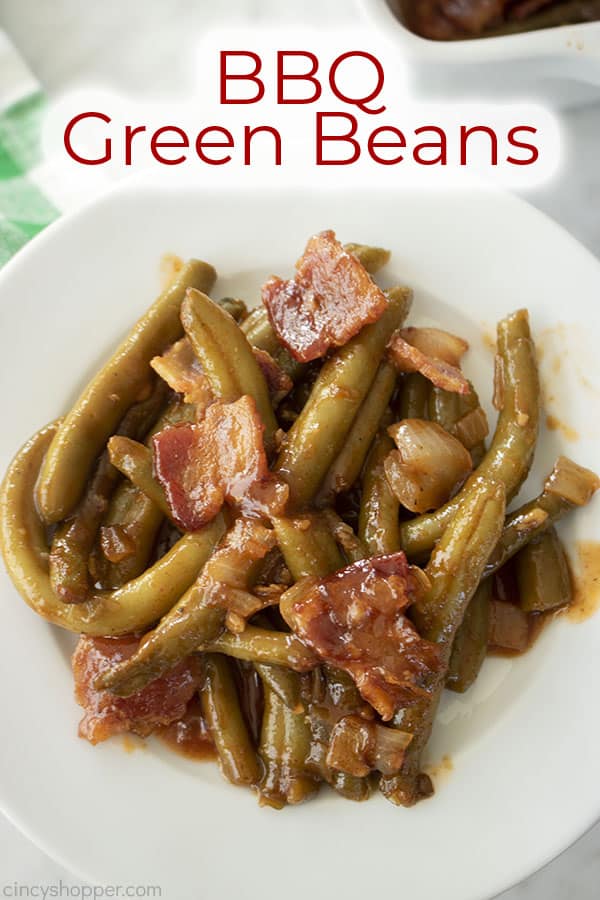 Best of all: this is an incredibly easy side to prep and make. Use some canned green beans to keep prep to a minimum and use a slow cooker to let things cook hands-off for a couple hours. Even if you skip those tips, this is still a simple recipe to follow along with. You can find it below- we hope you all love it!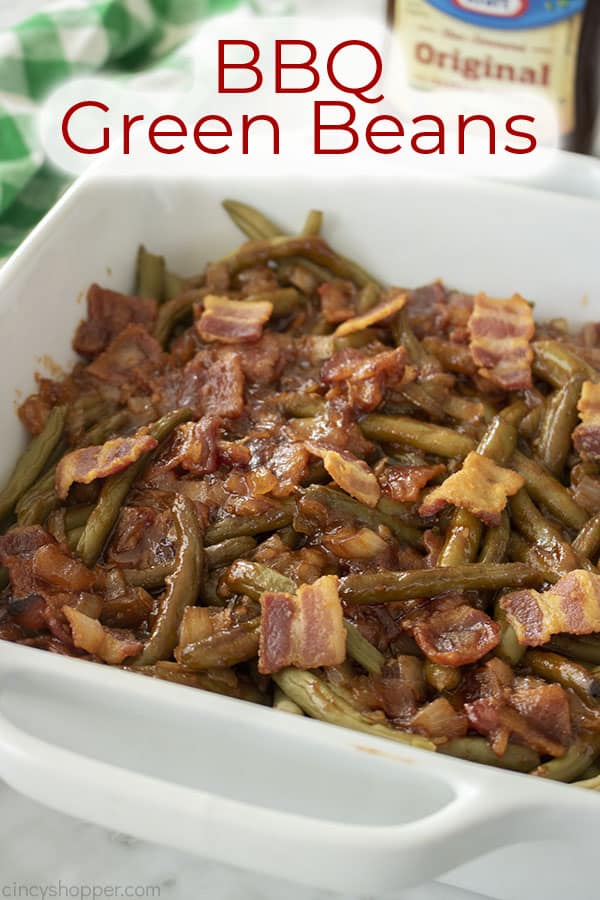 Enjoyed our recipe? Try some other green bean recipes!
If you're needing a delicious and easy dinner side dish, you'll want to go with our

Garlic Roasted Green Beans

.

Using fresh green beans, you can make this tasty and family friendly side that even the pickiest of eaters are going to love

! Add even more flavor by adding in some bacon, parmesan, or some other veggies as well.

Need some good southern comfort food? Make some

Southern Green Beans with Bacon

!

This is a classic southern side dish that pairs well with most meals: green beans cooked up in bacon fat and tossed with some onions and bacon

. It's a recipe you've

just

gotta try at least once!

For another easy dinner side, we've also got our

Garlic Green Beans

.

Instead of roasting, we boil our green beans instead and then toss them with some garlic and butter for this super simple recipe

. Add in a little bit of bacon crumble or bacon bits if you'd like- it's a tasty little addition!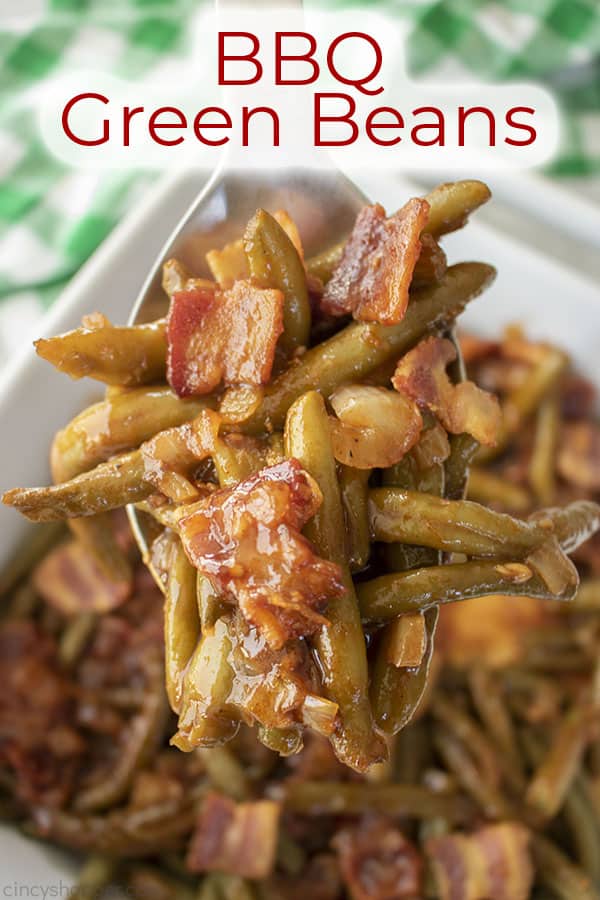 Barbecue Green Beans Ingredients
Bacon

– We prefer using the thick-cut bacon

just

so we can render out some of that bacon fat. In a pinch, I imagine you could even make microwave bacon work!

Onion

Minced Garlic

BBQ Sauce

– Go with your favorite brand here, but

we think

darker, thicker sauces will work best for this recipe.

Ketchup

Worcestershire Sauce

Brown Sugar

Cayenne Pepper

– For a touch of extra heat. It should

be balanced

out by all the sugars. If you're worried about it getting too hot, feel free to omit.

Green Beans

– The best part about this BBQ Green Beans Recipe? You can use canned green beans and keep things super easy! If you want to use fresh green beans, I'd recommend boiling them for a minute or two before shocking in an ice bath. Trim into smaller pieces and use like canned green beans.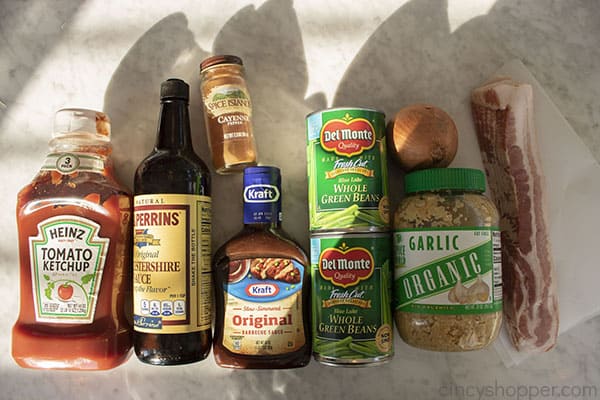 How to make BBQ Green Beans
This BBQ Green Beans Side Dish is so easy to make! Here's all you need to do:
Fry bacon bits

in skillet and

set aside

. Using bacon fat,

cook onions and garlic

in skillet.

Add sauces, sugar, and cayenne

to skillet and

cook together

.

Stir bacon bits into sauce

.

Add sauce to baking dish with green beans

.

Toss and stir

to coat before

baking in 350 degree oven

for

about 15 minutes

.

Top with leftover bacon

and serve.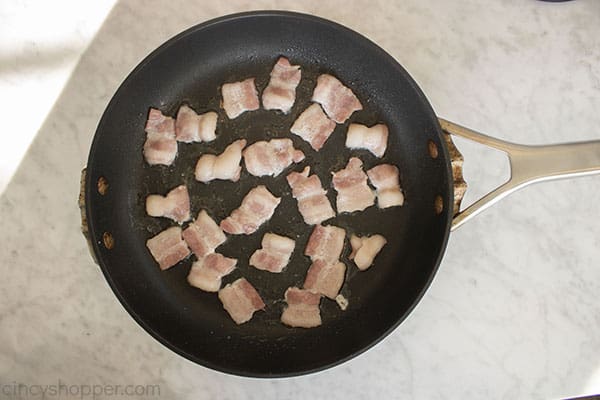 Chop some bacon strips into smaller bits and add to a hot pan. Fry them to your liking, remove them from the pan, but hang on to the bacon fat for cooking. Dice your onion and add it to the skillet with the fat.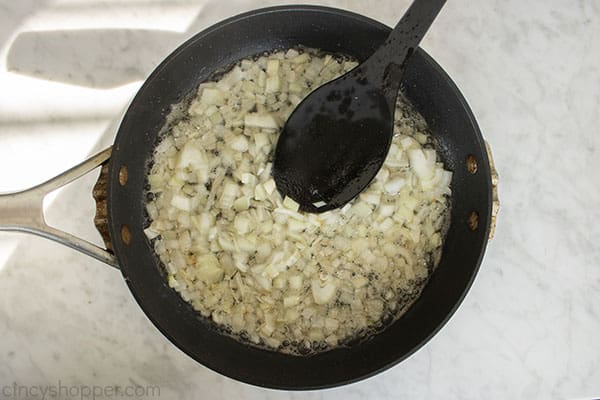 Add some garlic as well. Cook about 10 minutes over medium/medium-low heat until translucent.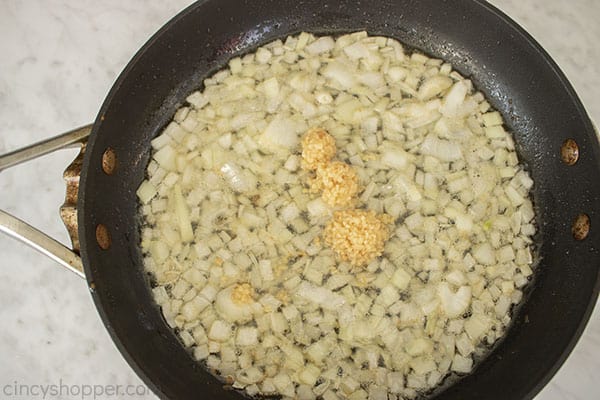 At this point, add in the sauces, sugar, and cayenne pepper. Mix everything together and let warm through.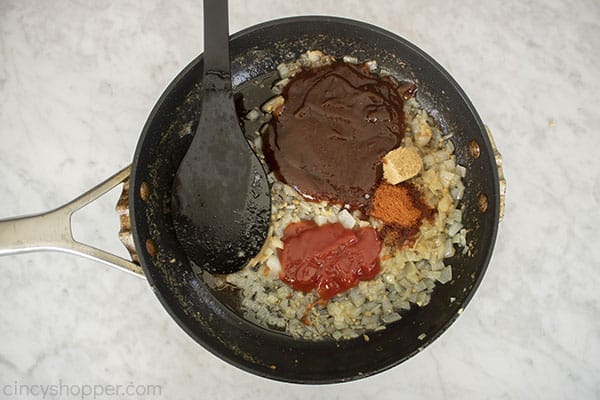 Add in some bacon bits and stir in before cutting the heat.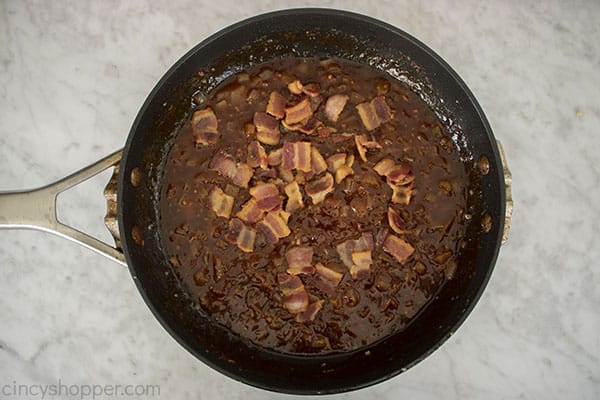 Drain any liquid off your canned(or blanched) green beans before putting in a baking dish.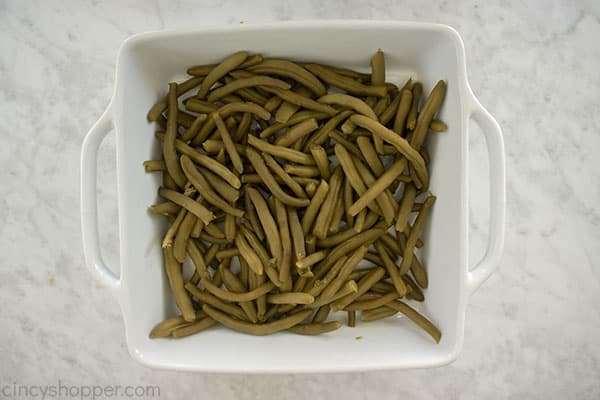 Take your sauce and pour it over the beans. You'll have to stir and toss the beans a bit to get them coated.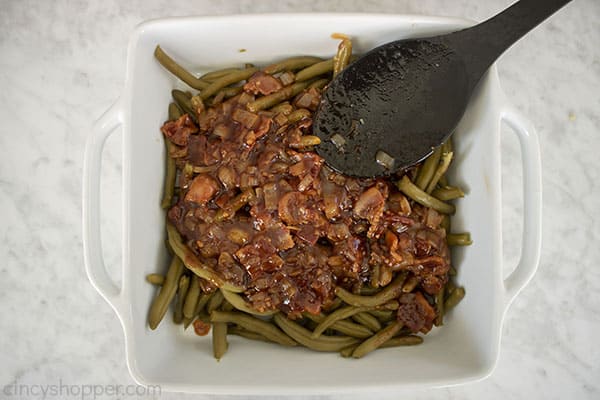 Put your dish in a waiting 350 degree oven. To warm it through and thicken the sauce, we'll bake for about 15 minutes.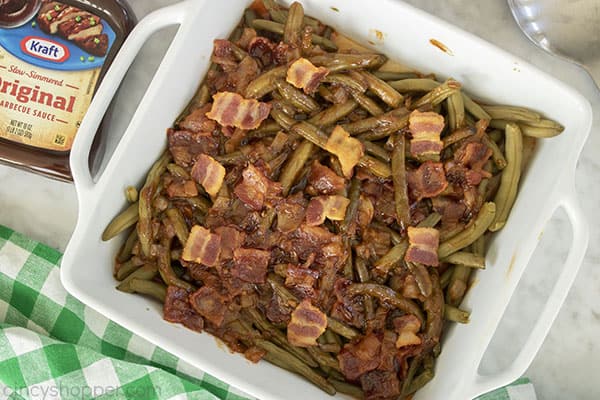 Once the green beans and sauce are warmed through, pull the dish from the oven. Top with any leftover bacon bits, and serve warm. Enjoy!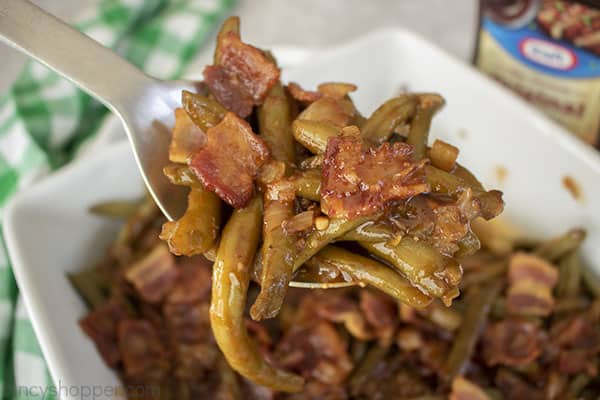 Slow Cooker Green Beans Instructions
We've personally never made our Barbecue Green Beans in the slow cooker, but the recipe is easy enough to adapt. Follow the recipe as normal up until you've finished mixing up the sauce. Add the sauce and the green beans to a slow cooker and give a quick mix. Once mixed up, set the slow cooker on low: in about 2 hours, the beans will be warmed through. You can even keep them on low or a "keep warm" setting for a while after that- perfect for keeping them warm through a long party or potluck!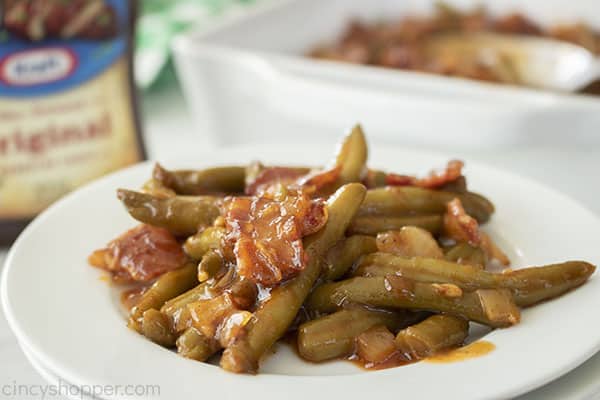 BBQ Green Beans
BBQ Green Beans are an easy barbecue side dish where green beans are tossed with a tasty BBQ sauce. Perfect for your next potluck or picnic!
Ingredients
3-4

oz

Bacon

cut in bite sized pieces

1

medium Onion

diced

2

tsp

Minced Garlic

1/2

cup

BBQ Sauce

2

tbsp

Ketchup

1

tbsp

Worcestershire Sauce

1 1/2

tbsp

Brown Sugar

1/4

tsp

Cayenne Pepper

optional

29

oz

Green Beans

drained
Instructions
Preheat oven to 350.

Fry bacon bits in skillet.

Remove cooked bacon (leaving grease in skillet) and set aside.

Cook onions and garlic in bacon grease ove low heat until translucent.

Add BBQ sauce, ketchup worcestershire,own sugar and cayenne to pan.

Stir and cook together for about 3-4 minutes.

Stir half of the bacon bits into sauce.

Add sauce to baking dish with green beans.

Toss and stir to coat.

Bake in oven for about 15 minutes.

Top with remaining bacon pieces.
Nutrition
Calories:
128
kcal
|
Carbohydrates:
20
g
|
Protein:
4
g
|
Fat:
5
g
|
Saturated Fat:
1
g
|
Polyunsaturated Fat:
1
g
|
Monounsaturated Fat:
2
g
|
Trans Fat:
1
g
|
Cholesterol:
7
mg
|
Sodium:
324
mg
|
Potassium:
336
mg
|
Fiber:
3
g
|
Sugar:
13
g
|
Vitamin A:
800
IU
|
Vitamin C:
15
mg
|
Calcium:
55
mg
|
Iron:
1
mg