Banana Bread Muffins are delicious and moist with ripe banana flavors! This is a recipe that's great for overripe bananas you need to use up.
Moist, delicious muffins with plenty of ripe banana flavor? Sign me up! For more muffin recipes, try our Apple Muffins or our Raspberry Streusel Muffins.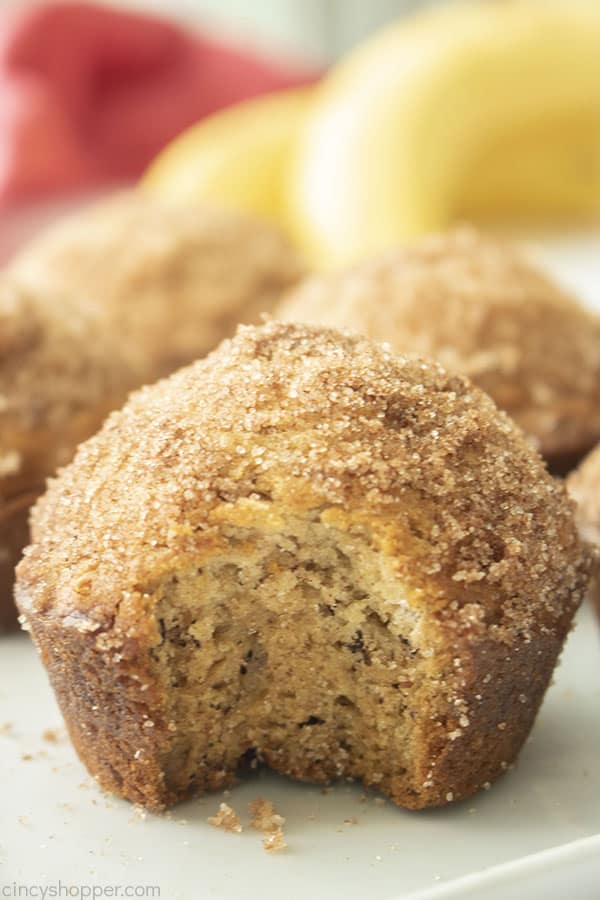 Banana Bread Muffins
What is there to not love about banana bread? It's such a friendly recipe that helps you use up some leftovers- got overripe bananas? Use them for banana bread muffins. Not only is it going to use up those leftover bananas, but it's going to turn them into something delicious! Not to mention that banana bread is one of those perfect pairings with a morning or evening cup of coffee.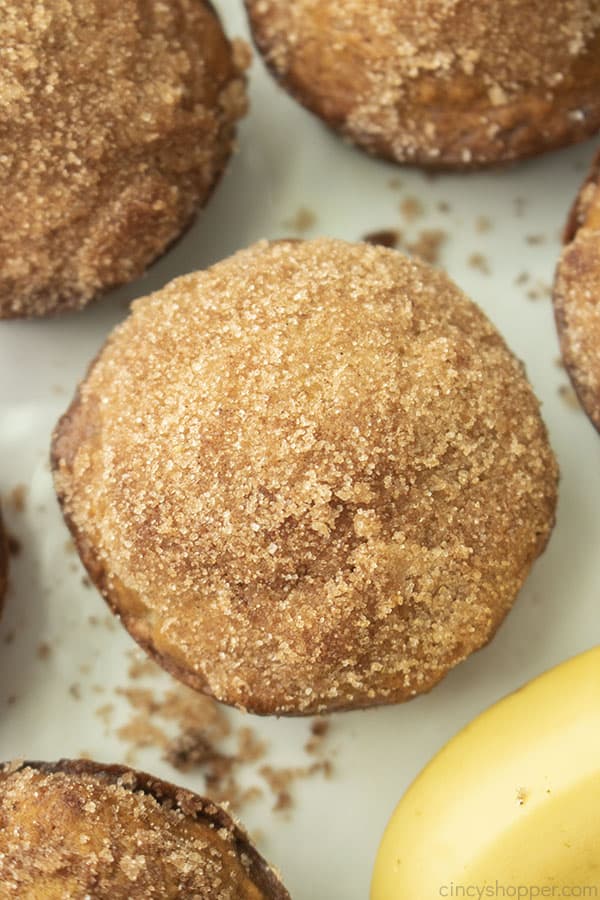 If you're a big fan of banana bread like me, you're going to want to give these Banana Bread Muffins a try! Everything you love about banana bread in the shape of a muffin- with a bit of added cinnamon and sugar for more flavor. These muffins would make for a sweet breakfast, a nice mid-day snack, or a little evening treat! Again, great with a nice mug of joe.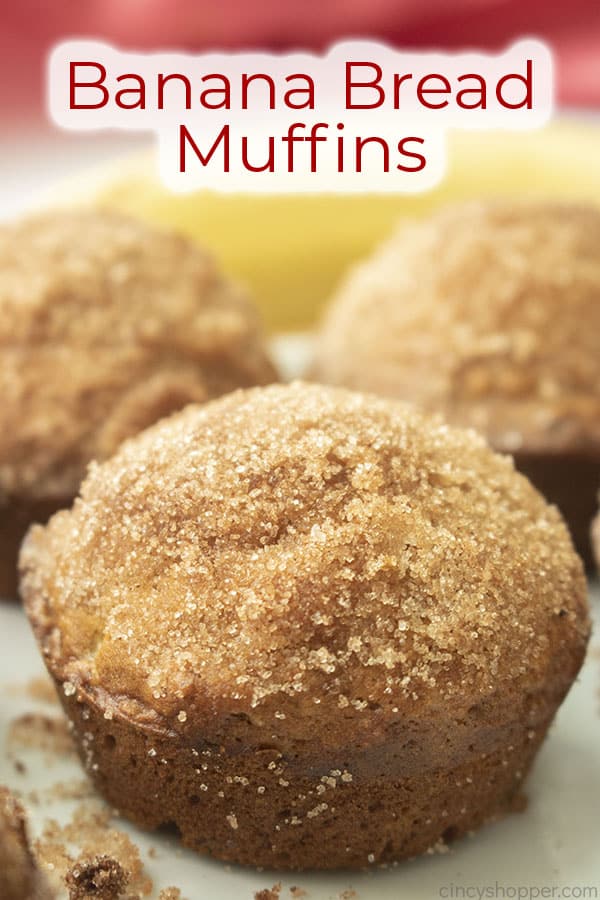 We tried to keep our prep very simple and fool-proof for this recipe so that anyone could follow along. We've brought in a few tips and tricks that are certain to give you delicious, moist Banana Muffins that everyone will love! Hope you enjoy them!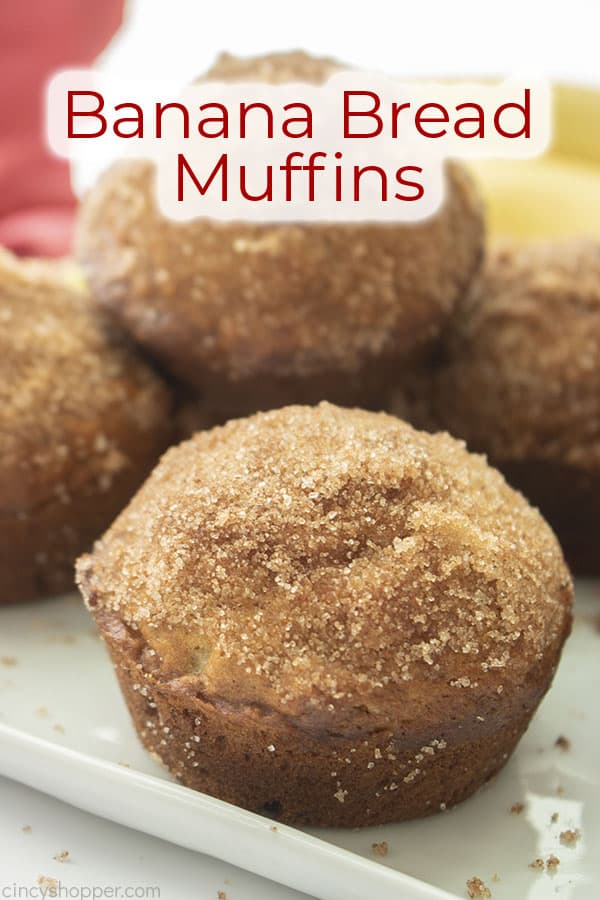 Liked this recipe? Try these Banana recipes next!
In the mood for more banana bread? We keep things simple in our recipe for

Easy Banana Bread

! This is another great way to use up those brown, ripe bananas. It

certainly

helps that the end product is delicious as well- goes great with a nice cup of coffee!

Bananas for breakfast? How about some

Bananas Foster French Toast Casserole

? This is a delicious overnight breakfast casserole that's as tasty as it is easy to make! It's the perfect combo of sweet, french toast flavors and caramelized bananas.

But what about dessert? Try our

Homemade Banana Cake

! Moist and delicious- with plenty of ripe bananas folded into the cake batter. Tastes perfect with a nice, cream cheese frosting on top!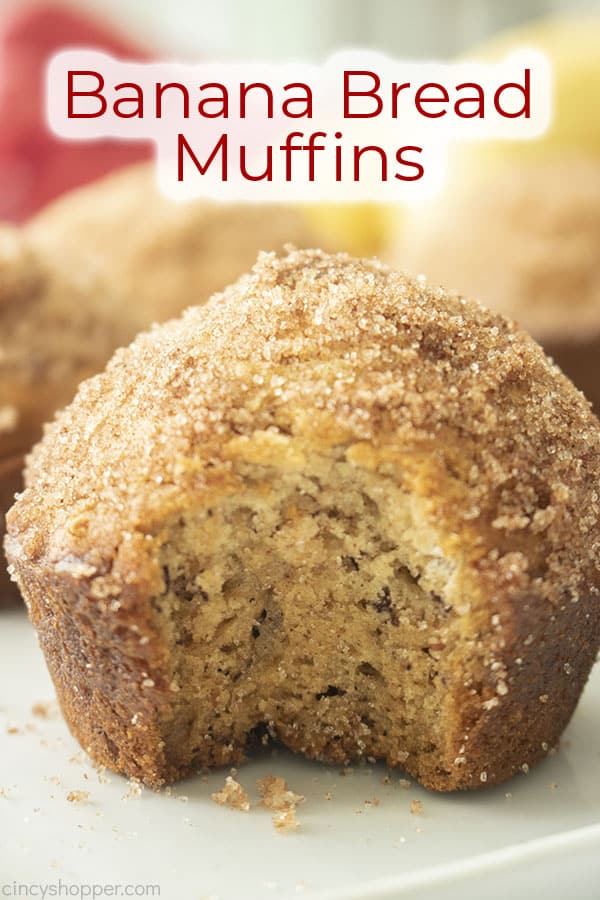 Banana Muffins Ingredients
For the muffins, you'll need…
Flour

Baking Soda

Salt

Cinnamon

Bananas

– We had these 2 ripe bananas sitting around- perfect for this recipe!

Egg

Vanilla

White Sugar

Brown Sugar

Vegetable Oil
For the cinnamon-sugar topping, you'll just need a few extra things…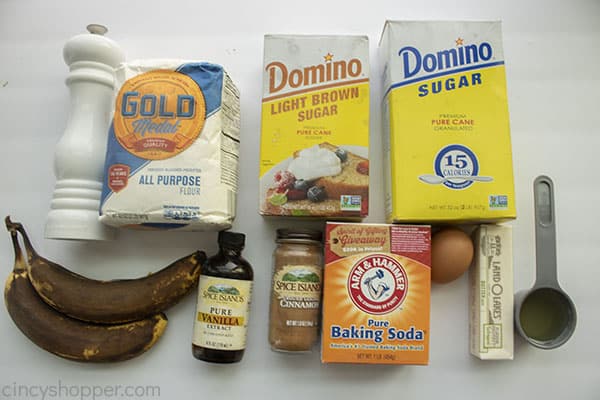 How to make Banana Bread Muffins
This is a simple and easy muffin recipe to make! Here's what you need to do…
In separate bowls,

sift and whisk together your dry ingredients

and

beat together your wet ingredients. Stir the wet and dry ingredients together until

just

combined.

Evenly

fill your muffin cups with batter

before

baking at 375 degrees

until a toothpick pulls clean

.

Top your muffins by

dipping them in butter then cinnamon-sugar.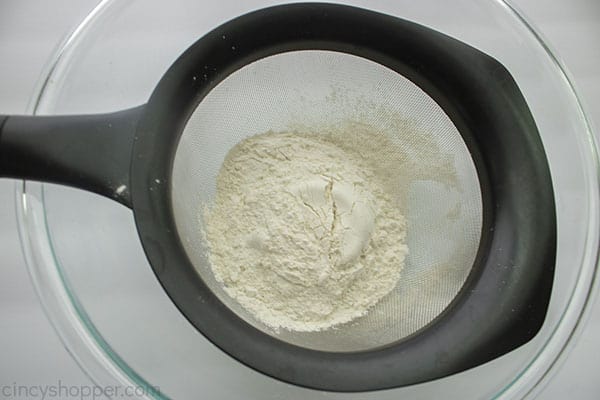 Our muffins will come out best if we prep our wet and dry ingredients separately. For the dry, first sift together your flour, baking soda, and salt. Do this 2-3 times to introduce plenty of air. Once sifted, add your cinnamon whisk to combine.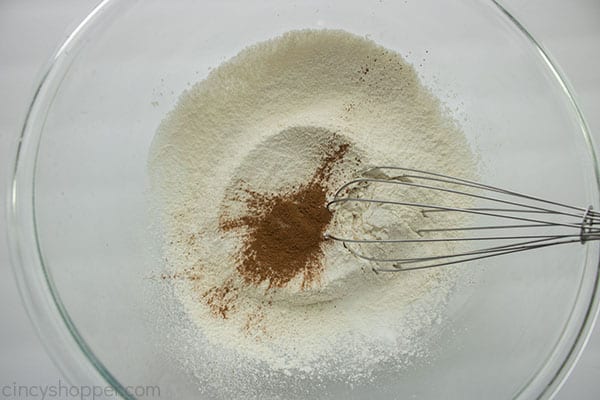 Now the wet stuff. First, peel your bananas and mash them with a fork.
Once mashed, we can add in our remaining wet muffin ingredients. That's the egg, sugars, vanilla, and oil. Beat together until fully mixed.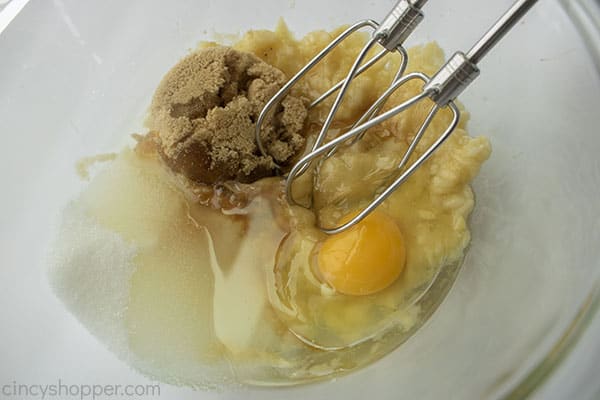 Now we can mix everything together. Add your wet ingredients to the dry and start mixing. We don't want to overmix- stir until the two are just combined.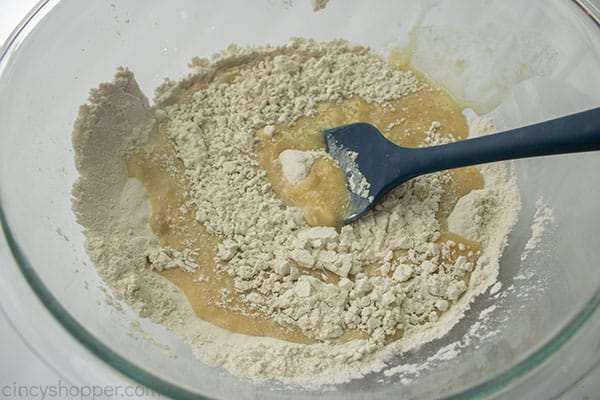 With our batter mixed up, we can finally get to baking! Grease your favorite muffin pan and then start evenly adding your batter to the individual cups. Once the cups are filled, send them into a 375 degree oven and let bake for about 20 minutes. They're done when a toothpick, poked into the center, pulls clean.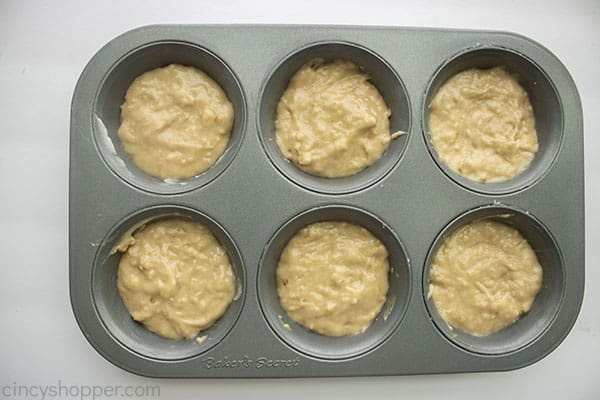 Topping your muffins
These muffins would be good enough on their own but we'll add a cinnamon-sugar topping for a bit more flavor! For the topping, you need to prep 2 small bowls: in one, some melted butter and, in the other, some sugar and cinnamon you've whisked together.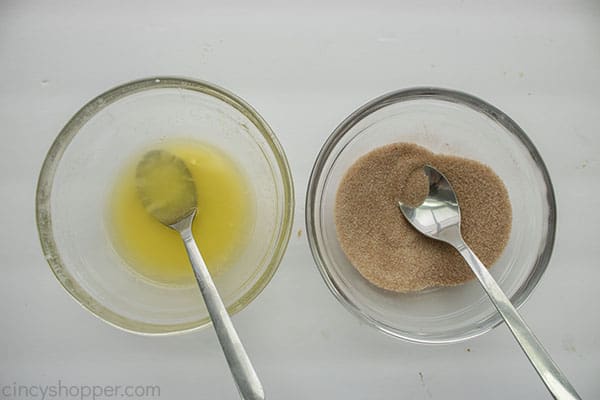 To get a nice topping of cinnamon-sugar onto your muffins, first, dip the muffin tops in the melted butter…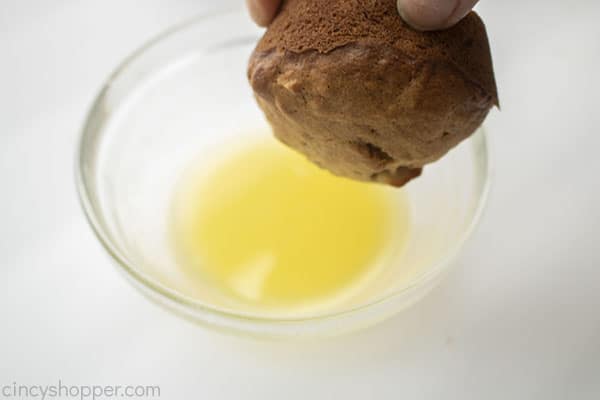 …then give them a quick dip into the cinnamon-sugar mix.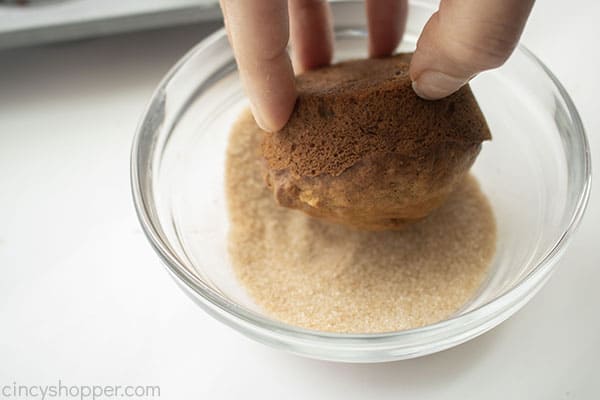 Once your topping is on there, your muffins are good to go. Grab one, take a bite, and enjoy!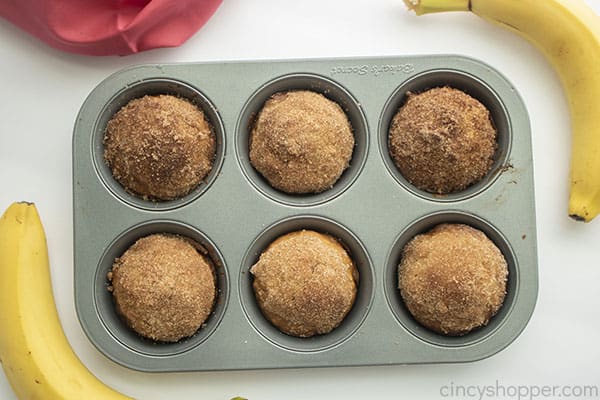 How long are Banana Bread Muffins good for?
No matter where you store them, we recommend keeping your leftover muffins in some sort of airtight container or Ziploc bag. Kept at room temperature, they'll stay fresh about 3-4 days. In the fridge, they're good for about a week. For long-term storage, keep them in the freezer- they'll last about 3 months. To reheat let thaw in the fridge before reheating in the microwave or oven.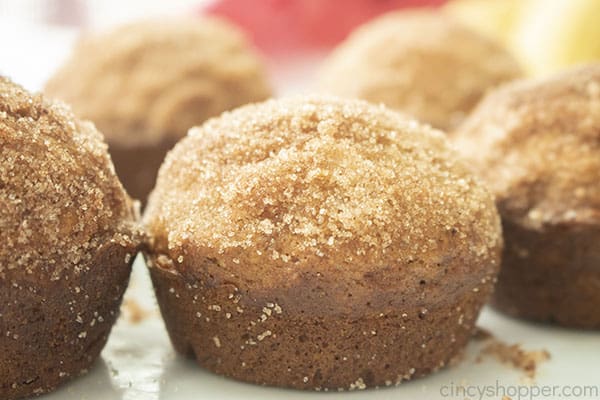 How ripe should my bananas be for this recipe?
You'd
be surprised
how ripe you can let your bananas get for this recipe. The only advice I'd give here is to
not use bananas that aren't ripe enough.
Outside of that, the peel could be a deep brown or dark as night- as long as there's no mold in or on your bananas, they're perfect for this recipe
!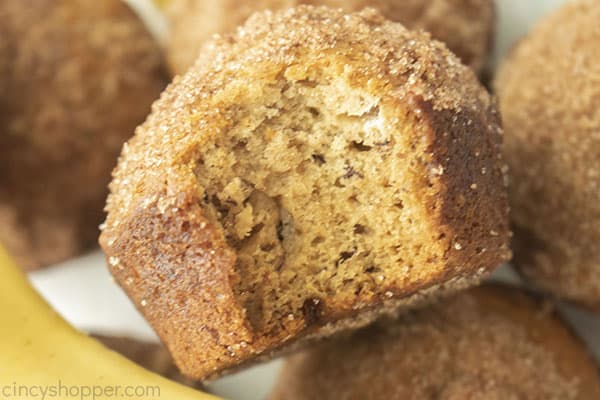 Banana Bread Muffins
Banana Bread Muffins are delicious and moist with ripe banana flavors! This is a recipe that's great for overripe bananas you need to use up.
Ingredients
Muffins:
1 1/2

cup

Flour

1

tsp

Baking Soda

1/2

tsp

Salt

1/2

tsp

Cinnamon

2

Bananas

overripe

1

Egg

1

tsp

Vanilla

1/3

cup

Sugar

1/3

cup

Brown Sugar

1/3

cup

Vegetable Oil
Topping:
2

tbsp

Butter

melted

2

tbsp

Sugar

1/4

tsp

Cinnamon
Instructions
Grease muffin pan and set aside.

Sift together flour, baking soda, and salt in a large bowl.

Add 1/2 teaspoon of cinnamon and whisk to combine. Set aside.

Peel and mash bananas in another bowl.

Add sugar, brown sugar, oil, egg, and vanilla to bananas.

Add wet ingredients to dry and stir until just combined.

Fill prepared muffin cups about 2/3 full.

Bake about 20 minutes until a toothpick inserted in the center comes out clean.

Transfer muffins to a cooling rack.

Put 2 tablespoons of melted butter in a small bowl.

In another small bowl, whisk together 2 tablespoons of sugar and 1/4 teaspoon of cinnamon.

Dip the top of each muffin in the butter then into the cinnamon sugar.

Return to rack.
Notes
We recommend keeping your leftover muffins in some sort of airtight container or Ziploc bag
Nutrition
Calories:
202
kcal
|
Carbohydrates:
30
g
|
Protein:
2
g
|
Fat:
9
g
|
Saturated Fat:
6
g
|
Trans Fat:
1
g
|
Cholesterol:
19
mg
|
Sodium:
212
mg
|
Potassium:
102
mg
|
Fiber:
1
g
|
Sugar:
16
g
|
Vitamin A:
91
IU
|
Vitamin C:
2
mg
|
Calcium:
12
mg
|
Iron:
1
mg