Pickled Red Onions are a delicious sweet and sour condiment you have to try. These are so easy to make and taste great on all sorts of foods!
These Pickled Onions are an absolute treat- they're an amazing topping that's perfect with all sorts of Mexican food. Goes great with some Slow Cooker Barbacoa or Carnitas!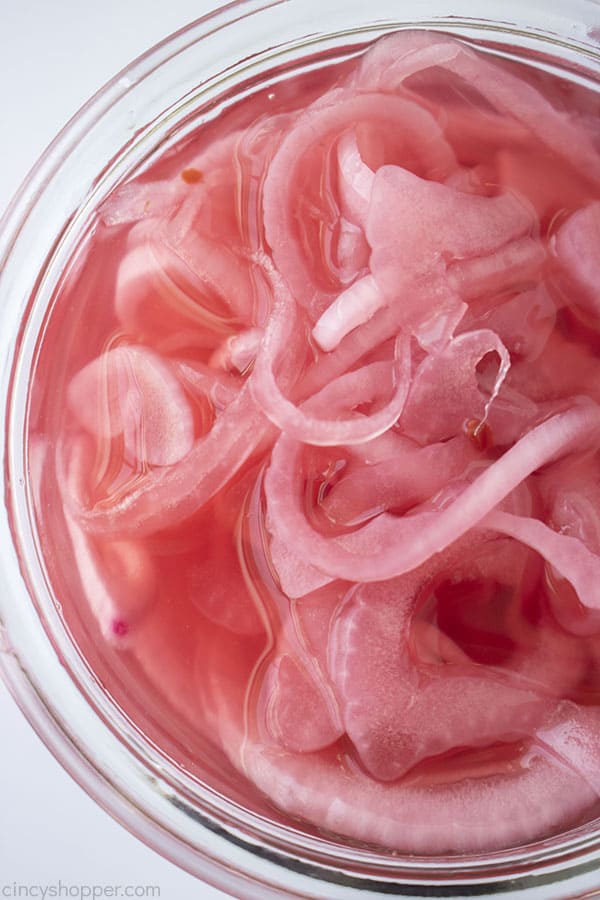 Pickled Red Onions
Pickling is such a fun and interesting process. You fix up a quick pickling brine or liquid, pour it over something, let it marinate, and you get all sorts of exciting funky flavors. You can pickle all sorts of things, but one of the tastiest things I've made so far has been these Pickled Red Onions!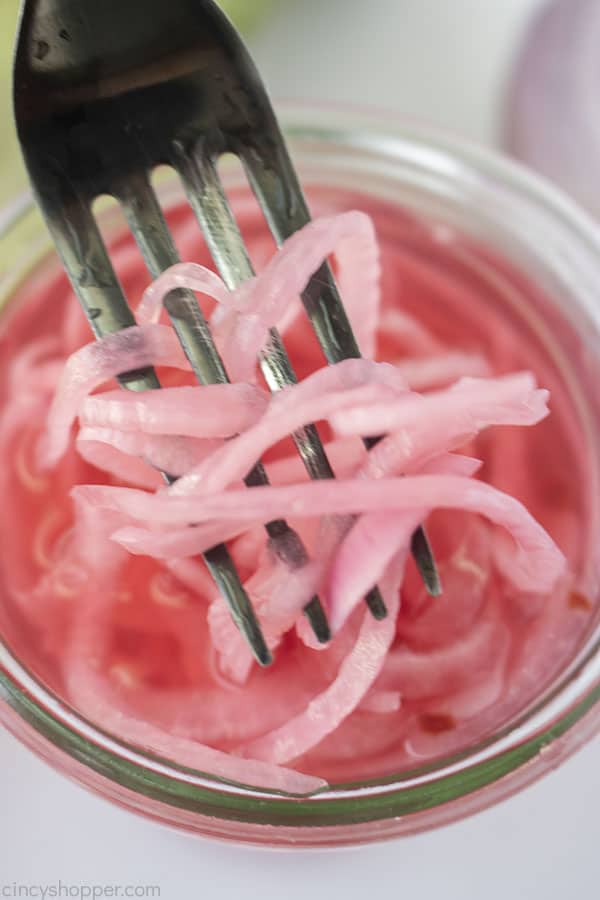 I enjoy onions as a topping on salads and burgers but pickling them beforehand makes things really interesting. When you pickle red onions, you give them all these sweet and sour flavors which- combined with the natural sweetness and sharpness of onion- make all sorts of dishes sing with flavor! We'll cover some specific dishes near the end, but just know that these delicious little onion strings are perfect with Mexican food. Taco nights just got fun again!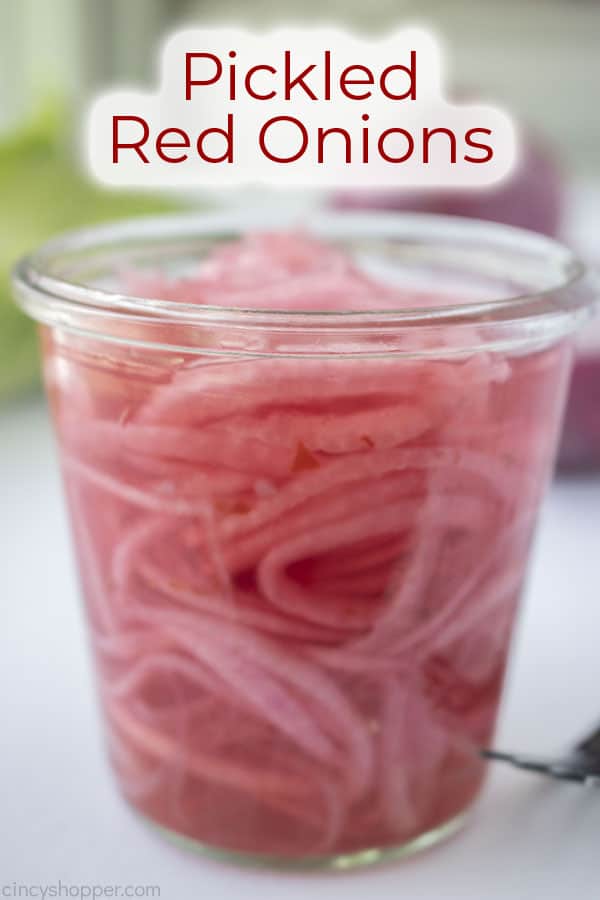 You might think pickling is a hard job- you've got to know how to can stuff, measure out specific amounts of salt and vinegar, right? Not really. You don't need to know how to can or anything weird for this recipe- it's as simple as making up your pickling solution, tossing everything in a jar, and waiting. Your patience will be rewarded, though, and we're certain you'll be making these again and again and again!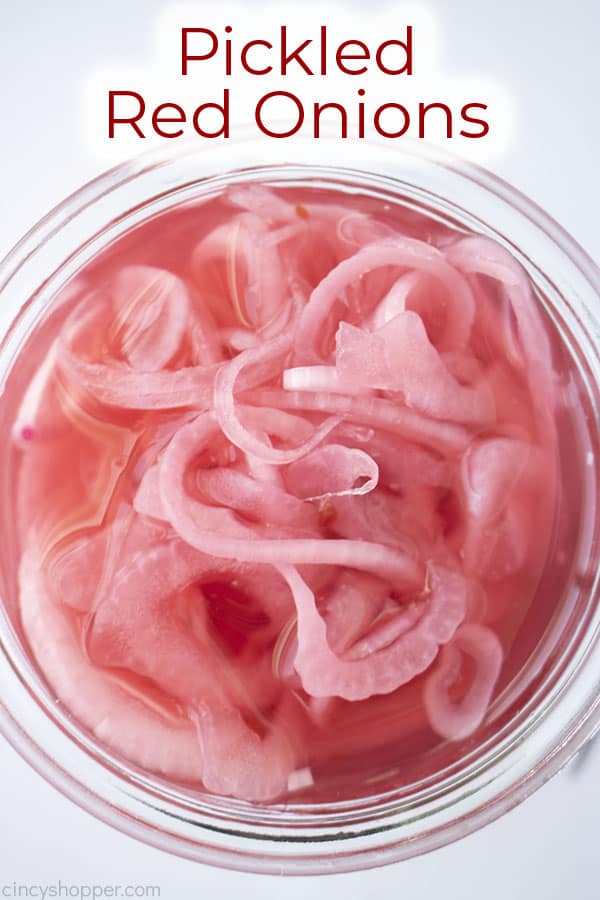 Enjoyed this condiment? Try some of these Mexican toppings next!
Few toppings are as classic as an

Easy Pico de Gallo

.

Our recipe for this timeless taco topping uses a short list of ingredients that keeps things simple and authentic

. Great as a taco or burrito filling or perfect for dipping chips in!

If you're looking for a delicious, restaurant-style salsa, look no further than our

Homemade Salsa

recipe

.

This DIY salsa tastes delicious made with canned or fresh tomatoes and is so easy to make with your blender or food processor

! A must-have for taco night.

For something great with burritos, bowls, tacos, or chips, try our

Copycat Chipotle Guacamole

. This stuff is so simple to make-

just

mash up some avocados with some juice and the usual guac fillings. Way cheaper than buying it from the restaurant- a good reason to keep a few fresh avocados on hand!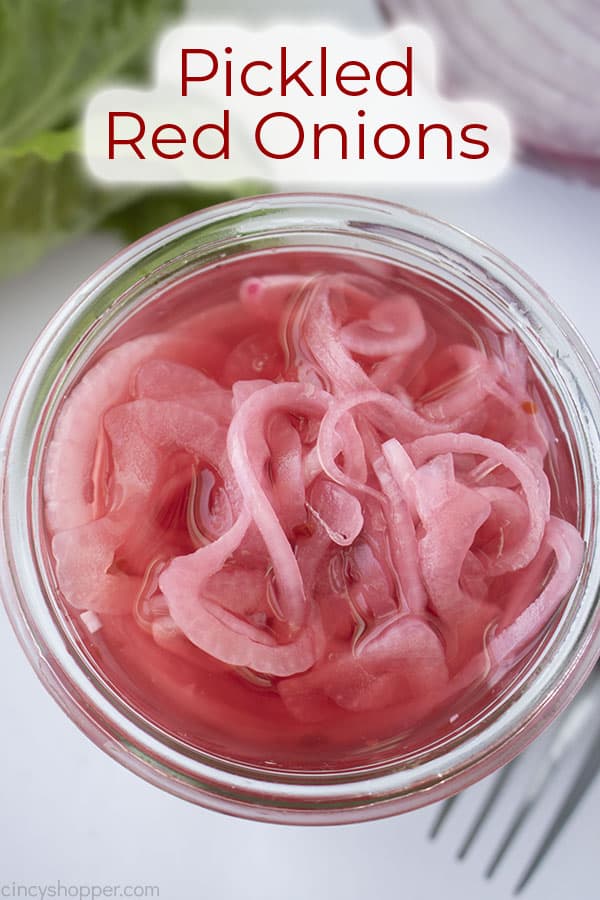 Ingredients for Easy Pickled Onions
Onions

– Red onions are the classic pick for pickled onions.

Vinegar

– While you could use white vinegar here, we love the taste an apple cider vinegar brings to these Pickled Red Onions

. Experiment and find which one you like the best.

Honey

–

Just

to add a "sweet-and-sour" taste to this recipe. You could also use agave if you wanted to make this more Mexican.

Salt

Red Pepper Flake

– For a bit of added heat. You could omit this if you wanted.

Garlic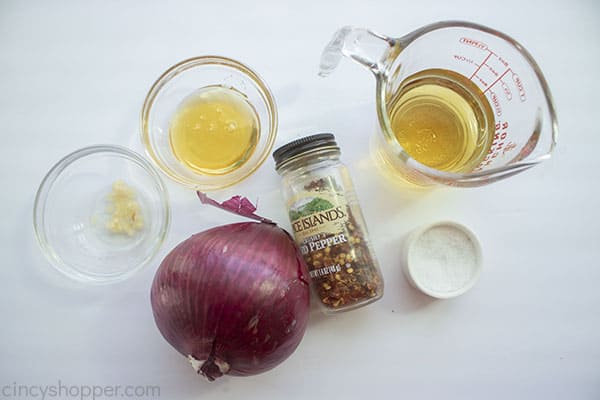 How to pickle Red Onions
Pickling Red Onions is very simple- most of it is
just
waiting. Here's all you have to do:
Thinly

slice your onions

before

preparing a pickling brine

in a small saucepan on the stovetop

.

Pour the pickling liquid over your onions

in a jar and

put it in the fridge

.

Allow your onions to pickle for at least 24 hours

before using.

Keep for up to 2-3 weeks

.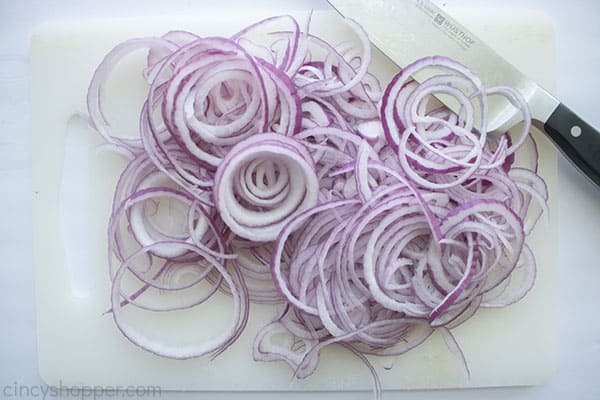 After making sure that your red onions are peeled and thinly-sliced, set them aside while you start on the pickling liquid. For that, first, combine all the ingredients- minus the onion- in a small saucepan and start cooking over medium/medium-high heat.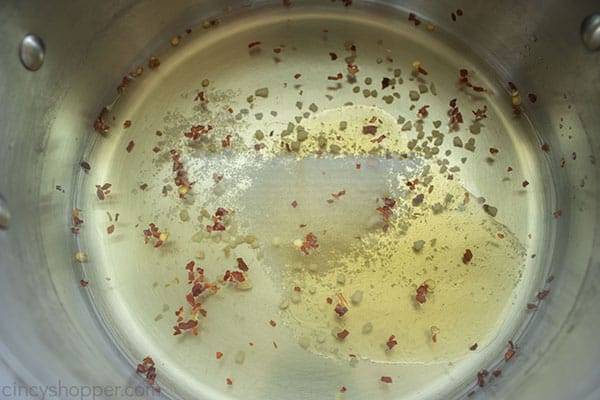 As the mixture heats to a simmer, all the ingredients should start coming together into a consistent brine. Ensure everything is well-mixed and that the liquid has come to a simmer for a few minutes before cutting the heat.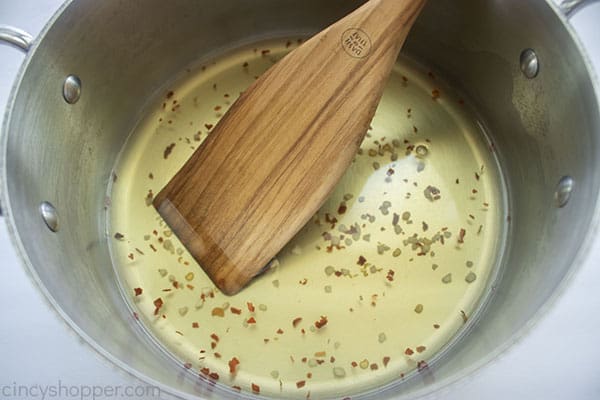 To a jar, add all your sliced onions. Don't worry if it seems like you have too much- the warm brining liquid should shrink them a little bit.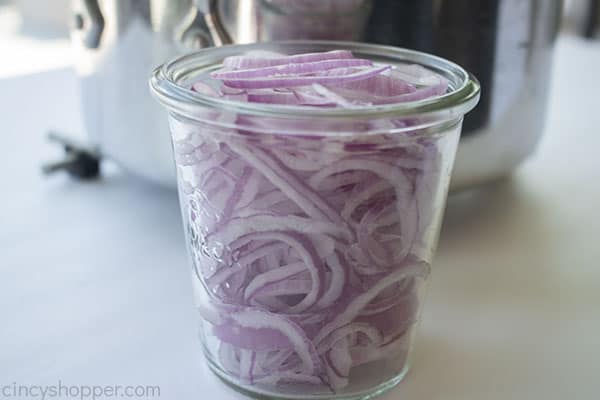 With that in mind, take your vinegar mixture- which should have cooled a fair bit by this point- and pour it over the jarred onions. Ensure the onions are all covered with the pickling brine before adding a lid and putting it in the fridge to marinate for at least 24 hours. After 24 hours, your onions should have picked up some of those sweet and sour flavors. Your Pickled Red Onions should last 2-3 weeks in the fridge- hope you enjoy!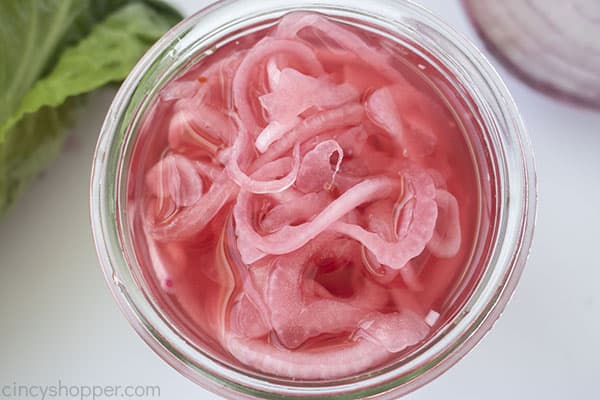 How to use your Onions
These Pickled Onions make for a great condiment or topping on any number of foods. Here are
just
a few places to start:
Mexican Food

– These are amazing topping for any sort of beef or steak taco or burrito. Great on burrito bowls as well!

Burgers & Sliders

Salads

– There are a few salad recipes out there that

I think

the sharp, "sweet and sour" bite of these onions would work

perfectly

in

!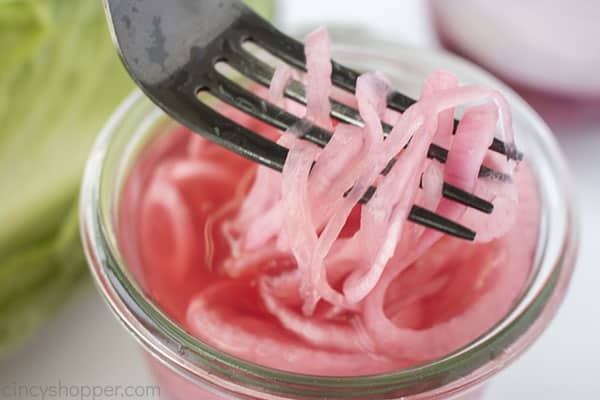 Pickled Red Onions
Pickled Red Onions are a delicious sweet and sour condiment you have to try. These are so easy to make and taste great on all sorts of foods!
Ingredients
1/2

Red Onion

1/4

cup

Apple Cider Vinegar

1/4

cup

White Vinegar

1/2

cup

Water

3/4

tsp

Kosher Salt

1

tbsp

Honey

1/4

tsp

Crushed Red Pepper Flake

1

tsp

Minced Garlic
Instructions
Thinly slice the onion. Set aside.

Place remaining ingredients in a saucepan over medium heat.

Stir until honey is dissolved and allow to simmer for several minutes.

Place sliced onions in a 1/2 or 1 pint heat-safe jar.

Carefully pour the liquid over onions so they are completely covered.

Place lid on the jar and refrigerate for at least 24 hours.
Notes
Pickled Onions will last 2 weeks in the refrigerator.
Nutrition
Calories:
20
kcal
|
Carbohydrates:
4
g
|
Protein:
1
g
|
Fat:
1
g
|
Saturated Fat:
1
g
|
Sodium:
294
mg
|
Potassium:
28
mg
|
Fiber:
1
g
|
Sugar:
3
g
|
Vitamin A:
25
IU
|
Vitamin C:
1
mg
|
Calcium:
6
mg
|
Iron:
1
mg