Air Fryer Hot Dogs cook up amazingly in everyone's favorite kitchen gadget! These are a quick and easy recipe perfect for lunchtime.
Using an air fryer ensures perfectly cooked hotdogs with nice, crispy exteriors! Serve up with some Root Beer Baked Beans or some Instant Pot Corn on the Cob.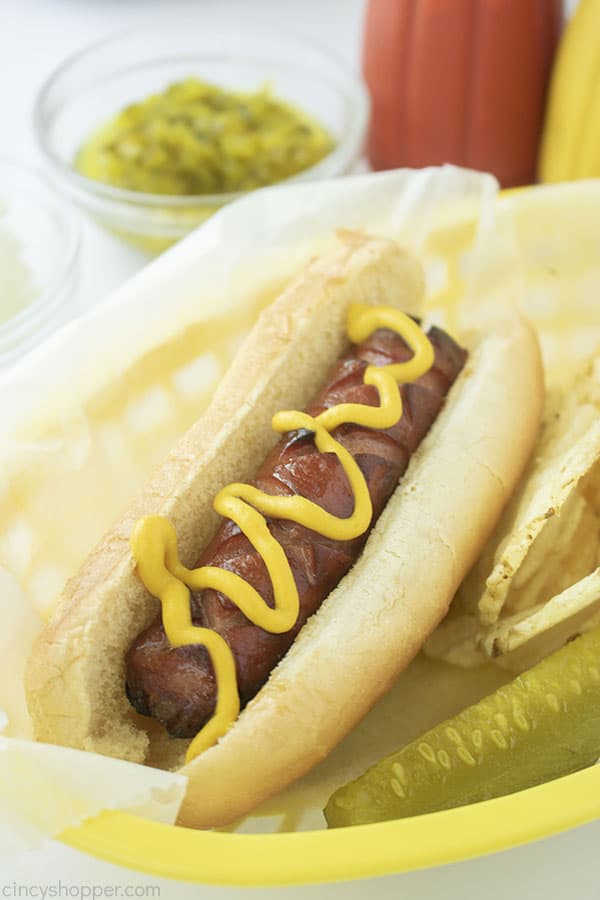 Air Fryer Hot Dogs
Our family really loves hot dogs- they're a must for grill-outs and we'll usually make them for lunch if we can't think of much else. We've tried them in all the usual ways: boiled(Solid, but nothing exciting), pan-fried(Takes some effort, can undercook them) and, of course, grilled. Grilling them has always been our preferred way- you can't really get nice crisp exteriors reliably any other way. It still takes a bit of effort though, since you've got to warm the grill up and turn your dogs every now and again.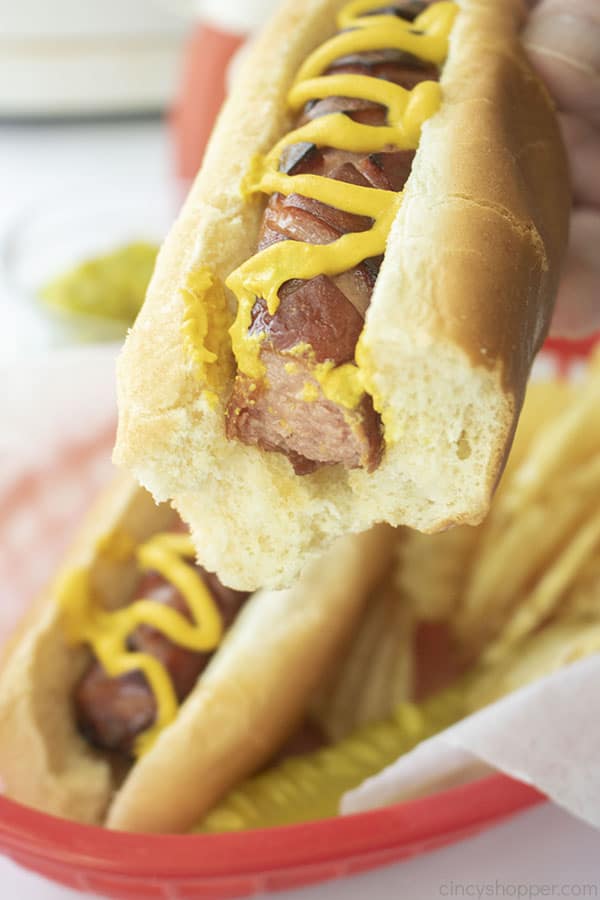 That's when I thought, "Can you air fry hot dogs?" It turns out, you can- and it might be the best way to make these things! Air frying hot dogs yields perfectly crisped skins and evenly cooked insides. Even better, it takes less than 10 minutes!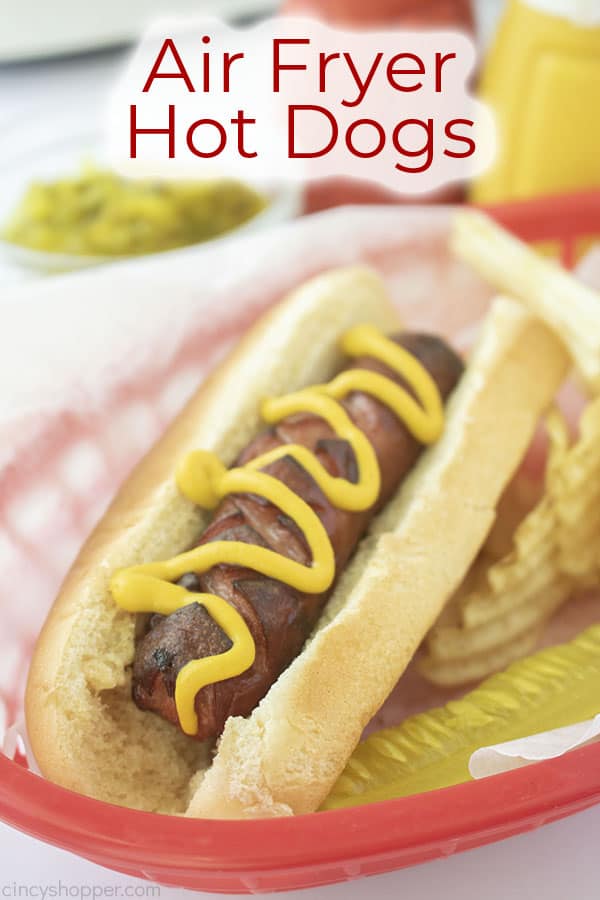 We've talked about the benefits of air fryers on this site before, but here's a quick recap. They're basically small convection ovens that have been supercharged. They can get hot enough to give you the crisp finish of fried foods without any oil. Brands don't matter too much: we've got a ??? fryer but this recipe should work with a Ninja air fryer or any other brand out there.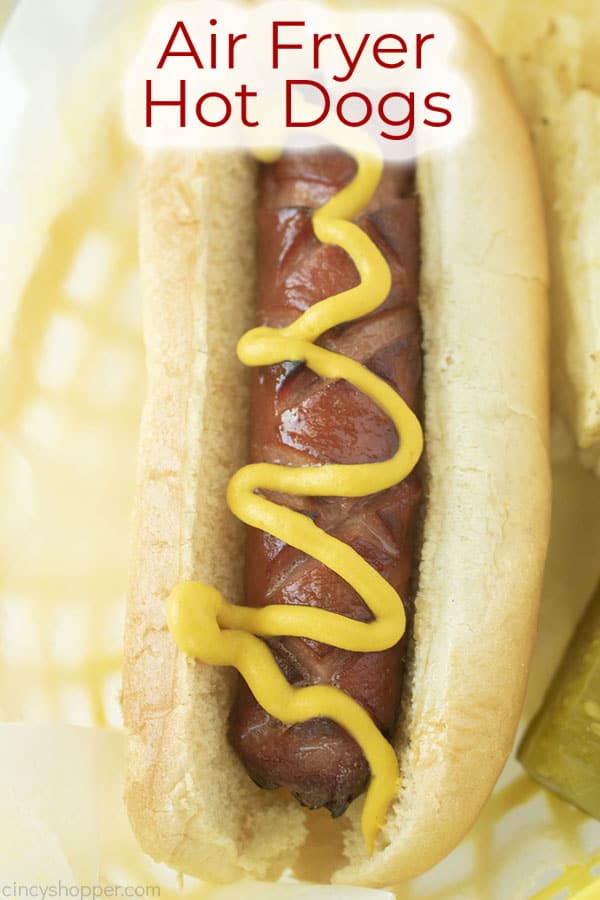 Back to the hot dogs though: Air Fryer Hot Dogs might be our new favorite way to make hotdogs for lunch. If your air fryer is big enough, you can easily make these things by the batch and get everyone fed in less than half an hour! Trust us, you'll want to make plenty of these- they're so good, we might have trouble picking a favorite between these and some classic grilled hot dogs. Start preheating your fryer and don't forget to add your favorite condiments- this might be your new favorite recipe!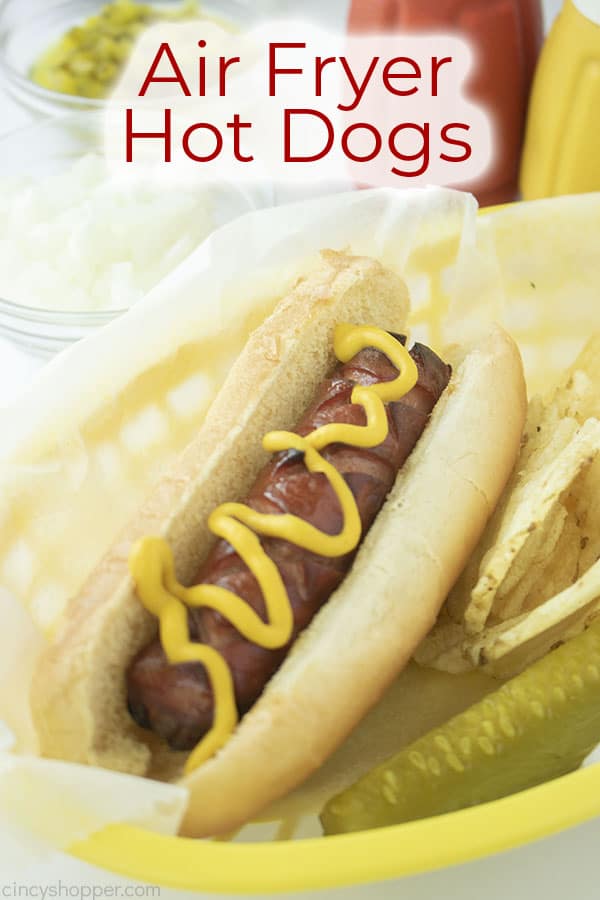 Liked our recipe? Try these other air fryer recipes!
For another easy lunchtime favorite, try our

Air Fryer Grilled Cheese

! Making this classic cheesy sandwich couldn't be much easier with an air fryer.

Beautifully

toasted bread and perfectly melty cheese inside- yum!

Our

Air Fryer Chicken Breasts

are great on their own or used for all sorts of chicken recipes. Mix and match herbs and spices to change up the taste and flavor of this

perfectly

cooked chicken! The outside gets nice and crispy while the inside stays moist, juicy, and delicious.

Try something new on your next wing night with some

Air Fryer Chicken Wings

!

The air fryer might be the secret ingredient to delicious, crispy chicken wings- all without oil too

. Don't forget to coat them with some good

Homemade Buffalo Sauce

!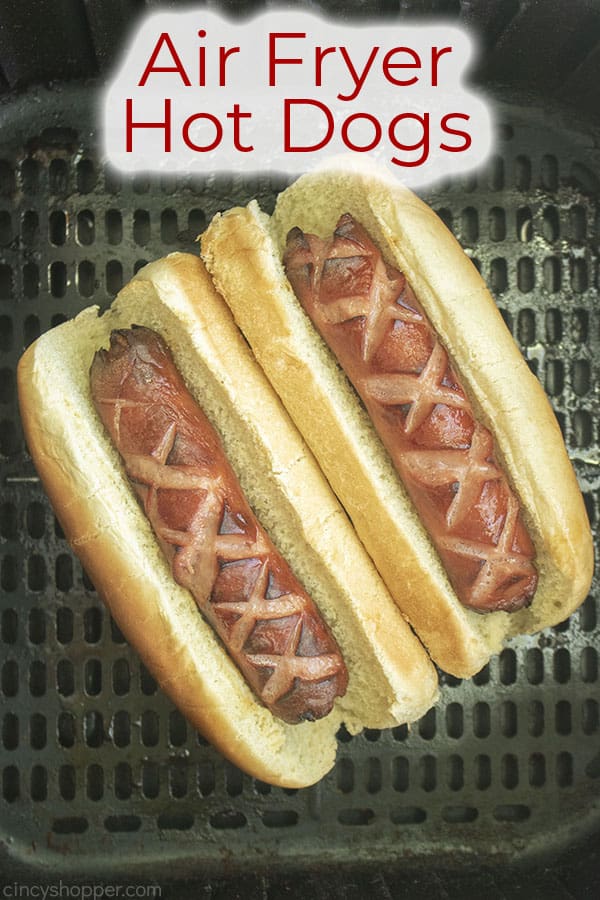 Ingredients for Hot Dogs
Hot Dogs

– This recipe should work with any of your favorite hot dogs. Go ahead and use Ball Park Hotdogs, some Nathan's Beef Franks, any metts or wursts- use tofu dogs if that's your thing!

Hot Dog Buns

Toppings

– Hot dogs

really

aren't complete without some toppings. Any of your favorite toppings should work for Air Fryer Hot Dogs!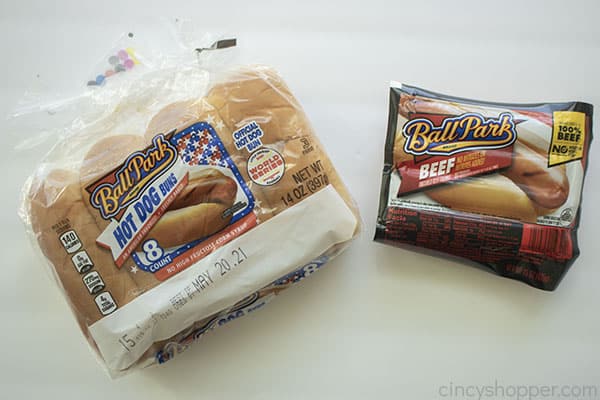 How to cook Hot Dogs in Air Fryer
Cooking hot dogs in the air fryer is real simple. Here's all you'll have to do:
Preheat your air-fryer

to 390 degrees and

toast your buns

for a minute.

Score your hot dogs

with an X-pattern before

placing in the air fryer basket

.

Air fry

at 390 degrees

for 6 minutes

.

Serve on toasted buns

, top with condiments, and enjoy!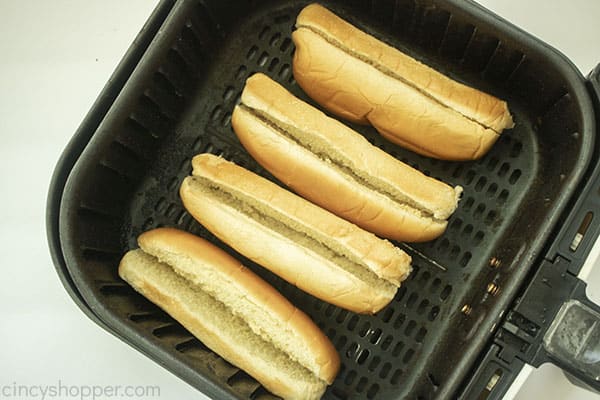 Start this recipe off by preheating your air fryer to 390 degrees. Once it's almost done preheating, toss your buns in for a minute or two to give them a quick toast- a quick, time-saving tip right there! When the fryer's preheated and the buns are toasted, we can focus on the hot dogs. Give your dogs a light scoring- this will help prevent them from bursting and it looks nice as well.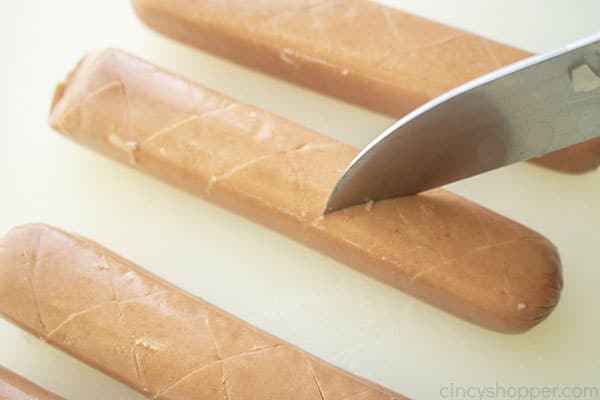 Toss those into the fryer basket. If you preheated everything right, they should be sizzling as soon as they touch the metal! Close the fryer up and let cook at 390 for about 6 minutes.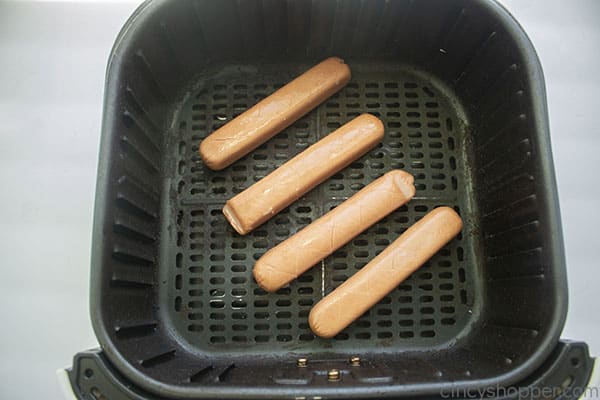 After 6 minutes, your Air Fryer Hot Dogs should be cooked through and have some nice color to them. If you want them a bit darker, feel free to cook for another minute or two.
Once cooked to your liking, throw your dogs into the toasted buns. If you've got any hot dog condiments handy, now's the time to add them!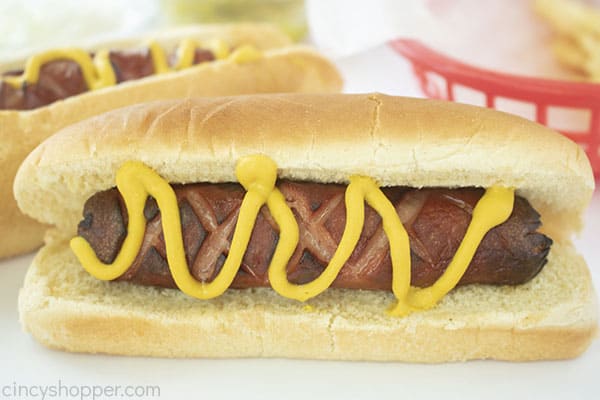 However, you top them, dig in and enjoy!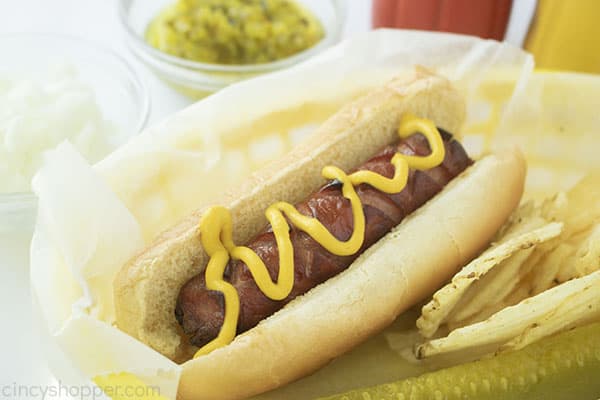 Air Fryer Hot Dogs
Air Fryer Hot Dogs cook up amazingly in everyone's favorite kitchen gadget! These are a quick and easy recipe perfect for lunchtime.
Instructions
Toast buns in air fryer at 390 for 1 minute.

Use a knife to lightly score hot dogs in an X pattern on all sides.

Cook hot dogs in air fryer at 390 for 6 minutes.

Place hot dogs on buns and optionally top with your favorite condiments.
Nutrition
Calories:
22
kcal
|
Carbohydrates:
3
g
|
Protein:
1
g
|
Fat:
1
g
|
Saturated Fat:
1
g
|
Cholesterol:
2
mg
|
Sodium:
50
mg
|
Potassium:
11
mg
|
Fiber:
1
g
|
Sugar:
1
g
|
Vitamin A:
1
IU
|
Vitamin C:
1
mg
|
Calcium:
8
mg
|
Iron:
1
mg