Air Fryer Grilled Cheese is an easy way to make this classic cheesy sandwich. Toasted perfectly with that gorgeous cheese stretch!
The Grilled Cheese is one of the best sandwiches you can make- simple and delicious! Using this popular kitchen gadget, making this tasty, cheesy recipe couldn't be easier. Pairs well with some Quick & Easy Creamy Tomato Soup or some Homemade Chicken Noodle Soup.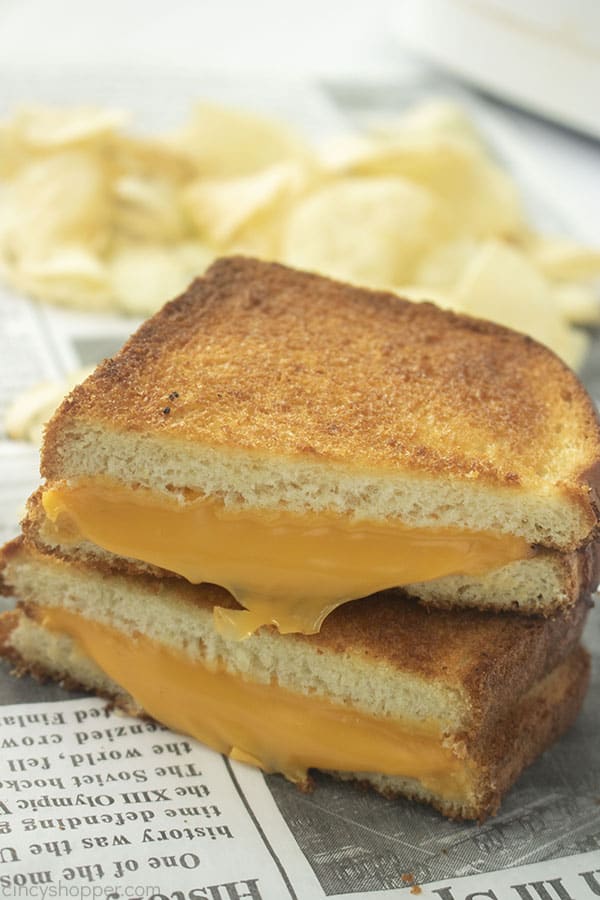 Air Fryer Grilled Cheese
There's few simpler pleasures in life that are better than a well-made Grilled Cheese Sandwich. It's probably one of the most accessible recipes on the planet- slap some cheese between two slices of bread and get to frying. Even though the prep is so simple, the end-product is delicious, perfect, buttery comfort food.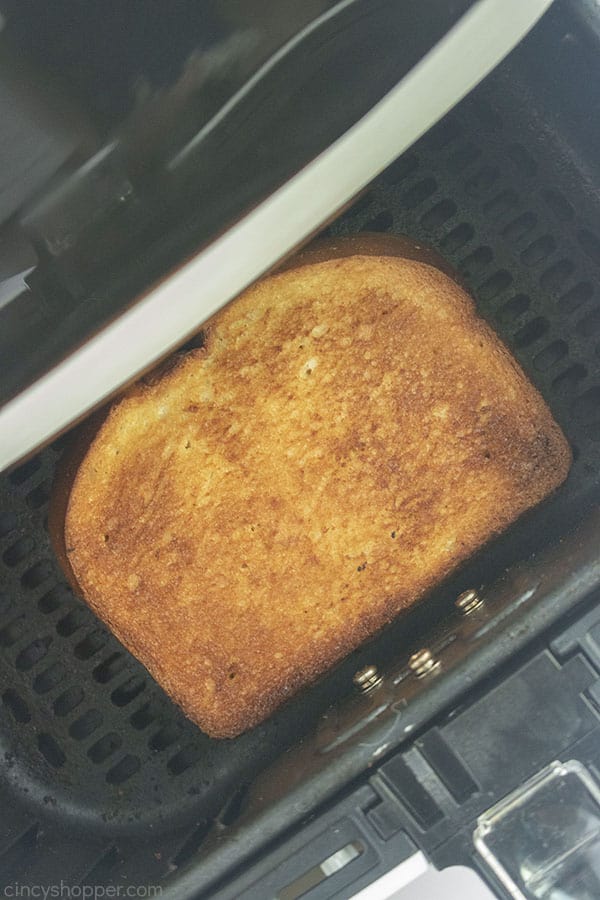 I'm certain most of us have the pan-frying skill to make up a grilled cheese the old-fashioned way but using an air fryer can make things so much easier! It takes all the guesswork and risk of burning your sandwich out of the equation. The only extra prep you need is to keep your sandwich together using some toothpicks- a small price to pay for that melty, cheesy goodness!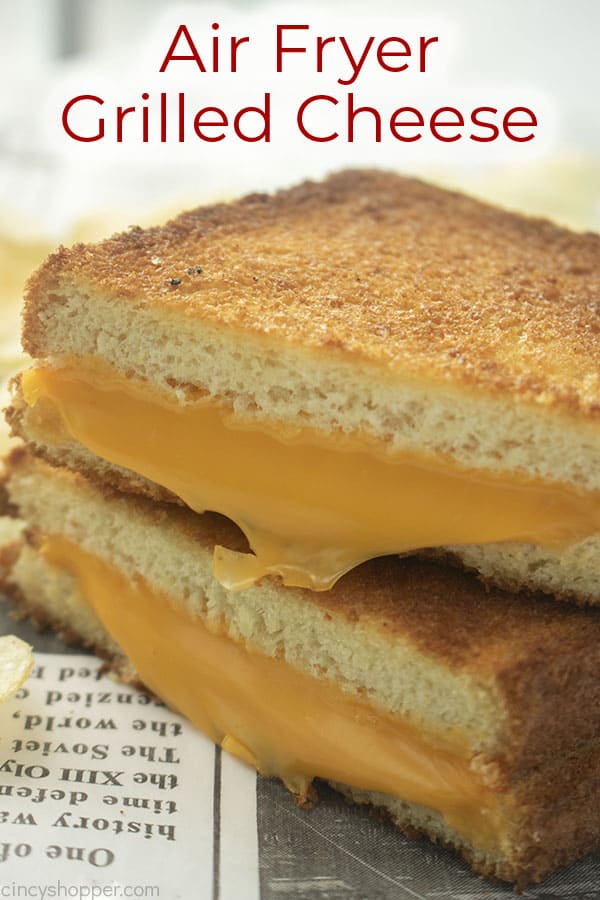 Like any grilled cheese recipe, you can take this in any direction you want. You can use all the secret tips and tricks to making the best grilled cheese you've found and use them in this recipe. Pick out your favorite bread or cheeses- go crazy! Just know that the air fryer might be the secret to perfect grilled cheese sandwiches.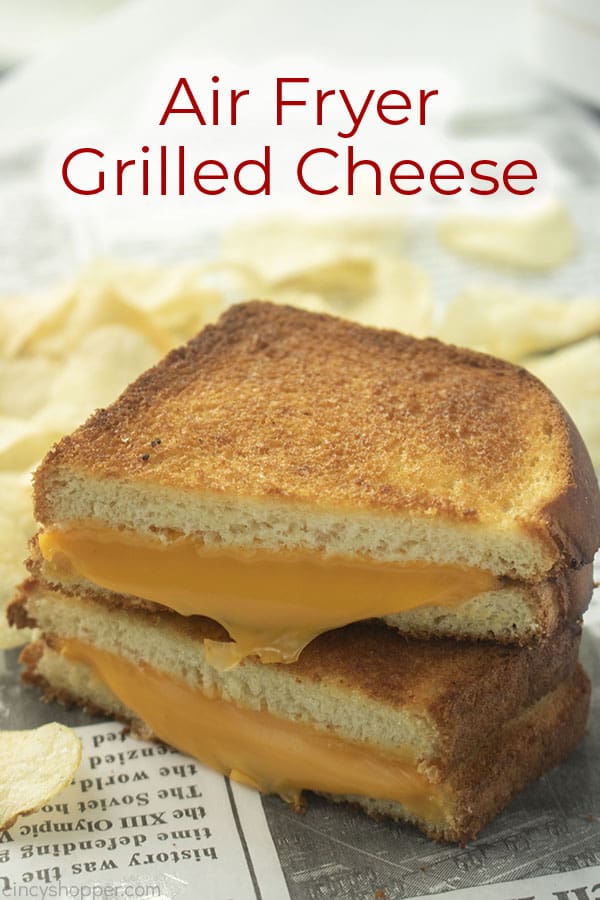 More Delicious Sandwich and Lunch Recipes
Our

Pepperoni Pizza Grilled Cheese

is a fun twist on this classic sandwich.

Swap in some garlic toast for the bread, use mozzarella for your cheese, and add in some marinara and pepperoni for this tasty sandwich

!

Whether your eating it straight or using it in a sandwich, you should only make the

Best Egg Salad

.

Following our recipe will yield a creamy and tangy salad that's perfect for all your favorite crunchy mix-ins

. Packed with protein and perfect for making ahead!

Not in the mood for eggs? We've also got a recipe for the

Best Chicken Salad

as well! We kept our recipe simple, making this another great salad for adding to a sandwich. A great way to use up some of that left-over chicken!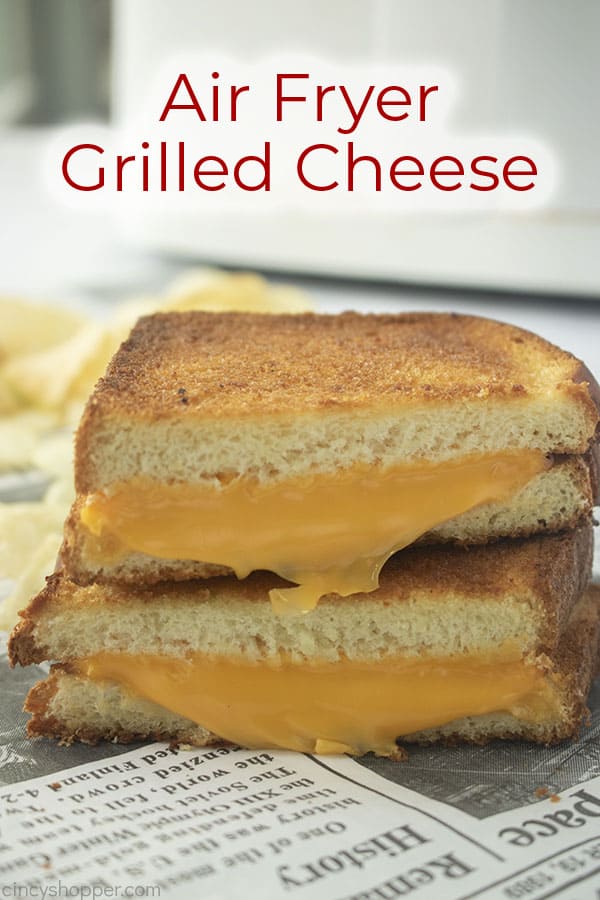 Ingredients for the Best Grilled Cheese
Bread – Your average sandwich loaf will likely work here, but you're missing out if you're not using good bread in your grilled cheese sandwich

! Try making a sandwich with something like a sourdough next time. We liked this Butter Bread loaf from Pepperidge Farm.

Butter – For helping our bread toast and to add that delicious, buttery flavor. You could,

optionally

, use mayo or olive oil here.

Cheese – The classic pick is American but there are tons of different cheeses and cheese blends that taste great

! Try blends of cheddar, gruyere, gouda, and/or parmesan to start off.

Branch out and

eventually

experiment with some odder combos- Gordon Ramsay prefers a Romano and Asiago on his

!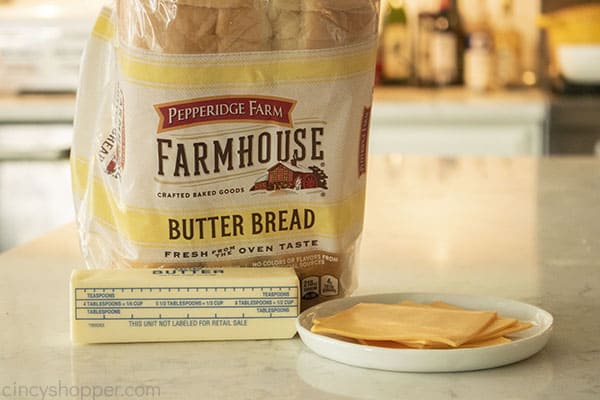 How to make Grilled Cheese in Air Fryer Oven
Prepping this sandwich is similar to how you'd make grilled cheese on the stovetop. First, lay your cheeses onto your bread. We prefer a bit of overlap so our sandwich has a big pocket of cheese in the middle.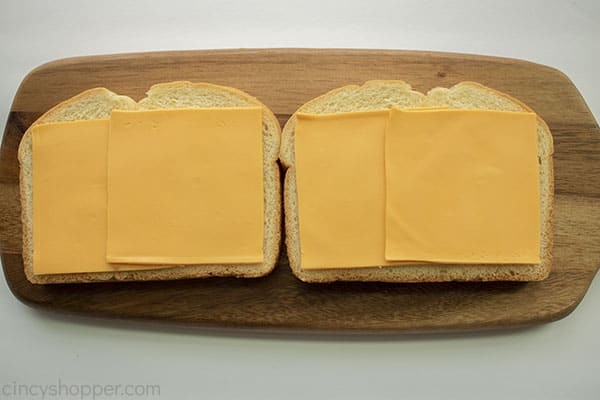 Slap those two halves together to form a sandwich. Now we have to add our butter: spread it evenly over the outside faces of your sandwich. Letting your butter soften beforehand will make this much easier.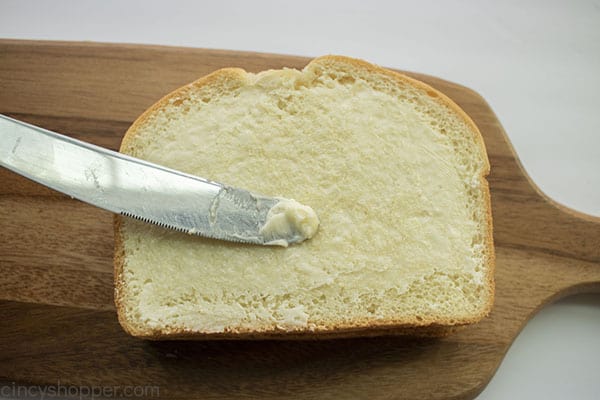 To keep our sandwich together while it fries in the air fryer, we're going to run some toothpicks through it. You don't need many: just enough to hold the sandwich together. It should go without saying that these toothpicks should be wood or metal- plastic will melt and ruin your sandwich. If using wood, soak your picks in a bit of water before sticking them in.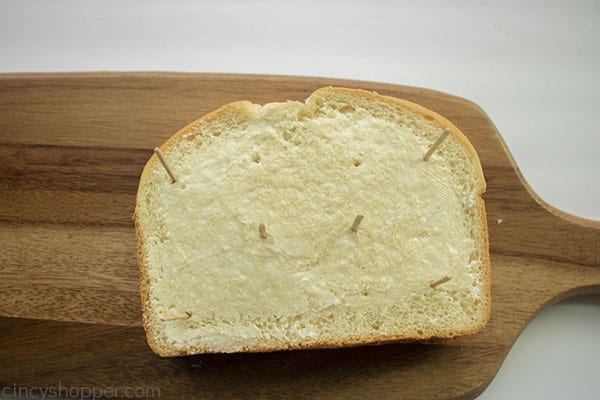 You can optionally pre-heat your fryer to 400 degrees before starting but you can get away with tossing your sandwich in while it's cool. Preheated or not, set the fryer to 400 degrees and let your sandwich cook for 5 minutes.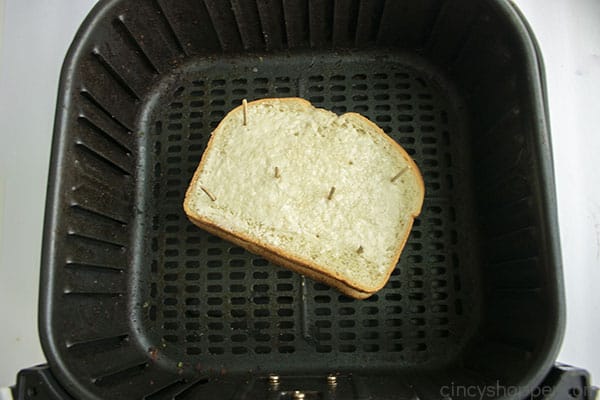 After 5 minutes, your sandwich will have picked up a bit of color. At this point, you should be safe to remove the toothpicks. Flip your sandwich over and let it continue cooking for another 3-4 minutes.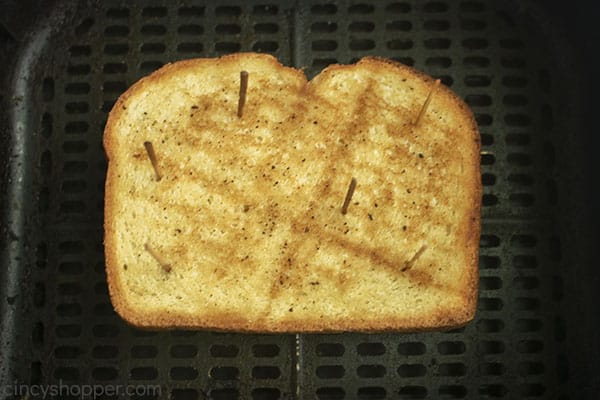 After those last 3-4 minutes, your sandwich should be done! If you enjoy your grilled cheese a little darker, toss it back in for another minute or two to pick up a bit more color.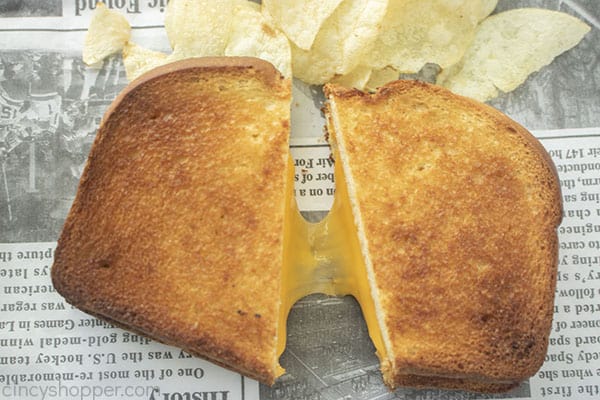 Before enjoying your grilled cheese, optionally hit it with a bit more butter while it's still hot. Serve up with some chips or some warm tomato soup and enjoy!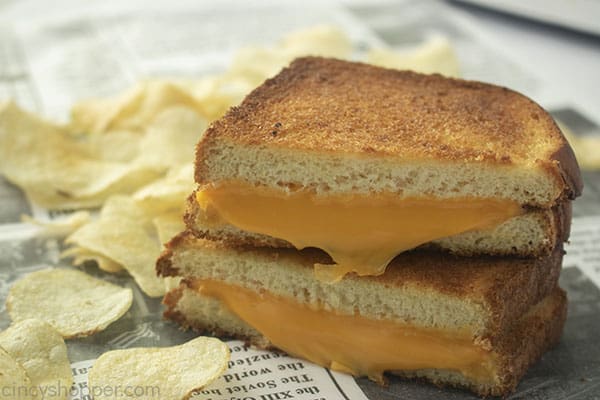 Air Fryer Grilled Cheese
Air Fryer Grilled Cheese is an easy way to make this classic cheesy sandwich. Toasted perfectly with that gorgeous cheese stretch!
Ingredients
2

slices

Bread

4

slices

American Cheese

1

tbsp

Butter softened
Instructions
Put wooden toothpicks in water to soak while making sandwich.

Arrange your cheese slices onto your bread to cover all of the bread.

Put your sides together to form a sandwich.

Spread softened butter over outside of the sandwich (top and bottom).

Use wet toothpicks to hold sandwich together.

Cook your sandwich at 400 for 5 minutes for the first side.

Remove toothpicks, flip and cook another 3-4 minutes, until golden brown.
Notes
Be sure to wet toothpicks if using a wooden version.
Nutrition
Calories:
563
kcal
|
Carbohydrates:
31
g
|
Protein:
21
g
|
Fat:
40
g
|
Saturated Fat:
23
g
|
Cholesterol:
114
mg
|
Sodium:
1794
mg
|
Potassium:
213
mg
|
Fiber:
2
g
|
Sugar:
5
g
|
Vitamin A:
1144
IU
|
Calcium:
955
mg
|
Iron:
3
mg