My best chicken salad recipe is simple in ingredients but the chicken flavor is the star. With the perfect blend of tender chicken, celery, and creamy dressing, it's great to use in sandwiches and appetizers.
This recipe proves that chicken salad doesn't have to be complex to be delicious. There are recipes online that call for add-ins like walnuts, apples, and dried fruit. While salads like that may be tasty on their own, they really aren't suitable for a chicken salad sandwich.
Also, with those specific ingredients, the recipes are technically for Waldorf salad, minus the green grapes.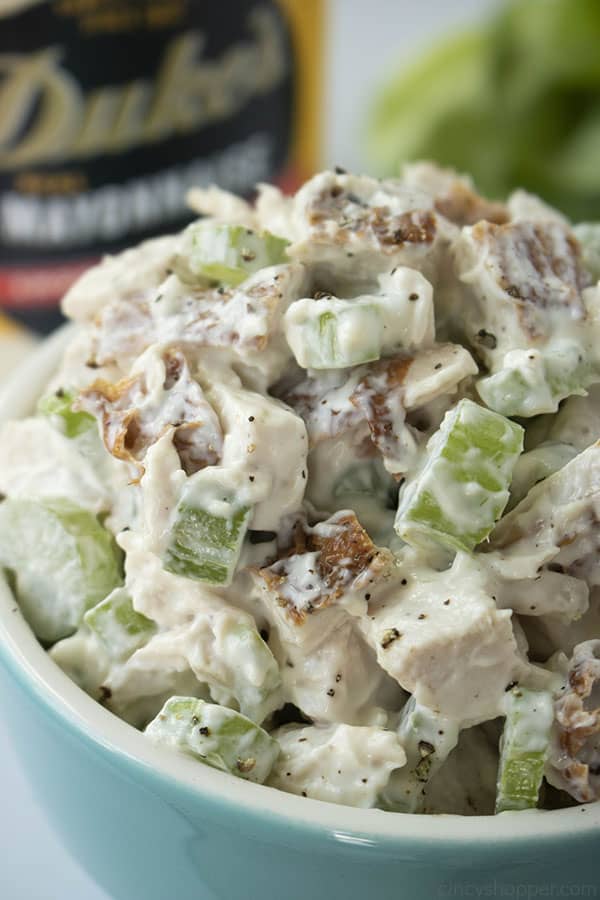 How much chicken do I need?
This recipe calls for 2 cups of chicken. If you are using bone-in chicken, such as rotisserie, you will need at least a 2 pound chicken to yield 2 cups of meat. For boneless chicken, such as breast meat, you should be able to yield 2 cups of meat from 1 pound of boneless meat.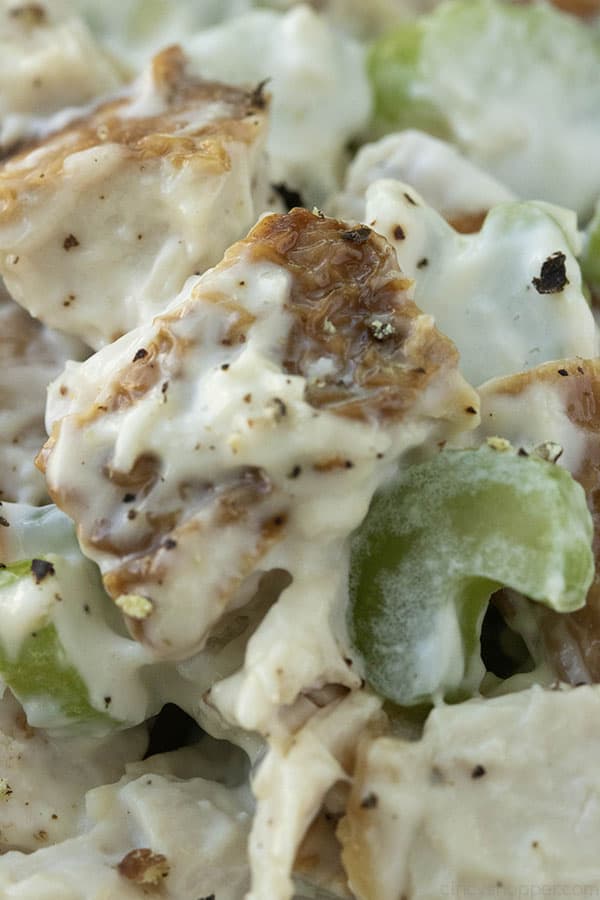 Storage and expiration date
In my opinion, the best chicken salad is one that is eaten shortly after it is made. Any leftovers should be kept in a covered container in the refrigerator. Stored this way, it should keep well for up to 5 days.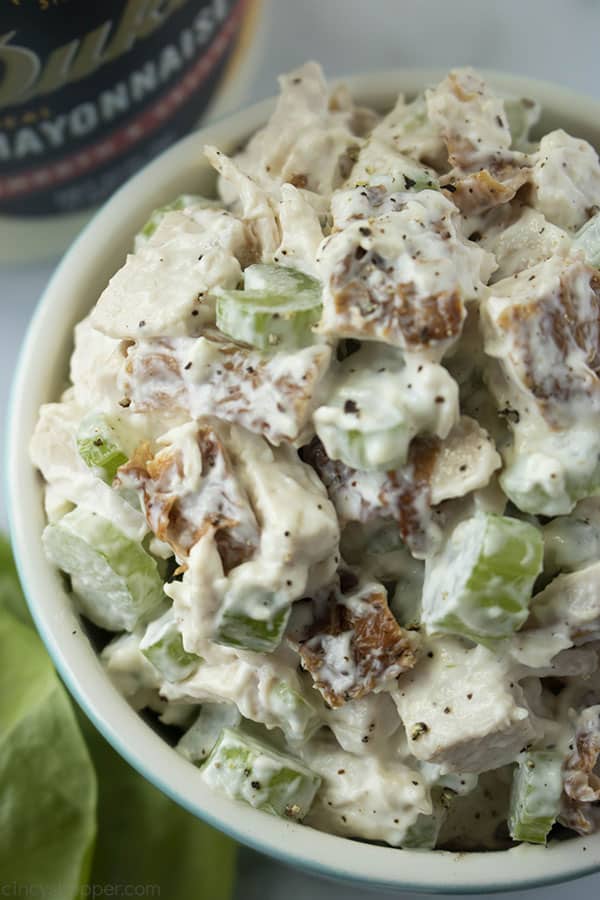 Can you freeze chicken salad with mayonnaise?
Yes, technically you can freeze any type of cold salad made with mayo. The problem, however, is that if you use too much dressing, the chicken salad may end up freezing in clumps. As a result, when it thaws out, the dressing can become too watery.
Because of this, I think the best chicken salad is one that you enjoy when it's freshly made.
Chicken salad sandwich and other uses
Because this is a simple chicken salad recipe, it lends itself to uses other than sandwiches. Here are just a few ideas for using chicken salad in appetizers and main dishes.
Stuffed bell peppers – Unlike traditional stuffed peppers, cold chicken salad is delicious in raw bell peppers. You can even use a small paring knife to carve bell peppers into baskets. They look adorable filled with tuna or chicken salad!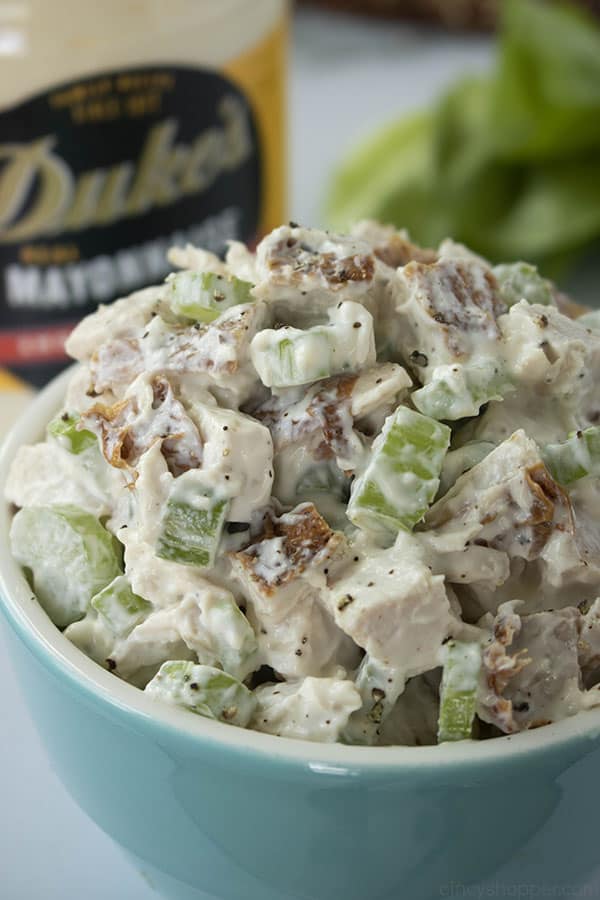 What should I serve along with the salad?
If you are using it to make sandwiches, classic sides to serve with chicken salad include
Potato chips
French fries
Fresh fruit
Raw veggies like celery, carrots, bell peppers, and cherry tomatoes
Pickle spears
Other delicious sides to serve with a simple chicken salad include:
Ingredients in the best chicken salad recipe
As mentioned earlier, the ingredients for this recipe are simple classics. Nothing fancy is needed because we want the flavor of the chicken to stand out above the dressing.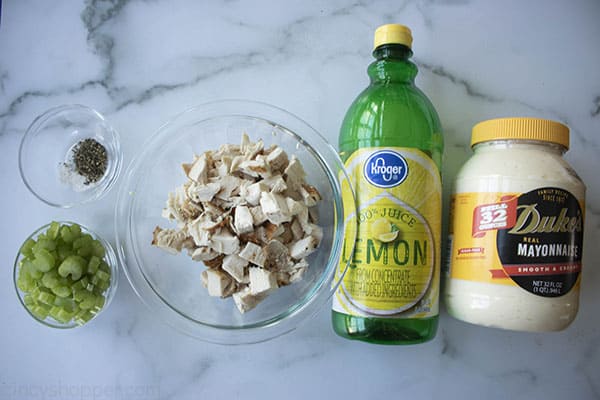 Cooked chicken – The recipe can be made using dark or white meat chicken. I prefer to use my oven-baked chicken breast, but whatever type you have on hand is just fine. Also, this is a great recipe to make with leftover chicken or even rotisserie chicken. And it doesn't even have to be cubed chicken; shredded chicken works well too!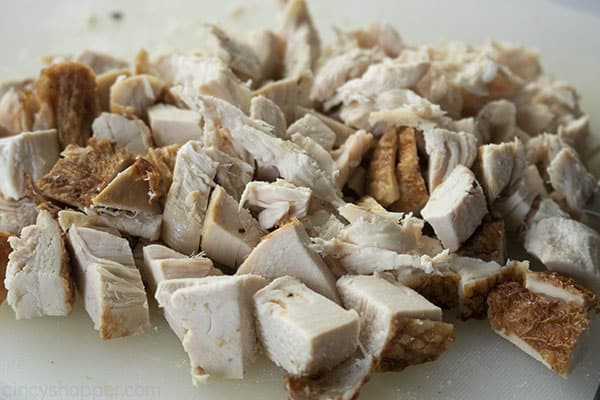 Chopped celery – Celery is an important ingredient, as it brings the classic crunch that people expect of chicken salad. Chop the celery finely or in larger pieces if you prefer. The crunch factor is a matter of personal preference. Be careful not to have the pieces too large. Keep in mind that celery is a very watery vegetable. After it is cut, the water releases into your salad. If your chicken salad becomes too watery, you can add a little more dressing to thicken it up.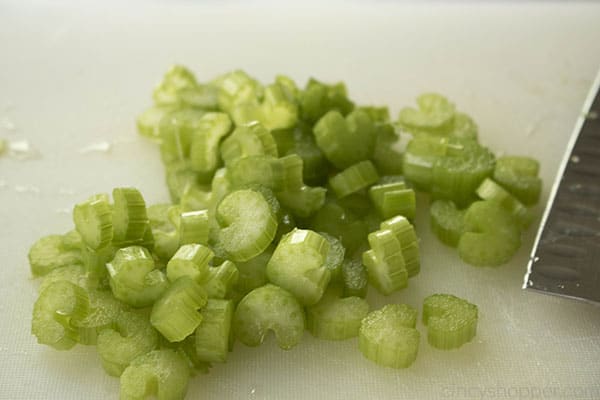 Mayonnaise – Mayo is where things can get very personal with a chicken salad sandwich recipe! I insist on using Duke's mayonnaise for the perfect creamy texture. Although, as a result, it can be high in saturated fat. If you are trying to cut calories or fat, this is where the rubber meets the road, so to speak. You can lighten things up by using low-fat mayo, Miracle Whip, Greek yogurt, or a combination of these. As a matter of fact, using two parts mayo and one part Greek yogurt creates a creamy texture with a little tangy flavor.
Lemon juice- Lemon is used for flavor but also, the acid helps to cut back on the heavy taste of the mayo. It's a must-use ingredient in my opinion.
Black pepper – Just like any other recipe that calls for it, the addition of salt and pepper is a matter of personal preference. Start with 1/4 to 1/2 teaspoon, taste, then add more if it's needed.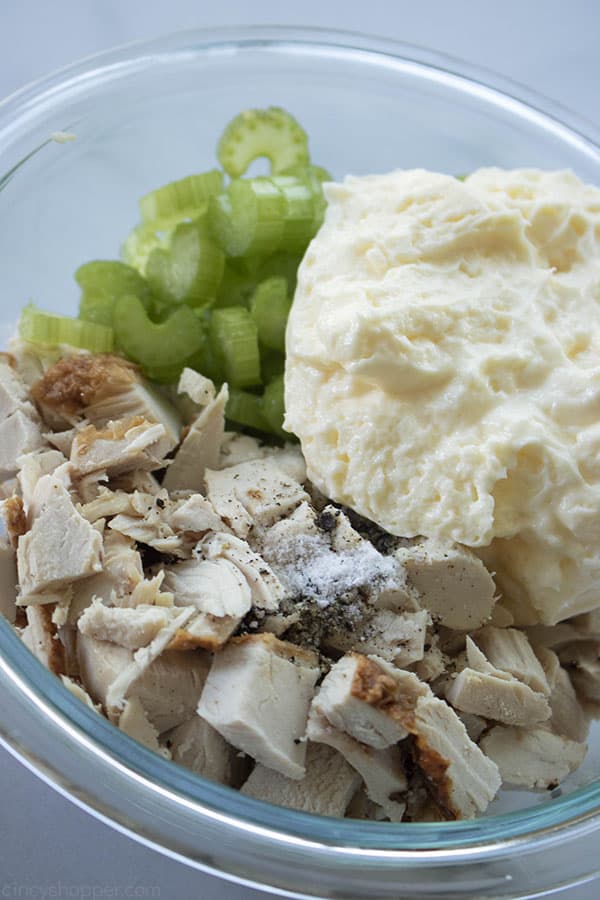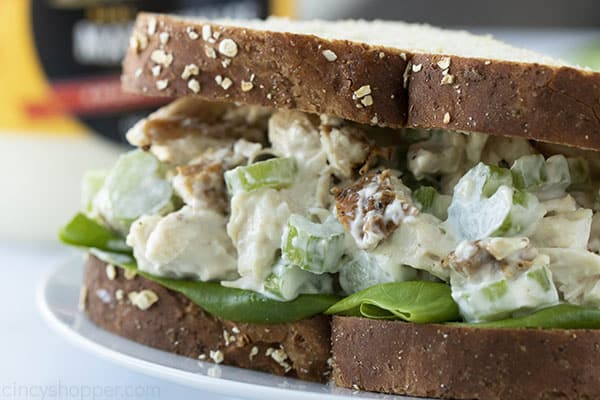 Other delicious salad recipes to try: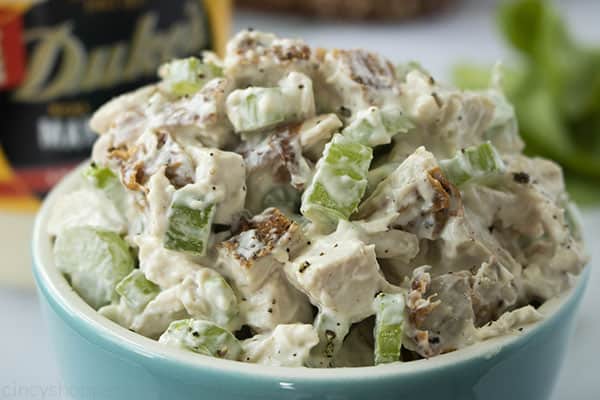 Best Chicken Salad Recipe
My best chicken salad recipe is simple in ingredients but the chicken flavor is the star. With the perfect blend of tender chicken, celery, and creamy dressing, it's great to use in sandwiches and appetizers.
Ingredients
2

cup

cooked Chicken

chopped

1/2

cup

chopped Celery

1/2

cup

Mayonnaise

I use Duke's

1

tbsp

Lemon Juice

1/4

tsp

Black Pepper
Instructions
In a large bowl, combine all ingredients.

Stir until well mixed and evenly coated.

Refrigerate until ready to serve.
Nutrition
Calories:
310
kcal
|
Carbohydrates:
1
g
|
Protein:
18
g
|
Fat:
26
g
|
Saturated Fat:
5
g
|
Cholesterol:
64
mg
|
Sodium:
240
mg
|
Potassium:
193
mg
|
Fiber:
1
g
|
Sugar:
1
g
|
Vitamin A:
104
IU
|
Vitamin C:
2
mg
|
Calcium:
13
mg
|
Iron:
1
mg