French Toast Sticks are a rich, sweet breakfast recipe you can make at home with an air fryer! Extra delicious with a coat of cinnamon sugar!
If you've ever had French Toast Sticks from the frozen aisle or a fast food place, you'll enjoy them homemade as well! Our recipe for Air Fryer French Toast Sticks uses a rich, sweet batter and a delicious coating of cinnamon sugar to make them perfect.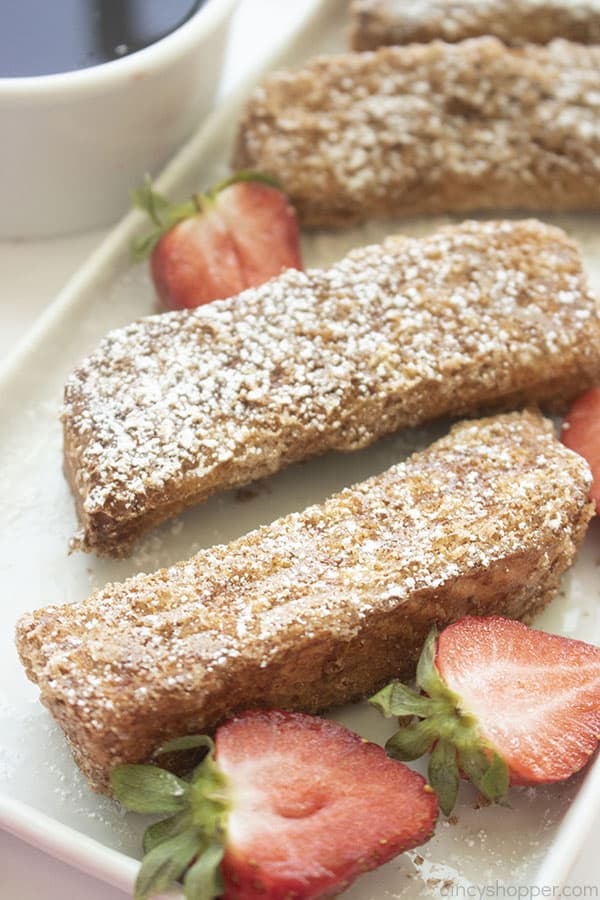 French Toast Sticks
French Toast is definitely one of my favorite dishes to have for breakfast. Few other recipes can compare to the sweet, rich flavors that come from that classic breakfast dish! While we've kind of perfected our French Toast preparation over the years, we recognize that French Toast is a bit daunting for most home chefs. It's, for this reason, we decided to put out this delicious recipe for Air Fryer French Toast Sticks!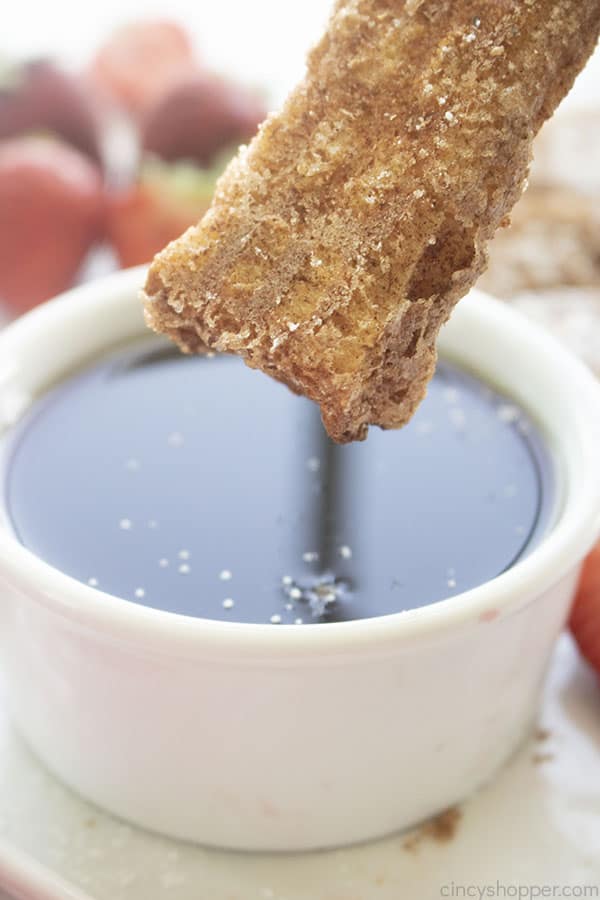 It's usually in the skillet where most French Toast recipes go wrong- it gets overcooked, undercooked, or straight-up burnt to a crisp! Thankfully, the air fryer makes things much easier- thanks to the design, your french toast is getting cooked all-around at the same time. This means you're getting an even, crispy exterior on your Air Fried French Toast Sticks- all while the inside cooks through.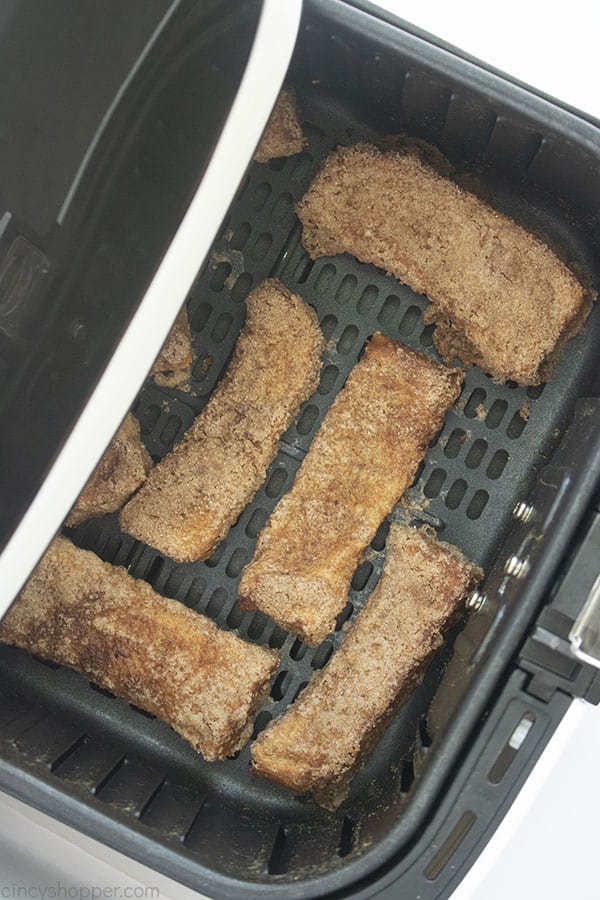 Of course, we couldn't just stop it there, so we gave our French Toast Sticks a quick coating of cinnamon sugar. Cinnamon sugar helps bring that breakfast-cereal-feel to this sweet, kid-friendly breakfast recipe! Did I mention that these are freezer-friendly as well- whip up a big batch and reheat them over the week for a quick, easy, no-hassle breakfast! Please enjoy this fun and delicious air fryer breakfast recipe today!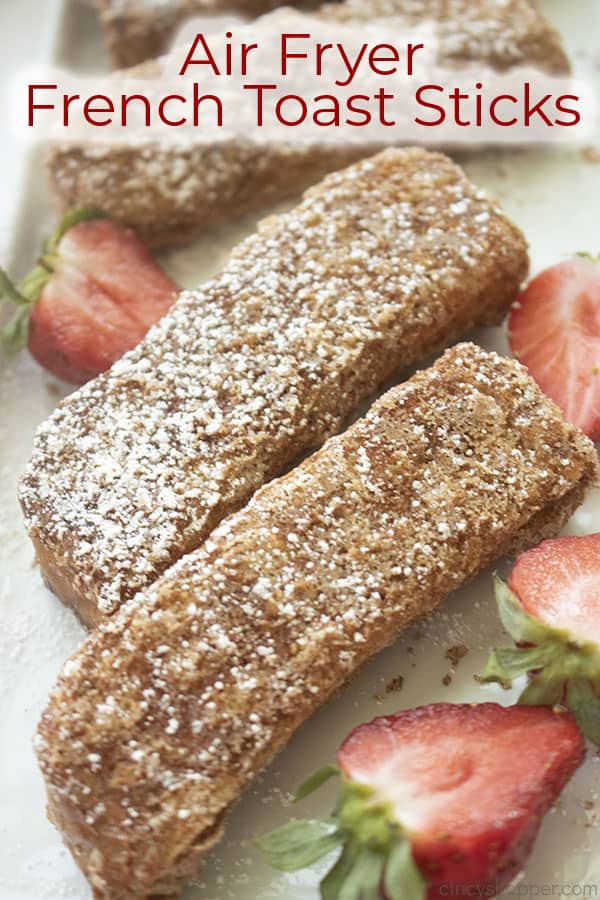 More Breakfast Recipes to try
If you're wanting to serve French Toast for a crowd, our

Apple Overnight French Toast Casserole

has you covered

.

We stuffed this sweet, filling breakfast casserole with diced and apples and topped it off with some buttery streusel topping

! Easy to make ahead the night before and bake the following morning for your waiting guests.

French Toast Sticks aren't the only way to miniature the classic breakfast dish.

Our

French Toast Cups Recipe

takes all the delicious parts of your favorite breakfast and put it into muffin-form

! Like our casserole, you can prep these the night before and cook them for your family the next morning.

Looking for a bit more protein?

Breakfast Egg Muffins

are customizable,

freezer-friendly

, and better for you than any McMuffin could ever be

!

Fill your muffins up with anything from deli meats, diced peppers, fresh herbs, and all your favorite cheeses

.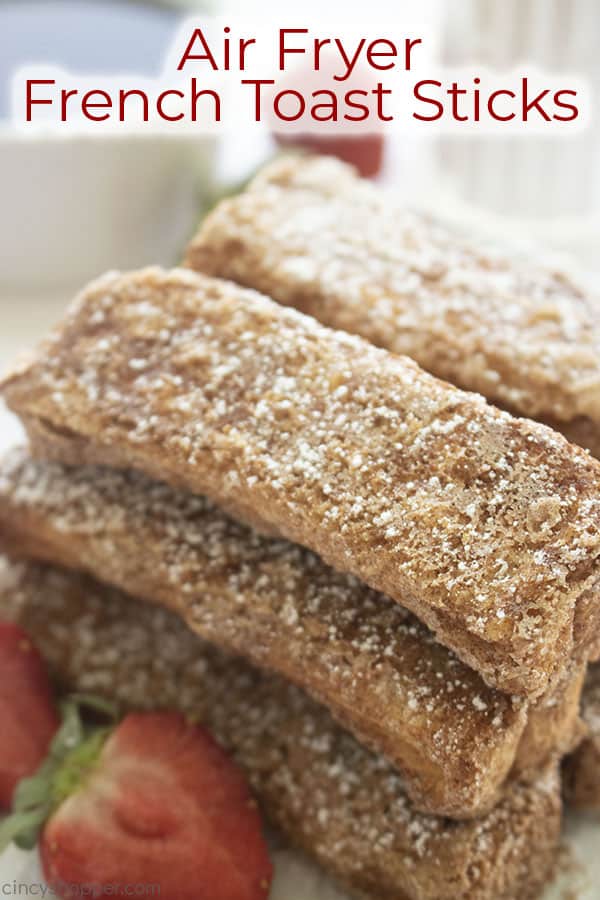 Ingredients for Air Fryer French Toast Sticks
Bread – Go with something a bit thicker here. We used a Texas Toast.

Eggs/Egg Yolks – Great French Toast batter is usually a bit more yolk-heavy.

Cinnamon Sugar – This is

just

a simple mixture of 1 tablespoon white sugar to 1 teaspoon cinnamon. Scale it up

accordingly

.

NOTE: Butter is in the ingredient image but NOT needed.
For other additions, you can make to the batter, feel free to check out our post on French Toast!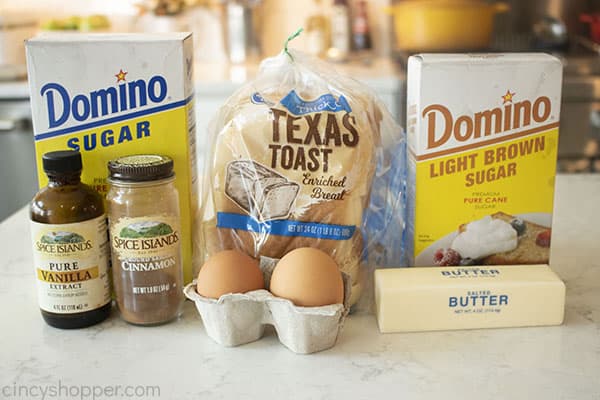 How to make French Toast Sticks
To start this recipe off, you first want to get your bread cut into strips or sticks. With our Texas Toast, we felt cutting it into thirds worked out the best.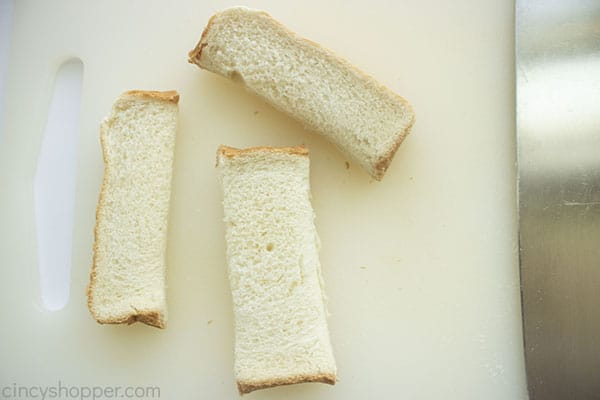 French Toast turns out the best when you use lightly-toasted bread. With that in mind, we're going let our bread sticks toast in the air fryer for about 5 minutes at 350 degrees.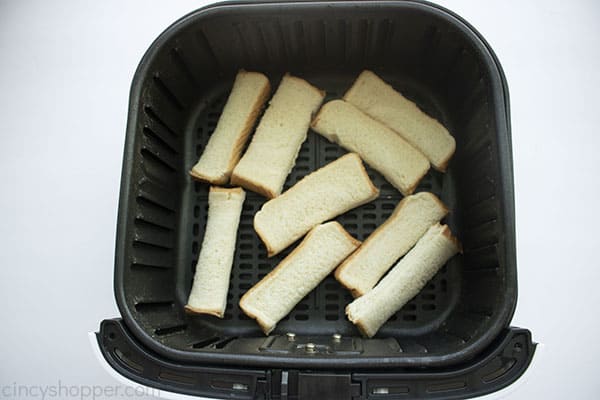 The next bit of business to attend to is our French Toast batter. Add to a shallow plate or bowl your eggs, milk, brown sugar, vanilla, and some of your cinnamon and sugar. Whisk these together until well-blended.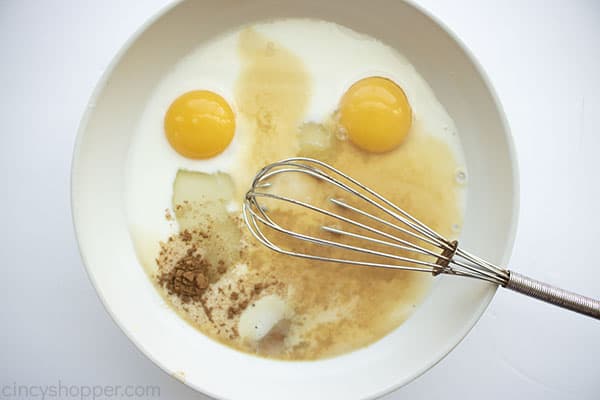 Next, we want to let our bread sticks soak briefly in the french toast batter. Drop your sticks into the batter and let soak for a few seconds before flipping and letting the other side soak as well.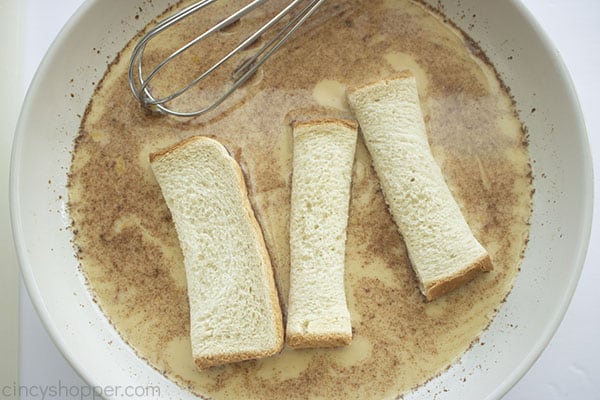 While our sticks are still wet with the batter, we're going to coat them with some cinnamon sugar. This is going to add just a bit more flavor but it's totally worth it! Ensure you get a nice, even coating on all sides.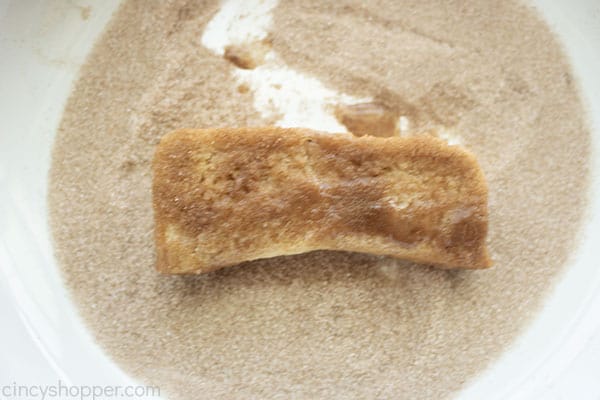 All that's left is to cook! Set your French Toast Sticks into the fryer basket and set them to cook at 350 degrees for about 8-10 minutes. You'll know they're done when you've got some nice, crispy French Toast Sticks! Hit with a quick dusting of powdered sugar, serve with some syrup, and enjoy!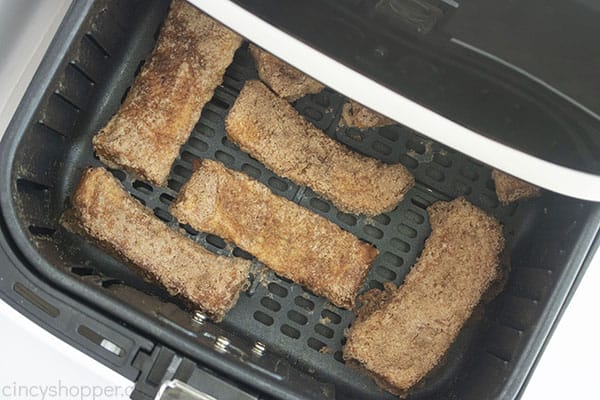 How to make Frozen French Toast Sticks in Air Fryer
A definite plus to this recipe is that our Air Fryer French Toast Sticks are easy to freeze and reheat! To freeze, follow our baking instructions and then place them on a parchment-lined in a single layer- none laying on top of each other. Place this sheet in the freezer and allow the French Toast Sticks to freeze through. Once frozen, transfer to an air-tight freezer bag or container for storage. To reheat, place in the air fryer and cook at 360-390 degrees for around 3-5 minutes or until heated through.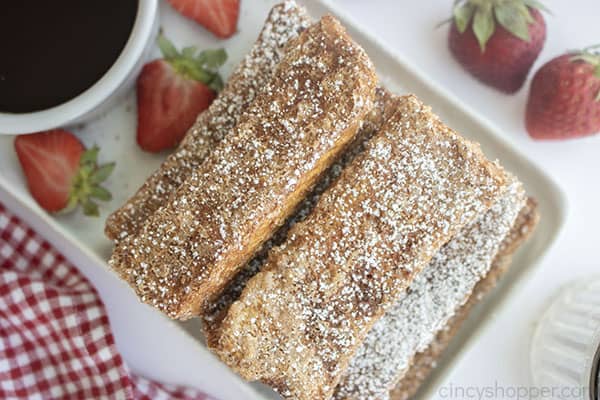 Air Fryer French Toast
French Toast Sticks are a rich, sweet breakfast recipe you can make at home with an air fryer! Extra delicious with a coat of cinnamon sugar!
Ingredients
10

tsp

(3 tbsp + 1 tsp) Sugar

divided

3 1/4

tsp

Cinnamon

divided

3

slices

Texas Toast

1

Eggs

1

Egg Yolks

1/3

cup

Milk

1

tsp

Sugar

1

tsp

Brown Sugar

1

tsp

Vanilla

1/4

tsp

Cinnamon
Instructions
In a shallow bowl, whisk together 3 tablespons of sugar and 3 teaspoons of cinnamon. Set aside.

Cut each slice of bread in thirds.

Place bread in air fryer for 5 minutes at 350.

Place eggs, egg yolks, milk, brown sugar, remaining sugar, vanilla and remaining cinnamon in shallow disk.

Whisk until blended.

Dip bread in egg mixture and allow to soak for several seconds. Turn and dip other side.

Dip bread in cinnamon sugar mixture and coat both sides.

Place in air fryer and cook at 350 for 8-10 minutes until crispy.
Nutrition
Calories:
162
kcal
|
Carbohydrates:
22
g
|
Protein:
4
g
|
Fat:
7
g
|
Saturated Fat:
2
g
|
Cholesterol:
73
mg
|
Sodium:
148
mg
|
Potassium:
41
mg
|
Fiber:
2
g
|
Sugar:
12
g
|
Vitamin A:
126
IU
|
Calcium:
45
mg
|
Iron:
4
mg