Breakfast Egg Muffins are a delicious and healthy breakfast option. Who needs a McMuffin when you have freezer-friendly, customizable muffins?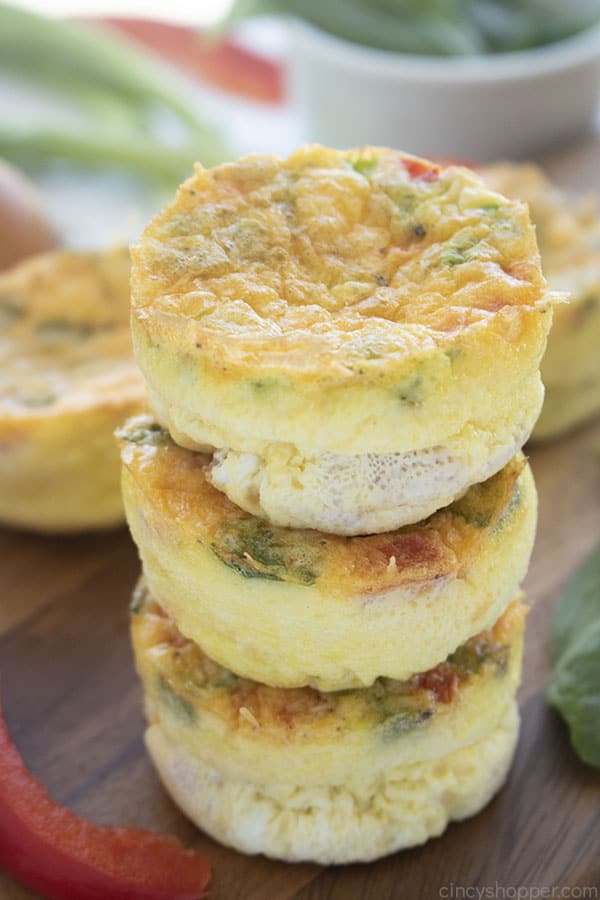 Breakfast Egg Muffins
We're always on the look-out for easy breakfast recipes. The morning hustle-and-bustle can be a bit much for many of us and it's always comforting to know that there's something ready to make. Make ahead recipes, especially, are great: breakfast becomes as simple as tossing something in the microwave or oven to warm it back up! That's why we're big fans of these Make Ahead Breakfast Muffins!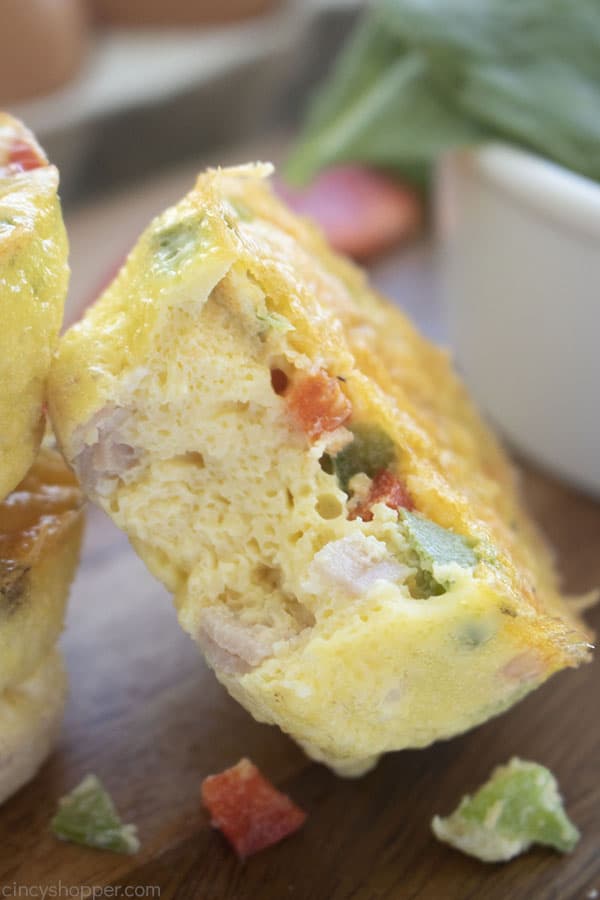 These Egg Muffins are perfect for any folks who are a bit short on time in the mornings. Prepping them is as simple as whisking up some eggs, chopping some fillings, and letting bake- you could have them ready in less than an hour! You can add all sorts of fillings to these things and they're perfect with a little sprinkling of cheese on top. The best part? They store incredibly well in both the fridge and the freezer! That means you can enjoy these delicious Breakfast Muffins all week!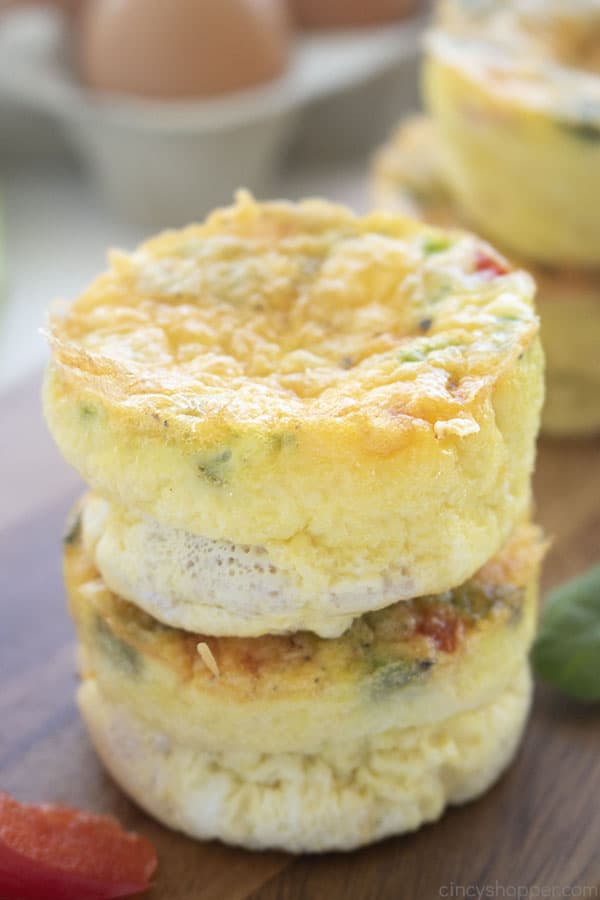 We've got plenty of delicious breakfast recipes for you folks to try! For starters, here's a few main courses:
Slow Cooker Breakfast Casserole

takes some of the ideas we worked with here and blows them out.

Instead of individual muffins, you can scoop out a generous

portion

of this loaded casserole

. Plenty filling and easy to make!

If you're looking for something a bit more carb-y, an

Easy Breakfast Braid

is perfect.

Enjoy your favorite breakfast fare wrapped inside a braided shell of buttery crescent roll dough

!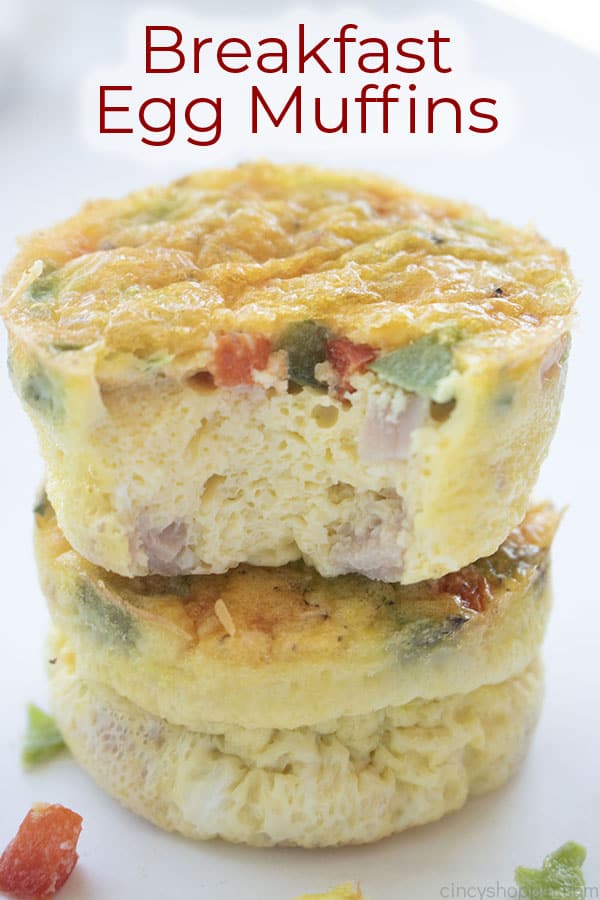 Main courses need sides, don't they? We've got plenty of breakfast sides to try as well! Here are a few to take a look at:
Some crispy

Easy Breakfast Potatoes

will be great to set at the table with your favorite breakfast foods

. This side is simple to bake and tastes great- loaded with plenty of peppers, garlic, and onion!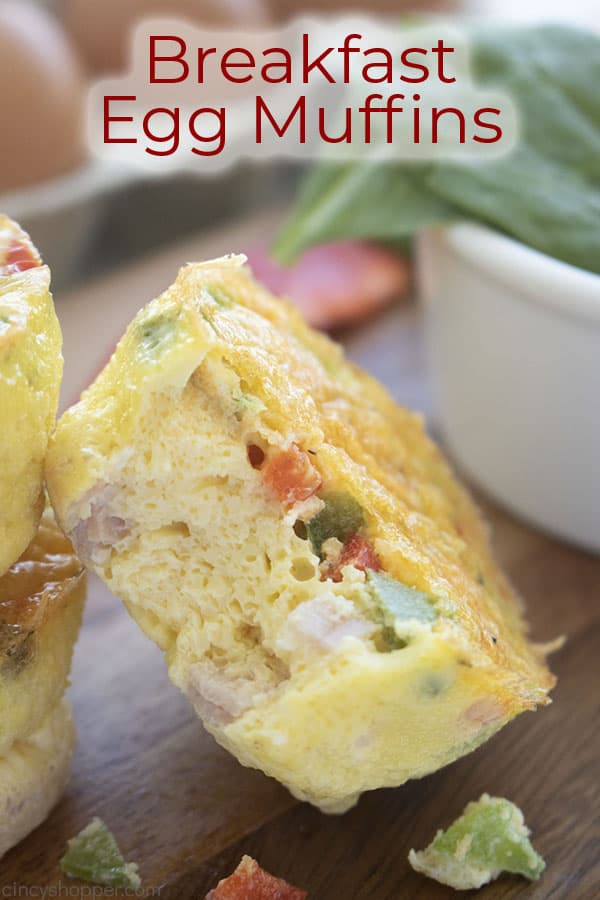 Breakfast Muffin Ingredients
Cheddar Cheese -it's best to shred your own.

Fillings – You have plenty of options to pick from here! We went with some spinach, green onions, red and green bell peppers, ham, and tomatoes. Other fillings you might consider could be…

Bacon – Can't go wrong with bacon and eggs!

Other leafy greens – Especially if you're trying to keep these egg muffins healthy.

Herbs/Spices – Try some

herbs de Provence

for some French flavor or add some basil to some tomato and spinach for something a bit more Italian

.
How to make our Egg Muffin recipe
First things first, you want to get your eggs whisked. To a mixing bowl, add your eggs and milk. Mix these together like you would for scrambled eggs.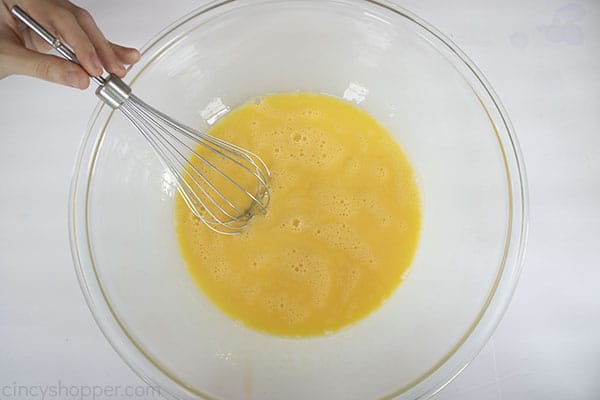 To prep your fillings, just ensure they're chopped fairly small. We want to make sure these fit in the muffin tins, after all!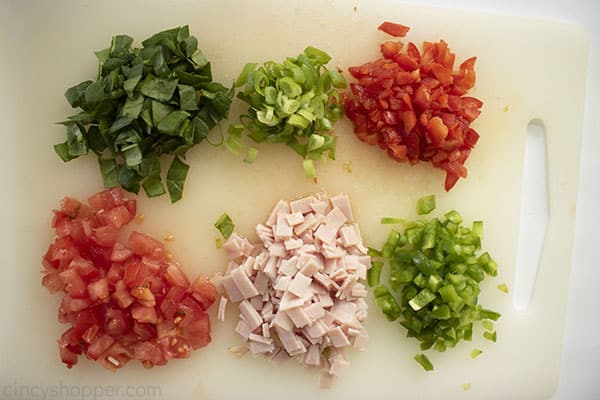 Now it's time for assembly. If you're using a metal muffin pan, make sure you've added a paper muffin liner. We used a silicone muffin pan and it is the BEST for making these. Paper liners work but silicone is the way to go with these. When your pan's ready, add a small amount of egg to the bottom of each tin- we're talking less than a quarter-full.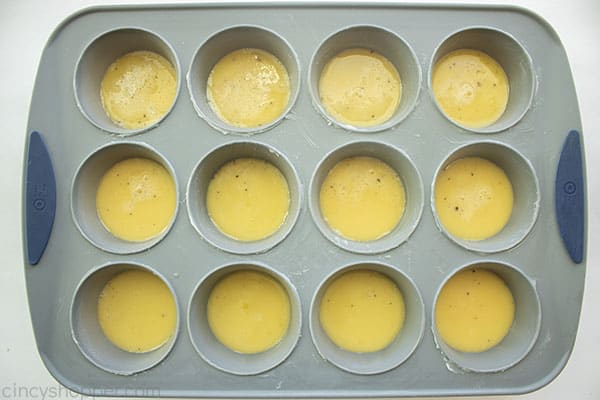 We're going to add our fillings at this point. Aim to use about a teaspoon's amount of each filling- especially if you're loading your muffins up!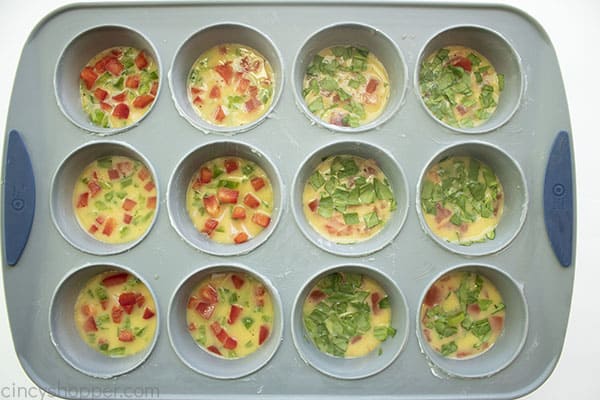 Once you've added your fillings, fill each tin up until they're about 2/3 of the way full. Sprinkle about a teaspoon's worth of cheddar cheese over each muffin before sending your tray into a 375 degree oven.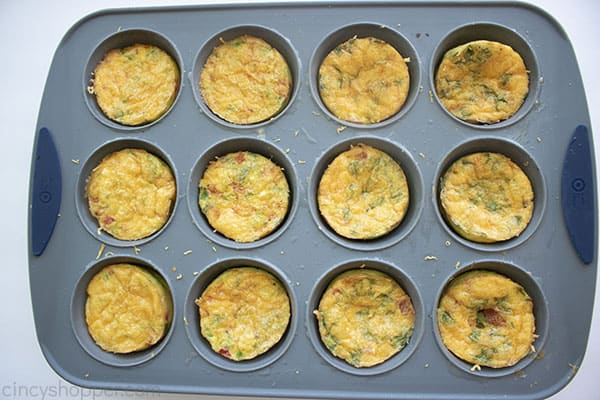 Your muffins will need to bake for around 30-40 minutes- the centers will be set and your muffins will be a lovely, golden color. Once they're done, carefully remove them from their tins- a paring knife ran along the edges helps- before storing or serving. Enjoy!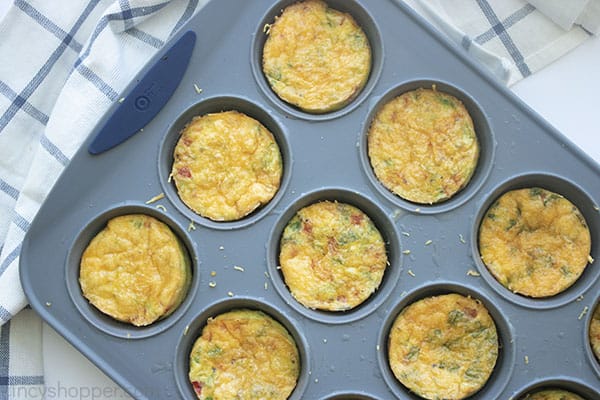 Freezing/Refrigerating your Egg Muffins
Before storing these egg muffins in any sort of way, allow them to cool down first. Your eggs will be safe even if they've sat on the counter for an hour or two! If storing the fridge, keep them in an air-tight container- they should last for around 3-4 days. To warm back up, we'd recommend using either the microwave or the oven: just give them a few minutes in either and they should be good to eat again! For freezer storage, wrap your individual muffins in some plastic wrap before either wrapping with foil or storing in a freezer bag. To reheat, transfer to fridge until thawed then follow our advice for reheating from there.
Egg Muffins
Breakfast Egg Muffins are a delicious and healthy breakfast option. Who needs a McMuffin when you have freezer-friendly, customizable muffins?
Ingredients
10

Eggs

1/4

cup

Cheddar Cheese

2

tbsp

Milk

1/4

tsp

Salt

1/4

tsp

Pepper

Spinach

chopped

Green Onion

sliced

Green Bell Pepper

seeded and chopped

Red Bell Pepper

seeded and chopped

Ham

diced

Tomato

diced
Instructions
Preheat oven to 375.

Grease silicone muffin tin and set aside. If you don't have silicone use paper liners.

In a large bowl, whisk together eggs, milk, salt and pepper.

Fill each muffin cup about 1/3 full.

Add 1 teaspoon of each filling to each cup.

Fill up to about 2/3 full.

Top each with 1 teaspoon of cheese.

Bake 30-40 minutes until tops are beginning to brown and eggs are set.
Nutrition
Calories:
64
kcal
|
Carbohydrates:
1
g
|
Protein:
5
g
|
Fat:
4
g
|
Saturated Fat:
2
g
|
Cholesterol:
139
mg
|
Sodium:
116
mg
|
Potassium:
54
mg
|
Sugar:
1
g
|
Vitamin A:
222
IU
|
Calcium:
40
mg
|
Iron:
1
mg