Air Fryer Donuts are a quick & tasty way to deal with any donut cravings. These are made with storebought biscuits, which makes cooking easy!
This might be one of my favorite quick air fryer recipes- making Air Fryer Donuts with biscuits! For more store-bought biscuit hacks, check out our recipes for Easy Monkey Bread and Pumpkin Pull Apart Loaf.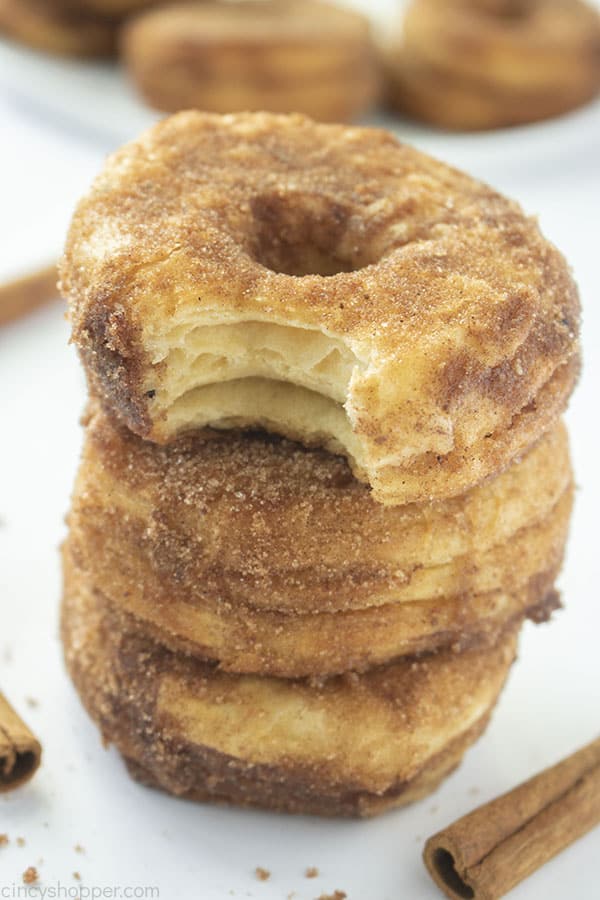 Air Fryer Donuts
Donuts are one of my favorite breakfast foods, snack-time treats, and anytime desserts! Whether they're baked or fried, rarely will I ever turn down a donut. We've tackled plenty of donut recipes here on the site in the past, and they've mostly been baked donuts. Baked donuts cook pretty fast but I've been wondering if I could make donuts even quicker. That's when I thought, "can you make donuts in an air fryer?"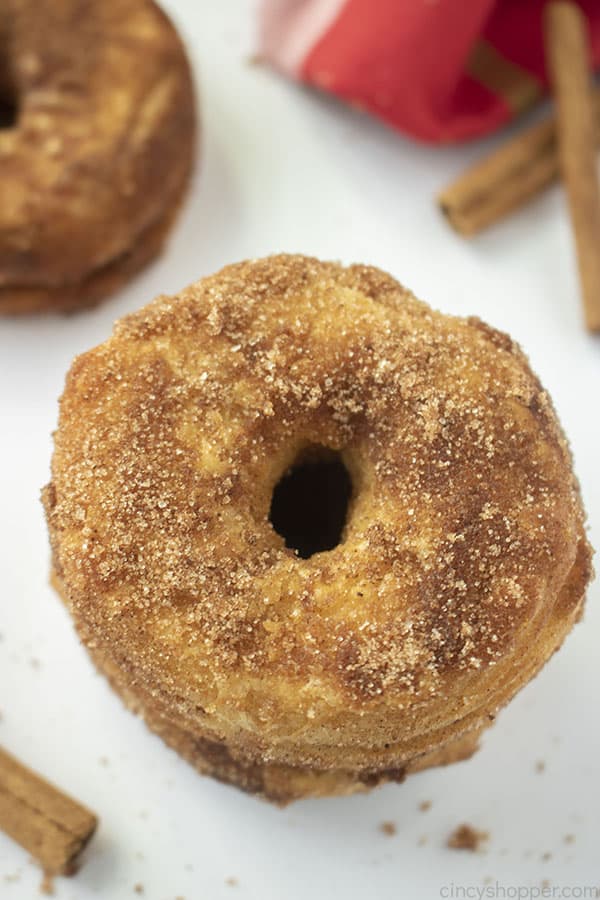 Air fryers, if you haven't heard, are sort of like a countertop convection oven that can cook food pretty quickly. They can also run pretty hot too, giving foods crispy exteriors not too far from a deep fry. While I did find recipes online for air fryer donuts from scratch, I also ran across an interesting little hack that makes cooking donuts super easy!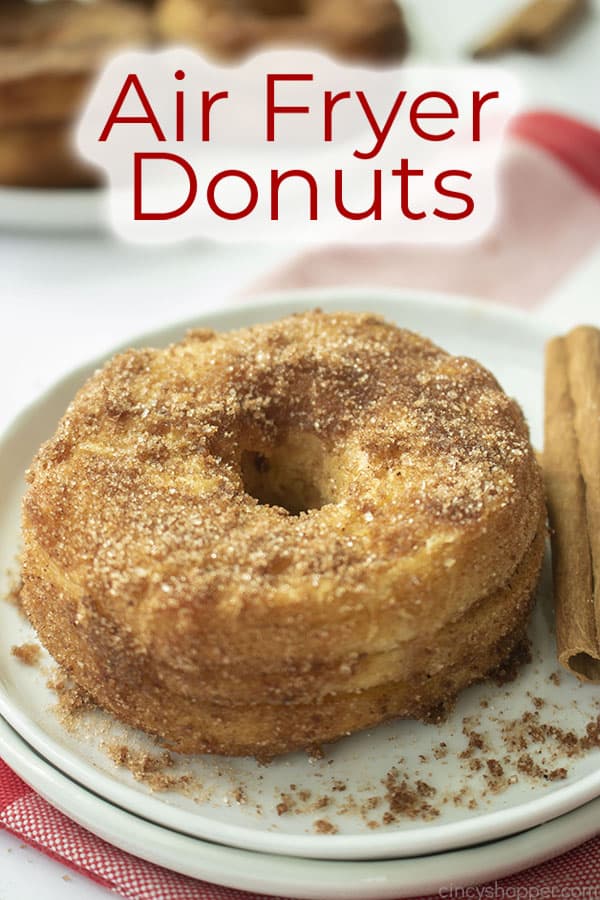 Just use canned biscuits: the texture's not going to be exactly the same but it still makes a delicious, donut-shaped treat. Once you add a nice, sugary coating, you won't be missing the bite and mouth feel of a classic donut too much! In a weird way, these Air Fryer Biscuit Donuts fill their own little niche and they're definitely worth at least a try. Make some up today- they only take about 5 minutes to cook- and you might find your new go-to "donut" recipe!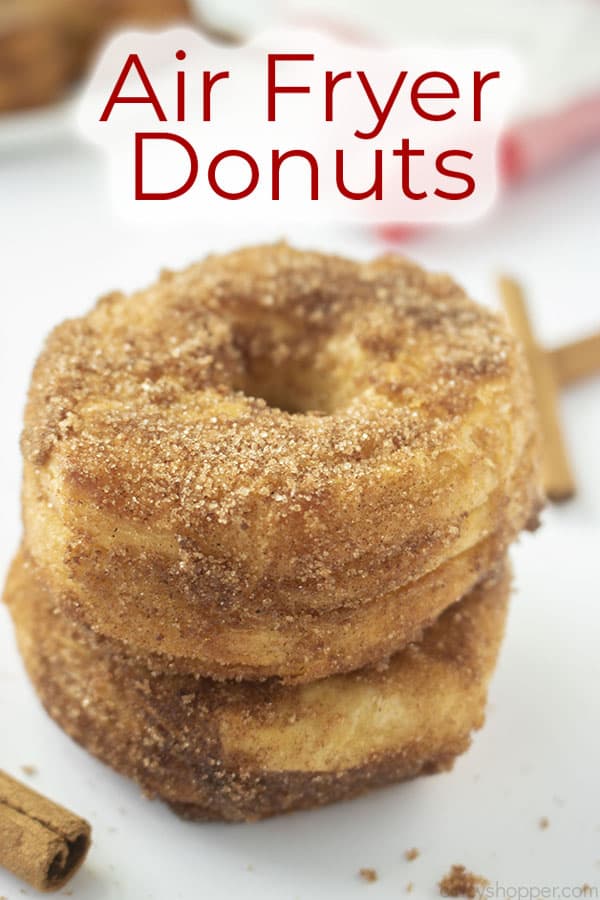 Loved this recipe? Try some of our other donut recipes!
Few things are better than some classic

Powdered Donuts

. These things are so easy to bake up and we've got a few tricks to help that powdered sugar coating stick. This old fashioned donut recipe goes great with a tall cup of apple cider- yum!

These delicious

Baked Blueberry Donuts

are one of our favorite homemade donut recipes to make

.

For folks who don't have a good donut shop near them, baked donuts are a tasty option and these donuts

are laced

with juicy plump blueberries

! Taste great on their own or finished with a sweet lemon glaze.

For an amazing fall breakfast or dessert, try making some

Caramel Apple Donuts

!

These delicious treats are easy-baked donuts made with plenty of fresh apples and autumn spices

. Dipped in caramel and topped with nuts, these are certain to be one of your favorite fall recipes!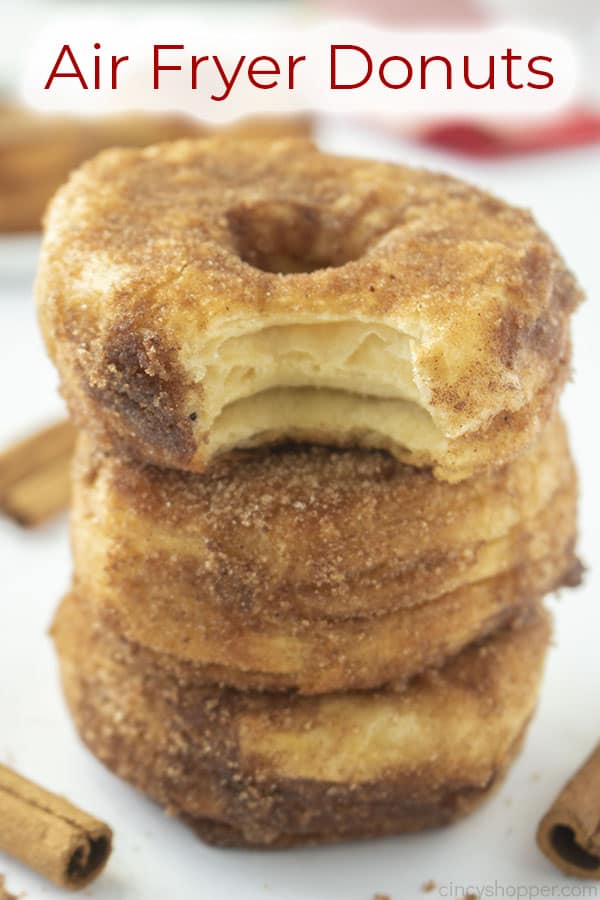 Ingredients for Easy Air Fryer Donuts
Canned Biscuits

– Using canned biscuits takes a lot of the difficulty out of donut making.

Yeah, biscuits don't taste

exactly

like donuts, but the cinnamon topping will help bring back plenty of sweetness

. We like using Pillsbury Grands for these biscuit donuts.

Sugar

Cinnamon

Butter

– This is going to help our cinnamon sugar to stick to our Air Fryer Donuts when they come out.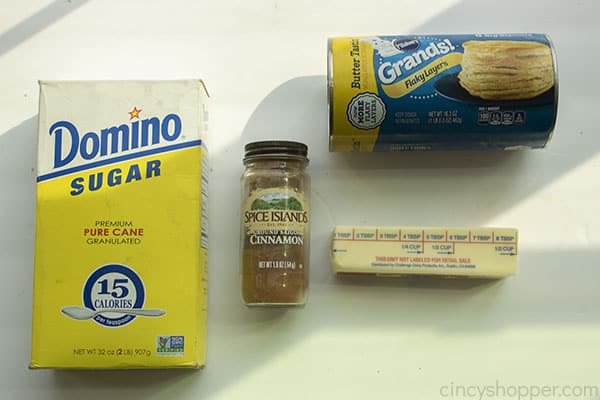 How to make Donuts in the Air Fryer
These Air Fryer Donuts are so simple and quick to make. Here's all you gotta do:
Cut a 1-inch donut hole into each of your biscuits

. Off to the side,

mix the cinnamon and sugar

together.

Put 4 biscuits into the air fryer basket

and

cook at 370 degrees for about 5 minutes

.

Dip finished donuts into melted butter

before

rolling in cinnamon sugar

to coat.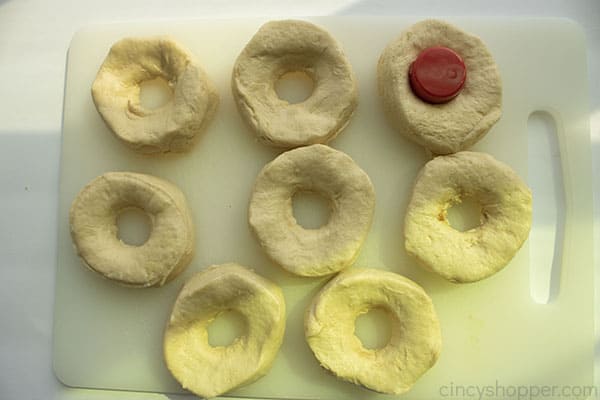 After cutting out your donut holes, it's time to fry the biscuits- way simpler than a batter, huh? Depending on your air fryer, you might be able to fit 3, 4, or maybe even 5 donuts at a time. Just make sure they aren't touching in the basket. Optionally grease the basket if you've had sticking issues.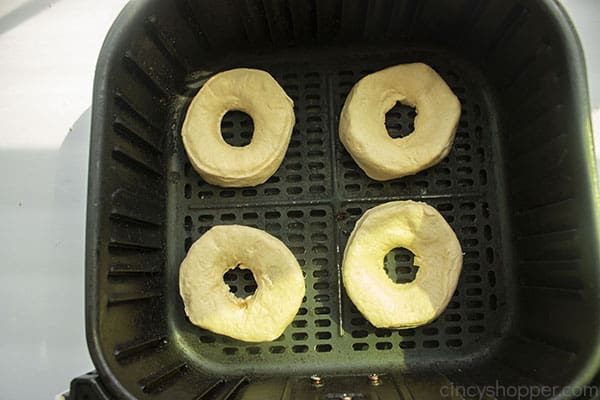 Fry those donuts at 370 degrees for 5 minutes. While those cook, whisk your cinnamon sugar together.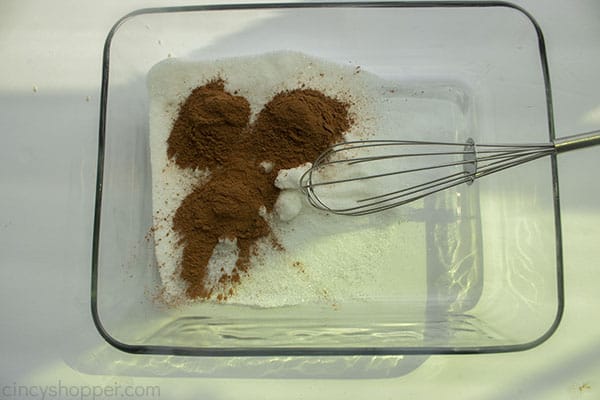 Go ahead and get your butter melted too.
Check on your donuts at this point. We found that flipping them halfway through the 5 minutes helps them cook and brown more evenly.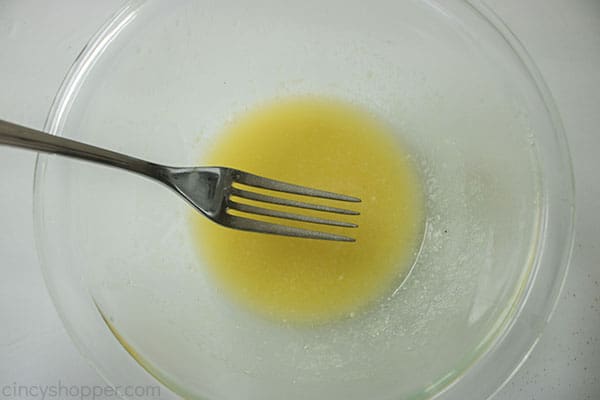 Once your donuts are done frying, pull them from the fryer and give them a quick dip in the butter. Try using a fork if they're too hot to handle.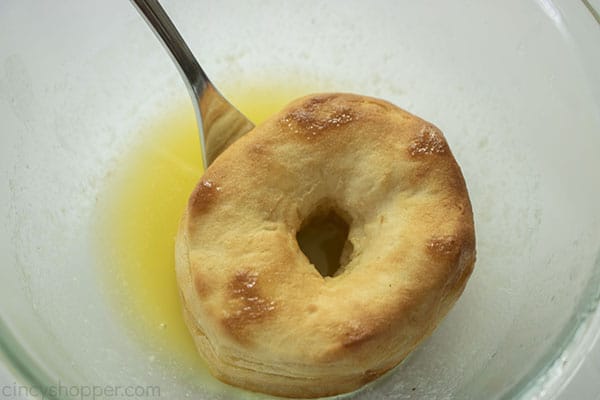 Now roll them in your cinnamon sugar until you get a nice, even coating all around.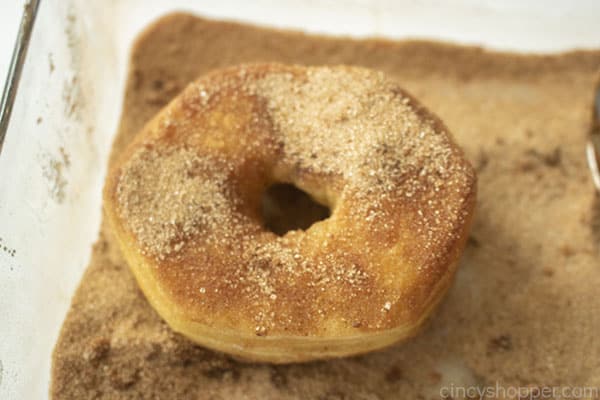 Repeat with the remaining biscuits. If you like, you could even repeat this process for the "donut holes" and make some Air Fryer Donut Holes as well!
Serve your Air Fryer Donuts up while they're still warm. Enjoy!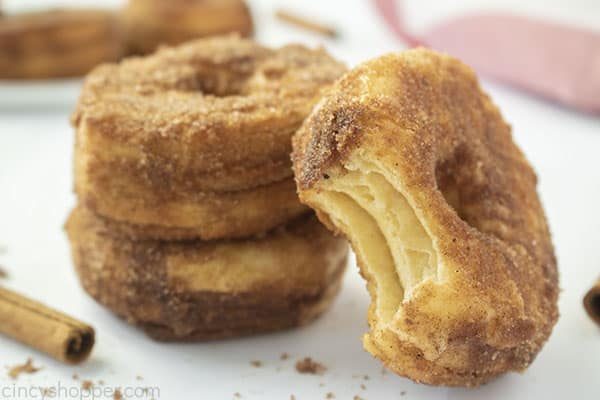 Air Fryer Donuts
Air Fryer Donuts are a quick & tasty way to deal with any donut cravings. These are made with store-bought biscuits, which makes cooking easy!
Ingredients
1

can

refrigerated Jumbo Flaky Biscuits

8 biscuits

1-2

tsp

Olive Oil

optional

1/2

cup

Sugar

3

tsp

Cinnamon

5

tbsp

Butter melted
Instructions
Separate biscuits and place them on a cutting board.

Use a bottle cap (or 1" round biscuit cutter) to cut holes out of the center of each.

Optionally, grease air fryer basket with olive oil.

Place 4 donuts in a single layer in the basket, making sure they aren't touching.

Cook at 370 for 5 minutes, flipping halfway through, until lightly browned.

Mix together sugar and cinnamon in a shallow dish.

Remove donuts and dip in the melted butter.

Place in cinnamon sugar mixture, turning to coat evenly.

Repeat with remaining donuts.

Serve warm.
Nutrition
Calories:
328
kcal
|
Carbohydrates:
41
g
|
Protein:
4
g
|
Fat:
17
g
|
Saturated Fat:
6
g
|
Polyunsaturated Fat:
4
g
|
Monounsaturated Fat:
6
g
|
Trans Fat:
1
g
|
Cholesterol:
19
mg
|
Sodium:
607
mg
|
Potassium:
135
mg
|
Fiber:
1
g
|
Sugar:
15
g
|
Vitamin A:
222
IU
|
Vitamin C:
1
mg
|
Calcium:
38
mg
|
Iron:
2
mg