Pumpkin Hummus makes for a savory fall or Thanksgiving appetizer. Serve with pita chips, veggies, or crackers. Your guests will love this dip!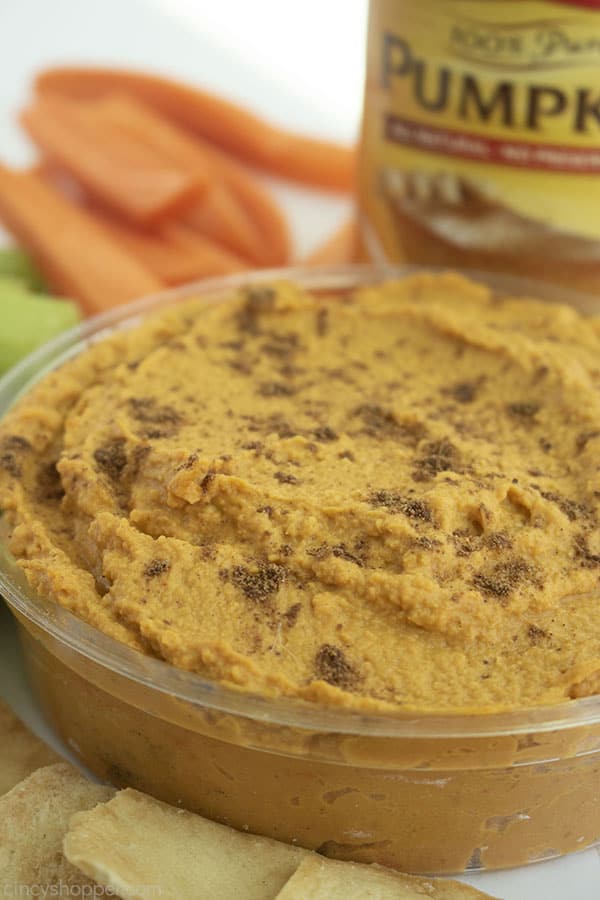 Pumpkin Hummus
"Pumpkin" and "hummus" are two words you don't hear too often in the same sentence. I know grocery store hummuses come in a wide variety of flavors- chipotle, garlic, tomato- but pumpkin? I was wary when I ran across a pumpkin pie "dessert hummus" at a local grocery store but I figured I'd give it a try.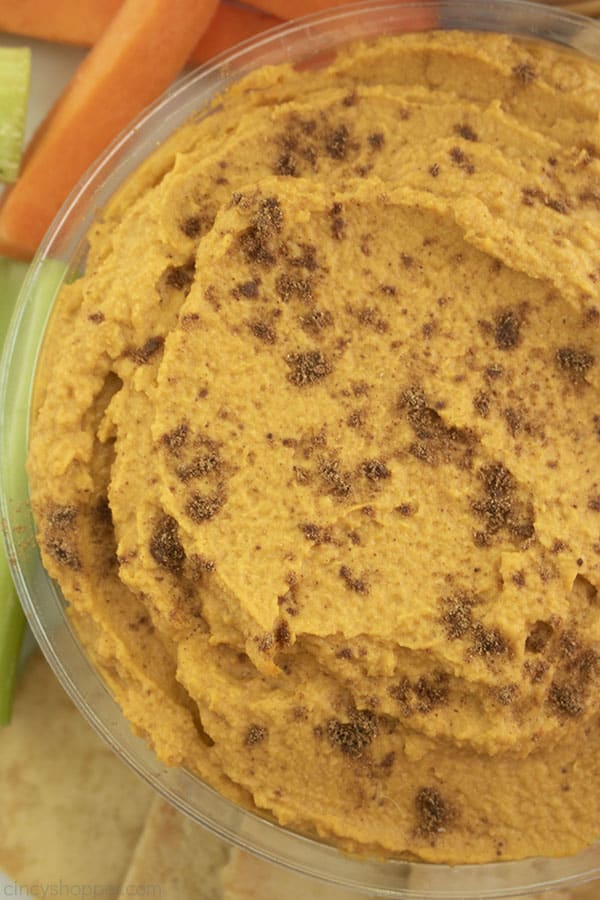 To my surprise, sweet pumpkin hummuses are apparently quite popular! A quick search will yield all sorts of sweet, maple syrup-ed hummus recipes that you can make at home. While I certainly didn't hate or even really dislike the pumpkin pie stuff, I could tell I was looking for something a bit different.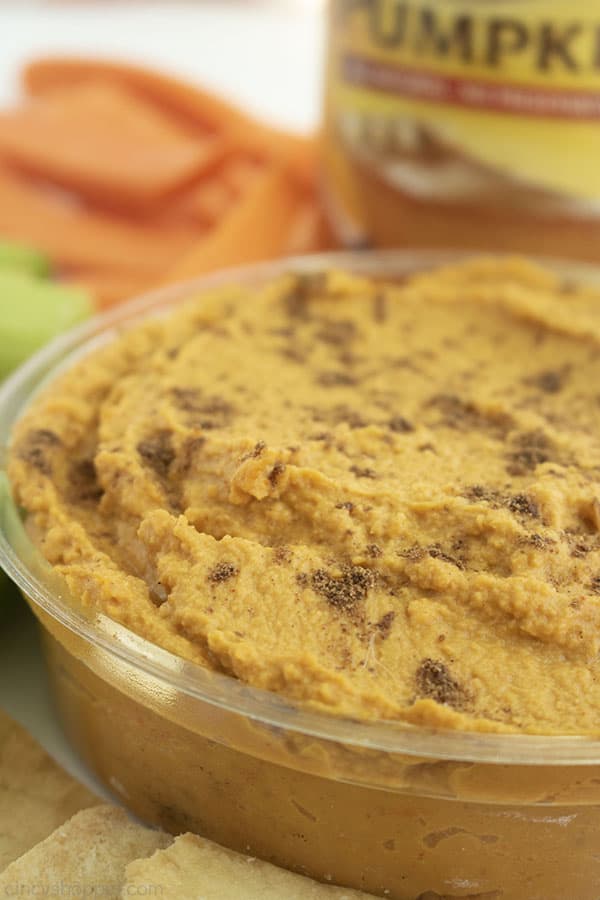 If I'm looking for a sweet pumpkin spread or dip, I'll likely go for my Fluffy Pumpkin Dip in the future. In the meantime, I was wanting something a little more savory. Think more like my Easy Pumpkin Soup Recipe versus something like a pumpkin pie.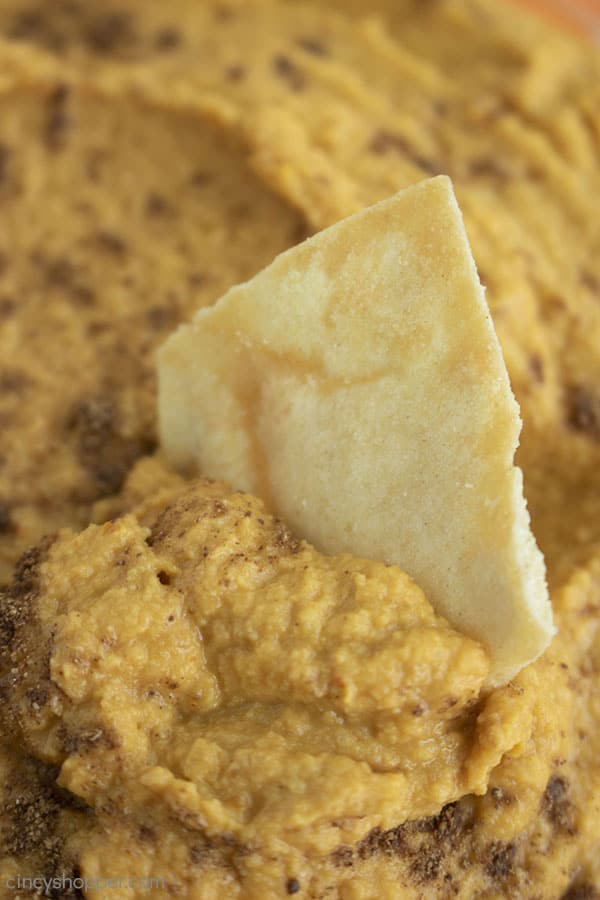 What I settled on was this savory pumpkin hummus recipe. This recipe isn't too far of a departure from your standard hummus recipes but- with a few simple additions- it tastes way different! Obviously, we reached for some convenient canned pumpkin puree but we also grabbed a few extra spices. A little touch of cayenne, some paprika, and a little bit of pumpkin pie spice all serve to make a more well-rounded spread.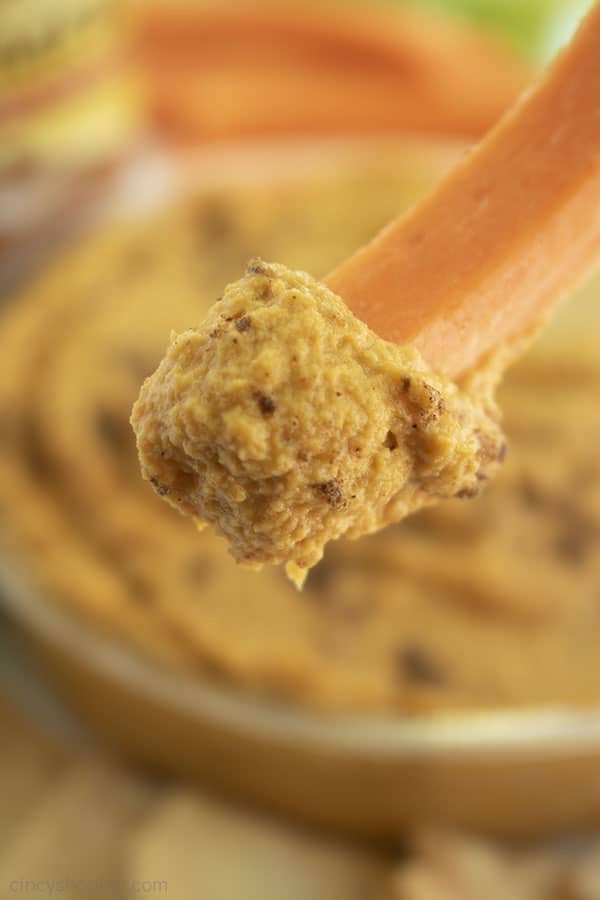 This savory hummus is something you have to try as we start getting close to those cooler autumn days. It's good stuff- a welcome break from the usual sweet pumpkin treats that might be overwhelming your palette come October…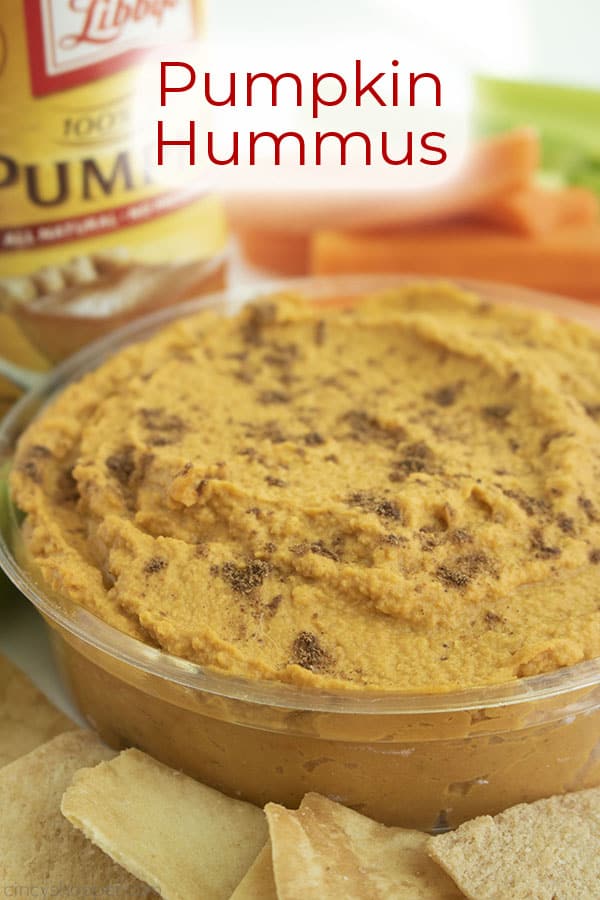 Ingredients for Savory Pumpkin Hummus
Obviously, you'll need the basic ingredients for hummus to start things off…
On top of that, you'll need a few things that'll turn your plain-Jane hummus to some seasonal spread…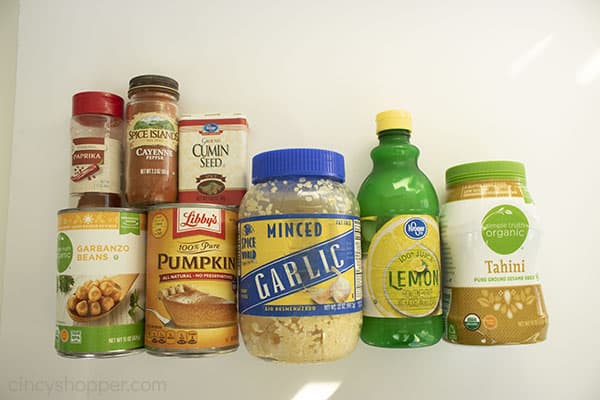 How to make our Hummus
Really, all you're going to need to get this recipe done is a humble food processor. To start things off, you'll need to get some of your basic hummus ingredients mixed together.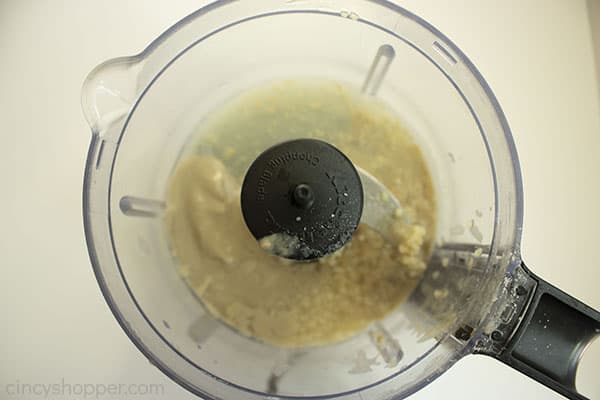 Pitch your tahini, garlic, lemon juice, and salt into your food processor and start blitzing. Pulse until you reach a smooth consistency.
Next up, you're adding your garbanzo beans and olive oil. Once again, pulse until it's smooth. Feel free to steal a quick taste here- what you have at this point is a basic hummus just without the cumin.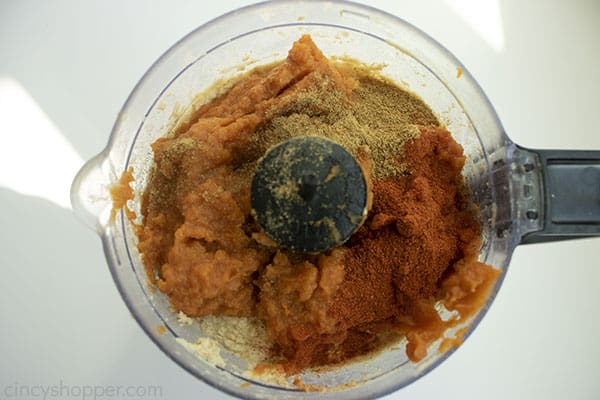 Now we're making this into pumpkin hummus! Add in your canned pumpkin, your missing cumin, some cayenne pepper, and paprika. For the last time, pulse it all until it's smooth again.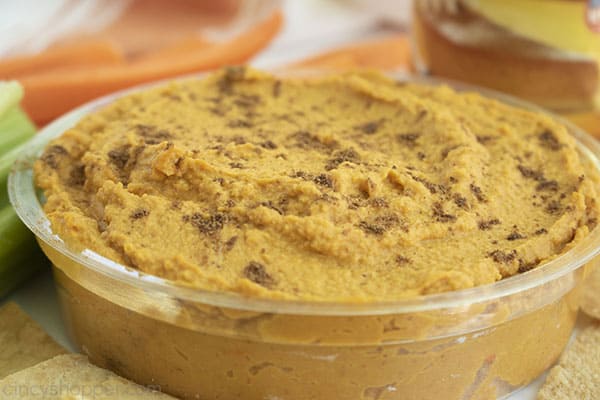 At this point, your pumpkin hummus is basically done- you can transfer it to a lidded container and move to a fridge for a couple of hours. Optionally, you can garnish with some pumpkin pie spice before serving and enjoying it!
Pumpkin Hummus
Pumpkin Hummus makes for a savory fall appetizer. Serve with pita chips, veggies, or crackers. You might find this more delicious than the sweet stuff!
Ingredients
2

tbsp

Tahini

2

tbsp

Lemon Juice

1

tbsp

Minced Garlic

1/2

tsp

Salt

15

oz

can Garbanzo Beans

drained

2

tsp

Extra Virgin Olive Oil

15

oz

can Pumpkin Puree

1

tsp

Ground Cumin

1

tsp

Cayenne Pepper

1/8

tsp

Paprika

1/8

tsp

Pumpkin Pie Spice
Instructions
Pulse tahini, garlic, lemon juice, and salt in your food processor until blended.

Add garbanzo beans and olive oil and pulse until smooth.

Add the pumpkin, cumin, cayenne pepper, and paprika. Pulse until smooth.

Transfer to a container and optionally sprinkle with pumpkin pie spice before refrigerating for at least 1 hour.
Nutrition
Calories:
82
kcal
|
Carbohydrates:
11
g
|
Protein:
3
g
|
Fat:
4
g
|
Saturated Fat:
1
g
|
Sodium:
239
mg
|
Potassium:
181
mg
|
Fiber:
3
g
|
Sugar:
2
g
|
Vitamin A:
6714
IU
|
Vitamin C:
4
mg
|
Calcium:
37
mg
|
Iron:
2
mg