Easy Pumpkin Soup makes for a warm and savory appetizer or meal. This fall recipe gives you some quick and easy comfort food.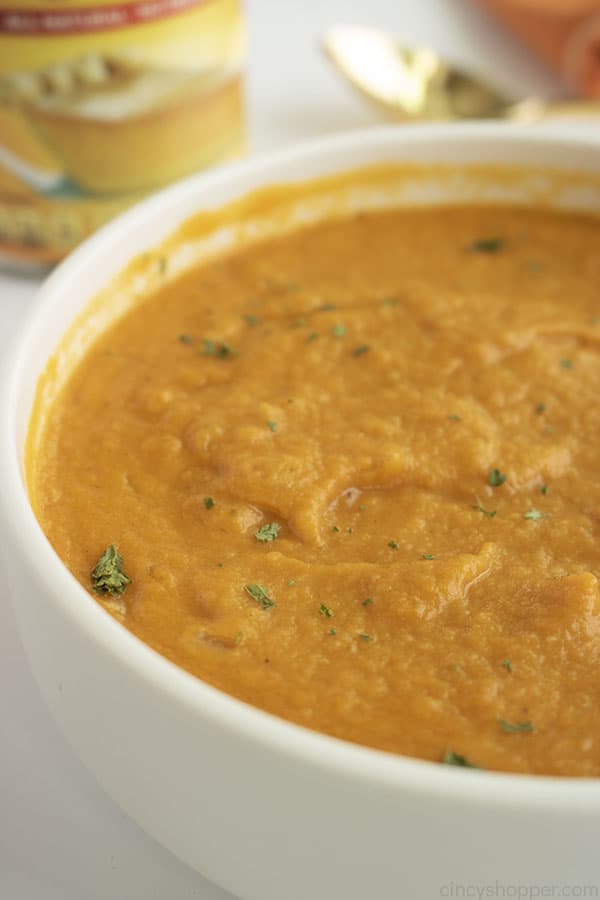 Easy Pumpkin Soup
While many of us miss summer every single year, many of us definitely don't miss that summer weather. I'm not talking about the pleasant "spring-going-into-summer" weather. I'm talking about those sweltering dog days of summer! Fall weather is perfect- it's not only more agreeable than the summer, but it opens the doors for all sorts of warm, comforting recipes.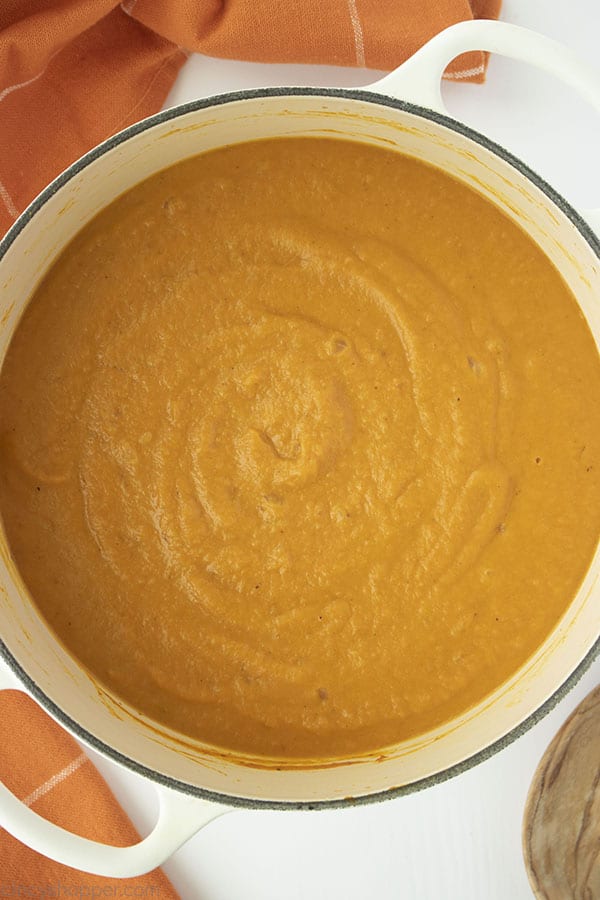 There are few fall recipes that I love more than good, heart-warming soups. An old favorite of mine is our Autumn Squash Soup– a little bit sweet, all sorts of creamy, and something you all should definitely check out. However, I'm clearly skipping over the definitive autumn soup: pumpkin soup. Pumpkin soup is one of the main things I'm looking forward to when autumn comes around- right up there with Halloween and Thanksgiving.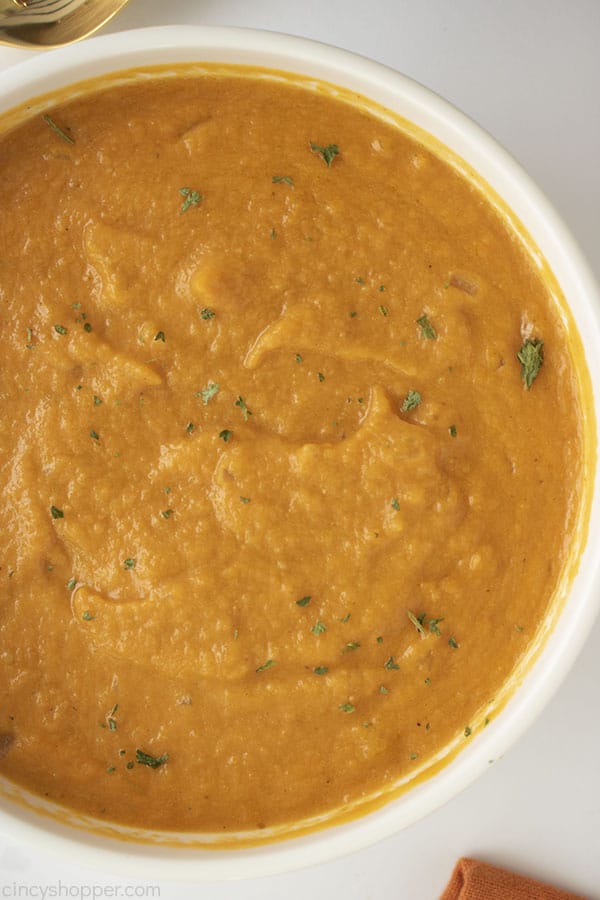 What I've got for you today is a pumpkin soup recipe that is just as delicious as it is easy and simple-to-make. We reach for canned pumpkin to make this recipe convenient as well- if you wanted to, you could source some fresh pumpkin. I'd hesitate to do that though- I've made and enjoyed plenty of pumpkin recipes in the past. The difference between canned and fresh pumpkin isn't noticeable in most recipes. I used canned pumpkin here and the end product was hot, savory, creamy, and- most importantly- quick to make!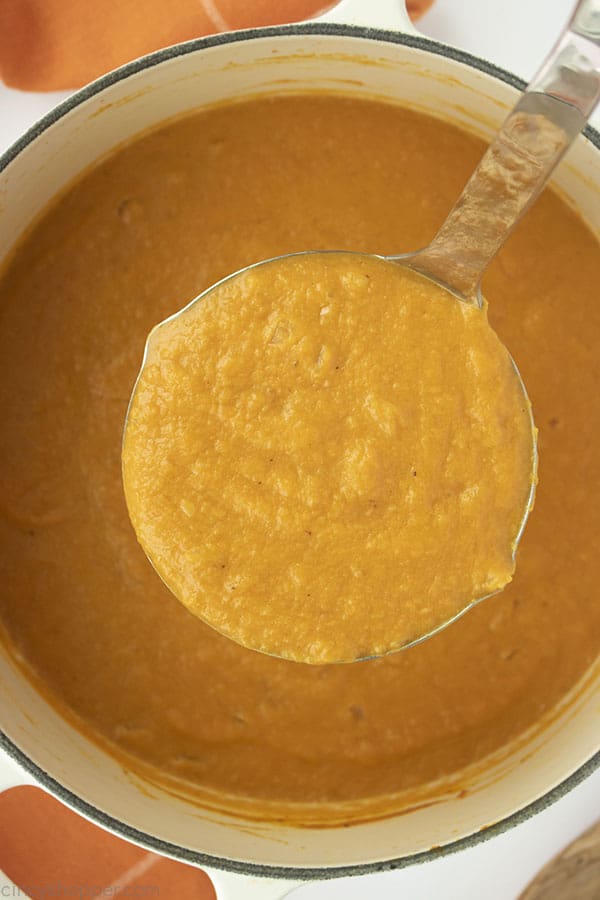 This recipe is perfect for all sorts of occasions you might be expecting this fall. A hot side dish to pair with Thanksgiving dinner? This soup is perfect for the occasion! Something warm and filling to fuel everyone up for a night of trick-or-treating? Pumpkin soup fits the bill! Just need some delicious comfort food on a cool autumn afternoon? Get the pot warming up and make some of this amazing pumpkin soup!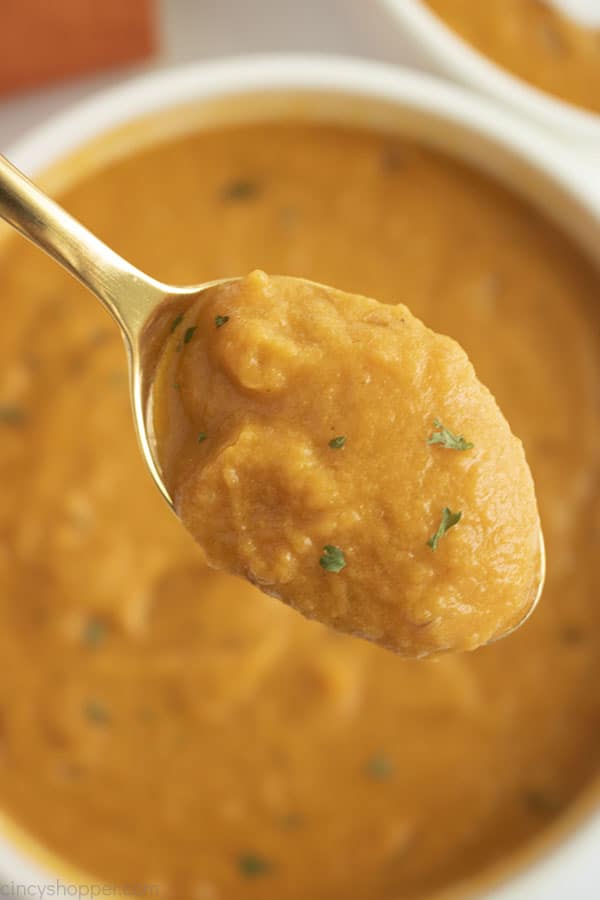 If you're in the mood for some more fall recipes, we've got plenty to keep you satisfied through the season. Looking for an interesting dip that'll make for a savory appetizer? Give our Pumpkin Hummus recipe a go. Need something a bit hardier- packed with veggies and beef? Check out our Pumpkin Chili.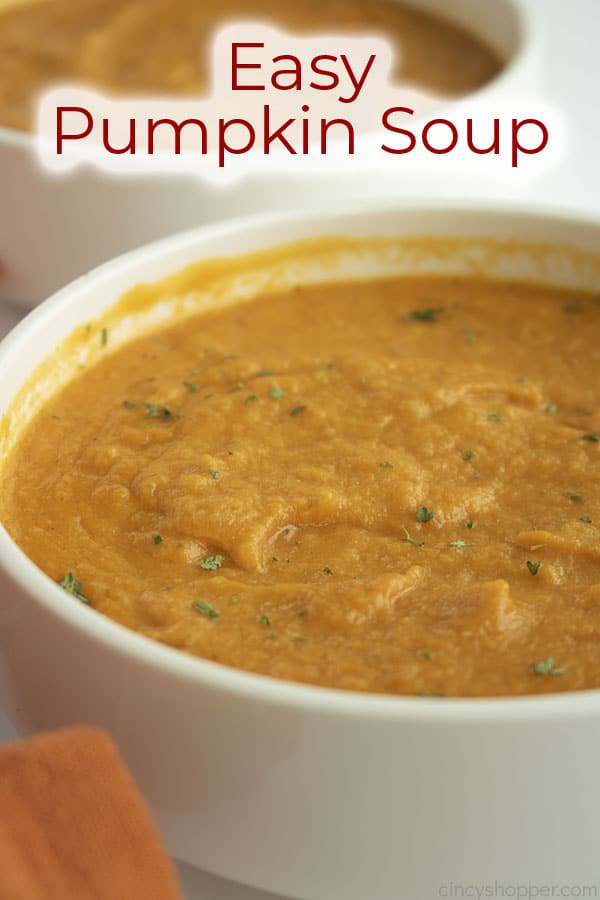 Ingredients for Easy Soup
Vegetable Broth – Chicken broth is also an option!
How to prepare our Pumpkin Soup
Get this recipe going by tossing your chopped onion into the bottom of a small dutch oven or medium saucepot. Add in your butter and turn the heat on. Cook long enough to get those onions to start softening up.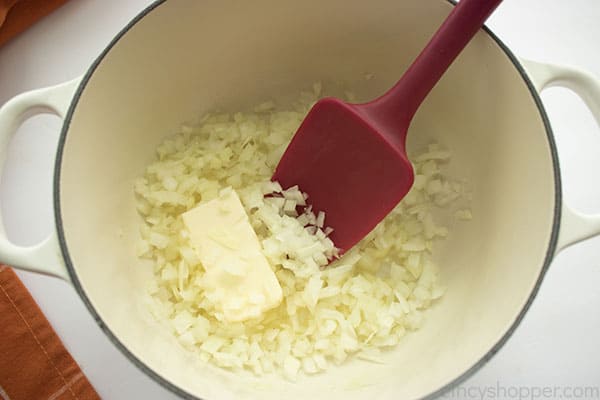 Next, you're adding a touch of flour to the mix. It's like you're making a roux for a béchamel sauce- cook until the raw flour smell is gone and it starts smelling a bit nutty instead.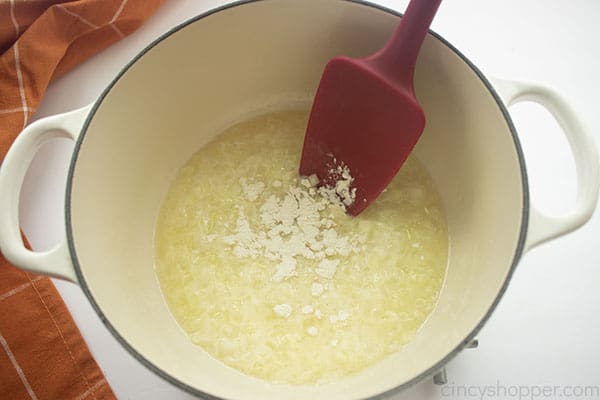 Now start slowly streaming in your broth of choice. Add it slowly and break up any clumps so you can ensure you're getting a consistent texture.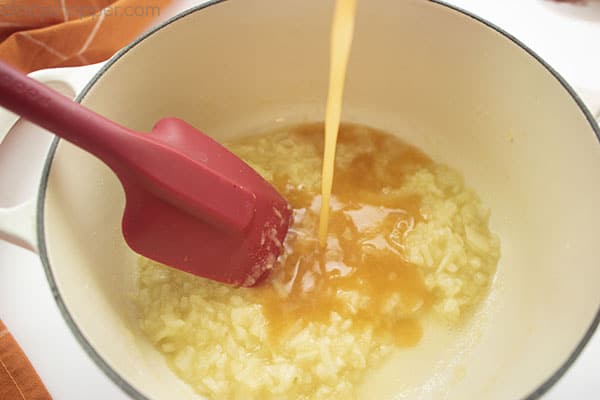 Here, we're going to introduce our pumpkin to the dish. Carefully- so you don't splash hot soup on yourself- add your canned pumpkin to the pot and start working it in until it's thoroughly mixed.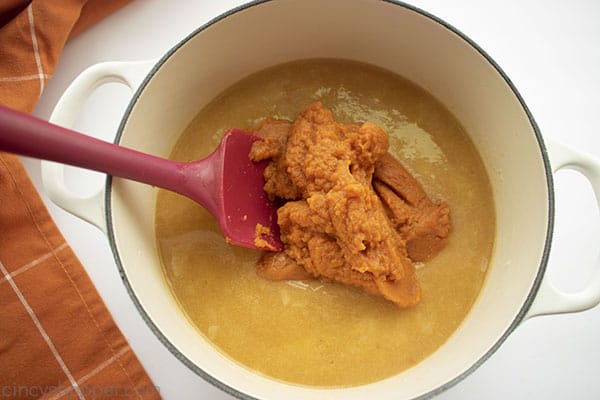 It's around this point that things should be smelling great. We've got a few more fall ingredients that'll only make things better. Grab your apple sauce and your nutmeg and pitch those into the pot. Mix them in well!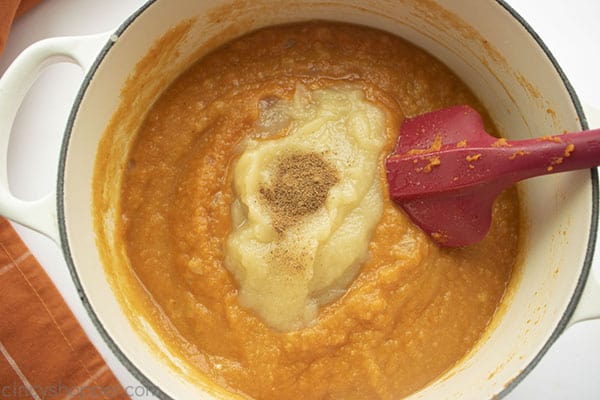 After adding in those two ingredients, you'll want to crank the heat up medium and bring the soup up to a boil – stir often to ensure you do not scorch. Once it reaches a boil, turn the heat down and allow your soup to simmer for a bit. After about 20 minutes, you'll finally add your evaporated milk into the mixture.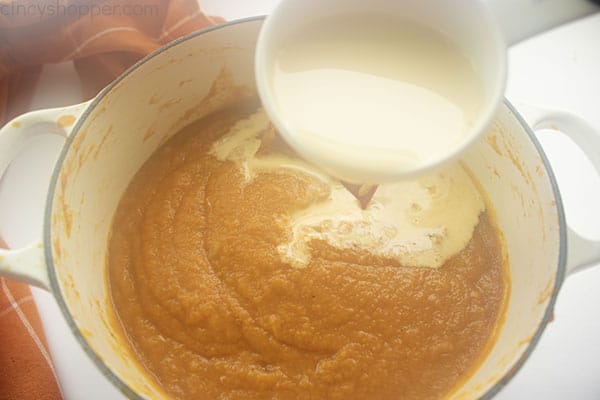 Once you get that milk added, you've only got to let your soup simmer for just a little bit longer. After giving it about another 10 minutes, your soup is ready to serve and enjoy!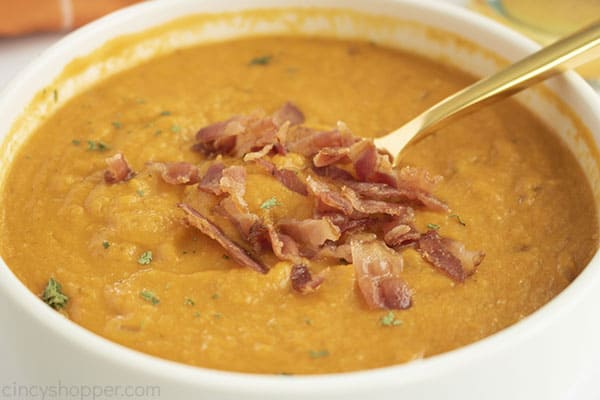 Topping Ideas
Sour Cream – A nice, tangy topping works on pumpkin soups. Give your soup a decorative sour cream drizzle for a little extra flavor.

Bacon Crumble – Bacon tastes wonderful in this particular pumpkin soup- cook up a few strips, chop them finely, and sprinkle them over top

. If you've got some sitting around, I've heard pancetta also tastes amazing.

Pumpkin Seeds – You can never have enough pumpkin, right?

Toasted Nuts – Give a small amount of nuts a quick toasting in a dry pan before sprinkling over your soup. Good nut candidates here include walnuts, almonds, pecans, and/or hazelnuts.
This post was originally published on September 18th, 2013 and is now updated with new images and helpful information.
Easy Pumpkin Soup
Easy Pumpkin Soup makes for a warm and savory appetizer or meal. This fall recipe gives you some quick and easy comfort food.
Ingredients
1/2

Stick Butter

1/2

medium Onion diced

2

tbsp

Flour

14

oz

Chicken Broth

15

oz

Pumpkin Puree

1/2

cup

Applesauce

1/8

tsp

Nutmeg

1/2

cup

Evaporated Milk
Instructions
Heat butter and onions in medium sized sauce pan over medium heat.

Cook until soft.

Add your flour stir until mixed in.

Stir in broth and pumpkin until blended.

Add applesauce and nutmeg.

Heat to boiling. Stir frequently to prevent scorching.

Reduce heat to low and simmer for about 20 minutes.

Add evaporated milk and simmer an additional 10 minutes, stirring occasionally.
Nutrition
Calories:
118
kcal
|
Carbohydrates:
20
g
|
Protein:
4
g
|
Fat:
3
g
|
Saturated Fat:
2
g
|
Cholesterol:
9
mg
|
Sodium:
404
mg
|
Potassium:
438
mg
|
Fiber:
4
g
|
Sugar:
10
g
|
Vitamin A:
16622
IU
|
Vitamin C:
13
mg
|
Calcium:
120
mg
|
Iron:
2
mg