Panera Mac and Cheese is a creamy, delicious copycat white macaroni recipe. You can make this side dish quick and easy on the stovetop!
Panera Mac and Cheese
I don't think I've met a single person who doesn't enjoy a delicious bowl of Panera Bread Mac and Cheese. Few fast food or chain restaurants have mastered macaroni quite like Panera has- it's a must-buy whenever I stop in! The pasta's always cooked just right and that cheese sauce they use is just heavenly. I'd eat it every day if I could!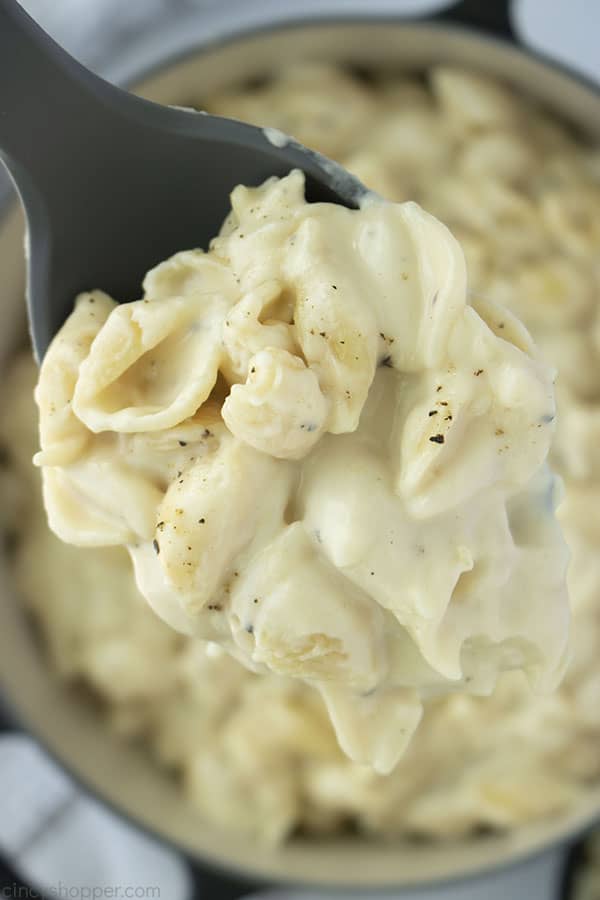 With that in mind, we have this recipe that we think that's just as good, if not better than, the original! The internet seems to have found what cheese tastes closest to what Panera uses- Cracker Barrel White Vermont Cheddar. There's also the trick to getting that cheese sauce rich and creamy: a mix of heavy cream and milk seems to make the best cheese sauce. Combine all these little tricks together and you'll have one of the best mac and cheeses you've ever tasted!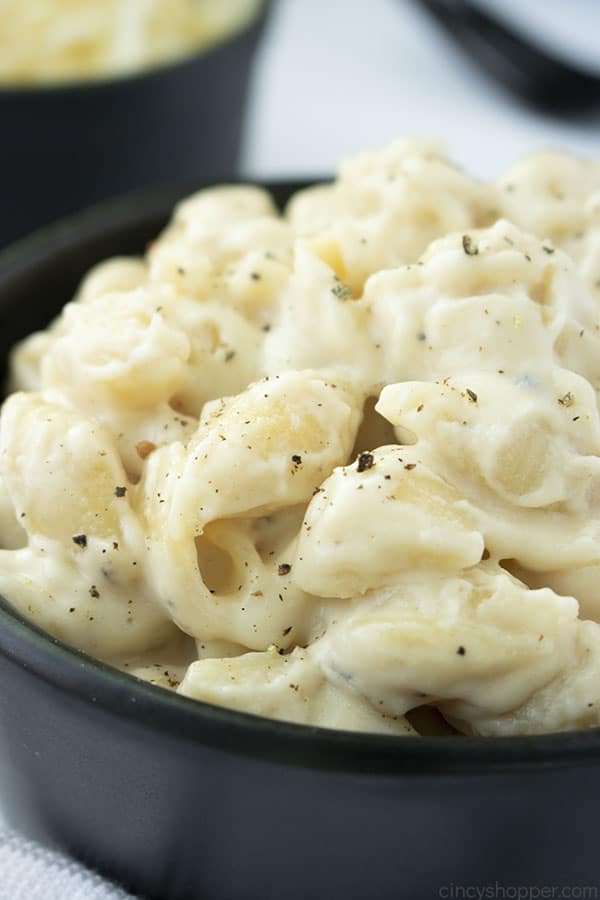 We're big fans of macaroni in our house, so we've tried all sorts of prep methods. Here are a few others you'll want to check out.
This stovetop macaroni recipe here was great, but we have another quick and delicious

Easy Stovetop Mac & Cheese

recipe

. All you need is 5 simple ingredients for that recipe, which makes it both easy and delicious. Way better than the blue box!

Instant Pot Mac & Cheese

might be even easier than our stovetop recipe while staying

just

as delicious

. Perfect for picky eaters, this recipe doesn't get too creamy or too dry- the texture is

just

right! You won't find a quicker macaroni recipe anywhere else.

Quick macaroni is great, but cooking your macaroni "low-and-slow" makes some

absolutely

amazing mac and cheese as well

. This is where our

Slow Cooker Macaroni and Cheese

steps into the picture!

A 3-cheese blend of cheddar, pepperjack, and Velveeta makes this mac and cheese recipe gooey and tasty

.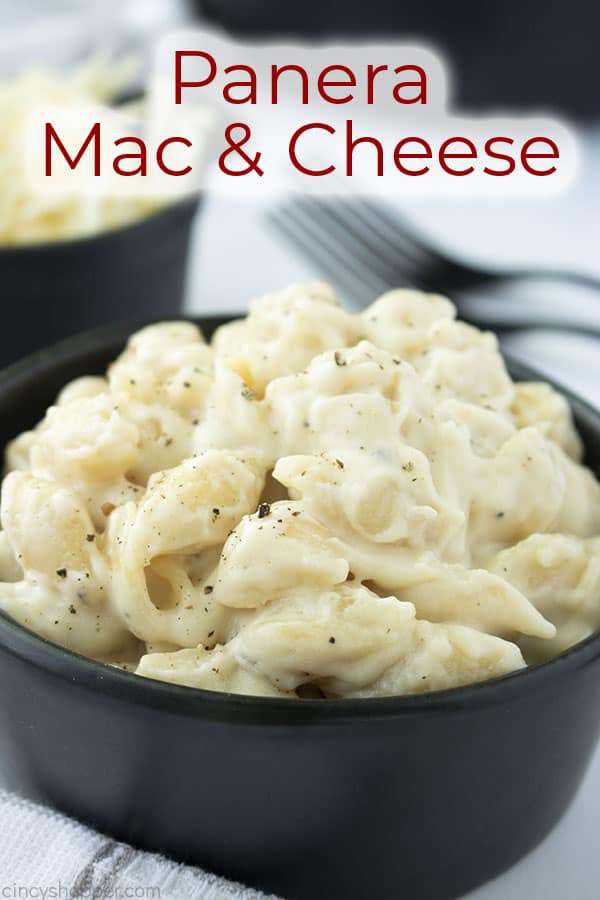 Mac and Cheese is definitely one of the best, most comforting dishes to enjoy- especially during this fall season. No need to run out to Panera or buy another blue box this season- our recipes here on the site will have you covered!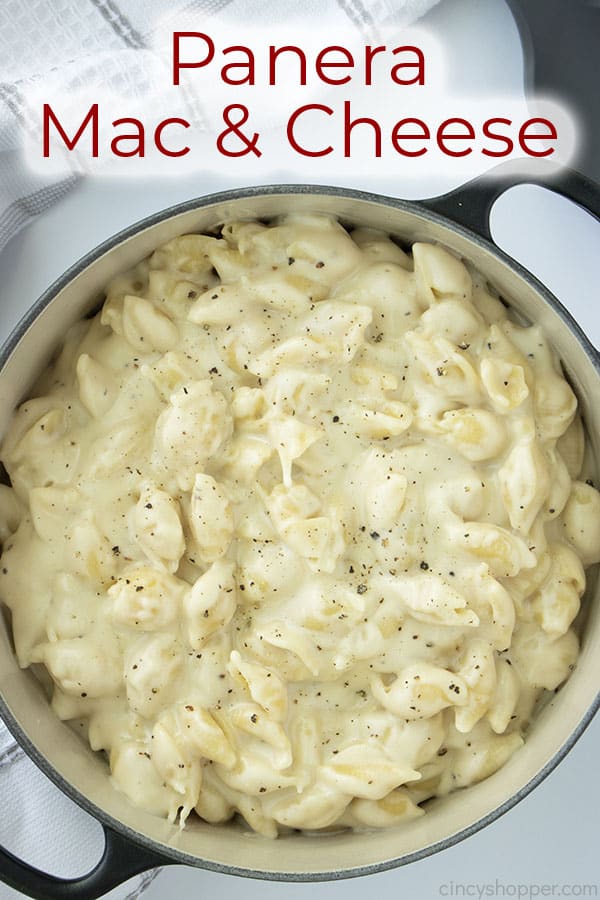 Copycat Mac and Cheese Ingredients
Pasta – Pick your favorite macaroni pasta here- anything from shells or elbows to something like pipette rigate

.

Cheese – For the authentic, Panera flavor, the closest tasting cheese is the Cracker Barrel Vermont White Cheddar

.

However

, this is your recipe, feel free to use whatever cheese you'd like!

Butter & Flour – For a roux to make our cheese sauce.

Ground Mustard – Feel free to sub in some dijon mustard if you prefer the taste more.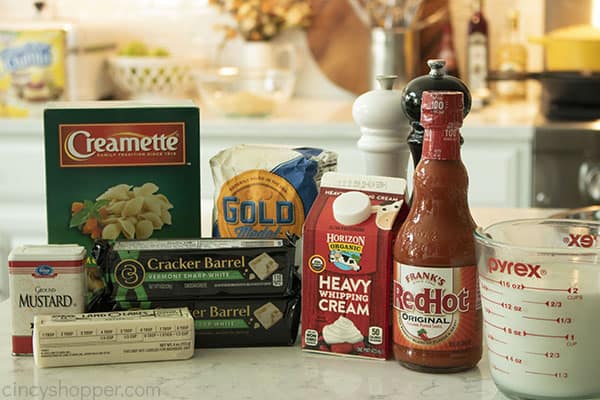 How to make White Macaroni and Cheese
To start this recipe, you'll want to get everything measured out and prepared from the very beginning. The cheese sauce, especially, will turn out a lot better if the ingredients have had a chance to warm up to room temperature. Measure out your ingredients and shred your cheese- no need to go super-fine here, it just needs to melt.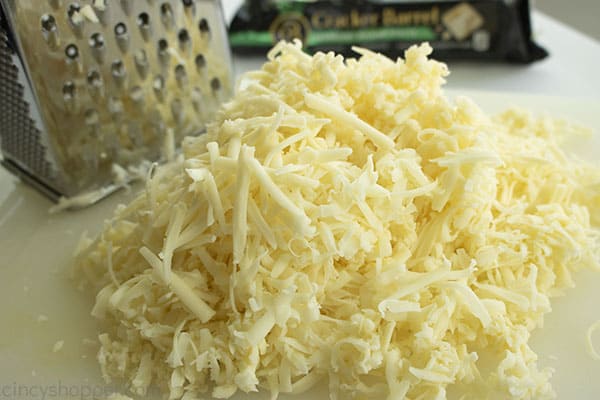 As you're making your cheese sauce, you'll want to find time to get your pasta cooked as well. Whenever you make it, make sure it's cooked al dente, as this will give us a good texture in our end-product. But back to our cheese sauce: to start making it, you'll first want to melt some butter in the bottom of a saucepot. Do this over medium heat.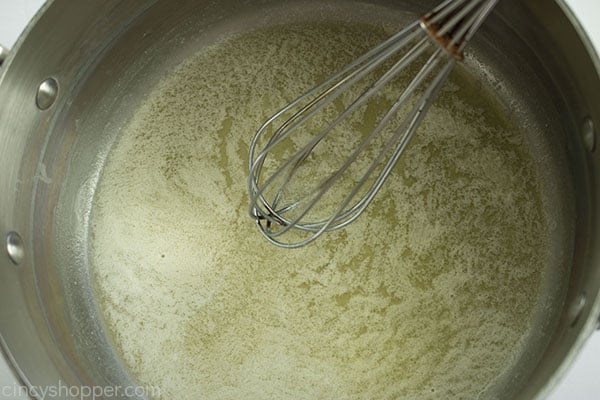 Once that's melted and just starting to bubble a little, you'll want to add an equal amount of flour to your butter.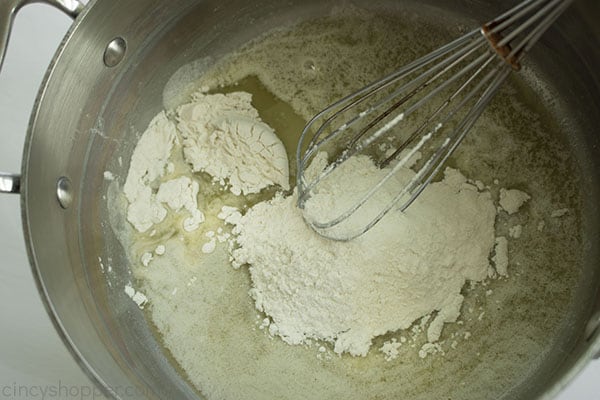 Mix that flour in and cook until the raw flour smell goes away and the mixture starts smelling kind of nutty. That's our roux all cooked and ready!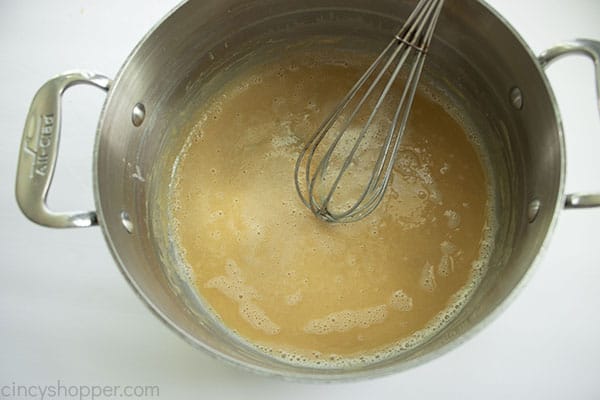 Now, to a roux, you'd usually add milk first to make a béchamel. We broke from tradition a little bit and added some heavy cream first.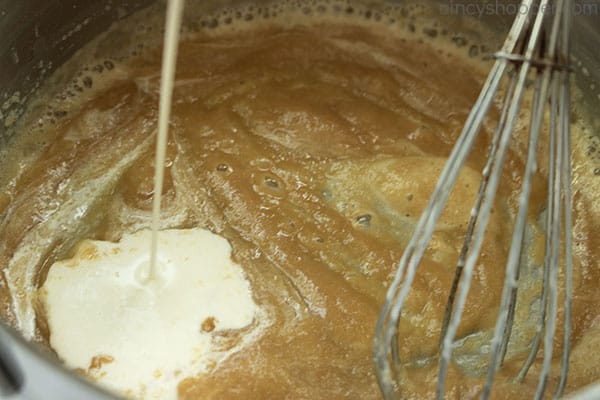 The best practice is to add the heavy cream in gradually, ensuring each splash gets mixed in thoroughly before adding the next. Make sure you're whisking constantly as you add in each splash of heavy cream- you'll thank us later when your cheese sauce turns out amazing!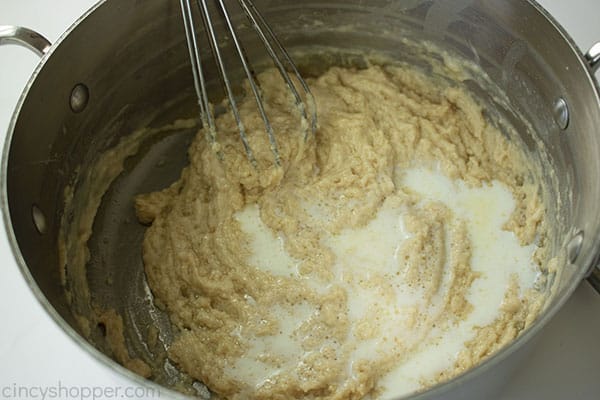 Once your heavy cream finishes mixing in, you can move on to the milk. Just like the heavy cream, you'll want to slowly stream the milk in, whisking constantly. Then, you'll want to sneak in your seasonings and that little splash of hot sauce- it won't make it spicy, don't worry!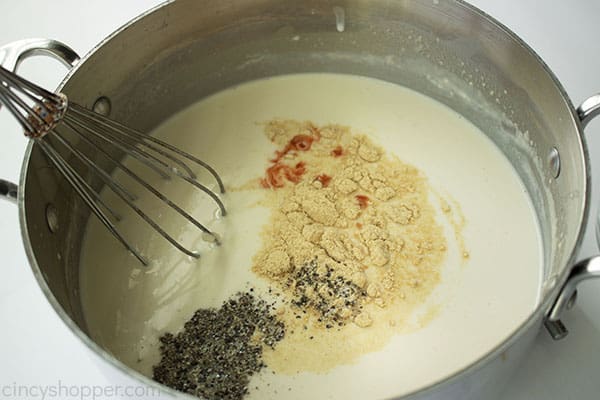 The cheese sauce is almost done! All that's left, obviously, is the cheese! Turn the heat down to low and start slowly adding your cheese, a generous pinch at a time. Make sure you're stirring constantly to ensure that cheese is getting mixed in as it melts.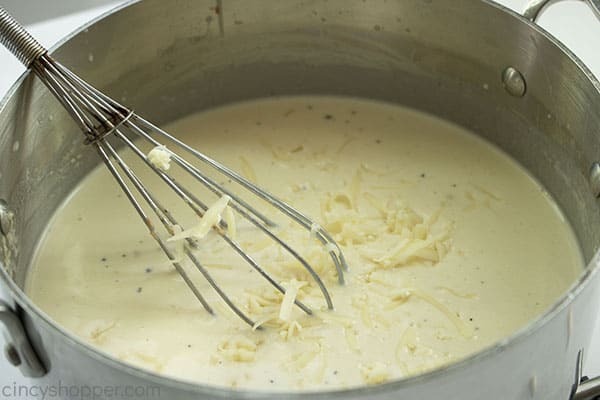 Once you've added all your cheese, give your cheese sauce another minute or two mixing- just to make sure everything's all melted and smooth. When you're ready, remove the sauce from the heat and bring it over to your cooked pasta. Pitch your cheese sauce over your pasta.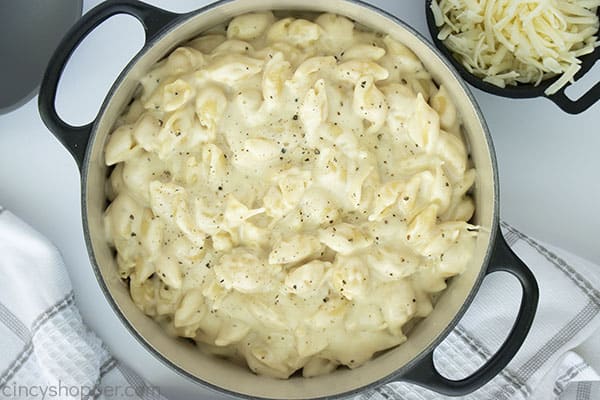 After adding your cheese sauce, stir your macaroni real well to make sure all the pasta gets coated with cheese. Serve this stuff up while it's still nice, warm and gooey! Feel free to top your serving with an extra little pinch of shredded cheese- we think it works great. However you top it, we know you'll enjoy it!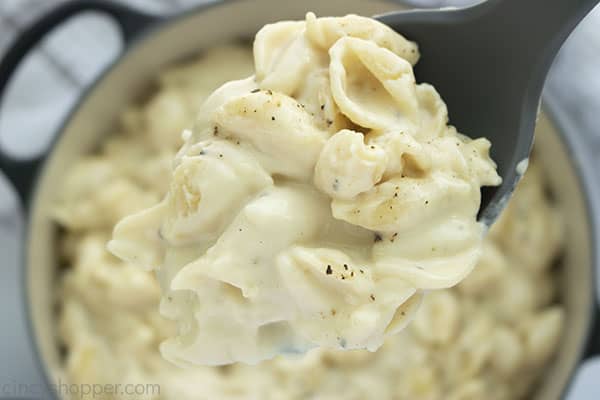 Cooking/Storage Tips
Stored in an air-tight container in the fridge, this macaroni should last a good few days- we'd guess around 4 or so. It should also last frozen for a good 3-4 months.

We mentioned that you can use your favorite cheeses for this mac and cheese recipe.

Some other great cheese options might be some classic sharp cheddar, a bit of mozzarella, or

maybe

some gruyere or brie if you're feeling fancy

!

There's plenty of mix-ins or toppings you could add to your finished macaroni. Stir in some bacon crumbles, some diced ham, or top it with some parmesan and toasted bread crumbs.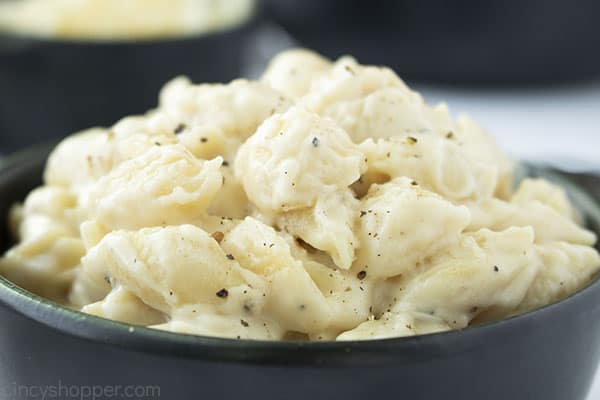 Panera Mac and Cheese
Panera Mac and Cheese is a creamy, delicious copycat white macaroni recipe. You can make this side dish quick and easy on the stovetop!
Ingredients
1

lb

Medium Shell Macaroni

12

oz

Cracker Barrel Vermont White Cheddar

shredded

1/4

cup

Butter

1/4

cup

Flour

1

cup

Heavy Cream

2

cup

Milk

3/4

tsp

Salt

1/2

tsp

Pepper

1

tsp

Ground Mustard

1/4

tsp

Hot Sauce
Instructions
Prepare your pasta al dente according to package directions.

Drain and set aside.

Shred your cheese and set aside.

In a medium pan melt the butter over medium heat.

Add the flour and stir to make a roux. Cook for several minutes to eliminate raw flour taste.

Slowly add heavy cream while whisking constantly.

Now add the milk gradually while whisking.

Add in the salt, pepper, mustard and hot sauce and continue whisking.

Reduce heat to low and slowly add cheese while stirring and allowing to melt before adding more.

When sauce is completely melted, pour cheese sauce over pasta and stir to coat.
Nutrition
Calories:
784
kcal
|
Carbohydrates:
66
g
|
Protein:
28
g
|
Fat:
45
g
|
Saturated Fat:
28
g
|
Cholesterol:
142
mg
|
Sodium:
770
mg
|
Potassium:
361
mg
|
Fiber:
3
g
|
Sugar:
7
g
|
Vitamin A:
1519
IU
|
Vitamin C:
1
mg
|
Calcium:
545
mg
|
Iron:
2
mg