No Bake Apple Pie needs no oven to taste great! A graham cracker crust and homemade apple pie filling are all you need for this easy pie recipe.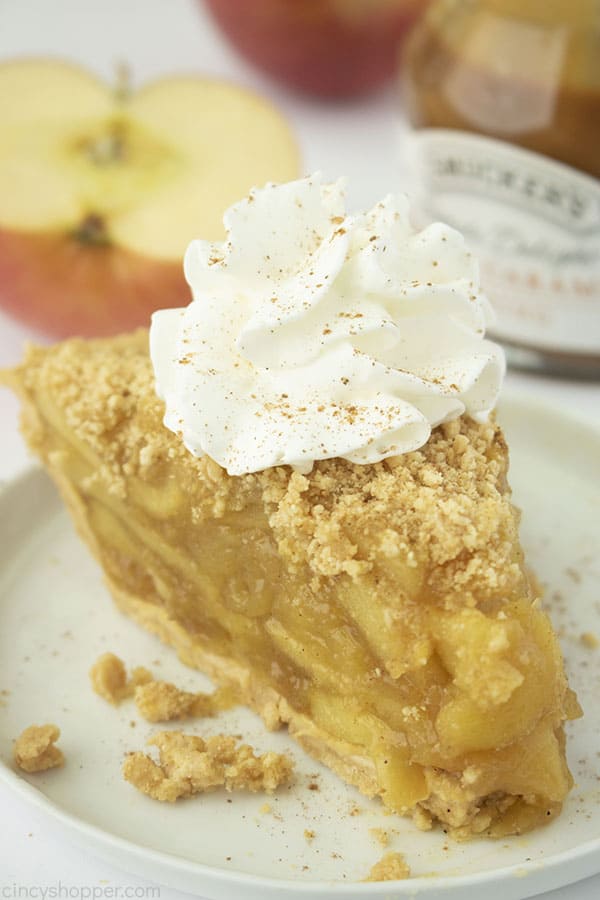 No Bake Apple Pie
There are few things greater in life than a classic apple pie recipe. Warm, sweet filling with a buttery pie crust- it's one of the best comfort foods you can make in a kitchen!

However

, some of us feel like it's too much trouble.

Maybe

we're not confident in our baking skills or

maybe

we're

just

lazy- we all want apple pie but we don't want to get that oven heating up

. Is there a way for us to enjoy apple pie without the hassle of baking?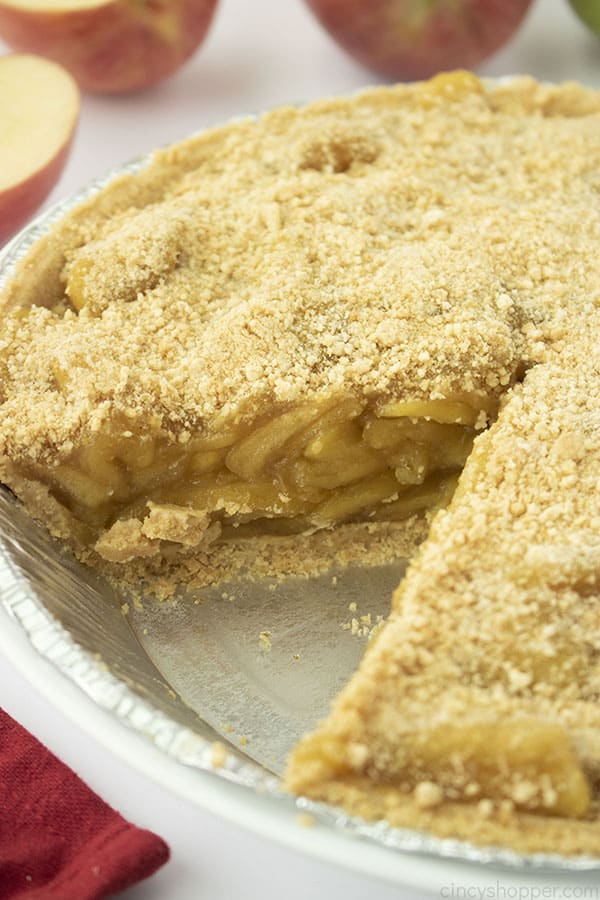 No bake recipes- especially dessert ones- are an absolute godsend! They allow us to make all sorts of delicious and easy dishes, all without the need for an oven.

No bake cheesecakes and cookies get all sorts of attention but fall desserts- like apple crisps and crumbles- get the short stick

. I don't understand that- who doesn't want an easy apple pie, ready to eat in

just

a few hours?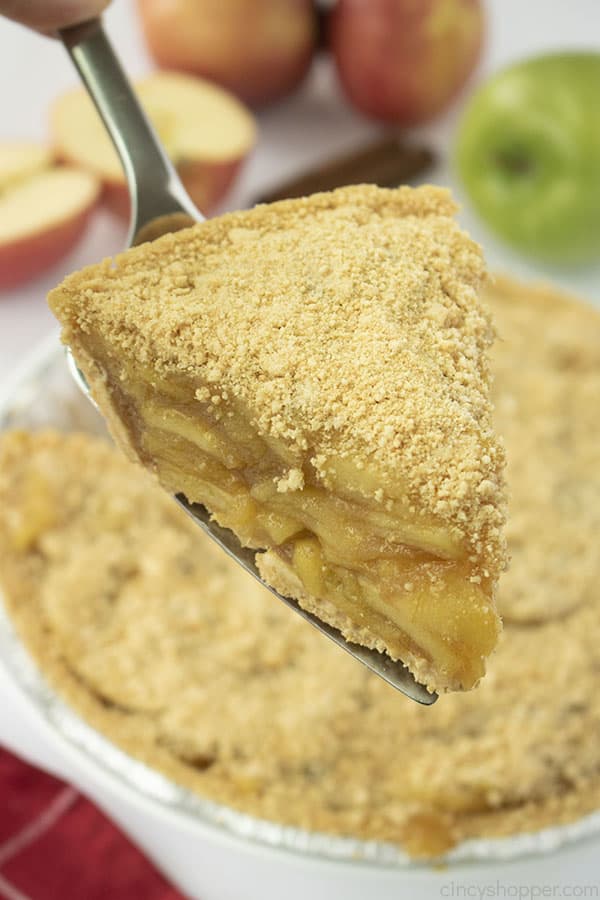 Our no bake here makes a few departures from traditional apple pie recipes.

Namely

, we have to make a quick pie filling on the stovetop that'll set well in the fridge.

Thankfully

, the right blend of Jell-O and pudding mix makes a delicious filling.

Add some apples into that filling and pour it all into a delicious graham cracker pie crust and your off to the races

! It's amazing

just

how tasty of an apple pie you can get with no oven at all!
Fall desserts are always such fun to make- definitely helps that they're all delicious too! Here's a few more you should try out.
If you're wanting a no-bake version of a fall favorite, enjoy a

No Bake Triple Layer Pumpkin Pie

!

Cream cheese, sweet pumpkin filling, and whipped topping come together to make this tasty fall dessert

.

Chocolate lovers out there will love our

Easy Hershey's Chocolate Pie

. An easy, 3-ingredient recipe packed with delicious milk chocolate flavor!

If you don't mind getting that oven going, our

Dutch Apple Pie

is the perfect fall dessert! It's hard to beat homemade apple pie filling and a buttery, crumbly crisp topping…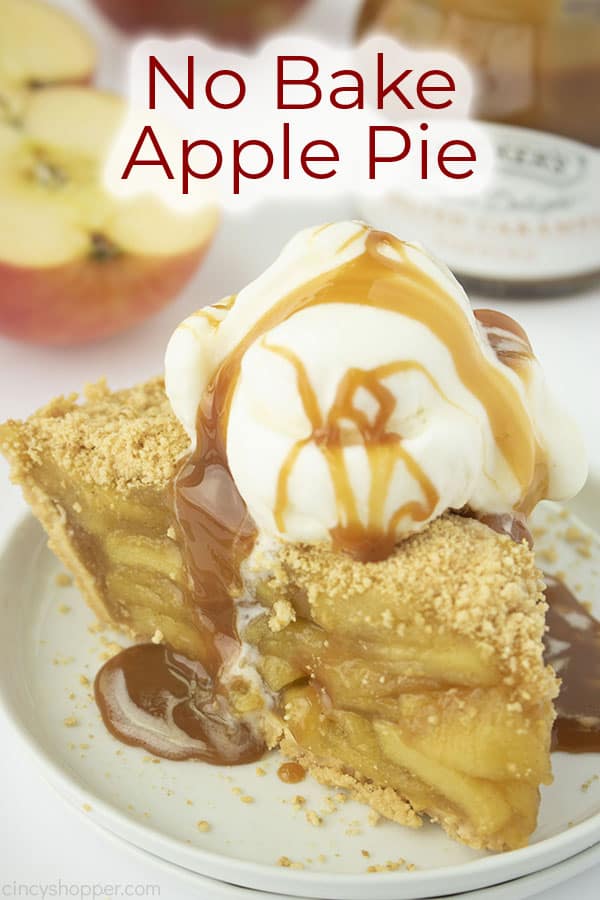 Does it need to
be refrigerated
? Can you freeze it?
Our No Bake Apple Pie keeps best if it's in the fridge. It should last longer in the fridge than most other baked apple pies would!

Where classic apple pies might go bad after a few days in the fridge, this no bake pie could last a week-

maybe

longer- depending on how well you store it

. Definitely make sure you're covering it

tightly

with foil or plastic wrap.

If freezing your pie, make sure you follow similar rules- allow to cool completely before wrapping wrap or foil

. Freezing and thawing your filling may affect its texture.

Just

make sure you are mindful and

certainly

don't eat anything that smells rotten or like it's gone bad!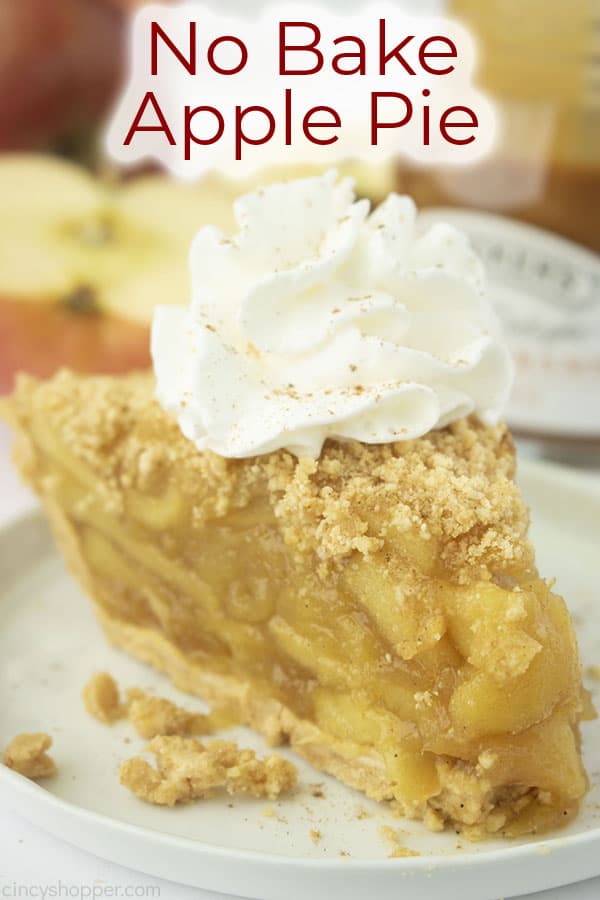 Ingredients for our No Bake Recipe
Apples – The best apples for apple pie seems to be the classic Granny Smith, which we used in our recipe.

Plenty of other apples can work here- especially ones that would soften too much in regular apple pies

! Try subbing in something like a Golden Delicious, a Pink Lady, or a Honeycrisp and see how it turns out.

Lemon Jell-O – the small box.

Vanilla Pudding Mix – Cook and Serve – the larger box is what we use in our recipe.

Graham Cracker Pie Crust – We want a 10-inch pie crust here. Consider using a homemade graham cracker pie crust!

Graham Crackers – After crushing them, you'll use them as a topping.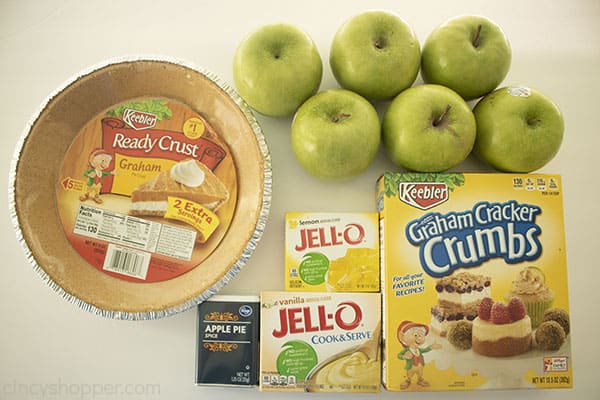 How to make this Apple Pie
The first step to this recipe is getting your apples prepped. Core, peel, and slice your apples.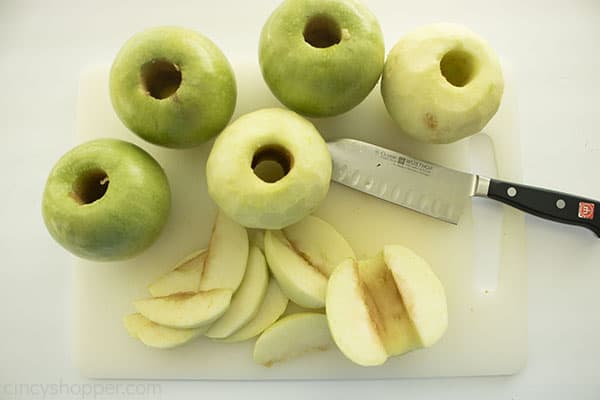 Once prepped, toss your apple slices into a large sauce or stock pot and set it on the stovetop. Get that warming up over medium heat while you grab your other ingredients.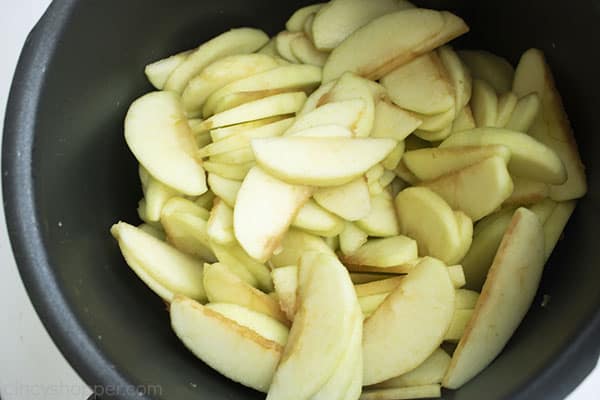 To make your pie filling, you need to add a few ingredients in order. Start off by adding some water, gelatin mix, and apple pie spice to your apples. Mix those in and let that heat up.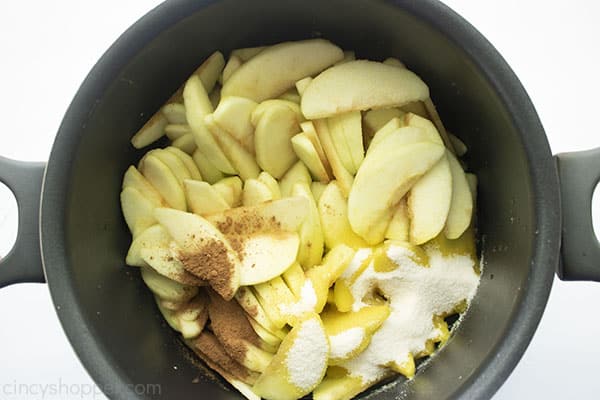 Once your mixture has reached a boil, drop the heat and bring everything back down to a simmer. Let it sit here for around 20 minutes-
just
until the apples get tender. Once you've reached that point, add in your pudding mix.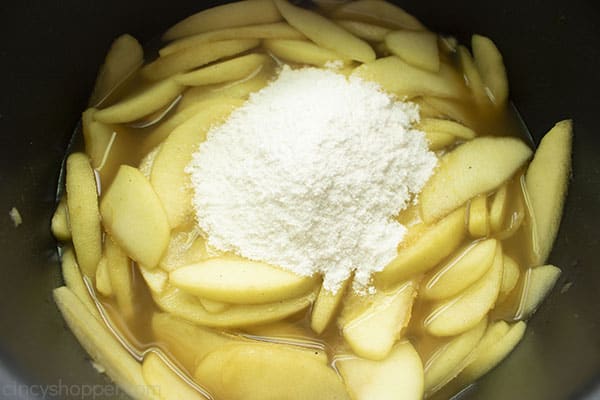 Now you need to cook your filling until it starts to thicken. This should take around 10-15 minutes. Once it's thickened up add the vanilla and then, it's ready for the crust!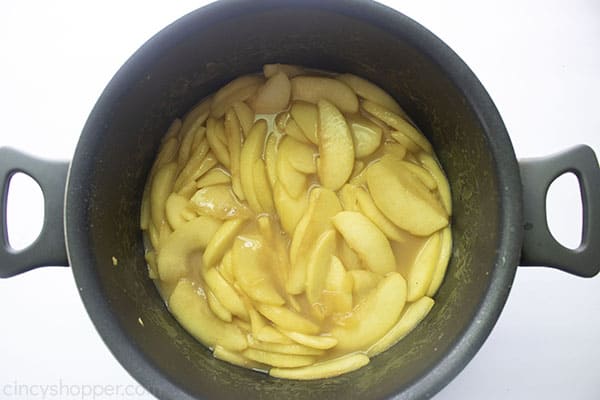 Now that the filling is ready, it's time to get our pie assembled.
Carefully
transfer your pie filling into your graham cracker crust. Again, this amount of pie filling should be perfect for a 10-inch crust.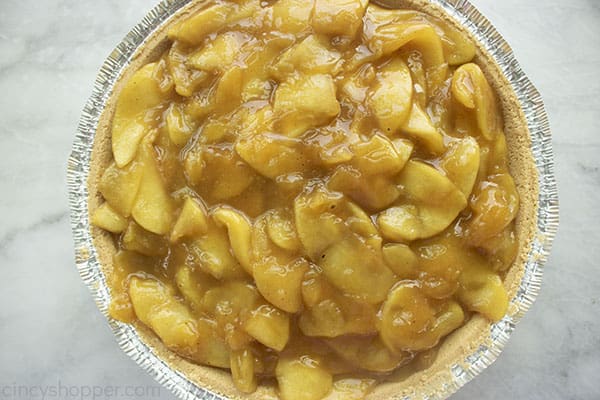 Allow the pie to cool. Now you can send this thing to the fridge so it can
properly
set. This should take at least 2 hours.
While it's chilling out in the fridge, you can grab some graham crackers and start crushing them for our topping
.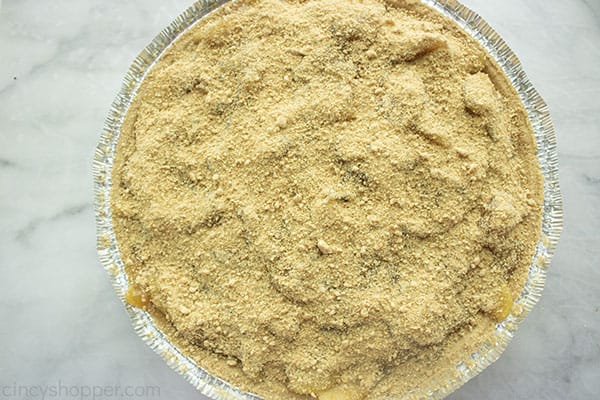 Before serving, top your pie with the crushed graham crackers. If you want your pie warm, feel free to toss a slice into the microwave to warm it up!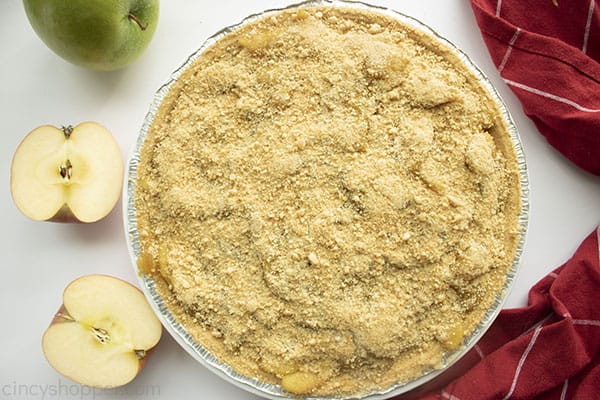 Served cold or warm, feel free to top this pie with the usual apple pie fixings. A little dollop of whipped cream,
maybe
a scoop of ice cream?
However
you serve it, we know you'll enjoy it!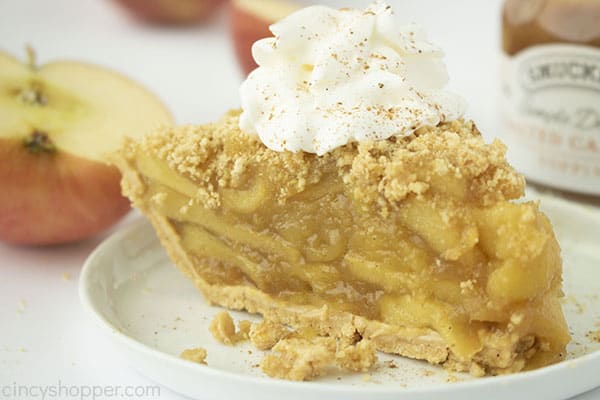 No Bake Mini Apple Pies?!
For a fun-sized serving idea, try sourcing some mini graham cracker pie crusts!
All the same ideas here in the recipe will work with the mini crusts-
just
evenly
spread your pie filling across your pie crusts
. This way of serving the pie would be great for
maybe
a small party or dinner. Everyone gets their own cute little personal pie-for-one!
This recipe was adapted from Taste of Home!
No Bake Apple Pie
No Bake Apple Pie needs no oven to taste good! Graham cracker crust and homemade apple pie filling are all you need for this easy pie recipe.
Ingredients
6

Apples

cored peeled and sliced

1

tsp

Apple Pie Spice

1 3/4

cup

Water

1

3 oz box Lemon Gelatin

1

4.6 oz box Cook and Serve Vanilla Pudding

1

tsp

Vanilla

1

10 inch Graham Cracker Pie Crust

1/4

cup

Crushed Cinnamon Graham Cracker Topping
Instructions
Heat apples, water, apple pie spice and gelatin in a large pan over medium heat.

Bring to a boil, then reduce heat and simmer for 20 minutes, until apples are tender.

Add vanilla pudding mix and cook until thickened (about 10-15 minutes).

Remove from heat and add vanilla extract.

Transfer contents to pie crust.

Refrigerate for at least 2 hours.

Sprinkle top of pie with graham cracker crumbs.
Nutrition
Calories:
193
kcal
|
Carbohydrates:
35
g
|
Protein:
2
g
|
Fat:
6
g
|
Saturated Fat:
1
g
|
Sodium:
124
mg
|
Potassium:
175
mg
|
Fiber:
4
g
|
Sugar:
19
g
|
Vitamin A:
74
IU
|
Vitamin C:
6
mg
|
Calcium:
20
mg
|
Iron:
1
mg