Mini Cheeseballs are rich, creamy, cheesy, and packed with tons of flavor. These tasty appetizers make for the perfect party finger food! Great for any game day parties, Christmas get-togethers, and New Year's celebrations.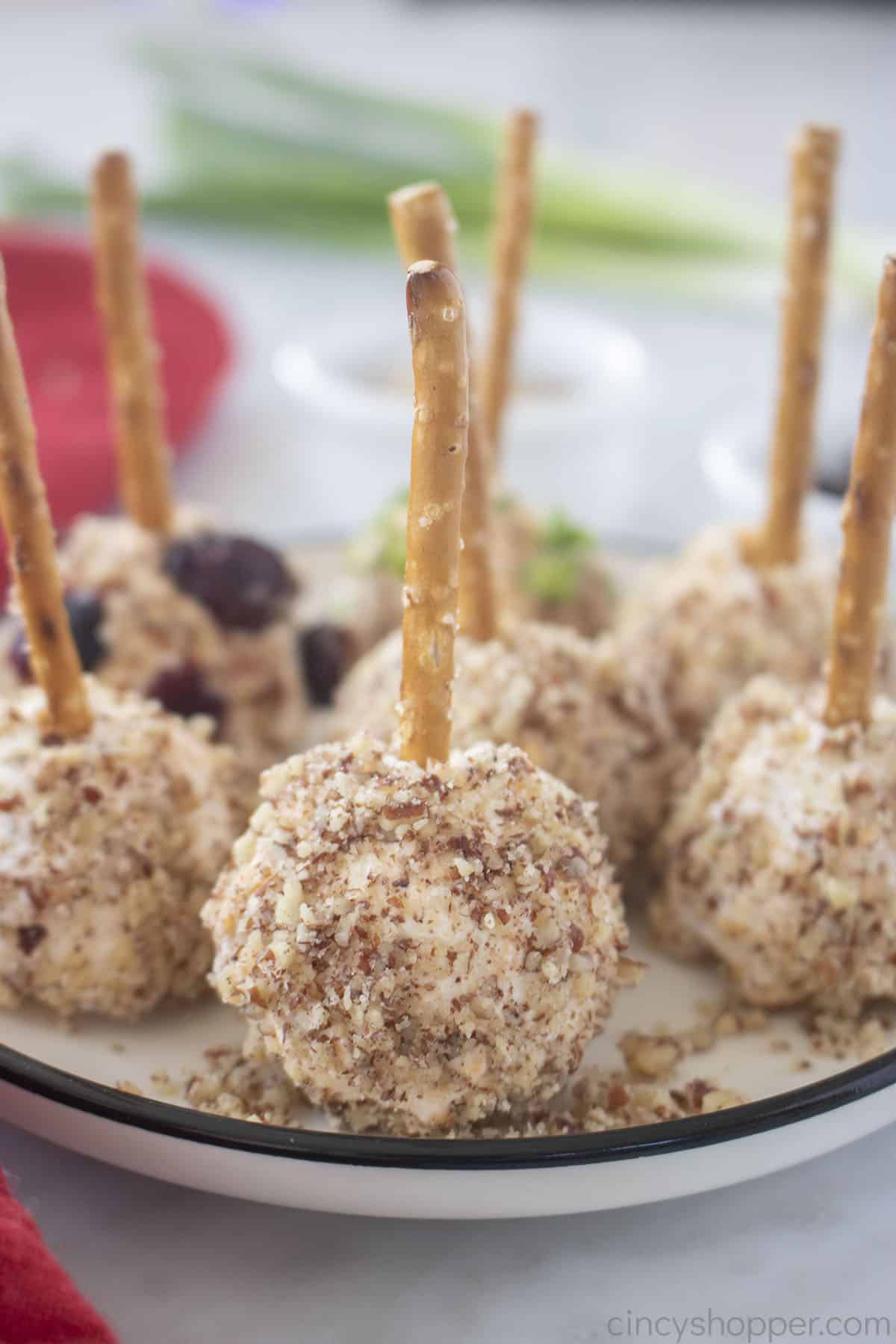 One of the main concerns anyone planning a party or get-together has is what snacks and appetizers they're going to have on hand for their guests. We're always big fans of a nice vegetable or fruit tray but we also love getting more hands-on and prepping some appetizers from scratch. There's plenty of easy appetizer recipes we always seem to fall-back on but I think we've found a new go-to with these delicious Mini Cheeseballs.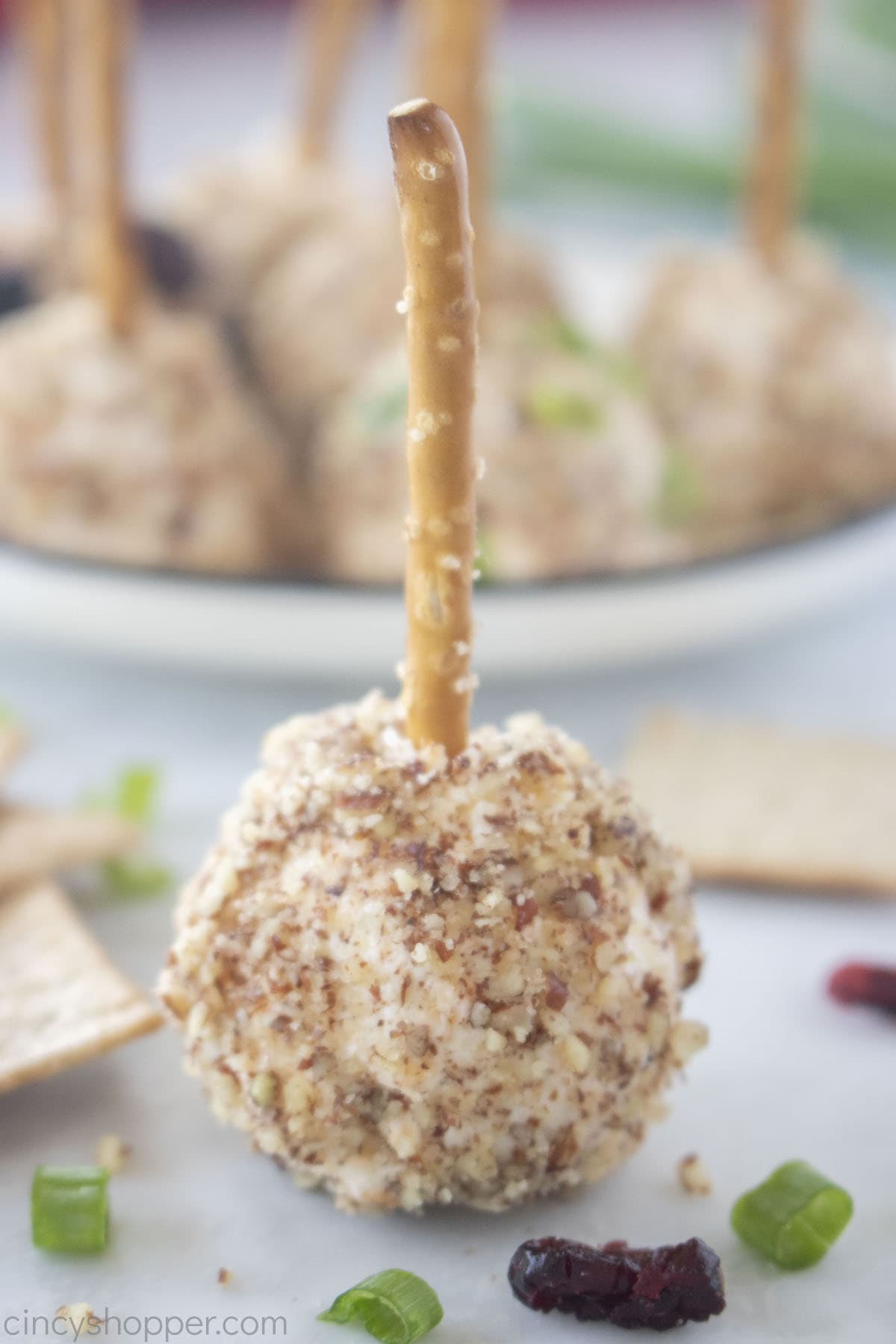 For how tasty these cheesy appetizers turned out, they were ridiculously easy to whip up! We whipped up a quick and simple cream cheese filling with some butter and cheddar. Add a little heat and savory in there and you've already got a tasty cheese snack. But adding all sorts of delicious coatings took these to the next level: we ended up using some green onions, some dried fruits, and some nuts but that's just what we tried.
Anyone could take these Cheese Ball Bites and spice them up in their own unique ways for all sorts of different occasions and crowds. Make them into Cranberry Cheeseballs for a Thanksgiving appetizer, Christmas party or give them a nice toasted breadcrumb coating for your next football watch party. Dress them up or dress them down depending on what your next celebration needs- we're sure you'll love these no matter the occasion!
Jump to:
Why you'll love this easy Mini Cheeseballs recipe
This is a dead simple no-bake cheese ball recipe that's going to give you enough appetizers to keep party guests satisfied. If you need to, you can easily double this if you're expecting hungry guests!
These Cheese ball Appetizers hit this sweet spot of different flavors. Rich and creamy but with a touch of pepper and spice- and the different toppings bring in even more flavors. A fresh vegetable bite from some green onions, a nutty crunch from some pecans, or a sweet fruity finish from some cranberries.
Mini Cheeseballs on a stick work as an appetizer for any occasion. Whether it's a big game day watch party or some holiday get together like a Christmas party, these will fit right in with any other sort of sides, snacks, and charcuterie.
Ingredients for Pretzel Stick Mini Cheese Balls
You're not going to need anything really exotic to make this mini cheese balls recipe. Chances are, you already have a good amount of these fridge and pantry staples on hand already! In any case, here's all you need: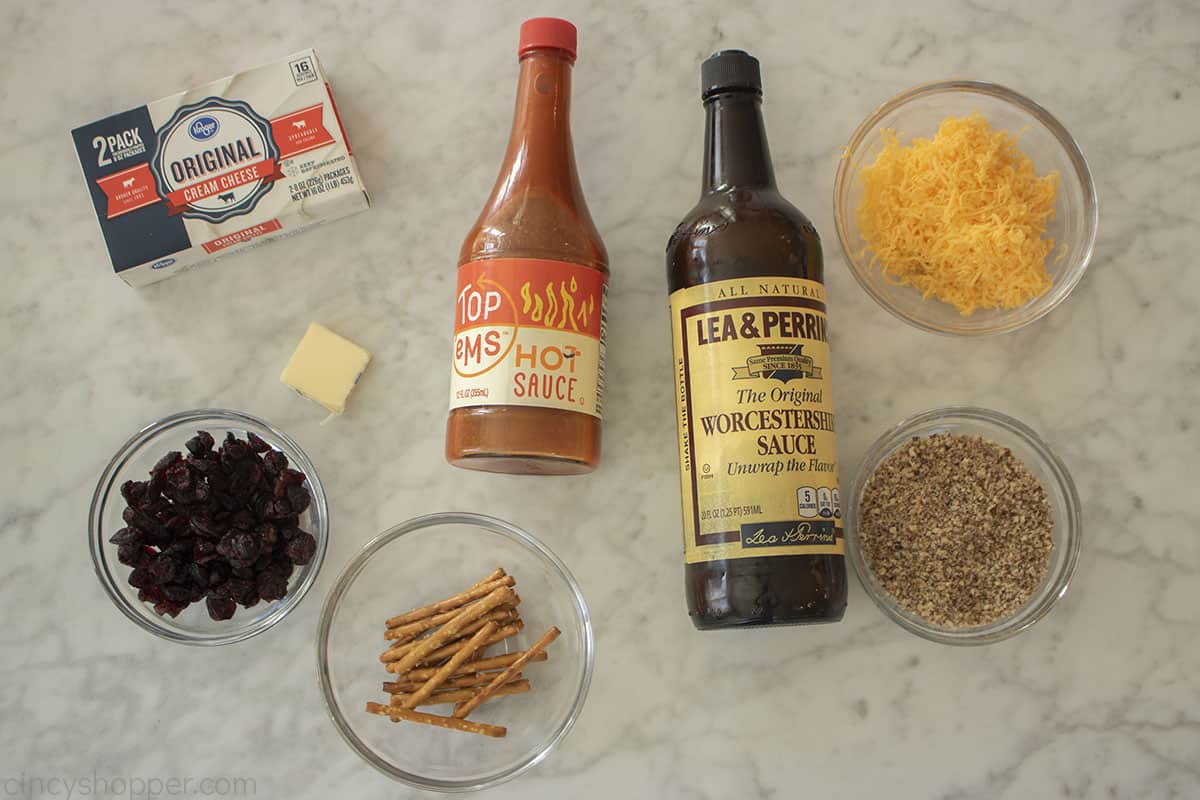 Butter – Let soften before use. Unsalted or salted butter will work here- we like to use salted butter. You might even want to reach for a nice grass-fed butter for a bit of extra flavor and richness!
Cream Cheese – Like the butter, let this soften before use as well.
Worcestershire Sauce
Hot Sauce – Feel free to use a nice hot sauce if you have one on hand. If not, some store-brand sauce or Frank's Red Hot will work just fine.
Black Pepper
Cheddar Cheese – Ideally, you'll use freshly shredded cheddar cheese for this recipe. If you don't have the time, we're sure pre-shredded cheese will work okay.
Pretzels– a brand like UTZ
You'll also want to roll your finished Cheeseballs in something for a bit of extra texture and flavor. Use some chopped pecans, finely chopped green onions, and/or dried cranberries. We also used some pretzel sticks for poking and serving.
See recipe card for quantities.
How to make Mini Cheese Balls
What you're going to love the most about these Easy Mini appetizers is how quick they can come together. If you work quick, you might even have these prepped and ready within an hour! Here's all you need to do:
Beat softened butter and cream cheese together in a medium mixing bowl until smooth. Add in worcestershire sauce, hot sauce, and pepper before beating together again.
Add shredded cheddar cheese to bowl with butter-cream cheese mixture and stir to combine. Divide into desired portions, set on parchment paper lined baking sheet, and let sit in fridge for at least 30 minutes.
Roll each Mini Cheese Ball in your choice of pecans, green onions, or dried cranberries. Poke a pretzel stick into each Cheeseball before serving.
Substitutions
This recipe is very forgiving and there's plenty of room if you're missing an ingredient or two. If you need to make some substitutions for our Mini Cheeseballs, here's some you can try:
Worcestershire Sauce – The worcestershire sauce adds a nice "tang" and savory flavor to our Mini Cheese Ball Bites. If you don't have any on hand, then there's many a worcestershire sauce substitute to pick from! The easiest would just be using a little bit of soy sauce and a dark vinegar like balsamic vinegar. A little bit of ketchup might help as well.
Cheddar Cheese – Cheddar cheese is just an all-around solid pick for cheese appetizers like this. Of course, it's not the only cheese out there and you could use all sorts of other cheeses in its place here. Mild or sharp cheddar will work just as well cheeses like Swiss, Colby, or Pepperjack if you want a little extra heat and bite! The cheese adds big flavor and texture.
Pretzel Sticks – We found that making these Mini Cheese Balls with pretzel sticks help cut down on some waste. They let you pick your cheeseball up without getting your fingers dirty and you even get to eat the stick when you're done! They're totally optional though: you can easily use toothpicks or just use your fingers if you don't mind getting a little dirty.
Variations
We think the easiest and simplest way to change these Mini Cheeseballs with pretzels up is with the coatings. With that in mind, here's some ideas you can run with:
Fruits – Dried fruits can provide a interesting sweet contrast to the richness in these buttery appetizers. Stuff like dried cherries, prunes, and dates could make for interesting options.
Nuts – Instead of pecans, you could roll in any other nuts or seeds. Give pistachios, almonds, or sesame seeds a try next time.
Seasonings – If you want a more consistent way of flavoring your cheeseballs, you could add in some extra seasonings like garlic powder, onion powder or cayenne pepper. Beat these in with the butter-cheese mixture or mix with your coatings. Try anything from some Italian Seasoning to Homemade Cajun Seasoning.
Other Coatings – Outside of all of these, there's tons of other coating options you can try for your own batch of Cheese Balls. Make up a quick toasted breadcrumb coating or maybe crush some Ritz crackers for a butter cracker coating.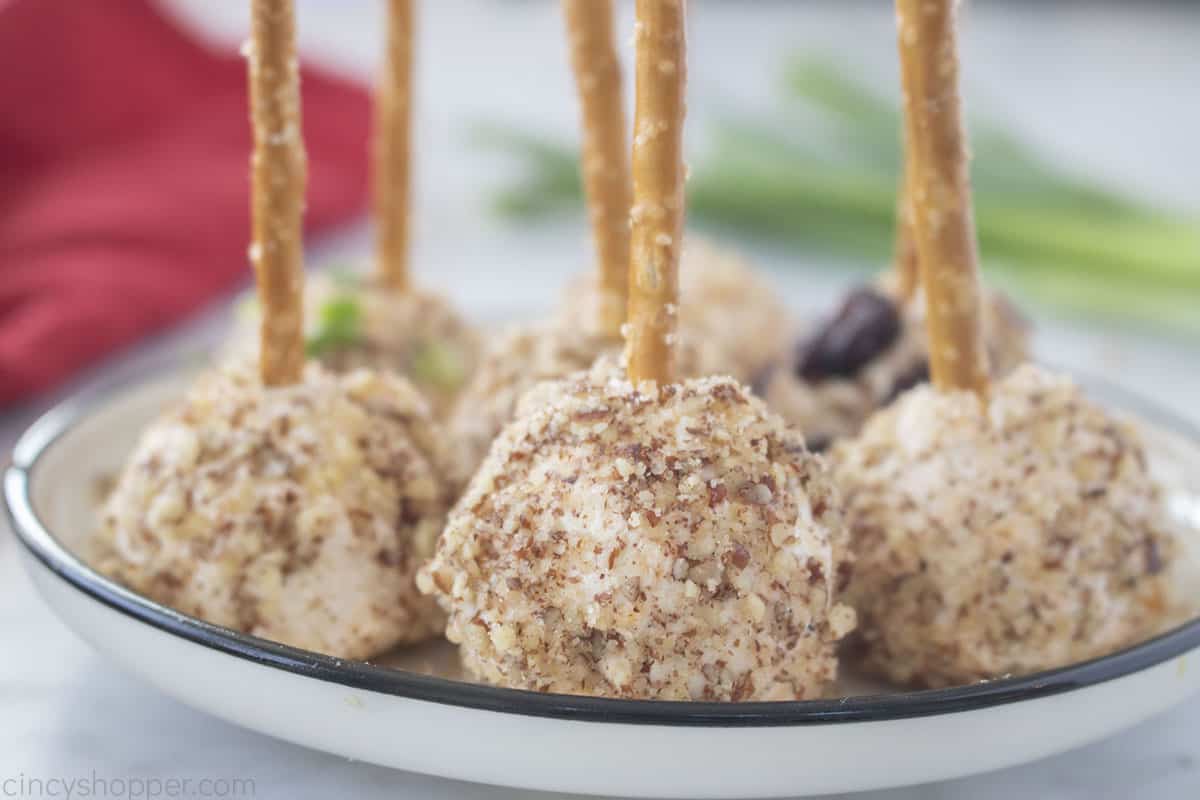 Storage / Freezing
Storage: Whether you want to save your leftover Cheese Balls or prep them as Make Ahead Mini Cheese Balls, you'll want to open that fridge up. Store in an air-tight container or tented tightly with plastic wrap for between 5-7 days. It might even last as long as 10-14 days, but you'll want to be careful: check thoroughly for any signs of spoiling past the 7-day mark.
Freezing: If you plan on freezing your Cheeseballs, freeze them without the pretzel sticks. Keep frozen in an airtight container for up to 2 months. Let thaw in the fridge before sticking with pretzels and serving.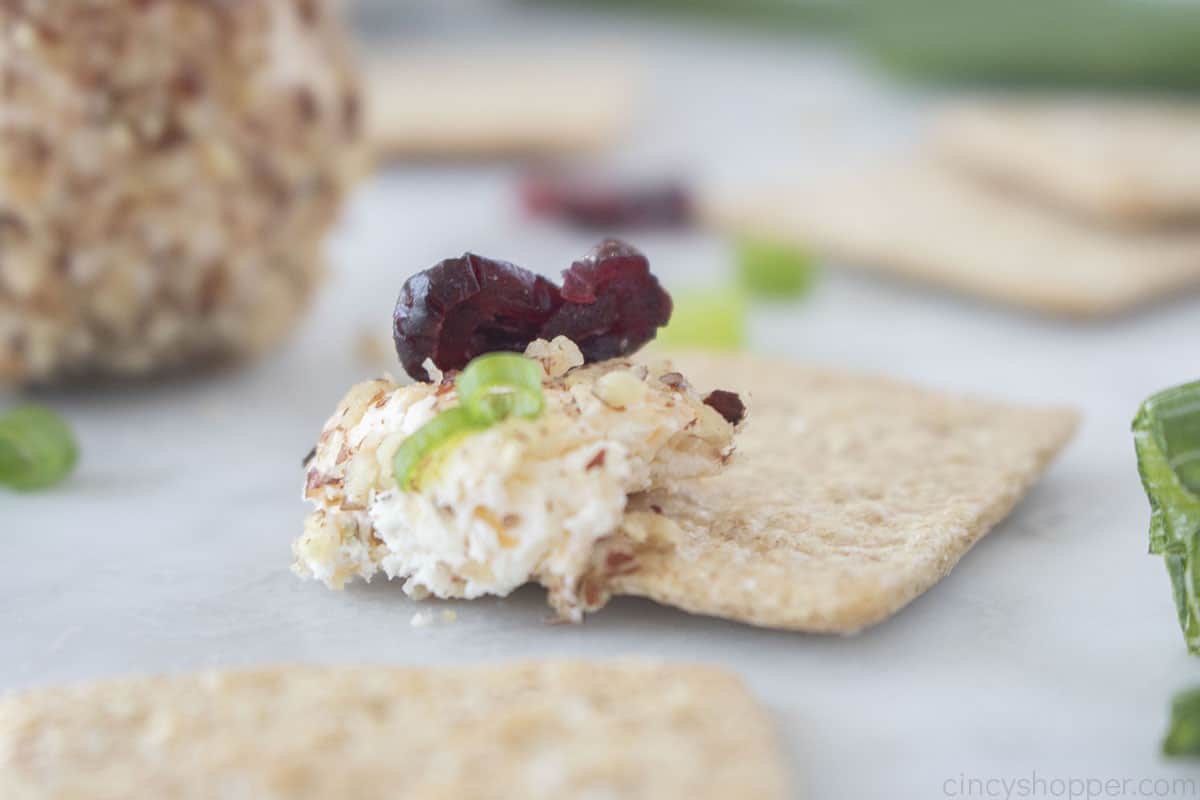 Top tip
Serve with some crackers or pita chips on the side for an additional filler.
Other Holiday Appetizer Recipes
Looking for other holiday appetizers recipes? Try these:
Other Appetizer Recipes
Here are some additional appetizer recipes: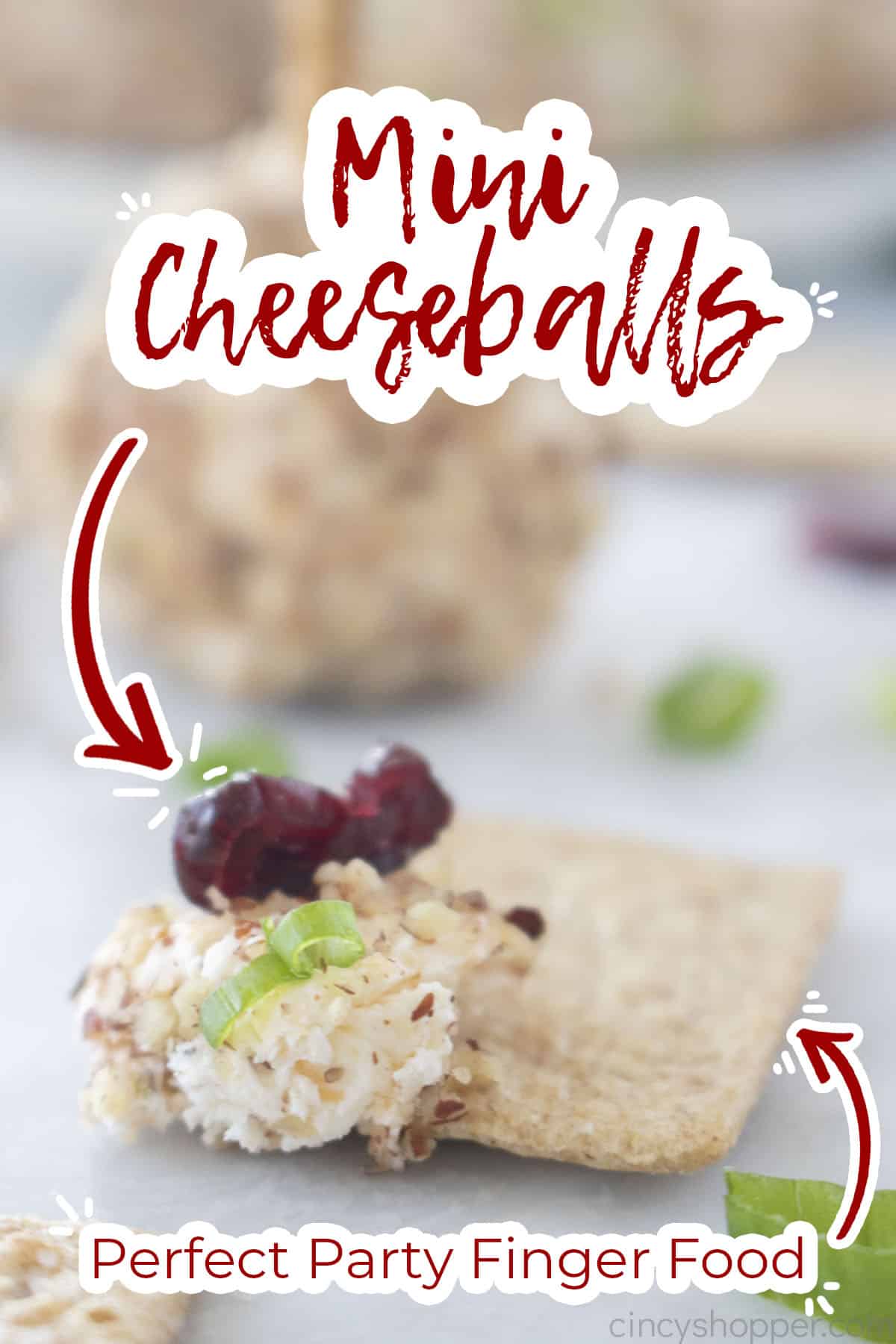 Mini Cheeseballs
Mini Cheeseballs are rich, creamy, cheesy, and packed with tons of flavor. These tasty appetizers make for the perfect party finger food! Great for any game day parties, Christmas get-togethers, and New Year's celebrations.
Ingredients
2

tbsp

Butter

softened

8

oz

Cream Cheese

softened

1/8

tsp

Worcestershire sauce

1/8

tsp

Hot Sauce

1/8

tsp

Black Pepper

1/4

cup

shredded Cheddar Cheese

1/2

cup

chopped Pecans

1/3

cup

Green Onion

finely chopped

1/3

cup

dried Cranberries optional

16

Pretzel Sticks
Instructions
Beat together butter and cream cheese in a medium bowl until smooth.

Add in Worcestershire sauce, hot sauce, and ground pepper. Beat until smooth.

Stir in the shredded cheddar cheese.

Divide the mixture into 16 portions and place on parchment paper.

Refrigerate for at lest 30 minutes.

Roll each ball in pecans, green onion or dried cranberries.

Insert a pretzel stick in each and serve.
Notes
Serve with some crackers or pita chips on the side for an additional filler.
Nutrition
Calories:
96
kcal
|
Carbohydrates:
2
g
|
Protein:
2
g
|
Fat:
9
g
|
Saturated Fat:
4
g
|
Polyunsaturated Fat:
1
g
|
Monounsaturated Fat:
3
g
|
Trans Fat:
0.1
g
|
Cholesterol:
20
mg
|
Sodium:
76
mg
|
Potassium:
42
mg
|
Fiber:
0.4
g
|
Sugar:
1
g
|
Vitamin A:
275
IU
|
Vitamin C:
0.5
mg
|
Calcium:
31
mg
|
Iron:
0.2
mg